Fortune telling — one of the oldest professions out there, and for good reason. Even the ancient Greeks would consult the oracles before heading into battle or making important decisions. But don't worry, you don't need to travel to Delphi to have your fortune told.
I tested out countless fortune teller reading services, and these five are my top picks. Each one brings something different to the table, so read on to discover which one is best for you. I found that Psychic Source ticked a lot of my boxes. For one, I was able to get a video fortune teller reading as a a new customer, I received free minutes.
In a rush? Here are my top fortune teller reading picks:
1. California Psychics – Best for Thorough Screening Process

California Psychics has over 400 hundred clairvoyant fortune tellers to choose from. It also has a separate filter for Destiny and Life Path Psychics that produces nearly 300 results.
Compared to some other sites, California Psychics has one of the most intensive psychic vetting processes in place. Applicants must pass a background check, two evaluations, and submit a profile and other materials before they are hired. This really put my mind at ease when using the site.
You should also be aware that California Psychics pricing differs from most other sites. There are three different introductory offer packages to choose from, each of which is linked to fortune tellers from different tiers.
Overall, with one of the most rigorous vetting processes out there, California Psychics is a good option for people who are skeptical about the world of online fortune telling.
2. Purple Garden – Best for Mobile Fortune Tellers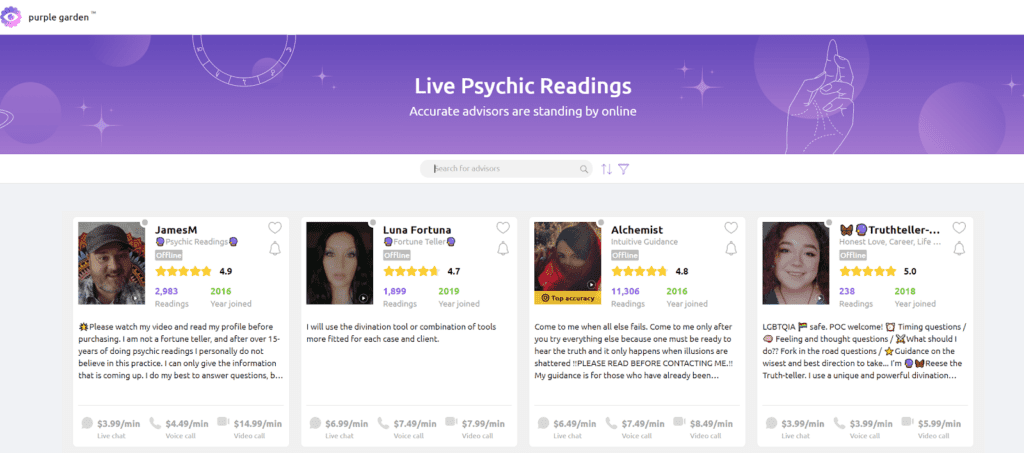 If you're looking to connect with a highly-rated fortune teller from your smartphone, then Purple Garden should be at the top of your list. Purple Garden is different from other fortune telling sites out there because the whole platform has been designed and optimized to be used from smartphones and tablets, not from a desktop or laptop. And don't worry, the app isn't one of those fake, auto generating apps that deliver recycled fortunes. With Purple Garden you get to connect with real live fortune tellers (and check out how other clients have reviewed them and their services).
You can browse fortune tellers in the palm reading, tarot, and astrology & horoscopes sections of the platform. There are well over 100 fortune tellers for you to choose from, and you can connect with them via chat, phone, or video.
Each time you pay for a fortune teller reading you'll earn 5% cash back on your purchase that you can use towards future readings.
3. Psychic Source – Best for Introductory Offers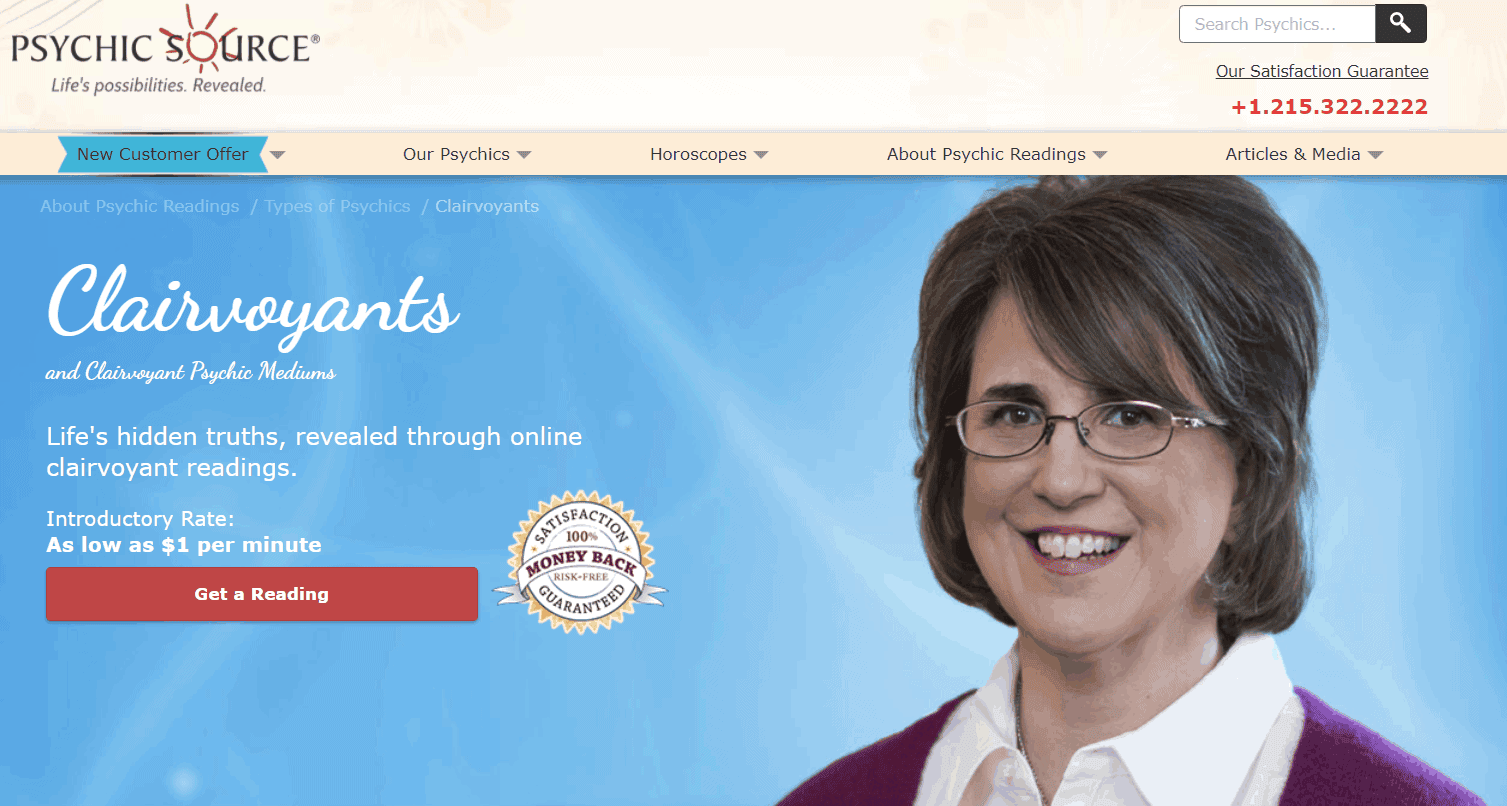 Psychic Source has been around for over 30 years and has some impressive features that the others don't. First and foremost, Psychic Source is one of the few sites that offers face-to-face fortune teller readings through video calling, in addition to chat and phone call readings. For me, this is a huge plus as I like to connect with readers in person whenever possible.
Another feature I enjoyed on the site was the ability to filter by reading style: compassionate, direct, expressive, thoughtful, and wise. Using this filter meant I could find a fortune teller who would communicate with me in a way that made me feel comfortable, which is incredibly important during a personal reading such as this.
Most importantly, Psychic Source has one of the most attractive introductory offers. New customers only pay $0.66 per minute when they sign up. Plus, you get the first 3 minutes for free. This gave me the opportunity to try the site before paying for a full reading.
4. PathForward – Best for Excellent User Experience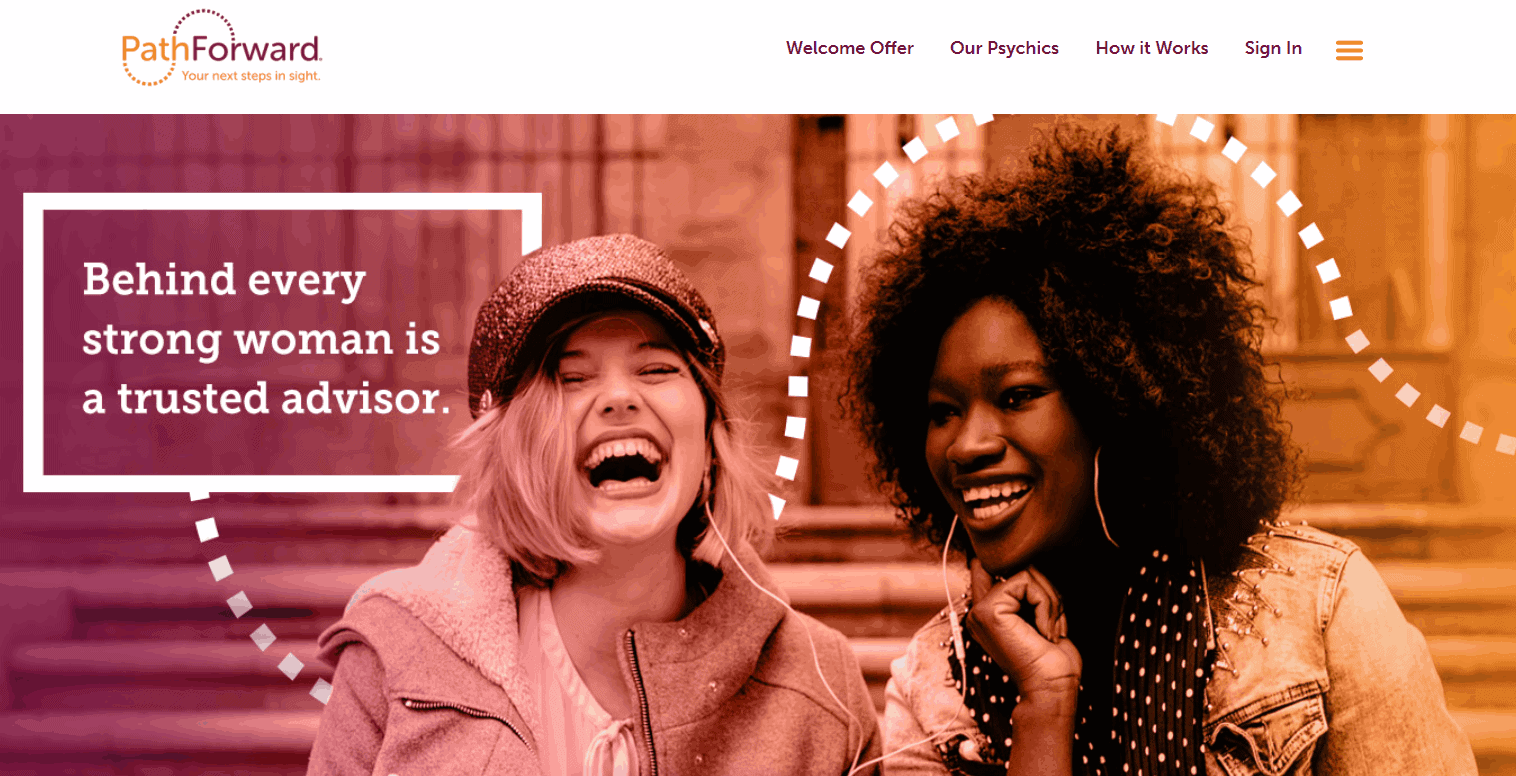 While PathForward is one of the newer fortune teller reading sites out there, you can tell they spared no expense when creating a positive user experience. I've found PathForward to be one of the easiest sites to understand and navigate.
There are about 30 clairvoyant fortune tellers to choose from on PathForward. This may seem like a small number compared to some other sites, but personally, I find that having too many choices becomes overwhelming.
I also like that you can filter psychics according to the tools they use. For example, you may want a fortune teller who uses crystals or tarot cards.
Once you start browsing through the psychic profiles, you have the option to listen to a recorded message from each advisor.
Browse Fortune Tellers on PathForward
5. Kasamba– Best for Wide Selection of Fortune Tellers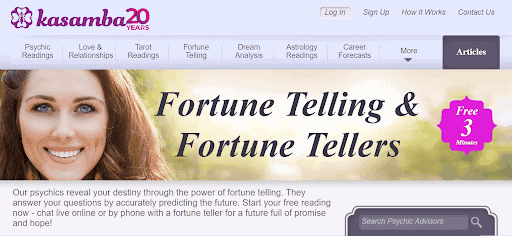 With an established reputation and an online presence of more than 20 years, this site comes highly recommended for fortune teller readings. More importantly, Kasamba has one of the widest selections of fortune tellers.
The site features over 190 fortune-telling advisors, each of whom has a detailed profile and countless reviews.
New customers can get the first 3 minutes of their reading for free, which will help you connect with the right reader. And if you are not satisfied with your fortune teller reading, there is a satisfaction guarantee in place that allows you to claim a refund.
Browse Fortune Tellers on Kasamba
Tips for Working with a Fortune Teller
These 3 tips will help you get the most out of your experience:
Get to know the different tools. If you haven't already, take some time to familiarize yourself with the various fortune-telling tools and learn about their unique properties. Knowing whether or not you prefer tarot, crystals, astrology, or none at all, will help narrow your search.
Take action. If your reading is positive, find out what steps you should take next. Action is still required on your part to manifest the future you desire. Fortune telling is an imprecise art, and you should always be aware of how your own decisions and behaviors can alter the events to come.
Know that you are in charge of your future. On the other hand, if your reader predicts a negative outcome in your future, know that you can always alter your path in some way. Oftentimes, readers will be able to give you guidance about which key events will play an important role in determining the course of the future. By having this information, you can find ways to create a more positive future for yourself.
Bottom Line
If you are looking for a way to try out a fortune teller reading online without paying the full rate,Psychic Source is the ideal choice.
PathForward is my favorite choice in terms of user experience.
Frequently Asked Questions about Fortune Teller Readings
What do fortune tellers do?
As the name suggests, a fortune teller focuses on predicting future possibilities and events. These events could take place next week, next month, or in three year's time. While fortune tellers can often predict events, they cannot always tell you the why and when. In essence, a fortune teller can provide you with a brief glimpse into your future, helping you better prepare for the possibilities. Here are some tips for how to work with a fortune teller.
How are fortune tellers different to psychics?
Psychics are not the same as fortune tellers because they don't focus on the future alone. Along with telling you what might occur in the near future, a psychic can offer insights into why an event might occur. They can also provide you with guidance on how to either change your course or how to get to your desired outcome faster. A psychic is also capable of tapping into your energy and tell you more about how your personality and current emotions fit in with your current situation and the future.
Can fortune tellers be trusted?
A fortune teller from a reputable psychic site such as Psychic Source or California Psychics can be trusted. However, choosing the right site is just one piece of the puzzle. You need to carefully review your psychic's profile, looking at aspects such as their experience and what past clients have to say about them. It's also important to go into a reading with an open mind. A fortune teller can only tell you what they foresee – you still control your destiny.