Getting your fortune read can be a delicate experience if it's your first time. You might be afraid of what a fortune teller might tell you or have concerns about being scammed or misled. But connecting with a credible fortune teller online can help you glimpse into your future and be an eye-opening experience.
To help you feel at ease, I've shortlisted the best sites for trustworthy online fortune tellers. All of my recommendations are established platforms with solid reputations, so you can expect to receive valuable insights and guidance with important decisions.
Personally, I recommend getting your fortune read on California Psychics because it has an impressive selection of gifted readers. Thanks to its satisfaction guarantee, you can connect to an online fortune teller at an affordable rate and not fall victim to dishonest behavior.
In a Rush? Here Are My Top Online Fortune Teller Sites
Best Online Fortune Tellers in 2023
With growing concerns over fortune-telling scams and the possibility of false insights, it's best to stick with credible platforms that have established a high level of trust. I chose the following sites based on long-standing reputations, talented fortune tellers, and competitive introductory offers.
1. California Psychics — Best Site Overall for Online Fortune Telling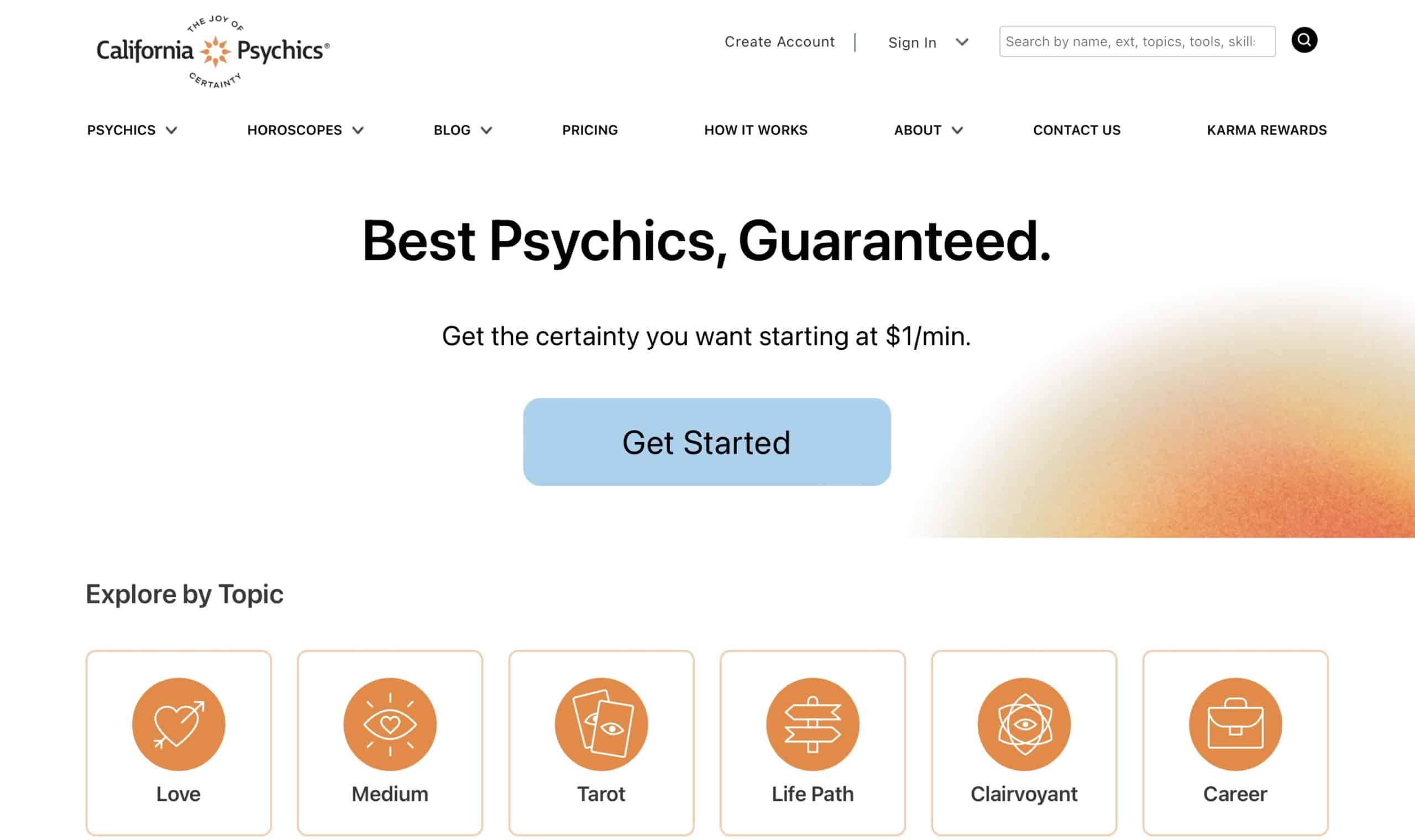 Strict vetting of fortune tellers
Wide selection of psychics
100% satisfaction guarantee
Fortune telling sessions from $1 per minute
Reliable customer support
If you want a good combination of price and quality, California Psychics is an excellent choice. With its $1 per minute introductory offer and top-notch fortune tellers, you can get remarkable advice without spending a fortune. This makes it ideal for a long and inexpensive session.
One thing that puts me at ease when using California Psychics is its strict vetting process for accepting new fortune tellers. I prefer to use platforms that weed out illegitimate advisors on my behalf, so I don't have to stress out about doing it myself. In short, you won't doubt the site's fortune tellers.
What makes California Psychics credible is that even if you pick a fortune teller you don't bond with, you can always speak with another one without paying extra. Thanks to its 100% satisfaction guarantee policy, you are insulated if your reading doesn't go as you hoped.
The customer support on California Psychics is another reason it's one of my top picks for online fortune telling. You can easily contact a representative by submitting a form or calling its toll-free number if anything goes wrong. Additionally, you can find helpful answers in its detailed FAQ section.
While I hope California Psychics introduces a video call option for its readings soon, I've only had positive experiences with its chat and call options. Its chat readings add an extra layer of privacy since you can get one from anywhere, which also helps you if you struggle with anxiety.
2. Purple Garden — Cashback Service for Fortune Teller Savings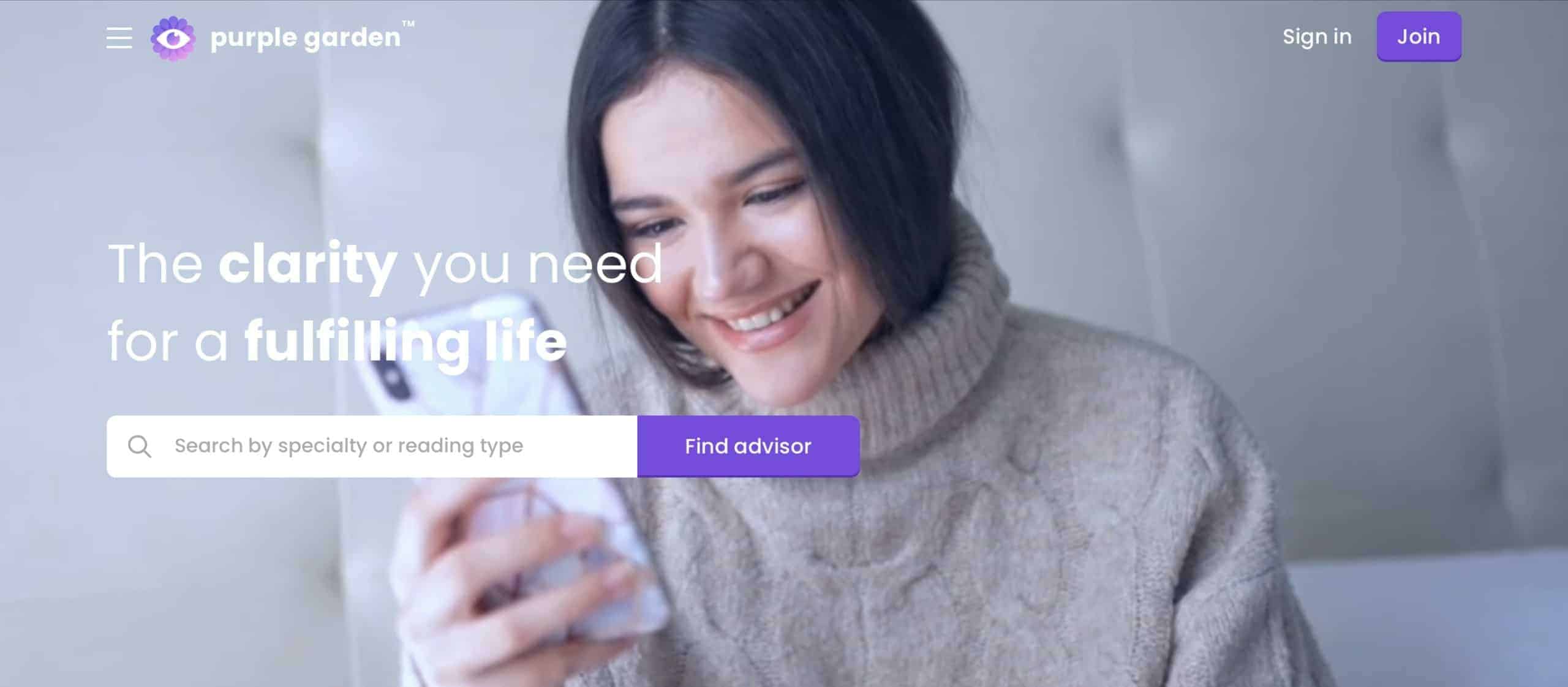 Text, call, and video fortune readings
User-friendly mobile app
Journey's community feature
2% cashback on all readings
$10 credit upon sign up
Purple Garden is highly rated because its cashback program rewards loyal customers with long-term savings. In fact, it's the only credible platform I've come across that offers a high cashback rate of 2%. This means you can save a considerable amount of money by getting your fortune read regularly.
While reviewing Purple Garden, I was impressed with its efforts to create an inclusive community. The Journey's feature is a great way to build connections since you can see posts from like-minded individuals who have had their fortunes read. This is another unique feature I haven't encountered on other sites.
If you're a frequent traveler like I am, you'll find a lot of use in Purple Garden's app. Its app is user-friendly, which means you can easily connect to a fortune teller while you're on the go. I prefer to use the app for readings because of the added convenience.
Additionally, I enjoy the flexibility of Purple Garden's service because you can choose between chat, call, and video readings. This makes it much easier to get a fortune-telling session that caters to your personality. I find this to be great for the days I feel more social versus when I prefer just to text.
While Purple Garden is a well-rounded platform, I think it could improve its services by offering a a satisfaction guarantee. However, its transparent client reviews make it much easier to avoid a bad experience because they provide a good glimpse into each fortune teller.
3. Keen — Find a Fortune Teller Quickly By Using its Match Tool
Top rated fortune tellers
5 minutes for with an online fortune teller for $1
"Psychic Match Tool" for customized searches
$25 credit for dissatisfactory readings
Helpful search filters
Keen is a flexible platform because you can speak to your fortune teller online for $1 the first 5 minutes. In my opinion, it's a generous and convenient since they allow you to test out the quality of your online fortune teller without risk.
As I navigated Keen's website and app, I found its interface well-organized and easy to use. I appreciate this because it makes exploring the many available features worthwhile, so you can quickly find what you're looking for. In the end, this helps enhance your overall experience on the site.
Its "Psychic Match Tool" is a handy feature because it makes finding a compatible fortune teller much easier. I was most impressed with the tool because it takes away much of the guesswork and effort into finding a fortune teller online .
Keen also has a decent selection of online fortune tellers, with many maintaining close to a 5-star rating while completing thousands of readings. I find that Keen's advisor roster is one of the best I've seen, and this is great because it means you have a much lower chance of feeling disappointed.
With all this in mind, Keen could improve its satisfaction guarantee by allowing refunds to the original payment method rather than in Keen credits. But since you can use your refunded Keen credits on other fortune tellers, you won't need to reload more credits into your account.
4. Psychic Source — Satisfaction Guarantee Safeguards Your Fortune Telling Session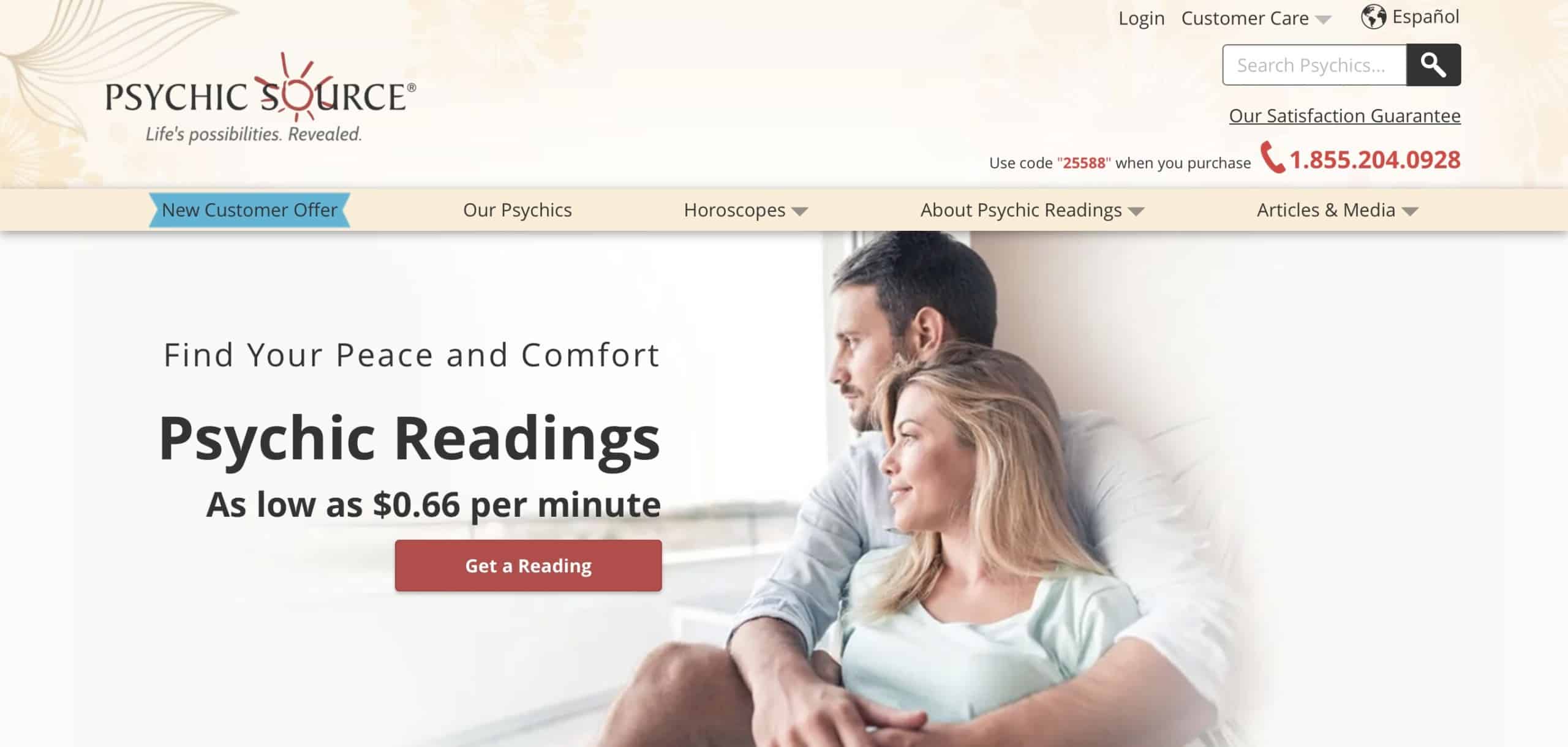 Highly experienced fortune tellers
Code of ethics for fortune tellers
Customer support hotline
$0.66 per minute offer
100% satisfaction guarantee
Psychic Source is an ideal site to chat with an online fortune teller because of its affordability. As a new client, you can chat with a fortune teller online free for 5 minutes and then $0.66 per minute. This is a steal considering it's one of the lowest and most competitive rates I've found.
I admire Psychic Source because it's one of the only sites that explicitly holds its readers accountable with a code of ethics. The site ensures that all its psychics follow a uniform approach to client readings, which means you can expect respect, compassion, and professionalism from your fortune teller.
You'll always feel a sense of trust with Psychic Source because of its 24/7 customer support hotline and 100% money-back guarantee. These features ensure you have a safety net in the off chance you encounter an issue. Since the site makes your satisfaction its #1 priority, I feel safe using it.
Even though the fortune tellers on Psychic Source don't have as many reviews compared to advisors on other sites, its readers are highly experienced. I've noticed that the majority of its online fortune tellers have been on the site for over 20 years, and most have additional experience off of the site.
5. PathForward — Maximize Your Session With Generous Discounts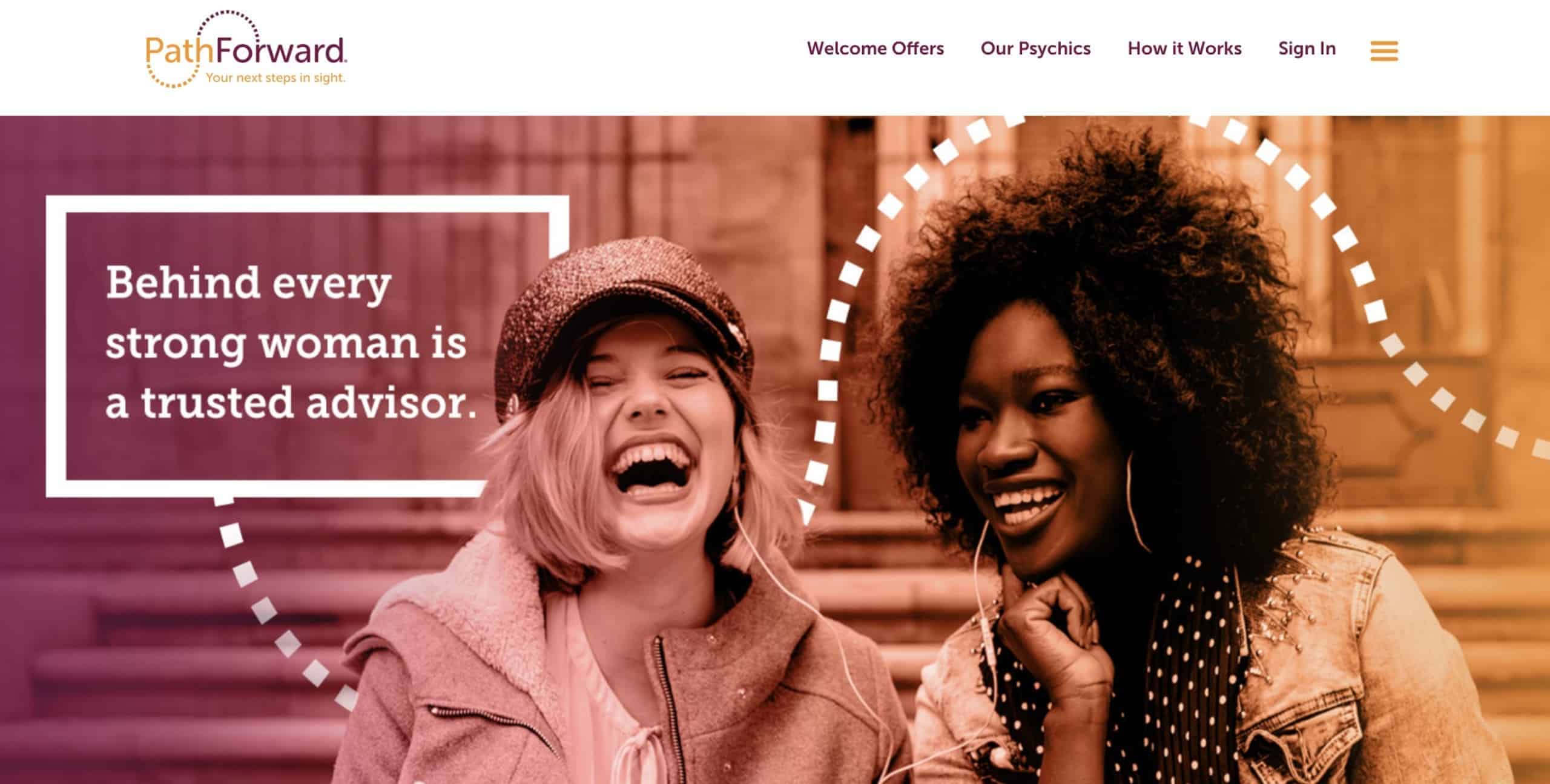 Extensive screening of fortune tellers
Scheduling available
$0.83 per minute & 5 minutes free
Transparent psychic reviews
Text and call readings available
If you want to save money without compromising quality, then consider PathForward. When you join the site, you get 5 minutes free and your first reading for only $0.83 per minute with an online fortune teller, which is helpful if you're hoping to be able to try out multiple options.
As someone with a busy schedule, I found PathForward's scheduling option a great relief. If you're like me and need to organize your time, PathForward lets you book your session in advance without hassle. This feature is also helpful if you don't want to wait in a queue for your favorite fortune teller.
I appreciate how Path Forward takes a unique approach to the layout of its advisor profiles. Each profile has a voice message recorded by the fortune teller, followed by 8 open-ended questions to get a better feel for their perspectives and energy. This is a more intimate approach that gives you a better sense of each fortune teller.
While it doesn't have a large reader pool, especially compared to other sites, PathForward prioritizes the quality of its advisors instead of quantity. I believe its strict screening process is the main reason there is a small selection of fortune tellers, and you can work it to your benefit if it doesn't bother you.
Comparison: Best Sites to Get Your Fortune Read For Less
Amount of Fortune Tellers

Introductory Offers

Satisfaction Guarantee

Delivery

Methods

California Psychics

400+

$1 per minute

Yes

Text & Call

Purple Garden

100+

$10 credit

No

Text, Call, & Video

Keen

200+

5 minutes for $1

Yes

Text & Call

Psychic Source

250+

5 minutes free & $0.66 per minute

Yes

Text, Call, & Video

PathForward

50+

5 minutes free & $1 per minute

Yes

Text & Call
Tips on Choosing the Best Fortune Telling Site
You should assess the tips below to help you select an appropriate fortune-telling site. Incorporating them will help you feel more at ease, so you can enter your session without the worry of being taken advantage of.
Make use of the best introductory offers
When choosing the most cost-effective choice for an online fortune teller, it is crucial to assess all the available introductory deals. If your primary goal is to save money initially and you do not plan on having future readings, it is advisable to opt for a platform that provides free minutes coupled with a reduced per-minute charge.
Low per-minute rates and offers that let you connect to your fortune teller online free are best for a lengthy and affordable session. Ultimately, these offers are ideal if you want to test out a high-tier fortune teller, so you can ensure you'd be willing to pay full price in the future.
However, if you're seeking frequent readings, you should consider platforms providing incentives for long-term commitments, like loyalty initiatives and cashback offers. This way, you can make savings on your first reading, even if it's not substantial, while taking advantage of programs that might not be available on other platforms.
Check the reliability of its customer support
Make sure that the online fortune-telling platform you choose offers accessible customer support. This can greatly affect whether you receive guidance or being left on your own. Generally, platforms featuring a customer support hotline or a live chat option will be your top choices for prompt and high-quality assistance.
It's also just as important to choose a fortune-telling site with an extensive FAQ section, which helps you solve issues independently. Sometimes there is no need to contact support for additional help when the FAQ section is thorough and geared towards commonly encountered problems.
Look over its satisfaction policy
A satisfaction guarantee (or a refund policy) is one of the top indicators of trustworthy online fortune teller services. This should be a deal-breaker, as it offers the biggest safety net for your online session. I typically recommend platforms that offer credits or a full refund.
That said, you should always vet your fortune teller beforehand to avoid any refund issues. Each platform deals with every incident on a case-by-case basis, so it's not like you'll always get your money back if you're unhappy.
Ensure it fits your needs
Choosing a platform that fulfills your requirements is one way to guarantee a satisfactory experience. For example, select a site that offers video readings if that's most important to you. Video readings and other features aren't as common as you think, so always double-check.
Using sites with match tools or search filters helps you hone in on your preferences, saving time and effort during your search. These features allow you narrow down the pool of suitable fortune tellers, so you can only choose from advisors that fit your criteria.
Evaluate its level of transparency
You can avoid frustration by seeing how transparent a fortune-telling site is. The most important consideration is how transparent the platform is with pricing. If a site's promotions don't save you any money or if there are additional costs in the fine print, it's typically not a good option.
Additionally, how open the site is to customer reviews is also essential. If the site is hiding negative reviews on its advisor profiles or not showing you any reviews, it's likely an indicator that something is wrong. All credible fortune-telling sites will be open with reviews, which will help you make the final decision.
FAQs on Online Fortune Telling
Why should I get my fortune read online?
Chatting with an online fortune teller is a great way to get personal insights from the comfort of your home, which can also ensure privacy. Online readings can be better for those dealing with social anxiety and can even help you feel more comfortable in vulnerable moments where emotions may surface.
Many online fortune teller sites offer a wide selection of readers and screen them beforehand, ensuring plenty of choice and quality sessions. Additionally, they offer affordable introductory rates that many in-person services don't have, which often makes online readings the more appealing option.
While in-person fortune-telling can feel more intimate, the availability of high-quality video sessions adds a personal touch to online sessions. Best of all, you can choose from a more extensive selection of online fortune tellers because you aren't limited to your vicinity.
Is it easy to find a reliable fortune teller online free?
Yes, it's easy to find a reliable fortune teller online free if you're looking on credible platforms. With so many scams and fraudulent online fortune tellers, you need to ensure you're browsing trustworthy options. I recommend finding a tested list of sites that offer online fortune telling and to vet each individual fortune teller based on client reviews.
What should I do if my online fortune teller's predictions are incorrect?
You should start by evaluating the accuracy of your reader's predictions. Consider if every prediction was wrong or if some things came to pass while others didn't. Without a doubt, there are fraudulent fortune tellers that give generic readings, while other factors can sometimes affect predictions.
If you're sure that your fortune teller wasn't legitimate, you always have the option to report them to the platform they're on. This is often grounds for a refund and can save another individual from booking with them.
Always keep an open mind, as fortune-telling is not a science. Your predictions are based on current circumstances that can change depending on the actions of yourself and others. Another option is to seek advice from another reputable site or reader to see if the insight matches up.
How can I check the credibility of my fortune teller?
The best way to check the credibility of your fortune teller is by looking at client testimonials and reviews on their profile. You can also check the number of readings they have completed and their star rating, which is often linked to reviews. A fortune teller with many completed readings and a high-star rating is usually credible.
Another way to ensure that your fortune teller is credible is by evaluating the screening process of the platform they are on. This way, you can verify how strict the selection of readers is and can feel more comfortable trusting that your reader is the real deal. Combining this with evaluating the reader themselves will be your best bet.
Bottom Line
Connecting with an online fortune teller is a great way to receive guidance and insight into your future. If you're worried about being ripped off, remember that trustworthy psychic platforms exist. With an open mind and positive attitude, a fortune teller's insight can help you navigate difficult decisions that are a part of life.
By considering my recommendations, you can narrow your preferences and protect yourself from illegitimate sites. After all, genuine platforms will offer you a credible selection of readers that will handle the sensitive nature of fortune-telling with grace.
If you want to experience the benefits of connecting with a fortune teller online, you should speak with one on California Psychics. They can provide the clarity and peace of mind you need when you're struggling to make sense of the world. Best of all, you're protected by a 100% satisfaction guarantee if something goes wrong.
To summarize, my top picks for online fortune tellers are…