Oranum is an online psychic platform that connects you with spiritual advisors from around the world. It stands out because you can interact with psychics via video before your session. But Oranum's advisor profiles aren't highly detailed, which can make you question the site's legitimacy.
After thoroughly reviewing the site's features and psychics, I can say that Oranum is a reliable psychic platform with top-notch services. It offers an interactive way to receive psychic readings, guidance, and advice. I was most impressed with the site's ease of use and affordability, along with its wide range of reading themes.
Whether you're new to online psychic readings or a frequent user, this article will help you decide whether Oranum is right for you. But if you're eager for a psychic reading, you can accept Oranum's introductory offer and receive free credits to use on any psychic.
Types of Readings on Oranum
Oranum offers readings for the most popular themes, such as love, family, career, and money. The site's multi-talented psychics may also incorporate tools like tarot cards, astrology, and crystals during your session.
Love
You can choose from over 150 top-rated love experts on Oranum. Most have an average rating of 4.5 stars and are warm and compassionate, which helps ensure a comfortable setting for disclosing personal matters.
This reading theme can give you insights into a potential partner, open up new communication pathways, and even predict you and your partner's future. In addition, a love psychic can help you overcome a difficult break-up and heal a broken heart.
If you're single, a love and relationships reading can clarify encounters and predict the characteristics of potential partners.
Career
Oranum's career psychics can help you deal with any negative emotions that cloud your career, such as frustration and confusion. By tapping into your inner energy, they can help you understand your strengths, weaknesses, and motivations, which helps you approach your work life with more confidence.
Alternatively, if you're looking to advance in your career, a career psychic can delve deep into the nature of your work environment and colleagues. So that way, you can carefully plan your career decisions and strengthen your professional network.
Psychic advisors are also a great source of wisdom when making tough career decisions. Whether you're accepting a promotion or changing jobs, they can offer a unique perspective on your professional dilemmas.
Family
Family-related issues are highly sensitive and are often a source of turbulence. When you seek help from a family psychic, you'll connect with a warm and caring presence, which helps you open up about your innermost issues and feelings without judgment.
By applying their advice, you can begin to improve relationships with family members and loved ones. And with a new outlook, you can better manage complicated family relationships.
They can also provide you with the strength needed to close the book on previous grievances you may have. This helps you to heal, become more mindful, and let go of any resentment and anger.
Dreams
Many psychics on Oranum are blessed with the gift of dream interpretation. This reading theme helps you make sense of your visions and unlock the true potential of your subconscious.
And from here, you may experience a sudden breakthrough or revelation which helps you change your life. Alternatively, you may receive a surge of creativity that opens your heart to new opportunities or changes.
You can also turn to dream analysis to bridge the connection between your dreams and real life. When that happens, hidden truths and insights buried within your subconscious come into the light, which is sometimes the key to looking into the future.
Other Reading Categories
In addition to the categories above, you can also choose from the other psychic themes I've listed below:
Pets — This theme helps you find comfort or build a stronger connection with a beloved animal companion (alive or departed).
Money — If you need guidance regarding financial difficulties and decisions, consider a money reading.
Palm readings — A palm reader will reveal your future and uncover hidden meanings by examining your palm.
Mediumship — A mediumship reading helps you connect with a deceased loved one and supports you through the grieving process.
Is Oranum Trustworthy? Yes
Navigating the landscape of psychic services can be challenging due to its competitive nature, with numerous platforms asserting their authenticity. However, let me bring your attention to Oranum. I can vouch for it, as it's been in this space for over a decade, consistently offering valuable services. While I understand that you might find it a bit inconvenient not being able to access ratings or individual client reviews, believe me, there are still effective ways for you to determine whether a psychic is the right fit for you.
The website frequently conducts live streaming sessions, providing an opportunity for you to send messages to its psychics even before scheduling a session. The advisors will then offer real-time responses, allowing you to gauge their compatibility effectively. This method is exclusive to Oranum, assists you in evaluating whether a psychic will best fit your needs.
Although Oranum doesn't disclose whether it screens its psychics beforehand, you are always protected by the site's money-back guarantee. This policy refunds you with Oranum credits if you aren't satisfied with your reading (instead of real money). But keep in mind that the site assesses every case individually.
To request a refund, simply send an email to the customer support of Oranum or utilize the online support chat available on their website. It's crucial to remember that refund requests should be submitted within 24 hours of a completed reading to be eligible, so don't forget.
As psychic readings involve highly personal affairs, I was glad to discover that the platform prioritizes safeguarding your privacy and security. Specifically, Oranum has affirmed its adherence to GDPR (General Data Protection Regulation) standards, ensuring the utmost safety and protection of your personal information.
To ensure that customer payment data is kept secure, Oranum performs annual audits in line with requirements set by the Payment Card Industry Data Security Standard (PCI DSS).
Oranum also aims to build trust through its blog and other features. The blogs are uploaded frequently and written by psychic experts. One of the most interesting features is its free weekly horoscopes, which are highly-detailed. I enjoy checking my weekly horoscope to see what the cosmos has in store for me.
I was also impressed by Oranum's special section for its top-rated psychics. You can browse the best psychics of the month, week, day, and year. To make this list, advisors must work for a certain number of hours and receive positive ratings from clients. This means the site only recommends psychics with a proven track record of reliability.
Top Psychics on Oranum
I shortlisted the following psychics for their positive reviews, reading styles, and talents.
1. OraPredictar

Best for Dream Analysis Readings

OraPredictar is one of Oranum's top-rated psychics. She has a caring nature and approachable manner, making her a fan favorite.

Her primary specialty is performing dream interpretations. This means she can help you make sense of your dreams and what they're trying to tell you.

2. PsychicBenz



Best for Psychic Readings

PsychicBenz uses his psychic talents to gather unique insights into your past, present, and future. He is also part of Oranum's top psychic's program.

His compassionate nature also makes him a great listener, and his friendly reading style makes you feel at ease. So, you can ask him all types of questions without judgment.

3. PsychicShamanMae



Best for Love Readings

PsychicShamanMae draws on her colorful life experiences to provide love and relationship advice. Most notably, she is a decorated military veteran.

She takes a warm and uplifting approach to her readings and encourages you to take charge of your love life. You can expect straightforward but practical advice from her.

4. ChooseEnergy



Best for Finance Readings

ChooseEnergy is the best option for valuable insights into personal finances. But keep in mind that she won't use tools for most readings.

With 30+ years of experience, she has a warm and healing aura. She is also naturally intuitive and will encourage you to be quick and direct.

5. LoveDove477



Best for Career Readings

LoveDove477 is a career-related psychic who is multi-talented. She is highly intuitive and doesn't use any tools to perform her readings.

Her warm and genuine nature will make you feel comfortable during your session. However, she doesn't believe in sugarcoating and isn't afraid to speak her mind.
Is There a Mobile App? No
Oranum previously had a mobile app available for iOS and Android, however, it's no longer supported on either operating system. The team wanted to "provide the best possible service a streaming platform can", and because the mobile app couldn't support streaming features, they had to take it down.
The good news is that Oranum is working on a new app for iOS and Android, although they haven't specified a release date. Fortunately, Oranum's sleek and well-designed website makes up for not having an app. The site's information is easily accessible and identifiable on mobile and desktop, making navigation simple.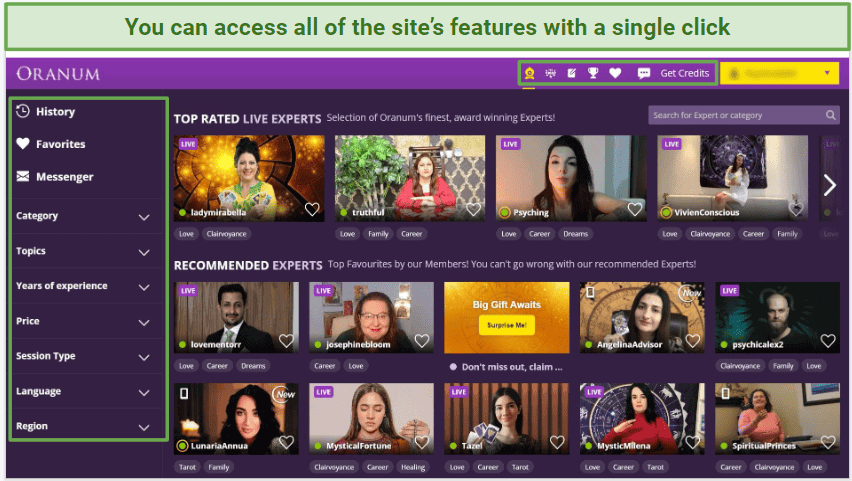 Oranum's website is intuitive and easy to navigate
A standout feature is the website's filtering system, where you can sort through psychics by category, topics, years of experience, price, session type, and even language. This made it easy for me to connect with a compatible psychic advisor quickly.
When you click on the profile of an available psychic, you're taken to a page where you can watch a live stream of the psychic and interact with them. Some will pass along good vibes, whereas others invite you to participate in an interactive session. And if you feel a connection with them, you can start a private session by spending Oranum coins.
If you click on an unavailable psychic, it'll take you to their profile page, where you'll receive a pop-up stating that they're not available. You can also send them a message to request a future session.
Another impressive point is you can save your favorite psychics for future reference and view past advisors you had sessions with. So, you can quickly reconnect with a psychic you felt a strong connection with. All in all, I can say that these features, combined with its user-friendly interface, make Oranum's website worth using.
How to Book a Reading?
1. Create an account. Go to Oranum's homepage and click on the "Join Now for FREE" button. Fill in your details, including your email address and click "JOIN NOW FOR FREE." Afterward, you can browse Oranum's roster of psychic experts and filter through them by category, topics, years of experience, price, session type, language, and even region.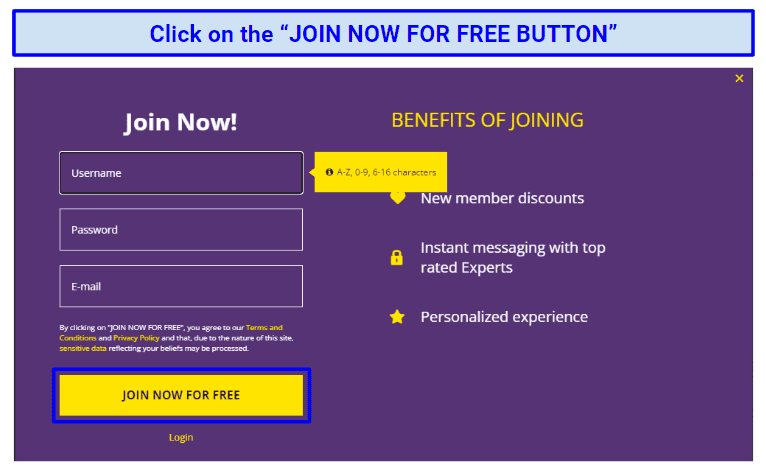 You can easily sign up for an Oranum account is free
2. Browse Psychics. After creating your account and signing in, you can browse through Oranum's roster of psychic advisors. You can filter them by category, topics, years of experience, price, session type, language, and even region. Once you've chosen a psychic, you can book a session by clicking on the "START PRIVATE SESSION" button.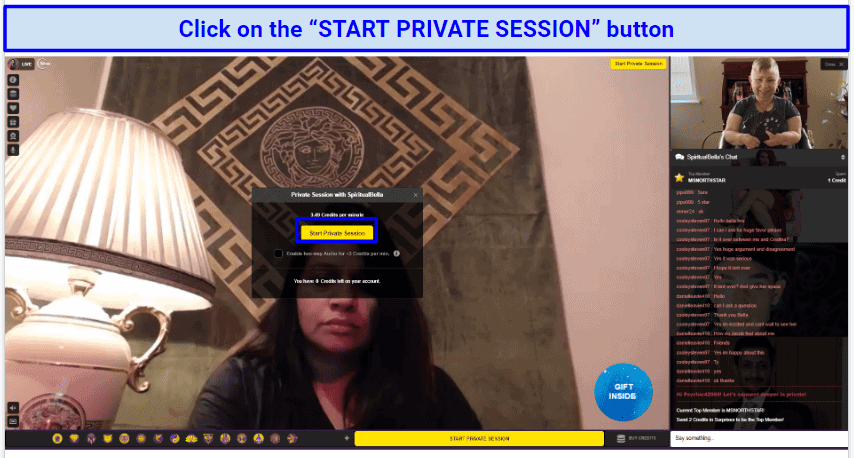 Oranum makes it easy to find a suitable psychic
3. Make Payment. After that, the site will take you to the payments page, where you can choose your ideal credits package and make payment. However, promotions are only applicable for selected payment methods.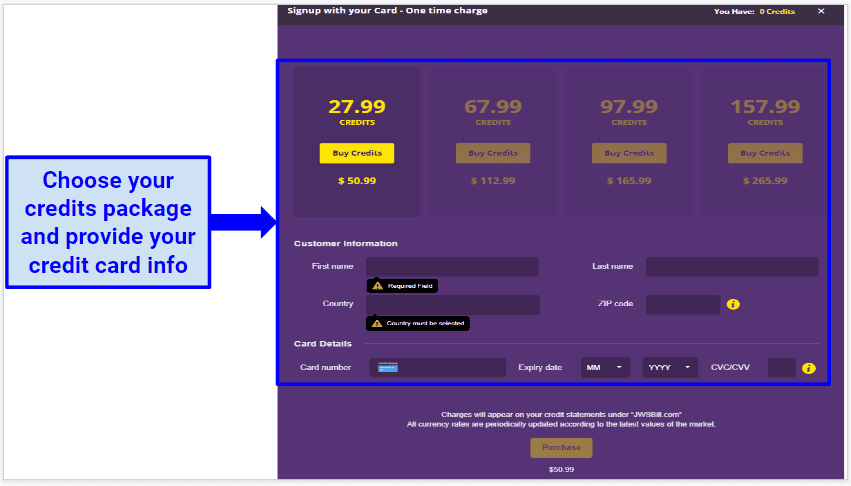 Get your money's worth with Oranum's generous credit packages
Pricing
Oranum uses a system in which you purchase credits with actual currency. You must pay using Oranum credits to schedule private sessions with your chosen psychic. Most psychics charge between 2.00 to 9.99 credits per minute for a private session which makes it about $1.82 for 1 credit.
There are 4 different credit packages you can choose from. The cheapest package costs $50.99 for 27.99 credits, i.e., 0.55 credits for $1, while the most expensive package nets you 0.59 credits for $1.
I was slightly disappointed to see that the site does not accept PayPal. Luckily, it makes up for this as it accepts payments via credit card, pay by phone, Paysafecard, Bitcoin, and online gift cards.
You can enjoy a special one-time offer if it's your first time using Oranum. The site will automatically give you 9.99 credits for free when you first validate your card. There is also a special introductory offer that lets you buy 17.99 credits for $33.99. And if you're making your first purchase, you can enjoy discounts of up to 99%.
The site is also pretty generous with existing members. For example, repeat users can earn 100% extra credits with every purchase.
Customer Support
You can expect 24/7 customer support on Oranum, as it lets you connect with the customer support team via live chat, email, or a particular telephone number. While the site conducts readings in various languages, remember that Oranum's customer support team only offers assistance in English.
Additional support is also available in the form of a detailed FAQ section. It covers the most common issues you can encounter while using the site. Personally, I found the FAQ to be generally informative and easy to understand. However, a few sections could be improved, such as the missing links in certain areas.
I tried the live chat system for myself and got a reply within 2 minutes. After that, I attempted to contact the customer support team 3 different times. The team got back to me in under 3 minutes every single time, which is quite impressive.
FAQs on Oranum
1. Does Oranum offer horoscopes?
Yes, you can view your horoscope on Oranum. The site has a dedicated section that they update every week. But if you're looking for something deeper, I highly recommend you get help and clarification from an experienced psychic advisor.
The talented psychics on Oranum can tap into your inner energies and provide you with the answers to your questions. More importantly, the site's extensive roster of advisors means it can cater to various niches, such as love and relationship readings, career and financial advice, and even dream analysis.
2. Is Oranum Trustworthy?
Oranum is a dependable psychic platform. The site has a 100% satisfaction guarantee which ensures you can get your money back if you receive a reading that doesn't meet your expectations. The fact that Oranum is willing to commit to this policy shows me that they have confidence in their psychic advisors.
Besides that, the site has been around for more than 10 years, which is a good indicator of its reliability. I also like how you can interact with psychics before committing to a session. This allows you to determine if they will be a good fit and prevents you from wasting money.
3. What is Oranum?
Oranum is a dependable psychic platform with an established history. It has a large roster of highly-skilled psychics and allows you to choose from various niches, specialties, and tools. The wide range of choices makes it easy for you to find a psychic who can fulfill your requirements.
It's also one of the most affordable psychic sites, with rates starting at 0.98 credits (about $1.74 per minute). To top it off, the site lets you enjoy video readings with its advisors, which helps you form a stronger and more personal connection with them.
Bottom Line
Oranum is a user-friendly platform with trusted psychics and services. You can easily connect with a psychic and receive valuable insights and guidance through its video sessions and live chat readings. Its website is sleek and packed with features, making it suitable for all experience levels.
While Oranum doesn't screen its advisors, it backs you with a 100% satisfaction guarantee, so you can safely experience its range of services. You'll also receive free credits when you join the site for the first time.