Oranum Overview
Oranum makes psychic reading social. It takes the best bits of social media – wall posts, live streaming, and messaging – and uses them to create a very different psychic reading site. There's no specific price structure, you can sit in on a psychic giving some quick advice, and there are a lot of filtering options.
Oranum states it tries to "empower the world's spiritual community by bringing ancient knowledge to the digital age", but this approach might be enough to make your head spin. Here's what I found out about Oranum.
Oranum Psychics and Services on Offer
Oranum looks really confusing at first glance. There's so much going on that you might not know where to start.
Four one thing, there are a lot of specialisms and filtering options: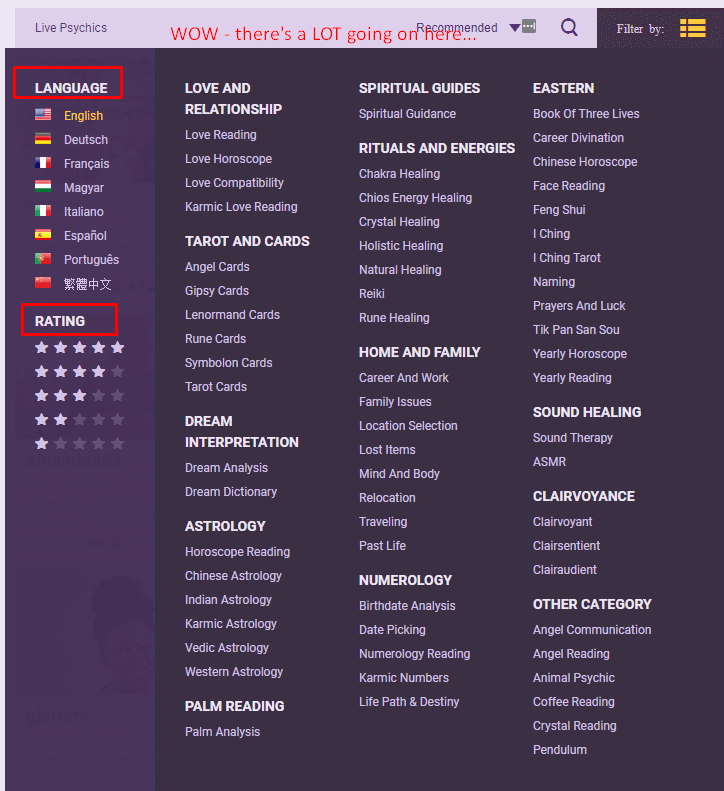 I think this is the most psychic specialists or filtering options that I've ever seen at any site (Kasamba and Psychic Source included – and even they overwhelmed me!).
This is also the first time I've seen a language filter, which I really liked. After all, if English isn't your first language, wouldn't you rather talk to a psychic who could speak your native tongue?
There is a huge range of options here, including some pretty niche specializations like Eastern Naming, Date Picking, and Vedic Astrology. It seems like Oranum is a really good option for people who are very experienced in psychic reading, and know exactly what they want.
I think it's also great for psychic newbies, who want something more simple or mainstream like a tarot card reading or relationship advice.
I consider myself to be a bit more experienced in the realm of psychic reading sites, and even I hadn't heard of some of the services on offer. There are definitely some types of reading I want to try out!
Oranum – Is It Trustworthy?
Oranum looks like it puts all of its cards on the table as soon as you open the site. You can see all the filtering options and specialisms available and even click through to most of the psychics live streaming, without even signing up.
But does this openness mean that Oranum is really transparent? Is it trustworthy, and worth your money and time?
Psychic Screening Process
At some psychic reading websites, you can be really assured that you're getting quality: sites like California Psychics and Psychic Source demand a very strict interview process and a background check.
Other sites like Keen and Psychic Encounters don't really require that much. Just apply to join, set up your psychic bio… and that's it.
It seems that Oranum is one of the latter. Here's what I found regarding the psychic screening process:

It's really great that just about any old psychic can join the site, but I do prefer the very stringent background checks of other sites. For example, I really liked how Psychic Power Network makes every psychic applicant give an interview complete with a live reading.
Still, I guess with Oranum's very audience-heavy structure, you'd be able to weed out the fake psychics pretty quickly just by checking the feedback and the psychic's popularity.
Psychic Bios
If some psychic reading websites – Psychic Encounters comes to mind – try to keep their psychic's bios light so you can focus on what matters, Oranum takes the complete opposite tactic: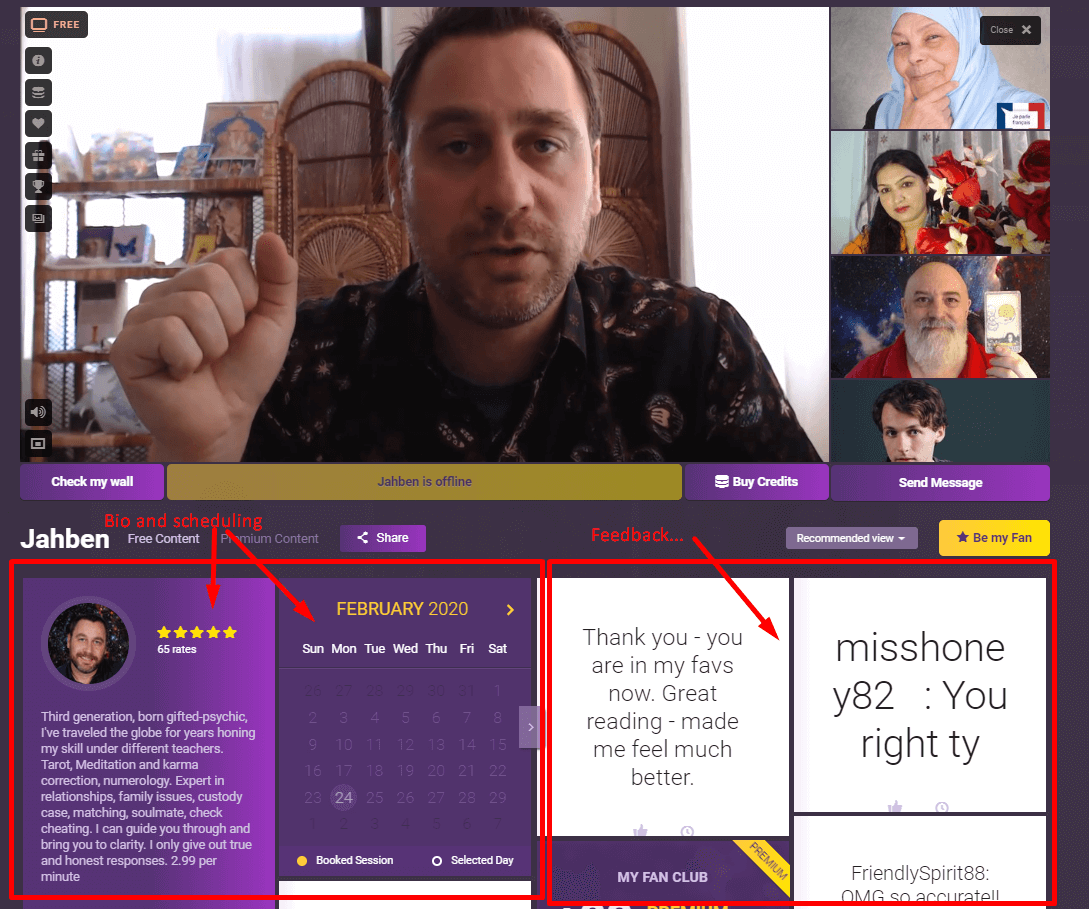 Oranum really lets everything hang out in its psychic bios. You can easily see:
A live stream of the psychic talking (if they're online).
What the psychic says about themselves.
A calendar for easy online scheduling.
User feedback.
Languages spoken.
Other recommended psychics (top right-hand corner).
Samples of this psychic's readings.
I think it's safe to say that the psychic bios at Oranum are really in-depth, and you can get a great sense of the psychic, because you can actually see them in action before you commit to a reading.
Customer Ratings
Customer ratings are always a sticking point at psychic reading websites. At Oranum, however, it's really clear that users are central to the entire experience. User feedback features front and center of each psychic bio, and users are very encouraged to leave feedback.
In fact, it can even get a bit overwhelming…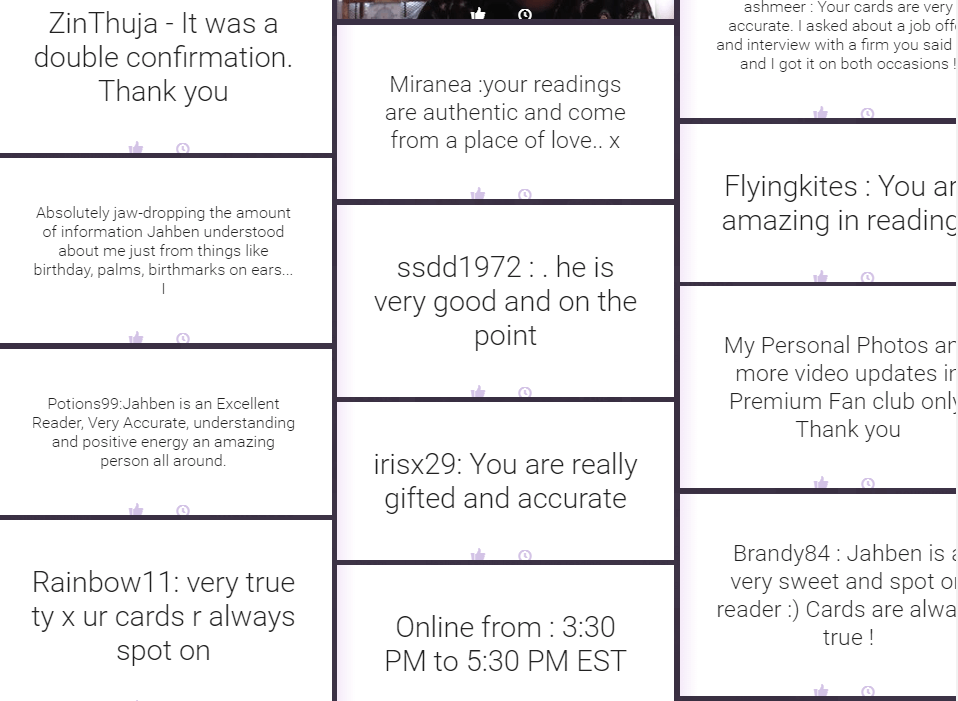 Money-Back Guarantee
Here's the thing: most other online psychic reading sites have very clear money-back or satisfaction guarantees.
At Oranum, I regret to inform you that I found… nothing.
I Googled it. I checked the FAQ section. Eventually, I decided to ask for support.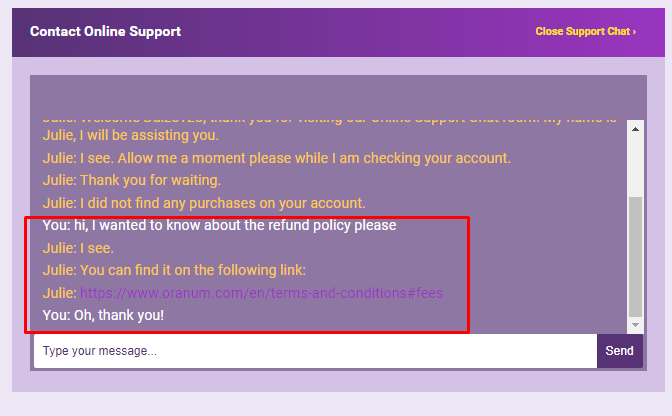 I followed the link the customer support rep sent, and it gave me… a headache. Here's what I found: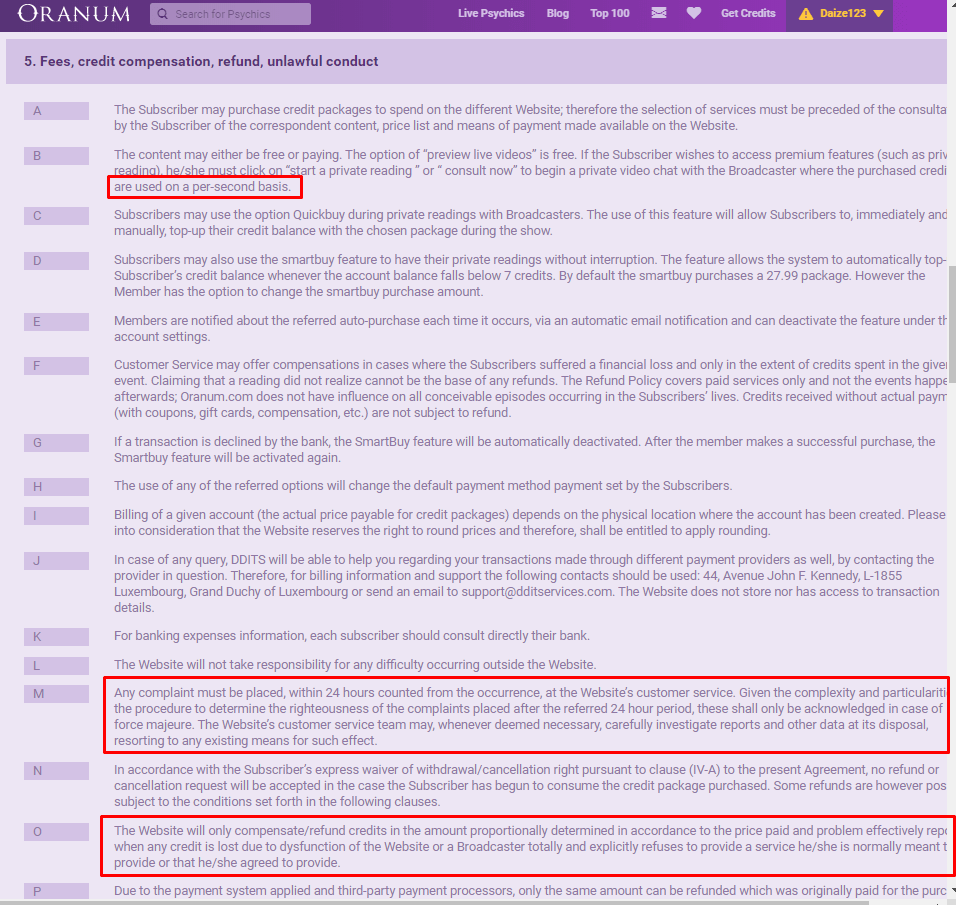 If you don't want to read the legalese, or can't read the tiny writing, here's what you need to know:
You have to make a complaint within 24 hours of your reading.
Your credits (see below – 'Pricing') are charged on a per-second basis.
You'll only be refunded what you sent – and only if Oranum thinks you have a case.
I don't really understand why Oranum hides this information: it should be available and far more user-friendly. I've never seen such a tricky, legalistic way of explaining something that most customers would want to know before signing up.
All in all, I would say that Oranum is trustworthy. The psychic bios alone are more than enough to give you a good impression of who you're dealing with, even if the psychic application process isn't so strict. While it's difficult to read, there is still a clear refund policy.
Oranum Pricing
Oranum does things very strangely indeed. Instead of just linking your credit card or PayPal and buying minutes with your chosen psychic, you buy packages of credits to spend: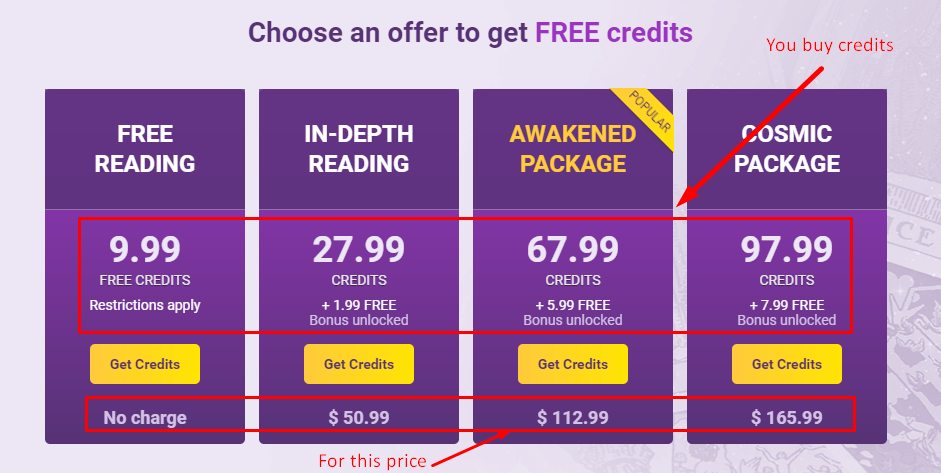 I personally don't like this approach, but I guess if it works for you, then it works for you.
Weirdly enough, there's no way to actually filter the psychics by how many credits they charge per minute. Some psychics write this in their bios, but otherwise, you'll only find out how many credits you'll be charged as you decide to book a psychic.
Still, I'd say you're looking at around $1.99 per minute in credits per psychic, with some charging a little more. That's pretty cheap in a market where psychics on Kasamba and California Psychics can reach up to $30 a minute.
Oranum Customer Support
As I discovered when looking for the refund policy, Oranum has a nice live chat function. I received an answer in under 2 minutes from a human (not a bot).
There's also an FAQ section, although I couldn't find answers to basic questions like how to join as a psychic, or how to receive a refund.
There's also a paid phone number, available 24/7. I think the lack of a toll-free number is a little stingy, but maybe I've just been spoiled by all of the other psychic reading sites I've reviewed who all seem to have toll-free numbers if they offer a phone line.
The Bottom Line on Oranum
Oranum does things differently. It's a very social, community-oriented psychic reading site, where you can get a taste of a psychic's style even before you sign up. I really liked that.
I also liked just how different the entire thing was, although there were a few things I was very underwhelmed by. I missed a clear refund policy, and I didn't quite understand the strange pricing structure.
Still, I really respected just how different and interactive Ornaum is. All in all, it's a thumbs up from me.