Purple Garden is a psychic reading platform that lets you connect with psychics from your phone or computer anytime or anywhere. The site has been around for several years, which has supposedly solidified it as a juggernaut in the online psychic reading space.
But with very little information available on Purple Garden, you can begin to question the site's trustworthiness. And with a seemingly endless list of online psychics, you might struggle to connect with the right reader. These concerns can make you wonder if Purple Garden is a worthwhile choice over some competitors.
I did a little digging to determine whether you should use Purple Garden for psychic readings. It offers an introductory offer of a $10 credit when you make your first purchase and helps you choose from the hundreds of qualified psychics, some of which have been around for 5 or more years.
Purple Garden Main Features
Types of Readings on Purple Garden
Love Readings
There are over 100 psychics who provide Love Readings on Purple Garden. Generally, you can expect prices from about $1.99 to $17.99 per minute. From my experience, I found that most love and relationship psychics fall somewhere around the $3.99 – $4.99 range. This is the place if you're after insights about your past, present, and future relationships.
Remember that about half of the Love Readings psychics have hundreds, if not thousands, of readings under their belts and have been rated very highly by past customers. You'll also find a good selection of whatever communication method you prefer – phone, video, or chat.
Psychic Readings
Psychic readings can help you understand more about what's going on in your life and what steps to take. As the second-most popular reading category, you can choose from 160+ highly qualified psychic readers. Again, most prices here fall somewhere in the middle at around $1.99 to $9.99+, but you occasionally will find more expensive readers as well.
I recommend taking a close look at each psychic's rating, customer feedback, and years of experience to increase your chances of finding the right match.
Tarot Readings
An experienced tarot reader can help you understand more about the mysterious aspects of your life. You'll be able to speak with someone who can help you predict situations and outcomes in your life by analyzing internal and external influences.
This is another reading category with tons of skilled readers, as many have over 500 customer reviews. Every reader has a rating of well over 4.5 out of 5 stars, so finding a high-quality reader here isn't difficult.
Most tarot readers have been around for a few years at least, with some of them having been around well over five to six years. This is a good sign as it appears they're giving out genuine and helpful advice to their previous customers.
Palm Readings
You'll find about 16 highly qualified palm readers on Purple Garden with over 500 customer reviews. This isn't as large a selection as other categories, but at least the ones you do find here will be of the highest quality. Palm readings help you understand more about your character and aspects of your life by studying the palm of your hand.
If you find a palm reader you like but they're not currently online, feel free to set up a notification letting you know when they're back online. You might find fewer psychics online at any given moment in the palm reading category, thanks to the fewer palm readers.
Other Categories
Other reading categories available on Purple Garden include angel insights, dream analysis, horoscopes, oracle guidance, and astrology. All in all, you'll find about 100+ psychics in these categories who are highly skilled and experienced.
If you're looking for psychics with 500+ reviews, you might find a smaller selection. But once you find a psychic you like, you can usually jump on a session with them. If not, you can be notified when they're online or book a reading for later.
Is Purple Garden Trustworthy? Yes
Most psychics on Purple Garden have hundreds of positive reviews from previous customers. This means there's a good chance of getting a quality experience by carefully selecting a psychic. There are several highly rated psychics across a few categories that you may be interested in.
Just keep in mind that Purple Garden doesn't offer a satisfaction guarantee. But if you have an experience that doesn't live up to your expectations, the site states that it carefully considers each case. So if you contact them, you may still get a refund.
Top Psychics on Purple Garden
If you're after a top psychic reading on Purple Garden, then psychic willow is worth considering. She has over 37,800 readings under her belt, and she's been with the service for over six years.
Over 17,000 of her previous customers have had a great experience with her, whereas only 196 didn't. And, her chat, phone, and video call prices are roughly within $5 of one another – pretty in line, if not below, the industry average. In my opinion, you may not find a better love reading than the one you'll get from psychic willow.
Previous customers say they haven't encountered a more compassionate and kind psychic reader than Psychic Willow. Others say that she provides excellent readings focusing on relationships and careers.
2. Ms.Sonia – Best for Psychic Readings
Ms.Sonia is the highest-rated and longest-standing psychic reader on Purple Garden. Her focus is on Love Readings and Tarot, though she does offer general psychic readings, too. You can get a reading with her via phone, video, or chat.
With over 27,000 readings completed, and 13,328 positive reviews with a 4.9 out of 5-star rating, there aren't many other psychic readers who come close to her skill level and experience. If that isn't enough, Ms.Sonia has also been with the platform since 2015 and shows no signs of slowing down.
Her reviews state that she's very consistent in her readings, quite detailed and that she knows exactly what's going on.
Tattooed psychic has been on the platform since 2017. His primary focus is on work and career, family and home, and love life. Not only that, but he also provides Astrology & Horoscopes along with Psychic Readings.
Having completed 34,000+ readings since 2017 and maintaining a 4.9 out of 5-star rating based on over 14,000 customer reviews, you might find that you'll get the best-quality tarot reading from Tattooed Psychic. You can get video, phone, and chat readings.
He is widely regarded for not being vague and can be relied on to provide detailed and accurate readings. Additionally, some clients mention that he tends to offer unique insights.
4. Psychic Bella – Best for Palm Readings
Psychic Bella has been on the platform for about five years. Her primary categories are palm readings, psychic readings, and love readings. She's completed thousands of readings and features a 4.9 out of 5-star rating based on over 2,000 customer testimonials.
You can get chat, video, and phone readings from Psychic Bella. She seems to be offline quite a bit, which is a good sign, in my opinion. You're always welcome to get notified when she's back online again.
Her positive traits are her high level of detail, her ability to get straight to the point, and her talent for providing clear answers. She's also helped and guided other clients to obtain a more powerful direction in life.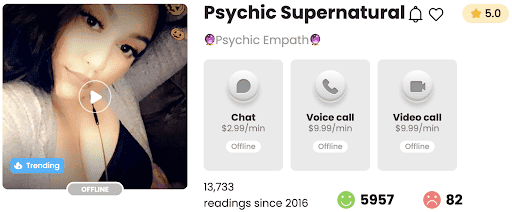 Having completed over 13,000 readings since 2016, Psychic Supernatural features a perfect 5-star rating based on several thousands of customer reviews. You can also find love readings and psychic readings with Psychic Supernatural. Fewer than 100 people in total over the years have been dissatisfied with her services – a very tiny percentage.
Psychic Supernatural offers chat, phone, and video readings and offers up one of the lowest per-minute chat rates at only $2.99 per minute. Her other rates are also reasonable at $9.99 per minute for voice and video readings.
Her clients have praised her for being in tune with human emotion and picking up on exactly what's happening. Others say that she's always a welcoming spirit, friendly, and compassionate.
Is There a Mobile App?
Yes, Purple Garden offers a fully-fledged mobile app for readings on the go. You'll be able to browse psychics, choose one who is online, and jump straight into a call with them.
The mobile app is also more powerful than the site in some ways. For example, the app lets you get a notification when your favorite psychic is back online, should they currently be busy or offline.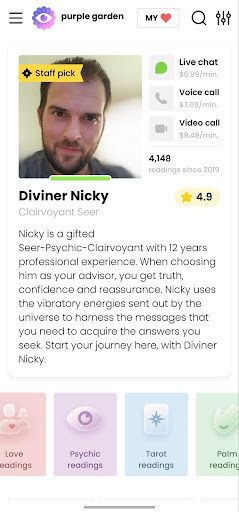 Once you've downloaded the app on your mobile device, you can select a reading category near the bottom of the page. Then, you can either find a psychic who is online or offline, jump into a call with them, or get notified when they're available.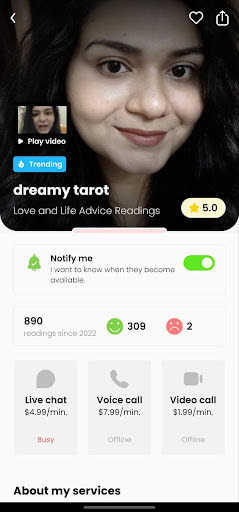 To set up a notification, press the green button under the psychic's name, which sends you a push notification when the psychic is available again or back online.
How to Use Purple Garden
1. Create an account. Before you can get a reading, you'll first need to create an account. You can do this by clicking "Join" in the top right of the screen. Then, you'll be asked to provide your email address and create a password.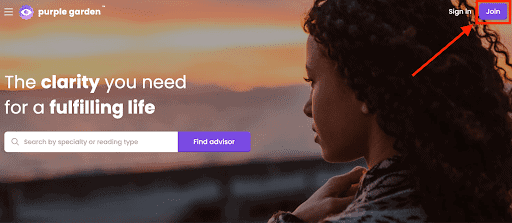 2. Find your ideal psychic. Once you've joined Purple Garden, you can choose your favorite reading category in the main menu in the top right of the screen. From there, you can filter down your options based on communication method (call, chat, or video), number of reviews, pricing per minute, and whether you want to view all psychics who are also offline.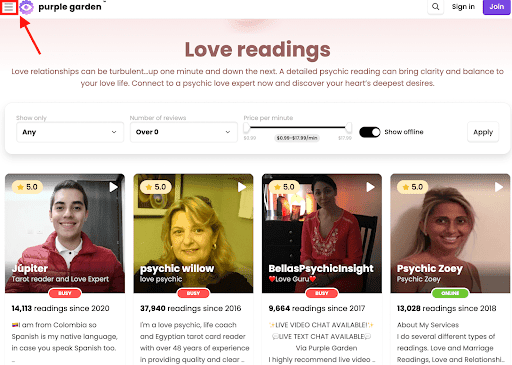 3. Jump into a reading. Once you've found a psychic you like, you can go on to a call with them right away if they're online. If you're using the mobile app, you can choose to be notified when they're back online if they're offline.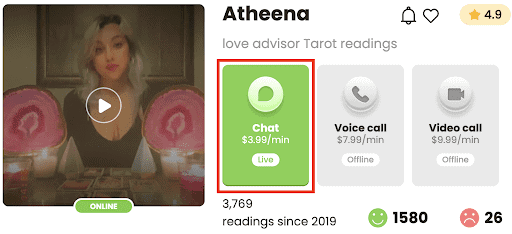 Pricing
Prices on Purple Garden start from $0.99 and go as high as around $18 per minute. However, I've found the vast majority of prices to fall on the low end or in the middle. Compared to other competitor sites, Purple Garden remains one of the most well-priced psychic reading services.
Once you purchase your first reading, you'll receive a credit of $10, which you can apply toward any future readings. Though this isn't as good of an introductory offer as some other competitor sites, at least it's still a great way to get extra minutes – even though you have to pay upfront.
Though no satisfaction guarantees are available on Purple Garden, its terms of service state that you're welcome to contact support in case of any issue. Refunds are processed and issued individually, at the sole discretion of the support agent – again, unlike some competitors that offer a no-questions-asked satisfaction guarantee.
Customer Support
There's only one way to contact support, and that's by submitting a support ticket. You can expect a response within 24-48 hours, depending on whether you submitted the request on or before the start of a weekend or holiday.
I've found the FAQ and knowledge base sections to be quite helpful while awaiting a response from the support team. It offers up in-depth information on several questions you might have.
Lastly, a community suggestion forum exists where you can let Purple Garden know about your ideas for improving them.
FAQ on Purple Garden
What types of readings does Purple Garden offer?
You'll find over 10 types of readings on Purple Garden, such as tarot, angel insights, psychic readings, love readings, astrology, horoscopes, and much more. There are several experienced psychics across many categories, with many demonstrating a rating of over 4.5 out of 5 stars.
What types of communication methods are available at Purple Garden?
Purple Garden offers phone, video, and chat readings. Not all competitors offer video readings, so including that is something nice to see. Even considering that, its pricing remains highly competitive. You can make use of all the communication methods through the mobile app.
Additionally, if you find a psychic who you like and they're currently offline, you can set up a notification that tells you when they're available again. This is a feature not available on the main website.
How does Purple Garden work?
When you first arrive on the site, you'll need to create a Purple Garden account or log in to your existing one. When that's done, you'll need to select your desired reading category from the drop-down menu and set your chosen filters, which include communication type (phone, chat, or video), price, number of reviews, and availability.
Then, you can jump on a call with a psychic if they're online, otherwise, you can elect to be notified when they've back online again if they aren't.
Bottom Line
Purple Garden has been in business for a long time and offers hundreds of readers in many categories with thousands of positive reviews. These are all good signs that you'll get a high-quality psychic reading.
Additionally, prices seem to fall in the middle – if not the low-end – of the competition, which is also nice to see. Though Purple Garden doesn't offer a satisfaction guarantee, overall, in my experience, it's one of the most reliable, accurate, and trustworthy psychic reading sites today when you also factor in their strict psychic vetting process.