Purple Garden is a well-known psychic site, but since it doesn't provide much information on how it evaluates its psychics, you might wonder if it's reliable. It also has a seemingly endless list of psychics to choose from, so you might struggle to connect with the right one. And with an increasing number of fraudulent psychic sites, it's only normal to be cautious.
To help you feel at ease, I've thoroughly evaluated Purple Garden and complied a detailed guide on the platform. After testing the site's main features and it's usability, I can assure you that it's safe to use. When you're more familiar with Purple Garden and its services, you can approach your reading with increased confidence and reduced anxiety.
But if you're after some extra reassurance, it's possible to try Purple Garden with its $10 credit and ditch the fear of wasting money. Thanks to its attractive introductory offer for first-time users, you can determine if its services suit your needs while enjoying a lengthy session.
Purple Garden's Main Features
Types of Readings on Purple Garden
Purple Garden seems to be a suitable fortune-telling site. It offers a wide range of reading themes for personalized advice and has flexible reading options, including chat, call, or video reading. This suggests that the site aims to meet your specific preferences and needs, providing you with a customized experience.
Love Readings
Purple Garden's love readings are designed to help those seeking understanding and guidance with heart related matters. I was pleased to find that most of its love psychics possess considerable experience and are appreciated for their accurate insights. Many have been able to uphold a 4.8-star rating and above, which speaks to the quality of their sessions.
You'll also have the ability to choose from over 100 love psychics, allowing you to find someone you resonate with. These talented readers come from varied backgrounds and have unique styles and methods, so you can select one that best suits your preferences. As a result, you'll obtain the insights you desire without having to make any concessions.
Additionally, you can connect with love readers who specialize in niche areas like soulmate and twin flame connections. There are even love coaches who provide practical advice on handling various situations. With such a diverse range of options, you can be assured that you won't need to rely on a generic solution for your love matters.
Tarot Readings
Purple Garden offers Tarot insights that delve into your past, present, and future. You can find Tarot readers who specialize in matters of love, career, and spiritual growth, ensuring you find answers to any questions you may have. I recommend watching the introductory videos on the advisors' profiles to identify their area of expertise.
I was pleased to discover that a large number of its Tarot readershave completed over 5,000 readings. This demonstrates that the Tarot advisors are experienced and should alleviate any concerns you might have. To me, this indicates that they have successfully guided numerous people through a variety of situations.
What sets Purple Garden apart is the option to receive a Tarot reading via video. While the accuracy of the insights remains consistent regardless of the reading method, I recommend choosing the video option if you prefer to see the cards. Having the visual aspect can strengthen your confidence in the advice given by your reader.
Psychic Readings
This category is ideal if you're seeking general guidance in life or need more clarity before making a decision. To choose the right psychic for your needs, look for the "Top Accuracy" badge on their profile. Psychics with this badge have been highly rated by clients for their accuracy, so you can trust the advice they offer.
When exploring psychic readings on Purple Garden, you'll come across psychics with various abilities. For instance, you can connect with a clairvoyant psychic if you desire detailed insights through visions. Additionally, you have the option to incorporate different psychic tools into your reading for added clarity and depth.
Other Reading Categories
If the categories above don't resonate with you, there are other options to explore, such as palm readings, angel insights, astrology, and dream analysis.
Palm readings offer a fascinating glimpse into your destiny by interpreting the lines on your hand. This method can provide insights on various aspects of your life, such as the number of children you might have or potential marriages.
If you feel a deep connection with the concept of angels, the angel insights category might be perfect for you. Here, you can communicate with a spiritual advisor who can connect with angels to offer loving guidance. Many of the angel readers receive positive reviews, which can be comforting if you're considering this option.
Astrology readings provide a more structured approach to divination, enabling you to take practical steps. By having your astrology chart read, you can gain remarkable insights into what the upcoming year holds for you. This category is ideal if you seek well-rounded advice on multiple aspects of your life.
Lastly, the dream analysis category allows you to delve into your subconscious mind to better understand your dreams. If you've been experiencing persistent or recurring dreams, this option can help you gain clarity on what they mean. From what I've observed, the readers in this category have an average rating of 4.9 stars.
How to Book a Reading?
To schedule a reading on Purple Garden, you need to first set up an account, select a psychic, and then pay for your session. You have the option to explore the psychics before creating an account, but you won't be able to begin your session without choosing one. If you're new to Purple Garden, you'll receive a $10 credit that will be deducted from your total.
1. Create an Account
Making an account on Purple Garden is simple and takes just a few minutes. You can create your account in a few easy steps, whether you're using the desktop website or the mobile app. On the desktop site, click the "Join Now" button located at the top right corner of the page. On the app, the signup page will appear automatically after you've downloaded it.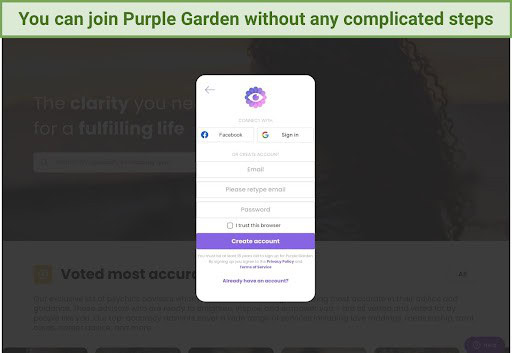 Keep your data protected by signing up with an email and password.


You can either sign up using an existing email and password or by connecting a third-party account through Google or Apple. I'd personally suggest signing up manually, as it gives you greater control over your online privacy. Registering with a third-party account may result in sharing more of your personal information.
2. Select Your Psychic
Next, you'll need to decide on the type of reading you're interested in, which will depend on your specific needs. For instance, if you're keen on using psychic tools, you should visit the Tarot page. After you've made your choice, you can refine your search by call type, the number of reviews, price range, and availability.
However, it's crucial to carefully evaluate each psychic you're considering by examining their reviews, experience, and star rating. Doing so will help you find a reader who matches your preferences and prevents any unsatisfactory sessions.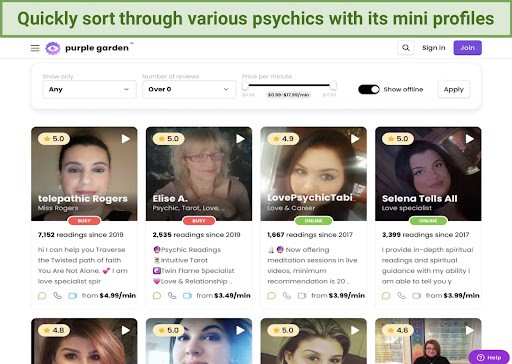 On Purple Garden you can easily determine which psychic is for you.
3. Start Your Session
After you've selected a psychic, you'll need to choose between a chat, call, or video reading. But remember that the fees per minute might differ based on your choice. Generally, chat readings tend to be more budget-friendly compared to calls and video sessions.
Then, you'll be asked to decide the duration of your reading. The shortest available time is 5 minutes, while the longest is 60 minutes. The cost for each time slot will be clearly displayed, so you'll know exactly how much you'll be spending on the session.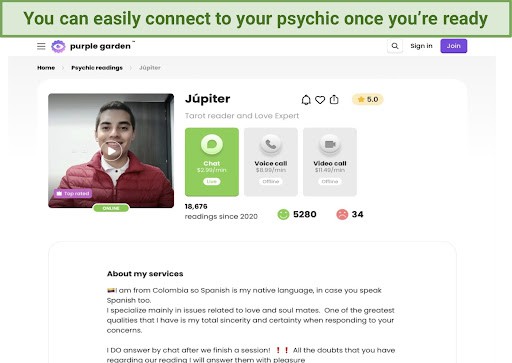 The contact methods available are clearly displayed on your psychics profile.


Once you're set on the length of your reading, you'll get your total amount minus the $10 credit (if you're new to Purple Garden). You'll then be prompted to provide a payment method, such as a debit or credit card or PayPal. As soon as your payment is processed, your reading will commence and you can start conversing with your reader.
Is Purple Garden Trustworthy? Yes
In essence, I discovered that Purple Garden is a reliable and valuable site for psychic services, after thoroughly reviewing it. What makes it stand out is its honesty and openness with its users, demonstrating a strong foundation of trust. The cherry on top is its crystal-clear pricing structure, offering you peace of mind, knowing that you won't encounter any surprises.
Additionally, I was delighted to discover that Purple Garden implements a spending limit for added safety. To increase your spending limit, you must submit your identification and get approval from a representative. I believe this bolsters trust as it demonstrates a dedication to safeguarding you from fraudulent transactions.
Moreover, Purple Garden stands out for its exceptionally transparent review section. On top of each profile, displays a clear numerical breakdown of both positive and negative reviews received by the reader. The platform even goes extra mile by adding special banners on the profiles of advisors who have received client ratings of "Accurate".
While exploring Purple Garden, it became evident that the psychics are highly experienced and have strong reputation among their clients. The majority of its advisors have conducted numerous readings, showcasing substantial proficiency. This aspect enhances Purple Garden's reliability by showcasing a high level of credibility.
The website's trustworthiness is reinforced by its refund policy. If you've had a less-than-ideal experience or faced technical difficulties, you can simply reach out to support team within three days of your reading and provide them with the order date, time, and the advisor's name. Note that all refund requests are carefully reviewed and decided on a case-by-case basis.
The only drawback of using Purple Garden is the lack of information about its psychic vetting process. However, the team has shared that its psychics must pass a series of tests and interviews before being accepted. While it's difficult to determine how rigorous the screening truly is, the majority of the site's psychics appear to be accurate.
Top Psychics on Purple Garden
1. Jupiter

Best for Love Readings

Jupiter is a top love psychic on Purple Garden and has 15 years' experience and completed 18,000+ love readings on the site. With 5,000+ positive reviews, a 5.0-star rating, and a top-rated badge, he specializes in soulmate dynamics. He also speaks Spanish, catering to native speakers.

2. Psychic Willow

Best for Psychic Readings

Psychic Willow is an excellent choice for general psychic readings. With 40,000+ readings on Purple Garden and 48 years of experience outside the site, she specializes in Clairvoyance and provides insight through visions. She's also LGBTQ+ friendly, offering a safe space

3. Bella Love

Best for Tarot Readings

Bella Love is a 3rd generation Lightworker, Psychic Medium, and Spiritual Healer. Known for her non-judgmental approach, she has 23,000 readings, 8,000 positive reviews, and a 5.0-star rating. Her clairaudience, clairvoyance, and clairsentience abilities enhance her accuracy.

4. Nikki Rich

Best for Astrology Readings

Nikki Rich is a 2x certified professional Astrologer with 20+ years of experience. She is also an empath and clairsentient reader skilled in Reiki and Tarot. With 10,000+ readings and a 5.0-star rating, clients appreciate her accurate and grounded advice.

5. JoJoEmpowers

Best for Angel Readings

JoJoEmpowers has an impressive resume since she's a Life Coach and Counsellor, holds a Masters Degree in Counseling Psychology, and a Doctoral Degree in CORE counseling. With 18+ years of experience and 19,000+ angel readings, she's celebrated for her uplifting positivity and heartfelt guidance.
Is There a Mobile App? Yes
Purple Garden's app works seamlessly with both iOS and Android devices and is free to download. Its user-friendly design and well-organized interface make it a breeze to locate what you're seeking. You can rest assured that your sessions won't be disrupted by technical issues such as bugs or glitches.
The Purple Garden app is beginner-friendly with its clear headings.


In my opinion, using the app is more convenient compared to the site because you get instant access to thousands of psychics from anywhere. The app allows for more discreet sessions because you don't have to be on a computer to get advice. Instead, you can chat with a psychic whenever you need without others knowing.

The app enables quick access to features like your list of favorite advisors and the community-driven Journeys feature. Your favorites list allows for easy, one-tap connection to your preferred advisors when you need guidance in a hurry. Meanwhile, Journeys connects you with fellow users and even offers psychic recommendations.

The Journeys features is free and a great way to gather support from others in the same situation as you. You can browse through thread-board categories which include, infidelity, breakups, finding love, career, relationship problems, making a decision, and much more.

One thing I noticed while using the app is that you get exclusive offers and promotions on readings. You'll receive pop-up notifications for discounted sessions or free credits toward future readings — perks that aren't available on the website.

While the app may lack some extra features, it has the benefit of not being overly complicated. Key features like push notifications and reminders are included, ensuring you won't miss any scheduled readings. Plus, there's no need to manually add readings to your calendar, as the app automatically sends reminders.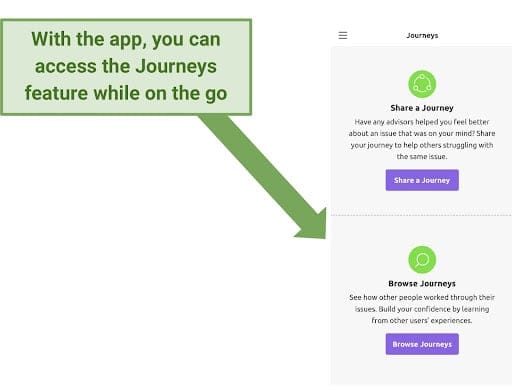 The app allows you to access your favorite features with a few taps.
Pricing
The starting rate on Purple Garden is one of the most competitive I've seen with sessions starting at $0.99 per minute. Prices do vary, with some readers charging up to $17.99 per minute, but that's quite rare. I noticed that most psychics on the platform charge between $3 and $7 per minute.
If you're new to Purple Garden, you'll be given a $10 credit towards your first reading, allowing you to save significantly on your initial session. This makes it easier to test the waters without any financial commitment upfront. You don't need to deposit money or pay until you've chosen your reader, which is a nice perk.
Its payment options are fairly standard, including all major credit cards and PayPal. Rest assured, all payments are encrypted and secure, so your financial information remains protected.
Purple Garden offers several financial benefits, including a Cashback program, a complimentary reading when you refer a friend, and free credits on your birthday. However, it's important to note that the free reading is only awarded after your friend makes a purchase, and your birthday credits will expire after 72 hours.
Customer Support
If you ever require assistance, you can count on Purple Garden's customer service team. I've observed that they respond quickly and their representatives are both attentive and polite. If you prefer not to wait for a reply, you can always refer to its comprehensive FAQ section for immediate answers.
To reach out to the support team, click on the three navigation lines at the top left corner of the screen and select "Customer Support". This will take you to another page where you can choose "Submit a Request" and complete the contact form. You should typically receive a response within 1 business day at the latest.
FAQ on Purple Garden
Are the psychics on Purple Garden legitimate?
Yes, the psychics on Purple Garden are legitimate as the site claims to only accept psychics who have been thoroughly vetted. However, just like any other psychic site, Purple Garden says it's not responsible for the accuracy of its advisors. So with this in mind, it's best to vet your options by looking at reviews before booking.
If you're in a pinch, you can consult these psychics as they are highly experienced and well reviewed. The great thing about Purple Garden is that it has a very transparent review system, so it's easy to determine which psychics are worth your time and money.
How does Purple Garden work?
Purple Garden is similar to other psychic sites where you need to create an account, pick a psychic, and pay for a session. The pricing is per minute and can fluctuate from psychic to psychic so the cost of a reading can vary. Additionally, you can browse by reading category and choose between a chat, call, or video reading.
Once you've selected your category, psychic, and reading method, you'll need to select the length of the reading and pay with either credit, debit, or PayPal. Once payment is confirmed, your reading will start and you can begin to chat with your psychic about the focus of your reading.
Is Purple Garden safe?
Yes, Purple Garden is a safe and trustworthy option for a psychic reading. The site is transparent with its reviews and pricing so that you never get caught by surprise. To me, this is a big signal that a psychic site is safe to use because there are no hidden fees or tampered reviews that could mislead you.
On top of this, Purple Garden has a detailed privacy and security policy that ensures your information remains private. Additionally, all of your payment information stays encrypted and is not accessible to staff or any third parties. Privacy should be a major consideration when evaluating the safety of a psychic site.
Bottom Line
Purple Garden is an online psychic platform that's authentic and reliable, even though its vetting process is a little unclear. However, you can be reassured by its open review sections, which show that its psychics are well-regarded. This feature and its refund policy is why I feel confident recommending Purple Garden for a psychic reading.
When you use the platform, you can expect to find a diverse range of reading categories and budget-friendly rates. But most importantly, on Purple Garden you can connect with genuine and compassionate psychics for actionable guidance.