If you are struggling to find a trustworthy platform for psychic readings, you're not alone. It's a jungle out there, filled with offers that promise the moon but might leave you star-crossed. The concerns about finding a genuine psychic service are valid. Fortunately, I've dug deep into Keen and I'm here to tell you it's legit.
Keen excels with its meticulous screening process, ensuring skilled and genuine advisors. Background checks and skill assessments are a standard for each psychic. It's renowned for its psychics with vast expertise in astrology and tarot. The site offers free articles and horoscopes for guidance and inspiration that cater to a wide range of spiritual queries.
Keen's satisfaction guarantee reassures you that you will get in-depth readings that resonate with you. If you are ready to find the secret to your destiny, Keen offers an introductory offer of only $1 for 5 minutes for new users.
Keen's Main Features
Types of Readings on Keen
With over 20 unique reading themes, Keen ensures a connection with advisors suited to your specific spiritual needs. From navigating relationships to uncovering life path insights, Keen advisors specialize in a range of areas, offering depth and precision in their readings.
The platform also understands that life comes at you fast, which is why it offers multiple ways to connect with expert advisors, such as chat or call. If your calendar is very full, you can easily book your enlightening sessions in advance, fitting spiritual growth neatly into your busy schedule.
Astrology
Keen has 220+ astrologers who have astrological insights from four unique schools of thought. Chinese astrology taps into ancient wisdom, providing unique perspectives through your animal zodiac. Vedic astrology offers a deep dive into the mysteries of your karmic path and even explores past lives.
Mayan astrology gives you a fresh, Mesoamerican angle on your astrology blueprint. Western astrology is the most popular and well known, and covers the classic Sun signs to the far reaches of your natal chart.
Keen offers valuable free resources like detailed articles that deepen your understanding of astrological concepts. It also has daily horoscopes that provide guidance and reflections tailored to current astrological events. These resources empower you with insights for informed decision-making and a clearer perspective on daily life through astrology.
Keen's platform offers a wide range of 13 categories for astrology readings. To give you a clearer idea of what you can explore, here are the categories Keen has available:
| | | |
| --- | --- | --- |
| Love & Relationships | Career & Work | Money & Prosperity |
| Destiny & Life Path | Breakups & Divorce | General Reading |
| Spirit Guides | Family & Friends | Pets & Animals |
| LGBTQ | Deceased Loved Ones | Infidelity |
| Grief | | |
Tarot
Keen is a solid resource for anyone interested in learning more about tarot cards. Alongside a range of experienced advisors who can guide you through any query or life challenge with these crafty cards, the platform offers free, interactive tools for tarot enthusiasts.
One feature that I love is its free interactive tarot reader, which can be a great starting point if you're new to tarot or just want a quick reading on the go. This is also available on its app. Whether you have a specific question or are just exploring, this tool offers an insightful experience, reflecting Keen's commitment to making spiritual tools accessible to everyone.
There are 1,400+ tarot readers and advisors on the platform, covering life topics spanning from commitment phobia to family and friends and spirit guides. With so many Tarot readers and topics to choose from, you will find a reader who matches your personality and needs in no time.
Love and Relationships
Navigating the labyrinth of love and relationships is no easy task, and that's where Keen comes in. From the euphoric honeymoon phase to the rockier terrain of long-term commitments, Keen's advisors will map out the highs and lows of your love life for you.
These experts provide eye-opening perspectives that redefine what you thought you knew about love and friendship. The platform boasts a selection of over 2,000 seasoned relationship advisors, and the vast majority of them have impressive ratings of 4.5 stars or higher.
It specializes in a variety of love-related concerns, from the agonies of breakups and the legal tangles of divorce to the murky waters of infidelity and the elusive hunt for your soulmate. With its specialized wisdom, you're not just gaining temporary relief, you're getting long-term insights that could very well turn your love life around.
Psychic Readings
If you find yourself juggling multiple concerns or questions about various aspects of your life, the psychics on Keen's psychic readings category could offer valuable guidance. What I personally love about this option is its holistic approach. Your psychic can tap into multiple situations, be it love, career, or personal growth, and provide a well-rounded set of advice.
Of its 3,200 psychic readers, hundreds have been a part of the Keen community for over ten years, with some having done tens of thousands of readings. Many of them maintain a 4.5 star or above rating. This level of experience allows you to relax and trust the guidance you receive, knowing that you're consulting with some of the most seasoned professionals.
If you've always been drawn to clairvoyants, or perhaps you're interested in remote viewing or mediumship, you'll be able to find a psychic who specializes in what you are looking for. This versatility ensures that you can receive advice in a way that resonates most deeply with you.
Other Reading Categories
The platform offers a broad range of categories that are perfectly tailored to your individual needs in life and throughout your spiritual journey. Keen offers additional categories like Life Path & Advice, Pets, Aura Cleansing, Runes, and Dream Interpretation.
In the Life Path & Advice category, Keen offers a rich pool of over 1300+ psychics. These professionals are adept at navigating life's complexities, providing actionable steps and profound wisdom tailored to your individual circumstances.
Pet readings provide an in-depth understanding of your pet's emotional world, using intuitive skills to connect and communicate in ways you might never have imagined. Pet readings on Keen stand out as a unique offering with more than 120 pet psychics. These readings are a great way to bring you closer to your animal companions.
The Aura Cleansing category is about holistic spiritual health with over 370 experts who specialize in identifying and resolving energetic blocks or imbalances. The techniques often include advanced visualization or guided meditation, aimed at restoring and maintaining your spiritual equilibrium.
Runes provide insight into questions of fate, love, and success. Keen has 6 Runes readers who delve into the mystical world of ancient symbols. These readers draw from a deep well of knowledge about Norse mythology and rune meanings, offering a unique perspective on life's queries.
For unraveling the mysteries of the night, Dream Interpretation on Keen is invaluable. With more than 200 experienced analysts, the dream interpreters on Keen offer thorough analyses of dream symbols, archetypes, and hidden messages. This service is ideal for anyone looking to gain clarity and insight into their subconscious.
How to Book a Reading?
If you are ready to take the plunge into the psychic realm through Keen, booking a reading comprises 3 essential steps: account creation, psychic selection, and locking in your reading session. Before you get there, know what type of reading sets your soul on fire and your preferred channel of psychic communication.
1. Create an Account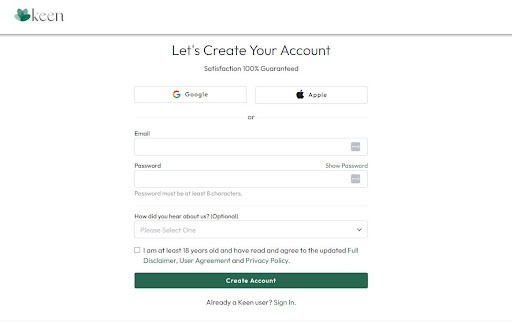 No matter your device, be it mobile or a traditional desktop, Keen accommodates. On your mobile, head to the "Account" tab located at the bottom right of your screen. For desktop users, the "Register" button on the upper right corner of the homepage is your go to.
You can either use an existing Google or Apple account or register with your email address. If privacy is a big deal for you, steer clear of using Google or Apple to keep things separate. Luckily, you do not need to provide as much information when registering like on other platforms.
The platform automatically gives you an introductory promotion. You get 5 minutes for just $1 when you add funds for the first time. To add funds, click on the profile icon on the top right, and select "My Keen" under the dropdown menu. When you are in your profile, you will see a "Add Funds" button next to your balance. Both credit/debit cards and PayPal are accepted.
2. Choose a Psychic


For both desktop and mobile users, all you have to do to find a psychic is hover over your preferred reading category and a selection of advisors will appear for you to choose from. You can either manually search by category or take advantage of the Get Matched feature, which generates a personalized list of psychics who align with your needs.
Keen is great at eliminating guesswork from your decision-making. Keen provides rich, in-depth profiles for each psychic, and these profiles serve as a sort of 'psychic resume. Each psychics profile features a photograph, accumulated star ratings, total number of reviews, and the advisor's longevity on the platform.
Each profile often includes a description of the psychic's background, specialties, and unique skills, allowing for a more informed selection. If you want to see all the reading types each psychic specializes in, you will find it in the description on their profile.
Don't skip the review section. Easy to locate at the bottom of each profile, these reviews often provide critical insights into an advisor's strengths and areas for improvement. Given the highly personalized nature of psychic readings, the reviews can be a tiebreaker when you're on the fence between different psychics.
3. Schedule a Reading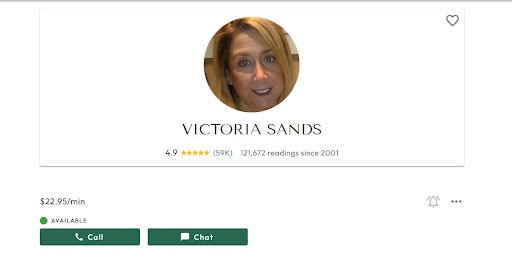 To get your reading booked, just hit the "Chat Now" or "Call Now" buttons on the profile of the psychic you're interested in. The platform makes it effortless to connect in an instant, so there's no time wasted. Rest assured that Keen maintains strict confidentiality while you're connecting with a psychic.
Keen offers the flexibility to enter a custom amount, tailoring the length and cost of the call to your preferences. So before your reading on Keen, you'll select a pre-payment amount. This way, you have full control over the duration of the session and your expenditure.
In case your schedule is jam-packed or the psychic you've got your eye on is unavailable, Keen lets you schedule readings in advance. If you're in need of urgent guidance, you can join an advisor's waitlist. They'll get back to you as soon as they're free. It's a good idea to keep a list of a few favored advisors, so you're not left waiting too long.
Is Keen Trustworthy? Yes
Keen easily makes my 'trustworthy' shortlist, thanks to its standout feature of simplifying the search for the right advisor. Its in-depth profiles, transparent pricing, and the "Get Matched" function demonstrate Keen's commitment to honesty. It's clear that misleading users is not in their interest.
Keen is also serious about the quality of their psychics. All advisors have easily viewable and decipherable reviews, offering you additional perspectives before making your choice. If you're curious about what it takes to become an advisor, their How to Apply to be an Advisor section lay it all out, making the process to becoming a psychic on Keen transparent.


If you're considering a reading on Keen, it's reassuring to know about their rigorous advisor screening process. This thorough vetting ensures that when you choose a Keen advisor, you're selecting from a pool of genuinely qualified and trustworthy professionals.
Getting approved can take a few months though, as there is a large number of applicants that need to be screened and vetted. Unfortunately, all you can do is wait, and reaching out to customer support will not help expedite the process.
Peace of mind also comes with Keen's satisfaction guarantee. If something feels off during your session, you're not out of luck. Just file a refund request within 72 hours of the reading, and you could get a credit of up to $25. This guarantee is applicable once every 30 days, underscoring Keen's commitment to customer happiness.
Top Psychics on Keen
Amber Marine

Best for Astrology Readings

Despite being a relatively new face on Keen, Amber Marine has already completed 474 readings since 2021, she's among the more prolific advisors in the astrology category. Her credibility is cemented by a glowing 4.8-star rating.

Her services come at $5.95 per minute, and she's consistently bringing in great reviews, which you can readily check out on her profile.

Amber is a regular on Keen, so the chances of catching her online are pretty high. When you do get a session, her approach is reassuring, deeply insightful, and genuinely committed to helping you navigate life's complexities.

Joanna Day Moon

Best for Tarot Readings

Joanna has completed 39,000 readings since her start in 2010. Her 4.9-star rating, backed by 8,000 reviews, speaks volumes about her skills.

Typically available through chat, she's a frequent presence on Keen, so scoring a reading shouldn't be a challenge. But she's not just a tarot reader, she's also clairvoyant and clairsentient.

At $7.99 a min, she's the kind of reader who really gets you with her empathetic approach. Joanna's also written a few blogs on Keen that offer a fascinating window into her thought process and beliefs.

Victoria Sands

Best for Love and Relationships Readings

Victoria is one of the more expensive readers on Keen, charging $22.95 a min. Her 4.9-star rating more than vouches for the quality you're getting.

She's been in the game since 2001 and has completed 121,000+ readings. With 59,000 reviews to her name, it's clear she knows her stuff.

She's celebrated as the best on the platform for soulmate and breakup readings. She's direct and gives straight-to-the-point insight.

Advisor Neal

Best for Psychic Readings

Neal gives straightforward, intuitive readings without any frills. He is a male intuitive who uses no tools during his reading. He has been on the platform since 2004, and has completed 60,000+ readings since then.

Charging $7.99 a minute and holding more than 15,000 reviews, he has a lot of happy customers. Neal is usually in high demand, so it's smart to schedule your session in advance. He's a call-only kind of guy, and he's known for being super direct in his communication.

If you have questions about your dreams, or need insights into commitment phobia or infidelity, Neal's also your go-to. He's focused and values your time, so every minute with him is money well spent.

Dalenay

Best for Aura Cleansing Readings

Dalenay may be a newcomer since she joined Keen in 2021, but don't let that fool you. She's already completed over 7,000 readings and maintains a solid 5-star rating from more than 1,600 reviews. At $5.99 a minute, she offers valuable insights for tight budgets.

What I love about her is her transparent scheduling. She posts her available times, so you can plan ahead and know exactly when to reach out.

Beyond tarot, Dalenay's got skills in reiki and aura cleansing. So if you're looking to clean up your energetic act, she's your go-to. She brings a warm, caring vibe to her sessions, always focused on getting you to your best self, energetically speaking.
Is There a Mobile App? Yes
Keen's mobile app is free to download on Android and iOS. As soon as you have downloaded the app and opened it, you're taken through the prompts to get matched with your advisor. It asks you a couple of quick questions to gauge what you're looking for and then serves up compatible advisors.
The Keen app offers the "Favorites" tab, a convenient feature for keeping track of your preferred readers. You can bookmark your go-to psychics, creating an organized list for easy access whenever you need a reading. This function simplifies the process of returning to advisors you've had a good experience with, ensuring a more personalized and efficient experience on the app.
The mobile app also has some unique elements, like the Media tab that offers fun extras like a tarot reading, a fortune cookie, and even a Magic 8 Ball. It's a good way to get some light insights without diving into a full reading.
However, it's important to note that not all reading types available on the desktop version are accessible through the app. If you're after specific types of readings or you want to see your advisor's schedule, you might need to use the desktop version of Keen. This limitation is something to consider if you prefer using mobile for your psychic readings.
Pricing
Keen's pricing varies, rates per minute can be as low as $1.99 or shoot up to $50.00. If you are new to Keen, it rolls out the welcome mat with an intro offer of 5 minutes for just $1 and also offers 3 minutes free with new advisors. But you have to pick one offer, you can't take both.
On top of the introductory offers, Keen also has a Rewards Program. Sign up for free and start collecting points without even making a purchase. As you level up, you'll unlock exclusive perks like free readings and solid discounts.
If you want to get started, you'll need to add funds to your Keen account first. Keen accepts major credit cards, debit, and PayPal. Your credits are kept safely in your account until you decide you want to use them, and if you do decide you want your money back, it has a refund policy.
Customer Support
Keen's customer service is on point, which is one of the reasons it's a top pick for online psychics. If you have a question or an issue, there are two ways to contact them. To connect with Keen, either fill out its online form, or dial (877-533-6435).
The customer support availablity times are Monday – Friday, 6:00 AM – 6:00 PM PST, and
Saturday – Sunday, 8:00 AM – 4:30 PM PST. It's pretty quick, usually getting back to you within a business day without you having to wait too long to hear from a customer support representative.
Keen also has a stack of FAQ pages that cover everything from its satisfaction guarantee to how the psychic advising works. The FAQs are super easy to navigate, with a Q&A style that highlights the most-asked questions, and taking you to detailed articles covering your question.
FAQs on Keen Psychics
What makes Keen different from other psychic services?
Keen is unique because it offers a bunch of free resources like daily horoscopes and articles on spirituality, along with very enticing introductory offers. It also provides various reading specialities and an easy to navigate app that makes getting readings on the go easy.
What is Keen's refund policy?
Keen refunds you your Keen credits within 5-7 business days. In order to purchase readings, you need to load Keen credits onto your account. You are able to request a refund on these credits if they are unused and you decide to close your account, and they will be paid back via the original payment method within the suggested timeframe.
Its satisfaction guarantee gives you up to $25 in Keen dollars refunded as Keen credits on your account. To get a refund for a reading that did not impress you, make sure to apply for it within 72 hours of receiving the reading to qualify. Promotion funds are not eligible for reimbursements. You can reach out to its customer support if you have any problems.
Do I need to deposit funds on Keen before choosing a reader?
No, you can browse reader profiles without depositing any funds. But to engage in a reading session, you will have to add funds and link a payment method to your Keen account. If you are new to Keen, it offers great introductory offers to get you started.
What is the screening process like on Keen?
Keen takes vetting pretty seriously. Advisors have to go through an application process that checks their skills and abilities. They undergo a background check, identity verification, a content quality assessment, and a skill assessment.
What is the best way to phrase a question to a psychic on Keen?
The best way to phrase a question on Keen is to ask open-ended questions instead of yes-or-no ones. For instance, asking "what can I do to improve my love life?" is likely to yield a more insightful response than "will my love life improve?" Keen's top psychics are intuitive and will be able to answer the question correctly, regardless of how you ask it.
Bottom Line
Navigating the psychic realm online can be a challenging experience. But if you're on the hunt for something worthwhile, Keen is a good bet. Keen has a killer vetting process for their advisors, making them some of the best in astrology, tarot, and other spiritual practices.
Its got freebies, articles, and horoscopes that are an added bonus for anyone wanting to delve deeper into spirituality. Keen's customer service could be improved as live chat would be a game-changer for those needing quick support.
While its app is pretty smooth, it doesn't offer all the types of readings you can get on the desktop version. But let's not forget that intro offer, 5 minutes for just $1 for newbies, which is irresistible and great for anyone wanting to test this site out.