Keen Psychics Overview
Keen is one of the top psychic reading sites for a reason and is one of my go-to choices for when I need to discuss some of the most personal details of my life.
The psychics are experienced, accurate, and compassionate, and there are a number of psychic reading categories and tools to choose from.
I decided to take advantage of Keen Psychic's offer of 3 free minutes for new customers to find out if the site is worthwhile, and if the psychics are as accurate as I was hoping.
In this review, I look at every aspect of the site to help you decide if this is a worthwhile platform for psychic readings.
Types of Readings on Keen Psychics
Keen Psychics can provide you with a reading over the phone or via online chat – online chat is much more personal and it gives the psychic a chance to get to know and connect with you. These are the readings offered on the Keen Psychics site.
General Psychic Readings
If you choose a general psychic reading on Keen Psychics, you have the most psychics to choose from. You can filter these psychics according to their reviews, cost per minute, and whether or not they read via chat or phone.
These general readings are carried out using the psychic's natural abilities, but depending on the psychic you choose, tools such as tarot and numerology might be incorporated. Every psychic takes a unique approach, which you can find out more about in their profile.
Love & Relationships Reading
If you have questions about your current relationship or love life in general, you have over 75 psychics to choose from. The Keen psychics who focus on this particular topic are highly experienced.
Whether you want to find out about your soulmate or find out how you can strengthen the relationships with your children, there is a psychic available to assist you.
Life Questions
Got a big life decision to make? There are over 50 Keen psychics who are ready to assist you. Since you really want to trust that the psychic you choose can provide you with accurate guidance, you'll be happy to know that most of the psychics in this category have a rating of 4.5/5 or above.
Tarot Card Readings
Tarot card readings have been around for centuries, but surprisingly, very few of the Keen psychics specialize in this medium. With that being said, many of the psychics under the General Reading category, do use tarot as a medium. I would suggest that you not only search under the Tarot Card Reading category if you're interested in psychics who use this tool.
Spiritual Readings
There are very few psychic reading sites that have a Spiritual Reading category. Having this additional category can make things a bit confusing when you're trying to decide on which reading is best for you. 40 of the Keen psychics specialize in spiritual readings that incorporate guidance from spiritual guides, ancestors, and angels.
I think there is a fine line between general psychic readings and spiritual readings since the vast majority of psychics work with spiritual guides anyway.
Other Categories
The above categories are the primary readings you will find in the Keen Psychics menu, but you can get more specific if you really want to. Financial Outlook, Psychic Mediums, Astrology Readings, Pet Psychics, Angel Readings, and Aura Cleansing are just some of the other categories you can select.
Having this many options can be overwhelming and make it difficult to make any choice at all. Fortunately, you can narrow down your choices using the Keen Psychic Match tool.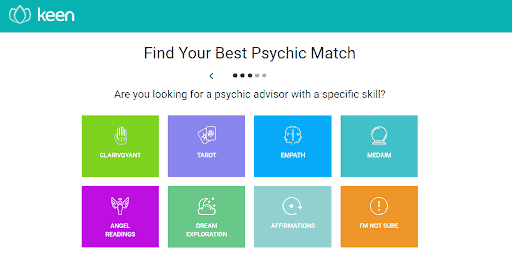 By answering a series of questions about how you're feeling, the guidance you need, and the specific tools and techniques you're interested in, Keen Psychics will provide you with your best matches. You can even choose how blunt and direct you want your psychic to be.
Claim Your Free Minutes on Keen Psychics
How to Use Keen Psychics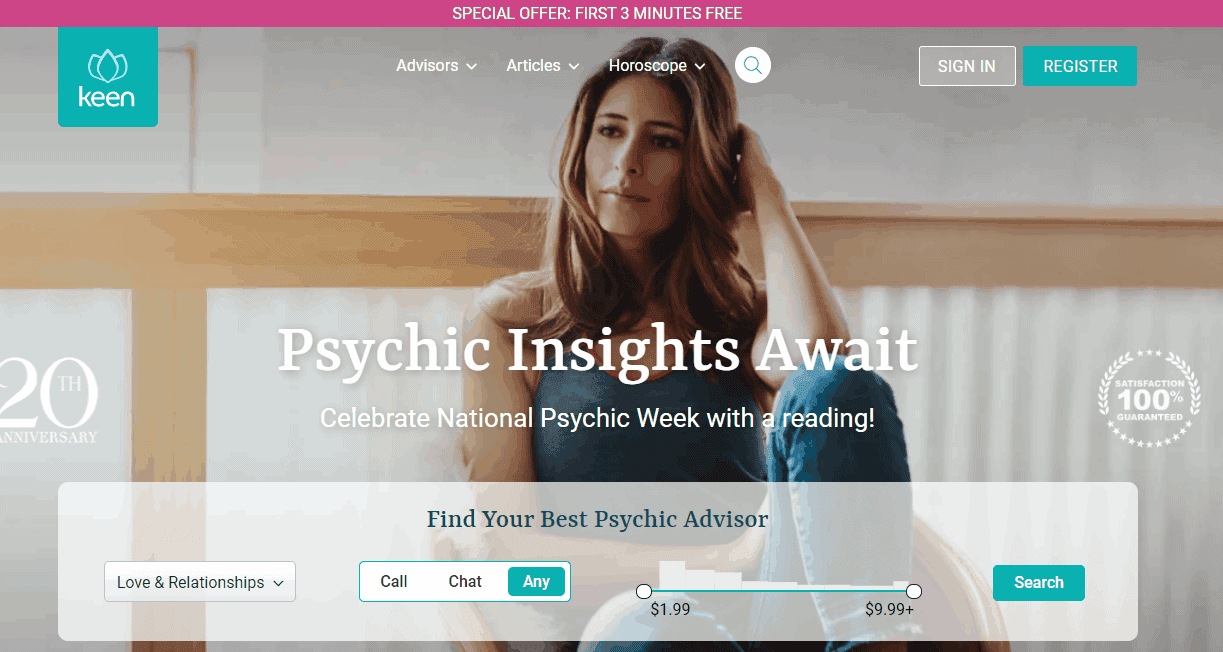 No Keen psychics review would be complete without taking a look at how to use the site.
When you first visit Keen Psychics, the navigation is simple and you can immediately start searching for a psychic that meets your needs. You will need to register for a Keen Psychics account before you can get started. Fortunately, the sign-up process is very straightforward.
All the site requires is an email address, a password, and to find out how you heard about the site.
Once you complete that information, you can browse through a few psychic recommendations, their latest blogs, and a few how-to guides – this is a really great bonus if this is your first psychic reading.
Your account screen will also show your available balance.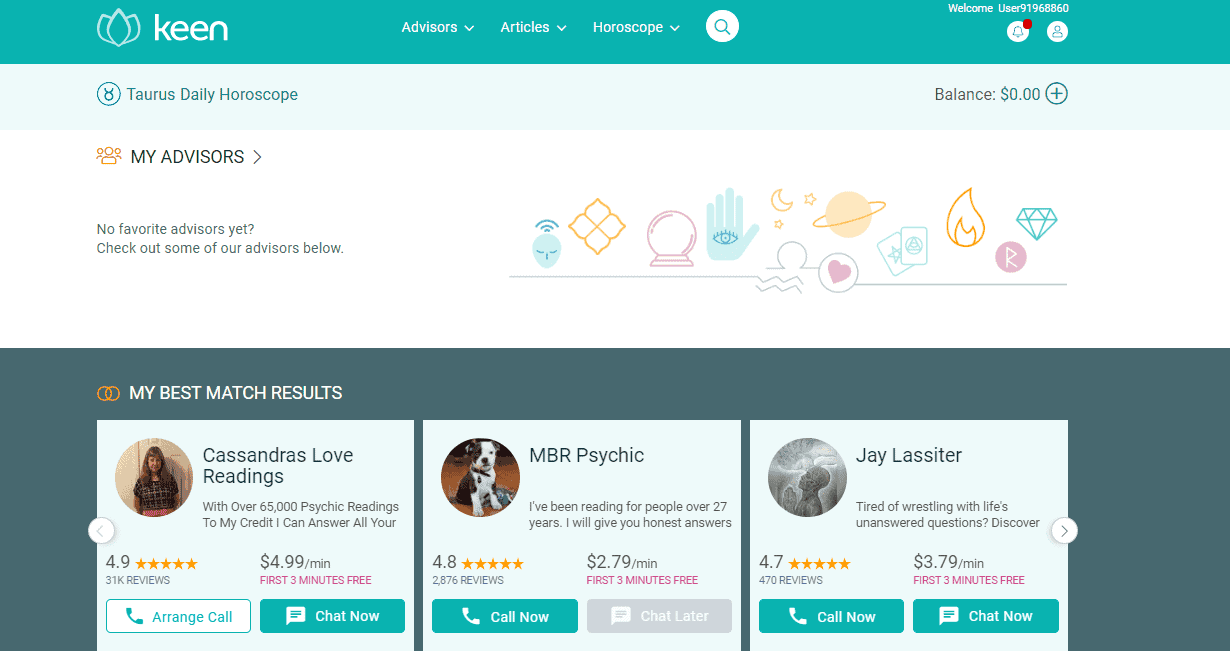 You can top up your Keen Psychics account using your credit or debit card, or your PayPal account. You won't be charged until you select a reader and your call or chat starts.
To find a reader, click on the Advisors menu at the top of the screen and select one of the categories.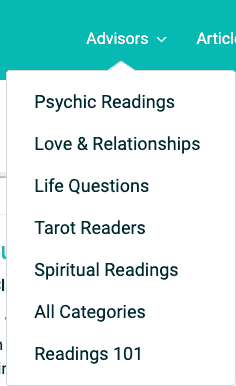 You can now browse through your psychic reader options. Each reader has a rating and you can see how many reviews they have, the number of readings they've done, and how long they've been a part of the Keen Psychics community. You can also see what they charge per minute and the options for connecting with them.
If you click on an advisor's bio, it takes you to their full profile, complete with up to thousands of user reviews. You can see if your reader uses tools like tarot cards, as well as their unique gifts and reading styles.
Although Keen Psychics only offers chat or call readings (there are no video sessions), I really liked the callback option. If the psychic you want to speak with isn't available, you can set a callback request and the psychic will get back to you: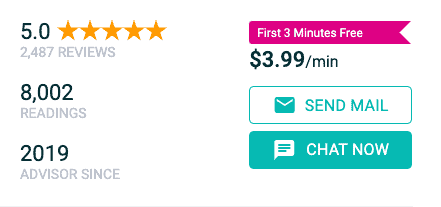 By clicking on the psychic advisor's name, you can see their full profile. Most of the psychic profiles on Keen Psychics contain detailed information on the reader's gifts, tools, and how they approach their readings. Other profiles barely have any information at all.
If the reader you want to speak to isn't available, you can schedule a call or chat.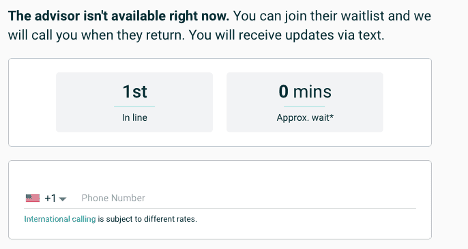 As a new Keen Psychics customer, the first 3 minutes are free. You can then add extra funds to your account based on how long you want to speak to a psychic advisor and what their rate is.
Once you click on the Chat Now button a chat window will pop up and your reading will begin. Following the chat with your reader, you are asked to rate the advisor by choosing a star rating.
Over and above the time it takes to find a psychic advisor, Keen Psychics is easy to use. There is also an app if you need a reading on the go. The app works in a similar way to the website.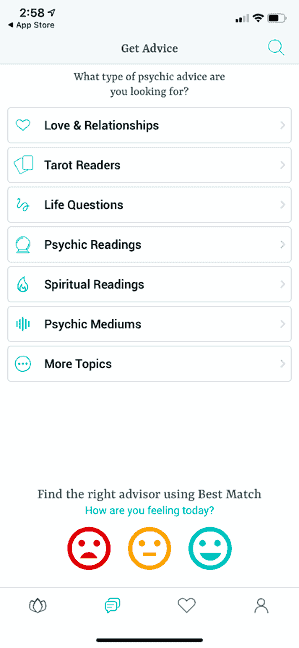 Is Keen Psychics Trustworthy?
Keen's 100% satisfaction guarantee is one of the first things you see on their homepage. If you're not 100% satisfied with your reading, you can request a credit that you can use for a future reading on the site, which I did.
The process was straightforward and I received my credits within 48 hours, which I then used to schedule a reading with a different psychic.
Unfortunately, Keen Psychics doesn't offer much information about how they choose the psychics for their site, so you need to rely on reviews from past customers. What's more, all transactions are anonymous, which means psychics will never have access to your personal information unless you hand it over.
The Keen Psychics customer support team is available all week should you have a negative experience or an urgent query.
Top Keen Psychic Advisors
With the Keen Psychic network being so large, it's next to impossible to list all of the top psychic advisors. Here are a few of them.

Mignon is an angel communicator who has assisted with over 61,000 readings. She is one of the most gifted psychics on Keen Psychics and her cost per minute speaks to that. If you want a reader who can provide you with specific time frames in response to your questions, Mignon is a top pick.

Laura has been a psychic advisor for 18 years and to date, she has performed over 31,000 readings. Her specialty is love and relationships, but she can also assist you with questions about your career, family, and channel messages from your spirit guides. Her reasonable cost per minute and excellent reviews make Laura one of the top psychics on Keen Psychics.

Hannah is a Cherokee Advisor who has provided over 5,000 readings on Keen Psychics since 2009. Hannah is known for her in-depth knowledge and straightforward approach to readings. She only divulges the information you really need to know. Money, prosperity, relationships, and past lives are just some of her specialties.

Nicky has been a psychic advisor on Keen Psychics for 19 years and has performed over 52,000 readings related to love, money, career, and more. If you're looking for accurate guidance on those big life decisions or simply need a positive new direction, Nicky is an excellent pick.

Norah has been offering readings on Keen Psychics for 17 years and has accumulated over 11,000 reviews. This multi-dimensional psychic is known for her accurate predictions and sound guidance using her many gifts. Norah is a good pick if you want someone who is direct but easy to talk to.
Keen Psychics Pricing
Keen Psychic advisors charge by the minute but first-time users get the first 3 minutes for free. Prices start at $1.99, but some psychics charge well over $30 per minute, making this one of the more expensive psychic reading services available today.
With that being said, the wide range of pricing options makes it possible for users with all budgets to schedule a psychic reading.
Unique Features
Tips from Featured Psychics
If you're new to psychic readings, the Keen Psychics site offers some insightful videos that can guide you through the process. Their videos take you through some of the dos and don'ts of psychic readings, how to ask the best questions, and more.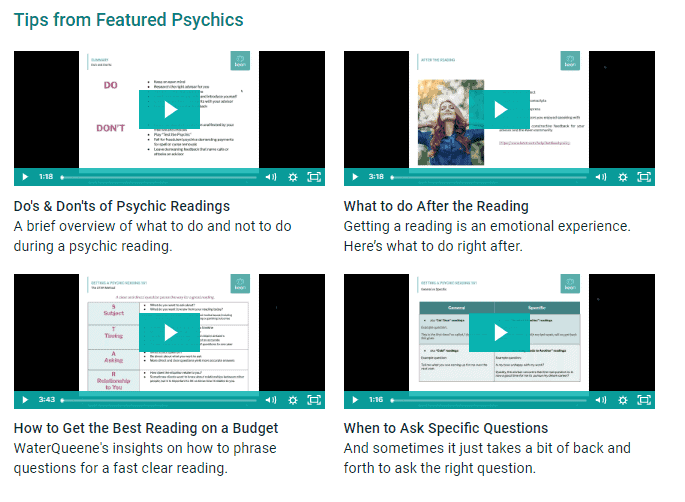 Horoscopes
Whether you're a registered Keen Psychics user or not, you can access your daily, monthly, or annual horoscope reading for free.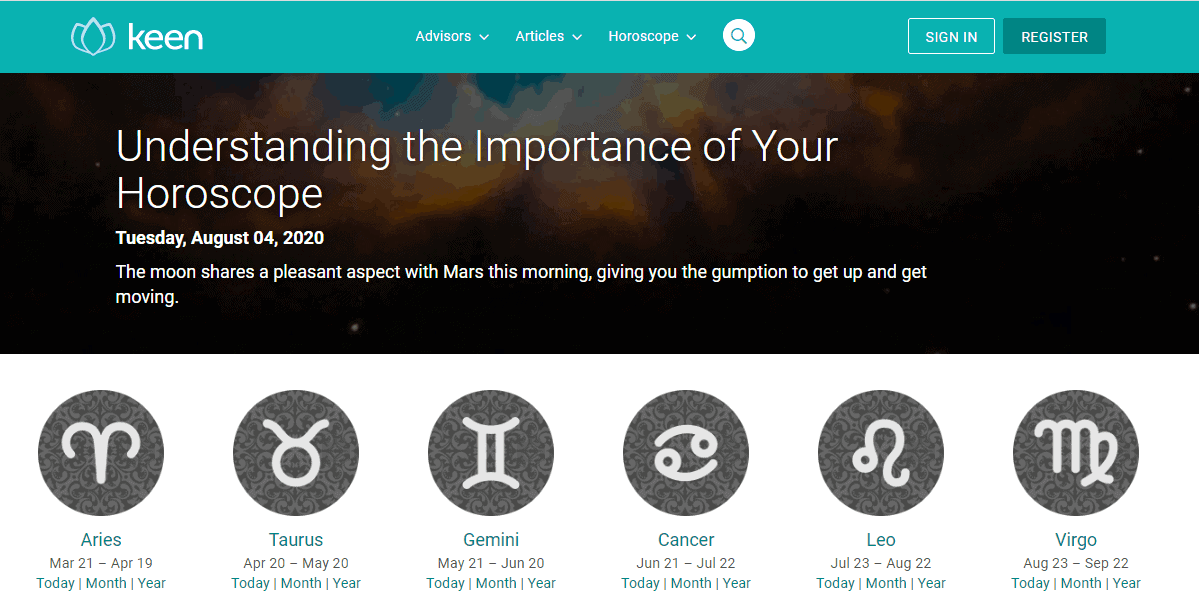 Keen Psychics Articles
The Keen Psychics site is packed with helpful articles and information on all things psychic and spiritual. Both new and experienced users will find this content interesting and helpful.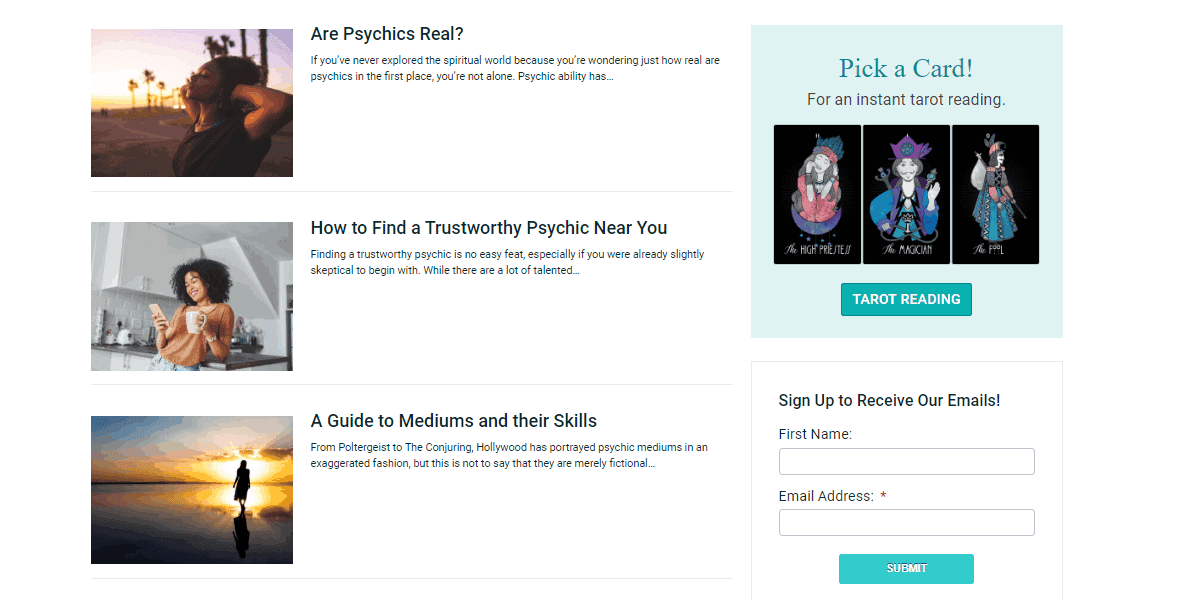 Bottom Line
Keen Psychics' wide selection of psychics and specialty readings is just one of the things that sets this site apart.
Along with the ability to explore psychic profiles without having to create an account, new customers can also speak to their preferred psychic for 3 minutes at no cost.
And if you are struggling to find the right psychic, the Psychic Match tool is a big help.
Overall, my experience on Keen was positive and I would highly recommend you try the site, regardless of whether this is your first or 50th reading.
Keen Psychics – Frequently Asked Questions
Is Keen Psychics safe?
Definitely. Not only is Keen Psychics my top choice in terms of reliable psychic reading sites, but they have been around for two decades too. What's more, they have a 100% satisfaction guarantee in place, which I tried for myself. If you are not satisfied with your reading, they will credit your account with up to $25. You can then use these credits for future readings.
Are Keen Psychics advisors accurate?
Generally, yes. The majority of the psychics on Keen Psychics have a 4-star rating or more and since the site displays all reviews (negative and positive), you can easily tell just how accurate a potential psychic is. All of the psychic profiles on Keen are also very detailed, giving you all the information you need to make the best choice for you. I also used the Psychic Match tool to narrow down my search more quickly – a really useful feature.
What kind of psychic readings are offered on Keen Psychics?
Choose from the usual suspects such as love and relationships, finance and career, and tarot readings. If you are looking for something more specific though, there are also categories such as pet psychics, Vedic astrology, and cartomancy. Keen Psychics has an array of reading categories to choose from, but not so many that it becomes overwhelming.
How much do readings cost on Keen Psychics ?
Keen's psychic reading prices start at $1.99 per minute. However, you can expect to pay up to $30 per minute for the more experienced readers. The good news is that new customers get the first 3 minutes of their reading for free.