Keen has been around for over 20 years and has a number of glowing reviews, making it a well-established and reliable psychic site. Additionally, its large selection of reading types, tools, and methods is hard to beat. But even with these stellar credentials, it's still normal to question whether Keen is the right psychic site for you.
After extensive testing and research, it's fair to say that Keen is a trustworthy psychic site with a breadth of legitimate experience. In particular, its in-depth filtering system removes the time, hassle, and headache of finding a suitable psychic, while its mobile app lets you get psychic readings on the go.
If you're concerned about costs, then Keen provides an attractive introductory offer and a 100% satisfaction guarantee, which lets you get a refund within reason. However, its lack of video readings may be a hindrance to some.
Types of Readings
Psychic Readings and Mediums
There are over 250 skilled psychic readers on Keen. Whether you want to strengthen your relationships with your loved ones, find out who might be your soulmate, or discover what your career has in store for you, you're bound to find a psychic that can guide you in the right direction.
You can expect to find prices ranging from $1.99 per minute to about $50 per minute. However, most "Featured Advisors" fall in the middle in terms of pricing. Keep in mind, however, that the average prices for these readers are from about $4.99 to $14.99 per minute, though there are some outliers.
More than 30 psychic mediums are also available for you to speak with, most of which have at least several hundreds of readings under their belts. One psychic in particular, Serenity Stone, has completed more than 100,000 readings. Pricing here seems to be lower than other types with all psychics falling between $2.99 and $18.77 per minute.
Love and Relationships
This type of reading can help you understand how you can have the relationships you desire. From helping you improve yourself to learning about how others work, these psychics are able to help you hone in on what's important in your love life.
There are 200+ advisors offering readings in various love and relationships subcategories. The most popular ones include: Breaking Up & Divorce, Parents & Children, Single & Dating, Cheating & Affairs, and Soulmate Connections. Prices for these advisors range from $2.99 to $50 per minute, with most advisors falling between the $2.99 to $14.99 range.
Life Questions
Keen has over 150 advisors in the Life Questions category, with most readers having thousands, if not tens of thousands of readings under their belts. There are some that have several hundred, as well. Pricing here starts at about $1.99 per minute and can get as high as $50 per minute, but the majority of readers charge between $1.99 and $14.99.
This is a category that can provide answers to general life questions. These could include where your career is headed, any health concerns you're facing, or how to pursue life with more purpose.
Tarot Readings
A skilled and experienced tarot reader can help you unravel your life's mysteries. This is achieved by predicting possible outcomes and assessing any outside influences that might be impacting your life in some way.
You can find 150+ tarot readers on the site. Pricing here seems to be between about $2.99 to $50, which is about average for the site as a whole. However, as seems to be the general rule of thumb, most readers fall into the $2.99 to $14.99 price range.
Spiritual Readings
Healthy external circumstances like love and career are important, but so is internal healing. A spiritual reading, unlike other reading types, can help you rediscover your most important values in life.
100+ advisors proudly call themselves spiritual readers on Keen. Though pricing for this type of reading can range from $1.99 to about $50 per minute, as usual, the majority actually fall into the lower end of the pricing spectrum. Average prices seem to be between around $1.99 to $9.99 per minute.
Other Reading Types
While the main reading categories have been outlined in this section, you might be wanting answers to a more niche category. These can include questions about your horoscope, pets, dreams, or certain numbers that keep reappearing.
Keen has no shortage of reading types which means you're bound to find something that resonates with you. Other reading categories include:
astrology readings
dream analysis
numerology readings
pet readings
aura/chakra cleansing
feng shui
rune readings
reincarnation and past life readings
LGBTQ+ readings
Is Keen Trustworthy? Yes
I can confidently say that Keen is a trustworthy online psychic site that provides high-quality readings. The site recently celebrated its 20th anniversary in 2022, and it's fair to say that no poor-quality site would survive that long.
There's also a 100% satisfaction guarantee, which lets you request up to $25 to be credited back to your account once every 30 days if you're not satisfied. This request must be submitted within 72 hours of your conversation ending. In my experience, only sites that stand behind their product will offer this sort of policy.
Lastly, though there isn't much information about Keen's exact vetting process, the site appears to at least carefully review each of its psychic applicants. Aspects like its psychics' resumes, prior work experience, and skills are highly considered during the application process. It also has a review and rating system that provides user-generated reviews for each psychic, so you can gain accurate insights.
A couple of unique features of Keen are its horoscopes and articles, which provide useful insights and information at no cost. Since this displays the site's generosity, one can take it as a sign of trustworthiness.
Top Keen Psychics

If you're after the best tarot reading on Keen, then Michelle Answers can be of great assistance. She has over 60,000 readings to her name, and has been around for over a decade. Michelle also boasts a 5-star rating based on 14,500 reviews, which says a lot about what her previous clients think.
Some other areas in which she specializes include breakups and divorce, money and prosperity, career and work, and infidelity. Along with tarot, you can also access her other tools like reiki, empath readings, clairvoyance, and clairsentience.

Rachel of the light is one of the longest-standing psychics on Keen. She's been around for 21 years, completed 45,000+ readings, and accumulated a 5-star rating based on 12,000+ reviews. Her primary reading category is Life Questions, but she's got some more things on offer as well.
Rachel specializes in Destiny & Life Path, Career & Work, Money & Prosperity, Family & Friends, and Spirit Guides. The main methods and skills she employs include affirmations, clairvoyance, clairaudience, and empathy, and she's also a medium.
3. Annie Heaven — Best for Deceased & Loved Ones Readings

Annie Heaven is one of the top psychics on Keen. and has been around since Keen's inception in 2002 with over 30,000 readings under her belt. She also proudly boasts a 5-star revie. which only 6 advisors in total, who have been with the site for 10+ years, can say about themselves.
Annie's top 3 most popular reading types are Love & Relationships, Deceased Loved Ones, and Career & Work. She's also clairaudient, clairsentient, and clairvoyant, but her only language on offer is English.
4. Shanti66 — Best for Love & Relationships Readings

Shanti has amassed 30,000+ readings, with a 5-star rating based on over 6,000 reviews. While her primary reading category is love and relationships, she's also experienced in other categories. Another benefit is that she offers readings readings in both French and English.
You can also ask her for readings in the categories of pets and animals, spirit guides, and past lives. Her most popular tools and methods include angel readings, clairaudience, empath, western astrology, and affirmations.
5. vikingprincess — Best for Money & Prosperity Readings

Lastly, you have vikingprincess, whose name is Danish. She's completed nearly 16,000 readings and has a 5-star rating based on 4,000+ reviews. Her tenure is also around 14 years, which by itself, is pretty impressive. If you have questions about your life circumstances, she's definitely one of the top choices.
Vikinprincess specializes in Love & Relationships, Family & Friends, Career & Work, Money & Prosperity, and Destiny & Life Path. She has several skills and methods available including clairvoyance, clairaudience, and tarot, and she's also an empath. You can request services from vikingprincess only in English.
Is There a Mobile App? Yes
Keen has a mobile app available for Android, iOS, and iPadOS. But before you plunge yourself right in, keep in mind that the extensive filtering systems are only available on the desktop version of the site.
One distinctive benefit of the mobile app is that you can get a reading from anywhere — regardless of your location. Once you download the app, the first step is to decide what type of reading you want.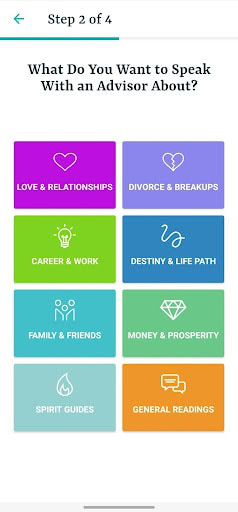 After that, you'll be prompted to go through a few other various steps to help you narrow down what you want. The next important step after choosing your reading type is selecting what tools and methods you prefer.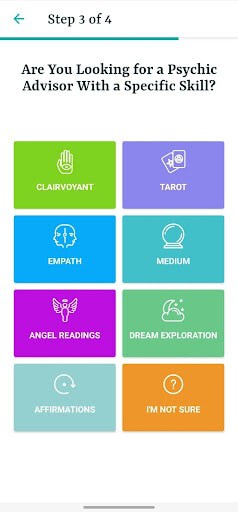 The benefit of this is that you can find exactly the type of reading you require, along with a list of the most qualified psychics. Since the filtering system isn't available in the app, this still makes it possible to find someone suitable for you.
When you've gone through the steps, you'll finally be presented with a list of psychics. Though not as in-depth as the website's filtering tool, you're still bound to find somebody who you click with as long as you've answered everything as truthfully as possible.
How to Book a Reading
1. Create an Account. Go to Keen's homepage, click on the blue button in the top right called "Register" and follow the prompts. This will help you jump into a call, or book an appointment more quickly once you've found your perfect psychic.


2. Find a Psychic. Head over to the Psychic Match Tool on the homepage and select your reading category, preferred communication method, and price range before clicking the "Search" button.

3. Schedule a Reading. When you find a psychic you like, you can click on their name to view their full profile. Or, you can select either the "Chat" or "Call" button on the right. Depending on the psychic's availability, you choose to either schedule a reading or get one now. These preferences can also be filtered in your search.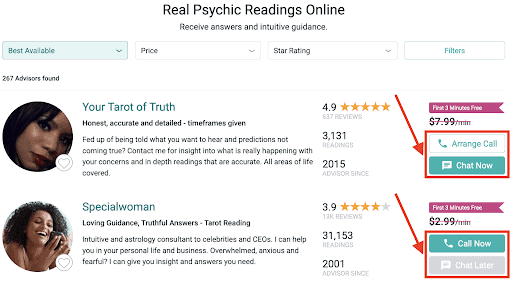 Pricing
It's not simple to give you an exact per-minute rate because prices for individual psychics can vary greatly. Per-minute rates on Keen can be anywhere from just $1.99 all the way up to $50+. However, most reading types and psychics fall smack in the middle, at around $2.99 to $14.99 per minute.
But keep in mind that there are 2 introductory offers of Keen: Get your first 3 minutes for free or get 10 minutes for $1.99. The 10 minutes can be spread out over a number of readings and don't have to be used all at once. $1.99. Overall, Keen's pricing seems to be about on par with other sites out there, so you won't be paying way more than what appears to be normal.
You also have to add money to your account before you can use the service. The minimum amount required is $10, but you're welcome to add as much as you like. PayPal, all major credit cards, and prepaid debit and gift cards are all accepted forms of payment.
Customer Support
The only way to receive support from Keen is to submit a support ticket through its website. If you scroll down to the bottom of the page (on any page), you'll see a link called "Customer Support".
Once you click the link, you just need to fill out the details and click "Submit". When I asked a question about its pricing, it took them 2 business days to respond. Given Keen's reputation as a top psychic site, I was quite unimpressed.
In addition, Keen has two other ways to find help, which are the Readings 101, and the FAQ sections. These pages are detailed and provide useful information on the site's services, offerings, and other features. If you prefer immediate help, then I recommend checking these sections before submitting a ticket.
FAQs on Keen
Does Keen have an app for mobile devices and tablets?
Yes. Keen offers an app for iOS, iPadOS, and Android. You can download the app, and browse psychics before signing up and scheduling a reading. No payment is required until you're certain to have selected your preferred reading type and psychic. Unfortunately, the Psychic Match Tool is only available on its website, which provides better search results.
How much does a reading on Keen cost?
Readings on Keen can cost anywhere from $1.99 to $50+ per minute. However, most of its advisors fall somewhere in the middle, between about $2.99 to $14.99 per minute. If you're a brand-new client, you can also take advantage of one of two introductory offers. These offers let you get a good feel for Keen and its psychics without spending much money.
What kind of psychic readings are offered on Keen Psychics?
Keen offers one of the largest selections of readings of any psychic site. Reading types include tarot, love and relationships, life questions, spiritual readings, cartomancy, spiritual readings, mediums, numerology, angel, and dream interpretation. Plus, there are a number of more niche reading types you're welcome to check out.
These various reading categories can help you get clarity on many of your life's questions and concerns. Whether you're struggling with finances, career, or relationships, or you want to simply know what life may have in store for you, one of Keen's psychics will be able to help.
Are Keen advisors accurate?
There is no way to guarantee that Keen advisors are 100% accurate. However, Keen seems to stand behind its psychics and services as it offers a comprehensive satisfaction guarantee. Also, the site itself has been around for 20 years, and many of its psychics have been on board for over 10 years.
What happens during an online psychic reading on Keen?
An online psychic reading on Keen is not too different from a psychic reading session in real life. Your Keen reader will try to develop a connection with you during the first part of your session. When that's finished, they'll start asking questions. Therefore, it's important to find a psychic that specializes in your problem area to get the best results.
Each psychic on Keen will use different tools, too, which range from tarot cards to crystal balls, and auras. If you want to make the most of your reading on Keen, you can share personal information that doesn't include private data like passwords.
Do I need to deposit funds to choose a psychic on Keen?
Yes, you need to deposit funds before you choose a psychic and book a reading on Keen. But keep in mind that you won't be charged until your reading is over, as readings are charged by the minute. Also, you can browse psychic profiles and the rest of the Keen website without making a deposit.
Bottom Line
Keen is a psychic site that's easy to use and reasonably priced. Its Psychic Match Tool is also a great way to narrow your options and save time when you're looking for a suitable online psychic. Plus, its pricing is about on par with other psychic sites and its readings are available 24/7.
The fact that the user experience is better than other sites is something I definitely liked. However, the biggest drawback is the lack of a filtering system on Keen's mobile app. which is only available on the website. Keen's inability to provide video readings is pretty inconvenient, too.
But for the most part, you probably won't be disappointed with Keen if you stick to the desktop version, which comes with more features than the mobile app. The depth of online psychics and reading types on Keen is hard to match, so it's highly unlikely you'll be disappointed.