Keen is a popular psychic platform that offers a wide selection of reading themes and talented psychics who can enlighten you with insight. That said, spending money on online psychic services can feel like a gamble because one can never guarantee complete accuracy.
But thanks to its transparent reader profiles and generous introductory offers, Keen is a reputable psychic platform worth trying. Not only is it a safe and secure platform, but it also offers you a satisfaction guarantee on the off chance you don't receive authentic advice.
The best part about Keen is how you can easily connect with a compassionate psychic by using the site's introductory offer. It gives you your first 3 minutes for free, which is a great way to test the water and receive personal insights for less.
Types of Readings on Keen
Keen does not disappoint with its extensive selection of reading themes. You can browse its 20+ reading themes to find the right specialist for you. Having many different options is ultimately best for getting the most out of your session, as it helps ensure that your reader can provide specialized advice.
On Keen, you can connect with advisors via chat or call, and some readers even let you chat with them through email. If you have a busy schedule and prefer to book your session in advance, you can do so easily.
Love and Relationships
The love and relationship experts on Keen can give you clear insight into the potential of your connections. Plus, they can help mend your romantic relationships. The guidance you receive can help you decide if certain relationships are worth fighting for or if your energy is better spent elsewhere.
In this category, you have 150+ readers to choose from, and most of them have been able to maintain a rating of 4.5 stars or higher. This is reassuring, as you can select an accurate reader who can shed light on what you're going through.
You can even get more specialized advice within this category, as most of the love and relationships readers have experience helping clients with breakups, divorce, infidelity, and soulmate connections. This is one of my favorite things about the love readings on Keen because you can get detailed advice on almost any situation possible.
Financial Outlook
Finances affect all individuals, so not having a clear vision of what you can expect in this theme can be very stressful. Consulting with a financial outlook psychic can ease your monetary concerns, as they can provide impartial advice to help put you at ease.
Most readers in this category have helped thousands of people get insights on their financial situations and are widely praised for their accurate predictions. With over 40 financial psychics at your disposal, you can easily select the best psychics in this area to alleviate your concerns.
Remember that this reading theme is not limited to only financial questions, as you can also get personal advice regarding your career. This means the psychics can help you successfully identify the career path best aligned with your soul's purpose and offer guidance on changing careers.
Psychic Readings
The psychic readings category is best suited for you if you're after general advice on the most pressing aspects of your life. I enjoy this category because your psychic can pick up on more than one situation in your life and advise you on various subjects. I recommend this category if you have more than one pressing topic.
Some of the most experienced readers on the platform specialize in this category, which makes it very popular. Over 100 of the 200+ psychics have been on Keen for over 10 years and have done more than 50,000 readings. This allows you to feel at ease when you receive a psychic reading.
What I like most about this reading theme is that many psychics have a variety of talents, which lets you find a psychic with the gifts you need. For example, if you prefer readers who can see visions, you can easily find a psychic who is also a clairvoyant and get advice in a way that resonates most.
Other Reading Categories
If you are still after a specific reading theme on Keen, many other categories likely offer what you're looking for. Some other available categories are Life Questions, Tarot, Astrology, Pets, Angel readings, and many more.
The life questions category is best if you are about to make a big decision and need reassurance. You may be thinking about moving to a new place, getting a new pet, making a significant purchase, or wondering about your soul purpose. Life readings will give you confidence about essential questions so you can proceed with faith.
If you prefer to confirm your psychics' insights through visual representations, Tarot readings will likely be your cup of tea. Tarot cards are great because they provide additional reassurance to your psychic's intuition. You can select from 50+ tarot readers to get the confirmation that will bring you the most confidence.
Astrology readings are great if you like timed predictions because there are trusted timing techniques in astrology that have proven to be accurate time and time again. In an Astrology reading, you can learn about your strengths, weaknesses, major life events, and how to mitigate negative energy.
Pet readings allow you to connect to the inner workings of your companion's mind. They help you develop a stronger bond with your pet and can even bring you closure if you're still grieving the loss of your companion. Most of Keen's pet psychics have an average of 4.5 stars or higher.
Angel readings give you a direct connection with the angelic energy that guides your life. Many Angel readers on Keen have been on the platform for 10+ years and are highly experienced. With Angel readings, you can count on heartfelt advice that will leave you feeling loved and appreciated.
How to book a reading?
Booking a reading on Keen requires you to create an account, choose a psychic, and book a session. But before you register an account, you must determine your preferred reading category and communication method.
To take a look at the complete list of reading themes, hover over "Advisors" and click on the "All Categories" tab. From there, you will see the most popular reading themes and any additional categories on the right-hand side.
1. Create an Account
You can create a Keen account on mobile or desktop. If you're using the mobile app, you can begin by clicking on the "Account" tab at the bottom of the screen. For desktop, you can click on the "Register" button on the home page's upper right-hand side.
In both cases, you will be redirected to another page where you can sign up with an existing Google or Apple account or create an account from scratch. Not using a Google or Apple account is better for privacy because it won't link those accounts to your Keen profile.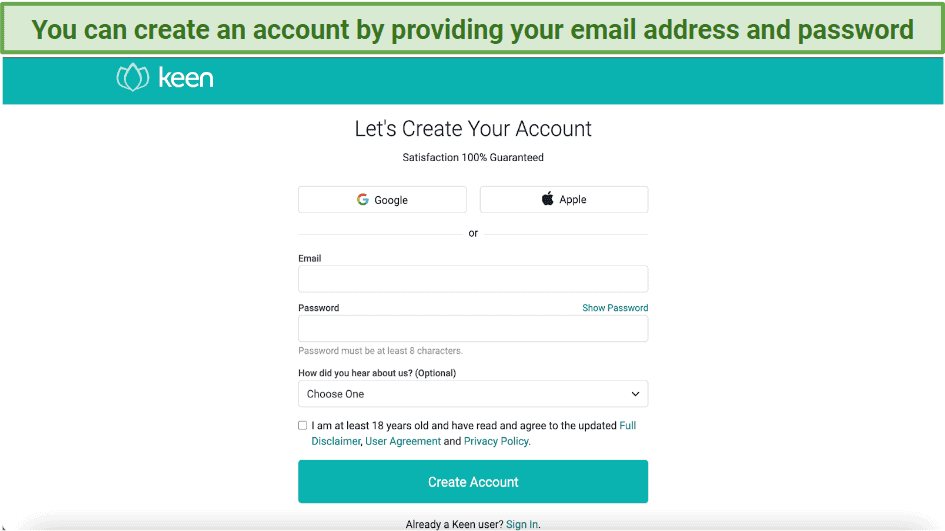 Keen makes it easy to join the platform from anywhere
Creating an account on Keen feels secure because you don't need to provide as much information as other platforms. I also like that you don't have to look around for your introductory promotion, as the 3 free minutes are automatically linked to your account when you add funds.
To add funds on the app, simply select the "Account" tab and click on the "Add Funds" button next to your balance total. From there, you can connect a credit/debit card or connect with PayPal.
2. Choose a Psychic
The organized layout of Keen's desktop and app interface makes finding a psychic hassle-free. On the desktop, you just need to select the reading category you want to browse and choose an advisor you like. If you're on the app, you can explore readers by category or use the "Get Matched" feature to save time.
Additionally, the detailed reader profiles help you choose between different psychics. They include essential information about each reader, such as a photo, star ratings, the number of reviews, the number of completed readings, and the reader's tenure on Keen.
Most readers also include a detailed description of themselves, additional background information, specialties, and skills, which helps to identify if the psychic meets your criteria.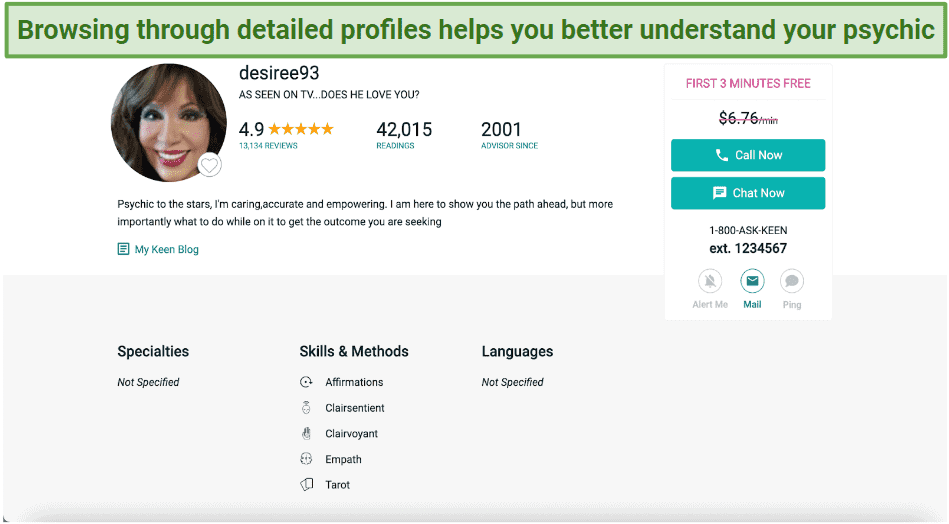 The advisor profiles on Keen are informative and make the selection process easier
Advisor profiles are easy to read and include all client reviews, which you can find at the bottom of the profile. Take a look at customer feedback and ratings to determine the credibility of any potential readers.
3. Schedule a Reading
To book a reading on Keen, select either the "Chat Now" or "Call Now" option on the reader's profile. I enjoy how you can connect with a reader in one click because you'll never have to worry about wasting time.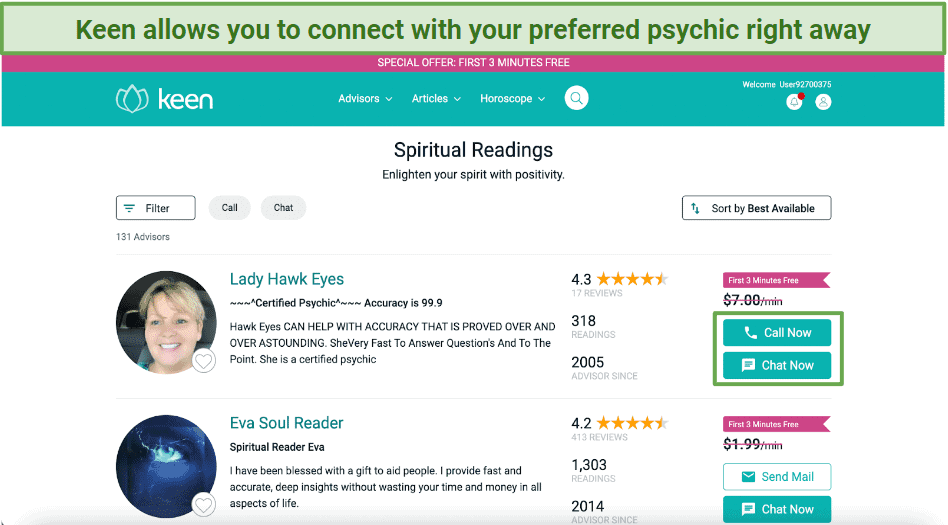 Keen keeps all personal information confidential while connecting with an advisor
If you have a tight schedule or notice your preferred advisor is unavailable, you can always arrange a reading by scheduling it ahead of time. It's also possible to join a reader's waitlist if you urgently need their insight, and they will call you back as soon as they become available. I suggest having more than one go-to advisor to avoid scrambling at the last minute.
Is Keen Trustworthy? Yes
After testing several of the best psychic platforms available, Keen ranks as one of the most trustworthy on my list. It is a worthwhile choice because it has earned the trust of thousands of clients while staying relevant for over 15 years. This is likely due to how transparent Keen is.
When browsing for an advisor, no guesswork is involved as each profile is easily accessible, detailed, and transparent. Pricing is clearly showcased, and you can get to know your reader because of the amount of information they provide. Reviews are also easily accessible and transparent for your benefit.
There is no need to worry about the quality or qualifications of Keen's psychics because it's well-known that its screening process is strict. All psychic applicants must apply and pass a screening process consisting of identity verification, a background check, a content quality review, and rigorous skill assessments.
That said, there is no way of verifying these claims unless you go through the screening process yourself. But since Keen has plenty of highly skilled psychics, it's safe to say that the screening process lives up to expectations.
One of the reasons I feel so secure using and recommending Keen to others is due to the satisfaction guarantee it promises. If there are any issues with your session, you may be eligible for a credit up to a limit of $25. You just need to submit a request within 72 hours of your session ending, and you are eligible for one refund every 30 days.
Top Psychics on Keen
With so many advisors to choose from on Keen, it can quickly become challenging to decide which advisor is the most trustworthy and accurate. I've shortlisted the top readers in each popular category, which you can refer to if you're lost for choice.
1. Desiree — Best For Love & Relationship Readings
If you find yourself in a tricky love situation and need an expert to guide you along the journey, I recommend you check out Desiree. She has been reading for clients on Keen since 2001 and has maintained an almost perfect star rating. With Desiree's high rating and raving reviews, you can ensure quality insight.
Desiree is a Clairvoyant and Clairsentient psychic who has been developing her gifts since the age of 10. She has helped over 40,000 clients on Keen with her empowering approach, as she has mastered the art of seeing visions of the future.
I recommend Desiree if you'd like a compassionate reader who doesn't sugarcoat what she sees. One of her clients said Desiree's predictions manifested precisely how she explained them and to get in touch with her if you want accuracy and thoroughness.
2. Julie — Best For Financial & Career Readings
Julie can provide clear and accurate advice to shed light on money or career issues. This is very helpful if you're experiencing financial distress or feeling unsatisfied with your career. With over 60,000 readings under her belt, Julie has the ability to give you accurate financial and career guidance.
She is a no-nonsense reader who will tell you how it is but will do so lovingly. Using her strong clairvoyant and mediumship abilities, she can instantly connect with your spiritual team to help you with your next steps in life. If you prefer readers with solid ethics and integrity, I highly recommend Julie.
The overwhelmingly positive reviews on Julie's profile do not lie, as most clients can't believe how powerful her abilities are. One client even said that she would give Julie a million stars she could. She also said that Julie was one of the most gifted and accurate readers on Keen.
3. Veruska — Best For Psychic Readings
Veruska is a well-rounded psychic medium that can answer any questions you send her way. Psychics with a wide range of gifts can be hard to find, but Veruska will give you clear advice with her strong clairvoyance and remote vision. Her gifts have helped over 120,000 people on Keen, and she even offers readings in Spanish.
Don't hesitate to connect with Veruska if you're looking for an all-rounded psychic. She has 40 years of experience as a psychic and has been reading on Keen since 2001. With over 50,000 positive reviews, you can trust that Veruska has the expertise and passion for delivering unique insights.
Her other specialties are pet readings, lost items, dream interpretation, and spirit guide readings. Amongst her thousands of positive reviews, a client praised Veruska for being accurate in all her predictions and getting straight to the point. She even said you don't have to say anything as she knows what you will ask.
4. Cassandra — Best For Life Questions
Sometimes we need a little guidance in life from trustworthy advisors like Cassandra. She boasts over 75,000 completed readings and has been a reliable source of life guidance for many people on Keen. When you connect with her, you can get closer to uncovering your life's true direction and purpose.
As a clairaudient, clairsentient, and clairvoyant psychic, Cassandra can tap into her wide range of gifts to help you feel at ease in life. She prides herself on providing concise readings while answering your needs. So if you prefer readers that cut to the chase, Cassandra will quickly become your go-to psychic.
She has become the favorite of many clients, with over 30,000 positive comments and a close-to-perfect star rating. Many of her clients are loyal and stand by Cassandra's gifts, with one commenting that she is always helpful and accurate in her readings. She even went on to say she had been calling Cassandra for 17 years.
5. Vivah — Best For Astrology Readings
If you're an astrology lover like me, you'll want to get in touch with Vivah. She is a talented astrologer who incorporates her numerology and tarot expertise to provide you with scary, accurate predictions. Vivah is also a skilled psychic that uses her clairvoyance and claircognizance to bring additional depth to her readings.
Vivah's clients highlight how warm and caring she is during her readings, so I suggest you give her a try if you gravitate toward maternal energies. She's been on Keen since 2001 but has over 30 years of experience reading as an astrologer and psychic.
The accurate predictions Vivah has given her clients have left most of them in awe. One of her clients went as far as to say to look no further, as Vivah's accuracy left her baffled as she only provides you with honesty and insight into your life.
Is There a Mobile App? Yes
Keen's app is completely free and is compatible with any Android and iOS device. It is a game changer as you can easily connect with a reader and get advice from almost anywhere in the world. It also feels more natural to connect with readers on the app because most people usually text and call others using a cell phone.
I prefer using the app since it makes looking for a psychic hassle-free. This is because everything you need is more compactly fitted on the app, making the process more straightforward. I also like it because you can use the "Get Matched" tool.
The "Get Matched" tool asks a few questions to determine your needs and preferences before matching you with a compatible advisor. I appreciate having this option in addition to search filters, as both of them can help narrow your search.
It also comes in handy if you don't want to spend a long time sorting through different profiles. This feature will also save you from getting connected to a reader that does not match your wants and needs, ultimately saving you from wasting money and being disappointed.
There are more benefits to using the app because you can bookmark your favorite readers by using the "Favorites" tab. This is an easy way to stay organized and stops you from feeling frustrated while browsing.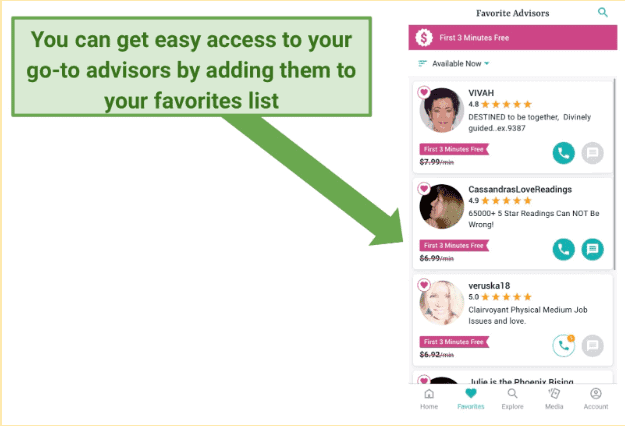 Keen's app makes it easy to organize top readers to save time from browsing
On the other hand, you can also block and unblock advisors. All you have to do is go to "Mail", select "Preferences", and then click "Block An Advisor". Then, you just enter the reader's username and select "Block".
But remember that the app won't let you email and ping advisors, as you can only do this on the desktop version. Email and ping options are free and let you clarify questions before committing to a reading. That said, you can only ping advisors with whom you've already had a paid transaction with, so the email option is best if you're new to Keen.
The app also gives you free and unlimited access to unique features under the "Media" tab. These include detailed daily horoscopes, zodiac sign traits, and games like "Tarot Reading", "Fortune Cookie", and "Magic 8 Ball". I find them useful when I have free time but don't have serious enough inquiries to bother chatting with a psychic.
Also, whatever insight you receive from the free features can lead you to discover something you may want further confirmation on.
Pricing
While pricing can significantly vary on Keen, this is common for most psychic platforms as the majority charge per minute. You can expect to pay anywhere from $1.99 to $9.99+ per minute for a reading, and the average cost per minute sits between $2.99 to $14.99 per minute.
You don't have to worry about the regular rates if you're new to Keen, as you're eligible for affordable introductory rates. Keen is one of the only sites offering you 3 free minutes and 10 minutes for only $1.99. This is a deal I would not pass up on, as you can get a substantial reading packed with accurate advice for less.
I suggest you take advantage of Keen's introductory offer to test your favorite readers, which can help you find a go-to reader whenever you need advice. You can also narrow down the best reader and know that the session will be worth it, even if you have to pay a higher fee.
That said, you can also save on any future readings with the Keen Rewards Program. The program is free and allows you to collect points without purchasing anything. You can even level up your tier and unlock exclusive rewards that can earn you free readings and generous discounts.
Remember that to connect with a reader, you first have to add money to your Keen account. You can add funds to your account by linking any major credit card, debit, PayPal, or gift cards.
Customer Support
To contact customer support on Keen, you must submit a form through its website and wait for a customer service representative to contact you. You can access the support page by scrolling to the bottom of any page on the website and by clicking on "Customer Support".
I feel Keen could improve the accessibility to its customer support, as it does not have a live chat option or a support line in case something goes wrong. In my case, I had to wait 2 days to get a response from its support team, which can get frustrating if you're waiting for a refund.
Nevertheless, Keen has a thorough FAQ section that lets you quickly resolve minor issues. You can use it to find answers to most questions, making it the best way to receive immediate help.
When it comes to refunds, you have two options. You can request a satisfaction guarantee credit which reimburses you up to $25 in Keen credits, or you can contact customer support directly. But remember that customer support can take up to 2 business days to reply and will only refund you with Keen credits.
FAQ
What makes Keen different from other psychic services?
Keen stands apart from other psychic services because of its intuitive mobile app and competitive introductory offers. Keen's app is unique because it feels secure and lets you easily connect with a trusted advisor. I like how the app allows you to chat with advisors while on the go.
The introductory offers you find on Keen are among the best I have seen. Most platforms only offer you discounted rates per minute, whereas Keen gives you 3 minutes for free and lets you get 10 minutes for only $1.99. This deal allows you to save a considerable amount while testing out more than one psychic.
What is Keen's refund policy?
Keen has a 100% satisfaction guarantee policy where you can get a refund if you are dissatisfied with your reading. You can request refund credits by clicking a button to get up to $25 worth of Keen credits in your account.
With its refund policy, Keen can reimburse you for one experience every 30 days, but only conversations that happened within the past 72 hours are eligible. If you have any specific refund questions, you can get the answer by contacting customer support.
Do I need to deposit funds on Keen before choosing a reader?
No, you don't need to deposit funds into your account to browse for a reader. However, once you have selected one and are ready for a reading, you must add a payment method and deposit funds into your Keen account. This is helpful because you can ensure you have found the right reader before depositing any money.
What is the screening process like on Keen?
Keen's screening process requires applicants to apply before they go through an in-depth screening process. The screening of potential readers is in place to ensure that the applicant's skills are up to Keen's standards. This way, you can feel confident that every reader on the platform was evaluated.
Additionally, Keen has disclosed that each reader goes through a background check, identity verification, content quality assessment, and a skill assessment test. While there is no way to verify the certainty of these claims, it's also difficult to verify the claims of other psychic platforms regarding their screening process.
What is the best way to phrase a question to a psychic on Keen?
It's always best to ask open-ended yet specific questions to any psychic you connect with. I also recommend not to get your hopes up when asking time-specific questions, as time frames in predictions can vary. This is because even the best psychics have no control over divine timing and when things can unfold.
Additionally, asking open-ended questions allows the psychic to get as much information as possible about your situation. When you ask very narrow, yes or no questions, you limit the information your psychic can provide you. Avoid vague questions and pinpoint the specifics of what situations you need insight on.
Bottom line
Keen is a trustworthy platform that has established a strong reputation amongst people who need psychic insight. Its introductory rates are competitive, the mobile app is convenient, and the majority of readers are highly-rated. For these reasons, Keen ticks all of the boxes when it comes to finding top-notch psychic services.
But it can raise some eyebrows with its lack of video readings and mismatching features on the app and website. With that said, I'd still recommend Keen in a heartbeat because its psychics continue to provide accurate and worthwhile advice. So, you can be assured of an authentic experience.
I also appreciate Keen's introductory offer, as it lets you enjoy high-quality readings without spending much money. You can use it to get your first 3 minutes for free and find answers to your most pressing questions.