The ability to connect to the spiritual realm is a sacred blessing that mediums can use to guide people who seek their help. However, not all mediums who claim to be talented are genuine in their offerings.
When seeking the services of a medium for the first time, it can be challenging to find the right place to start. To help you, I've tested and shortlisted the best online medium readings of today, so you can select a site that meets your spiritual needs. All of these sites have skilled mediums that charge affordable rates.
During my search for the cream of the crop, I found California Psychics to have the best choice of mediums. You can expect detailed, accurate readings from mediums that are backed with a plethora of spiritual gifts and tools. And thanks to its competitive rates, you can get a medium reading from as low as $1 per minute.
In a Rush? Here Are My Top Online Medium Reading Picks:
The Best Online Medium Readings Sites in 2022
1. California Psychics – Best Overall for Online Medium Readings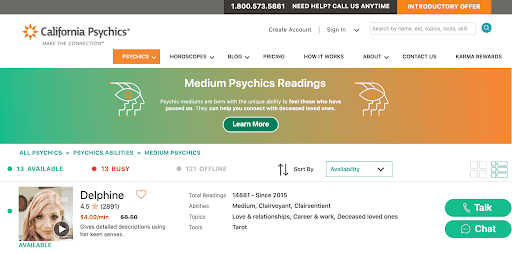 Rigorous medium screening process
144+ mediums to choose from
Introductory rate of $1 per minute
3 pricing tiers
100% money-back guarantee
With over 20 years in the psychic reading business, California Psychics is one of the largest and most reputable sites for a quality online medium reading. It has scores of mediums to choose from, many of which are five-star rated and hold rave reviews from loyal clients.
The site screens its mediums thoroughly, meaning you benefit from accuracy, precision, and professionalism every time. And because of its 100% money-back guarantee, you can get a refund if you aren't fully satisfied with your reading. I got my money back after 3 business days when I tested this policy, as all I had to do was send them an email and provide a reason.
Its website design is simple and packed with great additional features. These include a rewards program, horoscope section, and a blog with great articles on mediumship. Best of all, its blogs are 100% free and equip you with sound advice.
Compared to other psychic reading sites, there are slight differences in its pricing structure. The pricing tiers allow you to choose a medium that fits your budget, giving you more time to get the answers you need.
You can select between popular, preferred, and premium mediums depending on the severity of the issue you need help with. If you take advantage of the site's introductory offer, you can access these mediums at a starting rate of $1, $2, and $4 per minute, respectively.
2. Purple Garden – Get a Mobile Medium Reading From Anywhere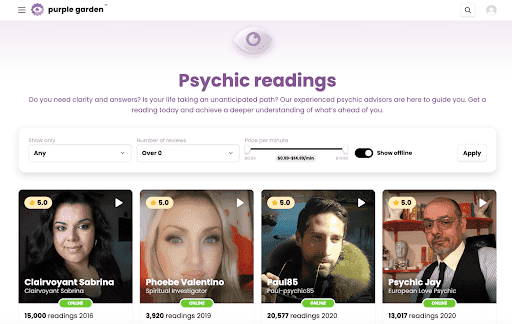 Well-developed mobile app
Cashback on every purchase
Live chat, phone call, and video readings
Alerts, so you'll be notified when your favorite medium is available
Introductory videos on every medium's profile
If you're looking to connect with a psychic medium on the go, then look no further than Purple Garden. This psychic reading platform is completely mobile optimized and specifically designed for smartphone and tablet users. I found its mobile app to be very accessible and user-friendly, as I could get a medium reading without any hassle.
Depending on the type of medium you're looking for, Purple Garden has a few different options. To start, type the word "Medium" in the search bar, and you'll get around 25 highly-rated mediums who offer readings via chat, call, and video.
You can also browse psychics in the "Oracle Guidance" and "Angel Insights" categories of the platform. There are also over 100 psychics and mediums on Purple Garden who specialize in these topics.
Every time you pay for a reading on Purple Garden, you'll get 5% cashback on your purchase, which you can use towards future readings. With plenty of highly-rated mediums, competitive rates, and a flawless mobile experience, Purple Garden is an excellent option if you want readings done right from your smartphone.
3. Keen – Use the Find a Psychic Tool to Easily Find a Suitable Medium
First three minutes free when you sign up
60+ mediums to choose from
100% satisfaction guarantee
"Find a psychic" tool
Mediums available via phone call or live chat
Keen is home to some of the most experienced and trustworthy mediums and has a long history. The site even offers a 100% money-back guarantee to uphold its level of quality, so you can request a refund if your reading didn't live up to your expectations. I had no issue getting my money back when I asked for a refund.
Its arsenal of spiritual tools and gifts provides various mediums to choose from. You can choose between a live chat and phone reading and get your first three minutes completely free with a medium of your choice. There's even a handy tool called "find a psychic" that matches you with an advisor that meets your requirements.
Although prices to speak to a medium on Keen can start as low as $2 a minute, some experienced readers may charge rates that go as high as $48.50 per minute. So, it's up to you to decide on an option that fits your financial limits and spiritual needs.
If you have experience with mediums and have a good idea of what you're looking for, Keen is a great option. With various mediums, rates, and spiritual tools to choose from, you're bound to find the right fit.
4. Psychic Source – Enjoy Face-to-Face Video Readings with Mediums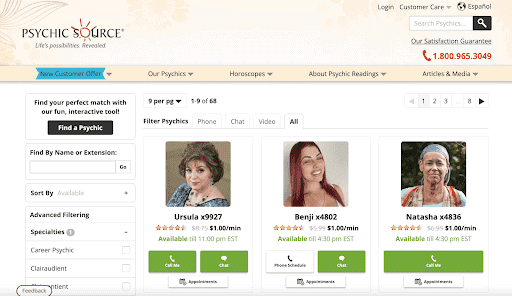 68+ mediums to choose from
Readings available via phone call, live chat, or video call
Appointment scheduling for convenient reading times
100% money-back guarantee
Introductory rate of $1 per minute plus 3 minutes free
If you value face-to-face interactions and hope to build a long-term relationship with a trustworthy medium, then Psychic Source is a solid choice. It has an easy-to-use website that features over 68 mediums with loads of experience and great reviews.
The site's desktop version has a video chat feature, which is rarely found among its competitors. Seeing my psychic in Ultra HD while talking to her made me feel more connected and secure.
You'll also benefit from its detailed medium profiles, which include audio and video introductions, the advisor's schedule, and appointment availability based on your time zone. Once you find a time that suits you, you can book it immediately.
The introductory offer allows you to choose from a 10, 20, or 30-minute welcome package for a rate of $1 per minute. Additionally, you can get three minutes completely free. And, if you're not happy with your experience, the site offers a 100% money-back guarantee.
5. PathForward – User-Friendly App for First-Time Medium Users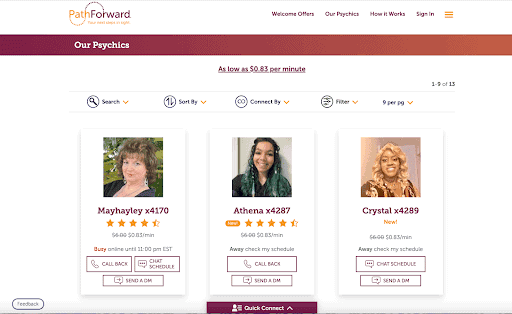 The site has a simple design making it easy to use
13+ mediums to choose from
100% money-back guarantee
Introductory offer of $0.83 per minute plus 3 minutes free
Quick connect feature for easy readings
If you're a beginner dipping your toes into the world of online medium readings, then you'll benefit from PathForward's affordable and high-quality readings. Even though it's newer than most online medium sites, PathForward has prioritized its user experience and grown exponentially.
Although there are only 13 mediums to choose from, PathForward has one of the most rigorous screening processes, which assures excellent quality. You'll also benefit from a low introductory rate of $0.83 per minute when choosing from a 10, 20, or 30-minute welcome package. Plus, your first three minutes are entirely free.
6. Kasamba – Choose From A Big Selection of High-Quality Mediums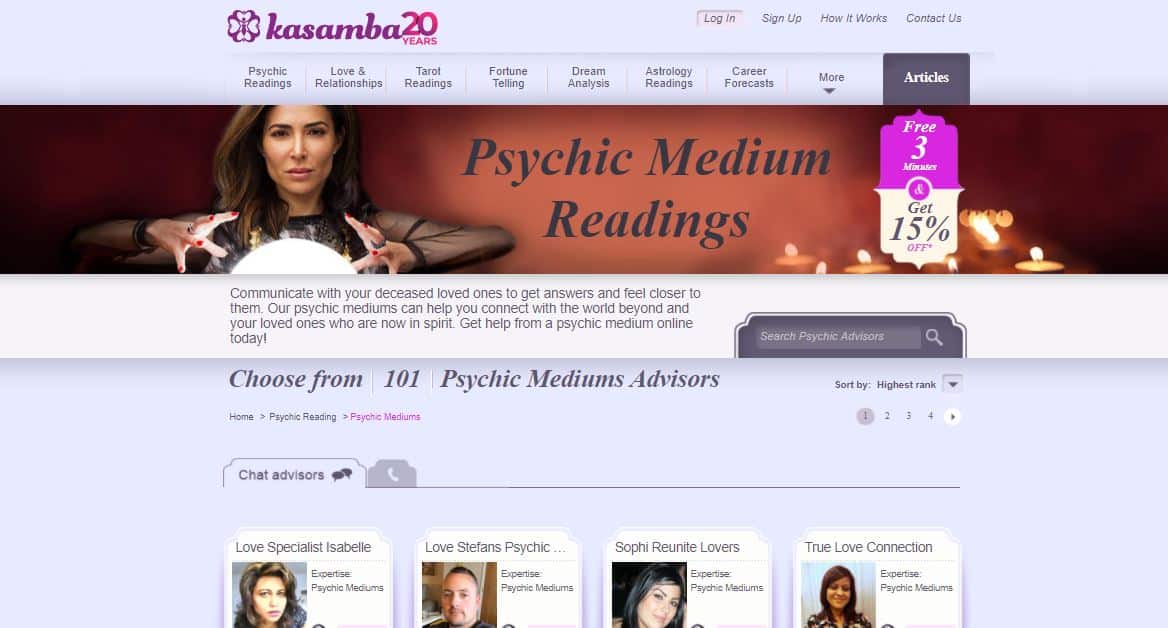 98+ mediums to choose from
First three minutes free
"Notify me" button for alerts on medium availability
Readings via email, live chat, or phone call
Free-to-access articles
Kasamba is home to several experienced mediums who have conducted hundreds of readings to date. While most of the mediums charge a premium price, the site is easy to navigate and offers free minutes. Plus, new customers get a 70% discount, which is great if you're planning to spend more per minute on a reading.
You'll also be able to get readings via email, which is not an option widely available in the industry. When I requested an email reading, I got it sent to me in under 1 hour. If you find a medium you're interested in but they're not currently available, you can click the "Notify Me" button to receive alerts when they're online.
7. Psychic Power Network – Get a Free Medium Reading on Your Birthday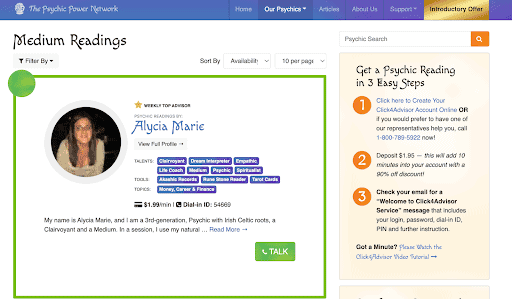 Simple, easy-to-use site
Readings available via phone call
Introductory rate of $0.20 per minute plus three minutes free
78+ mediums to choose from
Free reading on your birthday
Psychic Power Network is one of the simpler spiritual reading sites out there, as its mediums only offer readings via phone. But that doesn't mean it isn't worth your time, as you'll benefit from affordable rates and a variety of well-experienced mediums that provide great value. In addition to having over 78 online mediums to choose from, Psychic Power Network has never raised its prices since its inception in 2002.
I particularly like the site's phone readings, where you can get your first 3 minutes for free. My psychic was approachable, and I felt comfortable asking any question over the phone.
Comparison: Best Online Medium Readings
| | | | | |
| --- | --- | --- | --- | --- |
| | Starting Price | Number of Mediums | Introductory Offer? | Satisfaction Guarantee |
| California Psychics | $1 per minute | 140+ | Free Minutes & Discounted Per-Minute Rates | Yes |
| Purple Garden | $0.99 per minute | 40+ | Free Credits | No |
| Keen | $1.99 per minute | 60+ | Discounted Per-Minute Rates | Yes |
| Psychic Source | $1 per minute | 60+ | Discounted Per-Minute Rates | Yes |
| PathForward | $0.83 per minute | 10+ | Free Minutes & Discounted Per-Minute Rates | Yes |
| Kasamba | $0.90 per minute | 90+ | Free Minutes & Discount on First Reading | Yes |
| Psychic Power Network | $0.10 per minute | 70+ | Free Minutes | Yes |
Tips on Choosing the Best Online Mediums
With so many online medium sites to choose from, it can be challenging to find someone you genuinely connect with right from the start. Since getting in touch with a deceased loved one or spirits from other realms is a powerful and deeply personal process, finding a suitable online medium is critical.
Here are a few tips on how to make the right choice:
1. Take a look at the screening process
Many sites opt for transparency and offer insight into how their mediums are screened and interviewed. For peace of mind, it's worth taking a closer look at these disclosures to be comfortable with the level of expertise your medium offers.
2. Select a trusted and experienced medium
Most sites will include a tag highlighting the experience of the medium you are viewing. However, advisors will usually include this information in their bio as well. It's an important factor because some mediums may only have been with a specific site for a short period yet still have years of experience under their belts.
3. Choose a suitable communication method
Getting a medium reading can be an extremely emotional process. So, you should choose a session method that makes you feel comfortable. Most sites offer phone and live chat readings, but some enable video calls if you prefer a face-to-face connection. If you find it easier to get all your thoughts out in writing at once, opt for a site that offers email readings.
4. Go for an affordable pricing plan
Depending on the severity of the problem you're dealing with, you should opt for a medium that charges a lower rate to get more bang for your buck. However, if your problem is extremely sensitive and requires high expertise, then consider investing in a top-tier medium.
Frequently Asked Questions about Online Medium Readings
Are mediums the same as psychics?
While a psychic isn't always a medium, a medium is always a psychic. A psychic taps into the energy of people and objects around them, allowing them to pass on messages about the past, present, and future. Psychics also use their intuitive abilities to aid their readings.
Mediums do exactly this, but with one difference – they can also pass on messages from the spirit realm. They rely more on energies outside of themselves than intuitive abilities alone. To further explore the difference, I recommend Keen Psychics, which has separate categories for psychics and mediums.
What should I expect during a reading with a medium?
In most instances, a medium will tell you who and what they pick up before they start asking you questions. Spirits will come forward on their own and pass on messages without the medium having to find out why you are there.
If there are specific questions you would like answered, write them down and ask them once your medium has had a chance to tune into the spirit realm. You should never have to guide the reading yourself – if you find that you are doing most of the talking, you might not be dealing with a legitimate medium. But you won't run into these issues by choosing a trusted medium.
Keep in mind that the loved one you want to speak to might not come through in your reading, and a medium cannot summon them either. The spirit realm has its own rules, and a deceased loved one will only step forward if they want to.
What questions should I ask a medium?
You never know who might come through during a medium reading, but it still helps to prepare some questions ahead of time. For example, if you are hoping to speak to a departed grandparent, you can prepare specific questions you would like to ask them.
If you don't have specific questions about someone who has crossed over, you can prepare some open-ended questions such as, "Am I on the right path?" "What is my energy like right now?" and, "How can I change it for the better?" Additionally, you can choose a medium from a site like California Psychics, which has a 100% money-back guarantee. This can reduce the pressure of getting it right the first time.
Can online mediums be trusted?
A clear sign of trustworthiness is if your online medium site has thorough hiring policies and plenty of positive reviews. It's never easy committing to a reading with a medium when your hard-earned money is on the line.
Therefore, I recommend opting for a site that's been proven for its trustworthy mediums. Most of these sites have reasonable introductory offers and money-back guarantees, so you can test the waters without risking much cash.
Bottom Line
Contacting spirits with the help of a psychic medium can be a rewarding and satisfying experience. But connecting to a suitable medium from the start is crucial and not always easy. Luckily, you can speak to a highly-experienced medium who can communicate with spirits from the afterlife. But keep in mind that there might be some trial and error, as results aren't always guaranteed.
My top choice for online medium readings is California Psychics because of its decades of experience, high-quality readings, and mobile app. Best of all, you can take advantage of its introductory offer and speak to several mediums for a $1 per minute. It's even possible to use its satisfaction guarantee to get a refund if something goes wrong.
To summarize, the best online medium reading sites are…