There are a lot of people out there who claim to have the ability to connect with the spiritual realm, but not all of them really can. At a time when I needed some life guidance the most, I wanted to turn to a trusted medium, but I wasn't sure where to start.
If you are currently in the same situation, this guide to the best online medium readings will help. I've done the legwork for you by testing out some of the most recommended sites. If you want the most accurate answers, I had the best experience with Keen. The medium I spoke with took the time to listen to my questions and gave me the most detailed answers – plus, your first 3 minutes are free.
Read on to discover which of these online medium reading services are best suited to your experience level and budget.

In a rush? Here are my top online medium reading picks:
1. California Psychics – Best for Extensive Medium Screening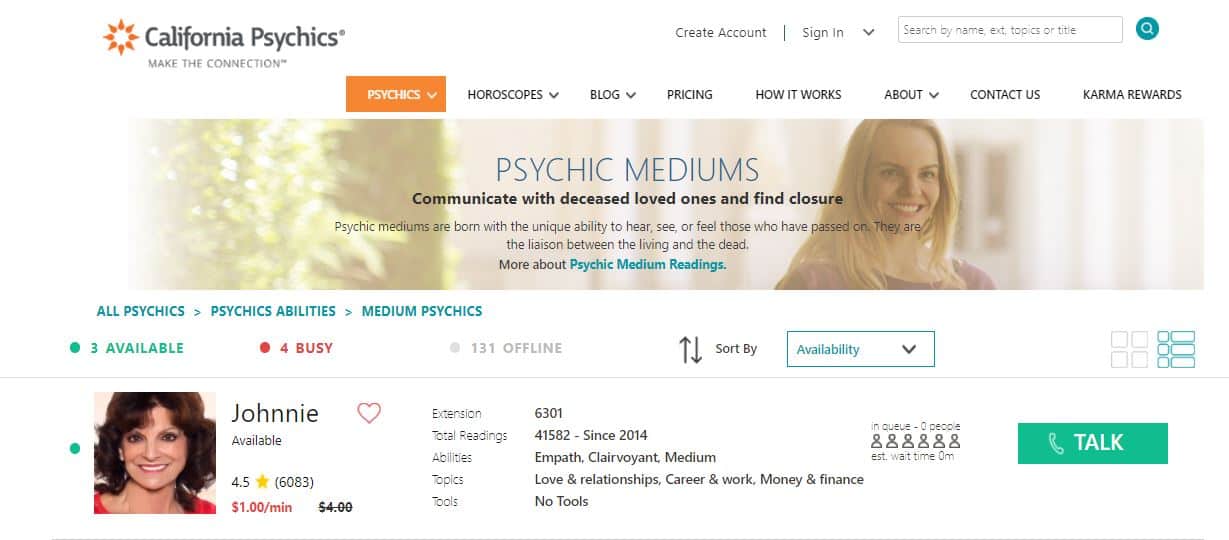 California Psychics has an impressive 20-year reputation. What I really like about this site is that it has a large selection of mediums to choose from. With over 100 mediums, California Psychics has far more options than some of its competitors. It's also worth noting that the site has one of the most rigorous psychic screening processes.
It's also important to note that their pricing works differently to other psychic reading sites. When you create your account, you are offered 3 pricing options: popular, preferred, and premium. If you don't select an option yourself, you are automatically signed up for the preferred package.
If you're looking for a site with an established reputation, and the assurance that your medium is a qualified professional, then California Psychics may be the site for you.
Get Guidance for $1 per Minute
2. Keen – Best for Trustworthy Mediums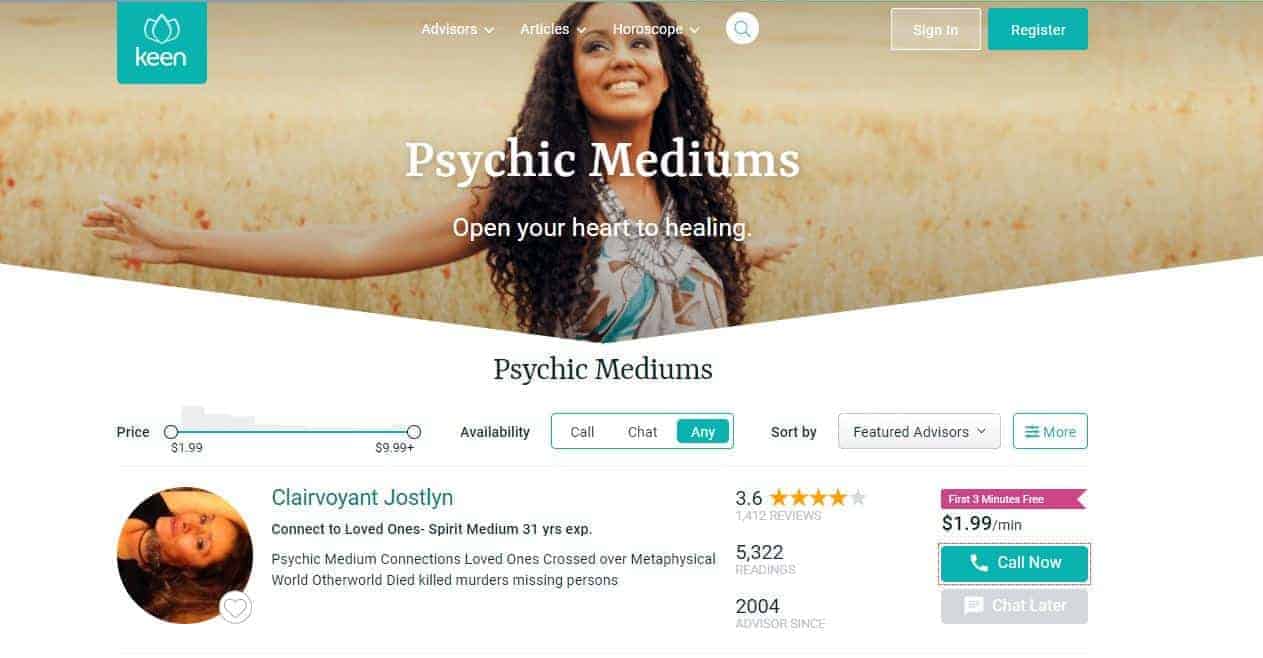 Keen Psychics is my number one choice for trustworthy readings with experienced mediums. The site openly advertise its 100% satisfaction guarantee, which shows they are serious about providing you with a positive experience.
The policy states that if you're not completely satisfied with your reading, you can request a refund in the form of credit that can be used for future readings.
The Keen Psychics site is easy to use and each psychic profile is highly detailed, which gave me even greater peace of mind. And if you want to find the right medium as quickly as possible, there is a selection of filters to choose from, including star rating, price, skills, and availability.
And if you would prefer the site to do the work for you, there is also always the option of using the Find a Psychic tool. Simply answer a few simple questions to find your ideal medium match.
Overall, if you're hesitant about working with an online medium, and want to reduce the risk of wasting money, Keen's satisfaction guarantee will put your mind at ease.
Claim Your Free Minutes on Keen Psychics
3. Purple Garden – Best for Mobile Medium Readings
If you're looking to connect with a psychic medium on the go, then look no further than Purple Garden. This psychic reading platform is completely mobile optimized and specifically designed for smartphone and tablet users. Depending on what kind of medium you're looking for, Purple Garden has a few different options to choose from. To start, type the word "medium" in the search bar and you'll get around 25 highly-rated mediums who offer readings via chat, call, and video.
You can also browse psychics in the "oracle guidance" and "angel insights" categories of the platform. You'll find over 100 psychics and mediums who specialize in a range of topics.
Every time you pay for a reading on Purple Garden, you'll get 5% cash back on your purchase, which you can use towards future readings.
With plenty of highly rated mediums to choose from, competitive rates, and a flawless mobile experience, Purple Garden is a great option if you're looking to have readings done right from your smartphone.
Get a Medium Reading On the Go
4. Psychic Source – Best for Face-to-Face Connections with Mediums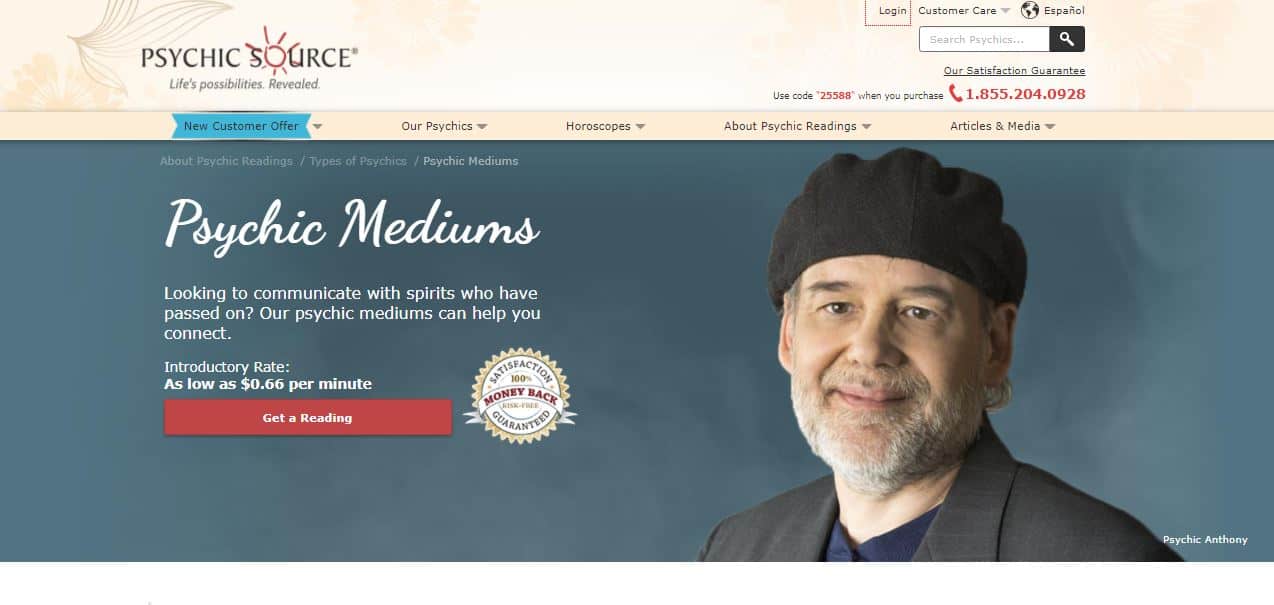 Psychic Source features over 50 online mediums who offer readings at reasonable prices.
My favorite thing about Psychic Source is that unlike most other sites that only offer readings via chat or phone, Psychic Source also offers the option of video readings. Being face to face with your medium can make a world of a difference, so this feature is definitely a game-changer. And, if you're not happy with your experience, the site offers a 100% money-back guarantee.
If speaking to a medium face to face is important to you, then Psychic Source is definitely worth a try.
Schedule a Discounted Medium Reading
5. PathForward – Best for First-Time Users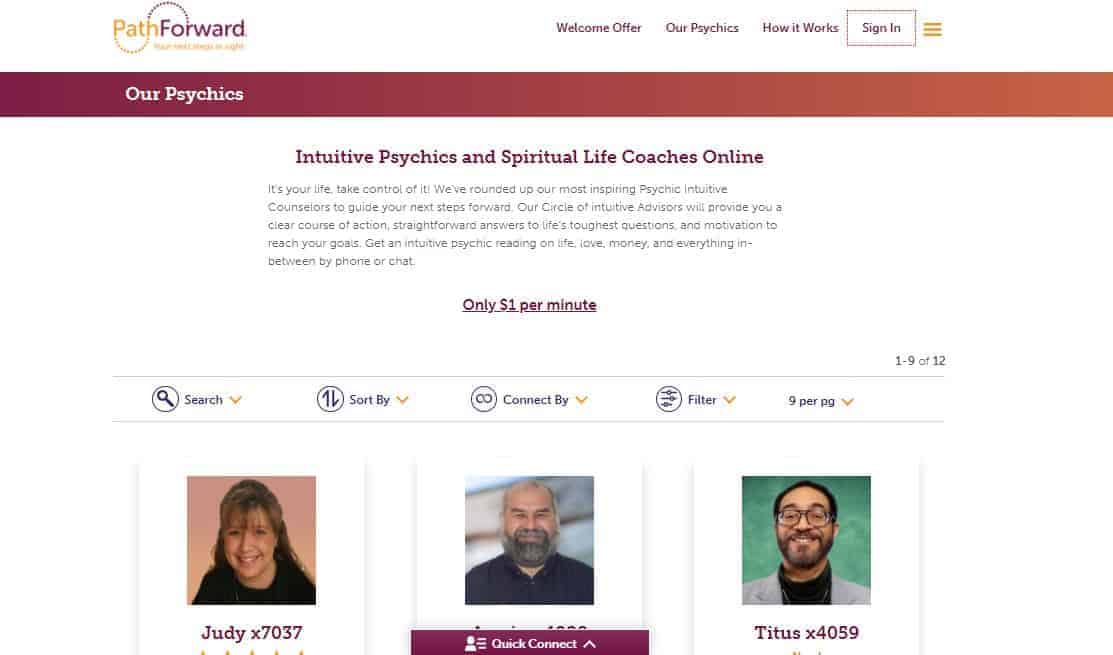 If you are new to the world of online mediums, PathForward is a good choice for finding a medium. Newer than most other online medium sites, this site prioritizes their customers' experiences, and it shows.
Their selection of online mediums is a bit limited, with only 11 of their psychics listing it as an ability in their bios. On the plus side, PathForward offers an introductory price of $1 per minute.
Psychics provide readings via call or chat, and each psychic has a number of reviews for you to read through.
PathForward is a safe, high-quality option for those starting out on their spiritual journey and those who don't want to spend a fortune.
Claim Your Discount on PathForward
6. Kasamba – Best for Finding Top Mediums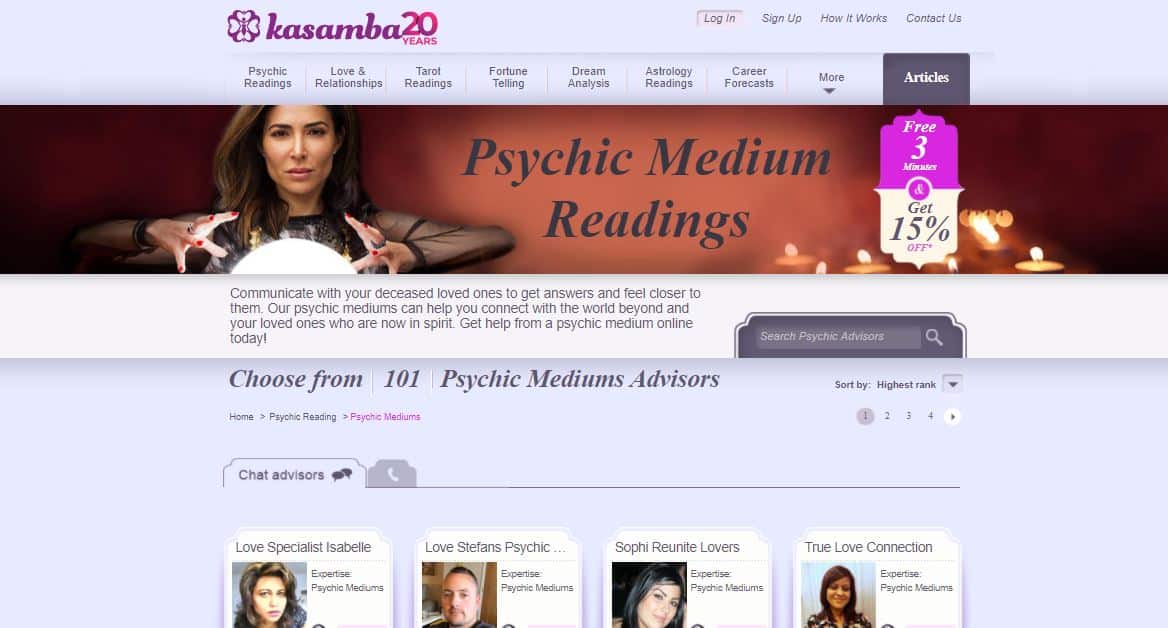 Kasamba is home to a number of exprienced mediums who have conducted hundreds of readings to date. Unfortunately, most of the mediums charge a premium price.
The site is easy to navigate and they offer free minutes to new customers – this is a plus if you're planning to spend more per minute for a reading.
If you're searching for a site that hosts the industry's top online mediums, then Kasamba is the only stop you need to make.
Claim Your Free Minutes on Kasamba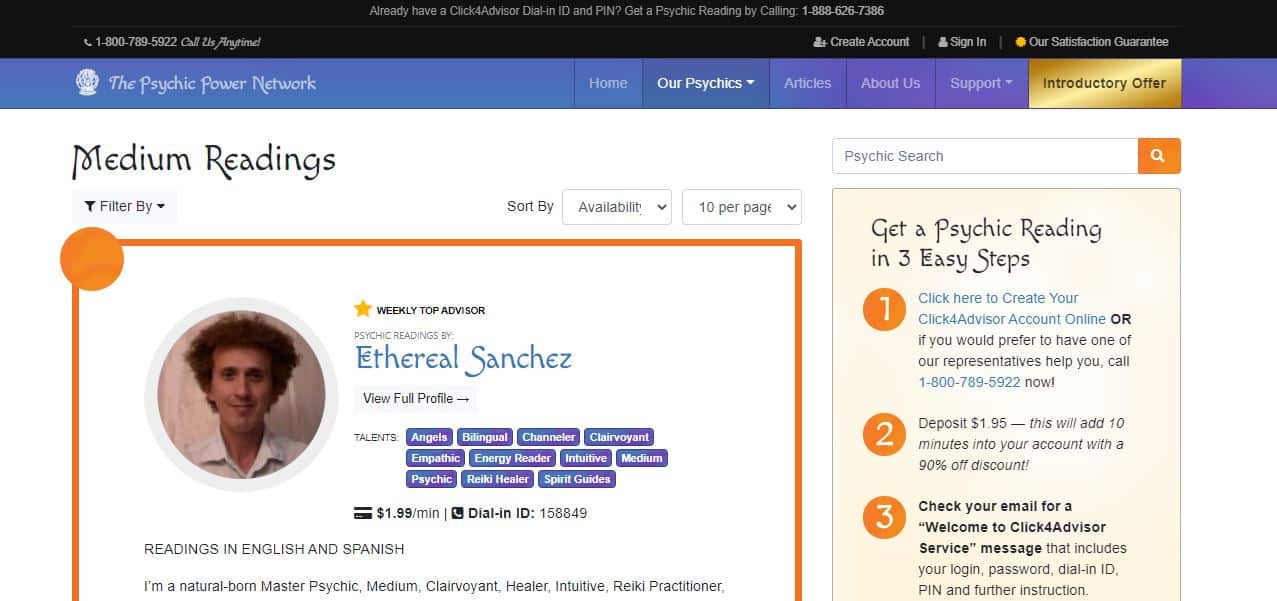 Psychic Power Network is one of the simpler spiritual reading sites out there, with mediums only offering readings via phone. But that doesn't mean it isn't worth your time. The site has well over 50 online mediums to choose from, but this isn't what stands out the most.
Since the site launched in 2002, it has never raised its prices.
If you prefer to receive reading over the phone, Psychic Power Network is an ideal choice. With incredibly affordable rates and over 50 online mediums to choose from, you can't go wrong.
Tips for Working with an Online Medium
Working with online mediums is a very intimate experience. Getting in touch with a deceased loved one, or spirits from other realms, is a powerful and deeply personal process. This is why finding the right online medium is critical. Apply these 4 tips to help you find and develop a lasting relationship with an online medium.
Always Do Your Research. Before jumping into a paid session with a medium, make sure you review their online bio, no matter what platform you are using. Look at what areas they specialize in, read reviews, and if possible, send them a free message ahead of time to establish a connection.
Be as Open as Possible. Every medium is different, but in order for most mediums to establish a connection, you may have to share memories and feelings that are deeply personal. Helping your medium understand more about the person or spirit you're trying to contact is critical in determining whether or not they can establish a connection. Being closed or guarded with your medium may result in a frustrating or disappointing experience for you.
Brace Yourself for What You May Find. Communicating with spirits isn't always an easy experience. If the spirit you are trying to contact is someone you have unfinished business with, you should be prepared for their reactions. It's important that you really consider the consequences before proceeding.
Work on Building a Relationship with your Medium. This one may seem obvious, but investing in your relationship with your medium is even more important than investing in a relationship with a psychic. Why? Because your medium is literally the medium through which you'll communicate with other spirits. It's more than just having a psychic answer some specific questions. The two of you will contact spirit together, so having a positive and honest relationship with your medium will vastly improve the quality of your readings.
Comparison: Best Online Medium Readings
Starting Price
Number of Mediums
Introductory Offer?
Trustworthy
California Psychics

$

1

per minute

140+

Discounted Per-Minute Rates

Yes

Keen

$

1.99

per minute

8

Free Minutes & Discounted Per-Minute Rates

Yes

Purple Garden

$

0.99

per minute

40+

Free Credits

Yes

Psychic Source

$

0.66

per minute

70

+

Discounted Per-Minute Rates

Yes

PathForward

$

0.83

per minute

10+

Free Minutes & Discounted Per-Minute Rates

Yes

Kasamba

$

0.90

per minute

100

+

Free Minutes & Discount on First Reading

Yes

Psychic Power Network

$

1.95

per minute

90

+

Free Minutes

Yes
Bottom Line
Contacting spirits with the help of a psychic medium is both an intimidating and rewarding experience. This is why it's critical to find the right medium for you. If you want the best online medium reading experience and are new to psychic sites, Keen is highly recommended. If you're concerned about the trustworthiness of mediums, California Psychics is the site for you.
Whichever platform you choose, make sure you always research your medium before entering a session with them, and that you're ready for whatever the experience may reveal.
Frequently Asked Questions about Online Medium Readings
Are mediums the same as psychics?
While a psychic isn't always a medium, a medium is always a psychic. A psychic is able to tap into the energy of people and objects around them, allowing them to pass on messages about the past, present, and future. Psychics use their intuitive abilities to pass on messages and guidance. Mediums do exactly this, but with one difference – they are also able to pass on messages from the spirit realm. They rely more on energies outside of themselves than intuitive abilities alone. Sites such as Keen Psychics have separate categories for Psychics and Mediums.
What should I expect during a reading with a medium?
In most instances, a medium will tell you who and what they pick up before they start asking you questions. Spirits will come forward on their own and pass on messages without the medium having to find out why you are there. If there are specific questions you would like answered, write them down and ask them once your medium has had a chance to tune into the spirit realm. You should never have to guide the reading yourself – if you find that you are doing most of the talking, you might not be dealing with a legitimate medium.
Keep in mind that the loved one you want to speak to might not come through in your reading and a medium is unable to summon them either. The spirit realm has its own rules and a deceased loved one will only step forward if they want to.
What questions should I ask a medium?
You never know who might come through during a reading with a medium, but it still helps to prepare some questions ahead of time. For example, if you are hoping to speak to a departed grandparent, you can prepare specific questions you would like to ask them. If you don't have specific questions related to someone who has crossed over, you can prepare some open-ended questions such as "am I on the right path", "what is my energy like right now and how can I change it for the better". These tips on how to get the most out of your reading with a medium will also help.