Nebula is a modern Psychic and Astrology platform that offers a unique approach to divination readings. But its lack of in-depth platform reviews and limited market exposure can make you skeptical about using it. It's also famous for its free Astrology and Horoscope reports, so you could wonder if it's paid services are up to par.
The good news is that Nebula has a decent roster of experienced psychics and competitive introductory offers, so rest assured that the platform is legitimate. What I enjoy about Nebula is how you can discuss any personal matter with your reader and they'll have access to your astrology chart. This new approach helps bring exclusive insights.
While Nebula offers the best of both worlds for Astrology and Psychic lovers, it covers a number of other reading themes, too. So whatever situation you're in, you can be sure to find the practical and helpful guidance you require on Nebula.
Types of Readings on Nebula
Nebula's variety of expertise and life sphere filters for readings are some of the most niche, and plentiful I've encountered. Its filter categories combine to an impressive 60+ reading themes, which can lead to uniquely tailored sessions for whatever situation you may be facing.
Astrology
Since Nebula is predominantly geared towards Astrology, it should be no surprise that this is the most popular reading theme on the platform. With an existing Nebula profile, your Astrologer has direct access to your full birth chart, making it easy to connect with a reader and get the insight you're after.
Since your birth chart is a snapshot of the sky from the moment you were born, it holds the answers to all areas of your life. So, no matter what you're curious about, your Astrologer can look at your chart and gather answers for you.
However, if you're looking for an astrologer specializing in a particular life sphere, you can check it off on the filter. You can find an astrologer specializing in finance, relationships, karma, and health, or even one incorporating numerology into their sessions.
In this category, you have over 250 Astrologers to select from, many of whom have 10+ years of experience. This is very beneficial since you'll have a great selection of qualified and professional advisors who can accurately answer any questions you may have.
Psychic
This category is suitable if you're after a more intuitive session. I find it to be a nice change from Astrology's more structured and theory-based approach, especially for matters that are more emotional. Psychic readings are best when you need both spiritual support and guidance.
I was rather impressed by the number of psychic readers available on Nebula considering its Astrology focus. Most of its 80+ psychic readers have a 4.7-star rating or above, giving you plenty of options to choose from.
In addition to their considerable experience, the psychics have plenty of positive profile testimonials that show they're more than capable of addressing your needs. This should bring you peace of mind if you've been weary about giving Nebula's psychic readings a go.
Tarot
Tarot is an insightful tool because you can adapt it in many situations. So if you're looking for an intuitive session with more structure, then a tarot reading might be the way to go. The cards allow you to follow along in the reading while providing a foundation for the advice.
The Tarot section seems to have the second-highest number of advisors to select from, with over 180 Tarot readers to connect with. A considerable number of Nebula's Tarot readers have completed over 3,000 readings and even offer expertise in other areas like Numerology and Runes.
Nebula's Tarot readings might suit you if you want to incorporate various tools and knowledge into your session. I find this can make the reading more in-depth and allow your reader to confirm the advice they're giving you through multiple tools.
Life-Sphere Readings
The Life-Sphere filter category has 30+ themes to select from, which helps you narrow your advisor search. This means you can combine a particular life-sphere with your preferred reading theme when getting a session.
For example, you may want a Tarot reading but feel you would also benefit from a feminine power activation. With the Life-Sphere filter, you can get the best of both worlds and receive Tarot guidance and an energy activation from the same advisor.
Some Life-Sphere topics to select are Chakra Healing, Spiritual Development, Affirmations, Twin-Flame Healer, Remedies, and many more. Since life-sphere readings are a new way to tailor a psychic session, you'll probably find them more helpful than broader reading themes.
Other Reading Categories
If you're curious about the other reading categories available, I'm here to reassure you that Nebula is likely to have what you're looking for. Some other popular categories include Numerology, Rituals, Angel readings, and Mediumship, with plenty of others to choose from.
The Numerology reading category is helpful if you've always resonated with numbers throughout life. You can get your advisor to interpret your numerology chart and guide you, or you can ask about the meaning of a specific number and figure out why it seems to follow you around.
Ritual readings are unique and help you manifest a specific outcome in your life. You may want a new job, a new relationship, or help to clear out energetic blocks from your life. Many of the advisors offering ritual sessions have over 10 years of experience and will be of great help.
If you've always been curious about working with Angels and want to see what it's all about, then you should consider an Angel reading. An Angel reader will try and connect to the Angels that predominantly work with you and channel any advice they might have. Most of them have a 5-star rating in addition to positive reviews.
The Spirituality reading category is best if you want to start your journey or perhaps need additional guidance navigating it. You'll learn about your spiritual purpose, helpful practices to incorporate, and where you're ultimately heading. You can select from over 100 credible advisors in this category.
While many think Psychic and Mediumship are mutually exclusive, they're two different gifts that fall into their own unique category. Mediumship readings are what you're after if you'd like to connect to specific spirits. You can expect specific messages from the spirit and additional closure to your traumatic losses.
How to Book a Reading?
To experience a reading on Nebula, you'll need to create an account, add credits, and select an advisor. Once this is sorted, you can immediately begin chatting with your reader. For this guide, we'll outline the process for the desktop version as it's much easier to sign up from.
1. Create an Account
Go to the Nebula homepage, click the "Sign Up" button and choose if you want to link your Google account or enter personal details. If you select the latter, you'll have to select your gender, enter your name, date of birth, email, and create a password.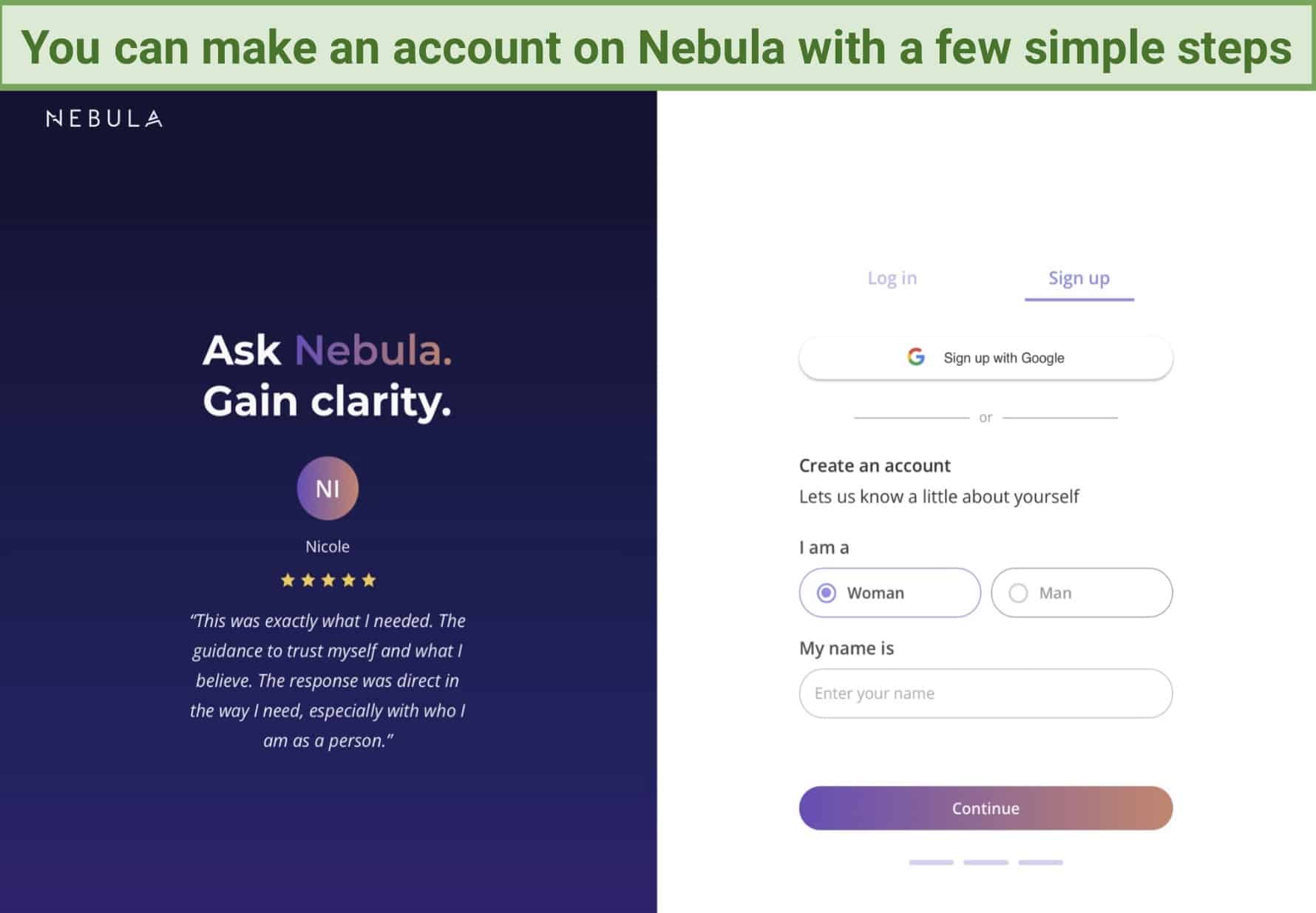 Nebula's sign up process is user-friendly and secure
Once you've successfully made an account, you can add credits to your Nebula account. To add credits, click on the 3 horizontal lines on the right-hand side of the home page, select "Profile", then click on "Refill Credits".
If you're new to Nebula, you'll receive a one-time offer of 100 credits for $2.99 which will get you 3 to 4 minutes of reading time depending on the advisor's rate. This offer gives you the opportunity to test out an advisor for a low rate before committing to a longer session.
2. Select an Advisor
The best way to select an advisor is to use the detailed search filters at the top of the "Advisors" page. This helps you choose an advisor with the skills and expertise you require.
Once you've selected all the relevant filters, you'll have a narrowed-down list of the top readers, which you can easily browse through. Since the advisor previews are pretty detailed, you can find the most relevant information about each advisor without viewing their full profile.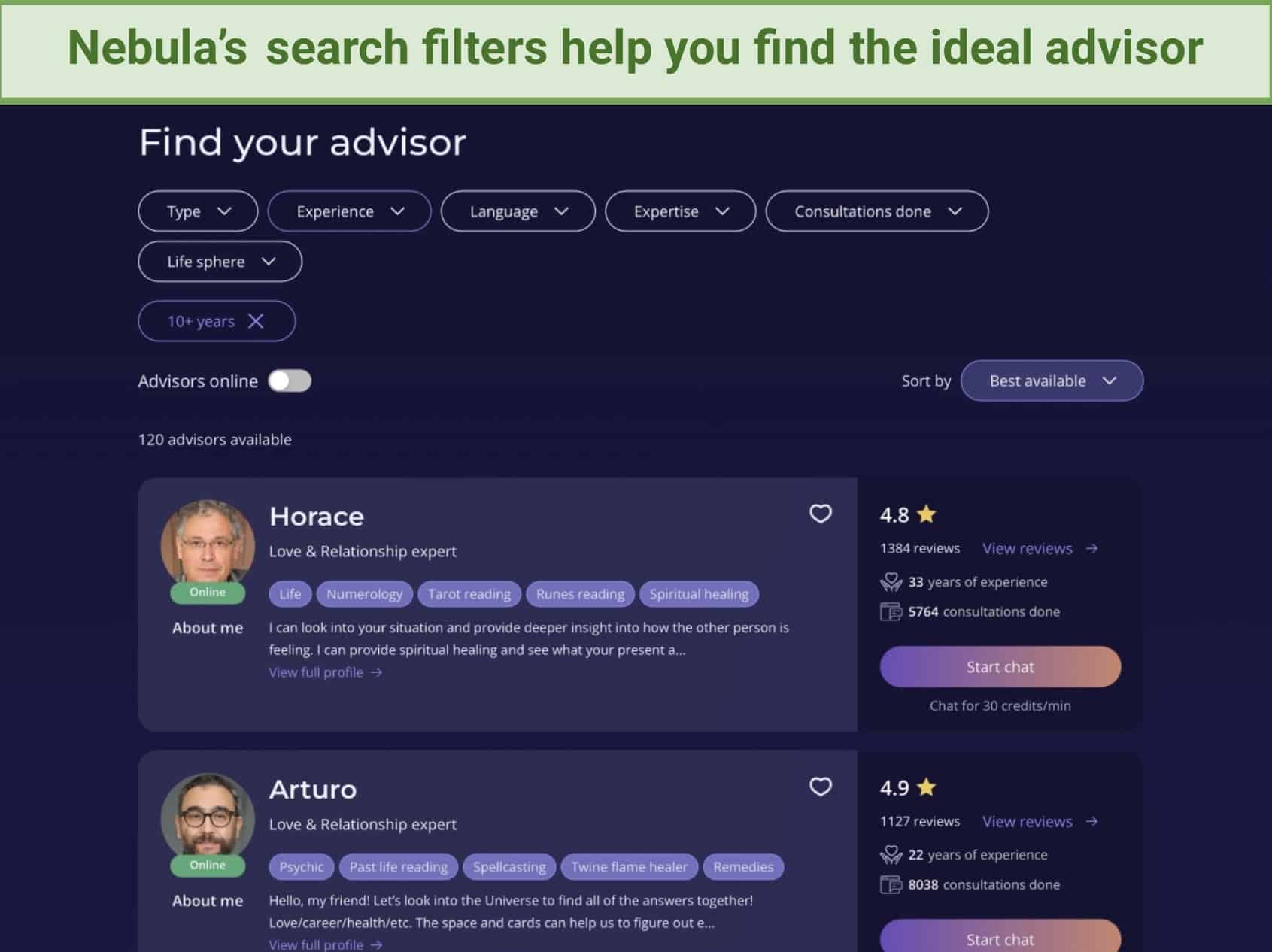 Finding the right advisor is easier than ever with its in-depth filters
I thoroughly enjoyed browsing through the advisors because the layout is aesthetic. Each mini-profile has many features, including the reader's image, online status, name, experience tags, star rating, number of reviews, years of experience, and the number of consultations done. This high level of transparency helps you make an informed decision.
If you think you match well with a particular advisor, you can click on "View Full Profile" and read their bio. You can also check advisor testimonials to see how other clients have found that advisor. This helps you vet advisors for credibility and client satisfaction levels.
3. Start Chatting
Speaking with an advisor is very simple, as all you have to do is click on the "Start Chat" button. Underneath the button, you'll see the advisor's per-minute rate, which helps determine if they're within your budget.
If you have sufficient credits in your account, you can begin to message your advisor directly. It's typically recommended that you start by asking a specific and open-ended question, as this will help you avoid wasting credits on unneeded introductions or lengthy explanations.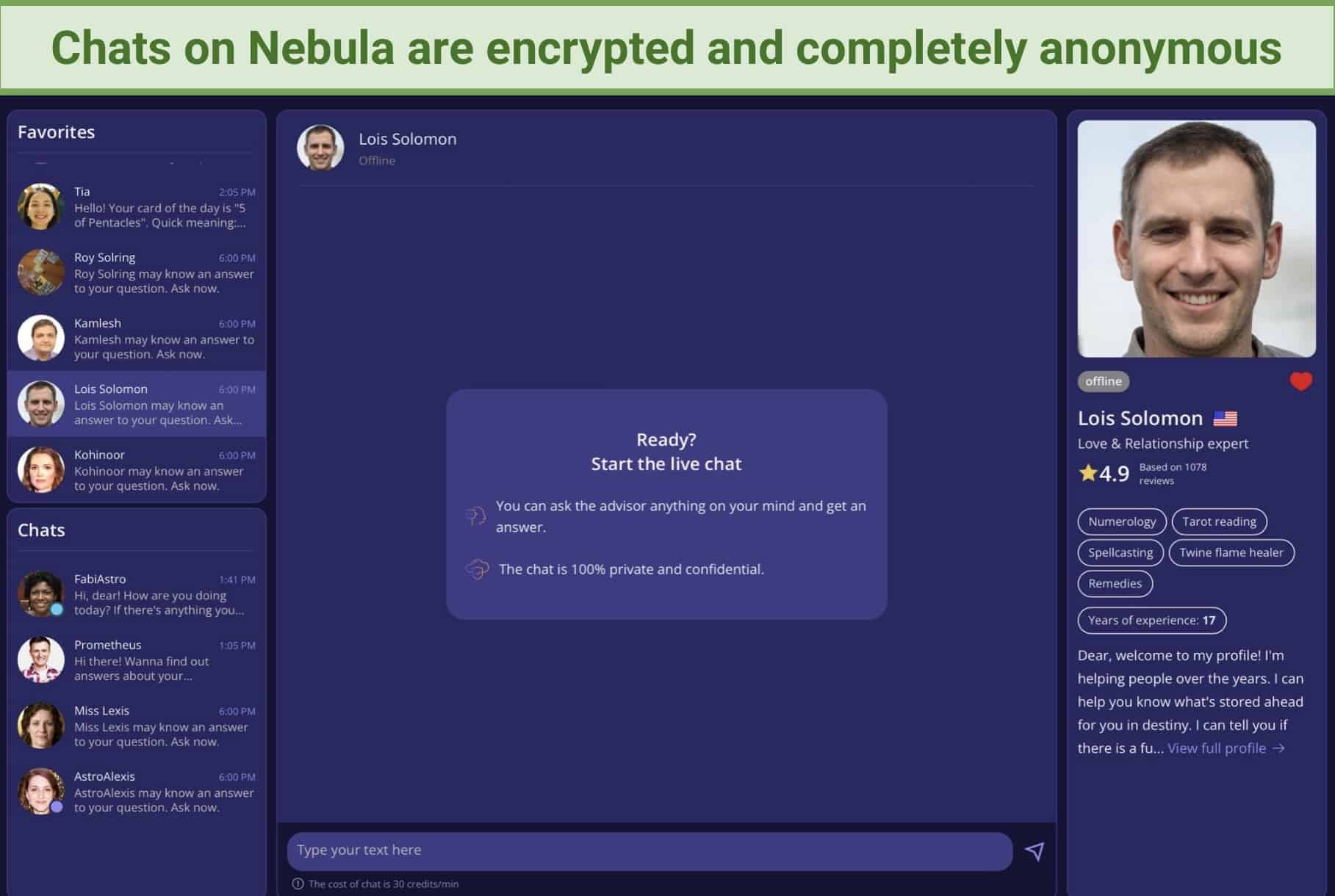 Nebula's safety features make chatting with an advisor private and secure
Keep in mind that Nebula's desktop version only supports live-chat readings which is quite limited compared to some other psychic platforms on the market. However, chat readings can be equally as powerful and have the added benefit of maintaining your privacy during the reading.
Is Nebula Trustworthy? Yes
Based on my extensive evaluations of different psychic platforms, I have gained expertise in discerning the trustworthy ones from the less reliable ones. In my opinion, Nebula emerges as a reliable choice owing to its noteworthy transparency, secure payment methods, proactive customer service, and esteemed advisors.
During the advisor selection process, you have access to all of the information you would need. Due to its uniform approach to advisor profiles, you can easily compare them and evaluate if a certain reader fits your criteria. In addition to this, each advisor's rate is accessible, and in plain sight, so you are aware of what you're paying.
Using the platform provides a sense of security, particularly when it involves topping up your credits. Nebula employs a robust security system, assuring the confidentiality of your personal information and ensuring that you are only billed the amount you agree to.
On the subject of security, the chatroom is encrypted and completely anonymous, which ensures that only you and your advisor can read your chat. This adds a layer of calmness and trust when you start a session.
Nonetheless, Nebula doesn't openly share whether it screens its advisors prior to their approval. Keeping this in consideration, a majority of its readers have more than 10 years of experience, which is a good indicator of the site's reliability.
What made Nebula stand out as a reliable choice for me was the impressive quality of its support team. The team promptly addresses inquiries with a friendly and professional attitude, which assures you that you'll never feel abandoned should you encounter any concerns.
Additionally, Nebula offers a 100% satisfaction and money-back guarantee, allowing you to request a refund for any bad experiences. Refunds are decided on a per-case basis and require you to submit a request form, but if you have legitimate grounds, I wouldn't be concerned.
Top Advisors on Nebula
Kohinoor

Best for Psychic Readings

Kohinoor has completed over 11,000 readings on Nebula and has been able to maintain a 4.9-star rating. She has over 1,000 positive reviews claiming how authentic her psychic abilities are and how accurate she is. Her rate is also quite affordable, which allows you to get a more in-depth session.

Lois

Best for Life Readings

Lois is an exceptional guide that will help you navigate difficult situations, no matter the topic. He has over 15 years of experience guiding others and has hundreds of positive feedback from his clients. Most of them highlight how quick he is at getting you the answers you need, which helps you save credits.

Kamlesh

Best for Astrology Readings

Kamlesh is one of the most highly-rated Astrologers on Nebula, which says a lot considering most advisors on the site are Astrologers. He holds a 5-star rating, has completed over 13,000 readings and has over 3,000 testimonials. He's also a psychic with 30 years of experience, which is quite unique and helpful if you're looking for an in-depth consultation.

FabiAstro

Best for Tarot Readings

FabiAstro specializes in Tarot readings, but she makes it clear that she doesn't look at you as only a number. She's looking to develop a real connection and promises to deliver a clear and factual understanding of your situation. FabiAstro has over 15 years of experience and has done over 5,000 readings on Nebula.

Tia

Best for Relationship Readings

Tia is a relationship reader that incorporates tools like tarot and oracle cards to get you closer to the answers you seek about love. She also offers chakra healing, remedies, and spell work to help you manifest the love life of your dreams. Tia has done over 11,000 readings on Nebula and has an almost perfect rating of 4.9 stars.
Is Nebula Easy to Use? Yes
I found Nebula easy to use because of its well-organized and minimalist interface. You can easily find everything you need as the navigation buttons are clearly labeled. Its click-through is also speedy, which ensures a more pleasant user experience.
What really stands out about Nebula is its extensive filtering options. They let you choose from different Astrolger types (Vedic and Western), years of experience, language preference, expertise, completed consultations, and life-sphere. You can also sort searches by online avaiability, popularity, and ratings, and bookmark your favorite psychics.
As I was using Nebula, I didn't experience any glitching while chatting with advisors or navigating the site. However, I found the app to be slightly slower in comparison on more than one occasion, so the desktop version is more efficient.
You can use the chatroom tab to interact with advisors and easily access past readings, which lets you look back and re-read the advice you received. This is a clear benefit to using Nebula as most psychic platforms don't log readings, and from those that do, they aren't as easily accessible.
With its horoscopes tab, you can see your horoscope for the day, week, month, and year. You also get quick data on your focus for the day, biorhythms, beauty calendar, and health calendar. While you can only get paid reports on the app, I find it a lot better to connect with an Astrologer for a personal reading.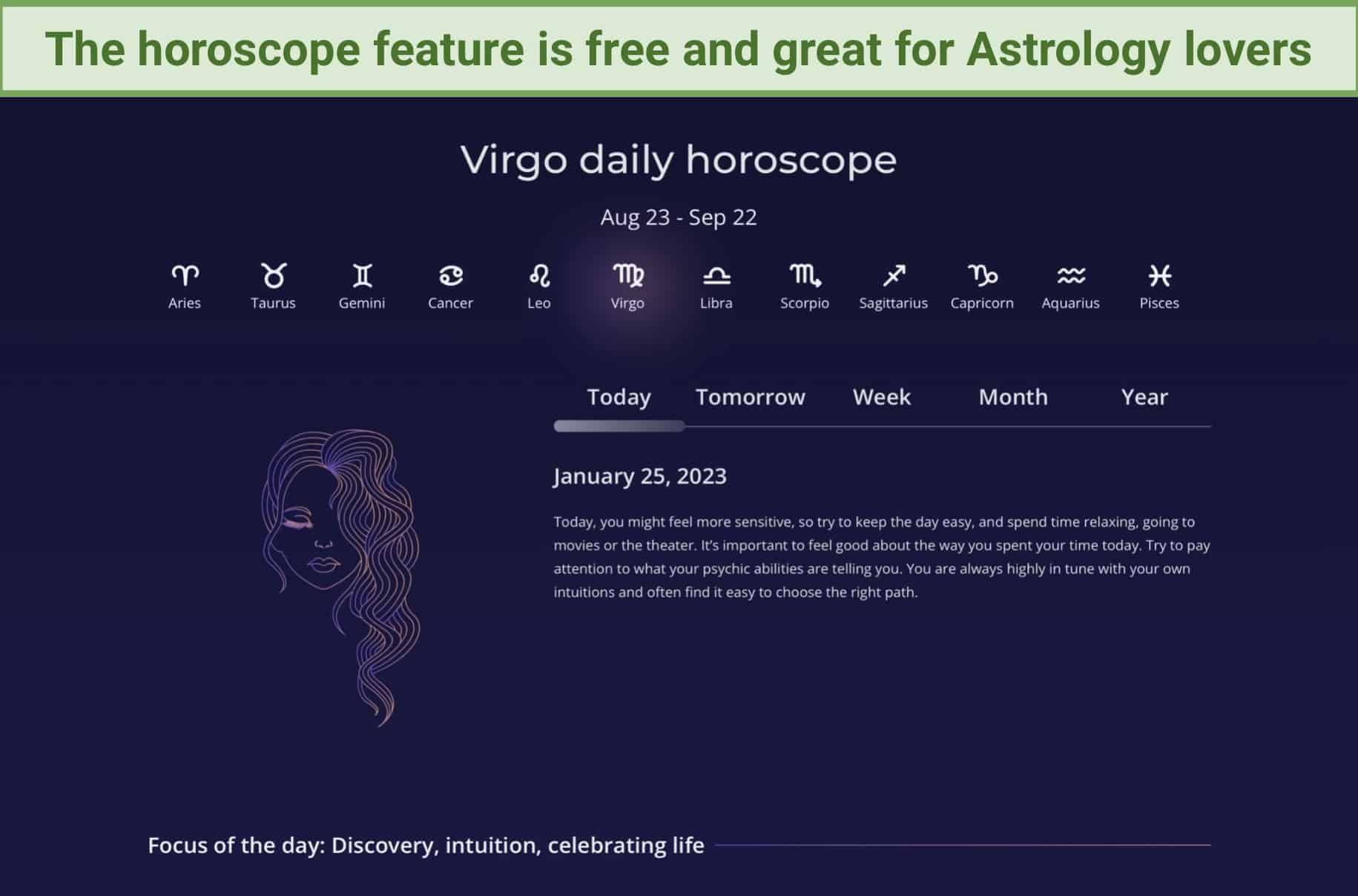 Make the most of its Horoscope feature and get Astrological insight free of cost
A minor drawback is that you can't search for particular advisors manually, but you can avoid the hassle of manually searching for readers by clicking the heart on their profile. This will place them on your favorite list, which is easily accessible under the "Chatroom" tab.
Pricing
The pricing on Nebula is structured similarly to other popular psychic platforms, where you're charged by the minute. However, the starting rate is 30 coins per minute and can go as high as 100 coins per minute.
If you're new to Nebula, you can make the most of its one-time offer and get $14 of credits for free. This is a great way to test the waters with high-cost advisors, so you can make sure you feel a connection with them before committing to a longer session.
To ensure you don't get cut off during your session, you can enable the "EasyBuy" feature, which you can find under the "Billing & Plans" tab on your profile. It essentially allows you to top up your credit balance to automatically add more credits once you fall below the minimum of 30 credits.
Remember that you must purchase coins on Nebula to chat with an advisor since they don't use regular dollars. You add coins to your account with credit/debit, VISA, MasterCard, Amex, Discover, Maestro, Verve, and PayPal.
Speak to a Credible Astrologer
Customer Support
When determining the reliability of a platform, it's always best to check in on how responsive its customer support is to any inquiries. I found Nebula's to be easily accessible and very responsive, as they got back to me within the hour. The quick response time made it clear that issues are quickly addressed, which is reassuring.
You'll need to contact customer support using the contact form when it comes to refunds. Keep in mind that they approve or deny refunds on a per-case basis. To help resolve your refund request quickly, you should include:
An explanation of the problem
Name in the app
Full birthdate (YYYY-MM-DD),
Place of birth (City, Country),
Time of birth (If available)
Date of your chat/order.
To get in touch with customer support, you'll need to click on the 3 horizontal lines on the top right-hand side of the home page and select "Contact Us". A contact form will appear where entering your name is an option, but you'll need to include your email and your message. You have the option to attach up to 5 files if need be.
While I didn't encounter any issues with Nebula's support, I felt like its FAQ page could use some work. But if you're in a pinch, you can use the FAQ page to find answers to general questions quickly.
FAQs About Nebula
Is Nebula secure and confidential?
Yes, Nebula is a fully-encrypted platform, which means your personal details are safe from third-party interference. Since the platform only supports live chat readings, you also won't have to be concerned about anyone seeing your face or hearing your voice. This is great if you're looking for added confidentiality.
Even if you're skeptical about using a third-party application like Google to sign up, you can quickly sign up by providing your email, gender, DOB, and name. I find this is better for privacy since Google accounts are often linked to other accounts, which can lead to more data.
In addition, I've verified that its payment options are legitimate and secure, so you won't have to worry about having your financial information stolen or using it without your consent. I find that Nebula's level of trustworthiness is on par with other credible psychic platforms, so I recommend giving its services a try if you're on the fence.
What makes Nebula unique from other platforms?
Nebula's approach to divination readings is quite unique because it's predominantly an Astrology website that offers a wide variety of reading categories. I noticed it had one of the most niche reading options and even offered services like rituals, which I've never seen elsewhere.
Another reason Nebula is so unique is that when you create your profile, you enter your birth information which allows your Astrology chart to be calculated. Once you're in a session, your advisor references your unique birth chart to give you detailed advice while incorporating other gifts and tools for added depth.
Do I have to add funds on Nebula before chatting with an advisor?
You need to add funds, but doing so is straightforward and secure. To buy credits and add them to your account, click on the 3 horizontal lines on the right-hand side corner of the home page, click "Profile", and select the "Refill Credits" button. You'll be prompted to choose a package to purchase from and can begin chatting.
If you're new to Nebula, you can take advantage of its one-time offer for new clients and save on your first reading. This will let you ensure you like using the platform before you top up with more coins at a higher price.
Bottom Line
Nebula is a legitimate choice if you seek personal advice on a unique and user-friendly platform. The site's services are what they appear to be, its pricing is transparent, and getting assistance is hassle-free. These are all hallmarks of a trustworthy psychic service.
However, there are some small areas where Nebula can improve on. By adding an "About Us" page, Nebula would develop stronger relationships with its users. In addition, adding the option for voice and video calls wouldn't hurt, as this may improve intimacy during sessions.
That said, the positives of using Nebula for insight and advice far outweigh these minor drawbacks. All of its advisors are credible and seem highly favored by clients in their testimonial sections. So, I'm confident you'll benefit from Nebula's professional advice in uncertain times.