Mindvalley seems tempting to join, but you may question if the hype justifies its cost. It can be difficult to determine if you'll truly benefit from its programs or stick with its unique approach to personal transformation. And with such a high price tag, you want to be sure it can truly fulfill your needs.
After putting Mindvalley to the test, I can reassure you that its subscription is worth the cost. This review delves deep into Mindvalley's learning methods and uniqueness, so you can discover how to asses its offerings more objectively and fully benefit from the platform.
The great thing about Mindvalley is that you can try it without any commitments using its 15-day trial. I found the trial helpful in evaluating a program's quality and content in relation to its price. Best of all, you can request a refund without contacting customer support if the program falls below your expectations.
In a Rush? Here Are My Main Takeaways
Pros ✅
Cons ❌
High Subscription Cost but Premium Quality & Value: While Mindvalley's yearly subscription seems steep in price, it's worthwhile when you consider the professional quality and amount of Quests available. Here are some FAQs to help you make a decision.
Types of Programs on Mindvalley
You can see what Mindvalley offers with its selection of 70+ courses called "Quests". Each Mindvalley Quest covers a different topic, but all have the same end goal of helping you improve your life. To find a Quest, browse a Mindvalley category you're interested in and go from there.
Before enrolling, you'll have access to a sneak peek of each Quest with a comprehensive overview, lesson outline, preview lessons, bonus resources, and testimonials from fellow learners. Each Quest also offers the flexibility to choose what suits you best, from following along with the class or learning at your own pace.
If you're worried about your motivation levels, you can rest assured. You'll notice an improvement in motivation with its interactive elements, like live Q&A sessions with instructors and community discussion boards. Connecting with others will help you stick to your quest and develop meaningful relationships.
You can even take your learning further with its mentoring and certification programs. The mentoring program lets you join select students to get first-hand guidance from Vishen Lakhiani and other experts. If you're interested in teaching others, you can enroll in a certification program.
Mind
The Mind category offers expert guidance that unleashes your mind's full potential, as you'll discover how to cultivate a powerful mindset and elevate your mental abilities. Whether you aim to develop a positive outlook, enhance your mental clarity, or take charge of your life, a Mind Quest is worth considering.
You'll undoubtedly find a suitable option depending on your goals and motivations. From Quests that help with overcoming limiting beliefs and negative thoughts to meditation guidance for improving mental clarity, you'll feel assured that this knowledge will positively impact your daily life.
Recommended Quest for Mind — Uncompromised Life
The Uncompromised Life Quest is worthwhile since it's taught by the acclaimed hypnotherapist, Marisa Peer. I recommend this Quest because it guides you toward identifying your subconscious patterns so you can understand how they shape your life and reprogram your mind.
This Quest is popular with over 1,500,000 students enrolled and 17 lessons in total. Many of the students taking Marisa's Quest highlight how much it has helped them remain present in the moment and that they've completely transformed their lives and mindset.
Body
Mindvalley's Body category is designed to aid you on your journey to optimal physical health. You can expect to develop a structure to improve your fitness, nutrition, and general lifestyle habits. The great thing about this category is that it aims to improve your health holistically and beyond just exercise.
For example, some Body Quests help you build strength and endurance, while others focus on nutrition and eating. Its holistic Quests include yoga, meditation, and sleep optimization, which help get your body to peak performance and improve your overall physical well-being.
I find that Mindvalley's approach to body health is unique because it goes beyond nutrition and strength. The holistic focus allows you to improve your body without neglecting mental health and cultivates a positive relationship with your body. This approach truly reflects the aim to improve your life beyond superficial pursuits.
Recommended Quest for Body — The Mindvalley Yoga Quest
The Mindvalley Yoga Quest suits yoga enthusiasts of all ages and experience levels. One thing that sets this Quest apart is that you'll be taught by 9 world-class yoga instructors. Having such a variety of expertise is valuable because you'll get a well-rounded understanding of yoga and be able to choose a that style resonates with you most.
Over the span of its 21 lessons, you'll get insightful lessons from each instructor and cultivate your mind, body, and spirit. I like how this Quest takes a holistic approach to move your body and adds a spiritual touch. This means you'll connect with yourself on a deeper spiritual level while noticing a difference in body strength and flexibility.
Soul
The Soul category's purpose is to help you connect to a deeper sense of purpose and fulfillment. By exploring the Soul Quests, you can explore topics like spirituality, personal growth, and self-discovery and get more in touch with yourself. You can even expect heightened levels of creativity, empathy, and a sense of interconnectedness.
Much like the other categories, you'll have your pick of Quests aimed at helping you to strengthen your intuition and inner wisdom. You'll get to explore various spiritual traditions and practices to find the ones that resonate most with you. Most of these Quests focus on techniques like mindfulness, gratitude, and compassion.
Recommended Quest for Soul — Energy Medicine
Energy Medicine is one of the most thorough and accessible energy healing programs available. The instructor, Donna Eden, has even been recognized by scientific and holistic spaces for her approach to healing. If you feel hopeless about your health and need alternative solutions, then this Quest is for you.
Something shocking is that Donna Eden had Multiple Sclerosis at 27 and couldn't move her muscles. After being told that her case was hopeless, she began experimenting with energy manipulation to heal. This Quest will give you hope and teach you about Donna's techniques to heal her illness, so you can adequately heal your own.
Other Programs
Mindvalley's Career Quests can help you unlock the success and fulfillment you've always wanted professionally. You'll learn about areas conducive to success, like leadership tips and career development strategies. The Career Quests will help you gain skills to excel in your career while staying true to your spiritual values.
Additionally, if you own your own business and need guidance, you'll greatly benefit from the Entrepreneur category. Here you'll learn about marketing, sales, and business strategies so that you can move forward in the right direction. These Quests differ from other programs because they focus on balancing spiritual fulfillment with business success.
Lastly, the Relationship genre helps you achieve deeper and more meaningful connections with others. You can seek a deeper understanding of communication, intimacy, and parenting. Ultimately, you'll get closer to healing past wounds and learn to move forward in your relationships for greater satisfaction.
How to Join a Program?
You don't need an account to browse through Mindvalley's Quests, but I recommend making one to save time. Then, you'll need to choose a subscription plan to enroll in a Quest that interests you.
1. Make an Account
To create a Mindvalley account, click the "Join Now" button and complete the quiz. You can select the 5 growth areas you'd like to focus on or click the "Skip" button on the top right corner to go straight to the signup screen. Completing the quiz will provide you with tailored Quest recommendations.
Once you're on the signup screen, you'll be prompted to enter your name and email address before creating a password. You can also join with a third-party platform like Facebook or Google, but I recommend signing up with your email address because it's better for privacy. The process on the mobile app is no different.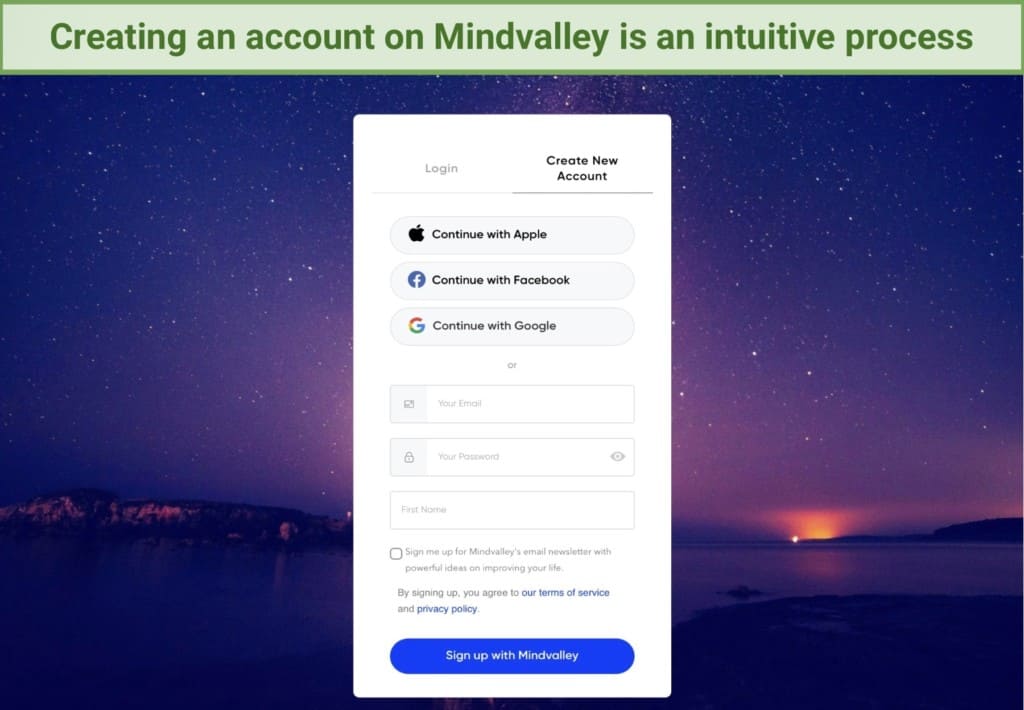 You'll feel at ease with the added security of Mindvalley's sign-up process
2. Select a Quest
To select your Mindvalley Quest on desktop, click on "Programs" located at the top of the homepage. The same applies for the mobile app, except the "Programs" tab will be located at the bottom of the screen. From there, you can browse through popular programs, what's trending, or by category.
Easily find the Quests that interest you by scrolling through your desired category

To explore a Quest in detail, click on its title to go to the Quest page. Here you'll see the breakdown of each lesson, a video from the instructor, how many hours the Quest will take, and more. If you're on the fence, I recommend you read the testimonials from other students under the "Stories" tab.
3. Begin Your Quest
Once you've chosen a Quest, you'll need to click "Subscribe to Mindvalley" on the Quest page. You'll then be redirected to a subscription page where you can choose from a monthly or yearly plan. I recommend subscribing to the annual plan because you'll save 60% over a year.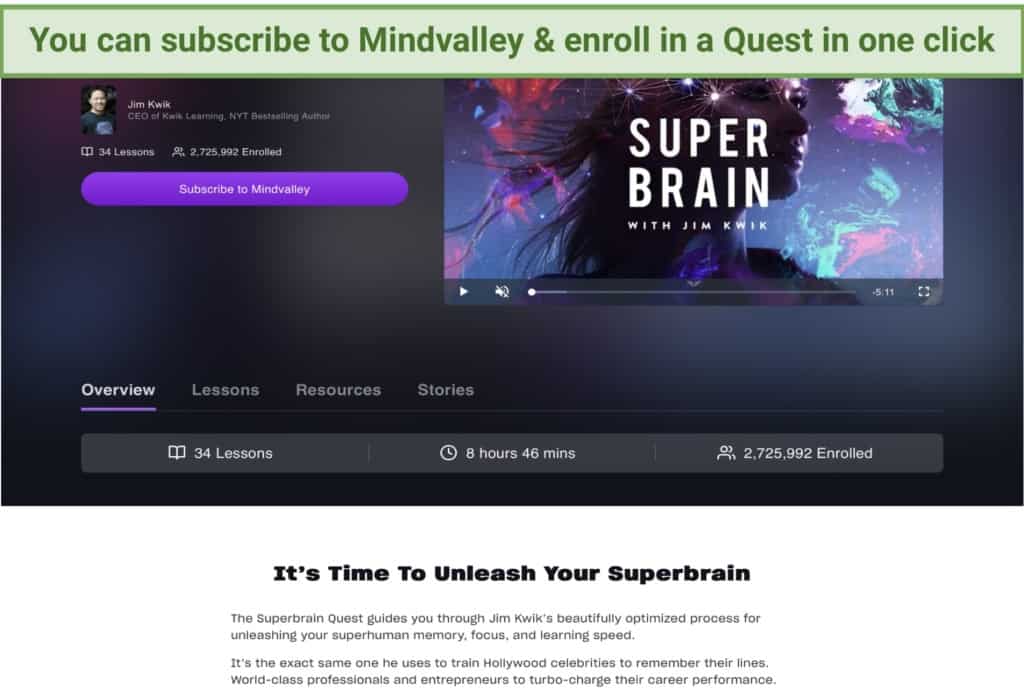 Get an in-depth glimpse into select Quests and effortlessly join a class

Then, you'll be asked to join live classes with a set schedule or work through the Quest at your own pace. I appreciate that it offers a choice because you can learn in your own time if you're busy. You can even program your level of commitment and set daily reminders.
Is Mindvalley Trustworthy? Yes
When investing in your personal growth, wanting a trustworthy and reliable platform is understandable. I find Mindvalley to be one of the most credible e-learning spaces because of its 200+ accredited and renowned instructors like Paul McKenna. So when you enroll in a Quest, you can rest assured that you're learning from world-class teachers.
Statistically speaking, Mindvalley has a pretty impressive track record to consider. The platform has reached 20 million students worldwide and has a completion rate of over 300% better than other platforms. This is mainly due to its innovative fusion of neuroscience, performance, and speed learning techniques that keep you engaged.
Additionally, it shares over 18,000 case studies that show how its programs have improved people's lives. There's even an entire website called "Mindvalley Stories" dedicated to this. Seeing positive testimonials from people with different backgrounds and countries makes me more assured in Mindvalley's approach to personal growth.
But what made me trust Mindvalley the most was its commitment-free 15-day trial. You have half a month to test a Quest and get a good feel for the Mindvalley approach. If you weren't impressed, you don't have to call or talk to anyone to get a refund. This is supreme because getting a refund on other e-learning platforms can be nearly impossible.
Is There a Mobile App? Yes
The Mindvalley app offers a variety of features that make it convenient for you to access its Quests and engage with others. You can download the app on your smartphone, tablet, or Apple TV from the App Store or Google Play. Overall, the app is easy to use and provides the added benefit of learning without restrictions.
When using the app, you have the added benefit of learning on the go. This makes it possible to complete lessons without interruption, especially if you're a frequent traveler. However, remember that you don't have the option to download or access your Quests offline and must have an internet connection to continue learning.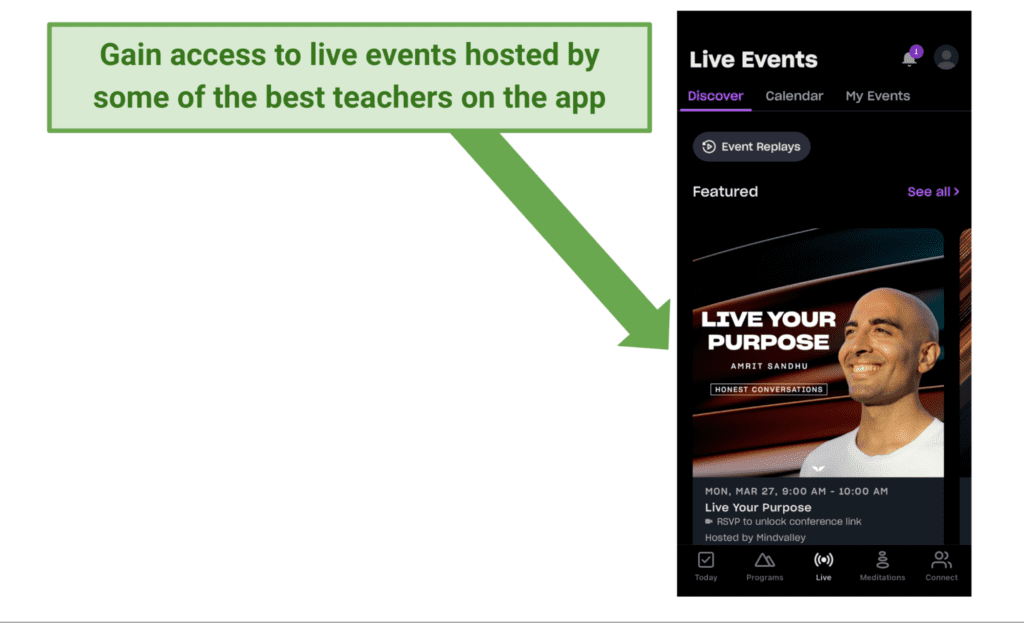 The Mindvalley app helps you stay on top of any upcoming live events

Something unique about the Mindvalley app is its "Live" tab, which gives you access to online events hosted by experts. By clicking an event that interests you, you can see the time, date, and amount of people attending. Then, all you have to do is click the RSVP button and receive the link for the live call.

Having access to a like-minded community can be helpful when trying to stay committed to your wellness journey. You can use "Learn with Neighbors" to find the most popular programs in your area. There is also a "Connect" tab, where you can start a thread on the community feed or use the "Introduction" feature to build connections with others.

Get unlimited access to meditations that expand your mind, body, and spirit.

One of my favorite features on the Mindvalley app is the Meditation tab. You can test select meditations for free and access a lot more guided meditations and healing sounds when you join a paid subscription. I appreciate this added feature because it's just another sign that Mindvalley is committed to your wellness.
Pricing
Mindvalley uses different "Levels" for its subscriptions, starting with Level 1 which is the free Mindvalley starter subscription. This level offers free features like select masterclass programs, meditations, and open-access live events. But since your access is minimal, you'll miss out on content that calls to you.
Its Level 2 subscription gives access to Mindvalley partner programs and isn't really a subscription. You'd have to pay per product and individually enroll in each program you find interesting. These programs range from $299 to $899, which is quite steep. I recommend sticking to its Level 3 membership to keep costs low while enjoying similar programs.
The Level 3 membership is $499 a year or $99 a month, but the price can vary depending on your currency and country. You'll get unlimited access to all of the Mindvalley Quest programs, its private community and connections app, live workshops, and mentoring classes. I personally feel it's worthwhile to get the yearly membership because you'll save over 60%.
The Level 4 membership is split into two options. You can choose between the Pro membership for $999 a year or Premium Coaching for $2,499 a year. The biggest difference is that with the Pro membership, you'll get group coaching and embodiment sessions, whereas the premium coaching is done one-on-one with your own private coach.
Although Mindvalley can seem very high, it offers the quality, expertise, and flexibility not available on other e-learning platforms. Considering how much the average person pays for a gym membership, life coaching, and professional guidance, you're saving money on Mindvalley.
Customer Support
While investigating the customer support on Mindvalley, I was pleased to see how many options were available. If you need to contact support, you can choose between live chat support on WhatsApp or iMessage and its submission form through email. The latter is best if you don't have time to go back and forth with a live agent.
Additionally, you can also browse through its highly-detailed FAQ page. I was impressed by how much information was available and how you could find an answer to almost anything. This makes it possible to find the solutions you need without contacting anyone.
Unlike other e-learning platforms, you don't need to contact customer support for a refund. If you're within 15 days of your purchase date, you can issue a self-refund in a few steps by clicking "Account", "Billing", and then "Refund" from the homepage. You can expect to see the refund reflected in your bank account within 3-5 business days.
FAQs About Mindvalley
Can I work with Mindvalley?
You can work with Mindvalley through one of its certification programs. These programs offer you the opportunity to deepen your knowledge while allowing you to work towards recognized credentials. If you'd like to get warmed up before jumping headfirst into a certification program, I recommend you join some relevant Quest first to get a baseline understanding.
Some certification programs currently available on Mindvalley are its 10x Fitness Coaching Certification program, Certified Business/Life Coach Program, Certified Holobody Coach Program, and Certified Hypnotherapist Coach Program. These certifications are led by some of the best in each respective industry.
Keep in mind that there are a few steps to enrolling in a certification program. First, you must pay a fully refundable $200 deposit and email your application to Mindvalley's team for review. You should receive a confirmation of enrolment within 2 business days. Then you must confirm your spot by paying in full or in installments.
Are there free Mindvalley courses?
Yes, there are free programs and masterclasses available on Mindvalley. I find that the free content gives you a taste of the Mindvalley experience before committing. But unfortunately, you won't get to experience more comprehensive programs.
Despite the price tag, I think Mindvalley's paid subscription is better than its free content because you can enjoy more content that resonates with you. While trying free programs has its perks, you may not get the experience you're after because you don't have much choice. The paid subscription also has a 15-day trial, so you can try it risk-free.
What are Mindvalley classes like?
Mindvalley classes (called Quests) are 100% online and primarily focus on personal growth and wellness. Each Quest will be divided into separate weeks and lessons that you can follow with a class or at your own pace. Joining a Mindvalley class is quick and painless, so you can start absorbing knowledge within minutes.
With each class, you'll have access to a "Getting Started" preview before enrolling in the Quest. These previews typically range from 5 to 15 minutes and help you get familiar with the instructors and curriculum. Once you enroll, you'll have full access to the class and can get started on your learning journey.
The great thing about Mindvalley classes is that they're meant to be digestible and interactive. Each week's content is divided into lessons lasting no more than 45 minutes. Once enrolled, you can enjoy live webinars, online forums, and community circles, which let you connect with other students and your instructor.
Can I share a Mindvalley account?
Unfortunately, Mindvalley's terms of service highlight that sharing accounts is not allowed. Each Mindvalley account is intended for the use of a single individual, and sharing an account may even result in the suspension or termination of your account. Therefore, it's best not to risk it and avoid sharing your account.
An alternative to sharing an account is to use Mindvalley's 15-day trial, commitment-free. It'll help you decide if paying the full subscription is worth it since you can test it out. Taking this route will put you at ease in case you have doubts about Mindvalley's level of trustworthiness or the quality of its programs.
What are Mindvalley events?
Mindvalley events can be live or virtual gatherings of like-minded individuals who are interested in furthering their personal growth. Attending an event allows you to meet community members and learn from top experts. The platform hosts all types of events, from conferences and retreats to live-stream sessions.
There is also Mindvalley University, which is a global education platform offering programs, workshops, and events. It has a flagship event each summer that lasts 21 days and takes place in a new city each time. You can access over 100 classes, workshops, and activities led by some of the world's leading speakers and educators.
Bottom Line
All in all, Mindvalley is a unique platform that offers an array of high-quality online Quests for personal growth. And while it may be difficult to justify the investment into Mindvalley's content immediately, you'll be glad you gave it a chance. From my perspective, it's one of the few e-learning sites that can help you maintain a high level of engagement long-term.
Not only is Mindvalley led by some of the most accredited experts in the world, but it allows you to establish meaningful connections. Its approach to personal growth is backed by neuroscience and has improved thousands of lives, which adds further credibility and trust.
Remember, even if you're not 100% on board, you can see what Mindvalley offers without the risk. By having access to its subscription content for 15 days, you can try a Quest with an expert that resonates with you. It's easy to complete a self-refund in a couple of clicks if you don't resonate with its methods.