PathForward: Overview
Although PathForward is still a newcomer, it has proven its worth and taken leaps and bounds to provide excellent quality at affordable prices.
Since PathForward is designed with its users in mind, it's easy to sign up for an account. You can even benefit from a low-cost introductory offer of only $0.83 per minute. And by taking advantage of its Peace of Mind Promise, you can get a full refund if you're not happy with a consultation of under 20 minutes.
These seem like great features if you're new to psychic readings. However, it's only natural to want a little more information on what to expect from your subscription. To help you make an informed decision, I thoroughly reviewed PathForward's key features with an unbiased view.
Types of Readings on PathForward
There are plenty of ways to filter your psychic search on PathForward. By combining specific criteria, you can easily find a specialist who can help you with the precise problem you're facing.

You'll be able to select from the reading subject, the psychic's gifts and talents, spiritual tools used, communication style, and even the language of your reading. This makes it easy to find an expert that can help you with personalized spiritual needs.
Here's what you can expect from some of the most popular reading categories on PathForward:
Psychic Astrology Readings
If you're looking for a psychic who uses ancient astrological principles to determine how the current energies are affecting your relationships, career, and life, PathForward has a handful of 5-star options to choose from.
When scheduling a psychic astrology reading, make sure your reader is a good energetic match for you – someone you resonate with. You should also have your date, time, and place of birth handy, as this will provide a more accurate astrological reading.
Psychic Love Readings
Love and dating has evolved throughout modern times. The psychics on PathForward understand the challenges of everyday relationships. Whether your current relationship has hit a wall or you're simply tired of searching for love, a psychic love reading can provide some valuable guidance.
If you're not too concerned about a psychic's gifts or what tools they use for their love and relationship readings, you'll have a much wider selection of psychics to choose from. If you want to get more specific, such as choosing a clairvoyant who uses the tarot, this will narrow down your options.
What I really value about the love readings on PathForward is that the psychics don't give you false hope. They're inspiring and comforting, but also realistic about the fact that fate can step in and your life path can change at any given moment.
Psychic Tarot Readings
Tarot has been around for centuries and many of the psychics on PathForward use it as a tool during their readings. If you're specifically interested in a tarot reading, there are several 4 and 5-star readers who offer it.
If you haven't had a tarot reading before, the readers on PathForward are more than happy to explain the cards to you and how they fit together to tell a story and provide you with specific guidance.
Clairvoyant Psychic Readings
I've found that people are the most skeptical about clairvoyant readers – you really need to trust in their abilities and integrity before going into a reading. Fortunately, PathForward screens their psychics so this does give me a lot of confidence – more on that later.
If you're looking for a clairvoyant, you have a good selection of experienced psychics to choose from on PathForward, many of whom have a 5-star rating. The fact that many of the clairvoyant readers have a number of reviews makes it easier to find a good match and ensure they can be trusted to give accurate readings.
How to Use PathForward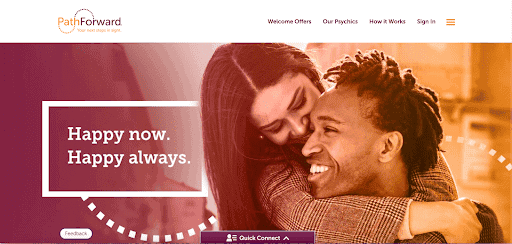 Navigating the PathForward website is straighforward. The site is well structured, which makes it easy to use for begginers.
If you're pressed for time but urgently need spiritual guidance, the site's quick connect tool puts you in touch with a psychic that's immediately available to help. If you have a bit more time to browse, you can take a look at the "Our Psychics" page to begin your search.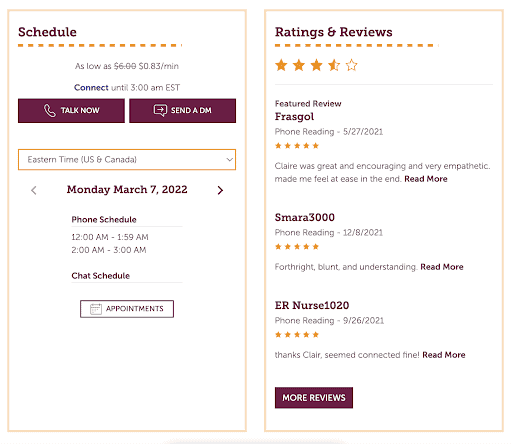 What's great is that many features are available before you've created an account. You can learn more about the psychics and their personal philosophies, check their availability in your timezone, and read customer reviews. This gives you peace of mind when you sign up and commence your first reading.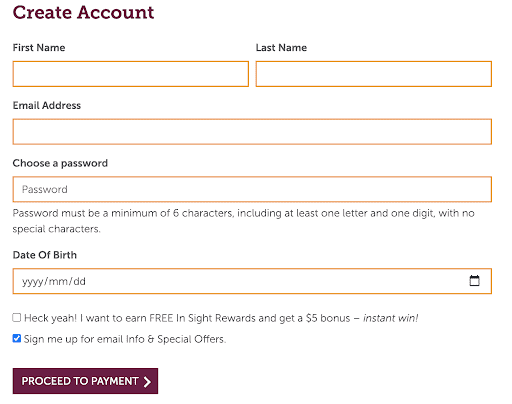 The sign up process is fairly simple, but you should note that you will need to select and pay for your preferred introductory package when creating account. Thereafter, only a few basic details, like your name and date of birth, will be required before you can begin your first reading.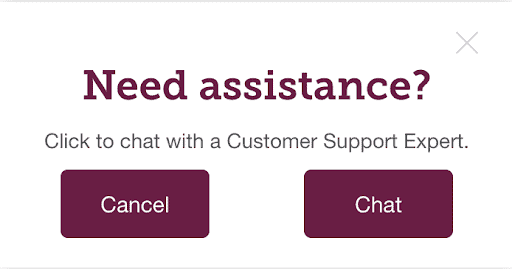 To back up its 100% satisfaction guarantee, excellent customer service is a top priority for PathForward. If you don't find the answer to your question on the site's support FAQ, there are three more ways to ask for assistance.
Live Chat:

Speak to a support agent while you browse through the site using the chat feature.

Email Enquiry Form:

Fill in the online contact form and outline your issue. You'll need to fill in your name and email address, and wait for a response to your inbox.

Mail:

Send a letter to the PathForward PO Box for a response in writing.
Customer support on PathForward is available 24/7, so it's unlikely you'll need to wait very long for your issue to be resolved. I tested the service myself and was pleasantly surprised to have my query addressed within just a few minutes.
Is PathForward Trustworthy?
PathForward goes above and beyond to reassure customers of its quality offerings. This makes it easy to access information on its site. If you're new to psychic readings, this gives you great peace of mind that your membership will be worthwhile.
Code of Ethics
The PathForward code of ethics is based on professionalism, privacy, confidentiality, security, and integrity. PathForward psychics are prohibited from imposing their personal values or beliefs on customers and are always expected to treat customers with dignity and respect.
Psychics don't have access to your personal details and can't ask you to disclose them either. Even the psychics are required to use pseudonyms to represent themselves. In essence, PathForward is committed to protecting your privacy as well as that of each psychic. Your chat or call will be recorded, however, which is purely for your protection and quality assurance.
As an added measure, PathForward prohibits psychics from taking the reading off-site and asking for direct payments.
Peace of Mind Promise
PathForward is confident in its psychics abilities. If for any reason you are unhappy with your last paid reading, you'll be refunded or given the opportunity to try another psychic. You need to make the request within 24 hours for readings that lasted 20 minutes or less.
The site's screening criteria requires psychic applicants to be highly experienced, ethical, and committed to building long-lasting client relationships. Less than 5% of those who apply are successful in joining the site's network of psychics, which speaks to its commitment to meeting the needs of its customer base.
Reviews
Every psychic has a number of reviews that you can read through before you go ahead with a reading. A site that offers and transparent reviews is a lot more trustworthy than psychic sites that take a wait-and-see approach.
Top PathForward Psychics
PathForward currently has over 60 psychics. As a new user, starting off with a reading from a top-rated psychic is a great way to get a feel for your preferences. These are some of PathForward's five-star advisors.
Aurora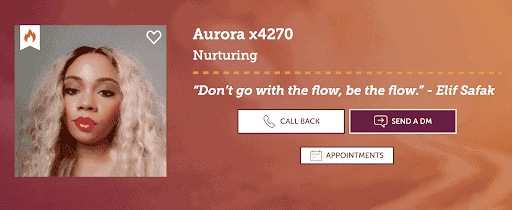 Top Review: Aurora is always spot on and amazing! I never do reviews but I had to for her. – Hopeful758
Gifts: Empath / Energy Healing / Intuitive
Aurora is a compassionate psychic who specializes in relationships, spirituality, and self-care. Thanks to her healing and nurturing reading style, she is one of the site's most popular psychics. To ensure accurate readings, Aurora uses her gifts together with tarot, angel, and oracle cards.
Dominique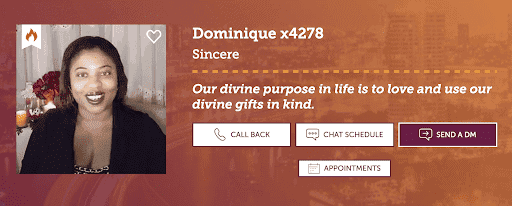 Top Review: Dominique is truly a five star ***** she happens to be absolutely amazing, supportive and compassionate though she remains direct and honest. The details she tuned into that i didn't mention were incredibly specific and exact. Thank you so much Dominique for your encouragement,insight and guidance during this difficult and challenging time in my life. – browneyez1031
Gifts: Intuitive / Clairvoyant / Clairaudient / Clairsentient
Dominique is an in-demand, thoughtful reader who uses dreams, cards, astrology, and spirit guides to advise her clients. Since Dominique is highly gifted, she doesn't need to make use of tools to receive and impart spiritual guidance. As an expert in almost every reading category on PathForward, there's no doubt she'll have the answer to your problem.
Erin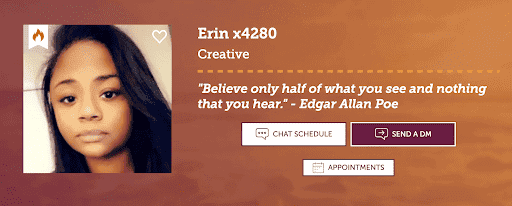 Top Review: Erin was awesome! Very sweet and straight to the point. She was right about a lot of things and even picked up on things I did not tell her! I will be coming back for an updated reading. Thank you again Erin! – Leomoonshorty
Gifts: Clairaudient / Empath / Intuitive / Clairsentient
Erin is a unique psychic because she combines ancestral guidance with her natural gifts and tarot cards to offer wisdom. She is direct and won't sugar-coat advice or tell you what you want to hear. Instad, she'll lead you in the direction that's best for your future. Despite this, her readings are filled with positive energy and laughter, which helps deepen her connection with her clients.
Cassandra

Top Review: Cassandra is absolutely amazing! She has many impressive qualities, she is MY PSYCHIC from here on. She is sincere, honest, helpful, and the most amazing quality is I felt like I was talking to an old friend! One that I trusted with my deepest concerns and fears. I trust her completely, and I'm so grateful I found her. Please do not hesitate to have her read for you, she is ANGEL! – Angel12
Gifts: Intuitive / Empath / Mediumship
Together with her gifts and other spiritual tools, Cassandra makes use of interpretation and guided meditation to perform readings. She is multi-skilled and very experienced, making her a long-term top-rated psychic. As a specialist in relationships, careers, and spirituality, she ensures to impart knowledge directly from the spirit guides to each client.
Christine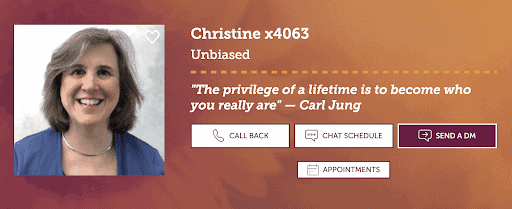 Top Review: Christine is very personable. She makes you very comfortable. I will definitely be in touch with her again!! – April82
Gifts: Empath / Intuitive / Energy Healing / Pet Psychic / Lost Objects
Christine is a high-energy psychic who builds a personal connection with every client, so they get the best guidance possible. She is highly gifted and uses an inspirational tone to deliver messages directly from the universe. As a jack-of-all-trades and expert of many unusual spiritual practices, seh'll use the right tools to seek answers on your behalf, regardless of what you need guidance on.
PathForward Pricing
The standardized pricing on PathForward is one of the site's greatest features. It's a great option for beginners, since you'll be able to chat to some of the most highly-rated psychics out there without having to pay exorbitant amounts.
What's even better is that as a new member, you'll qualify for the introductory offer that awards you a 10, 20, or 30 minutes package for only $0.83 per minute. The site will also offers an additional three minutes free and a 25% discount on your first reading.
Thereafter, there is a flat fee of $6 per minute for all psychics. You'll also never be charged more than what's in your account balance.
You have the option to use a debit/credit card or PayPal as your payment method. Once you've ended your reading, credits will be deducted from your account based on how long your session lasted.
If you happen to be running low on credits during a reading, you can take advantage of the Fast Path feature, so you can top up using your existing preferred payment method. This means you aren't forced to leave the reading prematurely.
Redeem Your Introductory Offer
Unique Features
When compared to some other popular psychic reading sites, PathForward has three unique features that stand out.
Favorite Psychics
Once you start using the PathForward site on a regular basis, you're going to feel connected to some psychics more than others. If you find several psychics that get you and understand your journey, you can add them to your Favorite Psychics page. Simply click on the heart icon to add a psychic to your page. If you want to remove them, then deselect the heart icon.
This featyre also allows you to keep track of your favorite reader's schedule, save questions for upcoming readings, save notes from past readings, and discover special offers.
In Sight Rewards
The In Sight Rewards program gives you Rewards Dollars every time you make a purchase on the PathForward site. The more dollars you have, the longer you can chat to your favorite psychics. It's completely free to join the PathForward rewards program.
As a customer, you earn 3% in Rewards Dollars every time you make a purchase. Just keep in mind that these dollars expire after 48 months. Customers can earn up to $45 Rewards Dollars every month.
The Inner Circle
The Inner Circle is an exclusive addition to your membership that qualifies you for extra benefits at a fee of $24.99 a month. When you sign up, you'll get two free 10-minute readings (one phonecall and one chat), 10% off every psychic reading thereafter and hassle-free promo shopping.
If you intend on getting many readings a month, or you notice that your readings generally take up a significant amount of time, joining the Inner Circle could result in loads of long-term savings.
Bottom Line
PathForward is one of the few sites that make it this easy to pick a reputable psychic and won't charge a fortune per minute. Plus, its In Sight Rewards program offers attractive, long-term benefits.
Since it's modern and in touch with customer's spiritual needs – you won't find any psychic scams or tactics on PathForward. The site is easy to use and accessible across all devices, ensuring you can schedule a reading any time you need it.
Frequently Asked Questions
Is PathForward safe to use?
Yes, the lengthy list of positive reviews is part of what makes PathForward one of the more trustworthy psychic reading sites. They also have a strict code of ethics in place, as well as a peace of mind promise. If you are unhappy with your reading, you have 24 hours to request a refund that can be used to purchase a reading with another psychic.
Are PathForward psychics accurate?
Generally speaking, yes. The selection of psychics on PathForward might be smaller, but it's because of the site's strict screening process. It claims that only 5% of applicants are accepted, which means their psychics offer a high level of accuracy. There are also a number of reviews you can read through on each psychic's profile.
What kind of psychic readings are offered on PathForward?
PathForward has 5 main reading categories, including love, careers, spirituality, friends and family, and self-love and care. Once you select a category, you can also decide on the gifts and tools you would prefer your psychic to have.
How much do psychic readings cost on PathForward?
PathForward offers 3 different packages that are linked to their introductory offer of $0.83 per minute. These consisting of 10, 20, and 30 minute offerings. Once you've used up your introductory minutes, you won't pay more than $6 per minute, regardless of the reader you choose.
Where can I find out more about the psychic I'm interested in?
Luckily, the psychic bios on PathForward are extremely comprehensive, so on each psychic's page, you'll find pictures, an audio introduction, Q&A, and loads of reviews to speak to their trustworthiness. You can also send a psychic a DM if there is anything you'd like to ask that isn't related to spiritual guidance.