Do you have questions about where your relationship is going? Are you having doubts about your partner's faithfulness? An experienced love and relationship psychic can answer these questions and more.
However, love readings are one of the most common categories on psychic websites, so how do you know which site to choose for your reading?
I've tested the top psychic websites to find the best love advisors. Here's what I found.
In a rush? Here are my top picks for love psychic sites:
Let's take a closer look at the specifics of each of these sites.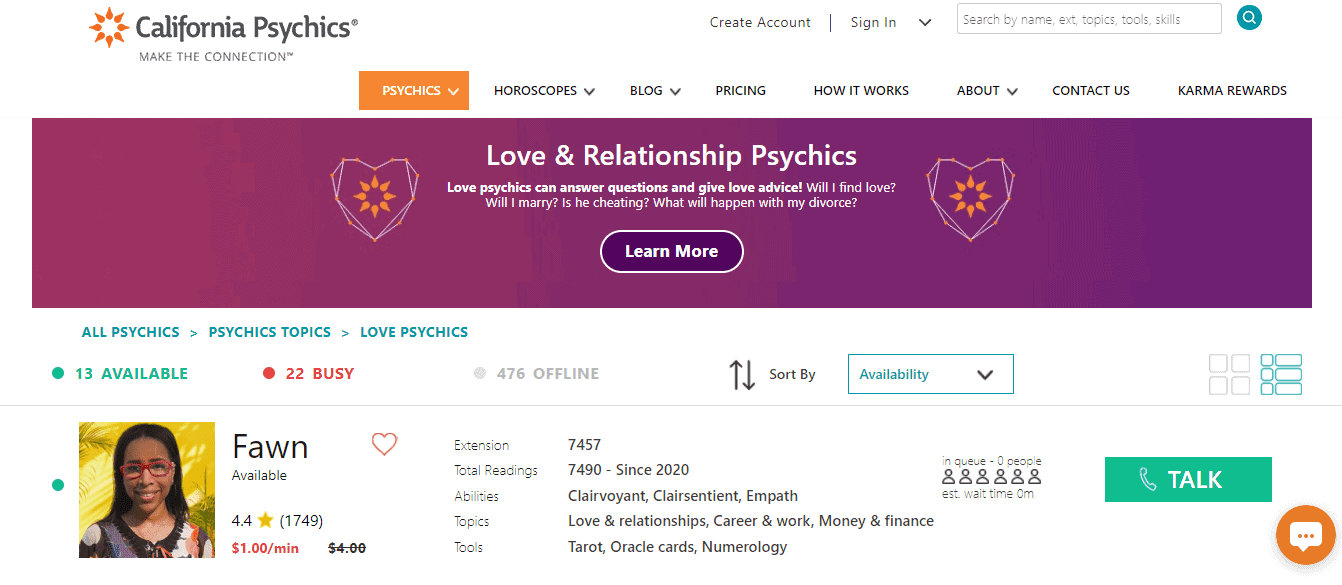 California Psychics has been around for 25 years, a clear indicator of trustworthiness.
They also have one of the most rigorous psychic screening processes around, so I was confident that the 61 love psychics I found were well-equipped to handle whatever love question I threw at them.
The site also states that only 2 out of every 100 psychics that apply get accepted, so you can be sure you're getting your love reading from the best of the best.
Your love reading could cost as low as $1 per minute on California Psychics, You could get a refund worth up to 15 minutes if you're not satisfied with your love reading.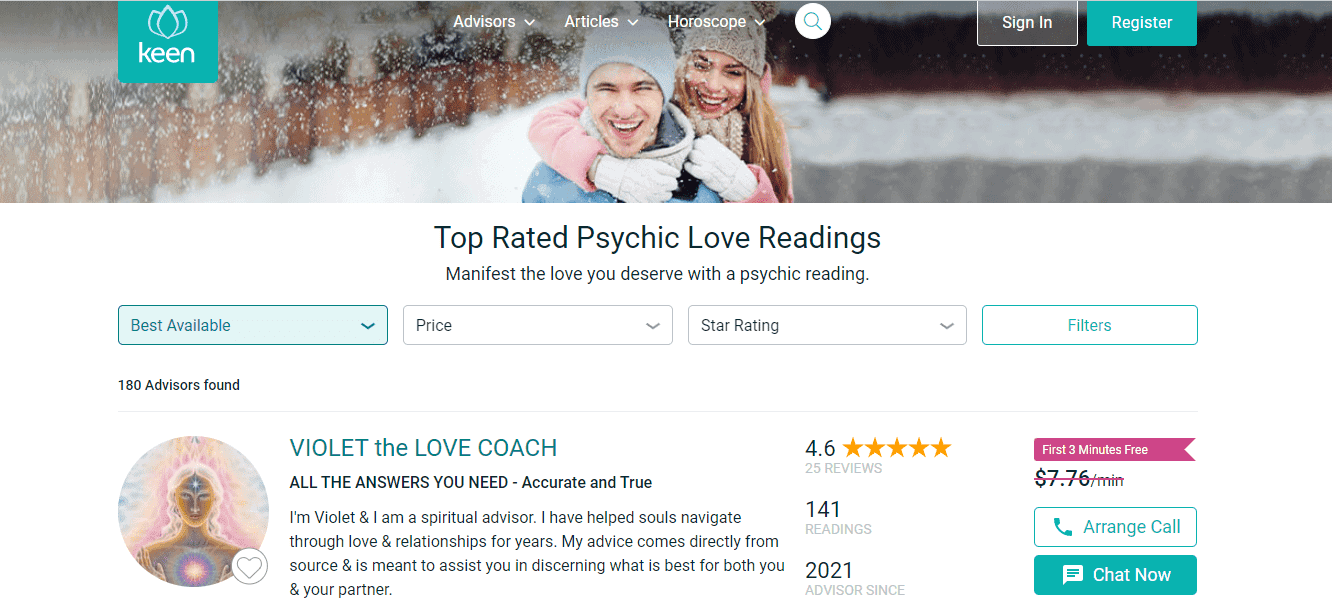 I found 57 love psychics offering chat and call readings on Keen Psychics.
I really appreciated how much information Keen Psychics displays about its love psychics right on the search page. No need to open each and every profile to find out whether a psychic is a good fit.
When searching for love psychics, Keen Psychics displays each psychic's star rating, number of reviews and readings, the year they joined Keen Psychics, and what they charge for love readings. Once you click on a psychic's profile, you are met with even more information that will help you decide if they are a good fit.
Based on the search results page alone, I can tell that many of the love psychics have several years of experience, excellent ratings, and have performed tens of thousands of readings to date.
If I just look at user reviews, I understand why some of their love psychics charge as high as $30 per minute. Thankfully, most of Keen's love psychics charge as low as $1.99 per minute.
The best part is Keen's introductory offer. New users get a full 10-minute love reading for only $1.99, and the first 3 minutes of the reading are free. And, if you're not satisfied, Keen Psychics will refund up to $25.
Find a Love Psychic on Keen Psychics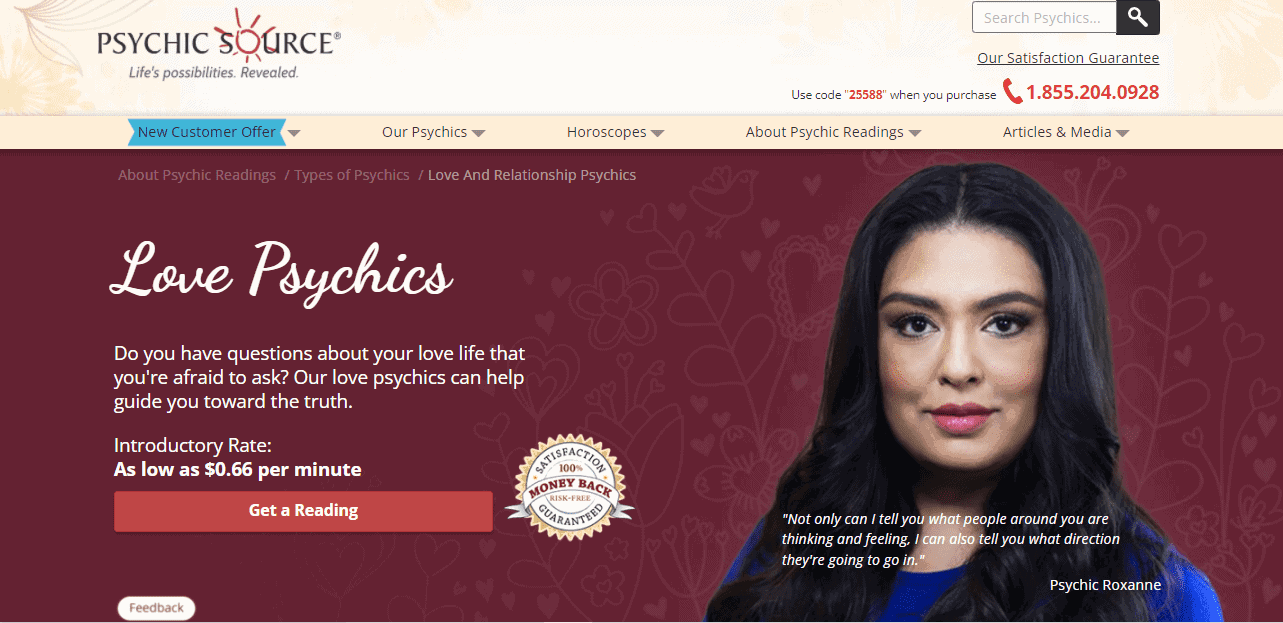 Users can choose from 160 love psychics on Psychic Source. Many of them offer phone and chat readings, but I was most impressed with their video readings.
When I filtered through these love psychics, I was excited to find 25 who offer video readings on Psychic Source.
Being able to speak to a psychic face-to-face can provide you with a more accurate reading.
There are a lot of other features to love about the Psychic Source website. Their Find a Psychic tool automatically matches you with the perfect love psychic based on your answers to a handful of questions.
Psychic Source also has some very detailed psychic profiles. You'll be able to see each love psychic's years of experience, availability, user reviews, and more.
Each love psychic even has a pre-recorded audio message on their profile that potential customers can listen to.
New users can get a love reading for as low as $1 per minute. And, if you're not satisfied with your last love reading (not just your first), you'll get a refund of up to 20 minutes.
Browse Love Psychics on Psychic Source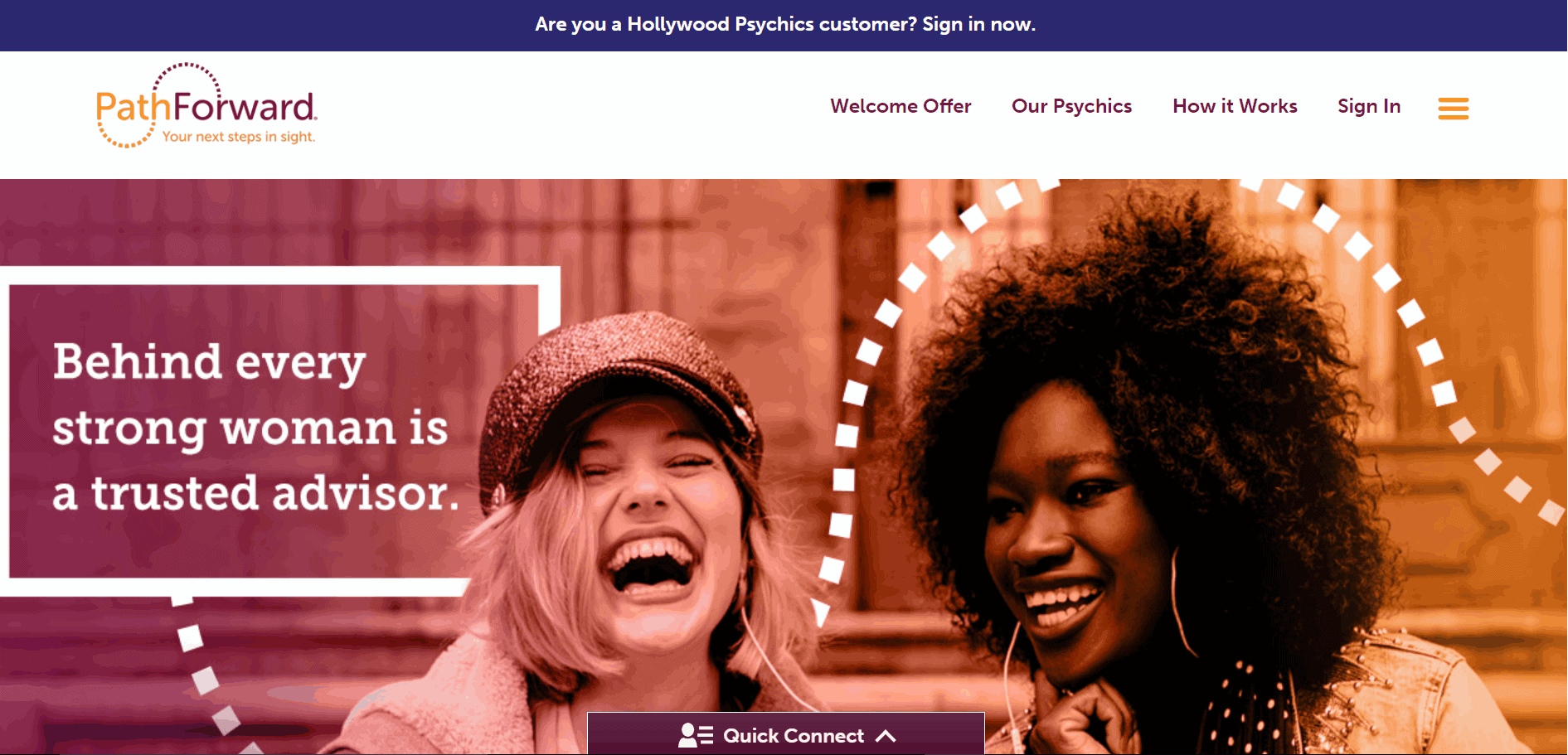 PathForward has been offering love, sex, and relationship readings for over 15 years.
They may have fewer than 100 psychics on the website, but 49 of those psychics offer love readings.
If it's your first time using PathForward, you'll love how affordable it is. Love readings cost only $1 per minute for first-time users, even if you choose one of their most experienced psychics.
However, you'll have to purchase at least 10, 20, or 30 minutes in order to take advantage of that introductory offer. However, this is not a negative since you can use these minutes for future readings too.
Even after you've exhausted your introductory minutes package, love psychics on PathForward remain affordable – you'll never pay more than $5 per minute.
Over and above the affordable rates, PathForward is one of the more user-friendly psychic reading sites I have used – ideal for first-time users.
Schedule a Reading on PathForward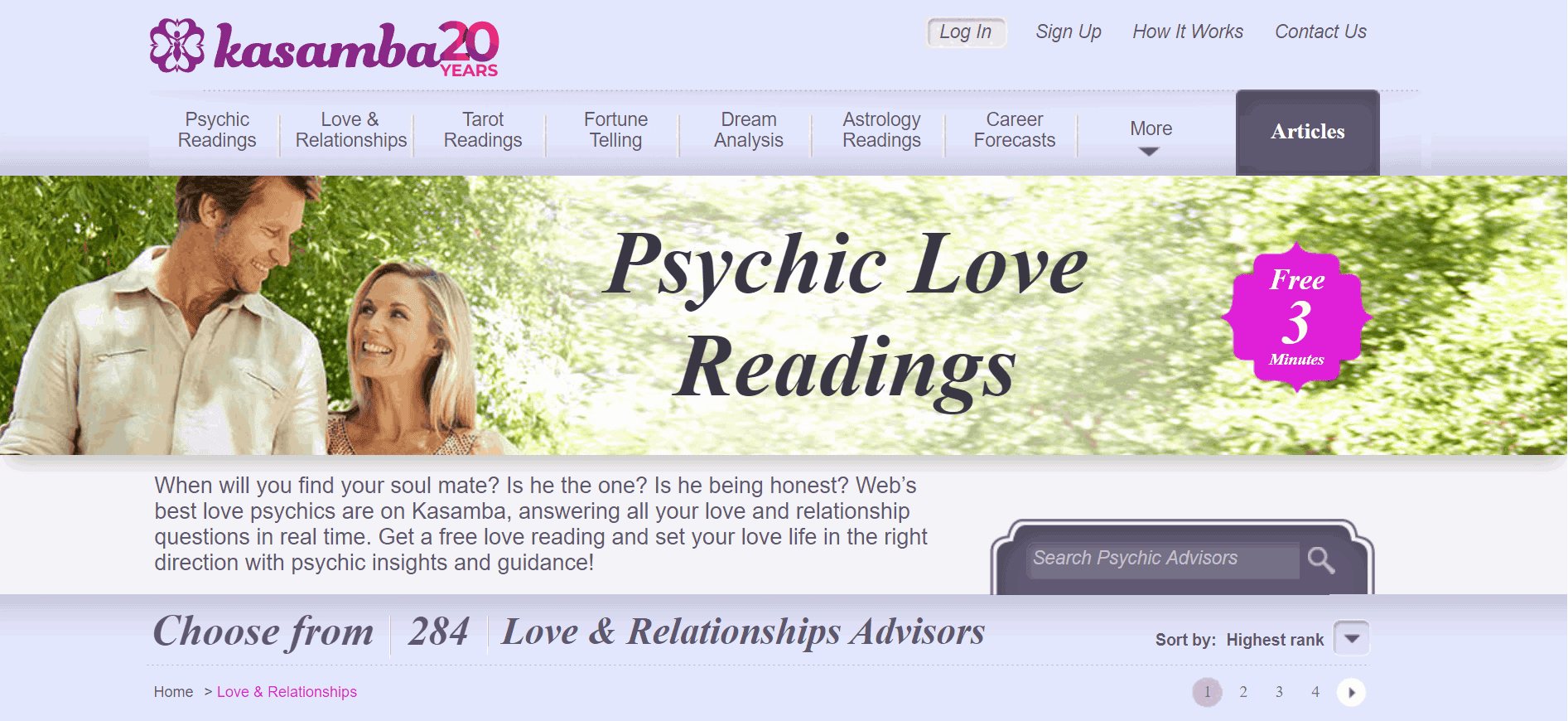 Kasamba has almost 300 love and relationship psychics offering chat readings and over 200 who also offer phone readings. New users are certainly not limited in terms of choice.
While you can get a love and relationship reading for as low as $1.69 per minute, some love psychics charge as high as $30 per minute.
Love readings are significant, but $30 per minute is a bit pricey for me. I was excited to find a feature on Kasamba that allows you to send a message to a psychic specifying how much you are willing to pay for a reading. This is great if you are drawn to a love psychic that falls outside your budget.
I was also impressed by how Kasamba breaks its love and relationship category into 7 subcategories, allowing you to zero in on a specific psychic. Some of the subcategories include Break Ups and Divorce, Cheating and Affairs, Single and Dating, and Soulmate Connections.
Kasamba has been around for 20 years with glowing reviews throughout, a clear sign of trustworthiness.
Kasamba also offers a satisfaction guarantee that promises a refund of up to $50 if you're not happy with your love reading. And to top it off, you get the first 3 minutes of each love reading for free, with each new psychic you try.
Find a Relationship Psychic on Kasamba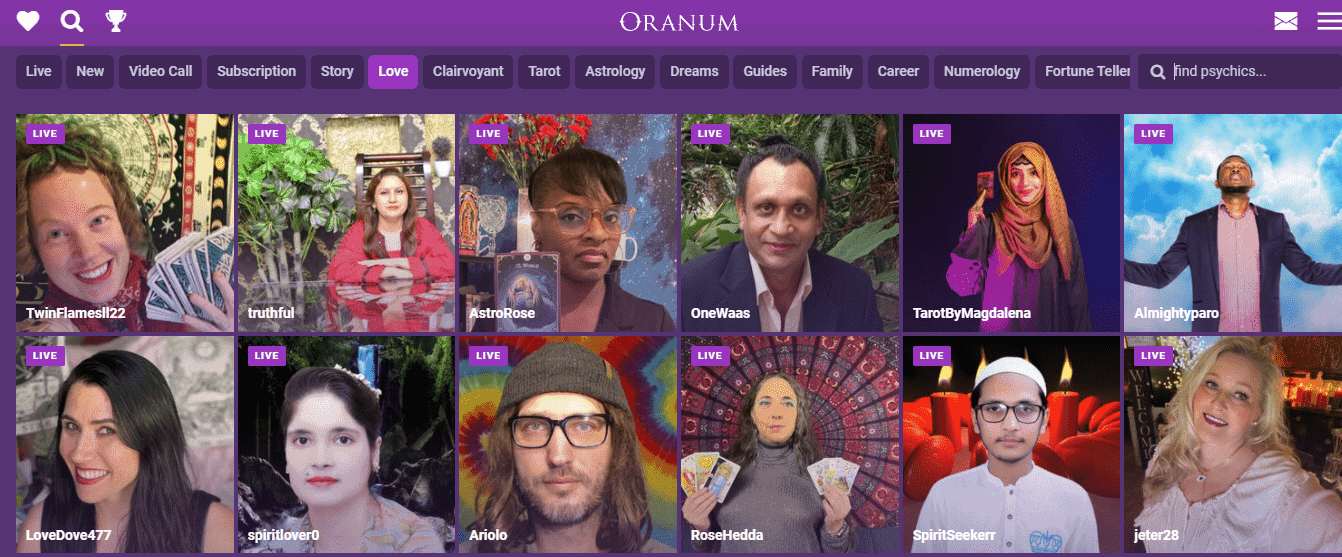 You can get a chat or video reading from over a thousand love and relationship psychics on Oranum, by far the widest selection I've found online.
Dealing with such a large selection of psychics can be overwhelming though.
Thankfully, Oranum has some useful filters to help narrow down your search. You can filter your results based on 4 types of love and relationship readings: Love Reading, Love Horoscope, Love Compatibility, and Karmic Love Reading.
You can also filter through the thousands of love psychics based on their language, rating, and Oranum's recommendations.
Oranum is also one of the only sites that lets you get to know a psychic before you pay for a reading or sign up for an account. Each psychic is required to host free live video shows on a weekly basis.
In addition to these free shows, Oranum has an attractive introductory offer. You'll get $9.99 worth of credits for free when you register, which can get you a 10-minute reading.
Watch a Live Love Psychic Show on Oranum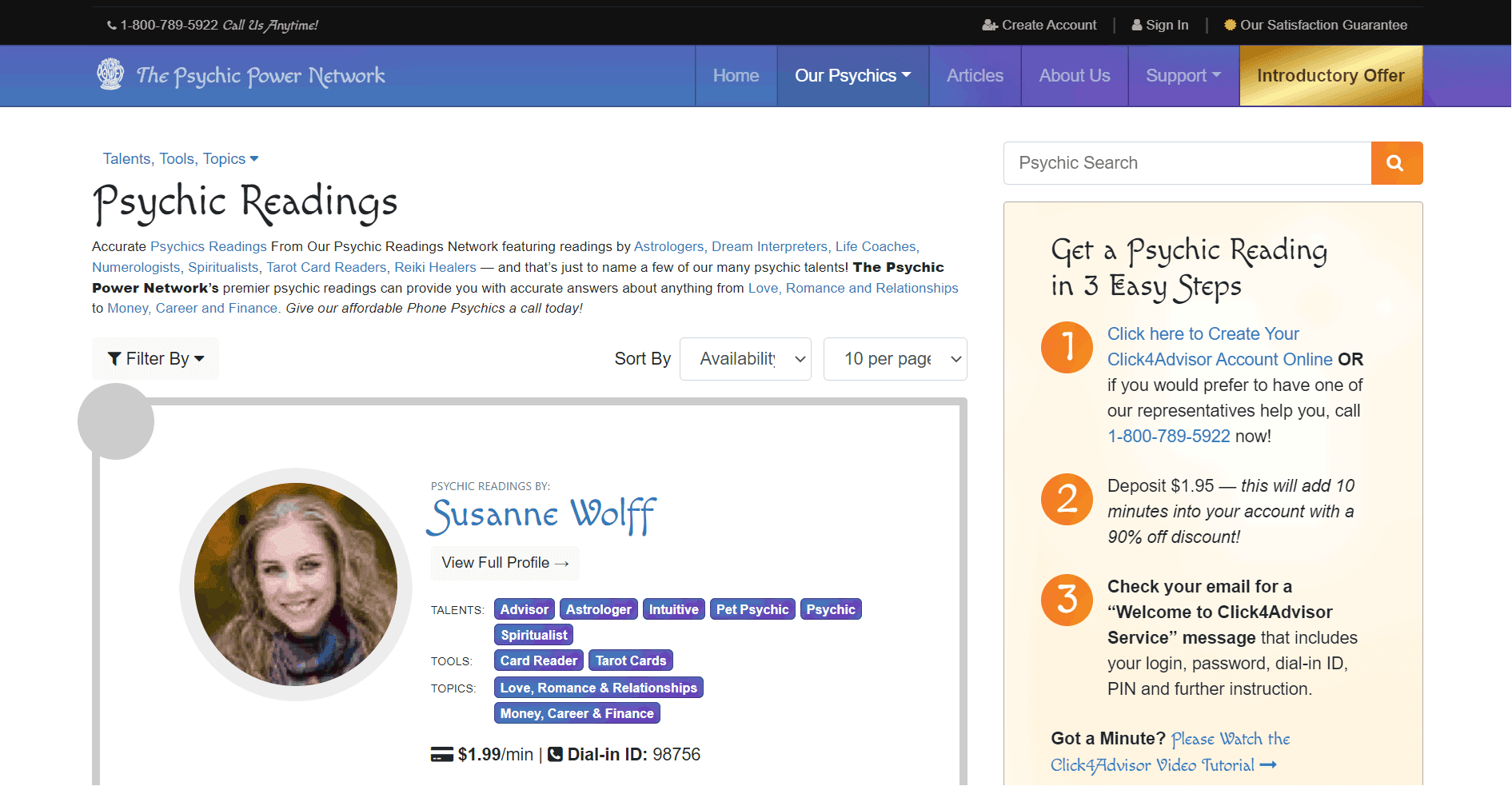 Ever since the Psychic Power Network launched in 2002, they've offered love and relationship readings for a flat fee of $1.99 per minute, regardless of the love psychic you choose.
Unlike other psychic websites that charge different rates for different psychics, Psychic Power Network's flat-rate really simplifies things. This way, even if you're interested in love psychics with the best reviews and years of experience, you don't have to worry about whether they're more expensive than the rest.
And as a first time user, the Psychic Power Network will offer you a 10-minute love reading for only $1.95.
While I really liked the Psychic Power Network's flat rate and introductory offer, I wasn't too impressed with their satisfaction guarantee. They'll refund 100% of your minutes if you're not happy with your love reading, but that only applies to your introductory offer's promotional minutes and not any future readings.
The Psychic Power Network has close to 150 love, romance, and relationship psychics – not enough to limit your options or overwhelm you.
How a Love Psychic Can Help You
A love psychic is there to help you gain some clarity around your past, existing, and future romantic relationships. However, there are a few misconceptions about what a love psychic can and can't tell you.
It's important to keep an open mind during reading and to prepare several open-ended questions.
If you're expecting a psychic to tell you exactly what date you will meet your future partner and what their name will be, you're going to leave feeling disappointed.
What a love psychic can do is tell you more about the energy currently surrounding your love life, what might be holding you back, and what you can do to get on track to meet your next partner.
Is It Better to See a Relationship Psychic in Person?
There really is no difference between seeing a psychic in person and speaking to a reader via chat or the phone. Online and in-person readings have the same level of accuracy, provided you're speaking to a legitimate reader.
Whether you meet with a love psychic online or near you, the process remains the same. They will start by tapping into your energy before providing you with insights and answers.
If you do prefer to see your psychic during a reading, opt for a site that offers video readings – Psychic Source being a top choice.
Bottom Line
Love is an integral part of our lives. It can be wonderful, but it can also be complicated. Thankfully, you can get an experienced love and relationship psychic to help you.
However, because of how personal love is, only you can determine which psychic is right for. This list should put you on the right path though.