Building a long-term connection with an experienced love and relationship psychic is like having a best friend and trusted advisor all in one. But with so much choice out there, it isn't always easy to find a good fit. Many of them claim to be legitimate when they're not.
To save from confusion and heartache, I found the most trustworthy love and relationship psychic sites after testing several dozen. Whether you're facing problems with your partner, or simply want to know how to strengthen your romance, they can help you identify the correct path with a little help from the universe.
My favorite site for love and relationship psychics is California Psychics, where you can take advantage of regular rates from as low as $1.00 per minute.
In a Rush? Here Are My top Picks for Love Psychic Sites:
1. California Psychics – Best site for love and relationship psychics with an introductory rate of only $1 per minute and over 500 love and relationships experts.
2. Purple Garden – Greatn for on the go mobile readings and has cash back on every purchase, but lack features.
3. Keen – 200+ love and relationship psychics and 3 free minutes, but no video readings.
4. Psychic Source – Live video readings and 3% rewards dollars with every purchase, but vague screening process.
5. PathForward – Standardized pricing and an introductory rate of $0.83 per minute, but small pool of psychics.
Best Love and Relationship Psychic Sites in 2022
1. California Psychics – Best Overall for Love and Relationship Readings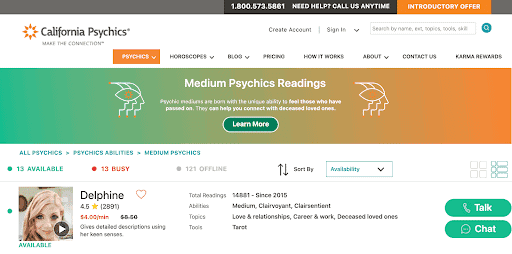 Rigorous psychic screening process
480+ love and relationships psychics to choose from
Introductory rate of $1 per minute
3 pricing tiers
100% money-back guarantee
California Psychics has been around for 25 years and lets you choose from more than 480 love and relationship psychics. Thanks to its rigorous screening process, you'll get a reading of the highest quality. When I got a love and relationship reading, my psychic was very friendly and answered all my questions.
If you want to be 100% certain of the quality of your reading, then I recommend taking a closer look at a psychic's profile. Not only will you get a better feel of their specialties, but you can check out their reviews from other customers. While positive reviews are clearly preferable, critical reviews can also give you further insight into your decision making.
Your love reading could cost as low as $1 per minute on California Psychics, as it has an attractive introductory offer. However, if you aren't totally satisfied with your reading, then you can claim a refund for up to 15 minutes from customer support. The request has to be made within 24 hours of your reading.
2. Purple Garden – Great for Mobile Love and Relationship Readings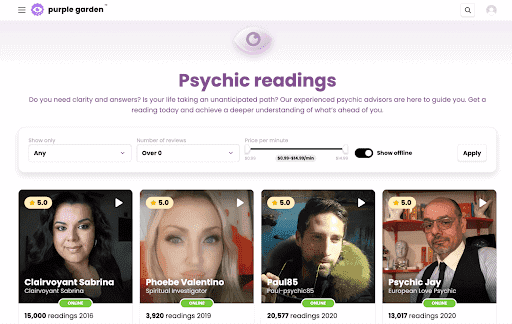 Well-developed mobile app
Cashback on every purchase
Live chat, phone call, and video readings
Alerts, so you'll be notified when your favorite psychic is available
Introductory videos on every psychic's profile
Although Purple Garden's desktop site is useful, its main value comes from its excellent mobile app, which gives you guidance on the go. Whether you want a love reading via phone call, live chat, or video, you can access hundreds of love and relationship experts from your fingertips.
Purple Garden proves its trustworthiness by only considering applicants with a proven track record as a psychic. Negative reviews are never removed except for extreme circumstances, meaning transparency is important. By filtering a psychic's negative and positive reviews, I could commit to a love and relationship reading with confidence.
Unfortunately, Purple Garden doesn't have an introductory offer like other psychic reading sites. However, It has a unique cashback policy instead, which adds 5% back to your account after every purchase. Once you've accumulated more than $10, you can use the credits for future readings.
3. Keen – Large Selection of Love and Relationship Psychics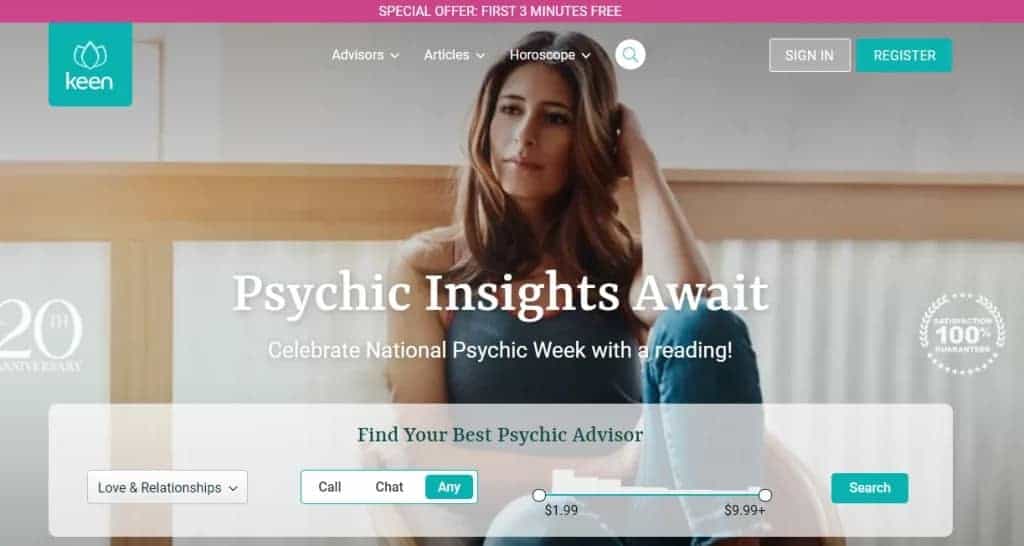 First three minutes are free when you sign up
215+ love and relationships psychics to choose from
100% satisfaction guarantee
"Find a psychic" matching tool
Psychics are available via phone call or live chat
Keen has over 215 love and relationship experts and plenty of unique sub-categories. Therefore, you can specify what type of love-related issue you need help with. Whether you're single, married, or going through a divorce, you'll find an experienced love specialist on Keen.
What stands out is the detail of the site's psychic thumbnails and its user-friendly search filters. I could pre-select the spiritual tools I preferred my psychic to use, take a look at a short blurb, and check out key features before viewing a profile. If you know what you're after, you won't waste time.
Although standardized pricing isn't available on Keen, there are psychics available in a variety of price ranges. So, it's easy to find a qualified psychic that meets your affordability. Additionally, all new users on Keen get their first three minutes completely free.
4. Psychic Source – Detailed Psychic Profiles That Aid Decison Making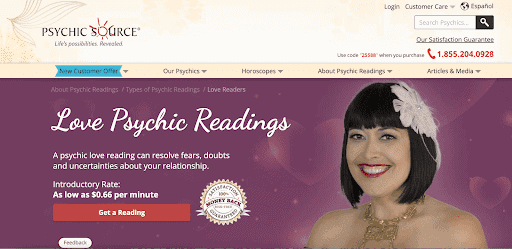 171+ love and relationship psychics to choose from
Readings available via phone call, live chat, or video call
Appointment scheduling for convenient reading times
100% money-back guarantee
Introductory rate of $1 per minute plus 3 minutes free
Psychic Source lets you thoroughly vet your psychic, making it a solid choice. Every psychic profile is packed with features, including video and audio introductions, reviews, and customer endorsements. Plus, you can find lots of details on the psychic's abilities and tools.
With over 171 love and relationship experts, you're bound to find a psychic that meets your needs. I could schedule appointments in my time zone and filter my search with specific preferences, such as psychic tools and reading styles.
The site offers has an attractive introductory package, as you can choose between a 10, 20, or 30-minute package at a rate of only $0.66 per minute. Plus, you'll also get an additional 3 minutes free. And if you aren't happy with your reading, you can request a refund of up to 20 minutes.
5. PathForward – Enjoy a Simplified User-Experience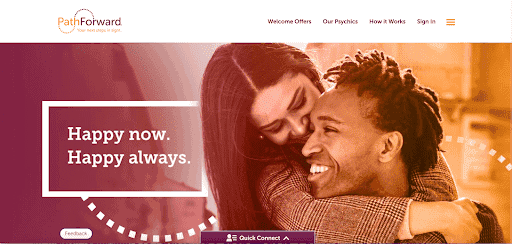 Website design makes it easy to use
53+ relationship experts to choose from
100% money-back guarantee
Introductory offer of $0.83 per minute plus 3 minutes free
Quick connect feature for easy readings
PathForward values quality over quantity, so look no further if you want certainty around choosing a well-qualified psychic. You can choose over 53 psychics on the site who can offer valuable guidance on all things related to love, sex, and romance.
Since PathForward outlines all its processes and offerings in simple terms, you know exactly what you're signing up for before clicking the subscribe button. When I asked customer support for some extra information, the agent was very friendly and eager to help.
Its pricing structure is also straightforward, since each psychic is available at a standardized rate of $6 per minute. However, the welcome offer lets you choose between a 10, 20, or 30-minute package at a rate of only $0.83 per minute with an additional three minutes free.
6. Kasamba – Take Advantage of Flexible Pricing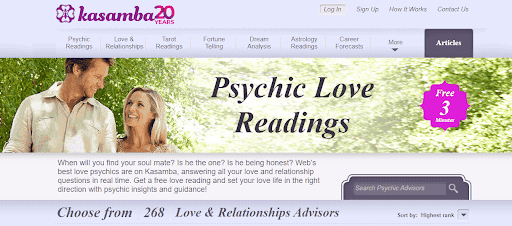 309+ love advisors to choose from
First three minutes free
"Notify me" button for alerts on medium availability
Readings via email, live chat, or phone call
Free-to-access articles
While Kasamba may not offer the most modern user-experience, there's a reason for its popularity. It has over 309 love and relationship psychics on offer, each with years of experience and a multitude of talents under their belts.
What sets Kasamba apart is the flexibility in its pricing. If you find a psychic you like who with expensive rates, you can message them with your preferred rate. When I messaged a psychic that I liked, she gave me 10% off the quoted price.
Kasamba shows its commitment to customer service, as you can claim three free minutes with every new advisor. This gives you enough time to decide if your psychic is suitable. Additionally, you can use its satisfaction guarantee to request a full refund if you aren't satisfied with your reading.
7. Oranum – Live Stream Psychic Talks for Free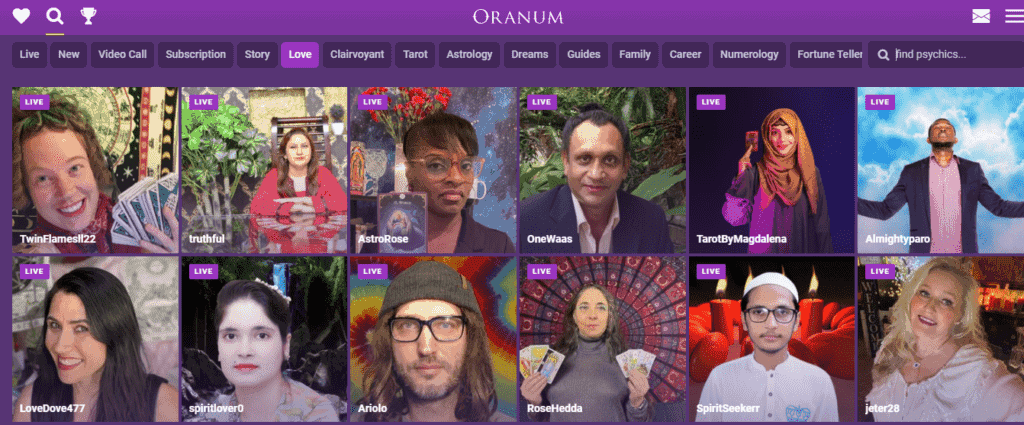 Unique social media-like design
High number of love and relationship psychics to choose from
Access to psychic live videos before signing up
$9.99 worth of credits free when you sign up
Free content available on psychic profiles
Oranum operates quite differently from most other psychic reading sites. While it takes some getting used to, it offers an element of fun and entertainment that sets it apart from its competitors. I found the site to work like a social media platform, as it lets psychics live stream and post stories that are accessible to everyone.
Once you've created an account and linked your payment method, you'll have full access to psychic profiles, making it easy to find someone who meets your needs. There are an endless number of psychics in the love category, so you're sure to be spoiled for choice. You'll also be able to make a quick judgment of a psychic's profile based on the number of likes it has received.
The site has an unusual payment structure that requires users to purchase coins that act like credits. However, the introductory offer available is quite considerable, allowing you to benefit from $9.99 worth of coins completely free when you sign up.
Comparison: Best Love and Relationship Psychic Sites
| | | | | |
| --- | --- | --- | --- | --- |
| | Starting Price | Number of Mediums | Introductory Offer? | Satisfaction Guarentee? |
| California Psychics | $1 per minute | 480+ | Discounted Per-Minute Rates | Yes |
| Purple Garden | $0.99 per minute | 100+ | Free credits | No |
| Keen | $0.99 per minute | 215+ | Free Minutes & Discounted Per-Minute Rates | Yes |
| Psychic Source | $0.66 per minute | 171+ | Discounted Per-Minute Rates | Yes |
| Path Forward | $0.83 per minute | 53+ | Free Minutes & Discounted Per-Minute Rates | Yes |
| Kasamba | $0.90 per minute | 309+ | Free Minutes & Discount on First Reading | Yes |
| Oranum | $2.99 per minute | 100+ | Free Minutes | No |
Tips on Choosing a Love and Relationships Psychic
Some sites have hundreds of love experts for you to choose from. So, to avoid spending hours scrolling through profiles, here are a few key features to look out for:
1. Choose a suitable reading style and method
Some psychics are compassionate and thoughtful in the way they engage with clients, while others can be blunt and straightforward. Look for a psychic with the reading style you're comfortable with, so that you feel heard and at ease during your reading.
It pays to look at different reading types, too, like chat, phone, video, and email. Chat and email tend to suit people who feel pressured by face-to-face communication and want time to think through answers, while phone and video is more suitable if you want something that's close to a real-life experience.
2. Pay attention to customer reviews
Although you'll find certain psychics with an overall rating of 5-stars, they may have received these over only a handful of reviews. Therefore, it's best to find a psychic that has managed to maintain a good rating over a large number of readings. Negative reviews aren't to be overlooked as well, since they can provide a more balanced outlook.
3. Check out the available gifts and tools
There may be certain spiritual tools that you are more familiar with, so opt to speak to a psychic that makes use of these. That way, you'll feel more comfortable during your reading. If you'd prefer for your psychic to make use of tarot or crystals, or possess specific gifts like clairvoyance, be certain to look for psychics that possess these or include them when filtering your search.
4. Pick an experienced love and relationship psychic
Many sites include a tag that states how many years the psychic has worked for them, but be sure to check the advisor's bio for their total experience. You'll also find that some psychics may have trained at prestigious institutes or with renowned mediums, which will make your chance of getting a quality reading that much higher. While it's common for a psychic to be experienced in more than one area, you should choose one that specializes in love and relationship readings.
5. Look for affordable rates and introductory offers
Because of how complex relationships can be, you'll want to start building a bond with a psychic you can consult with on a regular basis. Take a look at your budget before you begin your search so that you can filter out any advisors that are simply unaffordable. Another aspect to consider is discounts and introductory offers for newcomers, which are sometimes generous and help you save.
Tools Used by Love and Relationship Psychics
Because love readings are a broad subject, there are a number of spiritual tools that psychics may use to guide you. Here's a closer look at how the most common tools work:
Tarot — Tarot cards have pre-determined meanings, and the order and direction in which they are drawn can hold significance too. Psychics will ask a question about your love life, and then interpret the answer according to the card that is drawn.
Astrology — These readings rely on the horoscopes of you and your partner to determine the fate of your relationship. Astrology can bear major significance to your compatibility, personality, and whether a relationship is doomed to fail.
Angel Cards — Angel card readings are a form of cartomancy that involve the psychic calling on guidance from the angels to interpret the cards that are drawn. The meaning of these cards will be used to help guide you on your relationship woes.
Reiki — This is a form of energy healing that can be used to help repair a broken heart, or help you move forward in a new relationship. Special reiki techniques can be used by a trained professional to achieve this.
FAQs on Love and Relationship Psychic Sites
How much do online love readings cost?
Most psychic reading sites charge by the minute and the average cost of an online love reading is $1.99. Some sites make use of standardized pricing and charge a flat rate irrespective of the advisor you speak to. Meanwhile, other sites have no cap on their rates and allow their advisors to charge up to $50 a minute.
I recommend choosing a site like Keen Psychics that has a great introductory offer, so you can avoid unnecessary spending on a psychic that does not turn out to be a good fit.
Which reading format should I choose for love readings?
There are a number of reading formats to choose from, including live chat, phone call, video call, and even email readings. The style you choose should be the one you're most comfortable with.
If you prefer getting all your thoughts out before your psychic responds, chat or email readings may work better for you. Conversely, phone and video readings are more suitable if you want a personal touch, which all of the best love and relationship psychic sites can provide.
You should also bear in mind that certain formats cost more than others, so if you may want to select the style that is most affordable for you.
What makes an online psychic site trustworthy?
The main factor of trustworthiness is that a site uses a thorough vetting process to hire a psychic. This ensures it endeavors to build long-term relationships with customers and keep them happy. If you can also reach out to customer support and ask questions, then that's a sign of further credibility.
Another aspect to consider is individual reviews of the psychic you're interested in. Getting first-hand feedback from those who have already gotten a reading will give you the peace of mind you need to request one yourself. There are a number of trustworthy psychic sites that have all of these aspects, so it's not hard to find one.
Bottom Line
Love is an integral part of our lives. It can be wonderful, but it can also be complicated. If you find that part of your life challenging, then you can get an experienced love and relationship psychic to help guide you on the right path.
Whether you need help finding the right match, or you're recovering from the trauma of a failed relationship, you can seek the guidance you're after.
My favorite way to get a love and relationship reading is to use California Psychic's mobile app, which lets you get a reading from anywhere at any time.
To summarize, the best love and relationship psychic sites are…