California Psychics is a well-known platform that has catered quality services to its clients for over 25 years. It's known for its rigorous screening process and is home to some of the best psychics available. However, transitioning to a site like California Psychics can feel risky if you're new to the virtual psychic scene.
If you're trying to determine if the platform is genuine, I can assure you that California Psychics is trustworthy and safe. After a rigorous evaluation of the site and its readers, I feel confident that you will find its service to be user-friendly, professional, and highly accurate.
To top it off,California Psychics has a introduction packages of $1, $2, and $4/min so you can get started for less. Plus, you can reap the benefits of its 100% customer satisfaction guarantee, which lets you enjoy your reading worry-free.
California Psychics 2023 Deal: Get a $10 BONUS for California Psychics today! Use the MM10 code at the checkout and enjoy the reading!
California Psychics Main Features
Types of Readings on California Psychics
California Psychics has a wide range of reading themes for you to explore, so you can get the most out of your session. You can browse by theme by hovering over "Psychic Topics" and narrow down your options rather than looking through incompatible psychics.
You can even filter for readers based on psychic tool of your choice. Some available tools include tarot, astrology, numerology, and many more. However, if you aren't a fan of incorporating tools, there are countless psychics that only rely on their natural born gifts.
Love and Relationships
A love and relationship reading will bring you much needed clarity in matters of the heart. If you're in a tricky situation and aren't sure if you should stay or go, a love psychic can bring you the objectivity you need. And since most of the readers in this category have over 10 years of experience, you won't have to second guess the advice you receive.
While reading through reviews, I noticed many clients praising these psychics for their ability to go beyond the surface. It seems like the love advice these readers are providing truly resonate with their clients, helping them get unstuck from unfavourable situations.
The best part is that you can filter for the delivery style you prefer. You can choose from a compassionate, direct, or inspirational love psychic and ensure you get advice the right way. Since there are hundreds of readers in this category, you won't have an issue finding one with the experience you're after.
Career Advice
Feeling stuck in your career is one of the most frustrating feelings you can experience. However, with the insight of a career psychic, you can gain the clarity and momentum to make long-lasting change. Since there's over 200 reputable career psychics to consult, you can find an advisor that matches your vibe best.
You can expect your session to highlight the energy causing a block in your career and receive insight as to why you're experiencing roadblocks. A psychic can provide helpful career alternatives for you to explore and even give predictions for what you can expect. I find this the practical advice needed when you feel lost on career matters.
The majority of readers on California Psychics have over 1,000 positive reviews, with most raving about how accurate the predictions were. So, you can be sure you'll receive detailed time predictions about the future course of your career path.
Destiny & Life Path
Life Path readings are for guidance on your purpose this lifetime. If you've been feeling lost in understanding your purpose, one of the hundreds of highly-rated psychics can provide you with authentic help.
In addition to the above, a life path reading can get you closer to living in your best timeline and how your future will unfold as a result. Several reviewers highlight how their session with a destiny and life path psychic helped them awaken to their greater purpose in life.
Life path readings are a great way to get in touch with yourself so you can uncover your passions in life. Many of the psychics in this category have also previously felt the difficulty of being out of touch with their purpose. With their first-hand experience, destiny and life path readers can heighten your chances of finding your way in life.
Other Available Categories
Pet Readings: Pet readings are an informative look into your pet's inner world. You can get a lot of useful information on the happiness level of your pet, things they would have changed, and insight into any health issues.
Past-Life: You may feel a strong draw to certain time periods or hobbies and wonder if it has something to do with a past life. A past-life reading can bring you clarity on the types of lives you've lived and see how they impact your current life.
Mediumship: Mediumship readings allow you to connect with the spirit of your loved one to help you realize that they are still around. This makes them a great option if you have had a loved one pass away and are in need of closure.
Lost Objects/People: The lost object/person category is a valuable tool when law enforcement leads go cold. Your psychic reader will be able to tap into their psychic gifts to give you information about the missing item/person.
How to Book a Reading?
Once you match with your recommended psychic using the psychic match tool, you will need to get started by making an account and adding funds. Here's a simple walkthrough on how you can quickly book a reading.
1. Create an Account
Creating a California Psychics account is hassle-free and can be done on a desktop or smartphone. If you are on a desktop, click "Create Account" on the top right side of the homepage. If you're using the app, you must select a reader and click the "Chat or Talk" button.
You will be redirected to an account set-up page where you'll be asked for an email address, password, and date of birth. You can also sign up using an Apple or Facebook account, but if you are looking to maintain a high level of privacy, I recommend signing up by email.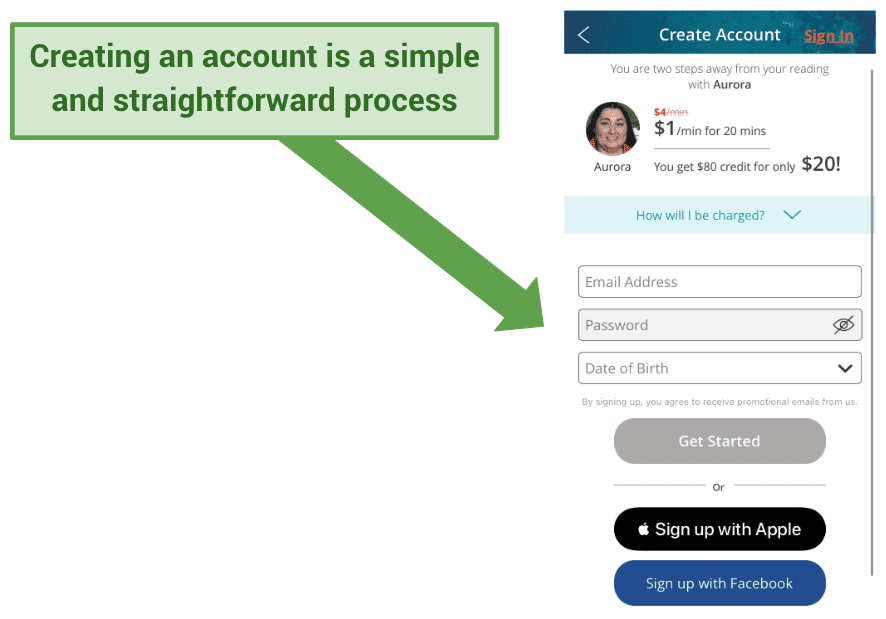 Take advantage of the app's on-the-go features by creating an account
Once you have made your account, you will have to add funds but will automatically receive the new customer promotion of $1 per minute.
2. Select a Reader
To find a reader on the app, all you have to do is select from one of the psychic categories that appear on the homepage. You have the option to browse through all available psychics, premier readers, rising stars, customer picks, and much more.
Additionally, you can also make use of the turquoise filter banner at the top of the app to narrow down a psychic based on topic, ability, tool, price, and style.
To save yourself time, try out the psychic match tool under the "For You" section at the bottom of the screen to get recommendations for psychics based on your needs.
Selecting a reader is a transparent process, as there is a lot of information on each profile. Each profile includes a photo, availability, star ratings, customer reviews, rate per minute, abilities, style, and so much more.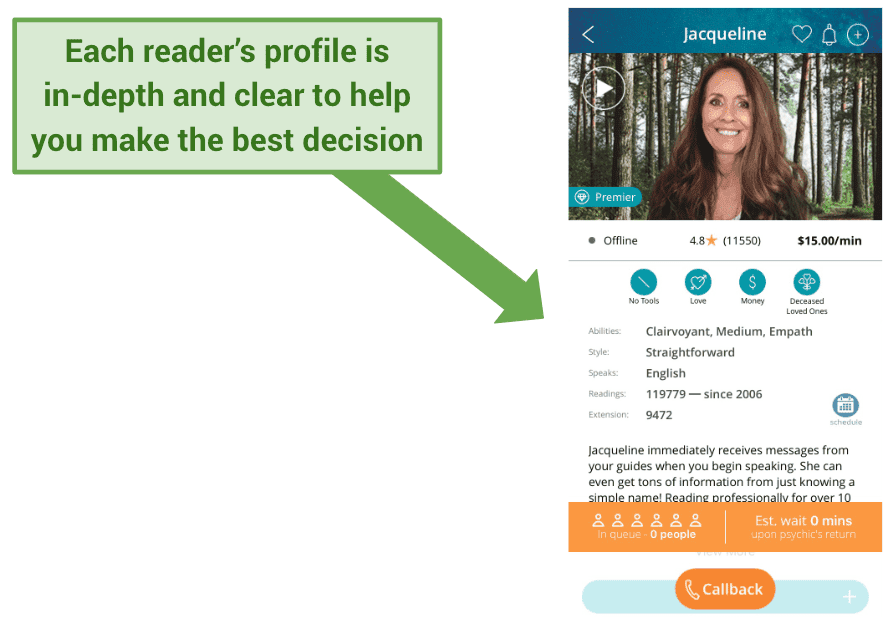 Read through your selected psychic's client reviews to feel confident in your decision
You can add your top picks to a favorites list by clicking on the heart on the top right side of the screen. This makes it possible to connect easily with the readers you like the most.
Be aware that you can only contact a reader by getting a reading and can't ping them freely. This means there is no option to block/unblock readers because they can't contact you unless you book a reading.
3. Schedule Your Session
To get a reading, simply click on the profile of the reader you've chosen and select either the "Chat Now" or "Talk Now" options. If your selected reader is not available, you have the option to leave a callback number for them to reach out once they're online.
If you prefer to book your readings in advance, you can take use its scheduling feature to avoid waiting. Click on the blue "Schedule" button underneath the reader's description and select from available times and dates.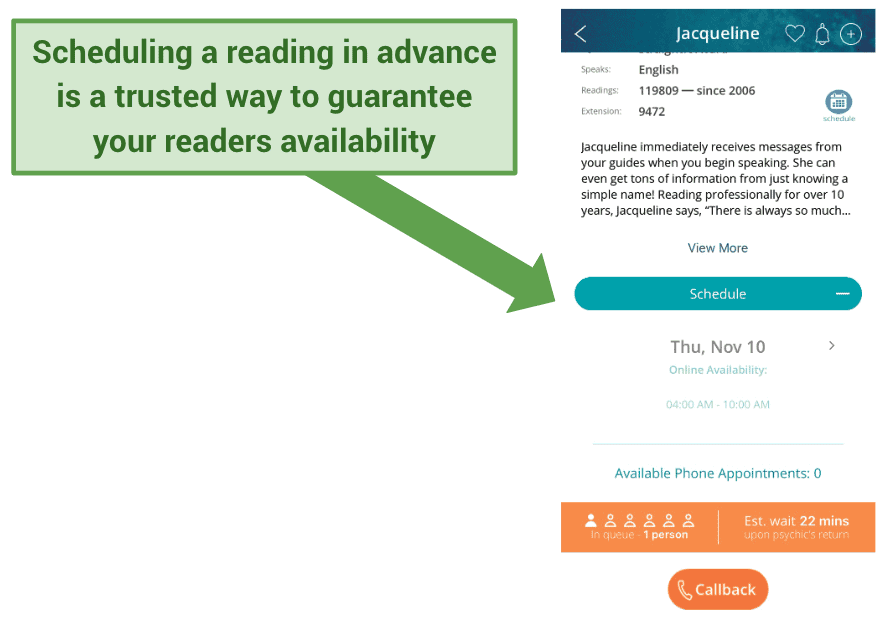 Easily schedule your session in advance and never wait in queue for your reader
Is California Psychics Trustworthy? Yes
In the realm of online spiritual guidance, gaining a reputable status is impossible without authenticity and dedication to delivering premium services. California Psychics has been in operation for more than two decades, and its ongoing success is indisputable. In my personal opinion, its popularity stems from its commitment to quality service for its clients, which is likely a result of stringent screening procedures. This is unlike BitWine, which operates differently and doesn't practice such direct methods of screening psychics and overseeing interactions between clients and readers.
California Psychics has one of the lowest acceptance rates I've seen as it only accepts 2% of all psychics that apply. The screening process involves a thorough interview combined with multiple assessments to ascertain the reader's professionalism, expertise, and precision. The site even monitors all new psychics for up to 90 days after on-boarding.
On California Psychics, you can also see the star rating for each psychic and read through thousands of legitimate customer reviews. This is one of the biggest reasons I feel so secure in using and recommending California Psychics.
A con about the platform is that the rates per minute can be pricey, but it makes up for this with its Karma Rewards Program, introductory offer, and 100% satisfaction guarantee.
With its karma rewards, you get a $20 credit for joining, a free astrology report, and you can earn points for every reading. You can take use of its introductory offer to get a reading for $1/min and also covered by its 100% satisfaction guarantee.
Top Psychics on California Psychics
Every psychic on this list has been thoughtfully picked based on their positive reviews, experience, and skill sets. Take a moment to explore each psychic, saving you valuable time and ensuring that your choice is of the highest quality.
Jacqueline — Best for Love Readings

Jacqueline has completed over 100,000 readings since 2006 and boasts an almost perfect star rating, so you can feel confident when booking with her.

Throughout the majority of reviews, Jacqueline's clients rave about how the in-depth her advice is. Her reading style is straightforward but with a gentle approach. She likes to get to the bottom of issues in relationships to offer you long-term solutions.

She's also a clairvoyant medium that doesn't use any tools. If you have a preference for psychics that rely solely on their natural gifts, Jacqueline is for you.

Asia — Best for Career Advice

As 4th generation Cherokee psychic, Asia has strong clairaudience and clairvoyance to help you find your purpose in career.

She likes to read for clients without tools as she feels her psychic gifts are strong enough on their own.

Asia has completed over 50,000 readings since 2011 and is a premier reader on California Psychics. I recommend you book with her if you enjoy a straightforward but kind reading style.

Devyn — Best for Destiny & Life Path Readings

Devyn has over 20 years of experience which allows her to bring a calm energy into every reading. No matter how lost you're feeling, you can count on Devyn for strength.

She's a clairvoyant and clairsentient psychic that receives phrases, pictures, and whole scenes related to your past, present, and future.

Her sessions are a judgment-free zone so you'll feel at home with her compassionate reading style. She typically doesn't use psychic gifts but likes to include Oracle cards here and there.

Taylor — Best for Money & Finance Readings

Taylor uses tarot, numerology, and pendulums during her sessions. But, she's also a clairaudient and clairsentient psychic which make her sessions that much more unique.

She's the type to penetrate through any drama to deliver messages aligned with your highest and greatest good.

Taylor loves to bring a peaceful energy to her readings filled with anxiety and can calm anyone down with her compassionate delivery of messages.

Brandon — Best for Past Life Readings

Brandon is a clairvoyant empath and dream analyst with over 20 years of experience. He uses his tarot deck to gather insights about your past life to determine where you're heading in this one.

He's well-known for his upbeat readings, which helps bring a light vibe to heavy topics. His approach is useful since exploring your past lives can come with uncomfortable details.

While Brandon is best for his past-life readings, he also likes to provide precise time predictions for your future.
Is There a Mobile App? Yes
California Psychics offers a free app that you can download on any iOS and Android device. Unlike some sites, California Psychics has developed a sleek and user-friendly app that allows you to get readings on the go. There is no need to stay stuck inside when you can connect with a reader from any place.
On the app, you can easily add funds, browse through different categories, and instantly connect with a reader. The app's home screen is nicely organized and looks like this: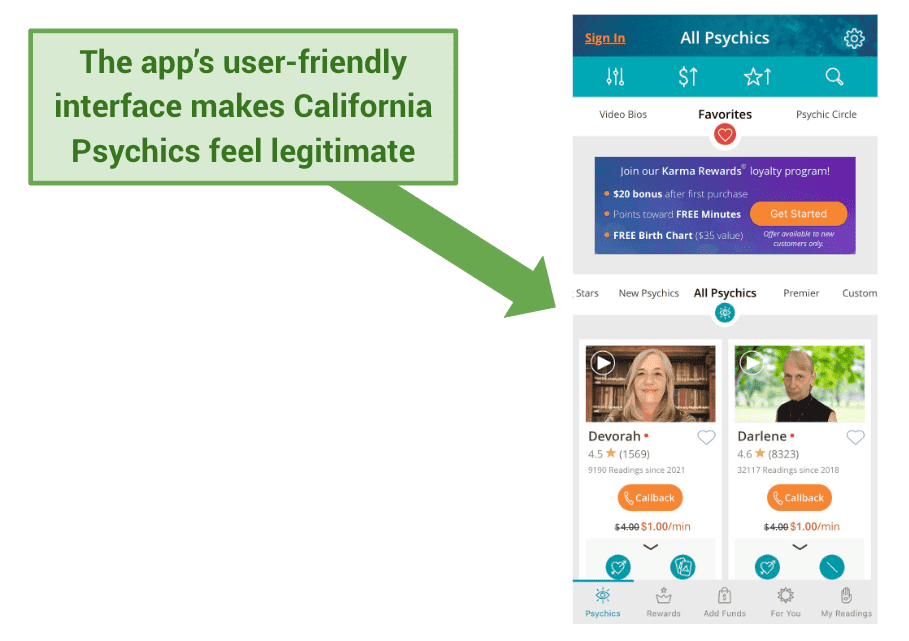 The California Psychics app is intuitive and straightforward to use
The turquoise filter banner at the top of the app is a filter feature that allows you great flexibility when searching for your ideal psychic. To use the search filters, click on the filter theme and select a sub-option. Narrowing down what you want to search for has never been easier.
You can also make use of the app's Psychic Match Tool, where you have to answer a few questions in quiz style to match with a reader. You will be asked about the reading theme that interests you, the delivery type you'd prefer, and whether you prefer readers with or without tools.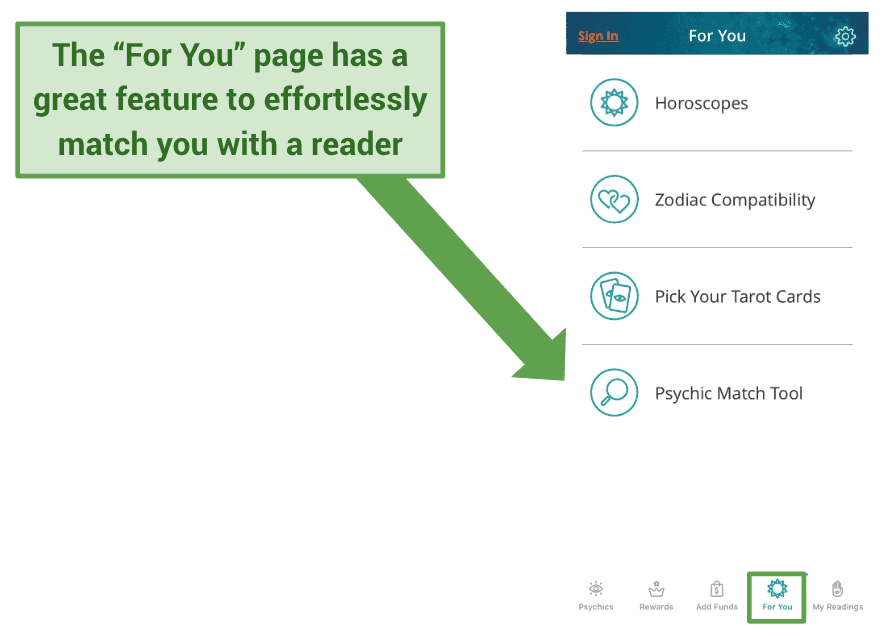 Enjoy free daily horoscopes on the For You page of the app
One of my favourite features can be found in the "For You" tab at the bottom of the screen. In this tab, you can find personalized features like horoscopes, zodiac compatibility, "Pick Your Own Tarot Cards" reading, and the psychic match tool.
Pricing
The pricing on California Psychics varies depending on the reader but regular rates can range from $4 to $15/min. While California's rates are comparable to its competitors, you can take advantage of introductory promotions to receive generous discounts.
There are various packages to choose from that make it easy to stay within budget while still guaranteeing a quality reading. You can choose between the affordable, popular, and premium packages.
Its packages for newbies start at $1, $2, and $4/min. But, keep in mind that California Psychics has different tiers for their readers which coincide with these rates, so the most experienced readers will be in the popular and premium categories.
Although there are different tiers, I browsed its affordable psychics and noticed they were highly rated. It's important to note that readers can have a lot of experience outside of the platform, but if they are new, they likely haven't had the chance to build their profiles up to match that experience.
You can also save with its Karma Rewards Program. The Karma Rewards Program allows you to collect points for every reading purchased so that you can put those points towards future readings and save a considerable amount. You can also enjoy a $20 credit and get quarterly specials.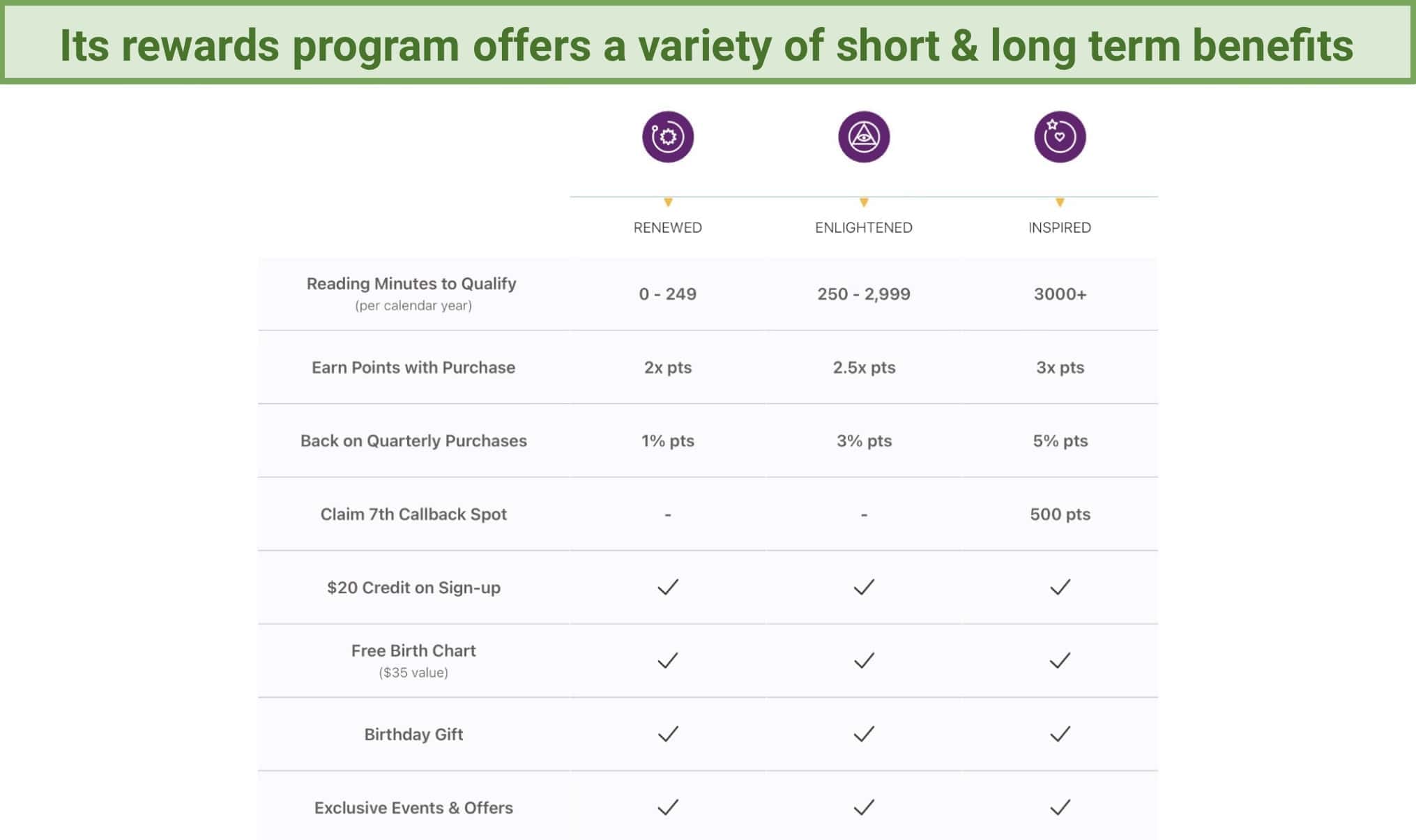 Benefit from additional savings with its Karma Rewards program
Remember that to get a reading on California Psychics, you must add funds to your account first. However, you can choose your reader before paying, which allows you to make sure you found the ideal psychic before committing. You can add funds to your account using any major credit card, debit, or PayPal.
California Psychics only offers pre-paid readings so you don't have to worry about unauthorized charges. To ensure you never run out of minutes, you can enable the "Auto-Reload" feature under "Payments" in the app. It will automatically deposit funds for 5 more minutes of reading time once you run out and you'll even get a 10% bonus for enabling it.
Customer Support
If you need to contact California Psychics' support team, you can do so via the toll-free number or its contact form. but if you're out of the US it won't be toll-free. You can avoid call fees by submitting a request through the contact form and expect a reply within 1 business day. From my experience, you'll get a reply quicker than this.
I also suggest you check out its extensive FAQ section to save time. I found the answers to a lot of my questions by browsing through it, and if you have any issues, you may be able to resolve them by taking a look yourself.
You can also contact customer support if you are unsatisfied with your reading and want to make use of California's 100% satisfaction guarantee. Just make sure you contact support within 24 hours of your reading to qualify for a refund.
FAQs on California Psychics
What makes California Psychics unique?
California Psychics is unique for its Karma Rewards Program and its in-app features. With its Karma Rewards Program, you can earn credits for each purchased reading and put them towards any future readings you get. You also get a $20 credit upon joining, a free detailed birth chart, and quarterly promotions.
The app also has unique features that include extensive search filter options, a "For You" tab, and the option to favorite your go-to readers. By using its user-friendly app, you can get readings even when you're on the go.
Is California Psychics safe?
Yes, California Psychics is a safe platform to use. Its secure payment methods and 100% customer satisfaction guarantee are only some of the reasons why I feel safe using California Psychics. Its rigorous screening process, which only accepts 2% of all applicants, is another big reason why I feel the site is so trustworthy.
What is the average cost of a reading on California Psychics?
Readings on California Psychics range from $4 to $15 per minute, but you can save by selecting 1 out of 3 of its introductory packages. You can get your first reading for as low as $1 per minute if you take advantage of its Affordable introductory package.
The Affordable package is a great deal for the high-level quality that you will get on California Psychics. Even better, if you're a repeat customer and would like to get rewarded for every reading you purchase, you can join its Karma Rewards Program and save on your next reading.
Are the advisors on California Psychics accurate?
The advisors on California Psychics are often accurate and can be trusted. While the platform does not guarantee that its advisor's predictions will be correct, it has a rigorous screening process and turns away 98% of reader applicants. Even after the screening process, readers are subject to meeting a certain reading quality.
Its strict ethics and criteria for readers should bring you confidence when using California Psychics, however, I always recommend you vet your psychic before paying for a reading.
Make sure you look through your advisor's client reviews and take advantage of its 100% satisfaction guarantee if you feel disappointed with your reading. By doing these two things, you can insulate yourself as a client and reduce the chance of getting an inaccurate reading.
What can I expect from a reading on California Psychics?
While all readings are unique due to different reading styles and specific client circumstances, you can expect a high-quality and personalized reading on California Psychics. When your session begins, your reader will greet you and proceed to tell you about any information they pick up on right away.
I would suggest you come into the reading with your most pressing issue in mind and with a general question related to your situation. This will keep you from wasting your minutes so that you can get more insight.
Take into consideration that different delivery styles may also alter what you can expect during your reading. It's always important to be conscious of the delivery style you need, as some readers have a more direct delivery style while others are more compassionate.
Bottom Line
California Psychics is a reputable and trusted psychic platform that has been serving clients with exceptional service for over 25 years. With its strict vetting process of readers, secure app, and 100% satisfaction guarantee, you can feel sure that it can be trusted.
While its regular rates of $4 to $15/mincan seem pricey to some, California Psychics offers rates that are on par with other competitor platforms. It even offers a variety of promotions and programs to keep prices low while maintaining reading standards high.
If you're after a psychic platform that prioritizes customer needs and is known to deliver high-quality insight, then I recommend you give California Psychics a try. You can test its services with its offer of $1/min and receive personal guidance from trustworthy psychics at any time.