California Psychics Overview
California Psychics has been online since 1995, and boasts that it has delivered more than 6 million psychic readings to thousands of satisfied customers.
You can get phone or chat readings through the site or app. Although it doesn't offer video chats (unlike competitors Psychic Source and Keen), I really liked California Psychics for other reasons. Here's why.
California Psychics Psychics and Services on Offer
There are 200 psychics available at California Psychics, split across a lot of specialisms and types. Lots of psychics have multiple gifts with several specializations. Here's a breakdown:
Reading Topics at California Psychics
You can find psychics that specialize in these topics:
Love.
Career advice.
Life path advice.
Money.
Pets.
Past life.
Deceased loved ones.
Lost objects.
Missing persons.
There are some categories here that I haven't seen on any other psychic reading site, like 'missing persons' and 'lost objects'.
Types of Physics at California Psychics
If you're looking for a psychic with a specific ability, California Psychics probably has you covered there too. This is the most diverse collection of types of psychics I've seen anywhere (it's even more diverse than Keen and Psychic Source):
Empath psychics.
Medium psychics.
Clairvoyant psychics.
Clairaudient psychics.
Clairsentient psychics.
Dream analysis psychics.
Remote viewing psychics.
Channeling psychics.
Automatic writing.
Psychic Tools at California Psychics
If psychic tools are your thing, California Psychics has everything you're looking for. Once again, this is the biggest collection of psychic tools I've seen on offer at any psychic site. Keen had a few different tools, and Psychic Source had a really solid range, but nothing as diverse as this:
No tools psychics.
Astrology psychics.
Numerology psychics.
Crystals psychics.
Oracle cards psychics.
Runes psychics.
I-Ching psychics.
Pendulum psychics.
I know quite a lot about different types of psychics and readings, but even I found the sheer choice here to be a little overwhelming. However, you can easily filter down the psychics even further, using everything above as well as price and style:

There's also a Sort By function on the site: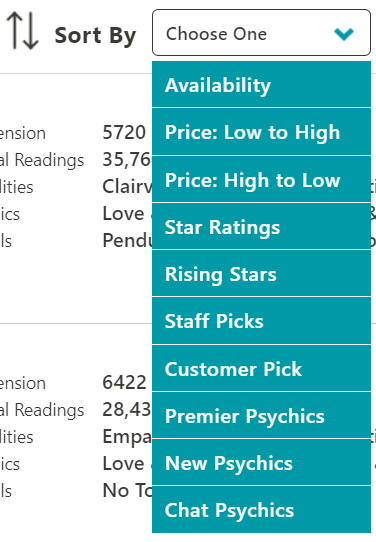 I kept seeing the 'Premier Psychics' label, and wanted to find out what it meant. Apparently, premier physics charge more per minute as they've earned a lot of consistent positive feedback (from what I could see, over 3,000 reviews).
Unlike Keen and Psychic Source, there was no 'find me a psychic' tool. I guess that's because California Psychics has a much smaller pool of psychics, and much better filtering options.
I really like the site's layout. It shows you who's available, and if the psychic you want is busy, how long you'd have to wait to speak to them: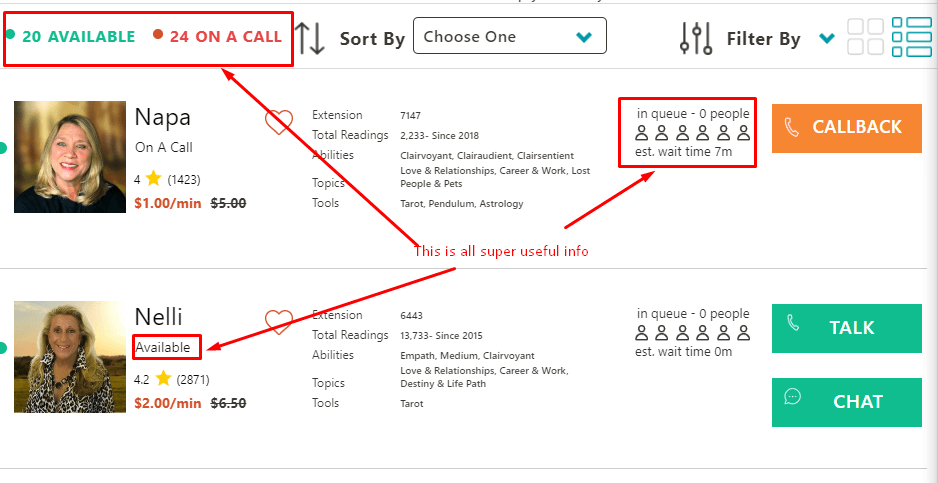 This is far beyond anything I've seen at either Psychic Source or Keen, although both had a 'call me back'/'chat later' option. This is far more intuitive and useful, however.
In fact, I think California Psychics is the easiest to use site of any of the psychic websites I've reviewed. This is especially impressive for a site that's been around for so long.
California Psychics – Is It Trustworthy?
I believe that California Psychics is highly trustworthy. First off, it makes a big fuss out of how hard it is to be accepted as a reader on the site: only 2 out of 10 applicants are accepted, and of those accepted, there are a lot of obstacles facing wannabe psychics.
Psychic Screening Process
I think this is possibly the most rigorous application process I've seen – Psychic Source came close, with several rounds of interviews and a background check, but California Psychics takes things up a notch, with a psychic evaluation process and a criminal record check. Psychics also undergo continuous reevaluations to make sure they're always at the top of their game.
Psychic Bios
Every psychic has a range of information available on their page. As well as their wait times, reviews, and rates, you can expect to find out a little more about them: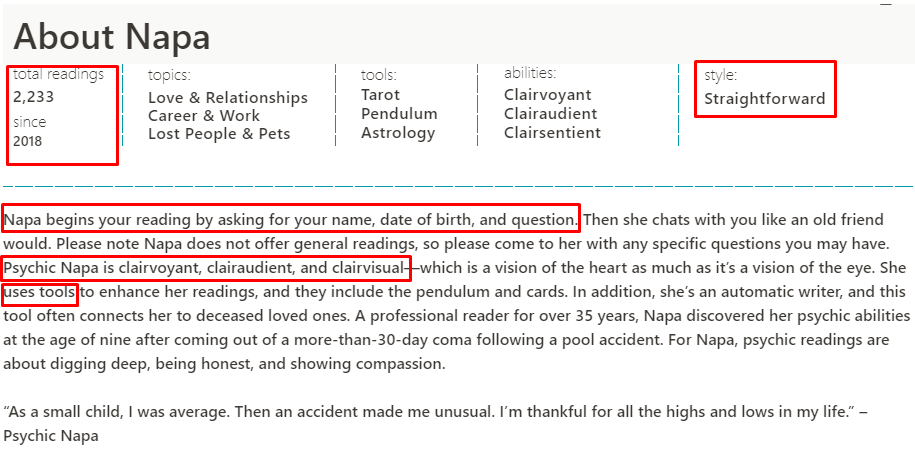 The page gives you a detailed bio about the psychic's background, and lists their topics, tools, and abilities. As well as showing you when they joined, it also shows the total number of readings they've done. I hadn't this seen before at other sites, but it was good to know, especially as I prefer more established psychics.
I also love that the page tells you the psychic's delivery style. Personally, I love straightforward readings where my reading is given in as direct a manner as possible. The psychic's schedule is also available, along with an option to schedule an appointment.
Customer Ratings
I always love reading customer reviews. After all, when money switches hands, it opens people up to being more honest about whether or not they got their money's worth. I especially like it when I see things like this, and get a sense of how my reading might go:

I like fast and accurate readers, especially when I'm paying by the minute!

Needless to say, I thought the reviews were very informative. They helped me get a really clear idea about which psychic was right for me.
Money-Back Guarantee
California Psychics slightly disappointed me here. Instead of offering a refund if you aren't enjoying your reading, you'll be offered the chance to receive a reading from another psychic – but only if you ask within the first couple of minutes of your conversation. I mean, what happens if you're dissatisfied from minute 3 onwards?
If new customers are dissatisfied with their reading, they can request a refund… but that's new customers only. What if I receive a dud once I've been using the service for a while? At Keen and Psychic Source, you can receive credits for the site, and request them up to 3 days after your unsatisfactory reading. I would have liked to see the same here.
California Psychics Pricing
California Psychics is a little pricier than both Keen and Psychic Source, with most psychics charging between $4-$7, and $6.50-$15 for premium psychics.
There is a really generous introductory offer, where you can contact a popular psychic for $1 a minute, or a premium psychic for $4 a minute, for up to 20 minutes in your first call. This can save you a lot of money.
But, how about your second and third calls, or if you discover you don't like the psychic you're speaking with? Overall, the prices here were a little higher than both Keen and Psychic Source. Then again, California Psychics has the best vetting process, hopefully ensuring you have access to the best psychics. The best, highest quality psychic reading experience will cost more.
Another thing I really liked at California Psychics was the Karma Rewards loyalty program – sign up for free and receive all of this:

It was the first time I'd seen anything like it, and I was really impressed.
California Psychics Customer Support
California Psychics' contact page has a complete FAQ section, nicely divided into helpful subsections that will probably answer your queries.
I really liked the range of toll-free numbers – both US and international – for customers to call and speak to the customer support team. It really seems like there's a huge international base of customer at California Psychics: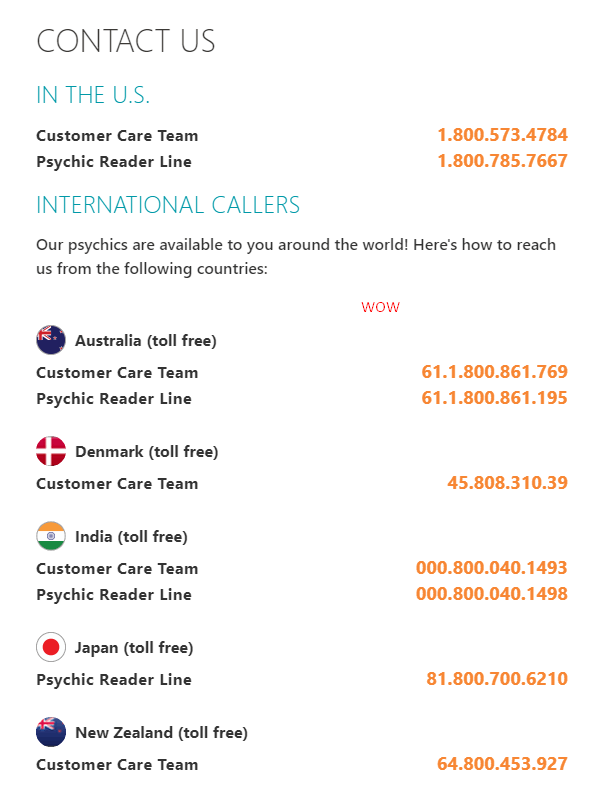 Otherwise, there's the option to Skype with the customer support team (an interesting option, I think), as well as leave a message online via a submission form.
I was disappointed that there was no live chat option because it's super convenient. The live chat experiences I had with Psychic Source were excellent, but I'll also take speaking to a real-life human over the phone any time!
The Bottom Line on California Psychics
California Psychics is, I feel, a really caring psychic reading site. Having been online for more than 25 years, it's really taken the time to learn what its customers look for in a psychic, and it goes the extra mile to ensure that its customers have a lot of choice, and that its psychics on offer are the best around.
Even though I thought the money back guarantees at Keen and Psychic Source were more generous, California Psychics win for the massive range of topics, tools, and types of psychics on offer, as well as the dynamic and interactive interface for choosing a psychic.