California Psychics: Overview
California Psychics has been around for 25 years and boasts high ratings from tens of thousands of satisfied clients. It's also very selective with the psychics and mediums it chooses as each one undergoes an in-depth background check. But even then, you might still be questioning the site's trustworthiness.
After extensive testing and research, I can confidently say that California Psychics is a reliable site that provides value. Not only are its psychics highly skilled and experienced, but it has a huge selection of reading methods and tools that let you get the most out of an online psychic reading.
But where the site really stands out is its introductory offers, where you can get a reading for as low as $1 per minute. Plus, its 100% satisfaction guarantee lets you get a refund on your latest reading if you aren't entirely happy with it.
California Psychics Main Features
Types of Readings on California Psychics
Love & Relationships
If love and relationships are on your mind, you have a good mix of psychics to choose from – hundreds, in fact. To help you narrow down your choices, you can filter by things like availability, experience, star rating, and price.
You can decide exactly how you want your reading to be performed. Every psychic has different abilities and uses specific tools such as tarot and crystals. If you have a particular preference, you can search for specific tools and abilities in the primary psychics menu.
Career Advice
Maybe you're not sure where your career is headed, or whether you should stick with your current job. A career advice reader can help you find more clarity regarding what you should do with your career and how to potentially earn more money. Whatever blockages you're facing in this area, they can help you.
However, you won't find as many career advice readers as in other categories, but there are still several hundred to choose from. And, the readers you will find here are excellent thanks to their tenure and high ratings. For this reason, it's highly likely to find a career advice reader who knows what they're doing.
Life Path
Perhaps you want to take more positive steps in the right direction in your life. Or, maybe you're wondering if there's something amiss that might be holding you back. In that case, a life path psychic can help you understand what things you can start doing to dramatically improve your life or current circumstances.
Most of the psychics in this category work with tools such as numerology, oracle cards, and pendulums, and there are over 300 talented, highly-rated life path readers available. Some of these readers have even been around for more than a decade, so you're bound to find a high-quality reader that you also connect deeply with.
Money
Finances are a major pain point for the majority of us — and perhaps you're no different. A money reader can help you immensely if you're struggling with your finances or want to improve your financial situation. They can help you adopt a healthier mindset, and focus on a solution to your financial woes instead of dwelling on the negatives.
There are nearly 250 highly-rated money-related psychics available. A lot of them have also been around for a decade or more, and offer very competitive per-minute rates, according to industry standards.
Other Categories
The above readings cover most of the questions and concerns you might have, but there are a few extra readings you might want to take advantage of.
If you need help understanding your pet on a deeper level or want to find out whether they're experiencing stress and anxiety, there are over 50 pet-reading psychics available. This is another unique reading I haven't seen on many other sites.
A past life reading, on the other hand, can help you understand how your past life could be affecting your present life. There are over 80 psychics who specialize in this type of reading. Most of the psychics in this category are premier readers, so you can expect a top-tier service.
You could also have a deceased loved one to find the closure you're after. There are over 100 deceased loved ones readers who can assist you with this as well. These clairvoyant psychics all have a star rating of 4.5/5 or higher, which, again, means you can probably expect accurate readings.
Lastly, there are a handful of psychics who deal with lost objects and missing persons – it's rare to find these types of readings on other psychic reading sites.
Is California Psychics Trustworthy? Yes
California Psychics has been in business for 25 years, so the site has definitely stood the test of time". No low-quality site would otherwise survive for that long. This indicates that it takes things seriously, which means that you can expect high-quality service and accurate readings.
Another way in which California Psychics offers peace of mind is through its background screening process. Psychics are subject to an in-depth background check, where only 2 out of every 100 psychics who apply are accepted. Some of its psychics have also been around for over a decade.
Lastly, you also get a 100% money-back guarantee. If you're not happy, you can get your money back for your latest reading, within 24 hours of it ending. However, only one refund is available per customer, so make sure you only use it if you have to.
On the other hand, you get rewarded for being a customer in the form of rewards points through the Karma Rewards Program. You'll even get a $20 Credit and a free detailed birth chart when you sign up for it. Plus, California Psychics runs specials and promotions every quarter to give back and say thanks to its customers.
Lastly, something interesting I found out is that California Psychics merged with Psychic Encounters in March 2022. Most of the psychics from Psychic Encounters can now be found on California Psychics, so if you were interested in becoming a Psychic Encounters customer, you can now get the best of both worlds.
Top Psychics on California Psychics
1. Barbie — Best for Love & Relationships Readings

With over 23,000 readings, Barbie is one of the top-rated psychics on California Psychics. Her reading style is inspirational, and many of her customers have been reading with her for years. Barbie can help you understand more about your present (or potential) relationships since Love & Relationships readings are her top specialty.
Tarot, oracle cards, and crystals are her chosen tools, with dream analysis being another one of her unique specialties. But that's not all — you can also expect high-quality Career & Work and Destiny & Life Path readings from Barbie.
2. Cooper — Best for Career & Work Readings

Not only are Cooper's rates reasonable, but she is a top pick among readers who prefer a more compassionate approach to readings. Cooper is a highly-rated empath, but she is also clairsentient and clairaudient.
Her main tools include oracle and tarot cards, and a pendulum. Cooper also provides Love & Relationships and Career & Work readings which can help you get clarity on how to progress your career, make more money, or find the perfect relationship you've been wanting.
3. Taylor — Best for Destiny & Life Path Readings

Taylor is a top Destiny & Life Path reader, and has performed over 20,000 readings since 2010. Numerology, tarot, and pendulums are her chosen tools, but she also taps into her natural empath abilities during your reading. If you would prefer to speak with a compassionate and understanding reader, Taylor is a top pick.
She also offers Love & Relationships and Career & Work readings, and she's clairaudient and clairsentient. Currently, Taylor holds a 4.9-star rating, which is one of the highest I've seen on the site, in this category.
4. Uma — Best for Money & Finance Readings

When it comes to finances and money, Uma continues to be one of the most popular readers on California Psychics, and for a good reason. She boasts a 4.9-star rating based on several thousand reviews, and she's been around for nearly five years. On top of that, she almost always has call requests in her queue, which indicates her high-quality services.
Uma is also a talented clairaudient, dream analyst, and clairsentient, and her chosen tools are mostly tarot and oracle cards. However, she has a couple more specialties up her sleeve. You can expect accurate Love & Relationships, and Career & Work readings from her as well.
5. Warren — Best for Dream Analysis Readings

Warren has been around since 2017 and has completed over 11,000 readings. He also holds an impressive 4.9-star rating. He is one of the site's highest-rated Dream Analysis experts, in case you've been dreaming about something that you want to understand more about.
But Warren also provides several other readings and abilities. You can get Destiny & Life Path, Love & Relationships, and Career & Work readings, and he's an empath and clairvoyant as well.
Is There a Mobile App? Yes
California Psychics has an intuitive and high-quality mobile app for iOS and Android. There's one specific benefit to using the app over the desktop site, which is why I primarily recommend it. The desktop site only allows you to communicate with readers when you're near your computer, whereas the app will allow you to get a reading from anywhere.
It's pretty easy to begin using the app. You can add funds, jump into a call, or find your ideal psychics. This is what you see when you first download the app: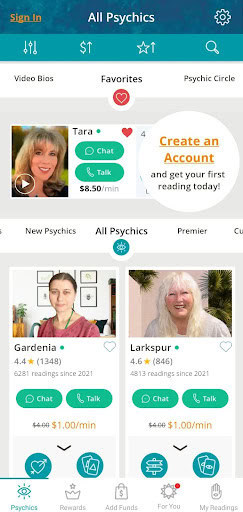 If you go to the top turquoise menu bar, you can filter down your options based on a few pieces of information, sort by each psychic's price range or rating, or search for a psychic if you happen to know their username. This can help you choose the exact psychic you want.
If you click on the first button on the left in that same turquoise menu bar, you'll be brought to the page that lets you select your desired reading: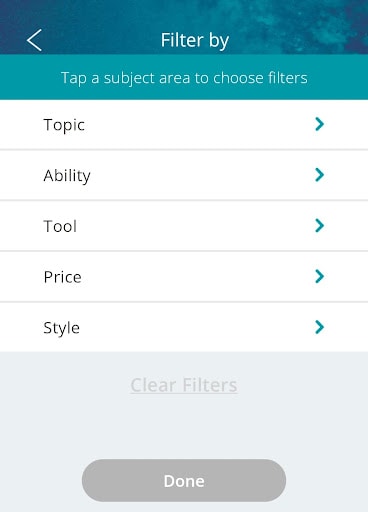 Here, you can choose your favorite topics like Love & Relationships, Money & Finance, Career & Work, Destiny & Life Path, and more. You can also choose abilities like empathy, clairvoyance, dream analysis, or tools like astrology, tarot cards, numerology, or I Ching.
After you've selected your favorite psychic, you'll need to create an account before you can add funds and start your reading.
How to Book a Reading?

1. Create an Account. The first step to booking a reading is to create an account. You can do this by visiting the desktop site, or downloading the app. On the desktop site, click the "Create Account" button in the top right. In the app, you'll want to search for a psychic, and, once you've found one, click on Talk or Chat to be brought to the signup page.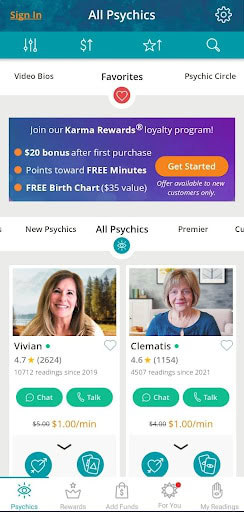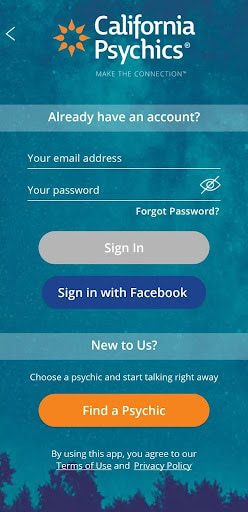 2. Find a Psychic. On desktop, head over to the homepage. From there, take a look at the top menu bar, right under the California Psychics logo. Hover your mouse over "Psychics By Topic" and choose your favorite option.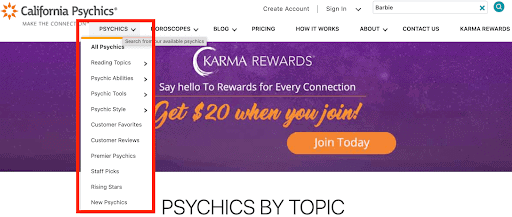 For the mobile app, you just need to click the top left "filter" button in the turquoise menu bar.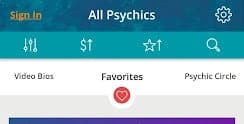 3. Schedule a Reading. When you find a psychic you like, you can click on their name to view their full profile. Depending on the psychic's availability, you can choose to either look at their calendar to schedule a reading, or jump into a call or chat immediately.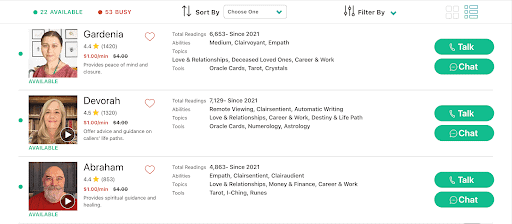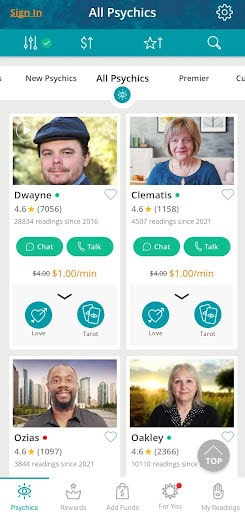 Pricing
Typical rates on California Psychics range from about $4 to $15 per minute and reading fees are calculated based on full-minute increments. The site also offers a rotating set of discounts and promotions every 3 months or so. This will help you get a good deal and save a bunch of money if you've been wanting to try out a more expensive psychic.
California Psychics also has 3 introductory offers: Affordable, Popular, and Premium. Affordable lets you get up to 20 minutes for $1 per minute by using an introductory offer, while Popular and Premium charge $2 and $4 per minute respectively. The difference in these packages is in the quality and experience of the psychics they offer.
You also get $20 of credit applied towards your account if you sign up for its Karma Rewards program. This credit can be used towards a reading from any psychic of your choosing, and any reading type, tool, or ability that resonates most with you. You can also keep adding points whenever you make a new purchase, letting you save more over the long run.
Once you've used up your minutes, you can top up your account. However, I noticed that top-ups can't happen during a call, unfortunately. The payment methods it accepts are credit cards and PayPal. And, if you're not happy with any aspect of your last reading, you can get your money back, up to 24 hours after it ends.
Customer Support
Support is available via a contact form, or for free via a toll-free number from any of the following countries: Australia, Denmark, New Zealand, India, the UAE, and the UK. It's still possible to call from other countries, but you can't do so toll-free. Even though you can contact them at any time, I was disappointed with the lack of live chat since the site is well-established.
It took about one business day to get a response using the contact form. This was fairly impressive, given the fact that other competing sites have taken longer in the past. I was happy to see this – but I still do recommend just using the toll-free number instead, if you're in one of the eligible countries, and if you need immediate help.
FAQ
What makes California Psychics unique?
California Psychics is unique because of its Karma Rewards, which applies a $20 credit to your account for just signing up. The program allows you to earn some credit every time you make a purchase.
Another aspect of California Psychics that stands out is its selection of promotions, discounts, and always-free features. Every three months or so, there are several rotating promotions and discounts to choose from. On top of that, the free birth chart is something unusual, as a lot of other psychic sites don't offer it.
Is California Psychics safe?
Yes – California Psychics has put several measures in place to ensure their customers are safe. The first is their rigorous psychic screening process. New psychics need to go through a 4-step process that includes two evaluations as well as a background check. You also get access to a satisfaction guarantee should you be unhappy with your reading on the site.
How much is the average pay rate at California Psychics?
Psychics charge anywhere from $4 to $15 per minute. However, new customers can choose from one of three introductory packages when creating an account to help you save money. Each package contains 20 minutes, in three separate tiers. You can also claim $20 worth of credit when signing up for its Karma Rewards program.
Are California Psychics' advisors accurate?
There is no way to guarantee that psychics on California Psychics are 100% accurate. However, the company seems to stand behind its psychics and services as it offers a decent satisfaction guarantee. Also, the site itself has been around for over two decades, with many of its psychics having been around for nearly the same amount of time.
What kind of readings are offered on California Psychics?
The advisors on California Psychics specialize in a variety of reading topics, including life path, money, love, pets, and more. Every psychic also works with specific tools when conducting readings. If you have a particular preference for readings or tools, you can select them using the filtering options.
Bottom Line
California Psychics is a top-notch psychic reading site with skilled psychics and a history that spans over 2 decades. It also vets its psychics stringently and performs extensive background checks, so you can get a high-quality reading.
You also get access to some pretty respectable introductory offers. Though California Psychics doesn't offer any free minutes, like some competitors, you do get a good rate of as low as $1 per minute for your first 20 minutes, and a $20 credit applied to your account once you make your first purchase.
Pricing is about on par with the industry average, if not a bit lower. You can also filter psychics by abilities, tools, and topics, and the mobile app lets you do the same – all while you're on the go. All-in-all, I've found California Psychics to be one of the best psychic reading sites out there.