Having a pet is one of the strongest bonds you can experience. But if your furry friend goes missing or you struggle to understand their behavior, the inability to communicate with your pet can lead to distress. As a result, you might struggle to find help.
A pet psychic can provide you with the wisdom, compassion, and guidance you need when there's a breakdown between you and your pet. Since animals are undoubtedly perceptive and their spirits are visible to those who are supernaturally gifted, it becomes possible to communicate with them on a spiritual level.
I tested several sites with pet psychics and shortlisted the best ones, so you don't have to waste time finding the perfect fit. My top pick is California Psychics, as you'll be able to get a reading for $1 per minute and choose from over 50 reliable pet psychics. And, if you aren't happy with your advice, you can use its satisfaction guarantee.
In a Rush? Here Are My Top Pet Psychic Site Picks
Best Pet Psychics in 2023
1. California Psychics – Best Overall for Pet Psychic Readings
Introductory offers starting at $1 per minute
58+ pet psychics to choose from
100% satisfaction guarantee
$20 credits when you sign up for the Karma Rewards program
Rigorous psychic screening process
California Psychics gives you unfettered access to a panel of rigorously screened psychics, so you can be confident of getting sound advice. Only 2 out of every 100 psychics that apply are accepted to the site, after which they are monitored continuously for quality control.
Finding a psychic you can truly connect with when discussing your pet's troubles is also imperative. I was pleased to find over 58 pet psychics on California Psychics, as it offers plenty of variety. This means you'll be able to find someone who meets the tone and style you're after, no matter what your preferences.
The site also offers a 100% satisfaction guarantee, which shows its confidence in the abilities of its pet psychics. When I tested this policy by contacting support, I found the agent to be very friendly and helpful as she offered to arrange a new session or credit my account. However, I'd be careful with Google Play and App Store payments because the refund is at their discretion. The site also has 3 pricing tiers you can choose from, which are Popular, Preferred, and Premium.
If you start to form a strong bond with your chosen advisor, you can become a regular customer at an affordable rate by joining its Karma Rewards program. This way, you'll have more time to discover the intricacies of your pet's behavior and strengthen your relationship with them — while saving money.
2. Keen – Connect to Your Psychic Before Your Pet Reading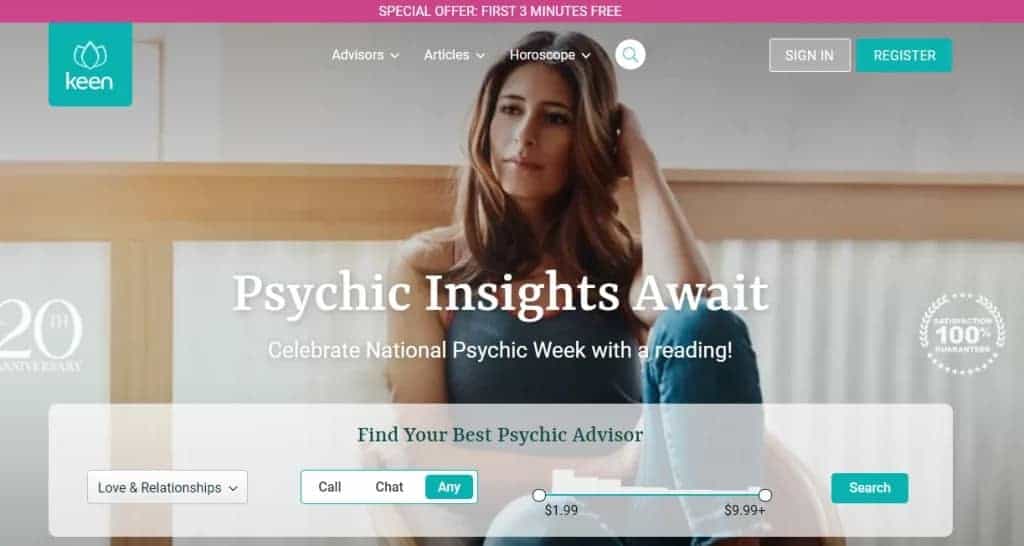 Introductory offer of your first three minutes free
147+ pet advisors to choose from
100% satisfaction guarantee
Rewards for every dollar spent
Appointment setting functionality
Keen provides loads of helpful information around psychic matters, which you can access before signing up. Plus, the site is straightforward to use. I benefited from all the great advice on pet psychic readings on Keen's blog without creating an account. This prepared me for my pet reading, as I could connect with a suitable psychic much quicker.
Psychic profiles on Keen are detailed, yet the site's "mail" function makes it even easier to know more about your advisor. This allows you to type up questions about your psychic's availability, experience, qualifications, and more and receive replies directly to your email inbox. Therefore, you'll be fully informed before committing to a paid reading.
Once you're ready for a one-on-one session, Keen has a wide variety of pet advisors to choose from. Because of this, I could use the site's comprehensive filtering functionality to select the spiritual tools, reading styles, and prices I preferred. Even with these features, I was still left with many profiles to scrutinize.
Since pricing has no minimum or maximum on Keen, the introductory offer of 10 minutes for $1.99 comes in handy. I got a reading of a decent length with a high-quality pet psychic for much less than I would've paid without this offer, and my first three minutes were free. If you need urgent advice or your pet has run away, this feature is useful.
3. Psychic Source – Video Chat Function for Face-to-Face Readings
Introductory rate of $0.66 per minute plus 3 minutes free
25+ pet psychics to choose from
Live chat, phone call, and video call reading types
24/7 customer support
Free chat transcripts
Chat and phone readings are a great way to connect with a pet psychic, but video calls on Psychic Source add a personal touch that helps you to establish a real-life bond. The site is one of the few psychic sites that offer this functionality, and you won't have to worry about paying more for it since rates are standard across all reading types.
Although Psychic Source has only 25 pet psychics on staff, there are some experienced pet advisors you can speak to as all of them are rated four stars or higher. But if you encounter an issue with your reading, you can take advantage of its satisfaction guarantee or contact live chat for support.
While I was browsing through the site's pet psychics, I could get an idea of each advisor's reading style by listening to their introductory audio. Speaking about a deceased pet is difficult, so selecting a psychic whose tone resonates with your spirit is essential. Since customers endorse skills, you'll have little doubt about your advisor's capabilities.
Psychic Source's introductory rate is one of the lowest, so if you need urgent advice when money is tight, this site is a good choice. You'll need to purchase a 10, 20, or 30-minute package upfront, providing sufficient credit to get a thoughtful and constructive reading without fear of interruptions.
4. PathForward – High-Quality Psychics at a Standard Price
Introductory rate of $1 per minute plus 3 minutes free
Standardized pricing of $5 per minute
8+ pet psychics to choose from
Quick connect tool for time-sensitive readings
100% satisfaction guarantee
PathForward values quality over quantity, which is why you won't find too many psychics on the site. However, some pet psychics with decades of experience have chosen to make PathForward their home because of its values and ethics. This means that you can speak to highly-qualified pet advisors for a fraction of the price you'd pay elsewhere.
If you're new to psychic readings and need urgent help with your pet, you won't go wrong with PathForward. I particularly liked the site's user interface, which I found pleasant and easy to navigate. There's also loads of helpful information on each advisor's profile, giving you a clearer picture of what to expect during your reading.
Because of my tight schedule, my favorite feature on PathForward is its Quick Connect tool. Once you've spoken to an advisor and felt a strong connection, you can choose to add their profile to your favorites. This way, they'll become visible on your Quick Connect tab if they are online, and you won't have to search for their profile whenever you need help.
Since some advisors on other psychic sites can charge up to $50 per minute for a pet reading, PathForward's standardized rate of $5 per minute is a steal. Plus, with an introductory offer of a dollar a minute and your first three minutes free, you can benefit from an entire session before deferring to the default rate.
5. Kasamba – Email Readings at a Negotiable Price
Introductory offer of first 3 minutes free on chat and phone readings
30+ pet psychics to choose from
First 3 minutes free with every chat session
Email readings can be requested
Negotiate a rate with the advisor you are interested in
Kasamba has been around for a long time, and although its website design is quite old, it offers one of the most diverse ranges of reading types and psychics out there. There are over 30 pet psychics to choose from, all of whom have a minimum of a 4.5-star rating – which made me confident that I'd be able to speak to a genuinely gifted advisor.
What stands out most about Kasamba is its negotiable rates. Although every pet psychic on the site has their preferred rate listed on their profile, you can direct message an advisor with a proposed rate if you are in a tight spot financially and need urgent advice. This is especially helpful if you have a pet that's run away at an inopportune time.
Thanks to Kasamba's introductory offer, you can get the first 3 minutes of your pet reading for free. I even received 3 free minutes whenever I spoke to a new advisor, which is pretty generous. While this doesn't help you build a relationship with one psychic, it can be a lifesaver if you need to save a dollar or two.
Another feature offered by Kasamba that isn't very common is email readings. I prefer writing out my thoughts and questions in detail before getting advice so that my advisor has all the relevant information about my pet to work with. Psychics have also been known to follow up with more details if they've received a further insight about your pet.
Comparison: Best Pet Psychic Sites in 2023
| | | | | |
| --- | --- | --- | --- | --- |
| | Starting Price | Number of Pet Psychics | Introductory Offer | Satisfaction Guarantee |
| California Psychics | $1 per minute | 58+ | Discounted Per-Minute Rates | Yes |
| Keen | $1.99 per minute | 147+ | Free Minutes & Discounted Per-Minute Rates | Yes |
| Psychic Source | $0.66 per minute | 25+ | Free Minutes & Discounted Per-Minute Rates | Yes |
| PathForward | $1 per minute | 8+ | Free Minutes & Discounted Per-Minute Rates | Yes |
| Kasamba | $0.90 per minute | 30+ | Free Minutes | Yes |
Tips on Choosing the Best Pet Psychics
Check psychic reviews
Dealing with a trustworthy psychic is vitally important when dealing with the wellbeing of your pet. But some psychics might lack information on their profiles. If you come across an intriguing profile, you should always gauge the quality of the advisor's readings by taking a closer look at previous customer reviews.
Some sites provide the functionality to filter reviews, too, making it easier to find the information you're looking for.
Consider your preferred communication method
Some issues you may be facing with your pet are more sensitive than others, so your communication method should match your personality preferences. If you're a keen texter, chat readings allow you to get your thoughts out coherently. Many psychics are able to communicate with animals if they've crossed over to the other side, so you want to make sure you find a suitable method.
On the other hand, you may find comfort in hearing the voice of your advisor through a phone call. Video calls are most personal as they provide a face-to-face connection, and email readings allow you to receive detailed feedback on your question for a flat fee.
Look for satisfaction guarantees
While all psychic sites do their due diligence when screening their psychics, not every reading will be smooth sailing 100% of the time. A satisfaction guarantee puts your mind at rest because it ensures you won't waste money on a session with no value.
Make sure you check out the terms and conditions of each site's satisfaction guarantee, as some may place restrictions on specific aspects, such as the maximum number of minutes that will be credited to your account after a dissatisfactory reading.
Review the site's screening process
Some sites are far more stringent with their screening processes than others. In fact, some platforms don't offer satisfaction guarantees as they claim that psychic readings are for entertainment only.
Before signing up to any specific site, take a closer look at how its psychics are selected by speaking to customer support or reviewing the fine print. This will give you peace of mind that any advisor you speak to is appropriately qualified and experienced.
Search for the best introductory offer
Pet readings can get complicated and intense, so you don't want to risk running low on credits halfway through your session. If you opt for a site that offers a decent number of minutes at a discounted rate, you'll be able to get valuable and worthwhile readings while you search for the psychic you best connect with.
It's also easy to get more value for money by opting for a site that offers free minutes. You'll get a feel for your psychics' style early in the session, so these minutes can often be stretched over one or two readings until you find a good fit.
FAQs on Pet Psychics
How Do Pet Psychic Readings Work?
There are different pet psychic readers, including pet communicators, animal psychologists, afterlife communicators, and more. The basic principle is that, because animals have spirits just as humans do, gifted psychics can connect with them on a supernatural level – regardless of whether they are still in this world or the next.
It's best to consider a site with a wide variety of pet readers, as you'll likely find a pet psychic that can deal with your specific issue.
What kind of animals can pet psychics work with?
Animal psychics generally have the ability to communicate with any animal as they're highly intuitive and more connected to nature than the average person. However, it's generally pets or animals that deal with humans regularly, which is why they mainly deal with pets.
Furthermore, certain pet psychics can communicate with the spirits of animals who have already moved on into the afterlife. So, you can speak to a medium of closure if you're struggling to heal or get past the loss of your companion. Afterlife communicators can provide catharsis by relaying any messages you may have for a pet that has passed on.
How can a pet psychic help with behavioral changes?
A pet psychic can help solve behavioral changes by assisting you with beginning the healing process for your pet. Pets can sometimes have experiences that leave them feeling out of sorts or traumatized, and since they can't communicate this to their owners, a pet psychic can be the middle man.
Many psychics write helpful blog posts on how they approach readings centered around pets, so it would be worthwhile to read a few of these before starting a session.
Are pet psychic readings accurate?
Pet readings are staggeringly insightful and can open your eyes to parts of your pet's personality you didn't know existed. They are also invaluable if your pet goes missing or passes away.
But not every psychic session is a roaring success, so I recommend choosing a site that offers a satisfaction guarantee. This way, you won't be at a loss if you don't receive the right advice during your reading.
Bottom Line
It's easy to become overwhelmed when looking for help with matters related to your pet. Since they can't communicate directly with you, it can be stressful trying to understand their needs and make sense of their habits.
Fortunately, a pet psychic can connect to your furry friend on a supernatural level and act as a medium to provide you with the best solutions. There are some great psychic sites out there with satisfaction guarantees in place to give you peace and make this process easier.
The pet psychic site I recommend is California Psychics, as its introductory offer is one of the most affordable and comprehensive. It lets you speak to a wide variety of pet psychics for $1 per minute, so you can find the perfect connection without breaking the bank.
To summarize, here are the best psychic sites for pet readings