Wondering what's on your dog's mind or why your cat is acting differently? A pet psychic can help, but where do you start your search?
With so many psychic reading sites to choose from and each one claiming to have the best dog and pet psychics, knowing who to trust can be difficult.
I've gone through the top psychic reading sites and put together an expert review to help you decide. Here are the best dog and pet psychic reading sites you should consider.
1. Keen – Best for Experienced Pet Psychics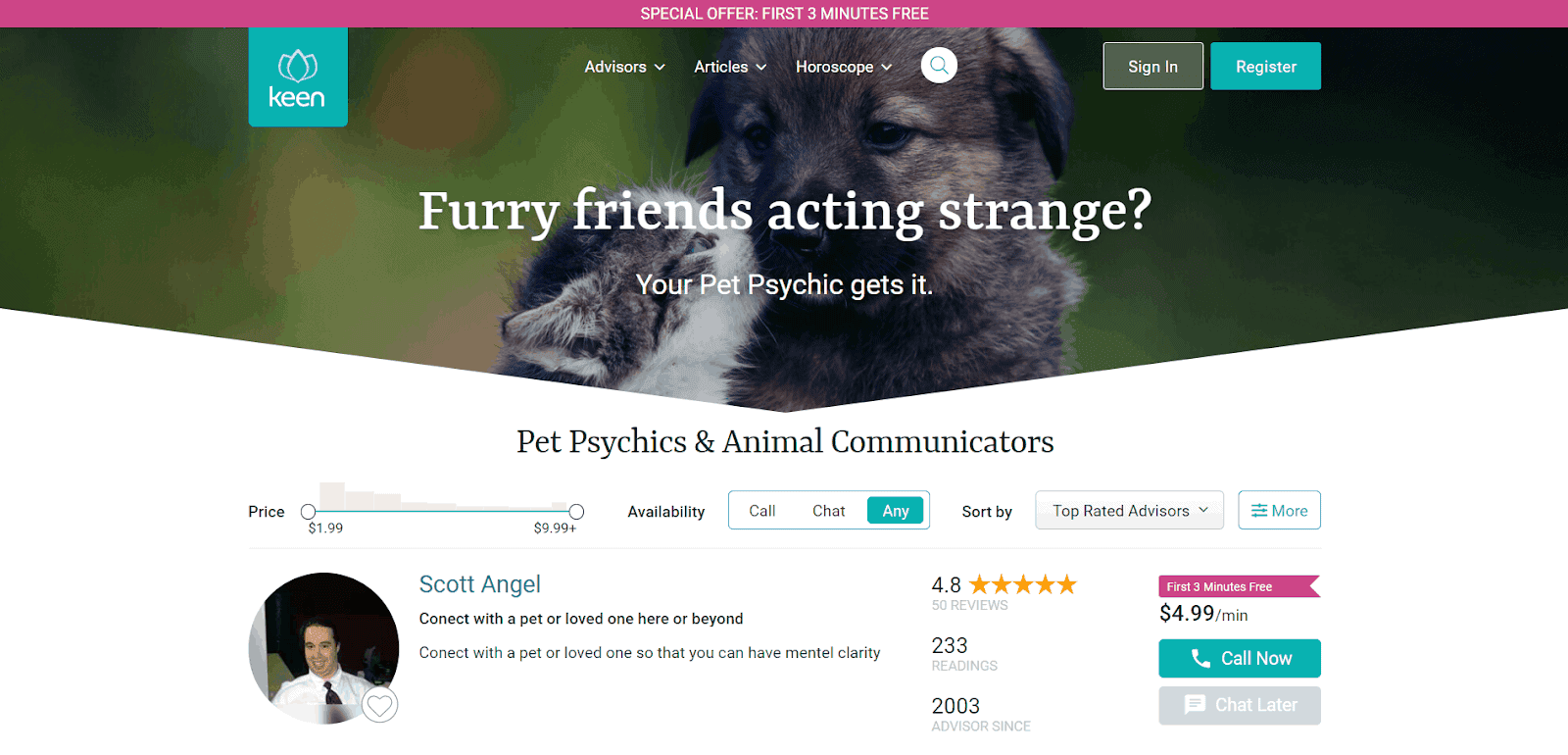 Keen is another veteran psychic service that has been online for over 20 years, so I'm always confident in how experienced their advisors are.
Users can choose from 7 pet psychics and communicators who offer phone and chat readings.
Compared to other types of psychics, pet psychics make up a small niche so there aren't too many of them online. Keen's small selection of animal communicators are highly experienced and their detailed profiles will provide you with all the information you need.
On the search page, you'll see a brief intro message from each pet psychic, the year they became Keen advisors, the number of readings they've performed, and their star rating. Each profile goes into even more detail.
Readings on Keen cost anywhere from $1.99 to $30 per minute, but the range is slightly different for pet psychics – the most expensive rate was $25 per minute.
If you're not too excited about Keen's prices, don't worry – the first 3 minutes of your first reading are free. And if that's not enough, new users can get 10 minutes for $1.99. Keen will refund up to $25 if you're not satisfied with your reading.
2. California Psychics – Best for Widest Selection of Pet Psychics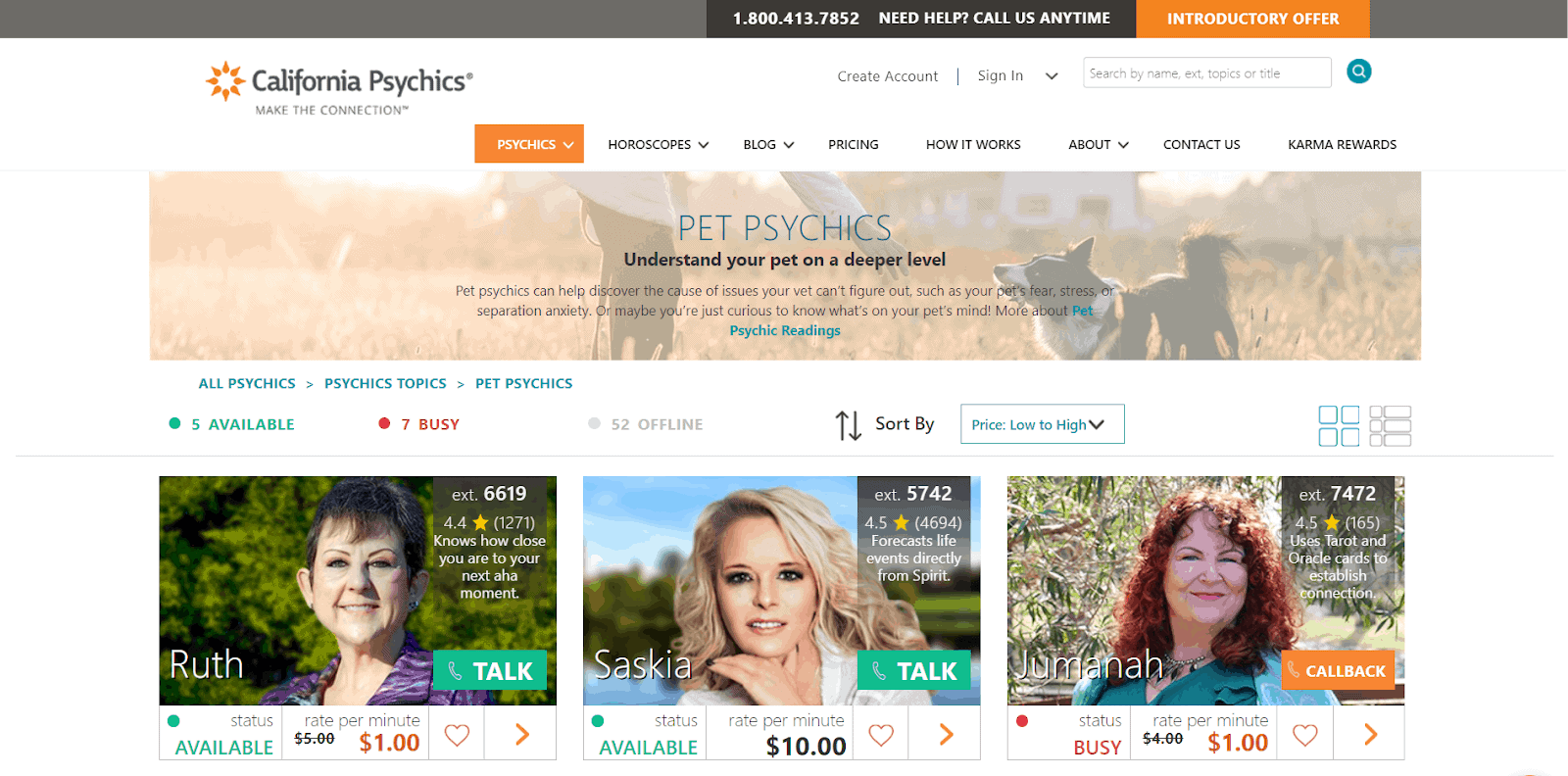 If you want a lot of options, then you'll like California Psychics' selection of over 60 pet psychics. And if this wide selection of pet psychics makes it difficult for you to choose, you can easily sort your search results based on price, experience, ratings, or availability.
When you search for a pet psychic, you will see how many are currently available, busy, and offline. If you're interested in an advisor that's busy, there's a useful feature that allows you to schedule a callback.
When signing up, you can choose from California Psychics' 3 pricing tiers: Popular, Preferred, and Premium. As a new user, you can get your pets first reading for as low as $1 per minute. Thereafter, readings range from $4 to $15 per minute.
If you want a reading on the go, California Psychics has a free mobile app available for download on Google Play and the App Store.
Find a Pet Psychic on California Psychics
3. Psychic Source – Best for Face-to-Face Pet Readings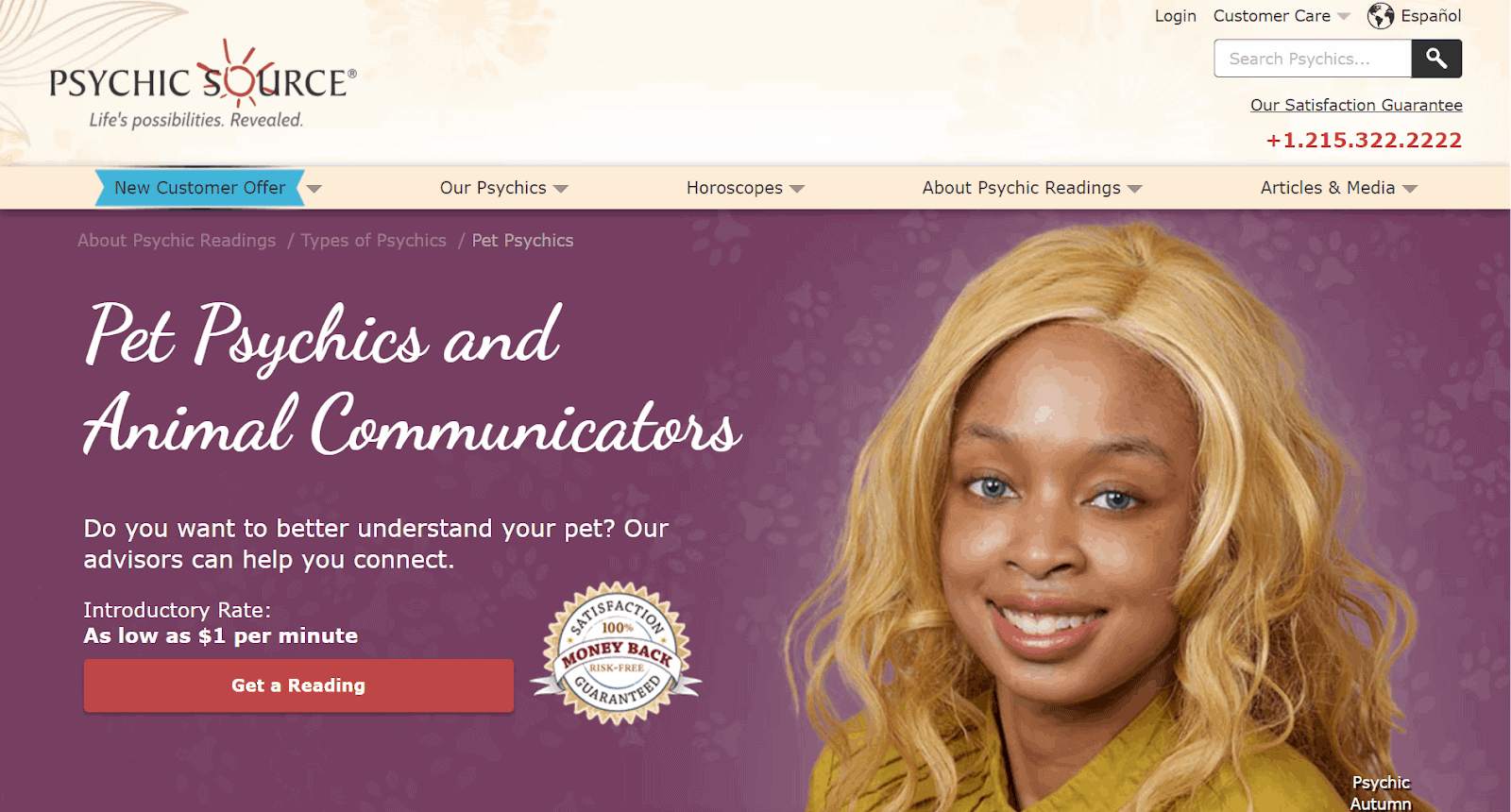 There is a lot to like about Psychic Source, from their easy-to-use website to their affordable rates and satisfaction guarantee.
However, the best feature by far is their video readings, allowing you and your pet to have a face-to-face reading with a psychic. You can also chat or call a psychic if you prefer, but having an animal communicator see your pet may result in a more accurate reading.
I found 25 pet communicators on Psychic Source. When I filtered my search results to only include video, I was excited to find 6 dog and pet psychics who offer face-to-face readings.
With the Psychic Source introductory offer, you can schedule a pet reading for as low as $0.66 per minute.
Also, the first 3 minutes of your first paid reading are free. If for any reason you are unsatisfied with your experience, Psychic Source will credit up to 20 minutes.
Find a Pet Psychic on Psychic Source
4. Kasamba – Best for Trustworthiness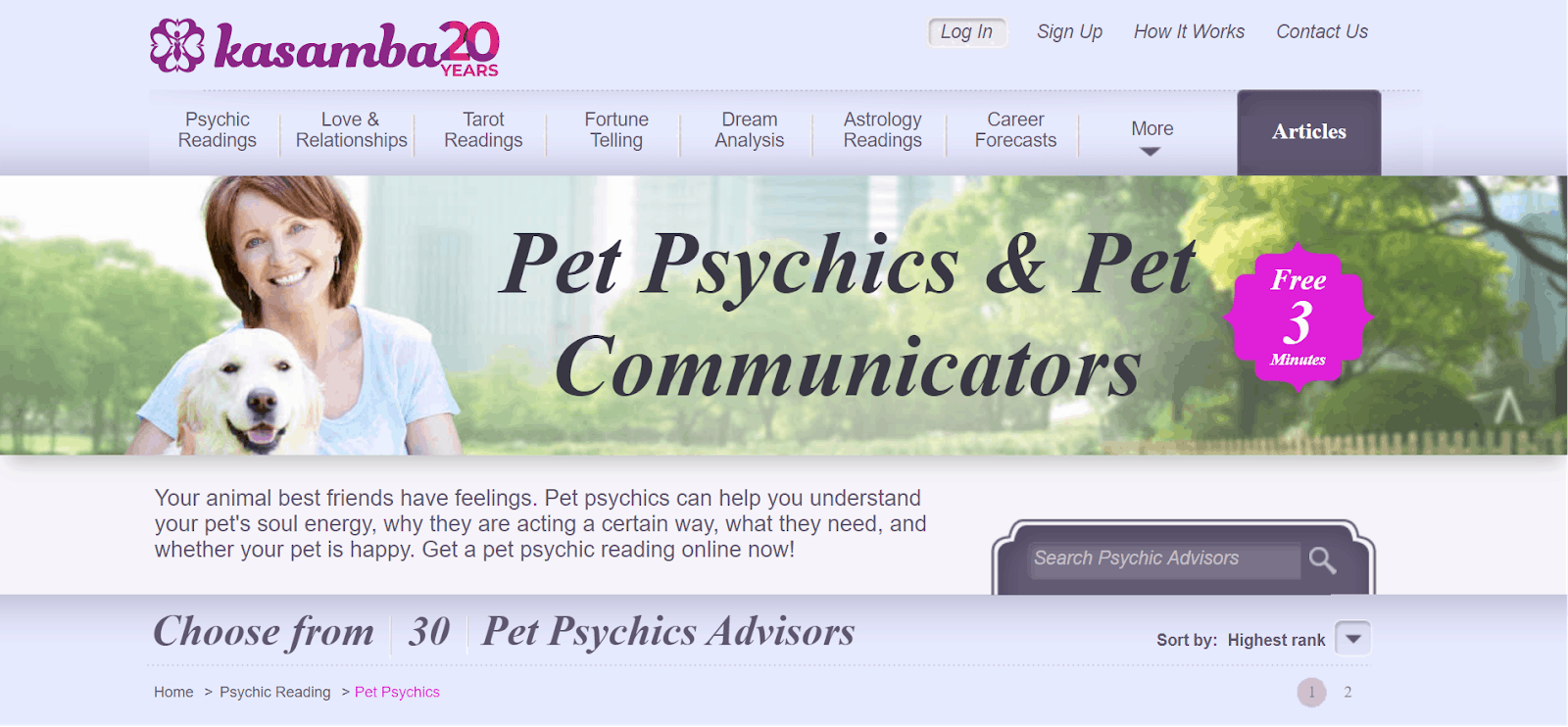 Kasamba has been online for over 20 years and users are always raving about their experiences – signs of a highly trustworthy online psychic reading site.
Kasamba also has one of the most generous satisfaction guarantees I've come across. If you're not satisfied with the guidance you receive from your pet psychic, Kasamba promises a refund of up to $50.
Users can choose from Kasamba's 30 pet psychics for chat readings,with 21 also offering phone readings.
General readings cost as little as $1.69 per minute, but the most affordable pet psychic reading I could find was $3.99 per minute. Keep in mind that Kasamba is one of the more expensive psychic sites online, with some pet psychics charging as high as $30 per minute.
As an added bonus, Kasamba's Best Match Guarantee gives you the first 3 minutes for free every time you try a new pet psychic.
5. Oranum – Best for Free Readings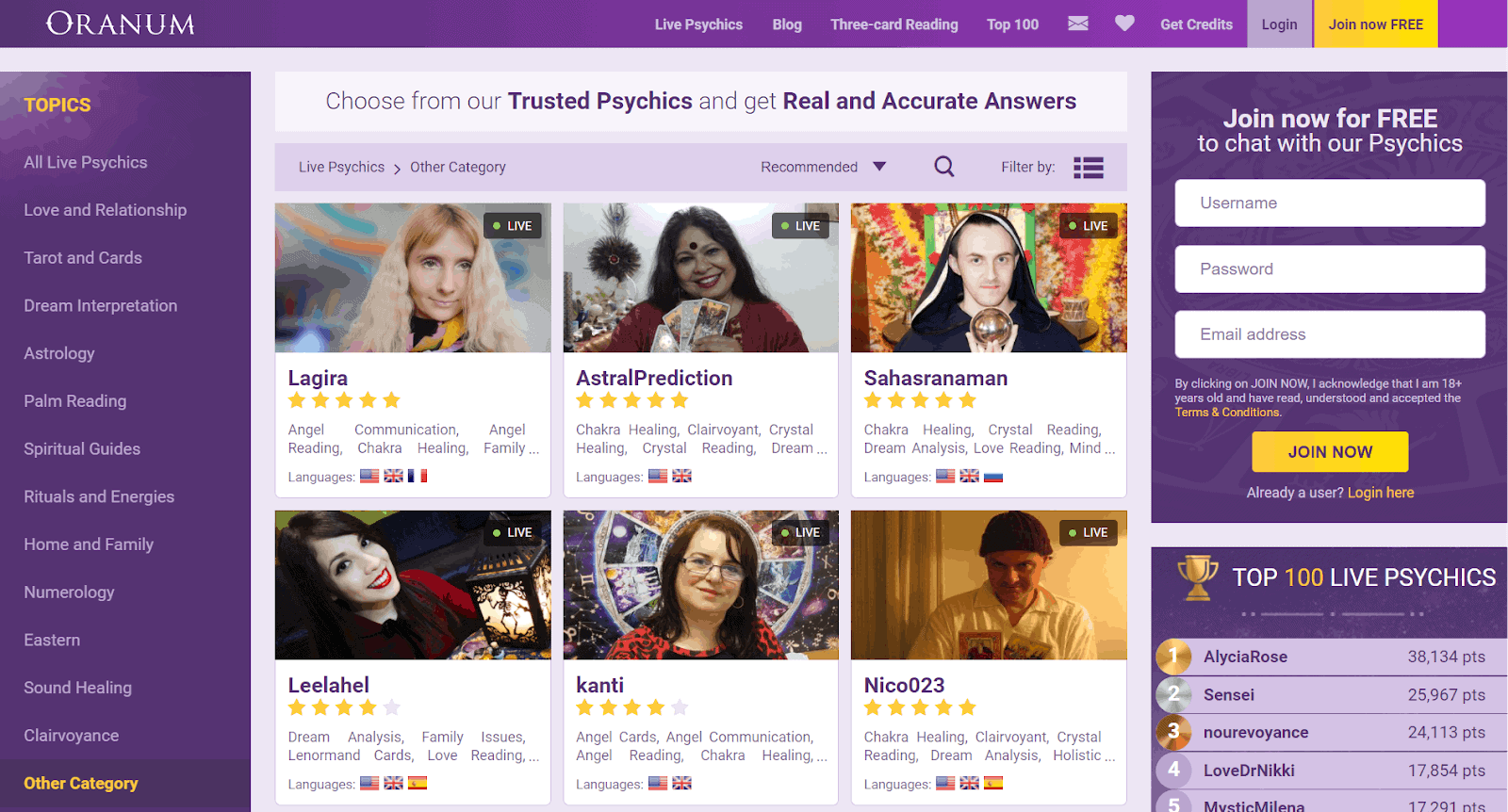 Users can get a chat or video reading from one of 60 animal psychics on Oranum.
On a normal psychic website, you might end up paying for a few readings before finding the right pet psychic. But this is not a normal psychic website – pet psychics on Oranum host free live videos, without you having to sign up.
This means you can actually watch a pet psychic's live show and chat with them before deciding whether they're a good match for you.
As a new user, your private reading might even be free – Oranum gives you $9.99 worth of credits just for signing up, which can add up to a 10-minute reading with some pet psychics.
If you need even more insights, Oranum provides frequent updates and guidance on social media.
What to Expect During Your Pet Psychic Readings
Pet psychics communicate with animals in their own unique way, but at the start of a reading, you can expect your psychic to quiet their mind and center themselves. They will then tune into your pet's energy to form a direct connection.
Once your psychic is safely connected to your pet, they will begin to ask questions either telepathically by visualizing an image or out loud. The first thing that usually comes through is a description of your pet – size, unusual markings, coloring, scars, favorite toys, and treats. If they've crossed over – they can see how they passed and more. With a good connection, the communication should be conversational.
Details that you may not be able to connect and confirm immediately will occasionally come through; simply make a note of them; at a later time, they will either make sense to you or come to pass. In psychic readings, the spirit world comes close, so you may feel goosebumps, shivers, or temperature changes.
A psychic reading is a collaborative effort, and the more open you are, the better. However, this does not mean you should feed your psychic. Don't volunteer too much information at the start of your reading; simply state your primary goal and the name of your pet. Keep your responses to a simple yes or no.
You'll also benefit from writing down a list of questions because it strengthens the connection and keeps your psychic focused on the issues that are important to you. Finally, remember to choose a quiet room where you will not be interrupted for your reading.
Bottom Line
Vets are great, but there's a limit to what they can tell you about your pet. An experienced pet psychic can communicate with your pets and give you insight into their feelings, even if they've crossed over to the other side.
Because of how significant pet readings are, it's important for you to find a dog and pet psychic that you can trust. Doing so might take some trial and error, but our top picks are a great place to start.