What do the cards have to say about your future? Will you find love, success, adventure? Perhaps you find all three.
Tarot is an ancient and powerful psychic tool that can help you understand life's challenges, where your relationship is headed, or what the future has in store for you.
Where do you start your search for a trustworthy tarot reader though? If you're strapped for time, I would highly recommend Keen Psychics. The site offers a 100% satisfaction guarantee and free minutes when you sign up as a new customer.
To help you out, I've reviewed several online tarot readings to bring you a list of the very best.
In a rush? Here are my top online tarot reading picks: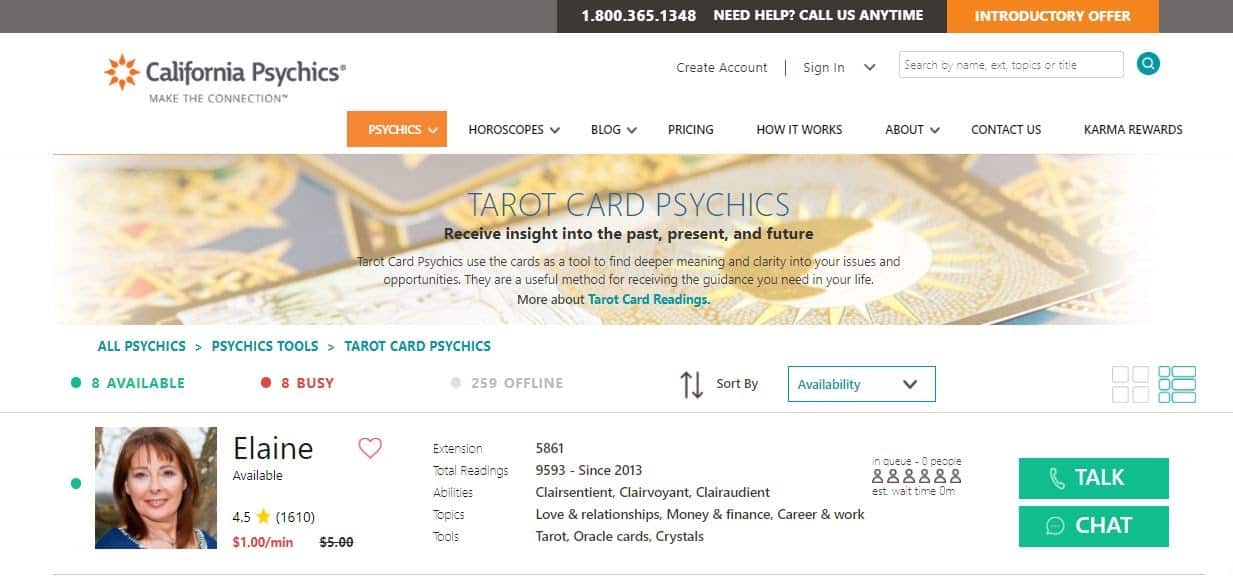 Launched in 1995, most California Psychics tarot readers have performed thousands of readings and have hundreds of reviews.
The site made it very easy to schedule a reading with a tarot reader or start one right away. What's more, each tarot reader's profile is easy to understand and immediately shows their availability.
You can also see how many people are waiting for readings and how long you will have to wait. The estimated wait time for a reading by a premium tarot reader can be over 2 hours, which is why it helps to schedule a reading at a time that works for you.
And if you are a new customer, you can get a tarot reading for as little as $1 per minute.
Overall, if you want a premium-level tarot reading and the ability to schedule a reading at a time that works for you, California Psychics is a top choice.
Find a Tarot Reader on California Psychics
2. Keen – Best for Satisfaction-Guaranteed Readings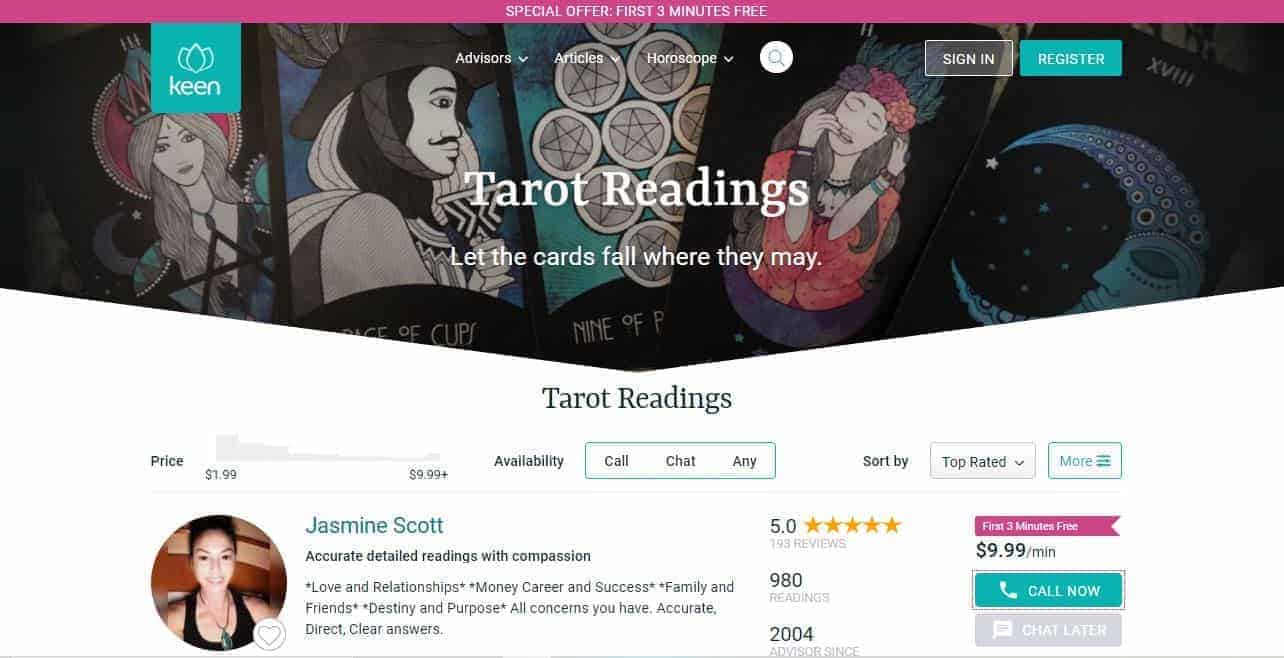 Keen Psychics goes the extra mile to provide customers with a positive tarot reading experience. From their 20-year reputation and detailed tarot reader profiles to their 100% satisfaction guarantee, Keen Psychics is renowned for their transparency and credibility.
As a new customer, you can purchase 10 minutes for just $1.99, which is ideal if you are new to tarot readings. And if you have any questions before you pay for a reading with a specific psychic, you can message them directly – a feature you don't often find on other websites.
One feature that really stands out for me is the Find a Psychic tool. By answering a few basic questions, I was matched with a few tarot readers that met my specific needs. This is a feature I am yet to find on other tarot reading sites.
Overall, if you prefer to know as much as possible about a tarot reader before you pay for a session, Keen Psychics is the ideal tarot reading site for you. There is also a satisfaction guarantee you can fall back on should your reading be unsatisfactory.
Find a Tarot Reader on Keen psychics
3. Purple Garden – Best for Mobile Tarot Readings

Purple Garden is the ideal site to try out if you need a tarot reading on the go. The whole platform is designed to be accessed from a smartphone or tablet, unlike other sites which are predominantly designed for desktop users.
Purple Garden has a dedicated category for tarot readings, with over 100 advisors to choose from that you can connect with via chat, phone, and video – a unique feature.
And as an added bonus, Purple Garden customers can earn 5% cash back on every purchase they make, which they can use towards future tarot readings.
Find a Tarot Reader on Purple Garden
4. Psychic Source – Best for Attractive Introductory Offer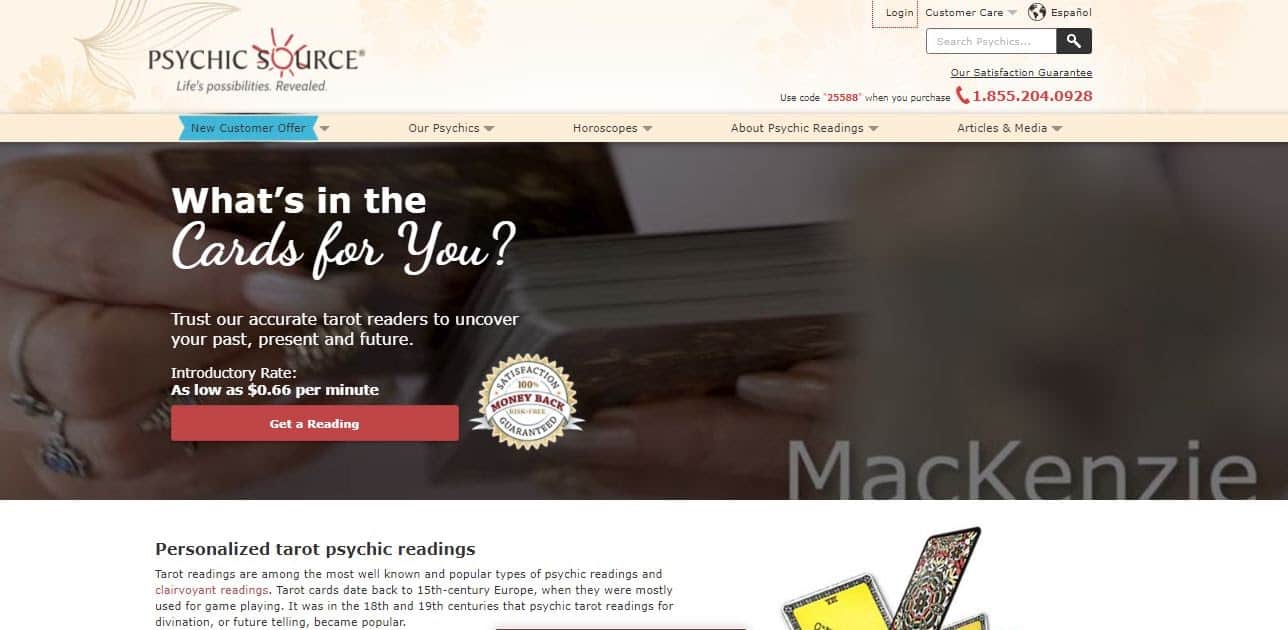 Psychic Source offers the best introductory offer to new customers: $0.66 per minute, plus 3 free miutes. This might explain why the schedules of top-rated tarot readers are rather tight.
Even if you aren't a new customer, tarot reader rates on Psychic Source are comfortable compared to some other sites.
What I also really like is how well thought out the website is. It has plenty of tools to match you with the right tarot reader. The interactive Find a Psychic tool guides you through questions to match you to a reader.
Lastly, when visiting a reader's profile, you can listen to a recording to get to know them a bit better before you schedule a reading.
Find a Tarot Reader on Psychic Source
5. PathForward – Best for Affordable Tarot Readings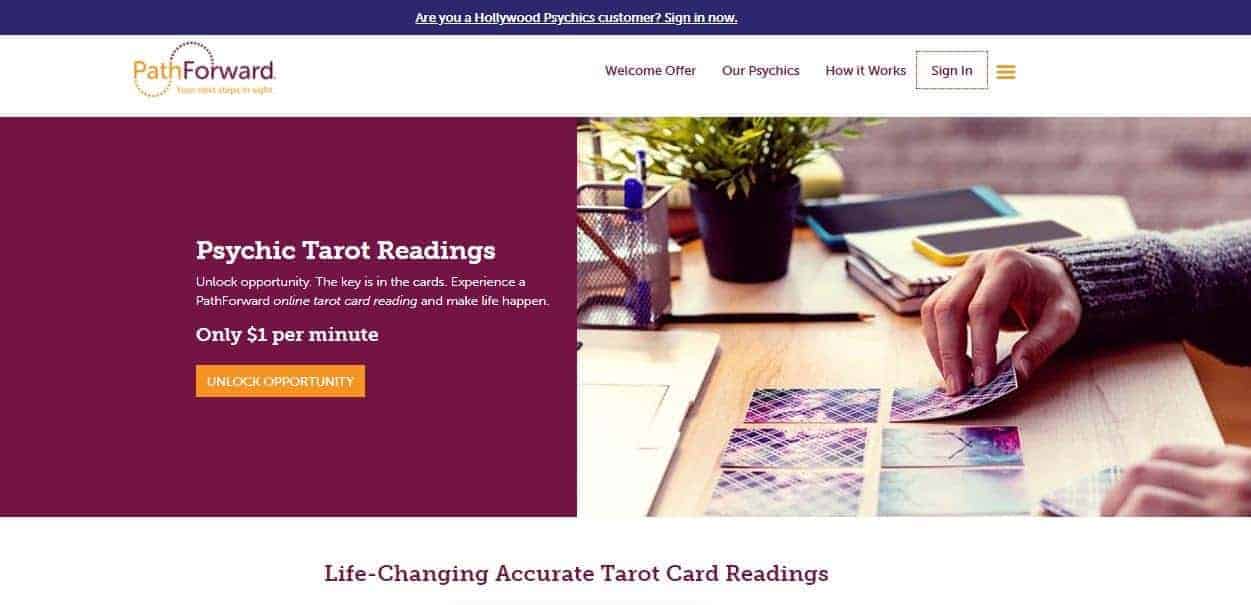 Formerly known as Hollywood Psychics, PathForward has connected users to trustworthy psychics for the past 15 years, which highlights its trustworthiness.
Pathforward's affordable prices are what stand out for me, as did the reviews, which I found to be helpful and authentic.
I also like the search filter that allows you to sort tarot readers by topics (e.g. Career and Money), gifts (e.g. Clairvoyant), and communication style, ranging from compassionate and thoughtful to direct and expressive.
Of 53 psychics featured on PathForward, 31 offer tarot readings. This means that if you are new to tarot readings, you won't be overwhelmed with choices.
And if you love rewards programs, PathForward has one called In Sight Rewards, which allows you to earn 3% Rewards Dollars on every purchase.
Find a Tarot Reader on PathForward
6. Oranum – Best for Free Live Shows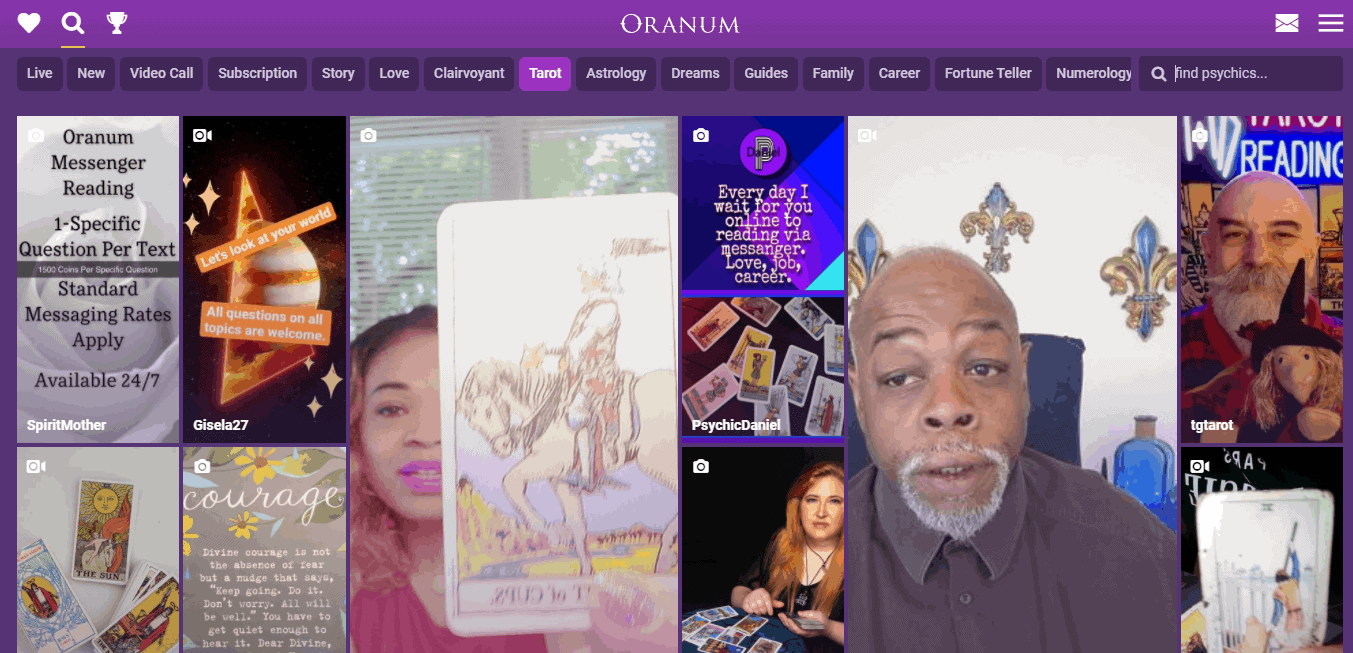 Oranum has more than 400 Tarot readers available via chat or phone, but that's not what makes this site unique.
Free live shows are what differentiate Oranum from other psychic reading sites. Before you decide on a tarot reader, you can watch them live to decide whether they're a good fit for you. I love this feature because it allows you to establish a spiritual connection with a psychic before paying for a one-on-one reading. Live shows are public, but you can switch to a private video reading if you pay for coins, which are credits.
If you like a particular reader, you can join their fan club to use their services at a reduced price and access exclusive content.
And as a new customer, you can get 10,000 coins for free when you validate your credit card.
7. Kasamba – Best for Trustworthy Tarot Readers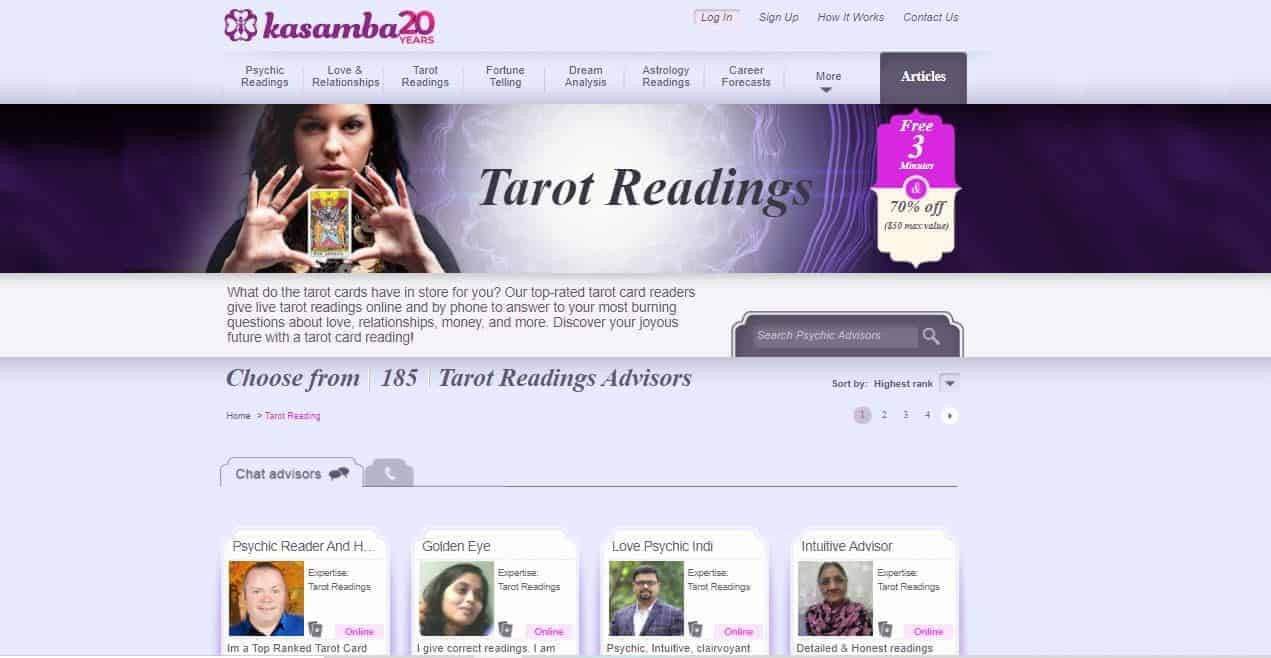 Kasamba has over 180 tarot card readers you can chat with and over 150 who offer readings over the phone. Having so many readers to choose from is beneficial, but it also means finding the right reader takes time.
The good news is that Kasamba has a strict psychic interview process that ensures every reader has the necessary experience and qualifications.
Reader profiles feature thousands of ratings and reviews. What I appreciate is that reviews are only from users who paid for a tarot reading.
You can call or chat with a reader right away or you can set up a notification for when they're available for a reading.
Interestingly, many tarot card readers on Kasamba also offer angel card readings, which is great if you need additional inspiration.
New customers get the first 3 minutes for free, giving you the chance to try a tarot reader before you pay for a session.
Find a Tarot Reader on Kasamba
Tips for Working with a Tarot Card Reader
If you have never worked with a tarot reader before, here are a few tips that will help you make the most of your reading.
State your question very clearly. Be clear with your questions to ensure you receive accurate guidance. Preparing your questions ahead of time is always a good idea.
Decide what kind of reader you're looking for. What will make you feel the most comfortable? Should the reader be straightforward or would you prefer someone more gentle and inspirational? How much experience do you want them to have? Asking questions such as this will make your search for a reader much easier.
Set a budget. As you can see from this review, rates vary from $0.66 to $30 per minute, so decide on a budget before you search for a psychic.
Decide on a type of tarot reading. Not everyone wants to speak to a tarot reader over the phone, some people prefer a face-to-face interaction. Decide whether you want to receive a reading on the phone or via chat or email before you search for a psychic.
Read psychic reviews. This will help you understand whether a particular reader is a good match for you.
Every tarot reader is different and it's important to find someone you resonate with to have the best possible experience.
Comparison: Best Online Tarot Readings
Starting Price
Number of Tarot Readers
Introductory Offer?
Trustworthy
California Psychics

$

1

per minute

300+

Discounted Per-Minute Rates

Yes

Keen Psychics

$

1.99

per minute

50+

Free Minutes & Discounted Per-Minute Rates

Yes

Purple Garden

$

0.99

per minute

40+

Free Credits

Yes

Psychic Source

$

0.66

per minute

200

+

Discounted Per-Minute Rates

Yes

PathForward

$

0.83

per minute

40+

Free Minutes & Discounted Per-Minute Rates

Yes

Oranum

$

2.99

per minute

100

+

Free Credits

Yes

Kasamba

$

0.90

per minute

180

+

Free Minutes & Discount on First Reading

Yes
Bottom Line
Tarot reading sites are a great way to connect with psychics who are passionate about providing people with guidance and answers to life's big questions. No two sites are the same though, so decide what's most important to you and choose accordingly.
Fortunately, most psychic reading sites have introductory offers, giving you the opportunity to try them out before you purchase more credits. For the most trustworthy tarot readings, Keen is a top pick. If you want the best discounted rates and free minutes, give Psychic Source a try.
Frequently Asked Questions about Online Tarot Readings
How much does a tarot card reading cost?
This is all dependent on the site and reader you choose. Readers with more experience generally charge more but this doesn't mean that more affordable readers have less experience or are less accurate. Sites like Keen, California Psychics, and Psychic Source have some of the most affordable rates and great introductory offers. This gives you the opportunity to try a site and psychic before paying the full rate for a tarot reading.
What happens during a tarot card reading?
Before your psychic starts pulling tarot cards, they will tap into your energy to see what they pick up naturally using their intuition. They may even channel messages from your spirit guides or ancestors. From there, you can ask the questions you've prepared and your tarot reader will pull cards for each of them. The combination of tarot cards that are pulled tell a unique story, offering you specific guidance that you can use to alter your current path.
What are major arcana cards?
There are 22 major arcana cards in a traditional tarot deck, numbered from 0 – 21. Major arcana cards represent major life lessons and themes in your life as well as any karmic lessons that are influencing your journey. These 22 cards are the most powerful in the deck, starting with The Fool (0) and ending with The World (21). Each card is also linked to a specific star sign (or ascending sign), which provides your reader with further details that can help them better answer your questions.
What is the most powerful card in the tarot?
There is a lot of debate about which card is the most powerful. The Fool (0) is said to be the most powerful but generally, any major arcana cards have a powerful message to relay. The reason for this is that major arcana cards foretell major changes, changes that can alter the course of your life completely.
For example, The Tower (16) and Death (13) indicate upheaval and the birth of something new, while the The Wheel (10) indicates a change in direction, which can be for the good depending on the other cards that are pulled.