Maybe you're experiencing some issues in your life, or have some questions that you'd like to sort out. These could be regarding your finances, relationships and love, or health. You might even feel an overall sense of unease or confusion with seemingly no clear path forward.
An online tarot reading performed by an experienced psychic can help you get answers and live your life to its fullest. When you meet with your tarot reader in a relaxing environment, they can provide you with new information that could help ease any difficulties in your life — past, present, or future.
But not all tarot reading sites are trustworthy or high-quality. So, I've extensively tested and shortlisted the 7 best online tarot readings. My testing and research made it clear that California Psychics provides the highest-quality tarot readings. With over 35 million satisfied clients to its name, you're bound to get an online tarot reading that's affordable and top-notch.
In a Rush? Here Are My Top Picks for Online Tarot Readings
1. California Psychics – Best site for tarot readings with $1 per minute rates and 24/7 psychic availability.
2. Purple Garden – Thorough psychic vetting process and an excellent mobile app, but no video readings.
3. Keen – Wide selection of qualified tarot readers and 3 free minutes for new users, but can't leave reviews for readings under 5 minutes.
4. Psychic Source – Offers tarot and cartomancy readings plus a handy filtering system, but can't talk to a psychic before your reading
5. PathForward – Personalized psychic profiles and rewards program with cash-back purchase, but limited availability of psychics
Best Online Tarot Readings in 2022
1. California Psychics — Best Overall for Online Tarot Readings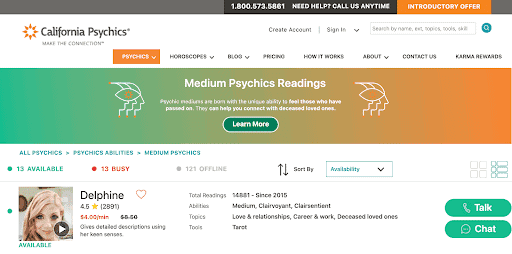 Tarot card readings are available 24/7
Very user-friendly website
Mobile app is also excellent
Communicate via email, chat, or calls
100% money-back guarantee available
California Psychics has a number of online tarot readers that are available 24/7. You can obtain a tarot reading at any time if you feel like you're struggling with something immediate. When I used its mobile app, I could obtain a reading from anywhere at any time I wanted.
Depending on what type of communication method you prefer, you can get access to a tarot reading via email, phone, or chat. Calls are great if you like to get answers immediately and seek verbal interaction. However, you might prefer chat or emails if you like to take your time to give your answers and think about your psychic's replies.
As a new customer, you'll need to purchase a package of 20 minutes. If you know you want a longer reading, you can get a rate as low as $1 per minute for those 20 minutes. If you're not satisfied with your reading, you also get a 100% money-back guarantee. This refund is available within 24 hours of signing up.
2. Keen — Message Tarot Readers Directly Before Your Reading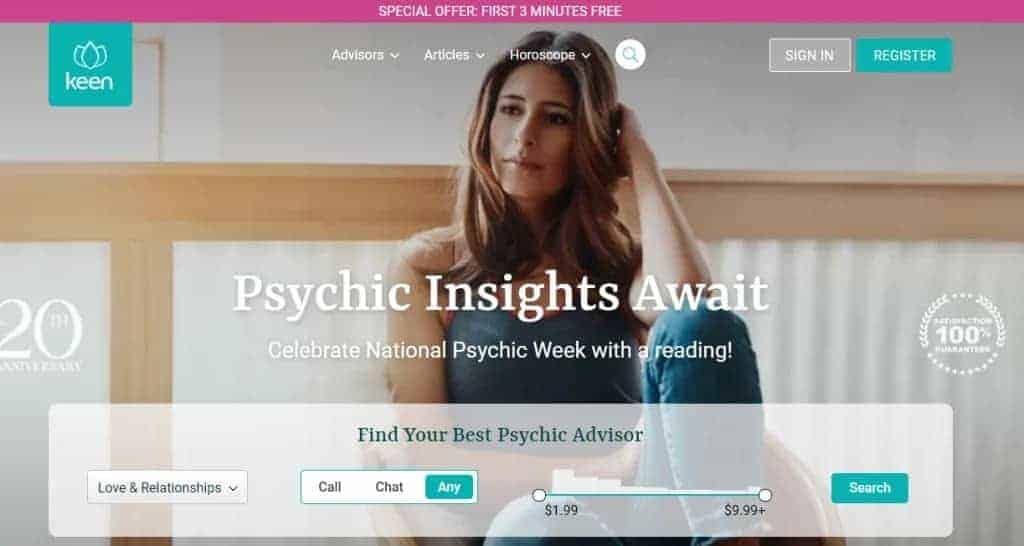 24/7 access to tarot card readings
35 million satisfied clients
Emails, chat, and calls are available
Access to a mobile app available
100% money-back guarantee
Keen Psychics is one of the best options for tarot readings, especially for beginners. I particularly liked the site's extensive selection of highly experienced tarot readers, simple-to-use design, and affordable pricing plans. Its customer base of over 35 million customers is a testament to its high-quality service.
It also provides options for cartomancy, which can complement tarot readings. Cartomancy is slightly different from tarot readings because it uses regular playing cards instead of a tarot deck. It's believed that cartomancy can better tell you the timing of certain events, whereas tarot cards provide more accurate readings in terms of finding meaning.
Another benefit of Keen is its excellent customer service and satisfaction guarantee, which ensure a good experience. You can easily contact them if you need help and get a full refund on your reading if you aren't satisfied (within reason). To use the satisfaction guarantee, you'll need to request it within 72 hours of your reading.
3. Purple Garden — Get a Mobile Tarot Reading From Anywhere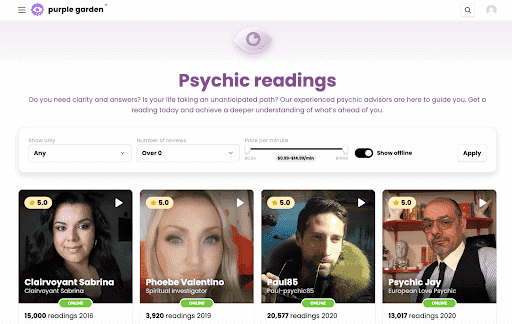 Very strict psychic vetting process
Excellent mobile app for on-the-go readings
$10 credit for new customers
Wide range of reading types
Informative psychic profiles
Purple Garden stands out because of its trustworthiness and outstanding customer reviews. Thanks to its strict vetting process, you're likely to get a high-quality reading — regardless of the psychic you choose. When I saw each psychic's tenure, I noticed that most psychics have plenty of ratings with excellent reviews.
Since its user interface is clean, you can use its extensive filters to find the right reader for your needs. There are plenty of psychics to choose from on the site, and many of them are available at a moment's notice. So if you need to obtain a tarot reading right away, you won't have to wait for long (if at all).
Furthermore, Purple Garden offers new clients a $10 credit which you can apply towards any psychic or tarot reading of your choosing. When making the decision to have a reading done, you can get a feel for your chosen psychic without having to pay out-of-pocket right away.
4. Psychic Source — Attractive Introductory Offer Provides Generous Discounts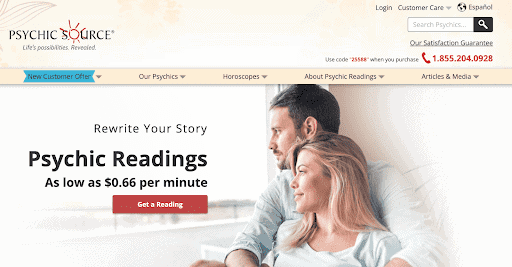 Tarot and angel card readings available
Video, chat, and phone available
Schedule a reading for a later time
Easily create a "favorite" list
Excellent, affordable introductory offer
Psychic Source offers both angel card and tarot readings at an attractive price. I found its introductory offer of less than a dollar per minute to be one of the best I've seen. To get this offer, all you need to do is purchase a package of 10, 20, or 30 minutes.
As you're first beginning to use the site and looking for a psychic to engage with, you can "favorite" certain individuals. The favorite tool can help you save time, and will help you re-engage with your favorite psychics in the future without having to look for them again.
However, I think you'll find that you won't have to take advantage of the money-back guarantee. That's because Psychic Source has one of the strictest vetting processes of any psychic website. Only the most qualified psychics are invited to come on board which means you can always expect high-quality service.
5. PathForward — Big Selection of Experienced Tarot Readers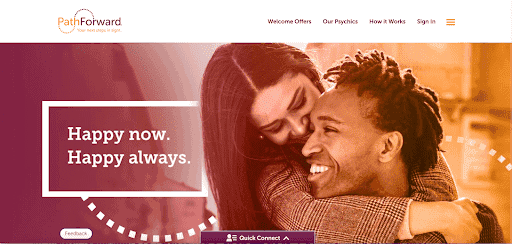 Many highly-rated tarot readers available
Affordable prices and good introductory offer
Quickly add psychics to your "favorites" page
Standardized pricing model
Money-back guarantee for readings up to 20 minutes in length
PathForward offers the choice of many highly-rated tarot readers for you to choose from. User reviews for most of its readers are high which will help ensure you're getting high-quality services. You won't have any difficulties finding the perfect match for you either since the site is easy to use. This is perfect if you're a beginner.
Something else I like about PathForward is that it's highly accessible on all WiFi-enabled devices. Along with a simple website, it has an excellent mobile app for those times you want to get a reading on the go. For example, you can "favorite" your preferred psychics and schedule a call with them for a later date or time.
Its psychic reading types, including tarot, are highly affordable. This is thanks to its standardized pricing model which consists of a flat rate of $6 per minute, regardless of the psychic you choose. The introductory offer also includes 10, 20, or 30 minutes at $0.83 per minute, your first 3 minutes for free, and 25% off your first reading.
6. Kasamba – Generous Discounts for New Customers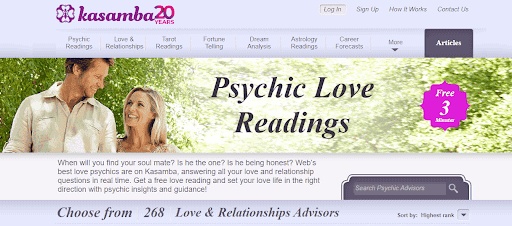 Highly-qualified psychics
Most accurate tarot readings of any site
Phone, video, and chat tarot readings are available
User-friendly site design
15% discount for your first reading
With Kasamba, you can expect to get phone, video, or chat tarot readings based on your desired communication method. It's a reliable and popular psychic reading site thanks to its 20 years of experience and strict vetting process, so I included it on my list. In my testing, it scored highly in terms of reliability and trustworthiness.
The site has some of the most experienced and highly-qualified psychics and tarot readers of any site I've tested. User reviews suggest that most people who sign up are not only satisfied with their services, but go on to become repeat customers. Therefore, there's a good chance that you, too, could be very happy with Kasamba's services.
Before deciding on your favorite tarot reader, you'll be able to peruse their profile to get a sense of whether they'll be a good fit for you and your needs. When you look at their profiles, you'll be able to see the psychic's current rating, how many reviews they have, their fee, and what methods of communication they offer.
7. Oranum — Enjoy Free Live Shows on Tarot Readings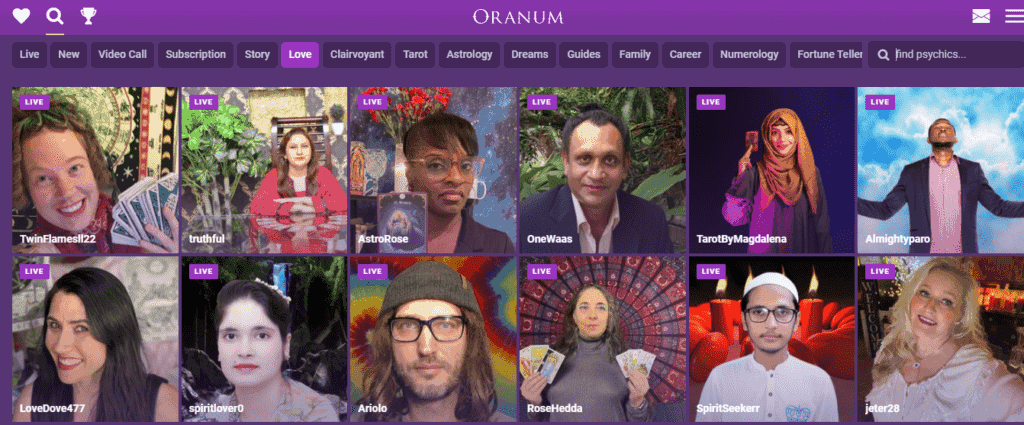 Tarot, angel, gypsy, and rune card readings available
24/7 free live streams
Variety of languages available
Free credit with every credit package
Excellent mobile app also available
Oranum has several types of tart readings, including interesting card readings like angel, gypsy, tarot, and rune cards. This makes the site convenient as it provides these all in one place. It also offers these in a variety of languages in several different time zones in case you're not in the US and prefer another language.
Things work a little differently at Oranum since psychics don't have profiles. But, you're welcome to join their live streams which are always free. This way, you can get a good sense of what you can expect during your tarot reading. Also, you're free to come and go from the free live streams at any time as a guest.
When you sign up for Oranum, you'll have to buy coins instead of paying directly with your favorite credit card – however, you do get access to some free credits. You get 1,000 coins worth of free credits the moment you've registered your credit card which equals about $10.
Comparison: Best Online Tarot Readings
| | | | | |
| --- | --- | --- | --- | --- |
| | Starting Price | Number of Tarot Readers | Introductory Offer | Satisfaction Guarantee |
| California Psychics | $1 per minute | 300+ | Discounted Pre-Minute Rates | Yes |
| Purple Garden | $0.99 per minute | 200+ | Free Credits | No |
| Keen | $1.99 per minute | 120+ | Discounted Pre-Minute Rates & Free Minutes | Yes |
| Psychic Source | $0.66 per minute | 200+ | Discounted Pre-Minute Rates | Yes |
| PathForward | $0.83 per minute | 30+ | Free Minutes & Discounted Pre-Minute Rates | Yes |
| Kasamba | $0.90 per minute | 190+ | Free Minutes & Discount on First Reading | Yes |
| Oranum | $2.99 credits per minute | 90+ | 10,000 Coins After Validating Credit Card (Roughly $30) | No |
Tips on How to Choose an Online Tarot Reading Site
1. Select an experienced tarot reader
When selecting a tarot reader, it's always best to choose someone with a lot of experience. The main things to look out for are years of experience and qualifications. You should also choose a reader who can make you feel comfortable and answer all of your questions. I've confirmed each site's credibility by verifying the length of time they've been in business, as well as their legitimate abilities in cartomancy and other spiritual readings.
2. Choose a site with different reading types
Tarot readings cover a broad range of areas, including love, astrology, money, palmistry, spirituality, and career. Once you've finished your tarot reading, you might want to explore a certain area further, which can offer more guidance. I only choose websites with a wide variety of reading types, so you can always get the guidance you need, wherever you are on your journey.
3. Decide on an affordable rate
Not everyone is willing to spend a lot on a tarot reading, nor do you have to get high-quality service. A tarot reading can be cheap, or expensive, and either option has the ability to provide an excellent experience. California Psychics has a variety of price points and new-customer incentives which will ensure you'll only spend what you want to. The key is to decide on a rate you're comfortable with and see if your preferred tarot reader can provide a reading at that price.
4. Look at the number of positive reviews
A great way to know that you're in for a good overall experience is when other customer reviews of a particular tarot reader are high. Once you see that others are rating the reader highly, it will give you peace of mind that you're more likely than not to also be satisfied by the service you receive. I wouldn't look down on a few negative reviews either, as balanced reviews can provide you with some needed objectivity.
5. See if the customer service is excellent
Great customer service is a sure sign that a site providing tarot readings is of high quality. I only selected sites that allow you to contact them using several methods when you need help. The best tarot reading sites also offer 100%, no-questions-asked money-back guarantees in case you're still not completely satisfied with the service.
FAQs on Online Tarot Readings
How much does a tarot card reading cost?
A tarot reading can vary greatly in price. However, a cheap one doesn't necessarily indicate poor quality, and vice-versa. Psychic Source has one of the best introductory offers for new clients if you're looking to get a high-quality tarot reading at a reasonable price. When you purchase a package of 10, 20, or 30 minutes, your per-minute rate will cost less than $1.
What happens during a tarot card reading?
When you first enter into a tarot reading, your reader will analyze and sense your energy. He or she will then continue on to clear out any type of negative energy so you two can start from a clean slate. After this, your reader will begin pulling cards from the deck and offering guidance based on what the cards tell him or her.
You could find out about things that happened in your past that you're holding on to, what's currently troubling you in the present, and what your future might have in store for you.
What is the most powerful card in the tarot?
The most powerful tarot card is the major arcana. These 22 cards represent our own biggest struggles with ourselves and our own lives. As we search for greater meaning and our life purpose, major arcana cards can oftentimes hold key pieces of information. A website with a large number of experienced tarot readers can help you unlock the next stage of your life and guide you in times of uncertainty.
Bottom Line
It's not always simple to find a high-quality provider of tarot readings, as finding the one that best suits your needs can take a lot of time. I've tested many of the most popular tarot reading sites so you can enjoy your experience without worrying about whether you'll get high-quality services.
Out of all of the sites I've tested, my favorite choice for tarot readings is California Psychics, which has over 150 highly-qualified psychics on its roster. Plus, its introductory offer lets you get a medium reading for $1 per minute, so you don't need to spend a lot of money.
To summarize, the best sites for mediums are…