Psychic Source is one of the most reputable psychic services with over 30 years experience in the field. However, you do need to purchase a minimum of 10 minutes to use the site, which can seem daunting if you don't know if the psychics are accurate or not.
I tested the site thoroughly to see if its psychics can be trusted, and I found that Psychic Source's advisors all have years of experience behind them. If you're still not certain, you can read through customer reviews to see how accurate each psychic is.
Moreover, Psychic Source offers a 100% satisfaction guarantee in case you are not happy with your reading. This site doesn't want you to take any chances or deal with a negative experience.
Psychic Source Main Features
Types of Readings on Psychic Source
Psychic Source advisors offer chat, video, and phone readings. I always appreciate a site that gives you several communication options to choose from based on your personal comfort level.
The site divides their readings into Types of Readings and Types of Psychics. The choices aren't overwhelming, which is often the case on psychic reading sites. Psychic Source focuses on the more common types of readings, including:
Angel & Tarot Card Readings
Psychic Source specializes in card reading, so if you want someone to draw cards for you you'll have a good selection of 4 and 5-star psychics to choose from. It also offers cartomancy readings, which isn't a category you'll find on a lot of other psychic reading sites.
Astrology and Numerology Readings
As with most other psychic reading sites, there are a number of readers who offer astrology and numerology readings. You can take advantage of a specific reading, such as love or career, that incorporates these tools. Otherwise, you can simply opt for a general reading and see what comes up.
Energy Work
If you're an overly mindful person, working with your energy could help you unlock emotional blockages and traumas. This type of reading offered in Psychic Source promotes physical and spiritual healing, deflecting negativity from your aura and opening your chakras.
Spiritual Readings
If you prefer to rely on a psychic's natural abilities, there are spiritual readings available on Psychic Source. These readings tap into your inner self's most authentic area to offer guidance on your work, love, and personal issues. There are only a handful of psychics who specialize in these types of readings, but this is usually a good thing. I often find that having too many choices can make the process of finding the right psychic overwhelming.
Love Readings
If you're particularly concerned about your love life, you have over 150 love psychics to choose from. Most psychics in this category have a 5-star rating, but they use different tools and abilities to conduct their readings. If you're looking for something specific, you can use the filters to narrow your search.
Dream Interpretation
It's not uncommon to receive messages via your dreams, but it's not always easy to interpret them – this is where a psychic comes in. There are over 35 psychics on Psychic Source who specialize in dream interpretation, so you're bound to find the right match.
Past Life Readings
Some of the obstacles you are currently struggling with are rooted in your past lives. Whether you have trouble speaking in public, approaching the sea, or expressing your desires, addressing the source of the problem can turn it all around. A handful of advisors in Psychic Source can delve into your subconscious mind and bring valuable information to your consciousness.
How to Book a Reading?
1. Create an Account
Go to Psychic Source homepage and click the "Sign In" button. This will take you to the login screen, where you can either create an account or sign in.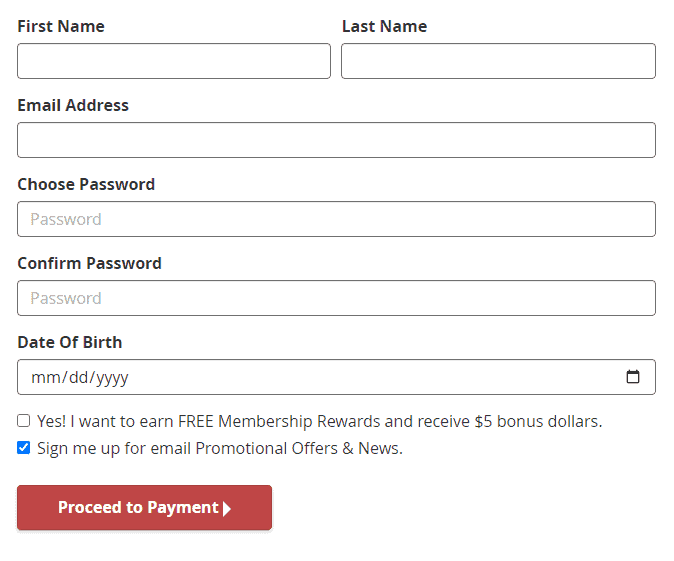 2. Find a Psychic
Click on the "Our Psychics" button. Then, click the "Filter" button to filter through psychics by communication methods, tools, specialties, reading styles, or start rating.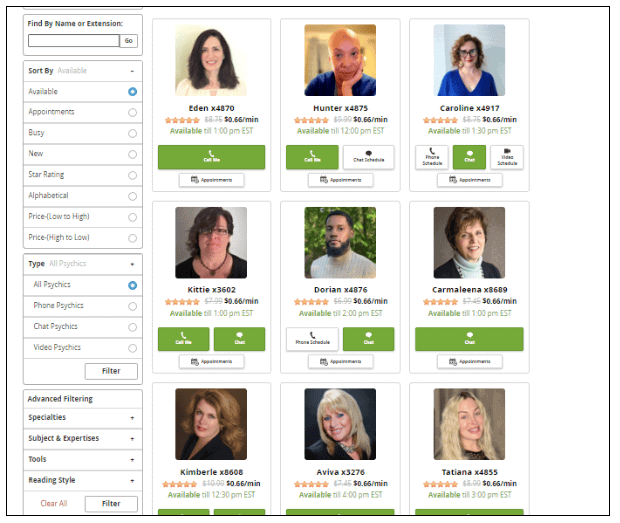 3. Connect With a Psychic
Click on a psychic's profile to learn more about their background, availability, and communication options. From there, you can book a reading for another time or receive one now if they are available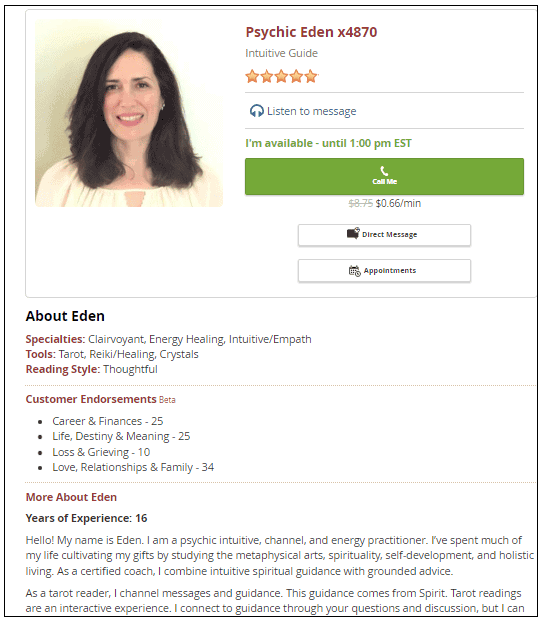 4. Join Your Appointment
Once the website connects you with your reader, you will receive a notification that they've entered the room. A countdown clock at the top of the screen shows you how much time you have left. If you run out of credits, you can add more money to your account or end the chat.
5. Rate Your Experience
Following the reading, you are given the opportunity to rate your psychic. If you liked this advisor, you can click on the heart icon of their profile so you can find them faster next time.
Is Psychic Source Trustworthy? Yes
At Psychic Source, I assure you that your satisfaction is a top priority, something you'll realize right from our homepage. If you're not content with your reading for any reason, I promise you'll get credits for your future readings. The fact that our site has served for more than three decades can provide you with additional peace of mind.
Moreover, the number of helpful reviews from all the customers helps you assess each psychic's personal style, knowledge, and skills. Before I booked an appointment, I found it helpful to read all the biographies and reviews to determine which was the right advisor for me.
Unfortunately, the site doesn't indicate how they choose their psychics, so you will need to rely on reviews to determine trustworthiness. All transactions and readings take place on Psychic Source, though, so your personal information is protected.
Top Psychic Source Readers
1. Nova

Best for Love Readings

Nova has a 5-star rating with 743 reviews. Her specialties include clairvoyance, Medium, and Love Readings.

While she doesn't always use tools during her readings, she can incorporate runes or tarot cards if need be. With over 39 years of experience, Nova is a top choice amongst Psychic Source users.

2. Ophiuchus

Best for Spiritual Readings

Those who are looking for a natural-born healer and healer may want to give Ophiuchus a try. He has a compassionate reading style and is both intuitive and clairaudient.

His past customers speak very highly of him in their reviews, which is why he has a 5-star rating.

3. Annaleigh

Best for Straightforward Readings

Annaleigh uses tarot and her natural gifts to assist people with answers to questions about love and their destiny. Her reading style is described as direct, which helps people get clear answers to their most challenging questions.

Annaleigh can also shed light on your love life, unraveling its mysteries to get more clarity.

4. Eden

Best for Energy Work

Eden uses tarot, reiki, and crystals to assist people in finding their way after going through a rough patch. While she doesn't have as many reviews as other psychics, she still has excellent endorsements from past customers.

Eden can also assist with energy readings that will take all negative vibes away from people's systems.

5. Ursula

Best for Astrology Readings

Ursula can provide general psychic readings, but she also uses her knowledge of Astrology and angel cards for additional guidance. Her style of reading is compassionate, with a strong focus on careers and love.

With over 50 years of experience, she has over 570 reviews and a 5-star rating on the website.
Is There a Mobile App? Yes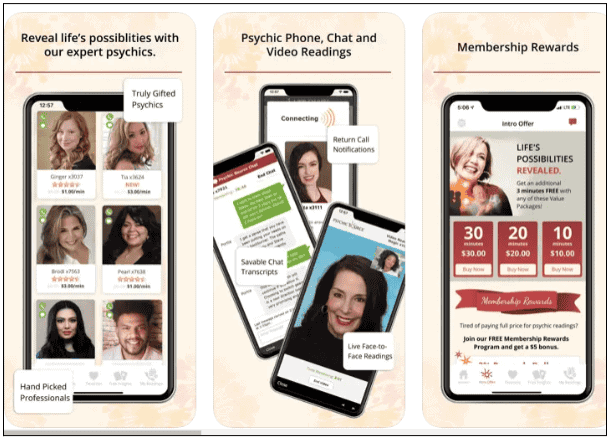 Psychic Source offers a user-friendly mobile app on Android and IOS. You can get your readings by scheduling an appointment or via a direct message for quick questions. I appreciated being able to get guidance for small problems while on the go.
As a Psychic Source customer, you can receive timely notifications/alerts sent directly to your phone. These include the availability of your favorite psychics, reminders of upcoming appointments, and more.
Customer Support
Psychic Source has a 24/7 customer service team ready to assist you with whatever you need. You can contact them through an email or choose the live help option to chat with a customer care specialist. I tried both and they immediately answered my questions when I used the live option, and they replied to my email on the same day.
Psychic Source's customer care section also provides quick links that answer some of the most prevalent questions, as well as a FAQ section.
Explore Psychic Source Customer Care
Pricing
New Psychic Source users can benefit from a $0.66 per minute rate, but you will need to purchase a 10, 20, or 30-minute package. Once you've used up your introductory minutes, you can top up your account with whatever amount you want to. New customers also get the first 3 minutes for free.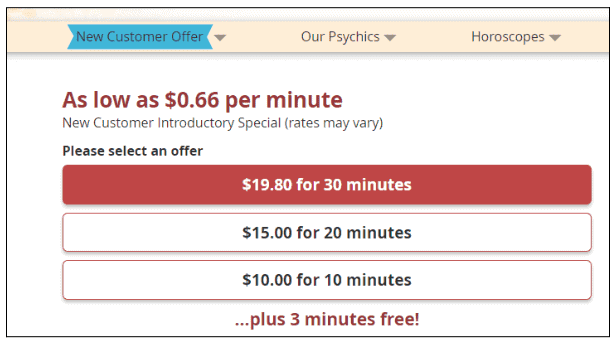 Some of the psychics charge roughly $12.00 a reading, so Psychic Source is slightly pricier than many other reading sites. Still, there are plenty of psychics who offer an affordable rate.
Notable Features
Listen to Psychic Messages
You have the option to listen to a message from a psychic when you view their profile. This will give you an idea of what you can expect during your reading. This feature helped me work out if the psychic was the right match for me beyond their reviews and background.
Reading Scheduling
If you don't have time for a reading right then or your chosen psychic is unavailable, you can schedule a reading for a later time. Unfortunately, not all psychics offer this option, but it's still very useful.
If you are an organized person like me, this will be one of your favorite features. I like to arrange my agenda in advance, knowing the date and time I'll meet my psychic.
Pick Favorites
While researching potential psychics, you can use the Favorite Tool to narrow down your choices. I used it to find astrologers experts in career matters, making the search process easier.
Horoscopes
Psychic Source site offers free horoscope readings, which can be accessed via the main menu. I used it to look at what the year could potentially hold for me based on my star sign.
FAQs on Psychic Source
Is Psychic Source safe?
Yes, Psychic Source is a trustworthy site with plenty of reviews attesting to it.
For this reason, it offers a satisfaction guarantee in case you are not satisfied with your experience. Psychic Source has been around for over 30 years, which also instills confidence.
Are Psychic Source advisors accurate?
Yes, the reviews and biography of each psychic describe how accurate they've been in their readings. However, you must find the type of reading and advisor that matches your query to guarantee a precise answer.
What kind of psychic readings are offered on Psychic Source?
Psychic Source offers an array of reading topics. They have the usual categories, such as love and relationships as well as career, but Psychic Source offers a variety of sub-categories such as numerology, cartomancy, and past lives.
How much do psychic readings cost on Psychic Source?
The average psychic charges around $12 per minute for a reading, but others charge much less. If you are new to the site, you can benefit from the introductory offer of readings that cost less than $1 per minute. You will also get the first 3 minutes of your reading for free.
Bottom Line
Psychic Source has been on the market for more than 30 years for a reason. They offer a vast selection of experienced psychics and a variety of readings for every budget.
If you want to try the service out, you do get a few minutes for free. Moreover, you have the option of scheduling a video call, giving you a chance to meet with a psychic face-to-face.
Overall, Psychic Source is brimming with useful features that make it really easy to find and schedule a reading with the right, reputable psychic. And if you are unsatisfied with your reading, Psychic Sources comes with a satisfaction guarantee.