Psychic Source Overview
Psychic Source has been providing psychic readings for more than 30 years. Today, it boasts a solid group of almost 300 carefully selected psychics. That's quite a lot less than rival Keen's 1,700+, but more than California Psychics' 200.
Then again, quantity doesn't necessarily mean quality. I wanted to find out if Psychic Source's readers are really as good as their reputation, and if the site is as user-friendly as I'd heard.
Psychic Source Psychics and Services on Offer
Psychic Source has almost 300 psychics on offer, split across these types of psychic gifts and abilities:
Career psychics – These psychics give advice about your work and career, and Psychic Source says they're the most popular psychics of all. Psychic Source hosts around 150+ career psychics.
Clairaudients – Psychics with the ability to 'hear clearly' and receive audial messages from the realm beyond. This is a great option if you're trying to get in touch with a spirit guide, gain a sense of direction in life, or hear from a specific person.
Clairsentients – Psychics who have the gift of feeling and sensing energy or emotional responses.
Clairvoyants – A psychic with the gift of the Third Eye has the ability to tap into the energy that's beyond what most of us can see.
Intuitive/empath psychics – Intuitive psychics can sense the future, while empaths are gifted with being able to feel and experience other people's emotions.
Love physics – This is the category you're looking for if you want answers about your love life, whether you're looking for love or wondering about your future with a specific person.
Pet psychics – Whether you're looking for a psychic to read your pet's inner thoughts or to communicate with a dearly loved pet who's passed, this is the psychic you're looking for.
Psychics mediums – Otherwise known as 'channelers', these psychics can connect with loved ones who have passed on.
Psychic Source also offer the following psychic reading topics:
Love, Relationships, and Family
Career and Finance
Life, Destiny, and Meaning
Loss and Grieving
I think that Psychic Source offers the biggest, most diverse range of psychic readers that I've seen in any of the psychic reading sites I've reviewed. California Psychics' huge range of types of psychics comes close, but I think the variety offered at Psychic Source is definitely more impressive.
Psychic Source has a huge choice of categories, including popular tools like tarot cards and less-known ideas like lost object readings. Keen may have a few more, but I found that Keen tends to separate categories that could really go together. For example, it separates relationships, divorce, and love, which could all be one category. I appreciate what Psychic Source has done by combining these.
There's also a really intuitive Find a Psychic tool. It's an animated questionnaire which guides you through several rounds of questions to help you find the right psychic for the kind of reading you want.
It starts by asking what you want to talk about: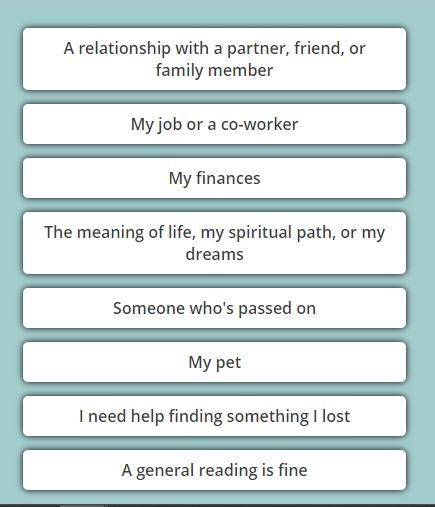 I was looking for love advice, so I clicked on the relationship option. It then narrowed the question and gave me these ultra-specific choices: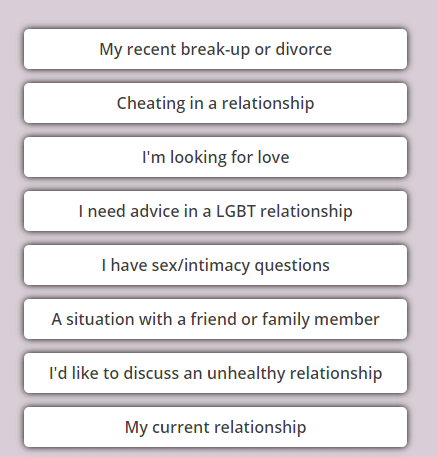 Some of these options might be a little too specific. What if I wanted to ask questions about more than one issue? I picked the correct option for me, and was taken to this screen, which asked what type of psychic I wanted to speak to: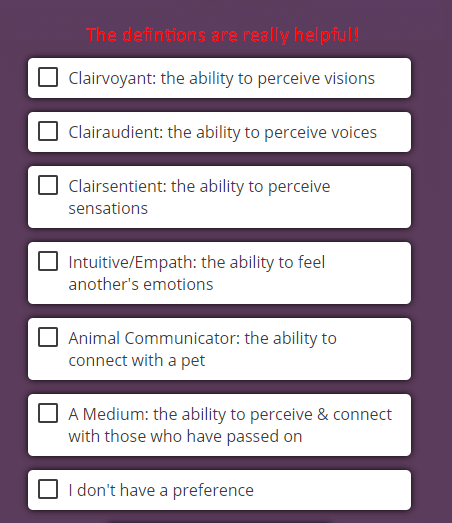 I thought these definitions were a super helpful addition. Even though I'd heard of all these types of psychic before, I wasn't really sure which type of psychic would be the best option for me. I chose 'I don't have a preference'.
The next question was really important: was I looking for any types of psychic tools? Personally, I'm not really a fan of cards or numerology, although I do enjoy tarot card readings. This time, I chose the 'I prefer a psychic who doesn't use tools' option.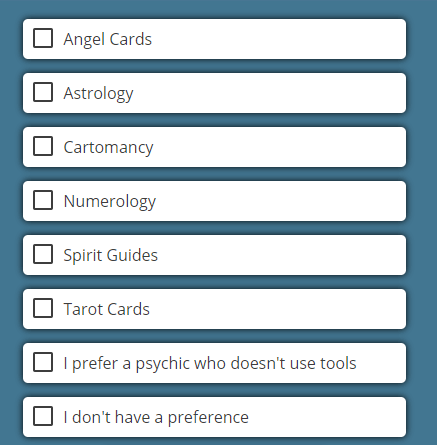 Lastly, the tool asked how I wanted to get my reading. I appreciated that the site wanted to match me with a psychic who would communicate with me in the way that made me feel the most comfortable.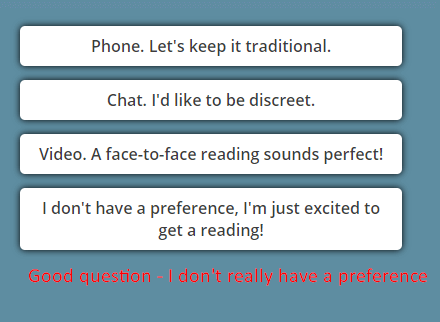 And then, I was given my results! Based on my answers, the tool recommended three different psychics.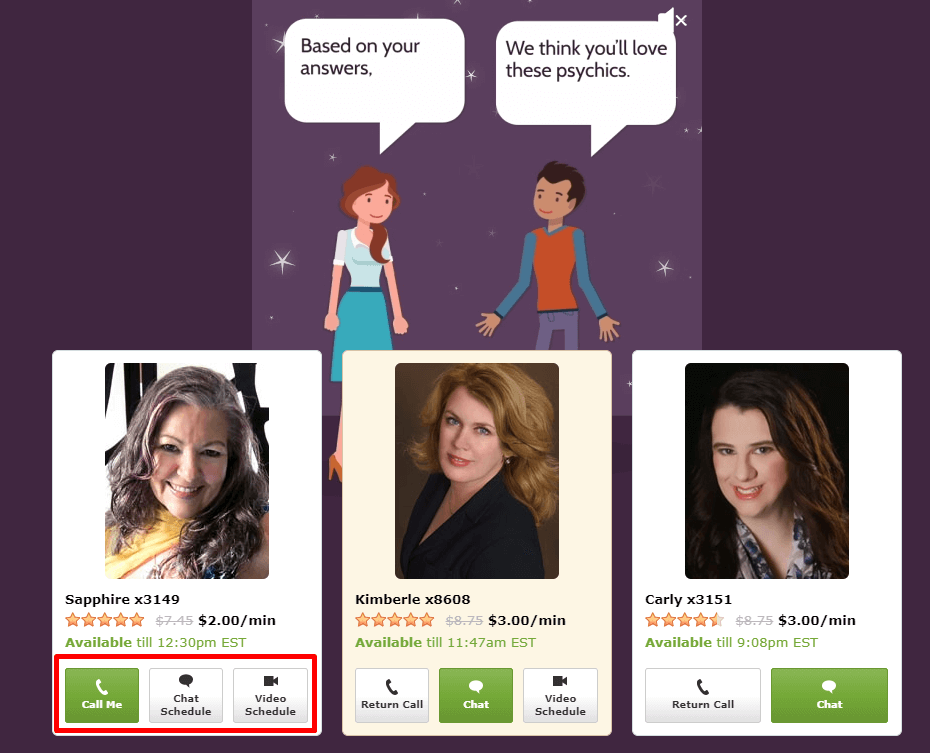 It showed me how to contact each psychic, their star rating, price, and availability. I could also click on each reader to see their profile which includes their bio and lots of customer reviews.
Overall, I was really impressed with the 'Find a Psychic' tool. I also wanted to see the selection process if you don't use it, so I headed over to the 'Our Psychics' page.
The filtering options were pretty good. I could choose between phone, chat, and video psychic readings, and filter by specialties, expertise, tools, and reading style.
You can also sort through available psychics by their online status and pricing. If you're looking to reconnect with a psychic who you've previous used, you can even search by name or phone extension.

My favorite filter, though? This: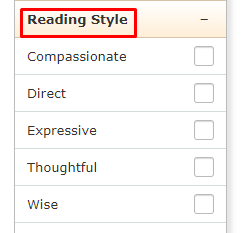 Personally, I love a direct reading, but I understand that not everyone does. This option lets you connect with a psychic who'll deliver your reading in a way that really resonates with you.
I really liked how many sorting options there were. For comparison, Keen's filtering and searching options left me a little underwhelmed, and while California Psychics' were good, I definitely preferred Psychic Source.
Psychic Source – Is It Trustworthy?
I'm always a little skeptical when it comes to blindly trusting things online, whether that's psychic readings, insurance sites, or anything else. I checked out the following things to find out if Psychic Source is worth your trust, time, and money.
Psychic Screening Process
Psychic Source is transparent about its application process. When psychics apply to join the platform, they are asked a rigorous set of questions about their work history, life experience, and psychic gifts. They're then invited to a video interview.
If this goes well, the psychic will be invited to give the site's staff phone readings. Psychic Source then runs a background check on any successful applicants before offering them a contract to join the service.
There's also an Advisor Code of Ethics which ensures that all of Psychic Source's readers live up to the high ethical standards the site has set for itself.
Keen's psychic reader application process is very quick and straightforward, while California Psychics' application process requires applicants to undergo a reference check and criminal history search. I think Psychic Source has a pretty intense process, including multiple interviews and a background check. It's definitely good enough to earn my trust.
Psychic Bios
Each psychic has to create their own page, complete with a lot of information: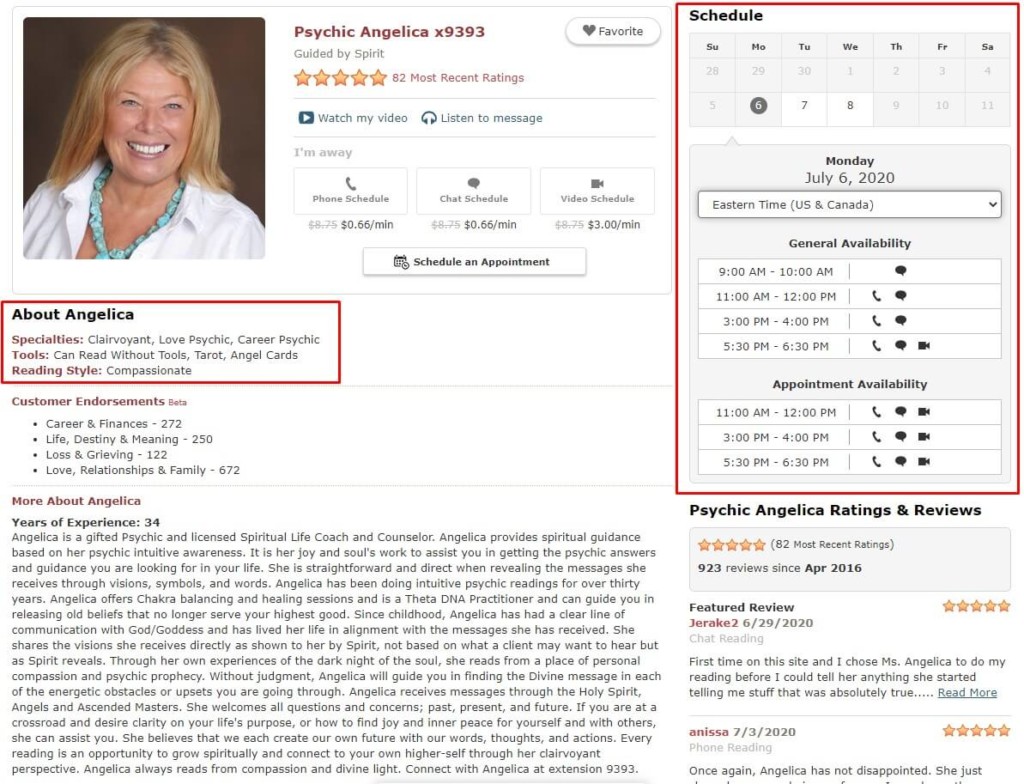 I really liked that I could easily see each psychic's planned schedule, what kinds of readings they did, and what time they'd be around until. It made it really easy to schedule an appointment. Keen has a 'call me back later' option, which is similar but not as good as actually seeing a schedule, while California Psychics doesn't have either option.
I also really liked that the bio clearly tells you the psychic's reading style and the kind of tools they use. I prefer knowing I'm going into a session with someone who can be direct with me, and who uses tools I can relate to (like tarot cards).
Customer Ratings
I really liked that Psychic Source is full of honest reviews from previous customers. Other users can vote on how useful a comment is (which is a feature I haven't seen anywhere else), so it's really easy to get a clear picture of what the psychic is really like with their customers.
Reviews like this really helped me get a sense of who I was going to talk to and what I should expect:
Money-Back Guarantee
Psychic Source offers a Satisfaction Guarantee: if you're not happy with your last reading, you'll receive it for free. You'll need to request credit within 1 day of your unsatisfactory call or chat session (for use on another Psychic Source reading). This can be applied to your next reading for up to 20 minutes.
Given everything I've seen – especially the psychic acceptance process, which is longer and more rigorous than any other site's – it's very likely that Psychic Source is trustworthy. There may be psychics out there who aren't all they seem, but I'm certain that Psychic Source will do its best to root them out to keep you safe.
Psychic Source Pricing
You can sign up to Psychic Source for free, but you need a credit card to finish the sign-up process. You won't be charged – it's just there for when you want to start speaking with psychics! I signed up for free and was only charged once my call had ended.
Honestly, I found this a little annoying. Although California Psychics also require a credit card upfront, Keen only required my credit card once I had decided which psychic to speak with. This felt like a bit of a pushy move by Psychic Source.
You can choose the psychic you'd like to speak with based on your budget. You can easily sort the psychics by low-high pricing. The lowest I found was 66 cents per minute, although this was due to the special promotion as a new customer). The most expensive psychic I found charged $12 per minute. Most psychics charge around $3-$4 a minute, for video calls, phone calls, and chats.
Psychic Source has a narrower price range than Keen, where I felt the prices went over the top at the more expensive end. I thought it was a little more expensive than California Psychics. The psychics at both Psychic Source and Keen are independent contractors, but I still think they should keep one eye on the market. It can really add up for customers, especially if readings run on for over ten minutes.
Psychic Source Customer Support
I get the feeling that Psychics Source really, really cares about its customers. The Customer Care page details proudly exclaims that it runs an in-house support team (as in, not outsourced), because that way it can guarantee that it's prioritizing customer satisfaction.
If you do have an issue, however, there are a few ways that you can get in touch:
A detailed FAQ section, so you can easily search and find an answer to your question.
A Contact Us form, where you select the issue you'd like to discuss (such as requesting a refund credit).
Weirdly, a postal mail address (who uses mail anymore?!).
A live chat, where I received an answer in less than a minute:
I thought it was strange that there was no phone line for support. If Psychic Source are so proud of their in-house customer support, why wouldn't they want to show that off with a phone line? That said, I received excellent support via live chat. I definitely found Customer Support to be one of Psychic Source's strengths.
The Bottom Line on Psychic Source
Having been around for 30 years, Psychic Source is one of the oldest and most respected psychic reading sites. I found that it lived up to its reputation. I really liked its affordable price point and range of psychics on offer.
While some people might think 300 psychics is limited compared to the 1,700+ over at Keen, I thought the selection of psychic readers was exceptional and chosen to make sure that there really was a psychic for every person's needs. The site even hosts some cool categories of readers that I'd never heard of before.
If anything, I thought maybe the distinctions between the types of psychics (clairvoyant, clairaudient, etc) might have confused me a bit when it came to choosing a psychic, but the 'Find a Psychic' tool made it really easy to find the right psychic for me.
I really liked that Psychic Source is very selective about its psychics. I got the impression that not just anyone could become a psychic on its site, thanks to the rigorous interview process.
I also liked the filtering options to narrow down the choice of psychics. It let me choose by price, gift, and reading style – I was sold!