Struggling to find meaning behind life's events and seeking guidance on your future is perfectly normal. Kasamba has a strong 20+ year history and strict recruitment policies, but using a new psychic site can be daunting.
Having tested the site and its advisors extensively, it's fair to say that Kasamba is a reputable psychic site that caters to most requirements. What impressed me is some of its psychics also allow email readings, which isn't a common feature on most psychic sites.
Although some of its psychics have slightly higher rates, you can get the first 3 minutes of your Kasamba reading free if you're a new user. This lets you test out the site's psychics before committing. Your first reading is also protected by a 100% satisfaction guarantee that lets you seek guidance without worry.
Types of Readings on Kasamba
There are more than 310 psychics on Kasamba who specialize in various types of psychic readings. You can quickly find psychics for each reading since the main reading types are listed across the top of the site.
Besides the common reading types such as relationship, career, and fortune telling, there are even pet and dream analysis psychics. So, whether you're seeking guidance on your future or want to interpret a life experience, you'll have no issue finding the right psychic.
Some of Kasamba's advisors make use of psychic tools like crystal balls and runes to perform readings. I like that the specialties and tools are all listed at the top of each psychic's profile, as this makes it easier to compare them.
Love & Relationship Readings
Kasamba features over 301 love and relationship psychics ready to guide you. They cover a variety of niches ranging from affairs and divorce to dating and even parent and child relationships. Additionally, a number of advisors specialize in LGBTQ+ relationships.
A love psychic can advise you on various aspects of your love life, such as determining your partner's compatibility, advising you on issues related to breakups and divorce, or helping you find your soulmate. They can give you a new perspective on your love, which can improve your prospects going forward.
Rates for love & relationship psychics on Kasamba start at $1.99 per minute with other high-end psychics asking for upwards of $36.99 per minute.
These are the featured love and relationship readings available:
| | | |
| --- | --- | --- |
| Breakup and Divorce | Cheating and Affairs | Marital Life |
| Parents and Children | Single and Dating | Soulmate Connections |
Tarot Card Readings
Tarot card readers can help you gain clarity in life or open your mind to new possibilities. Kasamba has more than 210 psychics who are skilled in the art of tarot card reading. Best of all, tarot readings can be applied to any topic.
Besides traditional tarot cards, some of Kasamba's psychics also specialize in the art of cartomancy and angel card reading. Clairvoyants use cartomancy to take a look into your personal life and provide you with a highly-specific reading. Meanwhile, angel cards are more general and show you a wider scope.
Top-rated card readers on the site have thousands of 5-star ratings from satisfied customers. While some clients complained about the lack of clarity, most psychics were praised for their highly-accurate readings.
Psychics charge between $1.99 and $36.99 per minute for a tarot card reading.
These are the featured card reading options:
| | | |
| --- | --- | --- |
| Tarot Card Readings | Cartomancy | Angel Card Readings |
Dream Analysis
There are over 120 dream advisors available on Kasamba who can provide personal guidance through the skill of dream interpretation. Dreams have a noticeable effect on our decisions, so it's important to truly understand what your dreams are saying. Most of the site's dream interpreters are highly rated and have performed thousands of client readings.
After going through customer comments, I saw that psychics are commonly praised for their accurate dream interpretations and useful advice. There were some negative comments but most of these were about pricing disputes.
Speaking of price, the rates for dream analysis on range from $1.99 to $36.99. However, most of the psychics are priced below $10 a minute.
Astrology Readings
Sometimes, the answers you're looking for are in the stars, and this is where astrologers can help. There are over 118 top-rated astrologers on Kasamba who can guide you and answer all of your burning questions.
Kasamba advisors are also well-versed in the fields of Chinese and Vedic astrology, should you wish to seek influence from a variety of astrological reading methods. The site's astrologers charge between $1.99 per minute to $40.00 per minute for a reading.
These are the featured astrology options:
| | |
| --- | --- |
| Chinese astrology | Vedic astrology |
Career Forecasts
Kasamba has 220+ career advisors who can help you boost your career. More importantly, all of the site's career advisors have an average rating of at least 4-stars. I also saw that most psychics were often praised for their skillful predictions, excellent advice, and helpful nature.
You can get your career forecast for around $1.99 to $8.00 per minute. However, some psychics charge up to $40.00.
Fortune Telling
Fortune tellers use the power of clairvoyance and mystical items to answer your questions and help you gain clarity on your future. There are 205+ top-rated fortune tellers on Kasamba, most of who all have all earned 5-star ratings.
On average, you can expect to pay between $1.99 and $10 per minute for a fortune-telling reading with some exceptions, as some psychics charge $30.00+
Additional Readings
In addition to these categories, you can choose Feng Shui, palm readings, picture readings, aura readings, and astral projection guidance just to include a few.
With a Feng Shui reading, you can expect to receive guidance in your living space. Kasamba's 15 Feng Shui experts can make sure you're achieving balance that'll help you solve the rest of your life's problems.
There are just over 65 advisors on Kasamba who specialize in palm reading. Palm readings can give you an insight into your future which can help you prepare for the road ahead.
I was impressed by Kasamba offering picture readings, as this isn't a common feature among psychic sites. This reading method lets you send a photo to one of almost 100 psychics so they can reveal the truth of it.
How to Book a Reading?
All you need to sign up on Kasamba is an email address. After clicking the "Sign Up" button at the top of the page, you simply create a username and password
1. Create an Account
Go to Kasamba's homepage and click on the "Log In" button at the top right of the page. This will take you to the screen where you can either create an account or log in with Google or Apple. Once you're signed up with a new email, you get access to the free 3 minutes.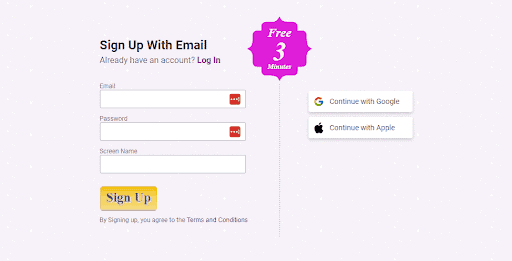 You can sign up to Kasamba by email or through Google and Apple

If you're worried about your privacy on Kasamba, I recommend you sign up through email so your Google and Apple accounts aren't linked to the site.
2. Find a Psychic
You can search for a psychic by choosing a reading category on Kasamba's homepage. Then, you'll be able to choose from the list of psychics. I like that Kasamba shows the psychics' star rating, pricing, and contact method as it makes it easier to choose between them.
You can hide unavailable psychics depending on how quickly you want to get a reading. If you're not in a rush, I recommend showing the busy psychics, as this will give you a better chance of finding the right one for you.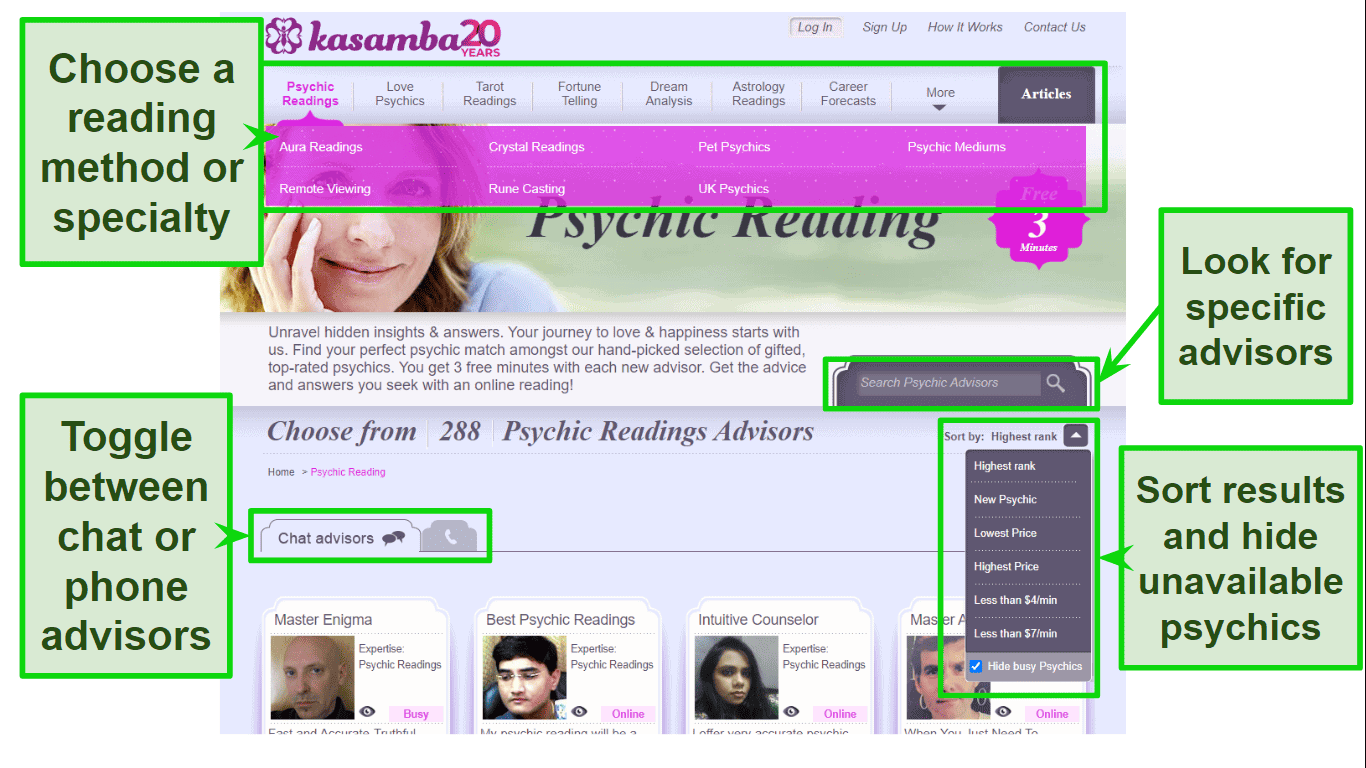 You can filter psychics on Kasamba by reading method to find the best one for you


Once you've picked a psychic you like the look of, you can either schedule a reading with them or mark them as a favorite. By marking the psychic as a favorite you save them so you can go back and schedule a reading at a later date.
3. Connect With a Psychic
Click on a psychic's profile to learn more about them and view all available contact options. From there, you can schedule a reading for another time or get one now, depending on the psychic's availability.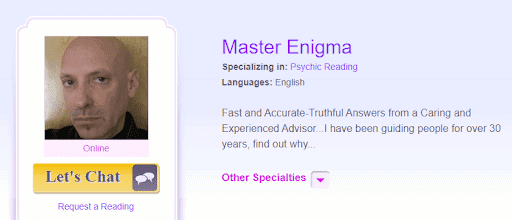 Each of Kasamba's psychic profiles lists their speciality

On the psychics' profile, you can also see what else they specialize in. This will give you a better idea of if they're experienced enough in your query to give you the best answer. For example, checking the other specialties will let you know if the love expert you've picked can answer your question by tarot.
Is Kasamba Trustworthy? Yes
Based on my thorough experience with the service, I can confidently affirm that Kasamba is a reliable platform for accessing psychic services. Kasamba upholds a rigorous screening process that entails multiple assessments and a $50 registration fee for psychics, effectively safeguarding against fraudulent individuals solely driven by monetary gain.
For first-time user, it's important to know that Kasamba offers a 100% satisfaction guarantee. This signifies that if your initial reading doesn't meet your expectations, you have the option to ask for a refund. Nevertheless, it's worth noting that refund requests are carefully considered, with each case individually reviewed after the first reading. This request should be made within 7 days following the session.
Kasamba has mostly positive reviews from its customers. In my research, I found that most of the feedback praised the psychics for their skill, friendliness, and accurate readings.
Nevertheless, there were a few remarks expressing dissatisfaction with the platform's psychics and pricing system. However, it is crucial to acknowledge that these perspectives were shared by only a limited number of customers. In my opinion, having a blend of positive and negative reviews serves as a reliable indication of a credible platform, as an excessive amount of either one could raise suspicions.
Top Psychics on Kasamba
1. Master Enigma

Best for psychic readings.

Master Enigma has been performing psychic readings for more than 30 years. He has an average rating of 5 stars on Kasamba from more than 50,000 clients. Praise for Master Enigma comes from his clear, accurate readings and reassuring nature.

His area of expertise includes life predictions, relationship advice, and dream interpretations. Master Enigma is a medium that is familiar with shamanism, which allows him to perform remote viewings.

2. Andrew Psychic Reader and Healer

Best for past life readings.

Andrew specializes in giving honest and true readings for past life, relationships, and fortune telling. He has a 5-star review from over 25k clients and has been rated the editor's choice.

He uses tarot, astrology, and runes in his readings, and he also allows email readings from $30 upwards. On top of this, he offers a free positivity healing in every reading.

3. Love Stefans Psychic Soul

Best for love readings.

Love Stefans is great for getting guidance in matters of the heart, and provides an insight into your soul. He has a 5-star rating from over 20k clients, which shows how accurate he is.

Besides love readings and spells, Love Stefans also gives medium readings, fortune telling, and dream analysis.

4. Accurate Love Readings

Best for tarot readings.

Accurate Love Readings focuses on giving honest love readings through tarot. He has achieved a 5-star rating from over 20k clients.

The reviews all state that he provides honest information no matter how tough it is to hear. Besides tarot, he also does spell casting a guided meditation.

5. Isabelle

Best for astrology readings.

Isabelle specializes in answering marriage, divorce, and child questions through the art of astrology. Her 5-star rating from 18k clients shows her reliability.

Besides astrology, she is gifted in numerology, tarot, occult, and spell casting. On top of this, she's a natural empath who is dedicated to giving you an unbiased insight into your life.
Find an expert psychic on Kasamba
Is There a Mobile App? Yes
Kasamba has a mobile app, which is available for both Android and iOS devices. The app has an impressive rating of 4 stars on the Apple app store and Google Play, so I knew it was worth a try.
I downloaded the app on both my iPhone and iPad and noticed that locating psychics is just as effortless on the mobile app as it is on the website. The user interface boasts a well-thought-out design and offers easy navigation with clearly defined categories. Moreover, the filter system mirrors that of the website, allowing me to promptly discover the ideal psychic to address my specific needs.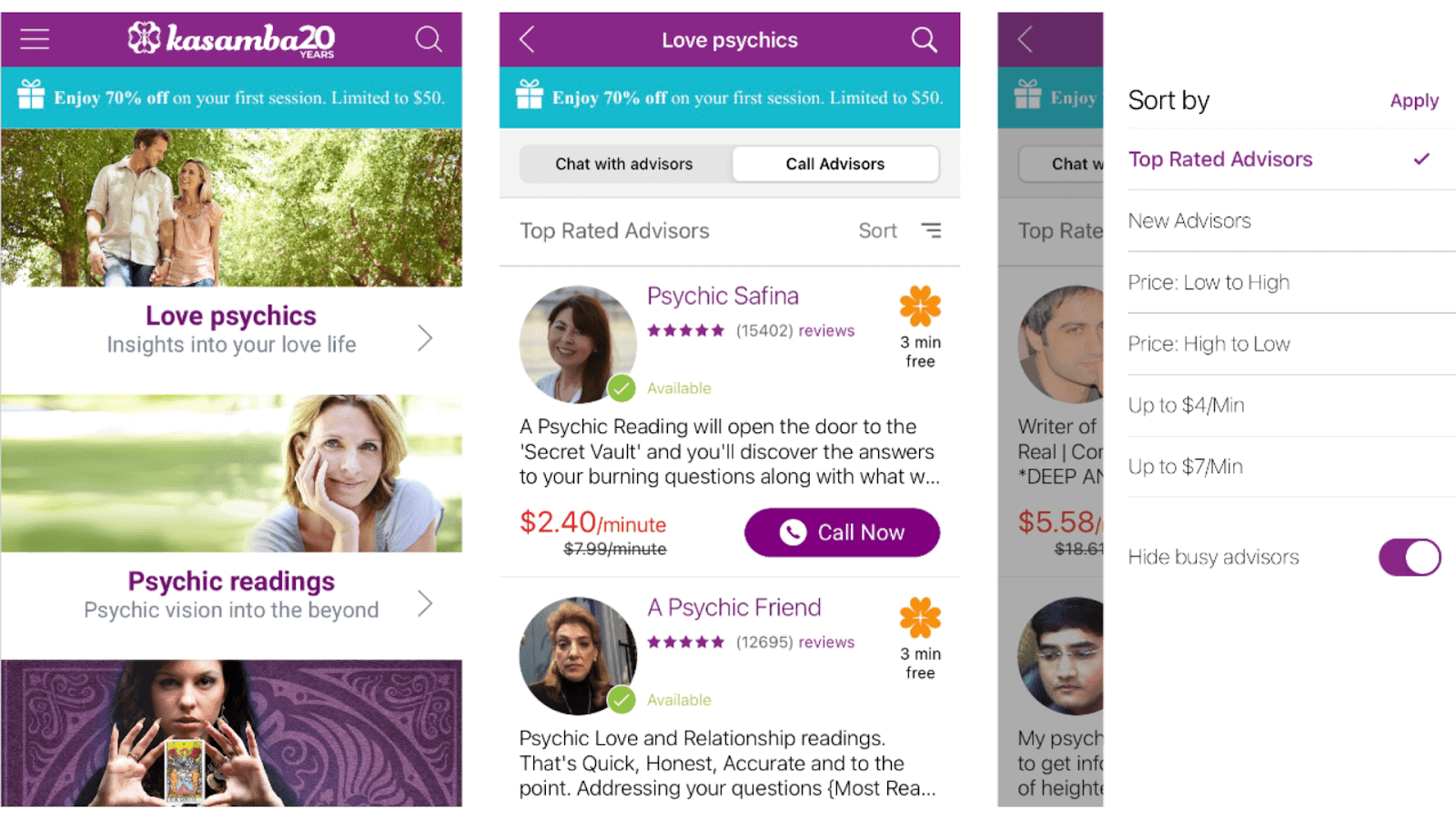 The app also has a personal horoscopes section where you can read your daily, weekly, or monthly horoscopes. And if you need additional guidance, you can chat with any of Kasamba's talented astrologers in-app.

Pricing
Kasamba charges you by the minute for chat and call readings. Psychics are free to set their own price and because of this you see quite a lot of variation. Rates differ widely from $1.99 per minute for beginner-level psychics to $40.00 per minute for master-level readings. This is more expensive than other competing sites, however there are plenty of more affordable options on Kasamba.
Rates also differ based on the communication method. Usually, a reading through chat will be cheaper than getting a call reading. Email readings tend to be more expensive, but it's a set fee rather than a per-minute rate. You can expect to pay up to $100 for an email reading, however Kasamba is one of the only sites to offer this reading method.
Also, Kasamba makes up for this with its refund policy. If you're not happy with your first reading, all you need to do is submit a ticket on the company's website, and you'll get your money back.
New users get the first 3 minutes of your first reading free, along with a discount of up to 70%. If you've had a reading from Kasamba before you can still get a free 3-minute discount if you choose one of the new psychics. The payment process is easy and convenient, with support for popular methods such as credit cards, PayPal, and Google Pay.
Contact to a psychic on Kasamba
Customer Support
You can contact Kasamba's customer service team via the website's ticketing system. It only needs your name and email address, a description of the issue that you're facing, and a maximum of 5 images. You can find it through the "Contact Us" page located on the upper-right-hand side of the page. After that, you just have to click on the "new support ticket" tab and you're good to go.
I found the process simple and user-friendly. The customer representative I spoke to was polite, detailed, and responded to my query within 3 days. However, it would be nice to have access to live chat support, especially given the site's higher rates.
Nevertheless, the extensive FAQ section was impressive and addressed a wide range of concerns that customers and psychics may have.
FAQs on Kasamba
Can Kasamba read my horoscope?
Yes, Kasamba also offers horoscopes. Its website provides daily, weekly, and even monthly horoscopes. With the Kasamba mobile app, you can even receive regular updates on your mobile device.
To better understand your horoscope, you can also get a personalized reading from one of Kasamba's skilled astrologers who are well-versed in Western, Chinese, and Vedic astrology.
What is Kasamba?
Kasamba is a trustworthy psychic reading site that has been around for 20 years. The site features a selection of handpicked psychics with proven track records who can consistently deliver accurate readings.
Compared to other sites, Kasamba has one of the largest selections of readings available. And if it's your first time using the site, there's an attractive introductory offer that gives you the first 3 minutes for free.
Does Kasamba have a refund policy?
Yes, Kasmaba has a refund policy and a 100% satisfaction guarantee. Its refund policy lets you request a refund of up to $50 if you're dissatisfied with the reading that you've received..
To do so, you only need to raise a ticket and include your session's date, the advisor's name, and the fee that you paid. This must be done within 72 hours of your reading. After they've reviewed and approved your request, the funds might be transferred back to you, depending on your case.
Kasamba's 100% satisfaction guarantee is only applicable to new users. It is a no-questions-asked policy that refunds up to $50 back to you if you're dissatisfied with your first reading. You can choose to have this amount refunded back into your bank account or use it for another reading on Kasamba.
What type of readings does Kasamba offer?
Kasamba offers a wide variety of readings, which include psychic, love & relationship, tarot card, fortune telling, and dream analysis. You can also find a number of specialized categories not seen on other psychic websites.
Thanks to Kasamba's psychic filtering system, you can sort through psychics by price, rank, or even set a price range. All of which makes finding the right advisor easy. As an added plus, this feature is also available on Kasamba's mobile app.
Does Kasamba have customer reviews of readers?

Yes, there are customer reviews of readers on Kasamba. The website has a rating system that allows customers to leave feedback and rate their experience with individual psychics. These ratings are visible to anyone who visits a psychic's profile. Additionally, customers can leave written reviews detailing their experience with the psychic.
Reading reviews left by other customers can help you choose a psychic who has a track record of providing accurate and helpful readings. It's important to note that reviews are subjective and may not reflect your own experience, but they can be a useful tool to discover the top psychics you want to work with.
How easy is it to book a reading on Kasamba?
Booking a reading on Kasamba is very easy. Once you've created an account and provided payment information, you can browse the list of available psychics and choose one that fits your needs. You can filter the psychics by categories, such as love and relationships or career and finance, to help you find a reader who specializes in the area you're interested in.
Once you've selected a psychic, you can view their profile to learn more about their experience and approach to readings. From there, you can choose to chat with the psychic via text or video or schedule a phone call. Kasamba's website and mobile app are both user-friendly and intuitive, making it easy to book a reading and connect with a psychic.
What should I expect from a psychic reading on Kasamba?
When you book an online psychic reading on Kasamba, you can expect to receive guidance and insight from a professional psychic.
You can choose from a variety of reading methods, skills, and specialties to find the right one to suit your needs. During the reading, you'll have the opportunity to ask questions and receive advice on topics such as love and relationships, career and finance, family and friends, spiritual matters, and more.
Kasamba's psychics use a variety of tools and techniques to provide readings, including tarot cards, astrology, numerology, clairvoyance, and mediumship. Some psychics may also use their intuition or psychic abilities to provide readings.
Bottom Line
Kasamba is a great platform if you're looking for a top-rated psychic. I found both the website and mobile app very easy to use and navigate. The selection of psychics is quite impressive, and their recruitment process ensures that only the best psychics are listed on the site.
However, I have to admit that Kasamba is one of the pricier options out there. It's a bit disappointing that their satisfaction guarantee only applies to new users. Nonetheless, the site makes up for it with a wide range of psychic readings.
If you're willing to pay a bit more, you won't be disappointed with the quality of psychics on Kasamba. The user-friendly platform and the vast selection of niche readings make it a solid choice for those seeking guidance from a psychic.