Kasamba Overview
Founded in 1999, Kasamba boasts over 4 million 5-star ratings from customers, showing you its strengths. At first glance, this looks like a site I could really enjoy!
You can get phone, chat, and email readings with Kasamba. It even offers an app, so you can connect with your favorite advisor on-the-go. It seems impressive, but how does Kasamba stack up to competitors? Here's what I discovered.
Kasamba Psychics and Services on Offer
Kasamba has earned that industry-leading reputation, and it's easy to see why. There is so much choice on offer here.
The site offers a huge range of different readings, with multiple subcategories:
Psychic readings includes aura readings, crystal readings, pet psychics, remote viewing, rune casting, and psychic mediums.
Love and relationships readings includes categories like break-ups and divorce, cheating and affairs, LGBT-friendly, marital life, parents and children, single and dating, and soulmate connections.
Tarot readings includes angel card readings and cartomancy.
Fortune telling.
Dream analysis.
Astrology readings includes Chinese and Vedic astrology.
Career forecasts.
There's also a tab for 'more', which includes specific skills and tools like: Numerology, Occult, Kabbalah, Palm Readings, Eastern Philosophy, Graphology, Past Life Readings, Picture Readings, and New Age Spirituality. There are also categories like Paranormal, Universal Laws, Intimacy, Financial Outlook, and Religion.
Some of these categories come with their own subcategories, too. For example, Religion specifies Christianity and Wicca, and Intimacy has a Fertility subsection.
It's a huge range, and definitely one of the most diverse sets of skills and gifts I've seen. It's even bigger than California Psychics' equally diverse (and yet completely different) range of psychic tools and services.
But actually finding a psychic you'd like to speak with might be a little trickier than you first thought.
There's so much choice here, but the site doesn't really give you a way to filter the available psychics. It also doesn't have a way to help me find the right psychic for me. For example, both Psychic Source and Keen had amazingly helpful 'Find a Psychic' widgets, while California Psychics had a really intuitive dashboard and some awesome filtering options.
But at Kasamba? Don't hold your breath. Here is everything you'll be able to filter down:

You can select the category of reading you want, and see how many psychic readers in your chosen category are online. You can then use the drop-down to choose how to sort those psychics – by price, rank, and experience. However, you can't narrow by gift (like empath), tool (like tarot cards), or delivery style (like how direct they are).
But, as you can see from the screenshot above, there can be a huge numbers of psychics online at any one time (there were 230 when I was online!). It would have been useful if there were more filtering options or a widget to help filter these down a bit.
Selecting a psychic by price is helpful, but I would have appreciated other filters more. For example, I really liked that Keen and Psychic Source ask 'how do you like your reading style?' and ask you if you prefer a psychic with specific gifts or abilities.
Kasamba – Is It Trustworthy?
You have every right to be skeptical of potentially shady online psychic readers. After all, you shouldn't give your hard-earned money and precious time to just anyone. Just because someone on a site claims to be able to read the tarot or connect with those who have passed, doesn't mean they really can.
That said, I believe that Kasamba is a trustworthy operation. I looked into the following categories to find out if it's really safe to use.
Psychic Screening Process
Kasamba sometimes actively recruits for new psychics (although it already seems like it was bursting at the seams with a huge range of readings on offer). When I checked, it looked like it wasn't recruiting for any new experts. All I found was a note about submitting an application under a category I couldn't find.

Unless I'm missing something, this isn't an intense process. I hope that each potential psychic advisor goes through an interview and psychic assessment to weed out potential fraudsters – but I couldn't find any proof of this online. To compare, Psychic Source and California Psychics have serious interview and background check processes.
Psychic Bios
Each of Kasamba's psychics have to create their own psychic biography, where they can include whatever information about themselves they like. I really like reading these bios so I can see how they express themselves. It helps me understand if I can connect to the psychic on a personal level before my reading.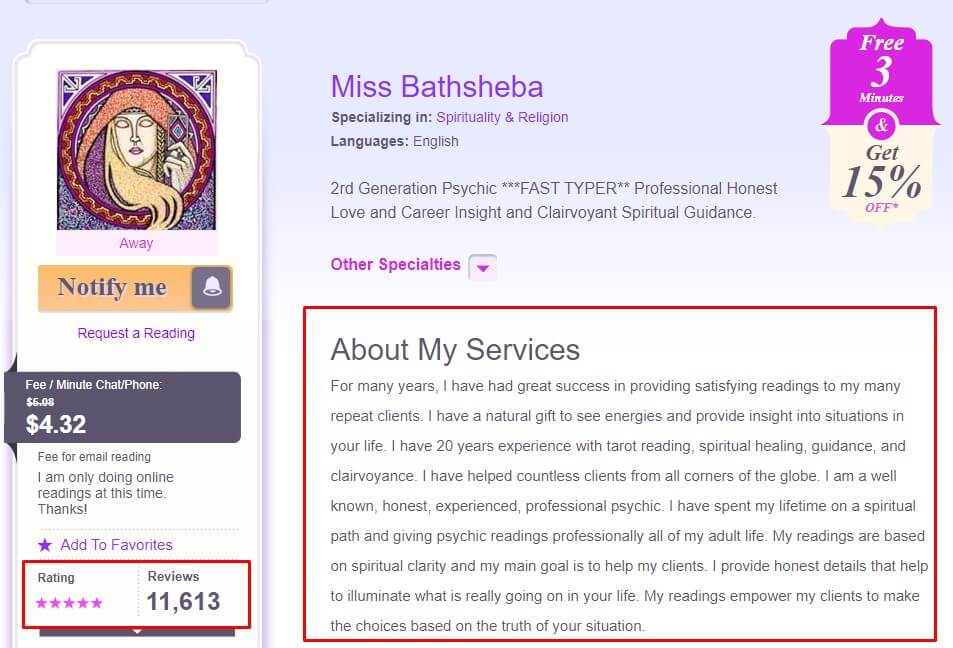 I was a bit disappointed by Kasamba, though. There was no schedule information available for psychics – you could only see who was online at any given point. Over at Psychic Source and Keen, I could easily see how long the psychic would be around and available for. That would have been more useful here than just an 'online' notification.
I also missed seeing the 'reading style'. I really, really liked this feature at California Psychics and Psychic Source, as it told me the type of reading style I would experience. In general, I thought that Kasamba's bios could be much more informative – its competitors' are.
Customer Ratings
I felt the customer reviews on Kasamba were a little lacking, especially compared to what I saw on other sites (at California Psychics, I could even see which reviews other users found useful):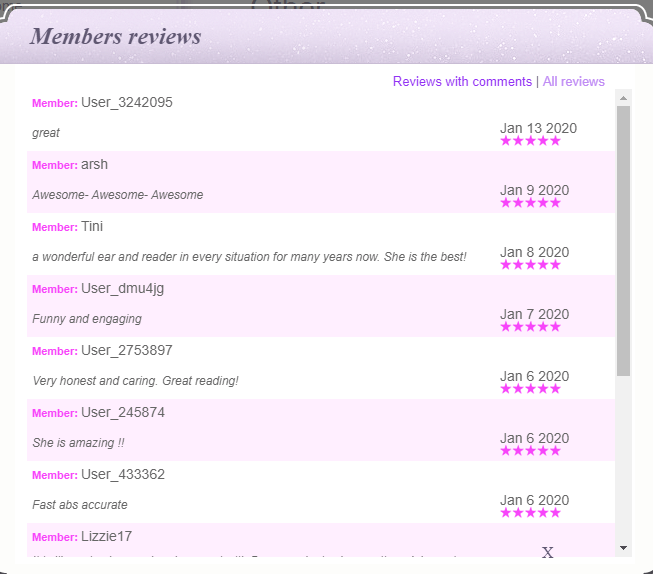 I didn't find these particularly insightful, and was a little skeptical that every reader I clicked on only had 5* ratings. Maybe they're all exceptional – and maybe the site only displays what it wants you to see. Either way, I think this could be better.
Money-Back Guarantee
Something strange happened when I looked for the satisfaction guarantee/refund request at Kasamba: I just couldn't find it anywhere! While Psychic Source and Keen shout from the rooftops about how committed they are to their customers, Kasamba doesn't really share information about its refund policy. I even checked all of the FAQs… but couldn't find it there.
Luckily, a Google search for 'Kasamba – refund request' came up with some good results:
That wasn't so hard, was it, Kasamba? The refund request process (if you're not satisfied) is very straightforward, so I don't understand why it wasn't readily available. Plus, I also liked that you get up to 72 hours after your session to request a refund. At California Psychics, you have to hang up the call within the first two minutes to be eligible for a refund.
All in all, I would say that Kasamba is worth your trust – even if some things seem a little strange (hiding its refund request process, for one thing). Kasamba is big enough and has been online enough to know how to treat its customers.
Kasamba Pricing
Kasamba knows it's one of the best-known names for online psychic readings, so it can get away with charging higher prices. Although it has some reasonably-priced advisors (and some who are actually really cheap), its prices can vary greatly.
There's a free first 3 minutes promotions for new customers, but other sites have better introductory offers – at California Psychics, you can get your first 20 minutes for just $1 a minute.
I thought I'd seen high prices with the more popular psychics at each of the other psychic readings websites I've reviewed, but at Kasamba, even the 'standard' physics charge more on average – around $3.99 per minute. Having said that, some psychics do charge from $1.50 or $2.99. At the other end of the scale, some psychics charge as much as $30 per minute!
That could end up costing you quite a lot of money if you have a serious issue you'd like to discuss. I guess it's up to you to decide if that psychic is worth it, and if not, go for a cheaper option.
Kasamba Customer Support
Kasamba's site is designed to make things easy for customers. I like the calming purple of the color scheme and the cool widget telling me how many psychics were online: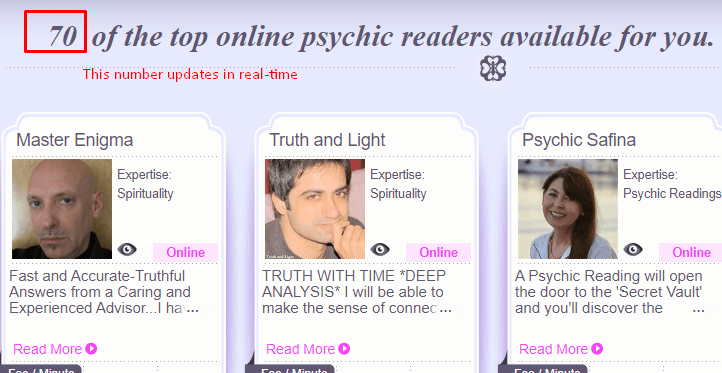 Kasamba has a very in-depth FAQ section, where you can find the answers to pretty much all of your questions.
That's great…because if you do have an issue, that's pretty much the extent of the customer support. There's a lackluster 'contact us' form, but not much else.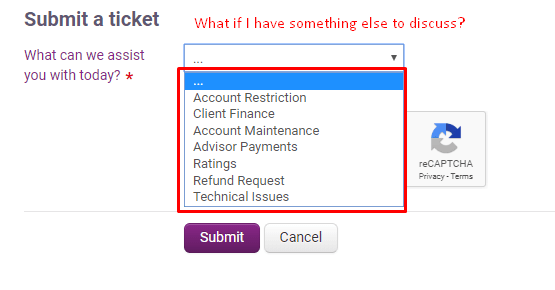 I'm not impressed with Kasamba's customer support. Every other psychic reading site I've reviewed has had at least a phone line, live chat, or email. This just isn't good enough, especially if you're at the higher end price-wise and charging up to $30 a minute for customers. We deserve better.
The Bottom Line on Kasamba
Kasamba is clearly doing a lot of things right. Its huge choice of categories and topics alone are worthy of at least 4 stars, if not 5.
I do think that the site looks a bit dated, and that it has some weird practices like hiding the 'refund request' information and having only one form of customer care. This made me lower my overall grade for Kasamba. I also felt that the psychics' bios could be better. I missed some information, like their schedules and reading styles.
Overall, Kasamba is a really solid online psychic reading service with a great reputation, but at the slightly pricier end of the spectrum. The psychics are great, and I had a great overall experience.