Kasamba Overview
Kasamba has been going strong online since 1999, and boasts over 4 million 5-star ratings from customers show you its strengths. I tend to agree – after all, at first glance, this looks like a site I could really enjoy!
There's apparently also an app, but I couldn't see this mentioned anywhere on the site itself, though rumor has it that it's pretty good.
I like the calming purple of the color scheme and the cool widget telling me how many psychics were online –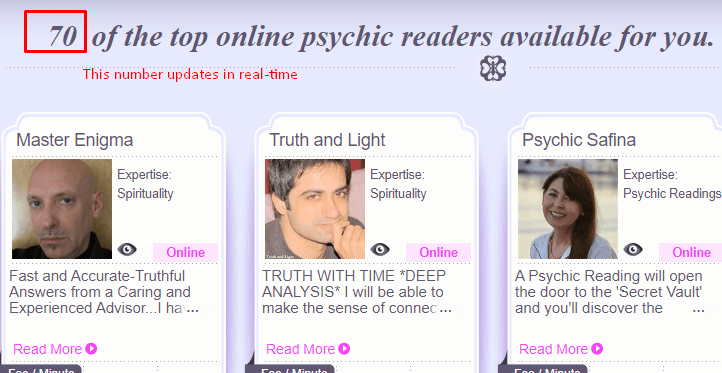 But how does it stack up to competitors? Here's what I discovered.
Kasamba Psychics and Services on Offer
Wow. Kasamba has clearly earned that industry-leading reputation – there is so much choice on offer here.
Unlike competitor sites like California Psychics or Psychic Source, Kasamba lumps all of its psychic specialisms and tools in together:
Psychic readings
Love and relationships readings
Tarot readings
Fortune telling
Dream analysis
Astrology readings
Career forecasts
Palm readings
Paranormal
Universal laws
Numerology
Eastern philosophy
Past life readings
Intimacy
Occult
Graphology
Picture readings
Financial outlook
Kabbalah
New age spirituality
Religion
It's a huge range, and definitely one of the most diverse I've seen for a while. The closest I might have seen anywhere else would have been California Psychic's equally diverse (and yet completely different) range of psychic tools and services.
But actually finding a psychic you'd like to speak with? That might be a little trickier than you first thought.
There's so much choice here, that a nice little widget to help me choose a psychic, or even some further filtering options (other than by price, rank and new psychics), would have been a massive help.
For example – both Psychic Source and Keen had amazingly helpful 'find me a psychic' widgets…while California Psychics had a really intuitive dashboard and some awesome filtering options.
But at Kasamba? Don't hold your breath. Here is everything you'll be able to filter down –

You can see how many psychic readers in your chosen category are online, and you can then choose how to sort them. But, as you can see from the screenshot above, with huge numbers of psychics online at any one time (230!!), it would have been helpful to have something…anything to help filter these down a bit.
Instead, you get the sorting options you see on the right-hand side. It's very nice that I can sort these psychics by lowest price, under $4 and more, but other filters would have been more appreciated. In fact, I couldn't help but think that to Keen and Psychic Source's 'how do you like your reading style?' filters (where I chose 'direct' every single time).
Kasamba – Is it Trustworthy?
You have every right to be skeptical of potentially shady online psychic readers – after all, you wouldn't give your hard-earned money and time to just anyone.
Yet, I really believe that Kasamba is a trustworthy, kosher operation. I looked into the following categories to check this out for you.
Psychic screening process
Amazingly, Kasamba sometimes actively recruits for new psychics (although it already seems like it was bursting at the seams with a huge range on offer). But when I checked, it looked like it wasn't recruiting for any new experts – all I found was a note about submitting an application under a category I couldn't find –

Unless I'm missing something, this isn't too intense a process. I'd assume that each potential psychic advisor would have to undergo an interview and a psychic assessment to weed out potential fraudsters (like with Psychic Source and California Psychics, who had some of the most intensive interview processes I've seen while checking out psychic reading sites), but that's all I can do – assume.
Psychic bios
Each of Kasamba's psychics have to create their own psychic bio, with some of the following useful information –
It's all very useful information to know – I, for one, really like to see how a psychic expresses themselves and feel I can really connect to them as a person before my reading.
I was a bit disappointed by Kasamba here, though – as there was no schedule information available for the psychic. Over at Psychic Source and Keen, I could easily see how long the psychic would be around and available for. That would have been more useful here than just an 'online' notification.
One other thing missing was the 'reading style' – I really, really liked this feature at California Psychics, Keen and Psychic Source, as I wanted to know the type of reading style I would be experiencing, and select psychics who had that kind of style. In general, I just thought that Kasamba's bios could be much more informative – its competitors' are.
Customer ratings
Maybe it was just me, but I felt the customer reviews on Kasamba were just a little lacking, especially given what I saw on other sites (at California Psychics, I could even see which reviews other users found useful):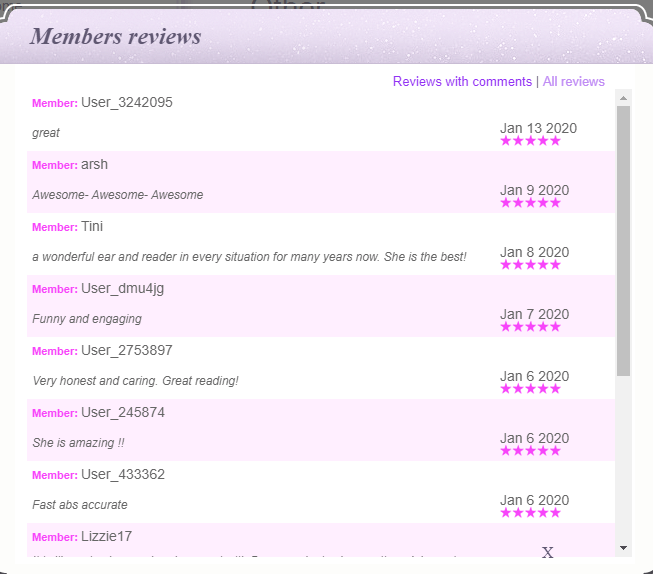 Maybe it's just the type of user who chooses this particular psychic…but I guess at other sites, there's a minimum character limit. Either way, I didn't find these particularly insightful.
Money-back guarantee
Something strange happened when I looked for the satisfaction guarantee/refund request at Kasamba – I just couldn't find it anywhere! While Psychic Source and Keen shout from the rooftops about how committed they are to their customers, Kasamba doesn't have this information readily available.
That's not to say that it doesn't exist – it just took a bit of Googling. I checked all of the FAQs…but couldn't find it there.
Luckily, a Google search for 'Kasamba – refund request' came up with some good results.
See? That wasn't so hard, was it, Kasamba? The refund request process (if you're not satisfied) is very straightforward…so why is this information so hidden? Plus, I also liked that you get up to 72 hours after your session to request a refund – at California Psychics, to hang up the call within the first two minutes to be eligible for a refund.
All in all, I would say that Kasamba is worth your trust – even if some things seem a little strange (hiding its refund request process from me, for one thing), Kasamba is big enough and has been online enough to know how to treat its customers.
Kasamba Pricing
Here's the thing – because Kasamba knows it's pretty much the authority on psychic reading, and one of the best-known names online, it can get away with charging higher prices. What I'm trying to say is, it's really at the higher end of the spectrum.
I thought I'd seen high prices with the more popular psychic at each of the other psychic readings websites I've reviewed, but at Kasamba, even the 'standard' physics charge more on average – around $3.99 a minute. Having said that, some psychics do charge from $1.50 or $2.99.
Yes, there's a free first 3 minutes promotions for new customers, but even so. At other sites – California Psychics and Psychic Source come to mind – you can get your first 20 minutes for just $1 a minute. Kasamba's range starts from $3.99, and can go up to $30 a minute for popular psychics. That could end up costing you quite a lot of money, if you have a serious issue you'd like to discuss. I guess it's up to you to decide if that psychic is worth it, and if not, go for a cheaper option.
Kasamba Customer Support
Kasamba has a very in-depth FAQ section, where you can find the answers to pretty much all of your questions.
That's great…because if you do have an issue, that's pretty much the extent of the customer support…other than a lackluster 'contact us' form.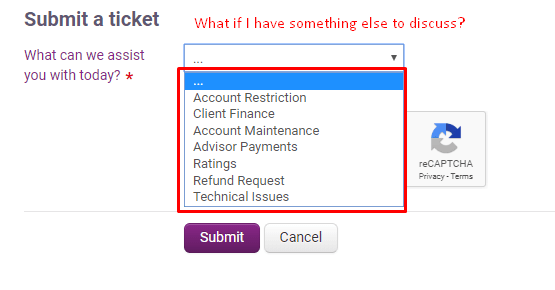 In fact, just trying to find the 'contact us' section on the FAQ required a search. It's actually pretty hidden nex to the Account settings, in case you've missed it.
But still: I'm not impressed with this, Kasamba – every other psychic reading site I've reviewed has had at least a phone line, live chat and email to get in touch with customer support. This is just not good enough, if you're going to be charging up to $30 a minute for customers. We deserve better.
Expert Bottom Line on Kasamba
Kasamba is clearly doing a lot of things right – those categories and topics alone are worthy of at least 4 stars, if not 5.
I do think that the site looks a bit dated, and some of the information I would have liked to have seen – psychic schedules, reading style – wasn't there. That and some weird practices – hiding the 'refund request' information and having only one form of customer care, made me lower my overall grade for Kasamba.
Still, the psychics are good – I'd still recommend Kasamba, but I'd hope you wouldn't run into any trouble – I didn't.
Kasamba Bottom Line
A really solid online psychic reading service with a great reputation…but at the slightly pricier end of the spectrum. The psychics are great, and I had a great overall experience, but I felt that there could have been better use of some of the psychics' information – adding schedules, for example – which other psychic reading sites do really well.