Finding answers in this strange world can drive you crazy. If you're dying for those answers to life's important questions, turning to cartomancy can be a wise decision. But even if you have a strong psychic connection, deciphering cards is far from easy.
With so many meanings and interpretations, knowing what you're reading is always challenging. Based on my experience and research, I will show you how cartomancy readings work and reveal the meaning of each card.
And if you have trouble interpreting cards, I've also shortlisted a selection of the best psychic sites that provide cartomancy readings. My favorite site is California Psychics because it lets you speak to a number of talented cartomancers for $1 per minute.
In a Rush? Here Are My Top Site Picks for Cartomancy Readings:
California Psychics — Best site for top-quality, accurate cartomancy readings thanks to its strict psychic vetting process and $1 per minute introductory offer.
Purple Garden — Offers live video card readings and newcomers get $10 free credit, however, the site does not offer a satisfaction guarantee.
Keen — Enjoy card readings via live chat or phone calls backed by a 100% satisfaction guarantee, but keep in mind that no video options are available.
How Do Cartomancy Readings Work?
Cartomancy readings are performed by skilled psychics who use a deck of playing cards to tap into your inner energy. The type of spread, i.e., the layout of cards depends on the nature of your reading.
Spreads range from a basic 1 card layout to larger 3, 9, and even 21 card spreads. 1 card layouts are sufficient for simple yes/no questions. But if you have something a bit complicated, the psychic will opt for a 3 or even 9-card spread. Doing so allows them to provide more detailed divinations.
Once everything is laid out, you choose a card from the spread. This channels your energy through the cards and helps the psychic interpret the card's meaning. Say you're getting a reading about your current relationship. If you then draw the 2 of hearts, it can mean that you are in a strong relationship filled with love and affection.
On the other hand, drawing something like the ace of spades may signify that you're doubtful or unsure of your current relationship.
Your inner energy and mood can influence the results of your reading, so make sure to purge yourself of all negative energy before a session. Meditation and a hot shower are great ways to cleanse your mind and prepare for a cartomancy reading.
What Do The Cards Mean?
Each of the 4 suits in a deck of cards has its unique meaning, which changes according to your questions. This is why I highly recommend that you talk to an experienced psychic who can use their expertise to decipher the meaning of these cards.
Spades — Challenges, secrets, obstacles, conflicts, and setbacks
The suit of spades appears when negativity, anger, difficulties, or even death are on the horizon.
| | |
| --- | --- |
| Cards | Meaning |
| Ace of spades | Often signifies death, endings, or new beginnings. It can appear if you're starting anew or are dealing with a decision that makes you anxious. |
| 2 of spades | Symbolize betrayal, conflict, disagreements, resentment, or separation. It is also a sign of bad news. |
| 3 of spades | A sign of deception, lies, dishonesty, cheating, loss, confusion, and misunderstanding. |
| 4 of spades | An omen of sickness, confinement, or exhaustion. It can also show that you're in an unhealthy situation. |
| 5 of spades | Shows that you're feeling angry, abandoned, or depressed. The 5 of spades is also a sign of separation, loss, or sorrow. |
| 6 of spades | You've moved forward from one phase of your life to another after completing something. This card is also a sign that something has permanently ended. |
| 7 of spades | Indicates bad luck, setbacks, or unexpected trouble. Some interpret this as a symptom of an addiction to something. |
| 8 of spades | A sign that you're feeling angry, disappointed, or wronged as a result of an injustice done to you. |
| 9 of spades | The 9 of spades appears when there is a failure, sadness, struggle, malice, or grief. |
| 10 of spades | There has been misfortune that brought about tragedy or ruin. And this has led to the darkness in your life. |
| Jack of spades | Represents a young male in your life who is emotionally immature and erratic. Beware of such individuals. |
| Queen of spades | Refers to an older woman who has been divorced or widowed. She is intelligent and ambitious but can also be deceitful or cunning. |
| King of spades | A usually older man of authority who may be divorced or widowed. It may also be emotionally controlling or possessive. |
Clubs — Issues of business, professional affairs, and social life
Unlike spades, the suit of clubs is a sign that positive developments are coming to you.
| | |
| --- | --- |
| Cards | Meaning |
| Ace of clubs | Indicates that you're about to enter a new business venture or that new opportunities are on the way. |
| 2 of clubs | A recent development in your social/business life may lead to gossip. |
| 3 of clubs | There are advancement or growth opportunities involving a partnership of 3 individuals. |
| 4 of clubs | Be wary of backstabbing or betrayal from an unexpected place. |
| 5 of clubs | Something has changed in your work/social environment. It can also show that you've made a new friend. |
| 6 of clubs | Appears when you've either completed or progressed towards a business or social goal. |
| 7 of clubs | Pay close attention to the details of a recent business or social development. |
| 8 of clubs | You're encountering difficulties in your business or job. |
| 9 of clubs | A run of good luck has gifted you with new opportunities. |
| 10 of clubs | Travel arrangements related to business or personal affairs. |
| Jack of clubs | Indicates that you have a trusted, hardworking male friend. |
| Queen of clubs | Represents an independent and confident woman in business. |
| King of clubs | A successful and kind businessman. |
Hearts — Matters of the heart, love and relationships, and family issues
Like its namesake, the suit of hearts is related to emotional matters like love and relationships along with family and friends.
| | |
| --- | --- |
| Cards | Meaning |
| Ace of hearts | Happiness that comes from starting a new relationship. |
| 2 of hearts | A sign of a successful relationship filled with love and affection. |
| 3 of hearts | Approach your new relationship with caution. |
| 4 of hearts | Your relationship is changing, so be careful. It can also mean that an old partner has entered the picture. |
| 5 of hearts | Someone is jealous or resentful of your current relationship. |
| 6 of hearts | You've entered into a relationship when you least expect it. |
| 7 of hearts | A second chance, steady or peaceful surroundings |
| 8 of hearts | Represents collaboration between individuals or someone unexpected. |
| 9 of hearts | Your wishes, desires, and dreams have been fulfilled. |
| 10 of hearts | Indicates success, fulfillment, good luck, and blessings. |
| Jack of hearts | Symbolizes a young man you have a close relationship with, i.e., brother, son, or boyfriend. |
| Queen of hearts | A kind woman with blonde hair, such as an aunt, a sister, a wife, or a mother. |
| King of hearts | Represents a blonde man in your life who is caring and warm. You may have paternal feelings towards him. |
Diamonds — Personal finance, money, success, recognition, and rewards
The suit of diamonds symbolizes wealth, money, and everything related to it.
| | |
| --- | --- |
| Cards | Meaning |
| Ace of diamonds | A sign of new beginnings such as an engagement. It can also mean that you've received a gift or a message from someone important. |
| 2 of diamonds | You've just made or received a payment. Or that you're waiting for approval or denial for an important project. |
| 3 of diamonds | Currently feeling unstable and unfocused, which makes it difficult to commit to anything. This can be the result of legal problems. |
| 4 of diamonds | Recently gained financial stability. It may also indicate that you've just received an unexpected gift/payment. |
| 5 of diamonds | Positive energy. There has been an improvement in your personal space/home. You've received good news from your career. |
| 6 of diamonds | Poor communication has caused a communication breakdown. And this has resulted in jealousy or relationship issues. |
| 7 of diamonds | You have achieved a financial milestone or some type of success. |
| 8 of diamonds | Dark times are coming, so start planning your finances and be careful with your spending. |
| 9 of diamonds | There is a surprise coming from an unexpected payment or bonus. |
| 10 of diamonds | Represents success, prosperity, and good fortune. |
| Jack of diamonds | Warns you of someone unreliable in your life. They may be a member of your family. |
| Queen of diamonds | Refers to a successful woman possibly in business. |
| King of diamonds | Identifies a wealthy man who has made his fortune doing business. |
Top Sites for Cartomancy Readings
Cartomancy is an art that requires skill and experience to interpret card meanings accurately. This means it takes considerable time and effort to master. If you want to save time and receive unique expert insights, you can get an accurate cartomancy reading through a trustworthy psychic site.
1. California Psychics — Best Overall For Cartomancy Readings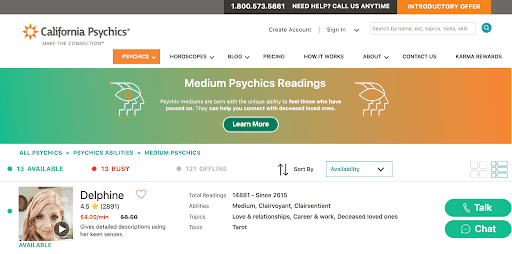 Psychics must pass a thorough screening process
Introductory offer let's newcomers buy additional minutes at a discounted rate
100% satisfaction guarantee
Proven track record — more than 25 years of experience
Free $20 credit when you sign up for the site's rewards program
California Psychics gives you access to some of the industry's most talented cartomancers. The site's psychic advisors must undergo a series of strict tests before they can be featured, where less than 1% get accepted. From my experience, I can say that its psychics are gifted, as the card reader I connected with made some eerily accurate predictions.
The site also offers an introductory offer that lets you buy 20 minutes at a discounted rate, starting at $1 per minute. Any unused minutes will be automatically deposited into your account for future use, which gives you plenty of flexibility. I used this promotion to try out the many card readers available on the website without going over budget.
Another feature that boosted my confidence is the site's 100% satisfaction guarantee. This policy allows you to request that your money be returned if you're unhappy with the quality of your reading. So that way, you won't have to worry about connecting with an inexperienced cartomancy reader.
And when you sign up for the California Psychics' "Karma Rewards Program," you're awarded $20 free credit. You can use your rewards credits to get discounts on future sessions with any psychic on the site. After signing up for the program, I used my $20 to book sessions with 2 of the site's top-card readers.
Unfortunately, you cannot use the site's $1 introductory minutes with premier-level psychics. But this isn't much of an issue as premier psychics have an introductory rate of $4 per minute, which is very affordable. This means you can easily enjoy high-quality readings from expert card readers.
2. Purple Garden — Enjoy Cartomancy Readings via Video, Phone, and Live Chat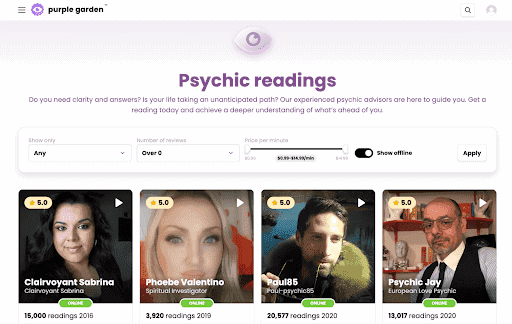 Connect with cartomancers via live video
Mobile app available for Android and iOS users
Search function makes it easy to find psychics
Transparent psychic review system
Special bonuses for purchases above $40 and $100
Purple Garden promises a more immersive experience thanks to its live video readings. I tried this feature out for myself and found the experience to be almost identical to an in-person reading. The psychic who read my cards was empathetic and carefully listened to my questions. Overall, Purple Garden is a solid option for anyone who enjoys face-to-face sessions.
To make it easier for those constantly on the move, the site also has a mobile app for Android and iOS devices. I tried it out for myself by installing the app on my iPhone and Android tablet, which let me book sessions with card readers. Purple Garden's app gave me a seamless and easy experience thanks to its user-friendly design.
With Purple Garden, you can easily connect with the right card reader thanks to its psychic filtering tool. It allows you to filter advisors by reviews, price per minute, and type of connection. This tool helped me find a suitable psychic who matched my needs and price range within a matter of minutes.
While the site doesn't offer any satisfaction guarantees, its transparent psychic review system displays both positive and negative reviews from clients. This will aid your decision-making by reducing your chances of connecting with an unsuitable advisor.
3. Keen — Quality Cartomancy Readings Backed By A 100% Satisfaction Guarantee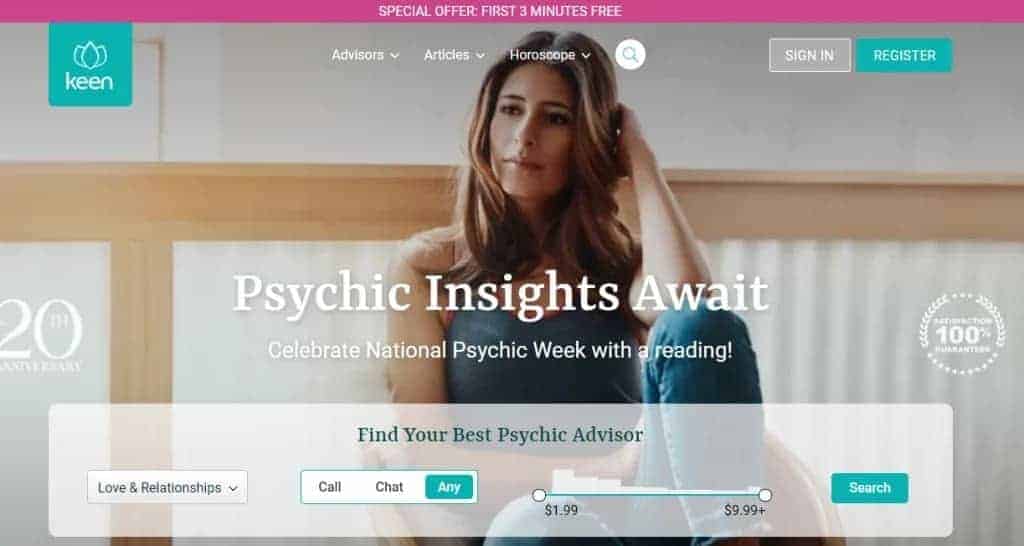 Newcomers can enjoy either 3 free minutes or buy 10 minutes for $1.99
All users are protected by the site's 100% satisfaction guarantee
Rewards system that lets you redeem free minutes
Offers phone and email customer support
Find the ideal card reader with the site's matching tool
If this is your first time using Keen, then you can choose between getting 3 free minutes or paying just $1.99 and getting 10 minutes. These offers let you try out the many psychic advisors available on Keen without committing. I chose to redeem 3 free minutes and scheduled a card reading session with a top-rated psychic who was both accurate and friendly.
Another thing I like about Keen is its 100% satisfaction guarantee. It states that customers are eligible for a $25 credit refund if they face any issues on the platform. So that way, you don't have to worry about wasting your hard-earned money on a low-quality psychic.
The site has a special loyalty program called "Keen Rewards," which lets you earn points, discounts, and other benefits. I was impressed by the program's convenience as you don't need to sign up or fill in a form. The site automatically records how much you've spent and automatically awards your account with points.
When I contacted Keen's customer service, there was a slight delay in their response. It took the site about 2 days to get back to me. But on the bright side, its website has a FAQ section with highly detailed answers. So if you run into any issues, you can easily find the answers you're looking for in the FAQ section.
FAQs on Cartomancy Readings
1. What is cartomancy?
Cartomancy is the art of using cards to tell fortunes or read the future. Psychics called cartomancers use the standard 52-card deck to tap into the cosmos and provide you with the answers you seek.
For the best possible experience, I recommend contacting an expert cartomancer who can guide you along the way. This is because every card has its own unique meaning, and you may not have the experience or skill to interpret it correctly.
2. Is cartomancy accurate?
Yes, cartomancy is a highly accurate method of fortune-telling and divination. Card readers have made stunningly precise predictions regarding events and occurrences in a subject's life. But, like other forms of divination, it's not always 100% accurate.
You should go into a card reading session with a clear mind and an empty heart. This is because emotions, tiredness, and negative energy can adversely affect your reading. For the best results, work with a talented psychic with the expertise to interpret card meanings correctly.
3. What is the difference between cartomancy and tarot?
What makes these 2 disciplines different is the type of insights they offer. While both of these methods of divination use cards, the type of spread used during a reading differs.
This means cartomancy readings are better for definite answers and direct questions, while tarot cards can give you direction and guidance for problems. Besides that, cartomancy is performed with a standard deck of 52 playing cards, while a tarot card reading is performed with a deck of 78 tarot cards.
Cartomancy and tarot readings should always be performed by a skilled psychic. And that's because these gifted individuals can accurately decipher the meaning of both playing and tarot cards. Connecting with a professional psychic will help you get a better reading and gain a deeper understanding of your issues.
4. Are there free cartomancy readings?
Yes, you can get a cartomancy reading for free online. But beware that most of these are from websites that use an automated system to draw and read your cards. The answers given are predefined and do not consider your current circumstances.
Additionally, automated online readers lack the psychic connection possessed by true cartomancers, which usually leads to a false or inaccurate reading.
Fortunately, several psychic sites with expert cartomancers offer live cartomancy readings. Some even provide you with free minutes so you can get an accurate reading without having to fork out a cent.
5. Is there such a thing as love cartomancy readings?
Yes, you can use cartomancy for love and relationship readings. The suit of hearts set of cards are specifically related to matters such as these. But do keep in mind that each individual card has its own meaning. This is why I recommend reaching out to a gifted card reader with a deep psychic connection who can help you find the true meaning of each card.
Bottom Line
Cartomancy is a highly nuanced art that requires a strong psychic connection and the ability to interpret cards correctly. To help you, I've put together a helpful guide that enables you to understand how cartomancy works and the meaning of each card. You can use it to lend you a hand in everyday life.
But, if you want a truly accurate reading, you can seek help and guidance from a gifted cartomancer at California Psychics. It has a strict psychic screening process that ensures you access top-quality psychic advisors. The site also has a 100% satisfaction guarantee which ensures you'll get your money back if you get an unsatisfactory reading.
To summarize, the best sites for cartomancy readings are…