There are countless websites offering access to "the best psychic readers ", but many of these psychics don't have real abilities. And with something as personal and sensitive as a psychic reading, you want a site you can really trust.
To prevent you from wasting your time and money on a fake psychic, I decided to put a few dozen psychic reading services to the test. I wanted to see, once and for all, which sites are the most reliable, and where you can actually find the most gifted and trustworthy psychics in the world. This list of the 10 best psychic readings is the result of my extensive research. I only included the sites I feel comfortable using myself and recommending to my close friends.
If I had to pick my personal favorites, it would definitely be Keen Psychics for its 100% satisfaction guarantee and free minutes and Purple Garden for on-the-go psychic readings.
Read on to discover the unique perks of each of my favorite sites. You're sure to find the perfect match for you, based on psychic experience, price, and types of readings offered.
In a rush? Here are my top psychic reading picks:
1. California Psychics – Best for thorough psychic screening & $1 per minute readings
2. Keen Psychics – Benefit from a 100% satisfaction guarantee
3. Purple Garden – Ideal for psychic readings on the go
4. Psychic Source – Experienced psychics available via phone, live chat, or video
5. PathForward– Good price for a variety of reading types, including tarot and astrology
1. California Psychics – Best for Thorough Psychic Screening & $1 per Minute Readings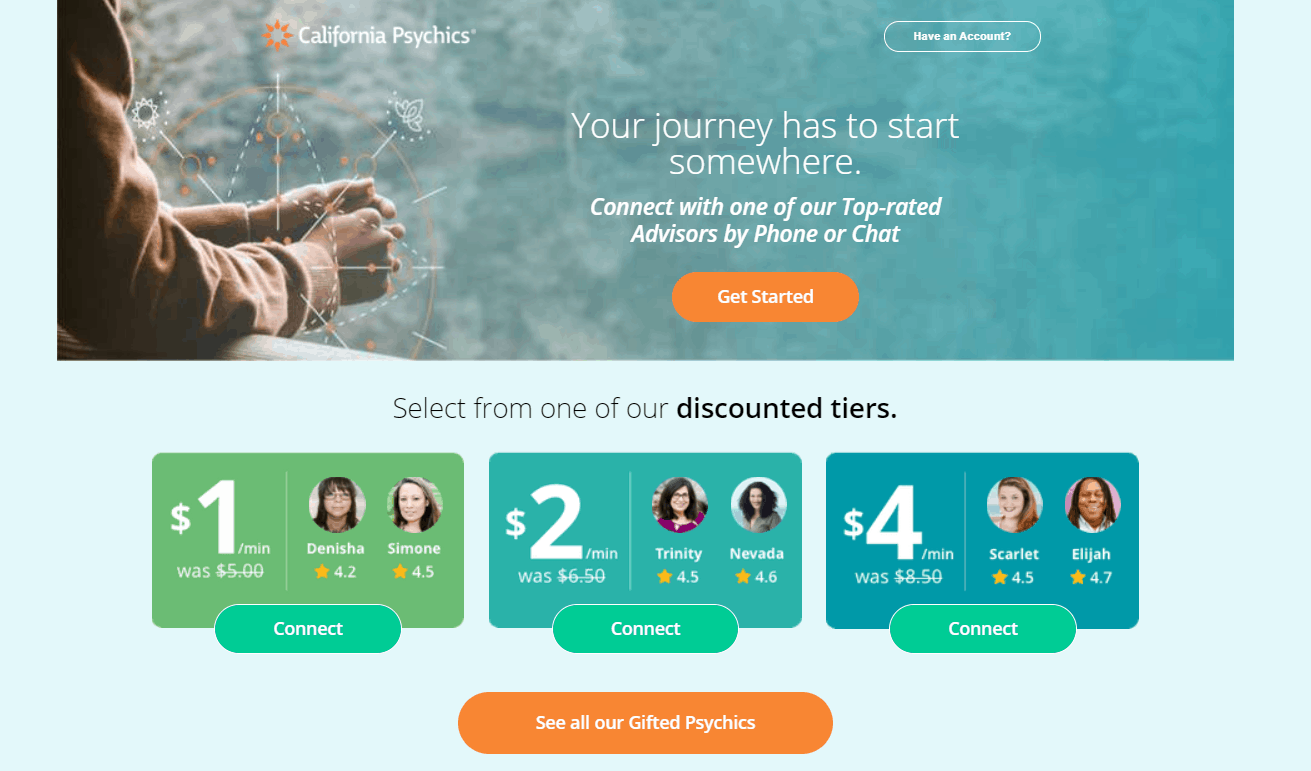 $1 per-minute introductory rate
Tiered pricing system
Rigorous psychic screening process
Karma Rewards program
If there is one thing that California Psychics is known for, it's their psychic screening process. Psychics have to go through several rounds of testing and checks before they can create a profile on the site. This ensures you're only met with the very best selection of mediums, tarot readers, astrologists, and psychics.
California Psychics covers all of the reading topics you need, including love, money, success, life path, pets, and deceased loved ones. They also offer a few reading types such as lost objects, which isn't often found on other psychic reading sites.
Then there's the site's pricing, which works a little differently from most others. When you create your account, you are offered 3 pricing options: popular, preferred, and premium. Something to be aware of is that if you don't select an option yourself, you are automatically signed up for the preferred package.
Any time I use California Psychics, I always feel like I am dealing with true professionals. And if you plan to be a regular user like me, you're going to love their Karma Rewards program, which gives you points for every purchase. You can read the full California Psychics review here if you want more details on what the site has to offer.
2. Keen Psychics – Benefit from a 100% Satisfaction Guarantee

100% satisfaction guarantee
Choose from over 1,000 experienced psychics
Low introductory rates
Direct messaging and email functionality
With a reputation that spans over 20 years, Keen Psychics is the go-to site for anyone looking for guidance on relationships, career, and life in general. Their reputation isn't the reason they're at the top of this list though.
Keen Psychics offers a 100% satisfaction guarantee, which means you get to enjoy greater peace of mind when scheduling any reading – this alone places them at the top of this list. If for any reason you aren't happy with your reading, you can request a refund in the form of credits. I haven't had to do this yet though because I've always been happy with my readings on Keen Psychics.
Then there are the types of readings offered. Keen Psychics covers all the must-have categories such as love, finances, tarot, and astrology, but it also has some unique offerings such as Cartomancy, aura cleansing, and pet psychics.
You won't have any trouble finding the right psychic either as the site has several filtering options that you can use, including price, star rating, skills, and availability.
One of the features I really love is that you can email a psychic or send them a direct message if you have any questions about their experience. I've even used this feature to negotiate rates with psychics. If you want more details on features available on Keen Psychics, read the full review here.
Browse Psychics on Keen psychics
3. Purple Garden – Best for Readings on the Go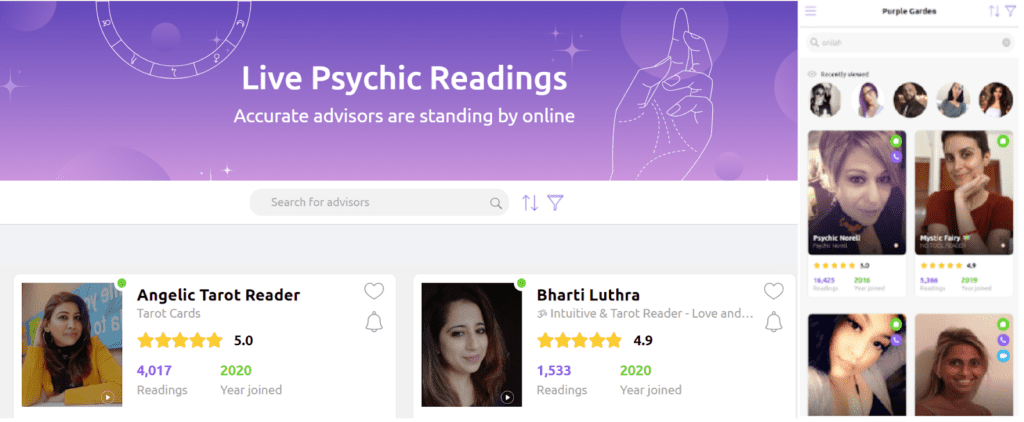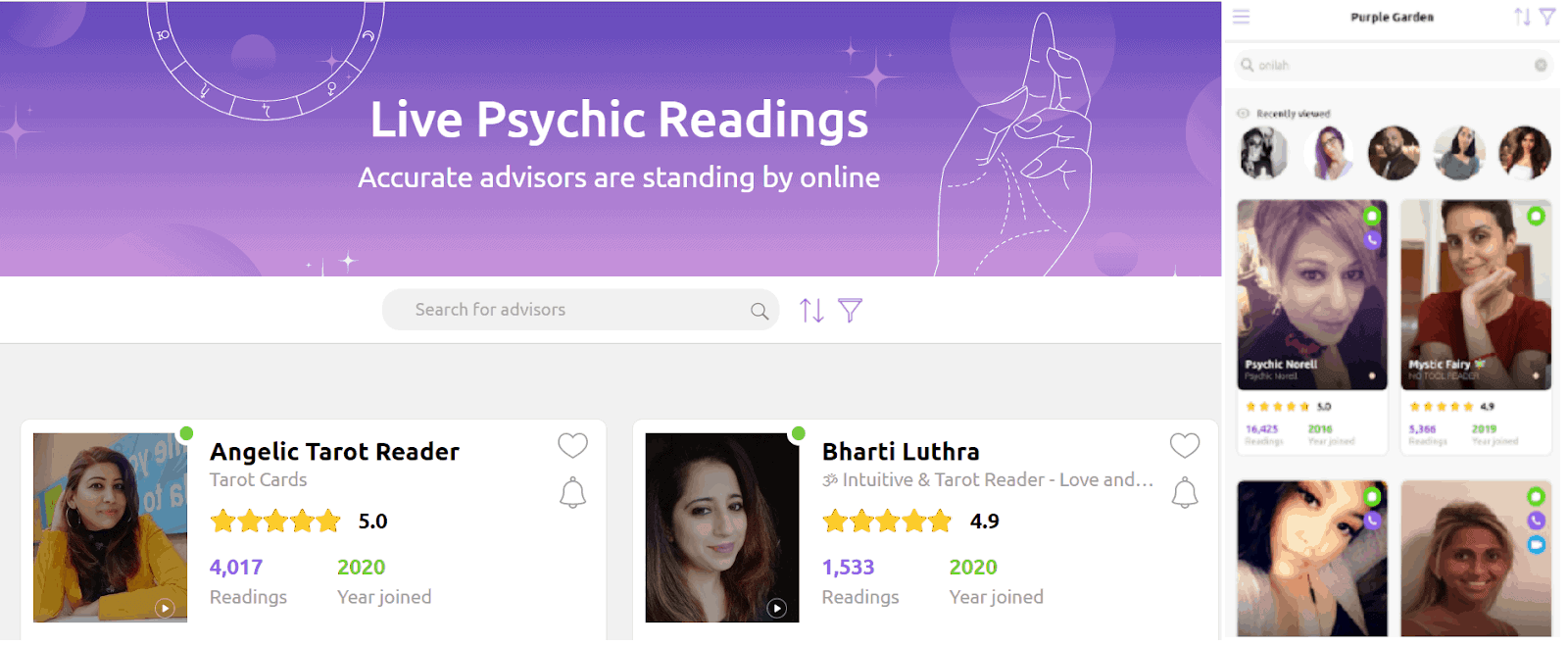 Earn 5% back on all psychic reading purchases
Intuitive mobile app for on-the-go readings
Video readings available
Purple Garden is very different from every other psychic reading site on this list in that it's designed specifically for mobile users. If you don't feel compelled to visit their desktop site, I'd recommend downloading the app and creating an account from there. The mobile user experience is far superior to most other platforms that also have apps, so you won't be missing much by skipping the website.
Purple Garden has hundreds of psychic readers and six different reading categories for you to choose from. I like the fact that the categories aren't too overwhelming – it makes it easier for to get answers to basic questions. Another reason why Purple Garden stands out is because they are one of the few sites that offer psychic video readings. If you're like me and prefer to know who you're talking to, Purple Garden could be the right pick for you.
Best of all, you'll earn 5% cash back on every purchase you make, which you can use towards future readings. Here is the full review on Purple Garden for further details.
Browse Psychics on Purple Garden
4. Psychic Source – Best for Face-to-Face Connections via Video Chat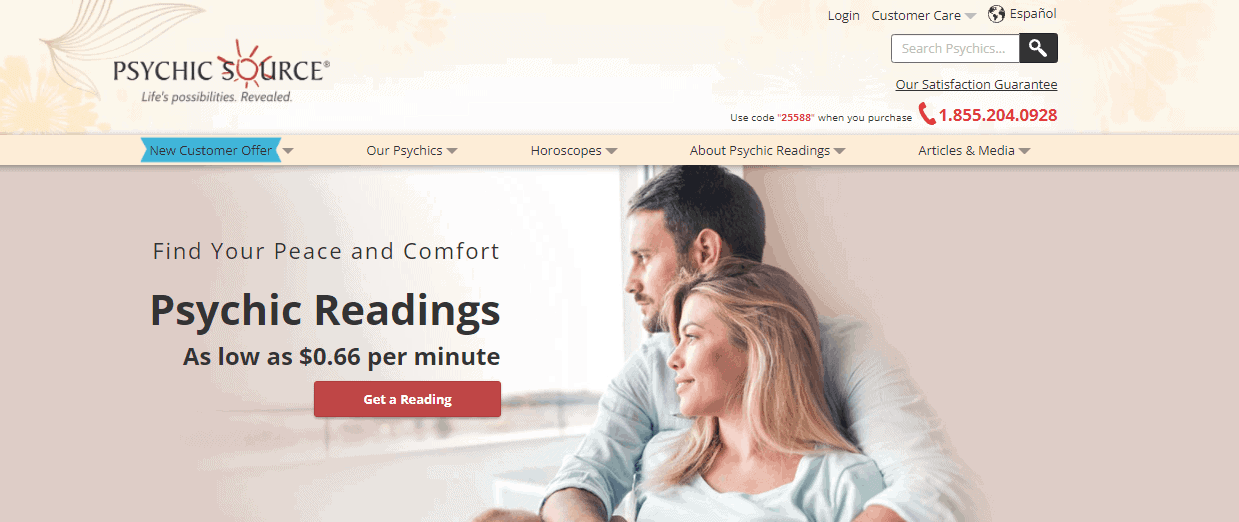 Live video readings
Free minutes when signing up
Free Find a Psychic tool
If you like the convenience of an online psychic reading but would still like to see your psychic advisor, Psychic Source might be the site for you. Psychic Source is one of the few sites that offers video readings over and above chat and phone readings.
This site might not look as modern as some of the others on this list, but the functionality is unparalleled. Along with their video reading option, Psychic Source also allows users to schedule appointments with their chosen psychics. This way, you can speak to a psychic at a time that works for you.
Psychic Source advisors can assist you with relationship, career, destiny, and loss-related readings. However, it doesn't end there. Even though the site only has four primary categories, it has one of the largest selections of sub-categories too. From LGBT and wandering hearts to financial stress and coping with death. I'd be very surprised if you couldn't find an answer to your question on Psychic Source.
And if you're still feeling unsure about whether Psychic Source is right for you, there's also a 100% money-back guarantee to put your mind at ease. Need more details on the site? You can read the full review here.
Browse Psychics on Psychic Source
5. PathForward – Best for First-Time Users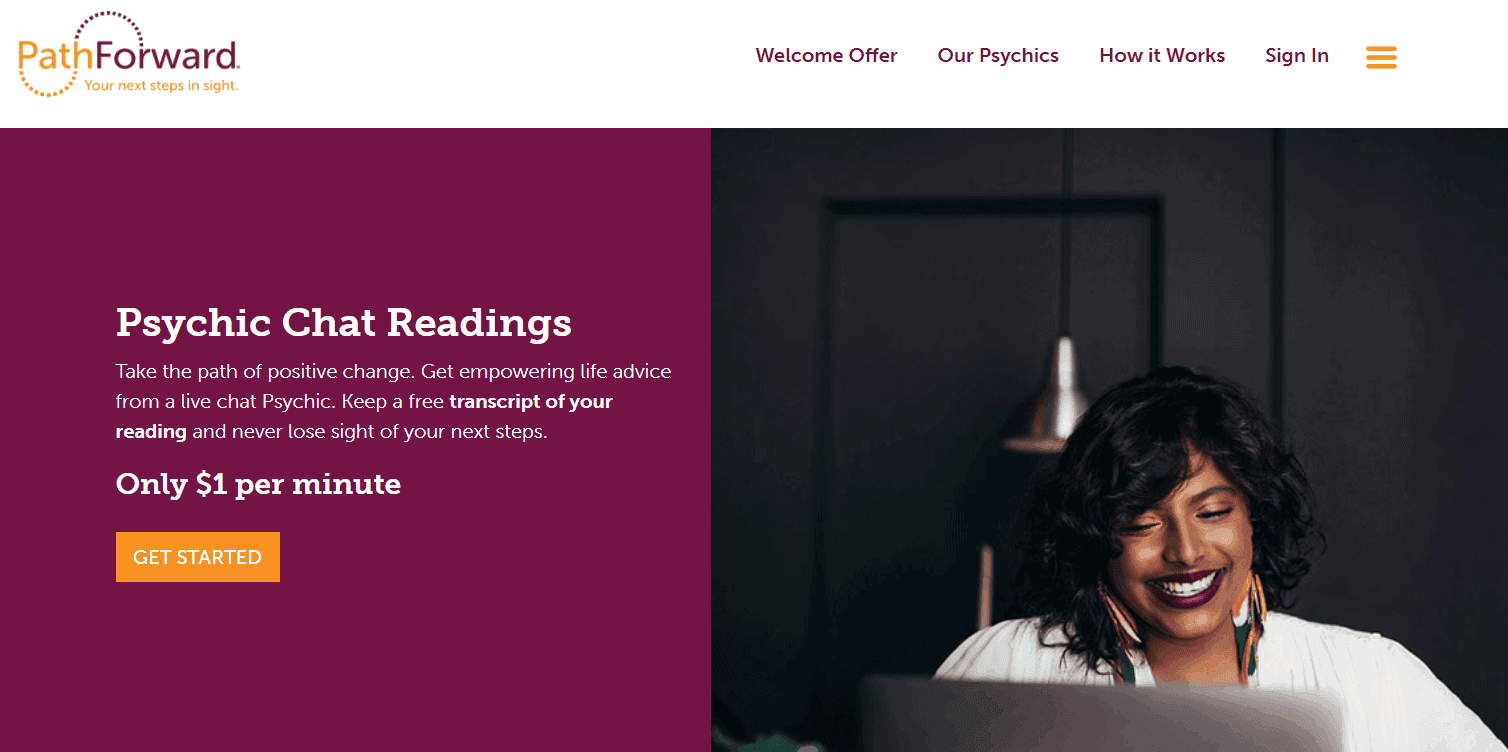 Attractive introductory offer
24-hour customer service
Free psychic reading transcripts
PathForward is one of the newer psychic reading sites, but what it lacks in experience, it overwhelmingly makes up for in quality. What I love about PathForward is that they go above and beyond when it comes to providing a positive user experience.
The site is easy to navigate and won't overwhelm you in terms of psychic and reading topic choices. Filtering your options is incredibly simple and each psychic's profile provides you with all the information you need to feel confident in your choice. You can even listen to a pre-recorded message to get a better feel for your psychic's personality and energy.
As a first-time user, you can take advantage of their introductory offer of $1 per minute.
You can read more about PathForward in this detailed review.
Browse Psychics on PathForward
6. Kasamba – Best for Finding Psychics in a Hurry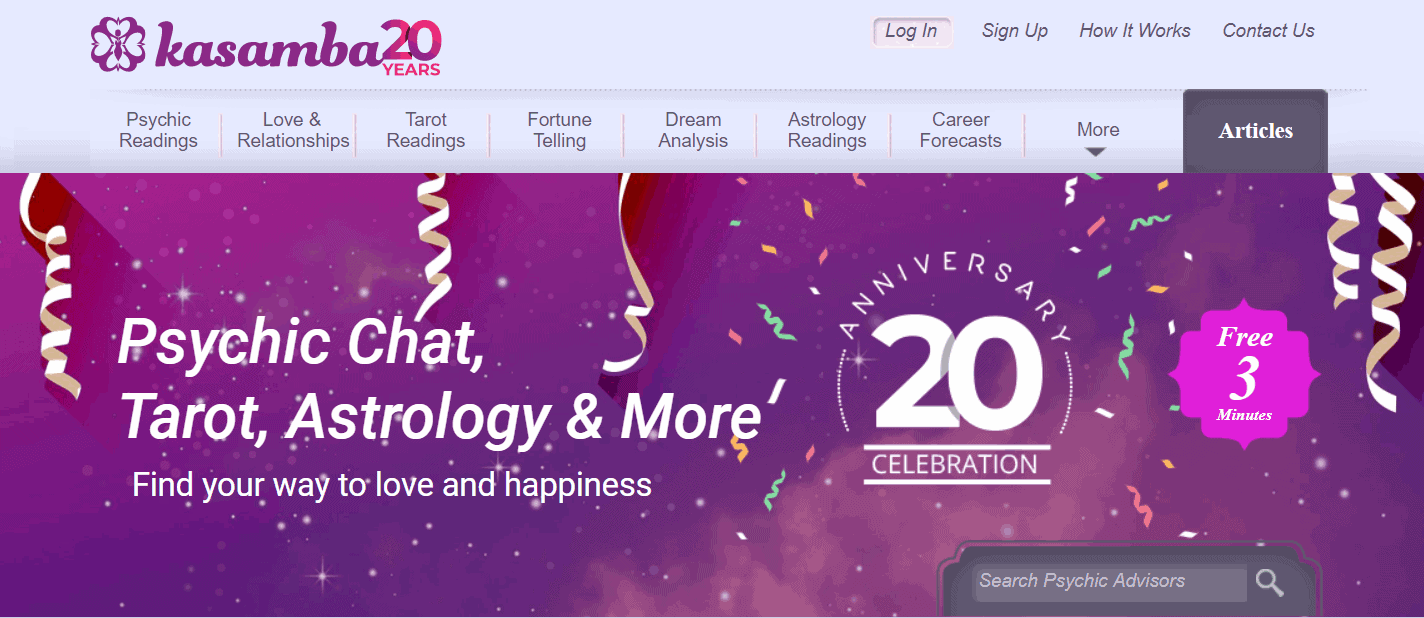 Free minutes for new customers
Home to some of the world's top psychics
Send direct messages to psychics
Kasamba is a user-friendly site with an impressive selection of premium psychics and detailed reading categories. Along with the regular categories such as relationships and careers, you can also find psychics who specialize in topics like cartomancy, the occult, the paranormal, and past lives.
Psychics offer readings via chat and phone, as well as email, which you don't commonly find on most psychic reading sites. If you are keen on an email reading, be sure to review your psychic's profile because not all advisors offer this option.
Kasamba is one of the pricier websites out there, but many of their psychics are well worth the higher per-minute rate. What I love about this site is that if you do have a set budget, you can always message a psychic directly to negotiate a price. You can also take advantage of their introductory discount.
Overall, if you're looking for a no-nonsense, top quality psychic reqading, Kasamba is an ideal choice. Read the full review on the site here.
7. Everclear – Best for Accurate Psychic Matches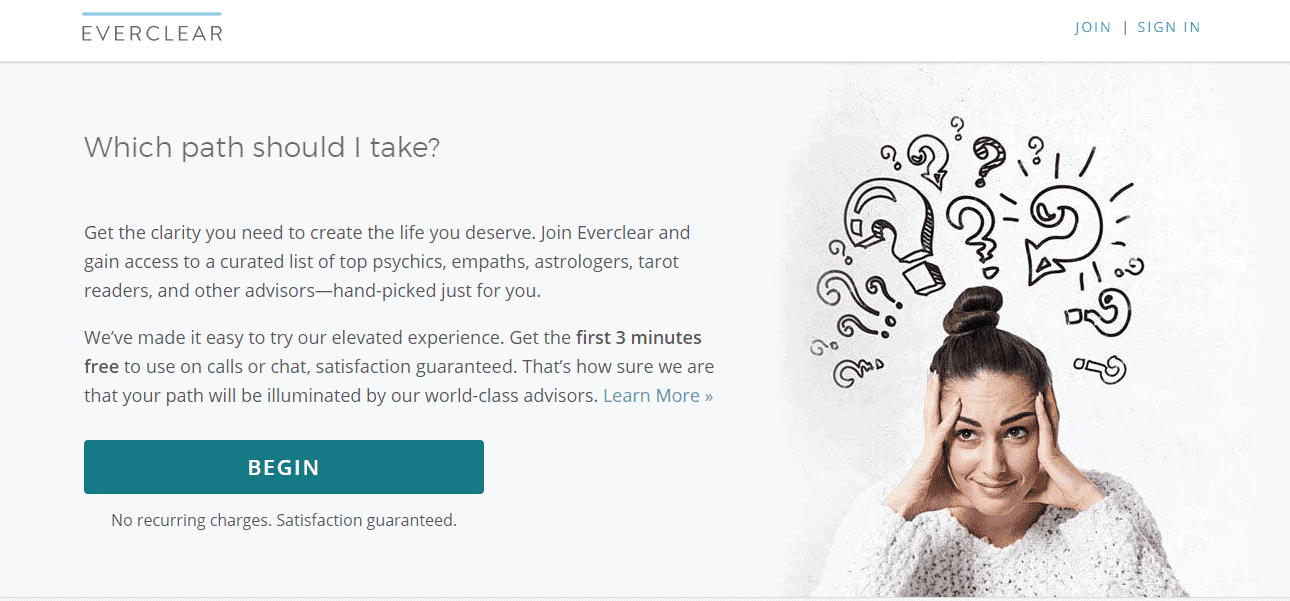 First 3 minutes are free when signing up
Helpful matching tool to connect you to the right psychic
Free horoscopes delivered straight to your email
One of Everclear's main goals is to connect you to a psychic who matches your personality and psychic reading requirements. This is why they developed a psychic matching tool that takes the hassle out of searching for a psychic yourself.
The tool, which can be accessed from the home page, asks you a few pertinent questions such as whether you want to speak to an empath or a psychic, the types of spiritual tools you'd prefer, whether you want to chat to or phone your psychic, and, finally, what you need guidance on.
Once you've selected your answers, you're immediately connected to a psychic that matches your exact requirements. I tried this tool myself and ended up matching up with Nikki Kale, a psychic tarot reader, who I had an instant connection with over chat.
The main categories on Everclear are love and relationships, destiny and life path, money and finances, wellness, career, lost loved ones, and pets. But, if your questions don't match these exact categories, you can get a reading from a general psychic too.
Everclear has a stringent psychic screening policy, so rest assured that the psychics you're speaking to are the real deal. From resume-vetting to evaluation calls and a 10-day probationary period, Everclear goes out of its way to ensure they're hiring the right people.
In fact, Everclear is so committed to bringing quality to its customers that it offers a money-back guarantee that you can claim within 72 hours of your call if you weren't satisfied with the reading. If you want to save time and are searching for a site that values their customers, Everclear is a great choice. You can check out our full review of the site here.
8. Oranum – Best for Unique Ways to Connect with Psychics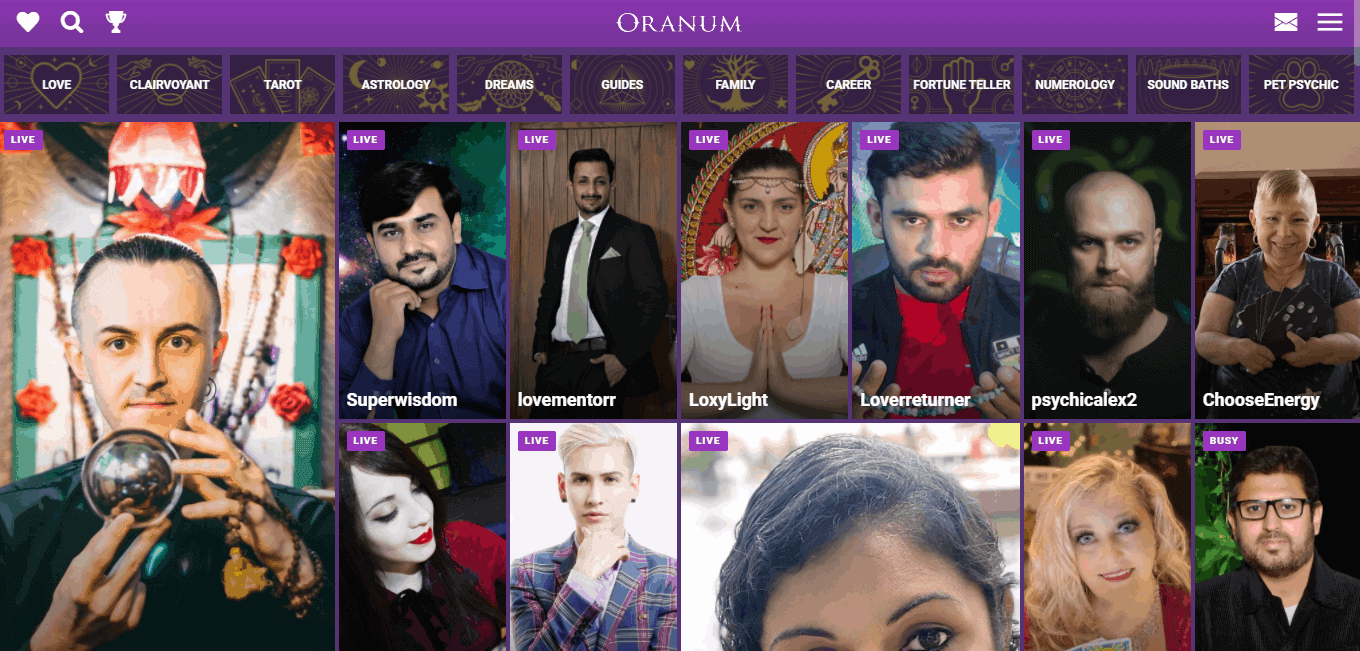 Free live psychic readings
Free daily content from top psychics
Create your own psychic favorites list
Oranum is unlike any other psychic reading site. For one, the layout of the site is highly interactive and encourages you to explore psychic profiles and enjoy their content.
What truly sets this site apart though is their free live video sessions. Every week, psychics are required to host a live video session. The best part? You don't even need to create an account to join. During these sessions, you have the opportunity to get to know a psychic and ask them questions. There's no guarantee they'll answer your questions, but it's been known to happen.
Some of the reading categories you can explore include love, tarot, family, and career. However, you can also delve into unique categories such as pets, sound baths, energy healing, and spiritual guides.
I will admit that if you're new to psychic readings, you might find Oranum slightly overwhelming. It is definitely one of the busier sites, which can put some people off. The psychic profiles don't always contain all the information you need either, making it difficult to know whether you're choosing the right advisor.
For even more detailed information, read the full site review here.
Flat per-minute rates
User-friendly psychic app
24/7 customer support available
Psychic Encounters is all about convenience and simplicity. Not only is it easy to find a psychic and schedule a reading, but their pricing structure is straightforward too.
The psychic profiles aren't as detailed as I like them to be, but they offer enough information to help you decide whether a psychic might be right for you. You can also read through all customer reviews, both positive and negative.
In terms of reading categories, there are only four available: love, life path, money, and departed loved ones. Readings are available via phone, chat, and video.
The site offers little information about refunds or their vetting process when hiring spiritual advisors, which makes me nervous about their trustworthiness. However, the fact that they list both positive and negative customer reviews does boost my confidence in the platform.
You can find out more about what this site has to offer in this detailed review.
Browse Psychics on Psychic Encounters
10. Mysticsense – Best Value for Money

Free minutes available to new customers
Video readings available
Unique reading categories
Even though Mysticsense is new, it's doing a lot of things right. This platform has all the functionality you need at a price that offers excellent value for money. Finding the perfect reader for you is a seamless experience because you can filter results based on one or multiple gifts or specialties, price, ratings, and more.
There are plenty of user reviews to read through to and you can even see your psychic's schedule in your local time, allowing you to book a reading at a time that works for you. Readings are available via chat, phone, or video.
As if all of this wasn't enough, Mysticsense's prices are some of the most competitive out there. And when you sign up and deposit your first $10 or more into your account, you're rewarded with 5 free minutes too.
Overall, Mysticsense is the full package: great psychic readers, a fully functional and easy to use platform, and some of the most competitive rates you'll find out there. An excellent choice for first-time users. The full site review is available here.
Browse Psychics on Mysticsense
Tips for Working with a Psychic Reader
Let's face it, the cliche movie scene of an old woman dressed in scarves asking if you'd like her to reveal your future is just not a fair representation of modern-day psychic readings. Follow these 4 tips to make sure you get the most out of your readings:
Research, Research, Research. Before jumping into a paid session with a psychic, make sure you check out their website bios, no matter what platform you're using. Look at what areas they specialize in, read reviews, and if possible, send them a free message ahead of time to establish a connection.
Be Open with Your Reader. Remember that the more open and honest you are with your spiritual advisor, the more accurately they'll be able to deliver your reading. Being closed off or unresponsive will only cloud your reader's ability to see into your life.
Determine What You Want to Know Ahead of Time. In order to get the most out of your reading, and not pay for longer readings than is necessary, it's best to prepare your questions ahead of time. That way, you can get the answers you need quickly, instead of having a vague conversation with your psychic reader.
Be Prepared for the Truth. It's important that you're honest with yourself before beginning a reading with a spiritual advisor. What your reader sees in your future may not be what you're expecting, or even what you're hoping for. But if you want truthful answers to your questions, then you need to go into a reading with an open mind.
Comparison: Best Online Psychic Readings
Starting Price
Types of Reading
Introductory Offer?
Trustworthy
Keen Psychics

$

1.99

per minute

20+

Free Minutes & Discounted Per-Minute Rates

Yes

California Psychics

$

1

per minute

9

Discounted Per-Minute Rates

Yes

Purple Garden

$

0.99

per minute

8

Free Credits

Yes

Psychic Source

$

0.66

per minute

30

+

Discounted Per-Minute Rates

Yes

PathForward

$

0.83

per minute

5

Free Minutes & Discounted Per-Minute Rates

Yes

Kasamba

$

0.90

per minute

35

+

Free Minutes & Discount on First Reading

Yes

Everclear

$

1.80

per minute

5

+

Free Minutes

Yes

Oranum

$

2.99

per minute

10

+

Free Credits

Yes

Psychic Encounters

$

0.99

per minute

4

Discount on First Reading

Yes

Mysticsense

$

0.99

per minute

15

+

Free Minutes

Yes
Bottom Line
There are a lot of online psychic reading sites to choose from. The first step to having a successful reading is to determine what answers you want and the type of reading you're interested in. Once you've settled on these things you can go about choosing a site that fits your budget. If you would prefer the peace of mind that comes with a 100% satisfaction guarantee, Keen Psychics should be your top pick. If meeting with a psychic in person is important to you, Psychic Source's video readings are a must-try.
Frequently Asked Questions about Online Psychic Readings
How do I choose a psychic?
Choosing a psychic who is right for you starts with understanding what you hope to get out of the reading and the type of person you would prefer to communicate with. Some people have questions about their relationships and would prefer to speak to someone who is gentle and compassionate. Others have questions about their career and would prefer to get advice from someone who is more straightforward.
Psychic profiles will tell you a lot about a potential advisor, including how long they've been conducting readings, what their specialties are, and what tools they use. Sites such as PathForward and Psychic Source even include a pre-recorded message from each psychic on their profiles so you can decide whether you feel a connection with them.
How much should I pay for a psychic reading?
The cost of a psychic reading depends on the site you use and how experienced your advisor is – rates start at a dollar or less on most sites. Psychics with more experience charge a higher rate per minute, with some charging as much as $30 per minute. This is not to say that the more affordable psychics are less accurate though – it all comes down to your preferences. With so many sites and a wide variety of psychics to choose from, you can easily find an advisor who fits in with your budget.
Can I get a psychic reading for free?
While there are a handful of sites that offer free psychic readings, they're often not as accurate or reliable as professional psychic reading sites. Fortunately, reputable sites such as Keen Psychics, Kasamba and PathForward have low introductory offers and free minutes, allowing you to try the site before you pay the full per-minute rate for a psychic reading.
How often should I get a psychic reading?
Most people get a psychic reading when they have questions about a specific area of their lives such as careers or relationships. If nothing major has changed or happened since your last psychic reading, there's no need to schedule a new reading right away. However, if you are going through a major life change and would like ongoing guidance as to whether you're still on the right path, you could choose to consult with your preferred psychic more regularly.
What happens during a psychic reading?
What happens during your psychic reading is mainly dependent on the type of reading you've chosen. Each psychic has different gifts and works with various tools, which can also alter what happens during your reading. In general though, a psychic will start by tapping into your energy, allowing them to tell you what they pick up on. From there, you will be free to ask specific questions that your psychic can answer using their specific gifts. During your reading, your advisor might also pass on messages from loved ones who have passed or your spirit guides.
It's important to approach any psychic reading with an open mind and open-ended questions. Your psychic can't give you highly-specific answers and timelines, so don't expect that. It's also important to remember that you are in charge of your destiny and can alter your life path at any time. A psychic is merely there to provide you with guidance – you get to choose what you want to do with that guidance.