There are countless websites offering access to "the best psychic readers out there," but of course, most of these claims are just nonsense. And with something as personal and sensitive as a psychic reading, you want a site you can really trust.
To save you some precious time and money, I decided to put a few dozen psychic reading sites to the test. I wanted to see, once and for all, which sites are the most reliable, and where you can actually find the most gifted psychics in the world. This list of the 10 best psychic reading sites is the result of my extensive research, and I only included the sites I feel comfortable using myself and recommending to my close friends.
Read on to discover the unique perks of each of my favorite sites. You're sure to find the perfect match for you, based on psychic experience, price, and types of readings offered.
Can't wait to get started? Here are my top psychic reading site picks:
1. Keen – Your first 3 minutes are FREE, and there's a satisfaction guarantee you can count on
2. California Psychics – Best for Rigorous Psychic Vetting
3. Psychic Source – Experienced psychics available via phone, live chat, or video
4. PathForward– Good price for a variety of reading types, including tarot and astrology
5. Purple Garden – A wide selection of top-rated psychics
1. Keen – Huge Variety of Reading Types, and Your First 3 Minutes Are Free

Keen has been around for more than 20 years and the site prominently advertises their 100% satisfaction guarantee. If you're looking for an established site that's also risk-free, then Keen is for you.
The cost of a reading ranges from $1.99 to $9.99 per minute, and psychics offer their services via chat or call. Personally, their reputation and satisfaction guarantee put me at ease, because their policy states that if you're not completely satisfied with your reading, you can request a refund in the form of credits. And with over 1,700 active psychic advisors, you're bound to find the ideal psychic for you.
Bottom Line
If you're looking for an online reading site that has a proven track record, and a satisfaction guarantee, then Keen is where you should go.
2. California Psychics – Best for Rigorous Psychic Vetting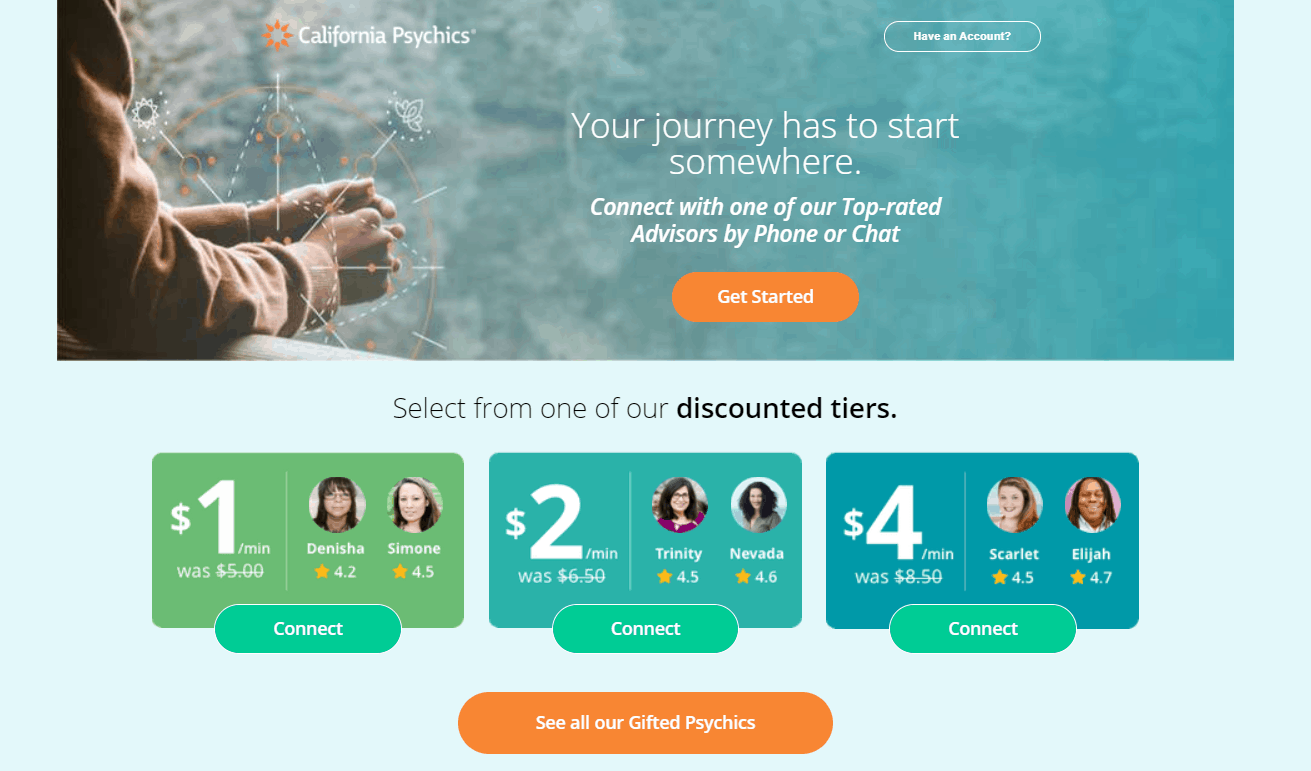 With a track record of 25 years, California Psychics is one of the longest existing psychic reading sites out there. What's important to know about this site is that the pricing works differently from most others. When you create your account, you are offered 3 pricing options: popular, preferred, and premium. If you don't select an option yourself, you are automatically signed up for the preferred package. After you've used this introductory package, readings range from $4 to $15 per minute.
California Psychics has one of the most rigorous vetting processes when it comes to hiring clairvoyants. So, if you're looking for both an established reputation, and the assurance that your psychic is a qualified professional, then California Psychics may be the site for you.
Bottom Line
If you're new to the world of online psychic readings, I would not recommend California Psychics. However, if you've had psychic readings before and prefer to know you're dealing with true professionals, this is a great choice.
3. Psychic Source – Best for Face-to-Face Connections via Video Chat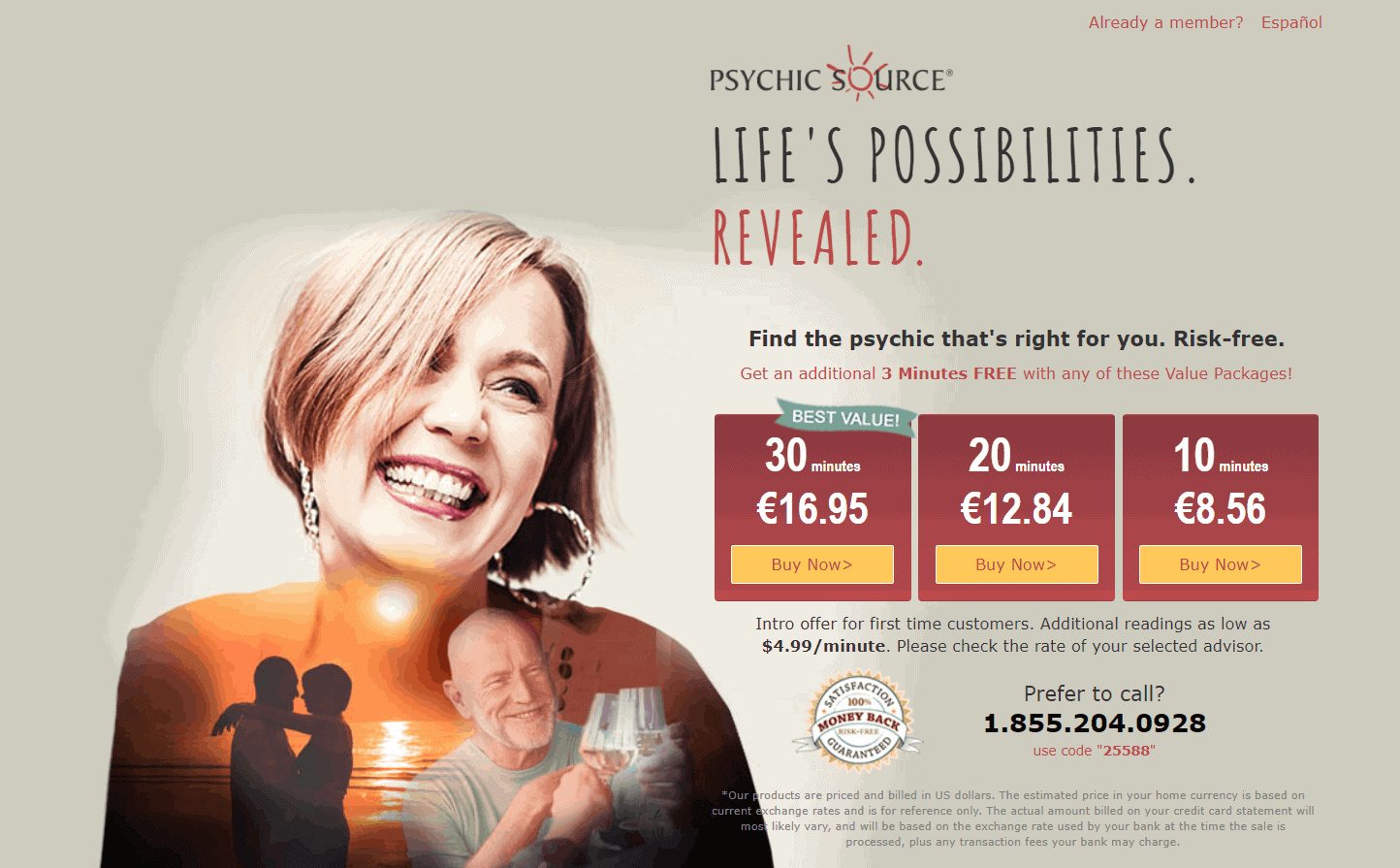 Another veteran site in the online psychic reading world, Psychic Source has been around for over 30 years. The thing that stood out about this site was that, unlike most other sites that only offer readings via chat or phone, Psychic Source also offers the option of video readings.
If being face to face with your spiritual advisor is important to you, then this site may be the right choice for you. The cost of readings ranges from $0.66 to $15 per minute. The site does not have the same large volume of available readers as some others do, but they do offer a 100% money-back guarantee.
Bottom Line
If you're the type of person who finds chat or phone readings to be too impersonal, or you just like to establish a face-to-face connection with your reader, then Psychic Source is the site for you.
Browse Psychics on Psychic Source
4. PathForward – Best for First-Time Users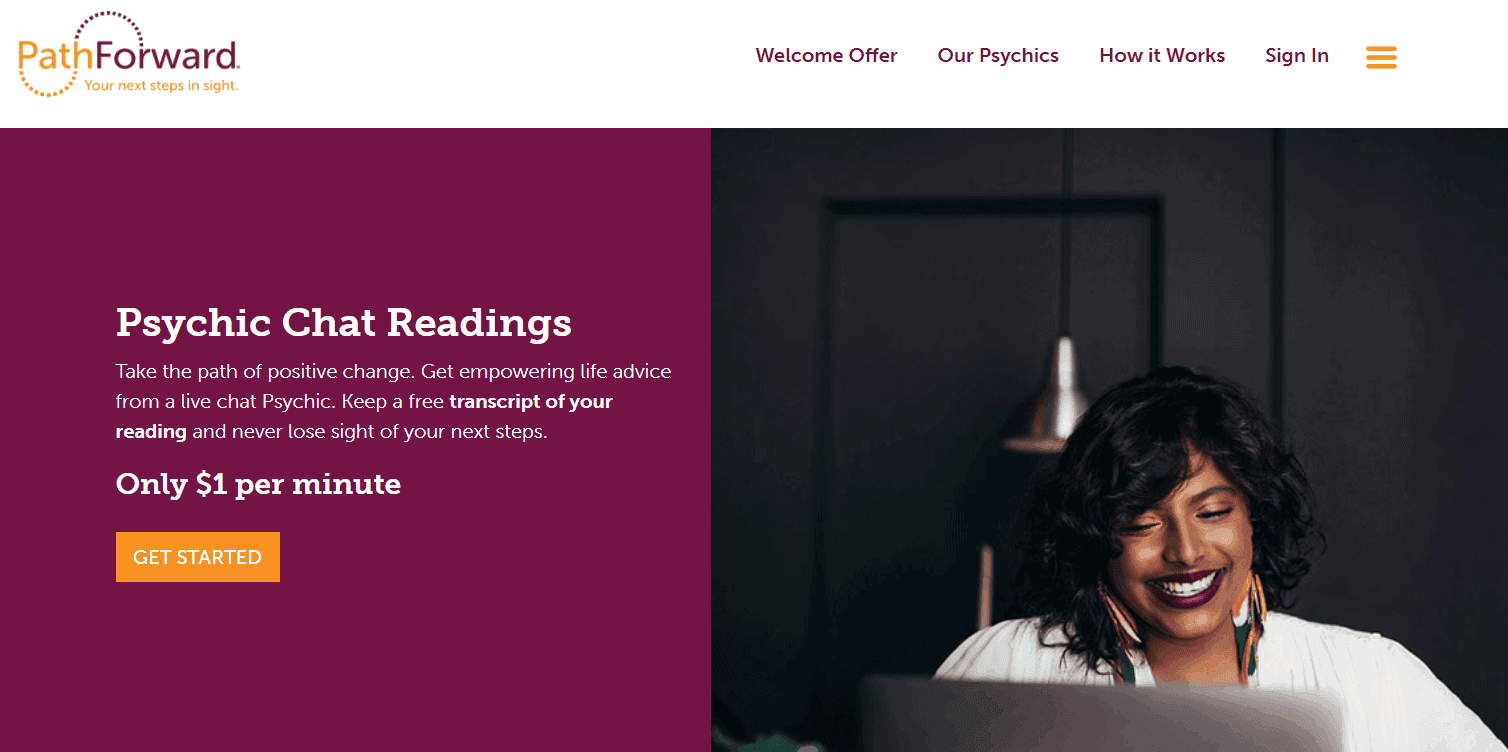 PathForward is one of the newer psychic reading sites, but what it lacks in experience, it overwhelmingly makes up for in quality. What I love about PathForward is that they go above and beyond when it comes to providing a positive user experience.
As a first-time user, you can take advantage of their introductory offer of $1 per minute. After this, rates still remain significantly lower on PathForward than they do on other sites, with $5 per minute being the highest rate.
Psychics provide readings via call or chat, and each psychic has a number of reviews for you to check out.
Bottom Line
If you're looking for a quality but affordable psychic reading experience, PathForward is definitely worth checking out, especially if you're new to the world of online readings.
With 24-hour customer service and a money back guarantee, you're sure to have a positive experience.
Browse Psychics on PathForward
5. Purple Garden – Best for Readings on the Go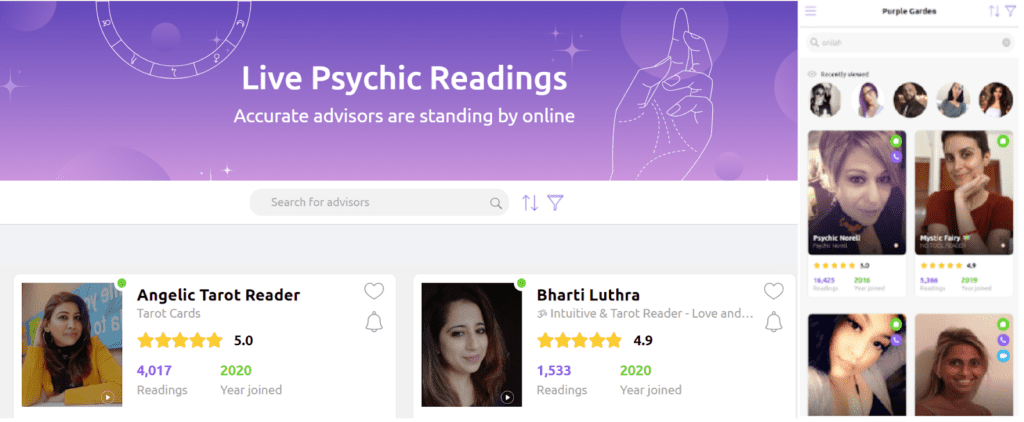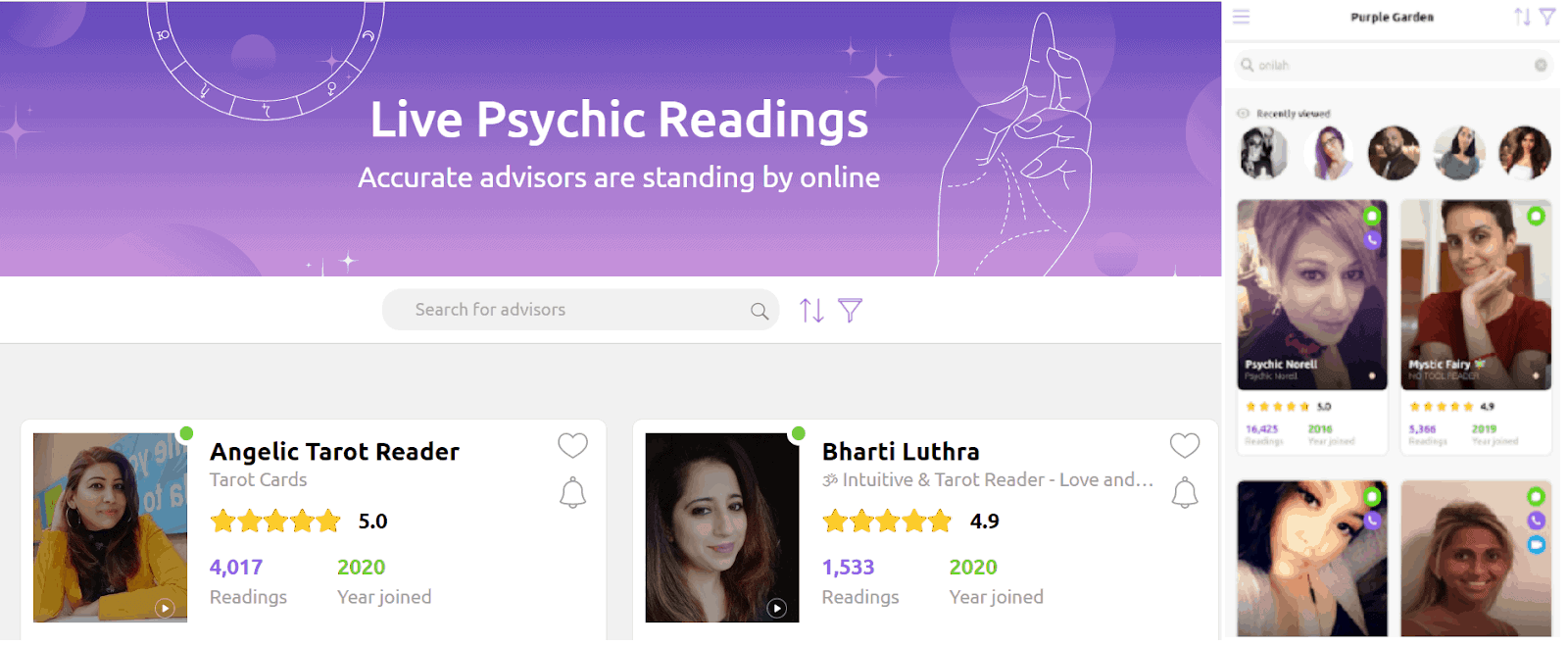 Purple Garden is very different from every other psychic reading site on this list in that it's designed specifically for mobile users. If you don't feel compelled to visit their desktop site, I'd recommend downloading the app and creating an account from there. The mobile user experience is far superior to most other platforms that also have apps, so you won't be missing much by skipping the website.
Purple Garden has hundreds of psychic readers for you to choose from that specialize in a range of topics and tools, including tarot, palm readings, dream analysis, oracle guidance, and more. Another reason why Purple Garden stands out is because it offers readings via chat, call, and video, making things like palm analysis possible.
Prices range from $0.99 per minute, to $14.99 per minute, but most readers' rates fall between the $5 – $10 range. Best of all, you'll earn 5% cash back on every purchase you make, which you can use towards future readings.
Bottom Line
If you like the idea of being able to schedule psychic readings on the go, then you have to give Purple Garden a try. The platform's mobile user experience is unmatched, there are hundreds of readers to choose from, and the rates are just as good, or better than the competition's.
Browse Psychics on Purple Garden
6. Kasamba – Best for Finding Psychics in a Hurry

Kasamba has been around for over 20 years and is home to over 200 psychics, hence it being at the top of this list. Psychics on Kasamba deliver readings via email, chat, or phone. And while it is one of the pricier sites out there — readings range from $1.99 to $30 per minute — the platform is known for hosting some of the top psychic readers in the world. What I like most about Kasamba is that both the website and the mobile app are very easy to navigate, allowing users to quickly and smoothly connect with a psychic of their choice.
Bottom Line
If you're looking for a no-nonsense, top quality online reading experience and have a higher budget, Kasamba is an ideal choice.
7. Oranum – Best for Unique Ways to Connect with Psychics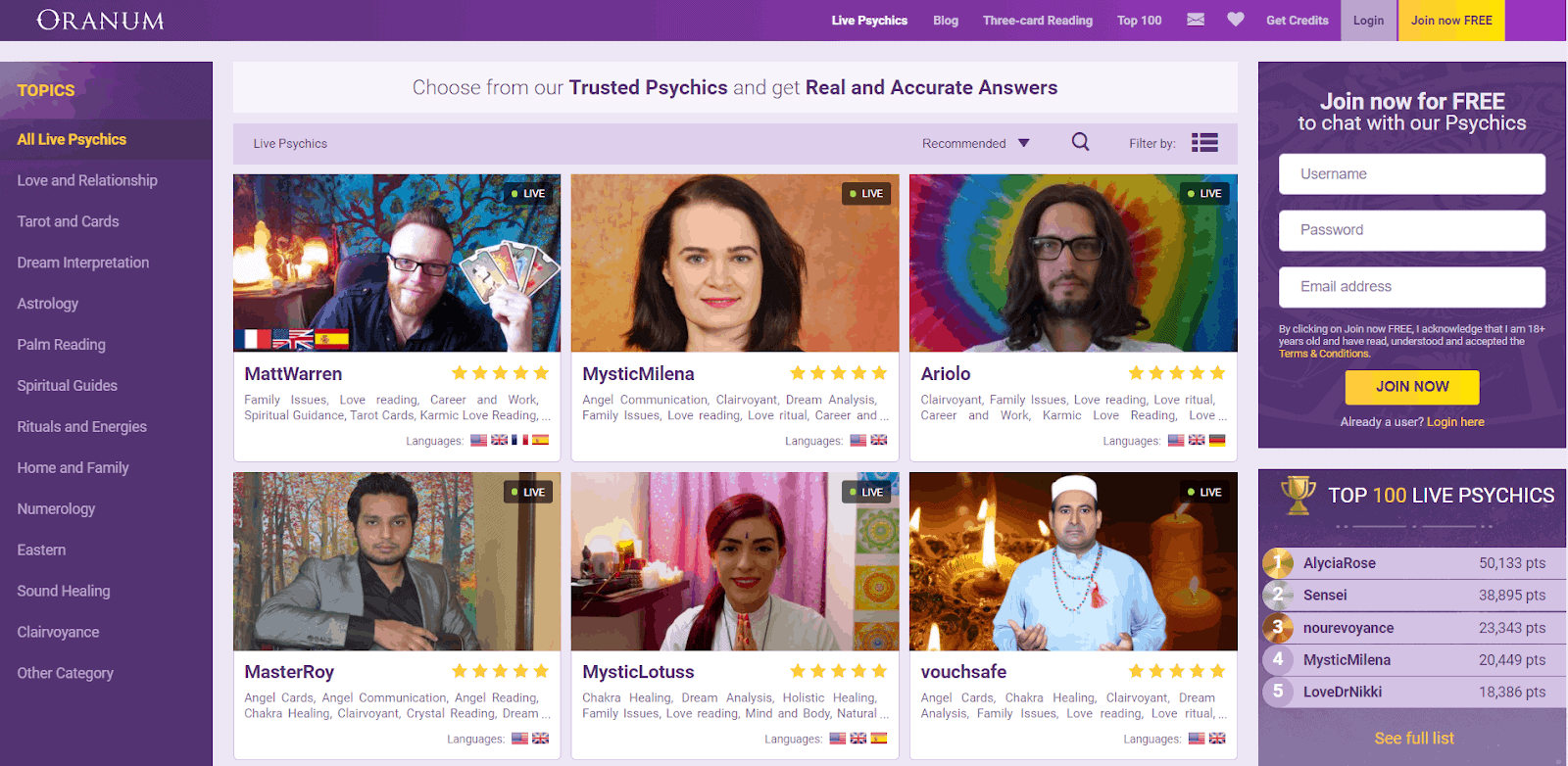 Oranum has been around for over 8 years, and has hundreds of reviewed psychics to choose from. The site offers a wide variety of reading types, and makes it easy for users to filter psychics based on specialization.
My favorite thing about Oranum is that the site requires each of its psychics to host live video sessions for free, every week. These sessions give you the opportunity to see a psychic in action before you pay a dime. You can also chat with them, giving you a chance to get to know them and determine if you have a connection before paying for their services.
Bottom Line
If you like having the opportunity to "try before you buy", then Oranum is the site for you.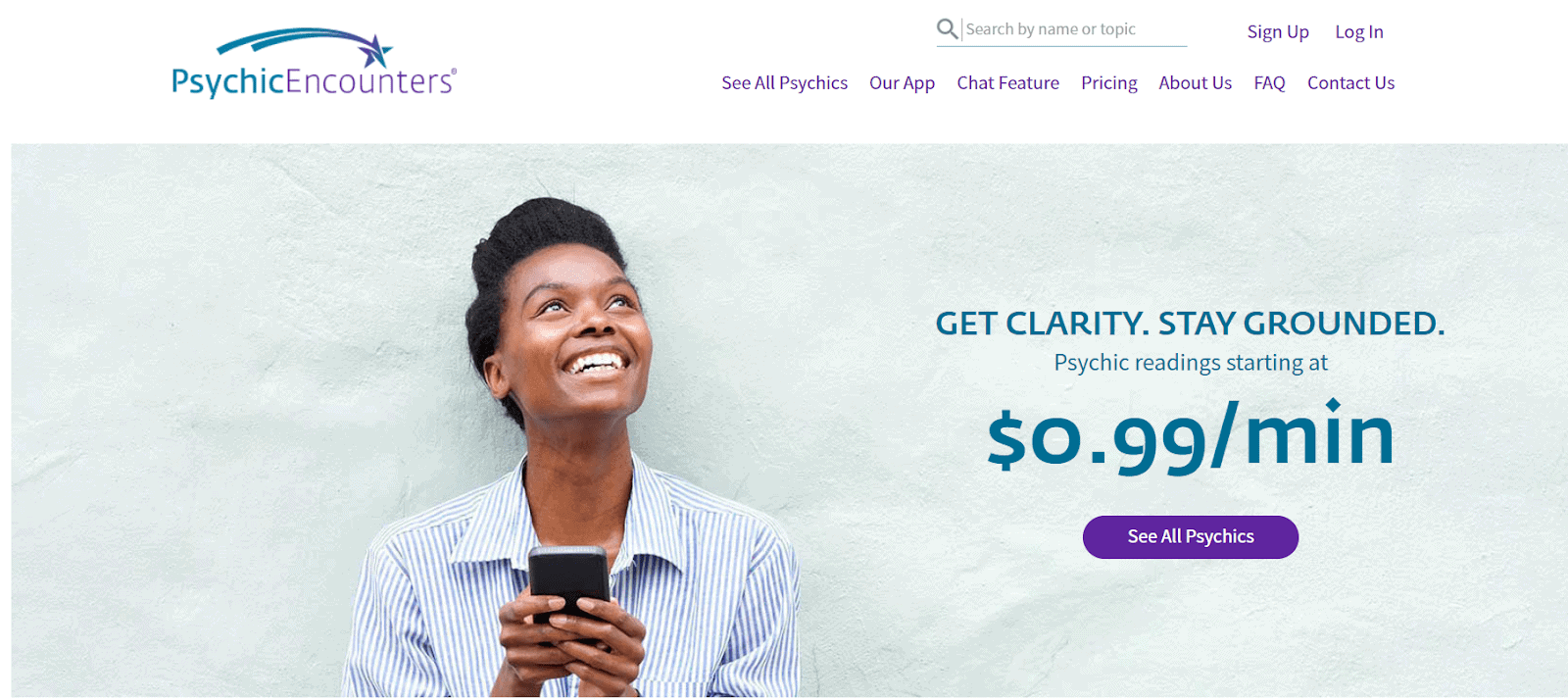 According to their website, Psychic Encounters' policy is that psychic guidance should be both straightforward and affordable. Right off the bat, this is a respectable stance. The site allows its psychics to charge between $0.99 and $1.99 per minute for readings. Psychic Encounters is also one of the few sites that offers readings via chat, call, and video.
The site offers little information about refunds or their vetting process when hiring spiritual advisors, which makes me nervous about their trustworthiness. However, it did have one key difference that I rarely find on other sites – the customer reviews for each psychic are both positive and negative.
Typically, I notice that psychic reading sites feature only positive customer reviews for their psychics, which always made me wary. The fact that this site features both helped me feel more secure when it came to choosing a psychic, and it also proves that certain psychics simply don't match with some people.
Bottom Line
Psychic Encounters is a decent option for people looking for affordable readings, and who prefer the option of face-to-face readings via video.
Browse Psychics on Psychic Encounters
9. Mysticsense – Best Value for Money

Even though Mysticsense is new, it's doing a lot of things right. This platform has all the functionality you need at a price that offers excellent value for money. Finding the perfect reader for you is a seamless experience because you can filter results based on one or multiple gifts or specialties, price, ratings, and more. There are plenty of user reviews to read through to and you can even see your psychic's schedule in your local time, allowing you to book a reading at a time that works for you. Readings are available via chat, phone, or video.
As if all of this wasn't enough, Mysticsense's prices are some of the most competitive out there. The cost of reading ranges from $0.99 to $10 per minute. Realistically though, the vast majority of readers' rates range from $1 and $3 per minute. This is way more affordable than sites like Kasamaba and California Psychics. And when you sign up and deposit your first $10 or more into your account, you're rewarded with 5 free minutes too.
Bottom Line
Mysticsense is the full package: great psychic readers, a fully functional and easy to use platform, and some of the most competitive rates you'll find out there. An excellent choice for first-time users.
Browse Psychics on Mysticsense
10. Bitwine – Best for Unique Reading Categories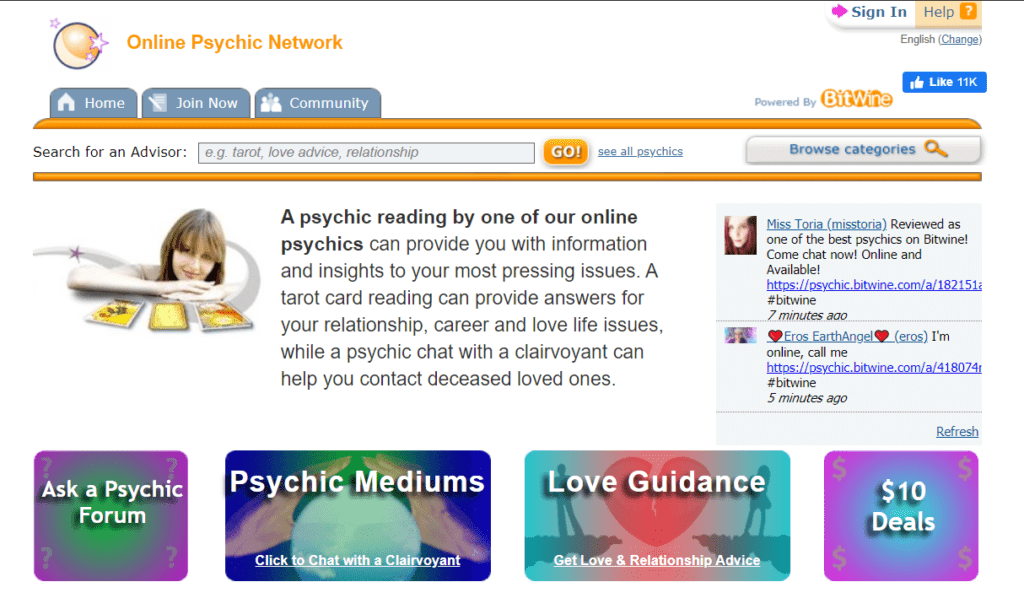 BitWine's site is a blast from the past with its 90's look and feel, but the platform offers more than meets the eye. Think of BitWine as a huge psychic directory where you can browse through an endless list of readers with different specialties and gifts. Best of all, it offers reading categories that other sites don't, including parapsychology, the occult, and new age psychics
It's easy to quickly jump into a reading because you don't even need to create an account to begin chatting with an advisor. Then there's BitWine's pricing. This platform essentially lets you negotiate a price with your reader, with your session only beginning once you've reached an agreement. Generally, the majority of psychics' rates are quite affordable, ranging from $0.99 – $3.00 per minute.
Bottom Line
BitWine is a no strings attached psychic reading site that gives you access to unique and interesting categories and readers. You don't even need to create an account to start chatting with an advisor, which is a plus.
Tips for Working with a Psychic Reader
Let's face it, the cliche movie scene of an old woman dressed in scarves asking if you'd like her to reveal your future is just not a fair representation of modern-day psychic readings. Follow these 4 tips to make sure you get the most out of your readings:
Research, Research, Research
Before jumping into a paid session with a psychic, make sure you check out their website bios, no matter what platform you're using. Look at what areas they specialize in, read reviews, and if possible, send them a free message ahead of time to establish a connection.
Be Open with Your Reader Remember that the more open and honest you are with your spiritual advisor, the more accurately they'll be able to deliver your reading. Being closed off or unresponsive will only cloud your reader's ability to see into your life.
Determine What You Want to Know Ahead of Time In order to get the most out of your reading, and not pay for longer readings than is necessary, it's best to prepare your questions ahead of time. That way, you can get the answers you need quickly, instead of having a vague conversation with your psychic reader.
Be Prepared for the TruthIt's important that you're honest with yourself before beginning a reading with a spiritual advisor. What your reader sees in your future may not be what you're expecting, or even what you're hoping for. But if you want truthful answers to your questions, then you need to go into a reading with an open mind.
Bottom Line
There are a lot of online psychic reading sites to choose from. The first step to having a successful reading is to determine what answers you want and the type of reading you're interested in. Once you've settled on these things you can go about choosing a site that fits your budget. For experienced users, Kasamba is always a safe bet. And for those of you who are new to psychic readings, PathForward is a great place to start.
Best Online Psychic Reading Sites – Frequently Asked Questions
How do I choose a psychic?
Choosing a psychic who is right for you starts with understanding what you hope to get out of the reading and the type of person you would prefer to communicate with. Some people have questions about their relationships and would prefer to speak to someone who is gentle and compassionate. Others have questions about their career and would prefer to get advice from someone who is more straightforward.
Psychic profiles will tell you a lot about a potential advisor, including how long they've been conducting readings, what their specialties are, and what tools they use. Sites such as PathForward and Psychic Source even include a pre-recorded message from each psychic on their profiles so you can decide whether you feel a connection with them.
How much should I pay for a psychic reading?
The cost of a psychic reading depends on the site you use and how experienced your advisor is – rates start at a dollar or less on most sites. Psychics with more experience charge a higher rate per minute, with some charging as much as $30 per minute. This is not to say that the more affordable psychics are less accurate though – it all comes down to your preferences. With so many sites and a wide variety of psychics to choose from, you can easily find an advisor who fits in with your budget.
Can I get a psychic reading for free?
While there are a handful of sites that offer free psychic readings, they're often not as accurate or reliable as professional psychic reading sites. Fortunately, reputable sites such as Keen, Kasamba and PathForward have low introductory offers and free minutes, allowing you to try the site before you pay the full per-minute rate for a psychic reading.
How often should I get a psychic reading?
Most people get a psychic reading when they have questions about a specific area of their lives such as careers or relationships. If nothing major has changed or happened since your last psychic reading, there's no need to schedule a new reading right away. However, if you are going through a major life change and would like ongoing guidance as to whether you're still on the right path, you could choose to consult with your preferred psychic more regularly.
What happens during a psychic reading?
What happens during your psychic reading is mainly dependent on the type of reading you've chosen. Each psychic has different gifts and works with various tools, which can also alter what happens during your reading. In general though, a psychic will start by tapping into your energy, allowing them to tell you what they pick up on. From there, you will be free to ask specific questions that your psychic can answer using their specific gifts. During your reading, your advisor might also pass on messages from loved ones who have passed or your spirit guides.
It's important to approach any psychic reading with an open mind and open-ended questions. Your psychic can't give you highly-specific answers and timelines, so don't expect that. It's also important to remember that you are in charge of your destiny and can alter your life path at any time. A psychic is merely there to provide you with guidance – you get to choose what you want to do with that guidance.