The Best Psychic Reading Site in 2023 is:
🥇Psychic Source — With over 30 years in business, Psychic Source has gained a solid reputation and continues to deliver top-quality psychic services. Its video readings, transparent reviews, and vast reading categories makes it the best site for psychic insights.
You don't need to set up in-person meetings with psychic advisors when you need clarity and guidance these days. There are plenty of online services out there. But, it's hard to know which online psychic platform can actually help you find the insight you need.
The team at MysticMag regularly tests and reviews dozens of online psychic reading sites and apps, so we know which ones are most likely to get you out of that funk and back to a positive place.
All the sites we recommend offer a variety of reading topics and methods — they screen their psychic readers to ensure they can actually provide the support you need. But the winner has to be Psychic Source since it has hundreds of uniquely skilled psychics and its specialized reading themes allow you to find the guidance you're after.
In a Rush? Here Are the Best Psychic Reading Sites in 2023
Psychic Source — Best for its customer support via email, live chat, and call. Unlock $1/min plus an additional 3 minutes free.
PathForward — Best for its small but reliable pool of psychic readers. Starting at $1/min and an extra 3 minutes for free.
Purple Garden — Best for community support and a transparent advisor review system. $10 credit on your first reading.
Kasamba — Best for its detailed search filters for skills, specialties, and tools. First 5 mins for $1.
California Psychics — Best for easy advisor selection and its money-saving Karma Rewards. Start for $1/min.
Plus 5 more legit psychic reading sites
Best Online Psychic Reading Sites in 2023
1. Psychic Source — Overall Best Psychic Reading Site in 2023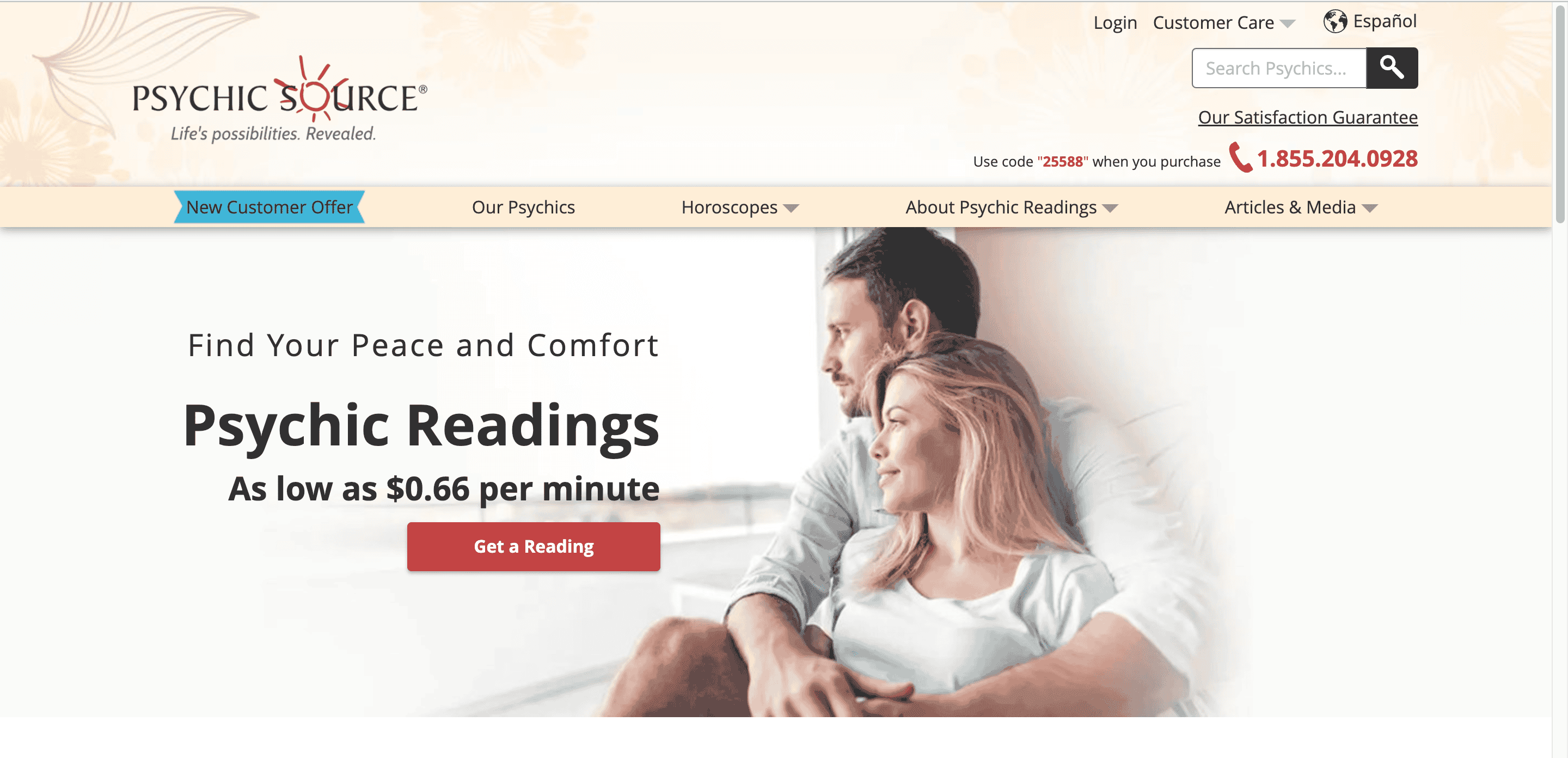 250+ advisors on site
Live chat, call, and video sessions
$1/min + 3 minutes free
100% money-back guarantee
All in all, Psychic Source is the best site for psychic readings in 2023 because of how well-rounded it is. Its psychics have lengthy track-records with 30+ years on the platform in addition to a loyal client base. Not only that, but its ethical approach to psychic readings ensures you can trust the guidance you receive.
It also offers unmatched flexibility when it comes to contacting its support team, helping remove any frustration. You can get immediate support with its live chat feature or with its customer hotline. There is also the option to email them or you can consult its thorough FAQ page if needed.
Psychic Source has a no-catch, 100% money-back guarantee policy, where you can get refunded back to your original payment method, or can get matched with a new psychic without extra costs. This is something you shouldn't take for granted because even sites with a satisfaction guarantee have conditions attached.
One-Of-A-Kind Reading Subjects
Rather than searching based on category, you sort through psychics based on specialty like career, clairaudient, clairsentient, clairvoyant, energy healing, intuitive/empath, love psychic, pet psychic, and psychic medium. You can tick multiple search options for tailored results.
I saw reading topics I've never seen on other sites, like the wandering hearts and social media influence themes. You also have the choice to sort by reading style, which can include a compassionate, direct, expressive, thoughtful, or wise approach. To add even more convenience, you have the choice between a chat, call, or video reading.
| | | |
| --- | --- | --- |
| Breakups/Divorce | Harassment | Lost Object |
| Cheating/Wandering Hearts | Manifesting Wealth | Meditation |
| Finding Love/Soulmates | New Job | Past Life Interpretation |
| LGBTQ+ Relationships | Office Romance | Spirit Guides |
| Sex/Intimacy | Work/Life Balance | Spirituality |
| Sibling/Parental Issues | Auras | Unlocking Psychic Abilities |
| Social Media Influence | Chakras | Coping with Death |
| Toxic Relationships | Dream Interpretation | Incomplete Goodbyes |
| Career Changes | Embracing Change | Loss of a Pet |
| Co-Worker Disputes | Law of Attraction | Moving Past Grief |
| Financial Stress | Life Coaching | |
Set Up a Reading
After selecting your psychic, you'll need to select the amount of minutes to purchase. I noticed the signup process is a little more demanding since it asks for first and last name, email, password, and date of birth but making an account shouldn't take more than 3 minutes. Similar to other platforms, you'll be redirected to a payment page to proceed.
Audio Messages on Profiles
Finding your psychic feels personal on Psychic Source because of the audio messages on profiles. By clicking one button you can listen to various psychics describe relevant experience level and information. The audio message feature saves you from reading through countless profiles and helps you feel into each psychic's vibe prior to booking.
Competitive Starting Rates
Psychic Source's rates start at $1/ min with an additional 3 minutes free if you're new. Its starting regular rate is $4.99/min, but this is quite good compared to the rate of the most popular psychics on other platforms. Even its highest rate of $18.99/min is still much lower than other site's highest rates.
With its Rewards Member program you earn:
3% Rewards Dollars on every purchase.
Up to $50 Bonus Dollars every month.
$25 Bonus Dollars if you talk for 175 minutes in a calendar month.
Additional 15 days of price protection for a total of 45 days.
2. PathForward — Find Exclusive Psychics With Its Rigorous Vetting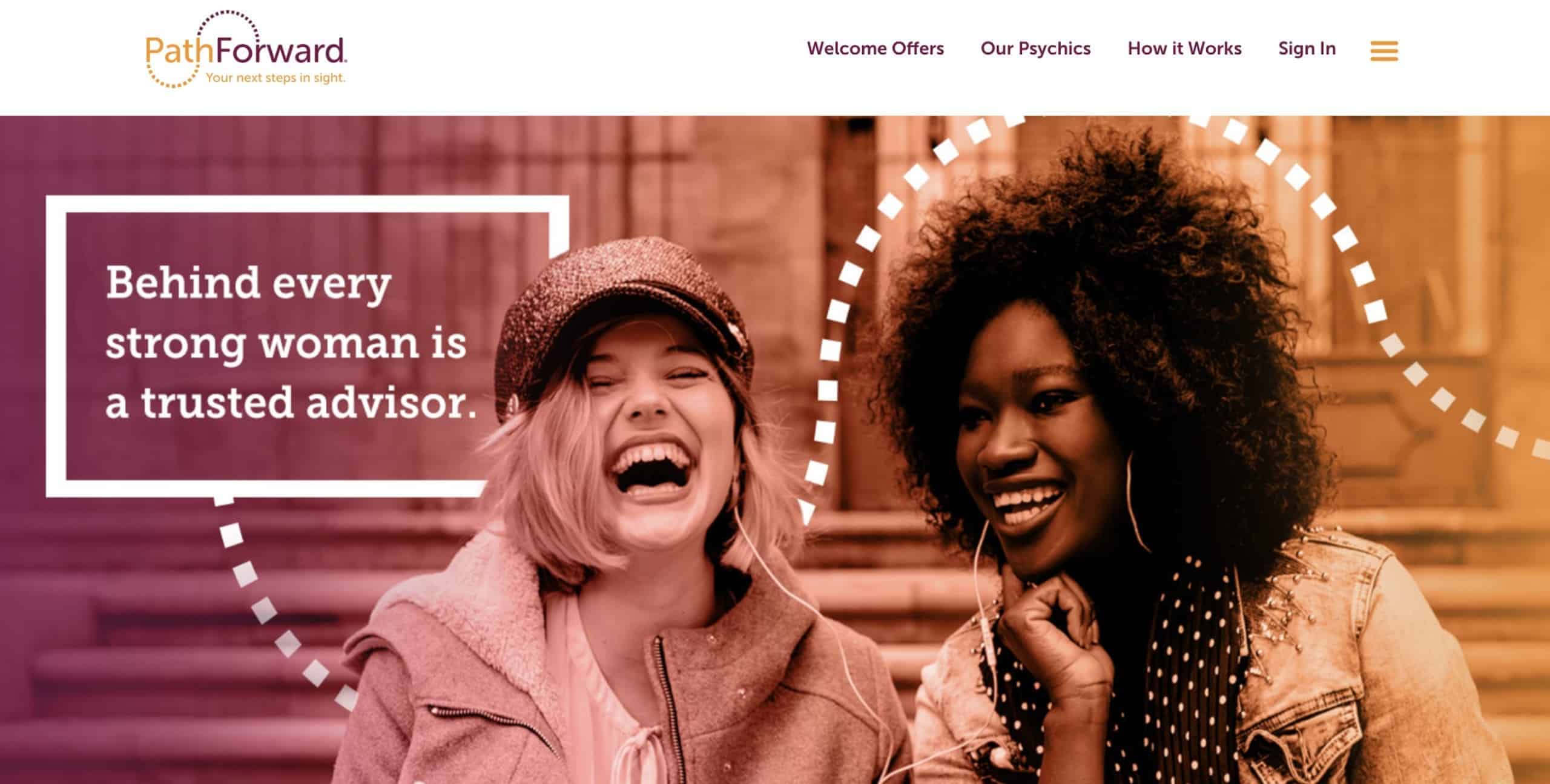 50+ readers available
Chat and call readings
$1/min + 3 minutes free
100% satisfaction guarantee
The screening of psychics on PathForward is amongst the most rigorous which is why there is an exclusive selection of them. The site only accepts 5% of all applicants and requires extensive testing and evaluations before bringing psychics onto the site. On PathForward, I've never had to worry about connecting with an unqualified psychic.
Path Forward took the 2nd spot on this list because there's less room for error when selecting a reader. So if you're new to psychic readings you won't feel as overwhelmed with the selection process since there are less, high quality options.
Since PathForward and Psychic Source are sister companies, it only made sense to make it the runner-up. However, since it doesn't offer video sessions and has a smaller pool or readers, I decided it couldn't be #1. That said, I've had equally as impactful sessions with its voice readings and appreciate its intimate selection of psychics.
Unique Psychic Tools
PathForward has an impressive selection of subjects, gifts, tools, and delivery style to choose from. Much like on Psychic Source, I noticed the site had unique tool selections such as spirit guides and ancestors. The benefit of the psychics on Path Forward is that they're specialized and experienced in their practice.
| | |
| --- | --- |
| Ancestors | Crystals |
| Angels | Tarot |
| Astrology | Dreams |
| Can Read Without Tools | Numerology |
| Spirit Guides | Past Life Interpretation |
Set Up a Reading
The steps to start a reading are the same as they are on Psychic Source; you pick a psychic, a reading method, and an introductory package. Then you'll be required to fill out some personal information and proceed to add your payment method. One of my favorite things about the site is that you can get a reading in English or Spanish.
Helpful "Call Back" Feature
In the event your favorite psychic is busy, you can get them to call you back. All you do is click on the "Call Back" button on their profile and input until when you're available to receive the call. You also don't have to stay guessing since you'll get an update on how many people are in line ahead of you along with an estimated wait time.
Free Additional Minutes
Regular rates on PathForward start at $5 per minute but from my research, the vast majority of the psychics have this rate. While it's a bit inconvenient that there are no regular rates under $5, you can connect with a top psychic for much less than on other sites. And if you're new to PathForward you'll pay $1 per minute and get an additional 3 minutes free.
With its Inner Circle program you get one free 10 minute reading and 10% off all psychic readings for $24.99 a month. New customers even qualify for up to $100 in free readings. In case its Inner Circle program isn't within your budget, you can join its In Sight rewards for free and get 3% back in reward dollars.
3. Purple Garden — Enjoy Community Support With Its Journeys Feature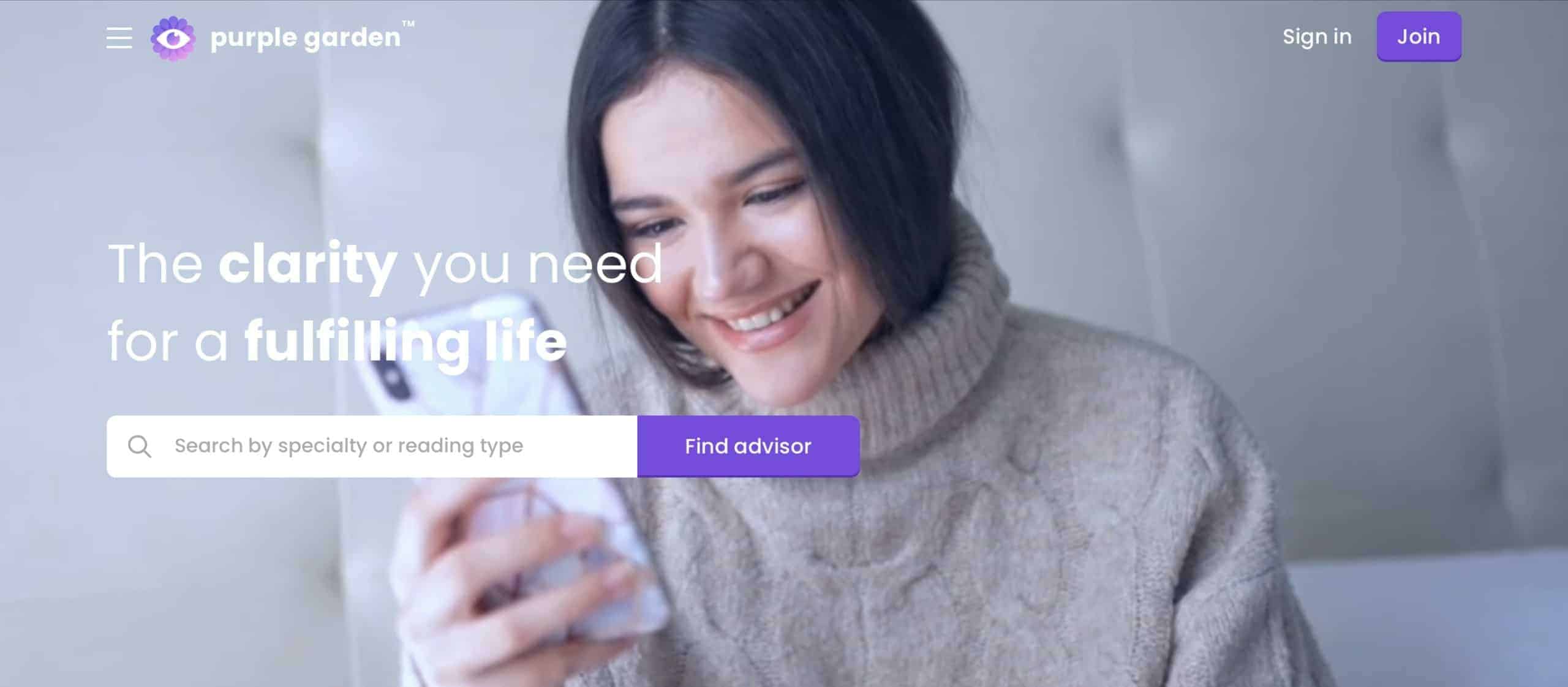 250+ psychics to select from
Live chat, phone, and video sessions
$10 credit towards your first reading
Refunds for below par experiences
Purple Garden is a solid pick because of its unique Journeys feature. Its thread-board style layout lets you post your experiences, while also granting you freedom to contribute to existing posts. It's organized by category and includes: breakups, infidelity, soulmates/twinflames, crushes, relationship problems, career, and much more.
You can also use the Journeys feature to get first hand recommendations for psychics. In case you come across someone in a similar situation, you can get connected to their go-to psychic. All in all, Journeys makes the site stand out from competitors since it offers something beyond just psychic services.
Services on Offer
Much like Psychic Source, Purple Garden offers video readings. However, on Purple Garden not every psychic has all three reading methods enabled, so that's where Psychic Source has the advantage. And while Purple Garden's search filters aren't very detailed, I was happy to see that many of its readers have specialized experience listed in their bios beyond the following categories:
| | |
| --- | --- |
| Love Readings | Angel Insights |
| Psychic Readings | Astrology & Horoscopes |
| Tarot Readings | Dream Analysis |
| Palm Readings | Oracle Guidance |
Join In Less Than a Minute
You can browse through its psychics by category and narrow down your search with its filters. Although I wish Purple Garden had more detailed filters, starting a reading is easier than on other sites. Once you're set on a reader, select from a chat, call, or video session and make an account. I was able to join in under a minute using just an email and password.
Great Mobile App
The shining star of Purple Garden is its mobile app. Using the app offers convenience since you can get insights on the go from wherever you may be. Not only that, but Purple Garden's app grants you access to features that aren't available on its desktop version. This is the case with its Journeys community feature that can only be accessed via its app.
Readings For Under a Dollar
The pricing structure on Purple Garden is affordable with readings starting as low as $0.99/min. Some readers can charge up to $17.99/min, but it's rare to see since the average rate per minute is around $4.99. As a newbie, you're eligible for a $10 credit that you can put towards your first session and test its readers out without risk.
Purple Garden doesn't have a traditional rewards system but it has a cashback program with 2% back on all purchases. You can also earn free readings by inviting friends and family, which will get credited to your account once they get their reading.
4. Kasamba — Build Long-Term Connections With Its Reliable Psychics

250+ advisors
Chat, call, and email readings
3 minutes free with 3 psychics
Refund requests available
I feel confident recommending Kasamba because its readers have been consistent on the site for years. So, you can rest assured that your favorite psychic won't vanish overnight. After all, establishing reliability and trust with a reader is important when you're hoping to receive long-term support.
Services on Offer
The services on Kasamba are organized by umbrella categories, where under each you can find a plethora of specialized reading types. For example, under the "Psychic Readings" category there is: aura readings, crystal readings, pet psychics, psychic mediums, remote viewing, and rune casting.
Kasamba's "Other" category is what makes the site especially unique. I haven't seen other platforms offering insights about the paranormal, past lives, new age spirituality, universal laws, and religion.
| | |
| --- | --- |
| Palm Readings | Paranormal |
| Universal Laws | Numerology |
| Eastern Philosophy | Past Life Readings |
| Intimacy | Occult |
| Graphology | Picture Readings |
| Religion | Kabbalah |
| Spanish Psychics | New Age Spirituality |
No Extra Charges
Like with any other psychic site, you'll be asked to enter billing information before starting your session. However, I like that you don't get charged unless you decide to go over the 3 promotional free minutes. Creating an account on Kasamba is simple and I was able to create mine in under a minute. All that's required to join is an email and password.
Negotiate Your Psychic's Rate
The lowest per minute rate on Kasamba is $1.99/min and as a newbie, you get 3 minutes free with the first 3 advisors you try. The average rate is around $4.99/ min but Kasamba offers offline readings where you can negotiate the price of the session with your psychic.
5. California Psychics — Select Your Preferred Psychic Reading Style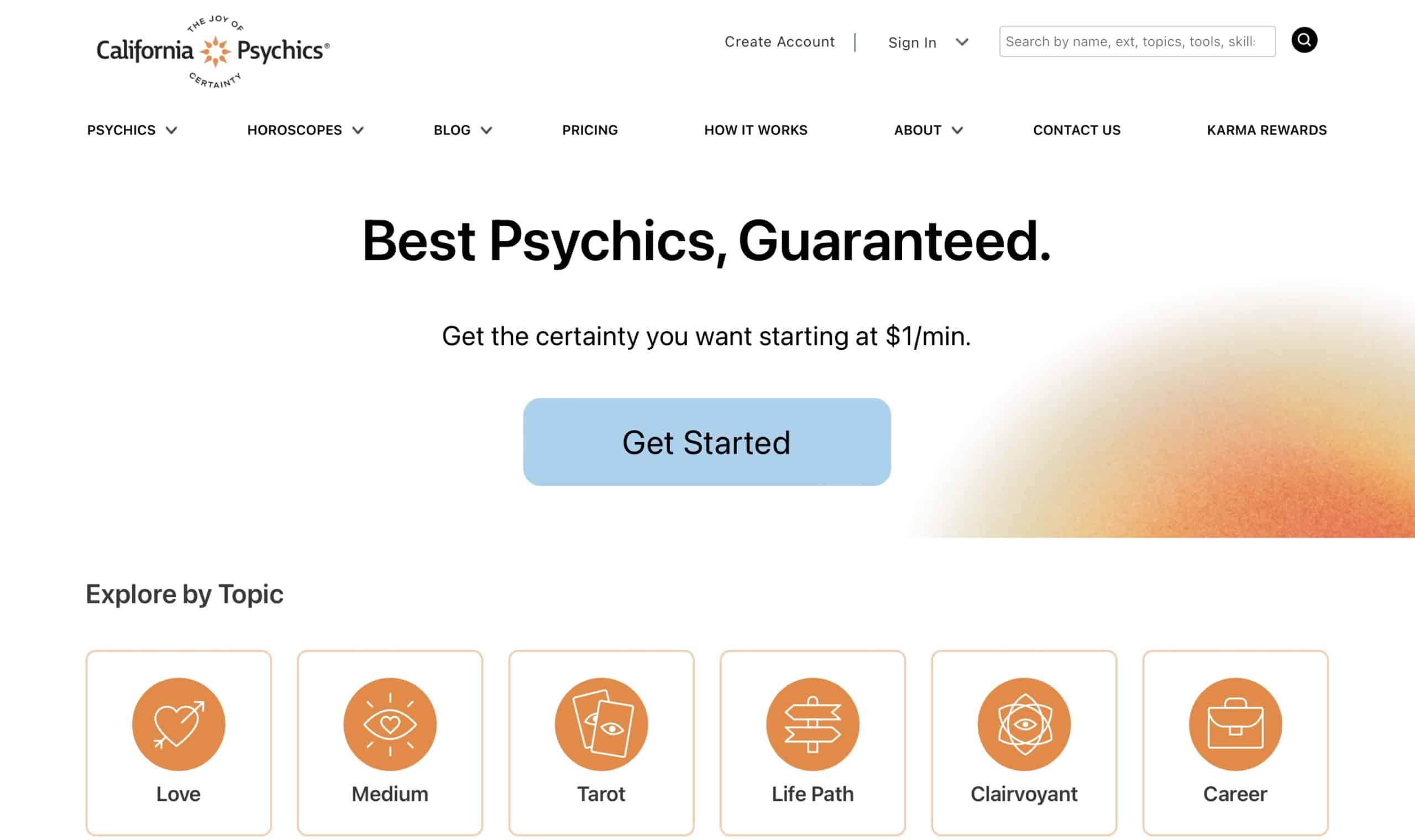 300+ psychics available
Phone and live chat readings
$1/min intro rate
Satisfaction guarantee
California Psychics offers a wide variety of reading topics and hundreds of legit psychic readers. They specialize in a broad range of topics and use a variety of tools to help you find the insight you need. However, it didn't make it higher up on this list because its regular rates can be pricey and therefore a bit unaccessible.
Services on Offer
California Psychics offers a range of reading types, including love, career, destiny, pet, past life, and deceased loved one readings. I find it particularly unique you can also filter psychics by their reading style: compassionate, straightforward, or inspirational.
| | |
| --- | --- |
| Empath Psychics | Clairsentient Psychics |
| Medium Psychics | Dream Analysis Psychics |
| Clairvoyant Psychics | Remote Viewing Psychics |
| Clairaudient Psychics | Channeling Psychics |
There are also tarot readers, and readers who use tools like astrological charts, runes, and numerology if you prefer.
Easy to Set Up a Reading
Psychics are automatically sorted by which ones are currently available in your own time zone. You can filter based on your needs. Once you click on a profile, you can choose to schedule an appointment for later, or request to voice chat or text immediately.
Pricing and Deals
California Psychics offers 3 introductory packages; $1, $2, or $4/min. You can get your first 20 minutes at a discounted rate, depending on how experienced you want your first psychic to be. There's also a satisfaction guarantee where you can get credited back to your account if you're unhappy with your session.
6. Keen — Mail Your Psychic Before Booking For Added Confidence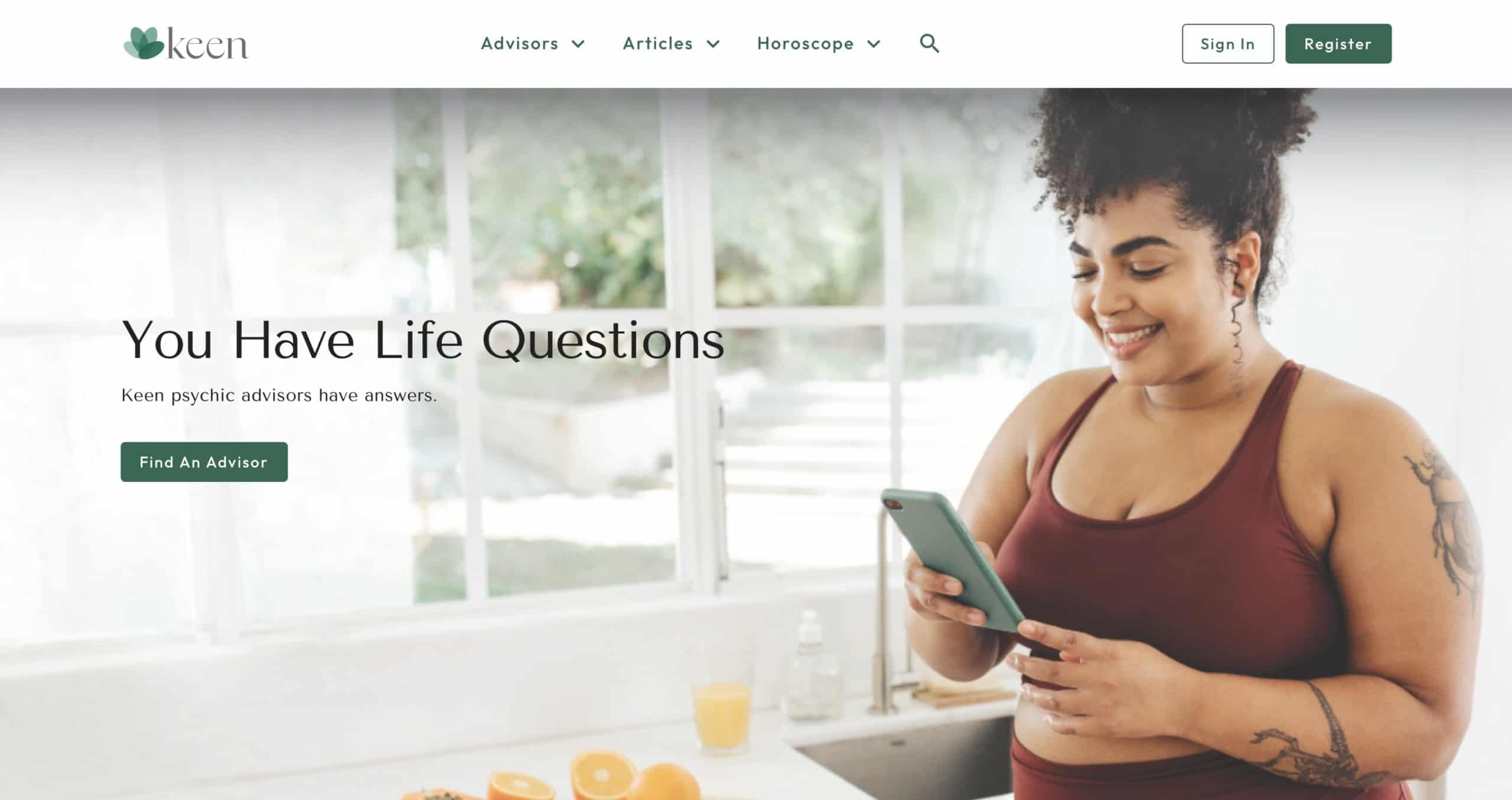 250+ psychics to choose
Live chat and phone readings
5 minutes for $1 or 10 minutes for $1.99
$25 in Keen credits for refunds
Keen is one of the few psychic platforms that allow you to message your chosen reader prior to paying. It's completely free but the feature is reserved for asking general questions. Having the freedom to contact your reader beforehand can help you feel confident in your decision. Plus, you can stick to focusing on the advice you're getting.
Wide Selection of Readings
Another plus to using Keen is that it has a whopping 24 reading themes to choose from. You can select from psychic, mediums, financial guidance, love, life path, tarot, spiritual, astrology, and much more. Whenever I get a reading on Keen I don't have to worry about struggling to find an expert even if it's a niche category.
| | |
| --- | --- |
| Love & Relationships | Pets & Animals |
| Career & Work | LGBTQ+ |
| Money & Prosperity | Deceased Loved Ones |
| Destiny & Life Path | Infidelity |
| Breakups & Divorce | Lost People & Pets |
| General Reading | Grief |
| Spirit Guides | Women's Issues |
| Family & Friends | Lost Items |
| Commitment Phobia | Past Lives |
No Payment Commitments
I noticed that setting up a reading is rather standard and shouldn't take you more than a few minutes. You can join with your email and password or automatically link a Google or Apple account. Select a reader, contact method (chat or call), and enter your payment information.
Enjoy Discounted Minutes
The starting rate on Keen is $1.99/min but the average is between $3.99 and $6.99/min. That said, with its new client deal you can get your first 5 minutes with any psychic for only $1. If you're new to the site, Keen's new client promotion will automatically apply and you don't have to pay extra unless you decide to extend your session.
7. Everclear — Easily Navigate Its Services With Its Sleek Interface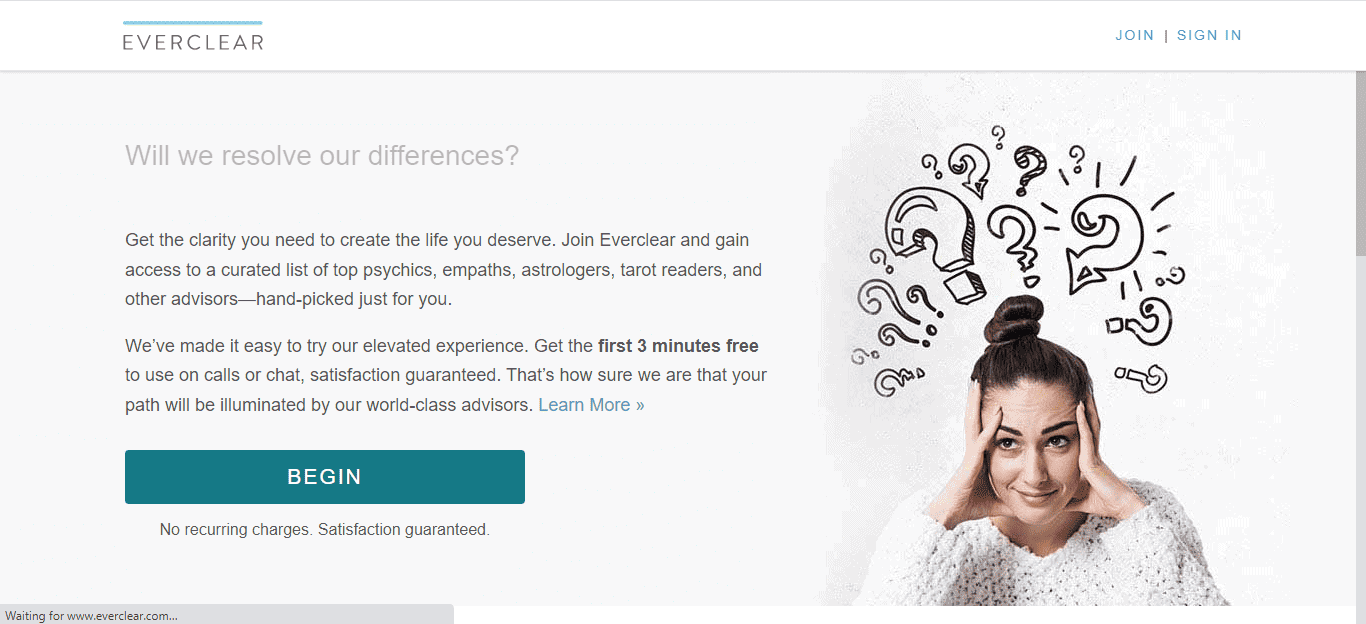 50+ available readers
Live chat and call sessions
First 3 minutes free
Satisfaction guarantee policy
EverClear is a great option if you're not very tech savvy. I enjoy it because you get the convenience of staying home without any stressful or complicated technology. The platform is simple to navigate and does its job at getting you connected with an advisor in a timely manner. So, if you're used to old school in-person readings it's suitable for your needs.
Services on Offer
The reading categories on EverClear include love, life path, money, wellness, career, grief, loss, and pets. That said, many of its readers are specialized in other topics as well. EverClear has search filters that let you narrow your options based on availability, topic, advisor type, tool, and gender. And, you can connect with a reader via chat or phone.
Set Up a Reading
It's a plus that you can browse its advisors without making an account on the desktop version, but on the app you must make an account. It'll ask for first name, last name initial, email, and password but the process was quick for me. To start a reading you need to input your phone number, but you can only use a Canadian or American number to get a reading.
Pricing and Deals
While browsing the rates on EverClear, I noticed the lowest regular rate was $1.88 per minute which is pretty competitive. But, on average you'll pay around $3 per minute for a more popular reader. If you've yet to try EverClear, your first 3 minutes with a psychic will be totally free.
8. Oranum — Get to Know Psychics With Its Free Live Streams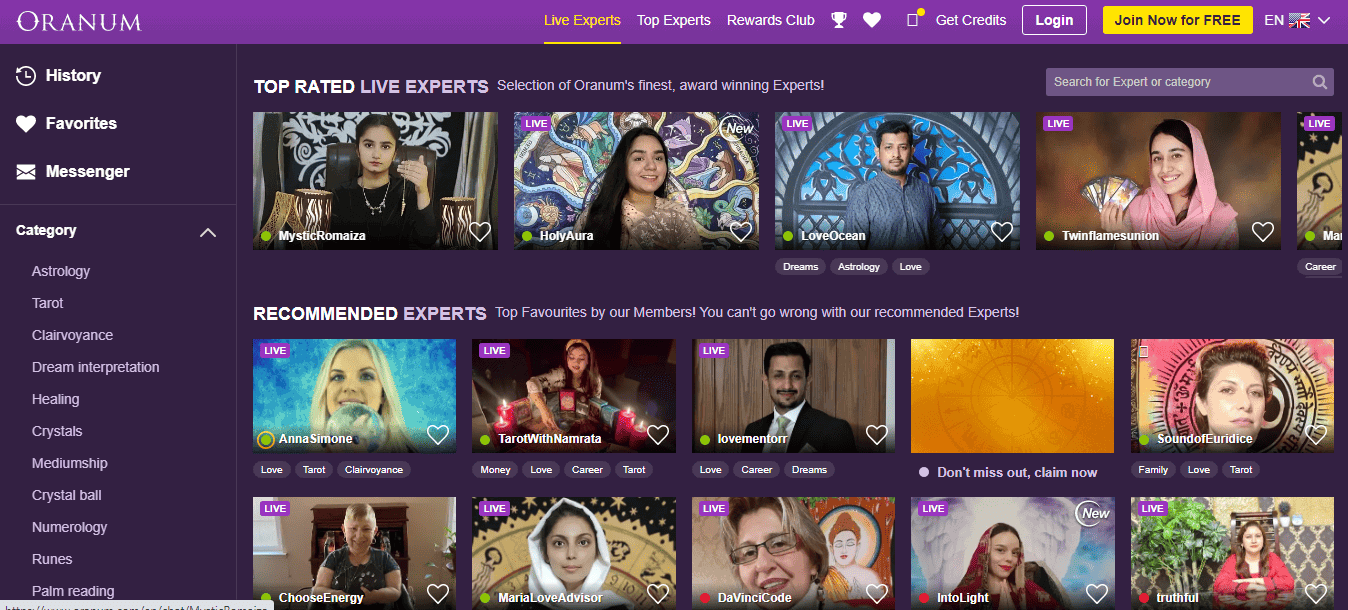 250+ psychic readers
Two-way audio and video readings
9.99 in free credits for adding credit card
Contact support for refunds
Oranum offers you a unique opportunity to watch your favorite psychic or get to know a new one over weekly live streams. The streams are free to join and you can interact with the reader by asking questions through the live chat. Joining a live stream lets you watch a reader in action so you can get a feel for their style and ask more about their expertise.
Services on Offer
The categories on Oranum include love, career, family, money, and pets but you can also use the search bar to find any readers that offer niche services. For example, to connect with a medium you can search "mediumship" and find all of the readers that have that psychic gift.
Set Up a Reading
I quickly made an Oranum account with a username and password. You can then select the reader you'd like to connect with and if they're live, you can click on "start private session". If they're not live, you can request a video call or audio session or send a private message to arrange a call. I noticed connecting with a reader on Oranum is flexible and casual.
Another useful feature is the wide variety of languages available on Oranum. The site offers readings in Spanish, German, French, and Italian, which is quite impressive since the most I've seen on other sites is English and Spanish.
Pricing and Deals
The pricing structure is quite different on Oranum since you pay for readings with Oranum credits. And rather than a per minute rate, each reader will offer their services in exchange for a certain amount of credits. 17.99 Oranum credits are the equivalent of $30 but you can get 9.99 free credits when you validate a credit card.
9. Mysticsense — Narrow Down Your Options With Its Profile Badges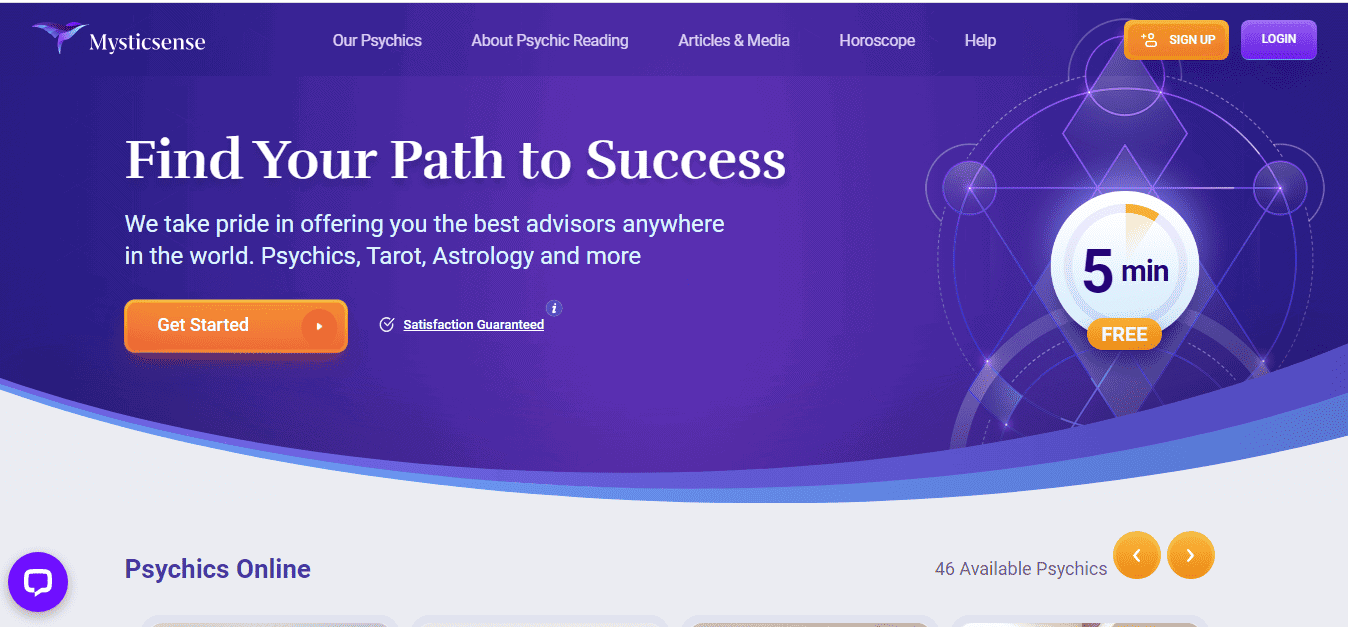 700+ psychics
Live chat, phone, and video readings
First 5 minutes free
Satisfaction guarantee
The badges on psychic's profiles help you determine which reader suits your needs best. For example, I was able to easily find a top rated psychic by keeping an eye out for the badge on their profile. Additionally, if you know you don't want to chat with a new psychic you can avoid them entirely because it'll be clearly displayed.
Services on Offer
MysticSense offers readings over chat, call, and video and an impressive selection of reading specialties. Below is a sample of some of the available reading options you can mix and match with.
| | | | |
| --- | --- | --- | --- |
| Specialty | Psychic Ability | Reading Style | Tools |
| Family Issues | Clairvoyant | Compassionate | Astrology |
| Soulmates | Energy Healer | Direct | Auras |
| Career & Money | Intuitive/Empath | Expressive | Tarot |
| Life Path & Destiny | Psychic Medium | Thoughtful | Pendulums |
Set Up a Reading
After narrowing down the correct psychic and choosing a reading method, you'll be redirected to a sign up page. You'll be asked for your full name, email, password, date of birth, and gender. All you need to do is confirm your email before you can begin your reading.
Pricing and Deals
The site offers newcomers the first 5 minutes of a session free but it's credited to your account immediately after your first reading. So, you'll need to deposit $10 to be eligible but the credit will vary depending on the per minute rate paid. Therefore, if the first 5 minutes equal to $10 then you get $10 credited back with a maximum credit of $15.
10. PsychicOz — Receive a Reading Via Chat, Call, Video, or Email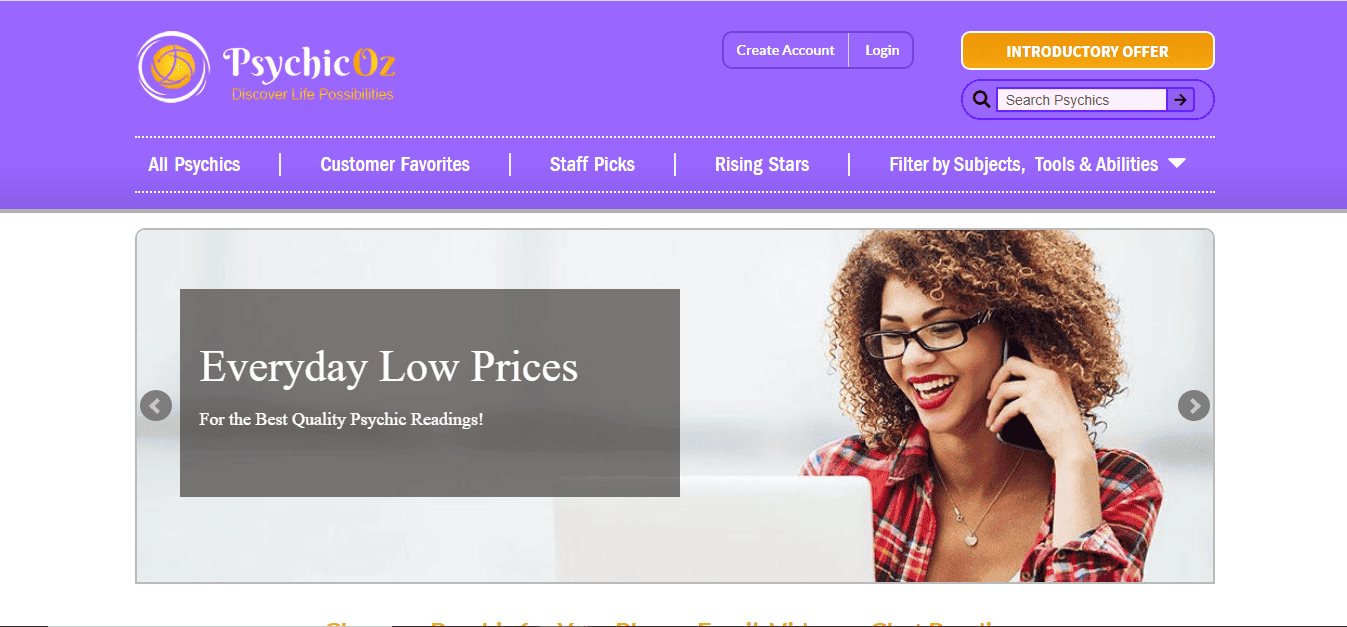 100+ psychics on site
Chat, call, video, and email readings
3 minutes free
Refunds upon request
The variety of contact methods offered on PsychicOz are plenty since there are chat, call, video, and email sessions available. You're even able to send mail to your reader after getting a phone or email reading with them. I like how you can build further rapport with your psychic by exchanging messages after a reading.
Services on Offer
PsychicOz offers similar services as other platforms and doesn't lack variety. You can sort your options by psychic ability which means you won't end up with an empath if you're hoping to connect with a medium. Same thing with the selection of tools, since you'll have a choice between tarot, astrology, numerology, crystals, runes, oracle cards, and more.
Set Up a Reading
To begin your reading you'll need to select a psychic, type of reading, and value package. You can choose from 3 value packages and get your first reading for a discounted price. Creating an account is simple and only requires an email and password. Proceed to add your payment information and start your session.
Pricing and Deals
Your first 3 minutes with a psychic are free but you must make a deposit to claim the offer. However, even as a repeat client you'll get the first minute of every call for free. There are also value packages in addition to the 3 free minutes which include, $4.99 for an email reading, 10 minutes for $9.99, and 15 minutes for $14.99.
Comparison: Best Online Psychic Reading Sites
| | | | | |
| --- | --- | --- | --- | --- |
| | Introduction Offer | Number of Psychics | Contact Methods | Satisfaction guarantee? |
| Psychic Source | $1 per minute + 3 minutes free | 250+ | Live chat, call, & video | Yes |
| PathForward | $1 per minute + 3 minutes free | 50+ | Live chat & call | Yes |
| Purple Garden | $10 credit | 250+ | Live chat, call, & video | Yes |
| Kasamba | 3 minutes free with up to 3 psychics | 250+ | Live chat, call, & email | Yes |
| California Psychics | $1, $2, or $4 per minute | 350+ | Live chat & call | Yes |
| Keen | 5 minutes for $1 | 250+ | Live chat & call | Yes |
| Everclear | First 3 minutes free | 50+ | Live chat & call | Yes |
| Oranum | 9.99 credits for validating credit card | 250+ | Call & video | No |
| Mysticsense | First 5 minutes free | 700+ | Live chat, call, & video | Yes |
| PsychicOz | First 3 minutes free | 100+ | Live chat, call, video, & email | Yes |
Tips for Choosing the Best Online Psychic Readings
Use the following types as a guideline of what to look for when selecting the best online psychic site. It's important to always go with your intuition and stick to options that offer you the most convenience.
Satisfaction Guarantee — The last thing you should be worried about during your reading is wasting money. So, ensure you're selecting an online psychic site that has a refund policy or satisfaction guarantee. This will keep you protected in case of a disappointing reading and bring you peace of mind.
Trustworthy Psychics — Ensure that the site you choose has stringent acceptance criteria for its psychics. Avoid any sites that accept any applicant and stick to the ones that make an effort to highlight the screening process. The best sites will have multiple rounds of evaluations and even monitor the performance of new readers.
Contact Methods — Being comfortable during your reading will heighten the chance of a satisfactory experience. Select a psychic platform that offers you flexibility with a variety of contact methods like live chat, call, video, and email. That way, you're not stuck with a reading type that isn't your style.
Proof of Reliability — Nothing is more telling about a psychic site's reliability than the quality of user reviews. Take your time scooping out the satisfaction level of other users throughout review sections. Many positive reviews indicate that the site is delivering high quality psychic services.
Reputation — A psychic site with a long history of operation is more likely to be trustworthy than a newly established one. Check how long the site has been in business and whether it has a stable track record. Be cautious of sites that promise 100% accurate readings, as ethical psychics will not make such claims.
Available Reading Types — More options with reading types are better than less because you don't want to be stuck with an inexperienced reader. Psychic sites that offer niche categories are more likely to house psychics with a multitude of skills or those that are experts in that category.
Quick Guide: Connect To an Online Psychic in 3/4 Easy Steps in 2023
Save yourself time figuring out how to connect with a psychic reader and check out this quick guide for direction.
1. Choose a Reading Category
Choose the specific skill you want your psychic to have and select a relevant reading category. For example, if you wish to communicate with a deceased loved one, you might want to look at the "Mediumship" category. Selecting the right reading category ensures that you connect with a psychic who possesses the required psychic abilities.
Not only that, but you want to ensure your psychic has experience advising on the type of situation you're in. You wouldn't connect with a career psychic if you wanted love advice, so always narrow down your options based on a reading category.
2. Select a Relevant Tool
Most platforms will have search filters so you can quickly narrow down your browsing options. Consider if you'd like a reader that uses no tools or if you have a particular preference for a tool. No tools are best when you want an advisor with strong psychic gifts like clairvoyance or clairaudience that can deliver messages without any assistance.
Alternatively, tools like Tarot are great when you prefer visual cues or want additional confirmation. You might feel like you can trust the insights of your psychic more if they can back up their claims with a relevant Tarot card.
3. Decide on a Connection Method
The best connection method will depend on your personality type and the way you'll feel most comfortable. More outgoing personality types tend to like the face to face interaction you get with a video session. However, if you're camera shy and prefer additional privacy, a live chat or phone reading would be more suitable.
While not all sites offer email readings, it's one of the most flexible options available. Most of the time you can ask a question and take your time reading the response without sacrificing time. But, be aware you might not get an immediate answer with this method.
What Are the Different Kinds of Psychic Readings?
With so many types of psychic readings, it's easy to get confused on which reading type is best suited for you and your situation. Explore the most popular types of readings and their differences with the following chart.
1. Psychic

– During a psychic reading, the psychic taps into their intuitive senses to gain insight into your past, present, or future experiences, emotions, and potential outcomes.

– Psychic readings are helpful for gaining clarity when you're facing uncertainty and would like assistance in making a decision or solving a problem.

– Receiving psychic guidance can help you make decisions by presenting potential outcomes. Not only that, but they can bring you a sense of direction and offer up a broader perspective on your journey.

2. Tarot

– During a Tarot reading, a trained reader, known as a Tarot reader or Tarot practitioner, interprets the cards' meanings and their positions within a spread to provide guidance and understanding.

– Tarot readings can offer guidance and clarity on important life decisions, relationships, career choices, and personal growth.

– The benefit of a Tarot reading is that it can foster self-awareness and introspection so you can better navigate your path. It's great for visual people that like the reassurance of the cards.

3. Fortune-Telling

– Fortune-Telling is a form of divination where the reader uses various tools, such as tarot cards, crystal balls, palmistry, astrology, or other methods, to gain insights into your future or destiny.

– This type of reading is best suited for you if you're curious or intrigued about your destiny in life or what you can expect in a certain area like finances or love.

– These readings can provide direction when you feel lost or unsure about what your life is meant to entail. If you're going through a rough patch, it can be reassuring to know that things are meant to turn around.

4. Mediumship

– Mediumship readings involve communication with spirits or energies from the spiritual realm. A medium acts as a bridge between the living and the deceased, relaying messages, guidance, or insights from departed loved ones, spirit guides, or other ethereal beings.

– This reading type is meant to connect you with deceased loved ones and find closure after their passing.

– Receiving messages from those who have crossed over can bring comfort and a sense of peace, knowing that their loved ones are still present in some way.

5. Astrology

– Astrology readings involve analyzing an individual's birth chart, which is a map of the positions of the planets at the time of their birth. Astrologers use this information to gain insights into a person's personality traits, strengths, weaknesses, life events, and potential future trends.

– Consider an Astrology reading for precise predictions so you can identify significant life events and trends by studying planetary movements and transits.

– This insight can help you prepare for challenges or make the most of favorable opportunities.

6. Love & Relationships

– Love and relationship readings focus on matters of the heart, romance, and interpersonal connections. In these readings, a psychic or intuitive reader uses their abilities to gain insights into your love life.

– A love reading is useful when you want insights into potential future relationships and the qualities to look for in a partner. It can also help bring closure after a break up or help you make important decisions in love.

–A love reading can facilitate emotional healing by providing closure or allow you to move forward with a renewed sense of hope.

7. Career & Finances

– In these readings, a psychic or intuitive advisor taps into their intuitive abilities to offer information, advice, and predictions about various aspects of your career and financial path.

– This reading type is helpful when you're uncertain about your career direction or purpose. You may also need support during important career decisions, such as choosing between job offers or considering a career change.

– Can help you understand your strengths, talents, and potential career paths that align with your life goals.

8. Past Life

– Past life readings are when a practitioner delves into your past lives to gain insights into your previous experiences, relationships, and unresolved issues that might be influencing your current life.

– A past life reading can help you resolve any emotional or karmic energy you may be carrying from a past life. You may discover the origins of certain fears or phobias so you can confront and overcome them in your current life.

– You can get healing and release from this type of reading, as well as clarity on challenging dynamics you're currently dealing with.
FAQs on Online Psychic Readings
How do I choose a psychic?
First, get clear on what you want to get out of your psychic reading. That includes reading the topic, delivery style of psychic, communication method, and psychic tool. If you're dealing with a sensitive topic, a psychic with a compassionate delivery style will be best. And if you're a shy person, you'll likely feel most comfortable with a live chat reading.
Connecting with the right reader can be done with a few conscious steps. However, always browse through psychic profiles as they tell you a lot about a potential advisor. This includes how long they've been conducting readings, what their specialties are, and what tools they use.
Can I get a psychic reading for free?
Yes, you can get a psychic reading for free. However, don't expect to get a very long session because most reputable sites will only offer a few free minutes. The point of these free minutes are so you can test the site's services without risk and decide if it's for you. Keep in mind that legitimate psychics will always charge a fee for their services.
The good news is that many reputable psychic platforms offer newcomers free minutes, discounted rates, and a satisfaction guarantee. It's a good idea to stick to these sites because you can feel confident that the advice you receive is legitimate and helps you avoid scams.
How accurate are psychic readings?
Psychic readings can be incredibly accurate when conducted by a trustworthy and experienced psychic. But, it can be challenging to discern which readers are accurate when there are so many options available. However, keep in mind that psychic gifts are not perfect and that any reputable psychic will warn you that not all predictions will come true.
You can increase your odds of receiving an accurate psychic reading by choosing the best site. That's because while there is never a 100% guarantee on accuracy, the top psychic sites will thoroughly vet readers before accepting them on the site. This means that you won't get stuck with a fraudulent reader that doesn't have real psychic gifts.
What questions can I ask during my online psychic reading, and what should I avoid?
You can ask virtually any question during your online psychic reading but some sites have restricted topics. For example, you may not be able to ask pregnancy related questions or for legal and medical advice. Most people ask questions about love, career, life path, or anything that's related to the spiritual realm. Some examples of questions include:
How can I heal from heartbreak caused by my last relationship?
What would my future look like if I changed career paths?
Is marriage something that I can look forward to in the future?
Why do I have a challenging relationship with my mother?
What is blocking my ability to manifest wealth?
Avoid asking yes or no questions since these kinds of questions close off the conversation and prevent the psychic from delving deeper into the factors influencing a situation. Try not to pressure your psychic for certain answers and stay open to what they have to say. Remember to avoid sharing personal, sensitive information that could leave you compromised.
How often should I get a psychic reading?
If nothing major has changed or happened since your last psychic reading, there's no need to schedule one. Most people get a psychic reading when they're going through something of great importance or when they need pressing advice on a situation. But, when going through a major life change, you can consult with a psychic more regularly.
Make sure you're getting high quality advice on a reputable site because any gifted psychic will provide you with sufficient advice and support to keep you satisfied. Psychics that are only after your money will keep you hanging so you feel the need to keep coming back for guidance.
How can I tell that my online psychic is real?
A real and ethical psychic will never use scare tactics or pressure you into paying for additional services or sessions. This is the telltale giveaway that you're dealing with a scammer that wants quick money. Real psychics won't solicit readings from clients and won't message you saying they feel drawn to your energy and want to give you a reading.
To guarantee you're connecting with a real psychic, stick to psychic platforms that have been reviewed for legitimacy. That way, you can guarantee that every psychic on the site has been vetted for having real gifts and you won't fall in the trap of a scammer.
What actually happens during a psychic reading?
This mainly depends on the type of reading you've chosen, as each psychic has different gifts and works with various tools. But generally, a psychic will start by tapping into your energy and will share what they're picking up on. From there, you can ask specific questions to get direct guidance on the best steps to take.
You can experiment with different types of readings to find one that suits you and your situation best. Depending on the one you choose, there may be differences in what you can expect for your session. For instance, if you get a Tarot reading you'll likely see your psychic shuffle cards and interpret messages based on the cards they get.
How can I prepare for my reading?
Know what you want to get out of a psychic reading and approach the experience with an open mind. Take some time before your reading begins to relax and empty your mind so you can go into your reading with an open energy. Prepare some specific but open-ended questions beforehand and take notes throughout your session for later reflection.
Once you've done this, connecting with a reader should be straightforward. The most important thing is knowing what you'd like to focus on during your reading, as this will help you find the ideal psychic.
What's the difference between an online and offline psychic reading?
The biggest difference is that online psychic readings offer you convenience. With traditional readings, you must arrange a time and date ahead of time and meet your psychic in person. With online readings, you can find a reader within minutes and begin a session from the comfort of your own home.
Additionally, the majority of psychic sites will offer you some type of discount. This is never guaranteed with offline psychic readings and you're more likely to spend twice as much. Online psychic readings are safer because you don't have to meet up with a stranger and they offer more privacy which allows you to open up more.
Getting an online psychic reading offers more variety. You can easily filter for an array of psychic gifts, tools, and delivery styles whereas with in-person psychics you're more likely to settle. The chances of a bad reading are minimized with online psychic readings because you can take your time sorting through reviews.
Bottom Line
Finding a legitimate psychic on a trustworthy site can take up hours of your time. These services have become ever more popular in recent years, so finding the right service for your situation and budget can be daunting. To help you out, I have tested several psychic reading sites and shortlisted the best.
All of the sites that made the list have reliable psychics, affordable rates, and convenient features. However, the best site on the list is Psychic Source. The platform has a lengthy track-record, flexibility with reading methods, a reliable satisfaction guarantee, and some of the most niche psychic experts I've seen.