If you're someone who's been struggling to find a psychic website that's both genuine and empathetic, you're not alone. The search can be overwhelming and even disheartening at times.
Deciding to get a reading from a new psychic site can be scary. However, I discovered that the psychics on Mysticsense have deep expertise in their respective fields. It also backs its readings up with a 100% satisfaction guarantee.
As a bonus, Mysticsense offers a free 5 minute reading to new customers. Once you've found the psychic you like the look of, you can use this introductory offer to make sure they're right for you before you spend money.
Start your journey with Mysticsense
Mysticsense's Main Features
Types of Readings on Mysticsense
Mysticsense has a very respectable selection of reading types to choose from, with its website allowing you to filter psychics by specialty, tool, reading style, and availability. I liked that Mysticsense organizes its reading methods under very detailed categories such as affairs and cheating hearts, toxic relationships, finding new love, friends and social life.
If you find a psychic that isn't available you can schedule a session in their available contact methods. On top of phone and chat messages, Mysticsense allows video readings. So if you're someone who prefers a face-to-face session, Mysticsense is a great option for you.
Love and Relationships
If you're looking for guidance on matters of the heart, a love and relationships reading with a Mysticsense psychic will give you insight into your concerns. It has 735 readers who focus on love readings including toxic relationships, LGBTQ+, and soulmates.
In my experience, Mysticsense's psychics went beyond the surface and offered in-depth guidance to help me get unstuck from my confusing romantic situations.
Career and Money Advice
If you're feeling stuck in your job and need some guidance, a career advice reading could be just what you need to get back on track. Mysticsense offers 601 reputable career psychics to choose from, so you'll have several to choose from to help you with your query.
During your session, your reader will work with you to identify the energy that's blocking your career path and provide insight into why you're experiencing roadblocks. They can also offer predictions for what the future holds and suggest helpful alternatives if you're looking to switch paths.
Destiny & Life Path
Life is full of uncertainties, and finding one's purpose in life can be a daunting task. A life path reading from Mysticsense can offer you clarity and direction on your soul's journey.
With the guidance of one of the 572 highly experienced psychics, you can gain insight into your life purpose. A reading will also help you understand your unique gifts and talents, and learn how to align your path with your highest potential.
Other Available Categories
If you're looking for a unique and specific psychic reading, Mysticsense offers a range of niche themes to choose from. These include friends and social life, pet readings, mediumship, and lost objects.
Pet readings give you a look into the inner world of your furry friends. You can gain valuable insights into their happiness levels, what they would change, and any health issues they may be experiencing. Mysticsense features 211 pet psychics available on the platform, and the majority of them have high reviews.
Medium readings can help you connect with the spirit of a loved one who has passed away, providing you with the closure you need. Most of the platform's 328 mediums are rated 4.5 stars or higher and are known for providing accurate readings.
If you've lost a valuable item, the lost object category can provide you with the answers you're seeking. One of Mysticsense's 115 lost object readers will use their psychic abilities to provide you with information about the missing item or person.
Tools
Mysticsense psychics use a wide range of tools to conduct their readings. It features tarot, oracle cards, pendulums, and more. What I love about the variety of tools is that it allows me to choose a psychic who uses the tools that resonate with me the most.
Some of the psychics on Mysticsense also use less common tools like astrology, Reiki, crystal ball scrying, crystals, dream interpretation, runes, and dowsing. While I wasn't familiar with all of these methods, I appreciated having the option to explore new approaches to readings.
I also liked that some of the psychics on Mysticsense can read without tools, relying solely on their natural intuitive gifts. As someone who values intuition and spirituality, this really resonated with me.
How to Book a Reading?
When you've found a psychic you want to get a reading from, you need to create an account and deposit funds into your account. Mysticsense's platform is sleek, modern, and easy to navigate, making for a smooth and enjoyable user experience.
1. Create an Account
Registering with Mysticsense is easy too, even though their registration form asks for a bit more information than some others I've seen. Once you're on the website, click the "Sign Up" button in the top right-hand corner of the screen to create an account.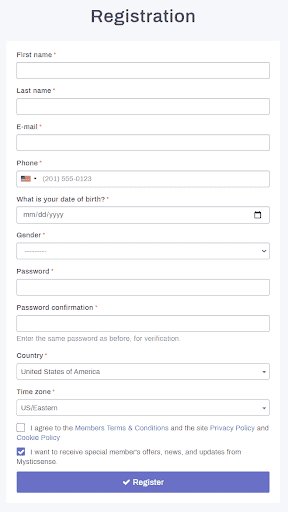 Fill in your name, email, and create a password, then click "Sign Up" to create your account. Alternatively, you can also sign up with your Google or Facebook account. In addition to this information, its form also asks for your phone number, country, and time zone, to ensure you get shown psychics that are most relevant to you.
2. Select a Reader
Once you have signed up, you will be taken to your account dashboard. Here you can browse the available psychics by clicking on the "Browse Our Advisors" button. You can filter the psychics by various categories such as specialties, reading styles, languages, and price range.
Mysticsense allows users to select multiple criteria, providing very specific results. For example, I applied the filters of finding new love, life path and destiny, tarot, and a direct reading style, and the platform produced results that met all 4 of these requirements.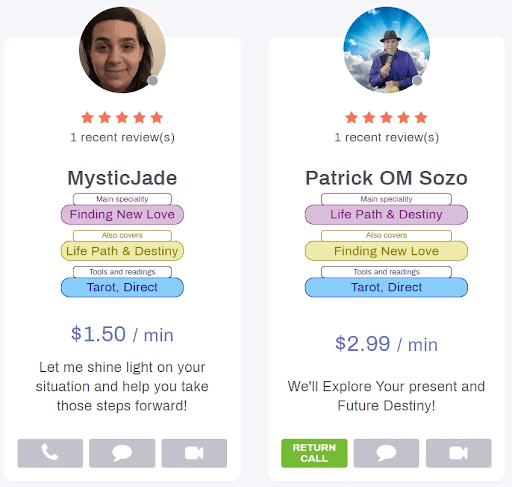 Once you find a psychic you want to book a reading with, click on their profile to view their bio, reviews, and availability. When you find a suitable psychic, select the "Book a Reading" button to choose a reading type and duration.
3. Schedule Your Session
If you're ready for a reading, select a time slot from the psychic's availability calendar that suits you. After selecting the time, choose your preferred method of communication with the psychic, which can be through phone, chat, or video call.
Mysticsense shows a psychic's availability in your local time. Even though this is just basic functionality, it really sets the site apart from a large number of its competitors. This convenient feature allows you to better plan your psychic readings.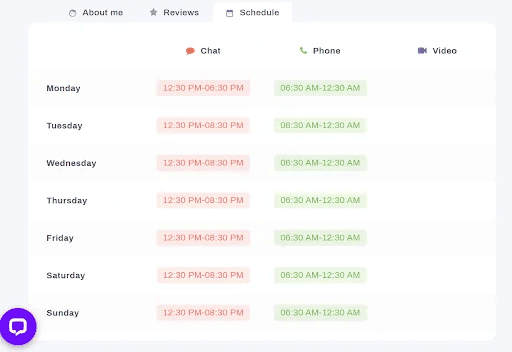 Finally, confirm the appointment by entering your payment information. You can pay using a credit card, debit card, or PayPal. Once your payment is confirmed, your appointment will be booked, and you'll receive a confirmation email with all the details of your reading.
Is Mysticsense Trustworthy?
In its FAQ section, Mysticsense provides valuable information about its quality control processes. I appreciate that it performs routine psychic quality checks to ensure that its standards are being upheld.
Mysticsense maintains a thorough vetting procedure to ensure only the truly talented and seasoned psychic practitioners come onboard. If you're considering joining, you'll need to complete an online form, providing specifics about your psychic skills, prior experience, and educational background. Upon submission of your application, you'll be scheduled for a preliminary conversation with a member of the Mysticsense team.
Once a psychic successfully completes the initial interview, they will be requested to perform a few test readings in order to showcase their abilities. This step is crucial in ensuring that the psychic is capable of delivering precise and enlightening readings that meet the platform's high standards.
If you're dissatisfied with a psychic reading, Mysticsense provides the option to ask for a refund within 48 hours of the reading. It's good to know that Mysticsense places importance on ensuring customer satisfaction and is ready to refund readings lasting up to 20 minutes when required. Yet, it's crucial to remember that this policy is applicable only on a single occasion for each reader.
Overall, I feel that Mysticsense is a platform that is dedicated to honesty and transparency. It's clear that they take pride in providing the best quality service to their clients.
Top Psychics on Mysticsense
1. Angelina

Best for Soulmate Readings

Angelina is a highly experienced and gifted soulmate guide. While she specilizes in love readings, she can also perform career, pet, and grief readings.

She is a no-tool reader, and connects directly with spirit guides to provide insights into your present and future situations. Her reading style is wise and direct, and she doesn't tell you what you want to hear just for the sake of a good review.

2. Mystic Hira

Best for Tarot Readings

Mystic Hira is a tarot expert and psychic advisor who specializes in life path and destiny readings. She's able to give you guidance in your love, career, and family issues.

Mystic Hira has over 10 years of experience and has a wise reading style. Her main aim is leading clients down a path of self-empowerment.

3. Advisor Greeshu

Best for Astrology Readings

Greeshma can use her astrology wisdom and psychic abilities to find answers to your concerns. She specializes in love, relationships, career, business, soulmate connections, dating issues, parenting, and family.

She has an expressive reading style and gives direct answers to problems. Along with astrology she also offers dream interpretation, meditation, numerology, and tarot.

4. Spiritual Magus Tenerife

Best for Crystal Readings

Magus can channel energies with crystals to help you with your life path, career, and love questions. He is adept at avoiding energy vampires and can help awaken any latent psychic abilities you possess.

He also uses Tarot cards to provide guidance and he has a calm but direct reading style to help his clients find peace.

5. Gal

Best for Healing

Gal is a certified crystal healer and uses her natural skills to fix disturbances in your energy field. While she specializes in healing readings, so can also provide guidance on love and family.

On top of this, she can provide you with knowledge about dreams, past lives, and help you with your meditation.
Speak to a Mysticsense Psychic
Is There a Mobile App? No
Mysticsense doesn't currently have a mobile app. If you would like to get a reading while you're away from home, California Psychics provides a mobile app and has the same rigorous screening method as Mysticsense.
Pricing
Mysticsense offers a flexible pricing system that allows the psychics to choose their own rate. This lets you choose the rate you feel comfortable with. The pricing ranges from $0.99 to $10.99 per minute, with the average rate being around $3.99 per minute.
When you sign up for an account with Mysticsense, you can take advantage of its introductory offer, which is a free 5-minute reading. This is a great way to try out the platform and see if it's right for you before committing to a longer reading.
To get the 5 minute reading, all you need to do is make an account and then make a deposit of $10. Then pick a psychic, your preferred reading method, and schedule a reading. You'll be refunded the cost of the first 5 minutes immediately after the reading up to a maximum of $15.
Mysticsense also offers a satisfaction guarantee, which means that if you're not completely satisfied with your reading, you can request a refund within 48 hours of the session. However, it's important to note that refunds are subject to review and are not guaranteed.
Additionally, Mysticsense occasionally offers discounts and promotions. Be sure to keep an eye out for those if you're looking to save some money on your readings while getting guidance to navigate life.
Customer Support
Mysticsense has a proven commitment to providing quality customer support which it shows by offering a range of support methods. When it comes to seeking guidance from a psychic, it can be an emotional and vulnerable experience. That's why Mysticsense has a team of support specialists available 24/7 to assist you with any questions or concerns you may have.
I was surprised to find that Mysticsense actually provides 3 customer support methods, as usually psychic sites only have 1 or 2. The main support method is it's ticketing system, accessible through it's "help" tab on website. This allows you to enter your name, email, and your message and then wait for a response.
However, if you don't want to wait for an answer, Mysticsense also offers a 24/7 live chat support. Like the ticketing system, this requires your name and email before you chat with a representative. However, when I tried the live chat myself I found the customer support representative to be informative and able to answer my query.
If you prefer to communicate just through email, there are 2 dedicated email addresses for support inquiries. One for customers and another for psychics. I find the dedication to making sure the psychics on the site can get the help they need inspiring, as it shows the site cares for its userbase.
On top of all of these support methods, Mysticsense also features an exhaustive FAQ. The questions on the FAQ range from how to find the right psychic to more technical concerns related such as how to make a deposit.
FAQs on Mysticsense
What makes Mysticsense unique?
One of the unique features of Mysticsense is it allows you to filter psychics with multiple categories. For example, you can look for a love advisor that also specializes in life paths. This also allows you to search for the exact reading tool you prefer, and well as how direct you wish the advisor to be.
What is Mysticsense's refund policy?
Mysticsense has a generous refund policy that allows you to get a credit applied to your account if you're not happy with a reading. However, you need to request the time back within 48 hours, and you can only receive a credit of up to 10 minutes.
You also cannot request a refund for any reading other than your last paid psychic reading, or request one for an advisor you've already had a refund for. There is a limit of only 1 refund per month, and your refund request is also subject to review and dependent on your Mysticsense account standing.
Mysticsense offers a money-back guarantee of any unused deposits, so long as you request it within 48 hours of depositing the money. However, use this wisely as you can only request a cash-back once. You should also bear in mind that Mysticsense reserves the right to refuse you future service if it finds you violating any of the user terms regarding its refund policy.
Is Mysticsense safe?
Absolutely! Mysticsense is committed to providing a safe and secure platform for its users. All of Mysticsense's psychic readers go through a rigorous screening process to ensure that they are genuine and have the necessary skills and experience to provide accurate readings. It also has a customer support team available 24/7 to address any concerns or issues that may arise.
In terms of data protection and privacy, Mysticsense uses industry-standard encryption technology to protect all user data and communication. It also has strict privacy policies in place to ensure that user information is not shared with third parties without consent.
What is the average cost of a reading on Mysticsense?
The cost of a reading on Mysticsense can vary depending on the type and length of the reading, as well as the individual rates set by each psychic reader. However, the site offers very competitive prices, with rates starting at just $0.99 per minute. Most of the psychics on Mysticsense have rates that fall between $1 and $3 per minute, with the highest being $10.99.
Additionally, if you've never received a reading from Mysticsense before, you get a free 5 minute reading. All you need to do is make an account, depost at least $10, then have a reading. The cost of the first 5 minutes of your reading will be refunded to you immediately after the reading is over, up to a maximum of $15.
Are the advisors on Mysticsense accurate?
Yes, the advisors on Mysticsense are highly skilled and experienced in their fields. However, it's important to keep in mind that a psychic reading is a subjective experience and the accuracy of the reading can depend on a number of factors, including the energy and openness of the client.
What can I expect from a reading on Mysticsense?
You can expect to receive guidance and insight on a wide range of topics. Mysticsense offers readings on topics such as love and relationships or career and life path. The advisors on Mysticsense are compassionate and caring, and they strive to provide you with the tools and insights you need to live your best life.
Bottom Line
Mysticsense is an excellent psychic reading site that excels in many areas. The site offers a vast selection of reading options, almost 1,000 highly rated psychics to choose from, and a thorough psychic screening method.
What sets Mysticsense apart is its psychic filtering system that allows you to search using multiple categories, ensuring that you find the best psychic for you. On top of this, its commitment to customer satisfaction is evident in its excellent customer support team and satisfaction guarantee.
While pricing may vary depending on the psychic you choose, the platform offers affordable rates for the quality of service you receive. I recommend you try Mysticsense's search function to find a psychic that fits your budget. It offers a free 5 minute reading to new customers so you can obtain guidance without committing as much money.