PsychicOz is one of the longest-serving psychic platforms with 30+ years of experience. It also stands out as it lets you connect with experts via video, which is quite rare. But even then, psychic consultations are sensitive and highly emotional, so it's important to match with the right advisor.
After rigorously testing the site, I can confidently say that PsychicOz is a solid choice for psychic readings. The platform features an extensive roster of highly-talented psychics who cover a wide range of psychic reading niches. This ensures that you can easily connect with a psychic who can provide unique insights.
All of the above means you can enjoy more fulfilling and meaningful psychic readings with PsychicOz. But if you're still curious, this review will give you everything you need to make an informed choice.
Types of Readings on PsychicOz
PsychicOz lets you choose from a wide selection of reading themes. This includes popular selections like love and relationships, career forecasts, and money. The site's psychics can perform readings using innate psychic gifts, specialized tools, or both. Psychic tools can amplify an expert's intuition which helps them gain a deeper insight into your soul.
However, you should remember that psychic experts can only guide and advise you on dealing with a situation. This is why you should never rely 100% on what you hear.
Love & Relationship
PsychicOz provides you access to 100+ love and relationship psychics. Most of the site's love and relationship experts have averaged a 5-star rating, with some advisors performing over 1000 readings.
A love and relationship reading is great for seeking guidance on matters of the heart, such as relationship guidance, infidelity, or even compatibility. For example, some of PsychicOz's love psychics use tools like tarot cards to provide you with answers related to your relationship.
From the comments and reviews left by previous clients, it's safe to say that you can count on PsychicOz's love experts to be patient and compassionate. All of which are important characteristics of a good love reading.
Career Forecasts
There are 80+ career forecast psychics featured on PsychicOz. All of them have a rating of 4 stars or more, and some are quite experienced with 1000+ readings. Career readings allow you to shine a light on doubts or questions in your professional life. For example, you might want to know if you should accept a promotion, change careers, or stick with your current job.
You can also consult with a career forecast psychic if you're struggling to cope with negative emotions at the workplace, i.e., office politics. The psychic will then turn to the higher powers and advise you on how you can best approach these challenges.
Life Path
A life path reading provides insight and guidance on your life's journey. They're based on the belief that each individual has a unique life path or purpose. And that by gaining a deeper understanding of this path, a person can make more informed decisions and live a more fulfilling life.
There are more than 100 life path psychics on PsychicOz, with most having an average rating of 4 stars or more. They are great listeners who will provide you with advice and insight that you can use to understand your path. Some turn to tools like tarot cards to tap into your inner energy, whereas others turn to the stars to learn more about your place in the universe.
Money Readings
Getting a money reading can help you identify negative thoughts or limiting beliefs that may be holding you back from achieving financial success. From here, you can reflect on your past decisions and make a shift towards improving your financial status.
To help you along, you can contact any of the 80+ experts featured on PsychicOz. Their non-judgemental, patient mannerisms make it easy for you to be honest and upfront with them about any financial troubles you may be facing.
These experts are rated at 4 – 5 stars in general, with many comments praising them for being upfront and honest. I find this to be especially important regarding topics like money and finance.
Other Reading Categories
In addition to the categories above, you can also choose from the other psychic themes I've listed below:
Past life readings — This theme delves deep into unresolved issues from a past life that may be affecting you now.
Deceased loved one reading — Helps you find closure when you're dealing with grief and sadness from the passing of a loved one.
Missing person readings — Consider this theme if you need help locating a missing loved one. You'll gain valuable insights that help you locate the person.
Pet readings — Getting a pet reading can help you find comfort or build a stronger connection with a pet (alive or departed).
Is PsychicOz Trustworthy? Yes
With over three decades of experience, PsychicOz holds an authentic and credible position in offering psychic readings. Since its inception in 1989, it has consistently provided reliable insights without a hitch. This longevity and track record speak volumes, convincing me that it's a platform you can genuinely rely on.
I also like how PsychicOz takes a serious approach to protecting your privacy and its psychics. It forbids psychics from requesting your personal information and advises you to report such occurrences immediately.
The platform also has a satisfaction guarantee to ensure you have a positive experience. Under the terms of this policy, you can request your money back if you are unhappy with the quality of the reading you received.
Remember that the refund policy covers a maximum of 20 minutes, and you're required to make your refund request within 24 hours of your last paid reading. Also, all requests for refunds are subject to approval or denial based on the company's judgment.
Upon consulting the customer service team of the platform, I discovered that every applicants undergoes a thorough background check and a comprehensive evaluation process before being accepted. This stringent approach to recruitment clearly demonstrates PsychicOz's commitment to maintaining authentic advisors. Thus, you can rest assured knowing that the legitimacy of the psychics is a top priority.
Top Psychics on PsychicOz
1. Luke

Best for Career Readings

Luke helps individuals navigate their career paths and offers guidance on professional development. His psychic abilities include clairvoyance and divination tools such as tarot cards.

He graduated from The Berkeley Psychic Institute & Delphi University of Spiritual Studie and has been providing readings for more than 20 years.

Clients have left positive reviews for Luke, praising his ability to provide guidance and support during challenging career decisions.

2. Serenity

Best for Love & Relationship Readings

Serenity is an 8th-generation psychic with over 25 years of experience in giving readings. Clients have praised her compassionate ability, which helps her connect with them more personally.

As a love and relationship specialist, Serenity provides guidance and clarity to those seeking advice on heart-related matters. She also uses tarot cards to give you even deeper insights.

3. Samara

Best for Life Path Readings

Samara has developed a reputation for compassionate yet direct readings. She has performed thousands of readings which demonstrates her experience and skill.

Together with her psychic abilities, Samara is clairvoyant and familiar with divination tools such as tarot cards. This allows her to provide valuable insights into your life path.

4. Ginnie

Best for Money Readings

Ginnie specializes in helping individuals navigate their finances, offering guidance on budgeting, debt management, and financial security.

She has performed numerous readings demonstrating her experience and dedication to helping others.

Another plus point for Ginnie is that she is bilingual and can provide readings in Spanish and English.

5. Tula

Best for Past Life Readings

Tula will help you better understand all your past lives and their impact on your current one.

Aside from her psychic gifts, Tula is familiar with divination tools such as tarot cards, crystals, and pendulums.

She has also studied Psychic Arts at UCLA and spent time at the Berkeley Institute of Psychics in California, which has equipped her with theoretical perspectives.
Is There a Mobile App? No
PsychicOz doesn't have a mobile app, but makes up with a highly optimized mobile website. The website mirrors all the functionalities of its desktop version and runs smoothly, allowing for seamless browsing of various psychic profiles without any slowdowns.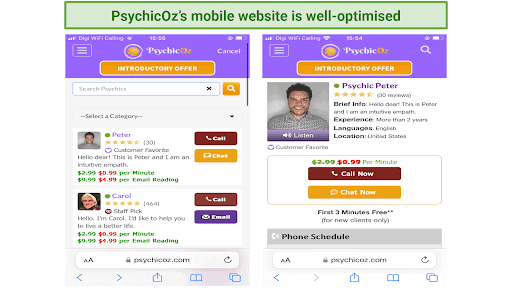 You can access all of PsychicOz desktop features on your mobile device

Every psychic's profile has a pre-recorded audio message which you can listen to and get a feel for them. There are also comments and reviews left by previous clients describing their experience. You can then use this information to decide whether a psychic is right for you.

Other interesting features on the platform are the "Customer Favorites", "Staff Picks", and "Rising Stars" segments. "Customer Favorites" features psychics who have received commendations from clients for their accuracy, skill, and pleasant personality.

On the other hand, "Staff Picks" showcase advisors recommended by the PsychicOz team for their high ratings and consistency. And finally, "Rising Stars" connects you with up-and-coming psychics who are growing in popularity. All of these features show me that PsychicOz strongly emphasizes the quality of its advisors.

Finally, there's also the site's intuitive filtering system. It lets you sort through psychics by subjects, tools, and abilities, so you can easily connect with an advisor who is a perfect fit for you.
How to Book a Reading?
1. Create an account.
Go to PsychicOz's homepage and click on the "Create Account" button. Then, you'll be prompted to fill in your details, like your name and email address. After that, click on the "CREATE ACCOUNT" button. Once that's done, you can browse through PsychicOz's roster of psychics by price, rating, or niches.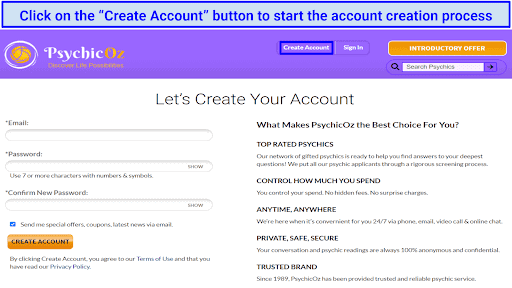 2. Book a reading.
After choosing, click on a psychic's name to view their full profile. Here, you can check out their bio, reading subjects, abilities, and tools. A phone schedule section also lets you see when the psychic is available. Once you've decided on your reading method, click "Call Now" or "Email Reading".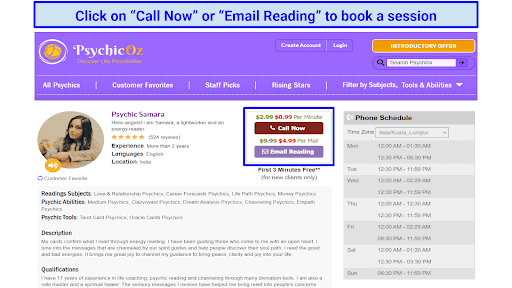 3. Make payment.
Now, you'll have the option to choose from 3 different introductory offers. These range from 15 minutes for $14.99 to $4.99 for an email reading. Once you choose your offer, it'll take you to the checkout page to pay.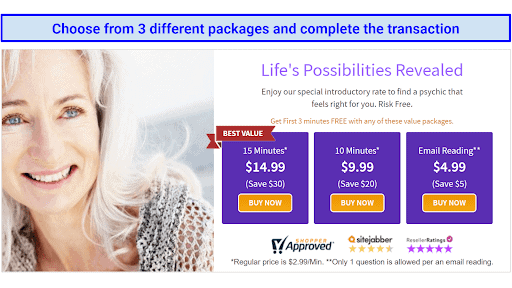 Pricing
PsychicOz is unique as it uses a standardized pricing system. The minimum price charged by psychics on the site is $2.99/minute for a phone, live chat, or video reading, while an email reading costs $9.99 per email. Also, you can only ask 1 question per email, so I don't recommend it.
Newcomers can take advantage of the site's 3 different introductory packages. The cheapest package is $4.99 for 1 email reading, while the most expensive package costs $14.99 for 15 minutes for the other methods, which comes to around $1/minute. You also get 3 free minutes when you're getting your first reading.
There are a variety of payment methods accepted by PsychicOz, which are PayPal and credit/debit cards. Unfortunately, PsychicOz has no rewards or loyalty programs, so you can't get future discounts for ongoing use.
Customer Support
PsychicOz supports you via live chat, a web ticketing system, a helpline, and a dedicated FAQ section for psychics and clients. Keep in mind that the site's customer service team only supports English.
Contacting Psychic Oz's customer service team is fairly easy. All you have to do is to click "Contact Us" at the bottom of the homepage. You can raise a ticket or start a live chat with an agent, depending on your time zone.
If you're raising a ticket, you must provide your email address, phone number, and the subject of your issue. You can then include a short message or attach a file. In my case, I got a reply from the customer service team within 3 hours of sending my message.
The FAQ section is extensive as it covers most issues and questions you'll probably have while using the site. However, I feel that it would benefit from having sections with more detailed answers, which would give me more context and possibly save me from having to contact customer support.
FAQs on PsychicOz
How does PsychicOz work?
PsychicOz works like most other psychic sites, where you create an account, find a psychic, and book a reading. You can sort through its list of psychic advisors by subjects, tools, and abilities and pick a communication method that suits you. The options include video, phone, and live chat readings.
I like how PsychicOz uses a standardized pricing system that makes it easy to set a budget. Prices range from $2.99 to a maximum of $9.99 per minute, allowing you to seek guidance from experienced psychics without spending too much money. I also recommend you check out each psychic's bio to help you make the right decision.
Can I get an accurate reading on PsychicOz?
PsychicOz makes no guarantees about the accuracy of its psychic readings, so it depends. To help you get an accurate reading, PsychicOz focuses on ensuring you have access to top-quality psychics. It does this by screening all of the advisors featured on its website to ensure they are legitimate.
According to the site, all of PsychicOz's consultants must pass a background check and several assessments. This ensures that you'll only be dealing with genuine advisors who have your best interests at heart. It also shows me that the site has invested time and effort to provide you with quality psychic readers.
What makes PsychicOz unique?
PsychicOz stands out from most reading sites because it lets you get a psychic consultation via video or email. A video reading can replicate the feel of a face-to-face consultation and provide a more immersive experience. This helps you form a stronger psychic bond and improves the accuracy of readings.
If you're feeling self-conscious, you can email a psychic and get your reading from them. An email reading allows you to carefully plan and submit your question to the psychic. After that, you can reflect on their reply and identify improvement areas.
On top of that, PsychicOz has a special section featuring hand-picked psychics who come recommended by staff and clients. This time-saving feature makes connecting with top-rated advisors easy and helps you get a satisfying reading. I also like how you can view reviews left by past clients to get an idea of how accurate their readings are.
Bottom Line
PsychicOz is a reputable website that offers easy access to reliable and versatile advisors. Its well-designed website makes booking readings easy, while its strict verification process ensures the authenticity of all featured psychics. And with its 100% satisfaction guarantee, you don't have to worry about wasting money.
While it would benefit from having a clearer psychic screening process and a better FAQ section, I'd still recommend Psychic Oz. For one, it has a special introductory offer for new customers that lets you receive meaningful, risk-free psychic readings from top advisors. Plus, you can enjoy discounted rates when you purchase additional minutes.