PsychicOz: Overview
One of the first things you will notice about PsychicOz is that the rates are much lower than many other competitors – lower rates aren't everything though.
If you're considering PsychicOz for your next reading, this review will cover the key features, psychic abilities, and whether the site is trustworthy overall.
Is this the hidden gem you've been searching for?
Types of Readings on PsychicOz
PsychicOz has a very respectable selection of reading topics. You'll find all the standard categories as well as a few unique options for more specific guidance. Let's look at a few of them:
Love & Relationship
On PsychicOz, you'll find over 80 psychics specializing in love and relationships. The majority of these psychics have a rating of 4.5 stars or more based on thousands of customer reviews, so you can expect accurate predictions.
Money
If you're looking for guidance on your finances, there are over 50 psychics for you to choose from. Among them, you'll find many 5-star rated readers and staff picks that have an impressive range of gifts and experience.
Astrology
Want to find out what the stars have in store for you or whether your partner is a good astrological match? PsychicOz has over 30 psychics specializing in astrology. You'll find that many of them are staff and customer favorites, and have certifications.
Crystals
Despite the fact that crystals are a more niche tool in the psychic reading world, you'll find over 35 readers on PsychicOz that are crystal specialists. And if you browse through these psychic profiles, you'll see that they often specialize in an assortment of tools in addition to crystals, such as tarot, runes, pendulums, and energy reading.
I-Ching
I-Ching is an ancient Chinese text and translates to the "Book of Changes". The book contains 64 hexagrams and is used to predict the future. When performed correctly, I-Ching is said to be incredibly accurate. PsychicOz actually has only one psychic that specializes in I-Ching: Psychic Tula. She is certainly worth mentioning, though, because she has over 40 years of experience, and is rated 4.9 stars based on over 1,100 reviews. So if you're looking for a master in this area, Tula is definitely worth your time.
Claim Your Free Minutes on PsychicOz
How to Use PsychicOz
Getting started on PsychicOz is quick and easy. Thankfully, it's not one of those sites that requires you to make a purchase in order to sign up. Registration is free, and there are no membership fees.
When you create your free account you'll be asked to enter your email address and a password. On the next screen, you'll be asked to verify your phone number by typing in the code you receive.
According to the site, PsychicOz allows you to connect with readers via phone, chat, and email. But the reality is that very few psychics have the chat option available on their profiles.
On the plus side, the site has a convenient "Notify Me" feature, which allows you to receive a text message or email when your chosen psychic is available for phone readings. If you're concerned about your privacy, the site's FAQ page clearly states that your phone number is never shared with the individual psychic you are connecting with.
You can also choose to email your psychic for a reading. Again, according to the site's FAQ page, your email address will not be shared with the individual reader. You may only submit one question per email and will need to pay for a response ahead of time. Your reader must respond to you within 72 hours. If they don't, your account is automatically credited.One thing I liked about this site is that psychic profiles are concise and well-organized. Each reader has clearly listed which subjects they offer advice on, which abilities they have, and which tools they specialize in.
Their profiles also allow them to include a brief description, as well as details about their qualifications – client reviews are easy to access too. If a psychic has chosen to share their phone schedule, you'll clearly see it displayed on the right.
As an added bonus, you can listen to the reader's pre-recorded introductory message attached to their profile. This will give you a chance to decide if you feel connected to a particular psychic.
Explore Psychic Profiles on PsychicOz
Is PsychicOz Trustworthy?
PsychicOz has been around since 1989, giving them over 30 years of experience in the field. Unfortunately, the site doesn't offer much information about how they recruit and screen their psychics. They simply state that all psychics are tested for, "accuracy, professionalism, compassion, and the desire to help you".
PsychicOz doesn't seem to offer any satisfaction guarantee or have a refund policy in place either. They simply state that if you have concerns about the quality of your reading, you should reach out to them using their Contact Us page. This isn't ideal but at least they do encourage you to get in touch regarding unsatisfactory readings. I contacted them myself and they responded in less than 48 hours.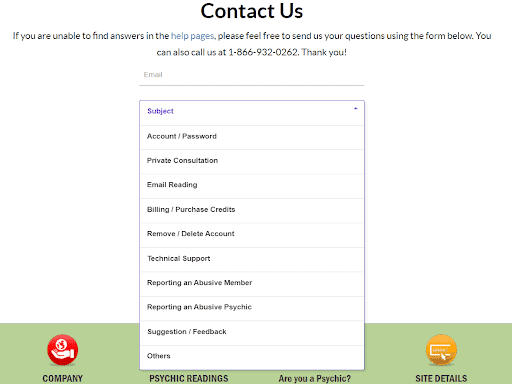 Claim Your Discount on PsychicOz
Top PsychicOz Psychics
As we mentioned before, Psychic Tula is one of the most impressive readers on PsychicOz, having a 4.9-star rating based on over 1,100 reviews. She is the number 1 staff pick and has over 40 years of experience. Some of her abilities include clairvoyance, clairaudience, and clairsentience, as well as dream analysis, tarot, and astrology.
Some reviews from clients include, "Tula is the BEST. She explains things so understandably like no one else has ever done before." Tula offers readings via phone and email.
Psychic Sita is another staff pick and is rated 4.9 stars based on nearly 1,000 reviews. Some of the reading categories she specializes in include love, marriage, finances, and personal well-being. She has been delivering readings professionally for over 40 years and is skilled in tarot, astrology, remote viewing, dream analysis, and much more.
Sita's clients have described her as, "accurate and precise with her readings. She is very professional while being very personable and comforting." Sita delivers readings via phone.
Psychic Luke is a customer favorite on the site. According to his bio, he can deliver readings not only in English, but in Arabic, French, Japanese, and Spanish too. He is a master clairvoyant, a medium, life coach, and psychologist.
Luke's clients have described him as someone who, "always gives me clarity in thoughts, is straightforward, and precise with readings." He delivers readings via phone and email.
Psychic Debra is a psychic medium and is a born clairvoyant. She has over 20 years of experience and is most skilled in chakra balancing.
Debra's clients have described her as a, "truly spectacular reader. She's able to pinpoint what is needed as best advice for the best outcomes." Debra offers readings via phone and email.
Psychic Dom is a staff pick who has over 20 years of experience. Some of his abilities include dream analysis, remote viewing, channeling, and more. He is also skilled in tarot, astrology, numerology, and crystals.
One client describes Dom as his "go-to guy when I need a male perspective! He has never steered me the wrong way and always been so professional." Dom delivers readings via phone and chat.
Find More Readers on PsychicOz
PsychicOz Pricing
Psychic Oz offers an introductory package for new customers, allowing them to purchase minutes at a discounted rate. For phone readings, you will pay less than $1 per minute – email readings are $4.99. New customers also get the first 3 minutes of their first reading free.
After you've used up your introductory offer, rates are fixed, regardless of which reader you choose to connect with. All phone readings cost $2.99 per minute, and email readings cost $9.99 per minute.
Keep in mind you can only ask one question per email reading. If you include more than one question in your message, it's likely that your reader will just respond to the first one and request that you send a separate email for any other questions.
Get 3 Free Minutes on PsychicOz
Bottom Line
If you're looking for a straightforward psychic reading and easy-to-understand pricing, PsychicOz is a good pick. The site is very much, what you see is what you get.
While the fact that so few psychics offer chat readings is disappointing, there is still the option of phone and email readings.
Overall, I would recommend PsychicOz to both new and seasoned psychic reading customers.