Everclear is a simple-to-use psychic platform that can ease you into the world of online readings. But, that doesn't necessarily mean it's worth your time or money. Plus, you're likely wondering if the psychics are legitimate or if online readings can even live up to in-person sessions. And as a psychic myself, I've set off to answer these questions with integrity.
I went on a deep dive of all things Everclear and overall felt good about its services. From all the psychic sites I've reviewed, Everclear didn't raise any red flags and I actually enjoyed my time on the site. To help you make the best decision for yourself, I created an expert review of my experience and all major takeaways.
In case that's all you needed to hear, make sure you don't forget about Everclear's new client offer for 3 minutes free. It's a great way to test the waters before you pay a psychic's regular rate and can help you feel more confident with your choice.
Everclear Main Features
Everclear Pros & Cons
Pros
Cons

✅ Easy to use

✅ Strict vetting of psychics

✅ Satisfaction guarantee

✅ Free mobile app

✅ Competitive introductory offer

✅ Generous selection of readers

✅ Psychic match tool

❌ U.S & Canada only

❌ Basic search filters

❌ No video readings
Types of Readings on Everclear
When you first get started with Everclear, you'll be prompted to choose between an empath or psychic. But don't worry, you don't have to think too hard about this since almost every reader on Everclear is both an empath and psychic.
Everclear has advisors specializing in the standard reading topics you'd expect. This includes love and relationships, destiny and life path, money and finances, wellness, career, lost loved ones, and pets.
Love & Relationships
Everclear's Love & Relationships category is specifically designed to help you navigate the complexities of love, relationships, and emotional connections. Whether you're searching for answers about your current relationship, seeking advice on matters of the heart, or simply looking for clarity on your romantic journey, you'll find the support you need here.
The readers dedicated to this theme have consistently earned the trust and admiration of clients. I noticed that many advisors have satisfaction rates of over 95%, which is an indicator of the quality and accuracy of their advice. So, you can be confident that you are engaging with a professional who has consistently delivered valuable support.
Plus, there's an extensive roster of over 100 love psychics, each bringing their unique talents and perspectives to the table. Many readers have diverse backgrounds, and their varied styles and methods ensure that you don't settle for a one-size fits all approach.
Destiny & Life Path
In the destiny and life path category, you'll have the opportunity to explore your life's purpose, make important decisions about your future, and examine the various paths that await you. Everclear's readers offer a wealth of experience and valuable insights to assist you on your journey towards self-realization and personal growth.
From what I saw, the readers in this category are multitalented. You get the flexibility to connect with them on this specific topic or explore the intersections of your destiny with other aspects of your life. If you find yourself facing crucial life decisions or are curious about how your life path aligns with your career aspirations, you can seamlessly blend these areas.
It's noteworthy that many of the advisors in this category have accumulated over 10 years of experience. This extensive background not only reflects their commitment to their practice, but also serves as a testament to their capacity to offer you valuable wisdom.
Money & Finances
Within this category, you'll discover a dedicated space for seeking guidance and clarity on matters related to your financial well-being. You can expect support with enhancing your financial situation, making informed investment choices, or gaining insights into the financial aspects of your career. This category is designed to address any monetary concerns.
Here you'll find psychics who are highly favored by clients, consistently achieving exceptional satisfaction rates. A majority of these financial psychics maintain satisfaction rates of over 98%.
One thing I noticed is that the psychics in this category offer more flexibility with reading types. For instance, many had the option for a live chat or phone reading, while other categories were mostly limited to one or the other. Since financial matters can be a sensitive topic, it's a benefit to have this added flexibility.
Other Available Categories
Wellness: Serves as a dedicated space for those seeking guidance related to their physical, mental, and emotional well-being. It offers support for personal growth, stress management, and holistic health. What sets this category apart is its focus on holistic wellness, addressing the interconnectedness of mind, body, and spirit.
Career: Designed for those looking to make informed decisions about their professional life, from job changes to career advancement. There's support for career goals, job transitions, and workplace dynamics. You can expect an array of practical tools and advice to get you ready to take the next big leap in your career.
Grief & Loss: Aims to help you cope with the emotional challenges and complexities of grief, loss, and mourning. You can get support during difficult times, assisting in healing and finding closure. These psychics can guide you through your grief journey, helping you find solace, acceptance, and emotional release.
Pets: Dedicated to pet owners who seek insights and guidance regarding their furry, feathered, or scaled companions. There's answers to your pet's behavior, health, and emotional connections. The unique abilities of psychics here extend to understanding and connecting with your pets on a deep level.
Astrology, Numerology, Tarot: Everclear offers a range of psychics who specialize in these well-known tools to provide specific insights. Astrology reveals celestial influences, numerology deciphers life path numbers, and tarot offers symbolic guidance.
"Other" Category: For readers with unique abilities not listed in the filter selections, the "Other" category serves as a diverse space. It may include psychics with lesser-known or specialized skills that can provide alternative perspectives and insights beyond the traditional tools.
How to Book a Reading?
To get started on Everclear, you'll need to answer a brief questionnaire, choose a psychic, and then you'll be prompted to make an account.
1. Create an Account
Everclear has a beginner friendly sign up process because you're guided from the very beginning. On the homepage, you'll see a "Begin" button which walks you through the site. You can skip or follow the walk through. You'll then be redirected to another page with a brief questionnaire.
The questionnaire will ask if you'd like an empath or psychic, your tool preference, and ideal reading type. But don't worry, these selections aren't set in stone and are only used to match you with a reader. Once done, you can choose to explore your matches or manually browse through advisors.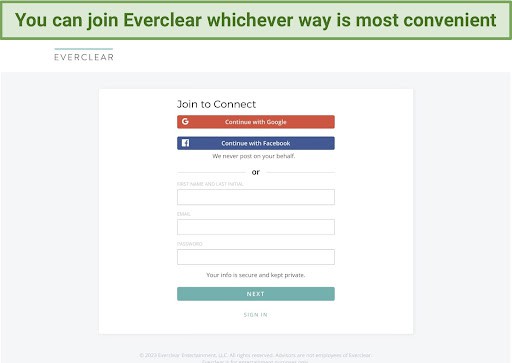 Everclear keeps your personal information secure so you can feel safe on the site
Regardless of what you select, once you're on the psychic's profile you can click for a chat or call reading. This will prompt you to make an account, which asks for your first name, email address, and a password. Alternatively, if you prefer a quicker option, you can sign up with a Google or Facebook account.
You'll get your introductory offer when you sign up, after which you'll be prompted for a payment method. Everclear accepts credit or debit only, unfortunately PayPal is not an option.
2. Select a Reader
Once you have an account, you can use the search filters to narrow your search. Without an account, you won't have access to the filters which makes the process more time consuming.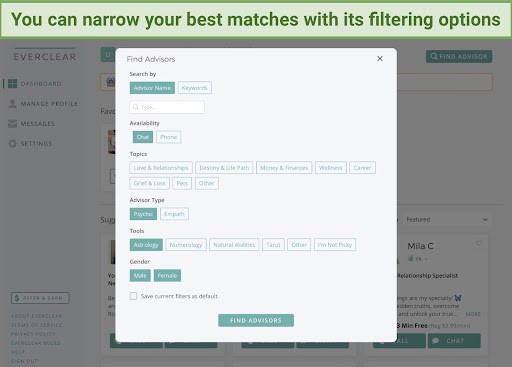 Avoid browsing through incompatible advisors with Everclear's search filters
And while I wish the filters were more detailed, you can filter your search based on availability type, reading category, advisor type, preferred tools, and even gender. Simply click on "find advisor" in the top right corner, select the filters that suit your needs, and browse the profiles.
3. Start Your Reading
After you've found a psychic that resonates with you, it's easy to start a session. On each profile, all you have to do is either click on the chat or call button. Keep in mind that this option will vary by advisor, so some will have it, while others will not. However, this can fluctuate over time since psychics have the option to enable one or both.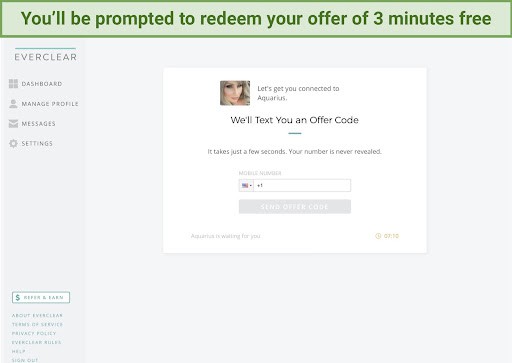 No need to endlessly search for your promotional offer on Everclear
Before you connect to your psychic, you'll be prompted to redeem the new client offer of 3 minutes free. However, keep in mind that you need a US or Canada number to use Everclear. On the flip side, you're not required to enter any payment information until you run out of your free minutes.
Is Everclear Trustworthy? Yes
As an individual who appreciates genuine and beneficial advice, my encounter with Everclear has been truly comforting. I received a reading that not only appeared authentic but also assisted in illuminating significant areas of my life. This direct experience with Everclear gave me confidence in recommending it to others.
What sets Everclear apart in terms of trustworthiness is that it's not a platform where just anyone can sign up and offer readings. Each applicant goes through two video interviews and is then evaluated during their first 10 days to ensure they're a good fit. This level of scrutiny demonstrates a commitment to provide trusted and capable psychic advisors.
I appreciate Everclear's ethical approach, which positively impacts my perception of the platform. Their policy of not allowing readings concerning pregnancy, health, or legal issues highlights their commitment to ethical conduct. It assures that the psychic guidance provided is within suitable and responsible boundaries.
Plus, Everclear is transparent about the experience level of its advisors. Each psychic profile includes years of experience, comprehensive information about their services and gifts, and transparent review sections. The satisfaction rates, with many psychics holding over 98% satisfaction, speak volumes about the platform's ability to deliver quality sessions.
The dedication to security is also evident with its bug bounty program, aimed at enhancing the site's safety measures. This program rewards responsible disclosure of security flaws or vulnerabilities, further emphasizing the platform's commitment to user safety. There's even a dedicated page on avoiding psychic scams so users can be educated and stay protected.
Top Psychics on Everclear
1. Aquarius

Best for Love & Relationships

Aquarius is an empath and psychic intuitive with a rich ancestral heritage. Her expertise spans a wide range of topics, including twin flame and soulmate connections.

What stands out about Aquarius is that she's well-versed in narcissistic abuse recovery, healing from a broken heart, LGBTQIA+ matters, and much more.

With over 520 thumbs up and a 97% satisfaction rate, it's no wonder Aquarius has earned a solid reputation. My own experience with her left me feeling rejuvenated and reassured.

2. Athena K

Best for Destiny & Life Path

Athena K is a professional psychic, spiritual teacher, and healer boasting an impressive 23 years of experience. She excels in uncovering truths about one's destiny and life path.

Her deep understanding of spiritual matters is further complemented by her formal training, including a degree in metaphysics, an ordained ministry, and spiritual direction.

Athena isn't just a psychic guide but also a trusted friend on your journey through life. And she has an impressive track record of 680 thumbs up plus a 94% satisfaction rate.

3. Jessi C

Best for Grief & Loss

Jessi C is a compassionate guide who specializes in helping people navigate the challenging journey of grief and loss.

Jessi's warmth and empathy immediately made me feel at ease. Her ability to connect with lost pets or persons can bring much-needed closure to those who seek her guidance.

In addition to her intuitive gifts, Jessi is a Reiki practitioner, capable of offering treatments and energy work even across long distances.

4. Izzy B

Best for Money & Finance

Izzy B has a unique combination of talents, including Clairvoyance, Clairaudience, and Clairsentience that set her apart.

During our session, Izzy's gave me a comprehensive understanding of my financial prospects. Her insights were accurate and her sense of humor added a touch of joy and laughter to the experience.

As a business owner herself, she has an intimate understanding of the intricacies of finance, making her a reliable resource.

5. Celeste J

Best for Career

Celeste J has over 26 years of experience and a genuine, honest, and unvarnished approach that's always infused with love and compassion.

What struck me was Celeste's dedication to creating a safe and nonjudgmental space, where people from diverse backgrounds could explore their past, present, and future career paths.

I feel her Bachelor of Science in Communication Studies adds an extra layer of depth to her practical and insightful advice.
Is There a Mobile App? Yes
Everclear's mobile app is accessible and convenient, plus available for free on both Android and iPhone devices. When I first explored the app, what immediately struck me was its simplicity and ease of use. It's clean and aesthetically pleasing interface ensures a glitch-free experience, making it easy for both seasoned users and newcomers.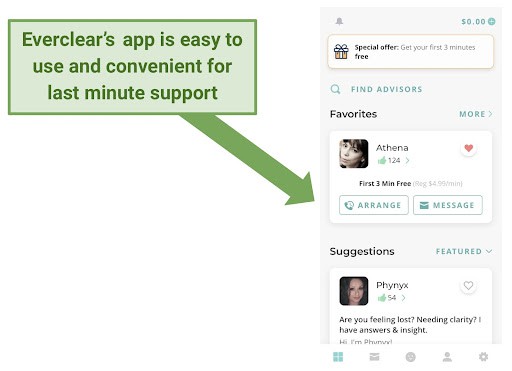 You don't have to worry about technical issues or confusion while using the app
A unique feature that caught my attention is the mood tracking tool. It allows you to keep a record of your emotional state, providing valuable insights into how your moods may relate to your readings. It's a thoughtful feature that enhances the overall experience by providing a holistic perspective on your well-being.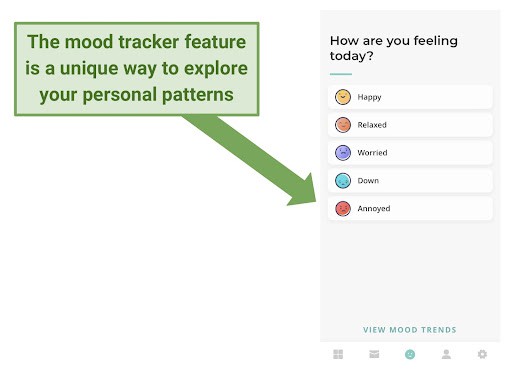 You won't find the mood tracker feature on any other psychic platform
Another perk is the ability to favorite readers on the app. By doing so, you can ensure that your preferred psychics are always at the top of your homepage, making it even easier to connect with them for guidance and insights.
And while the Everclear app may not offer an abundance of extra features, it provides a straightforward and enjoyable reading experience. I appreciated that when I first joined, the app was able to match me with the ideal tools and advisors based on my preferences, which streamlined my readings.
Pricing
Everclear offers a pricing structure that's both transparent and user-centric, which should leave you with a sense of trust in the platform. When I looked at the rates, I was glad to see they were competitive and reasonable. Plus as a newbie, you can get 3 minutes free which lets you test its services without risk.
I also noticed that the average per minute rate for readings on Everclear is just $3.99, which, from my perspective, is quite affordable given the quality of guidance you can expect. What's even better is that Everclear understands that not every reading may meet your expectations and offers refunds for unsatisfactory readings.
If a reading doesn't meet your expectations, you can request a refund so you only pay for resonating insights. You can request a refund for unsatisfactory readings within 72 hours of the session, with credits available up to a limit of $25.
There's even a "Refer & Earn" program that allows you to share the platform with friends and receive incentives in return. It's a great way to keep costs low, especially if you click with a particular psychic and would like long-term support.
Customer Support
Navigating Everclear's customer support system may require a bit of patience, but it's ultimately a resourceful avenue for addressing your inquiries or concerns. To access customer support, you'll need to click on the "Help" section, which isn't immediately obvious but leads to a wealth of useful information in their FAQ page.
Once you're in the FAQ section, you'll discover a handy array of topics, including the "Satisfaction Guarantee." When you click on a specific topic like this, you'll be redirected to a page where, at the bottom, you'll find the "Submit Request" button. This step will lead you to a form that you can submit to its support team.
Alternatively, if you prefer a more direct approach, you can email Everclear's customer support team at [email protected]. This email contact option offers a straightforward means of getting in touch with their support staff.
In my experience, Everclear's customer support is relatively prompt and helpful. I received a response within one day, which is certainly commendable for addressing urgent concerns or inquiries. Overall, while the process of finding the customer support request page may require a few clicks, once you're connected, you can expect assistance in a timely manner.
FAQs on Everclear
How do I find a trusted advisor on Everclear?
To find a trusted advisor on Everclear, you can utilize the platform's filtering system. You have the option to filter advisors based on various criteria, such as reading category, advisor type, tools, and gender. You should then check user reviews and satisfaction ratings to gauge the trustworthiness and expertise of advisors.
Additionally, you can rely on a tested and recommended list of advisors and select from there. By selecting from a trusted list, you can have greater confidence that you're connecting with experienced and reputable advisors within the Everclear community.
Is Everclear secure and confidential?
Yes, Everclear takes security and confidentiality seriously. The platform employs stringent security measures to protect user data and ensure the privacy of all interactions. Plus it uses encryption technology to safeguard sensitive information, and the platform adheres to strict ethical guidelines.
Advisors are committed to maintaining client confidentiality and are not permitted to discuss topics, such as health or legal matters. Everclear also has a bug bounty program in place to further enhance security measures, rewarding individuals who responsibly disclose any security flaws.
Is Everclear legitimate?
Yes, Everclear is a legitimate platform for accessing psychic guidance and insights. Although it's only been around since 2020, there is a solid track record of client reviews on the site that attest to the legitimacy of its psychics. You can check out the testimonials left by thousands of users that highlight a positive experience on the site.
Additionally, each psychic that applies must go through a rigorous selection process, including two video interviews/tests and a ten-day evaluation period to ensure their competence and authenticity. So, it's not like the site accepts just anybody onto the site, which adds to the overall legitimacy of its services.
Bottom Line
It's natural to have questions and doubts about online psychic readings, especially when it comes to their legitimacy and effectiveness compared to in-person sessions. But, after diving deep into Everclear's offerings and scrutinizing its services, I can confidently say it's a reliable platform.
While I was testing it out, Everclear didn't raise any red flags and my overall experience on the site was quite positive. So all in all, I feel like the site was worth my time and money.
You can check it out for yourself with its offer for newbies where you get 3 minutes free. That way, you can see if it's a good fit for you without having to add any financial information or paying a dime. Even if you decide to get a reading, you'll be protected from subpar experiences with its satisfaction guarantee.