Overview
Do you ever find yourself wondering if or when you'll have a child? Or maybe you're actively trying to conceive with your partner, and you're wondering what the universe has in store for you. Know that you're not alone.
Millions of women have these exact same questions, which is why there are fertility fortune tellers and pregnancy prediction psychics who offer guidance in this area.
But how do you know who to trust with such intimate details of your life? For questions like these, I recommend searching for readers on trusted and verified psychic reading platforms.
Read on to discover 5 tried and true sites where you can find the perfect fertility reader for you. You can also click here to find out what to expect during a fertility psychic reading.
1. Psychic Source – Best for Video Fertility Readings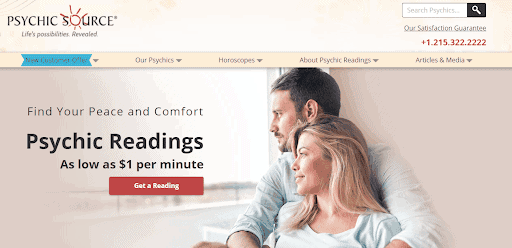 Questions about pregnancy and fertility are some of the most intimate topics you can discuss with a fortune teller, so you may want to chat to a psychic face to face. If this applies to you, then Psychic Source is a great option. The platform lets you meet with advisors not only through call or chat but also through video. You can search for a fertility psychic in the platform's love, relationships, and family categories, and listen to each psychic's unique pre-recorded messages on their profiles to find a match.
Psychic Source has over 200 readers in this category alone, with many of them using tools like tarot, cartomancy, and crystals to facilitate readings. Using the site's introductory offer you can try out a new pregnancy psychic for as low as $1 – $3 per minute. Regular rates range from $5 – $18 per minute.
Bottom Line
If you're looking to connect with a fertility reader face to face, then Psychic Source is the platform for you. Browse through hundreds of psychics specializing in love, relationships, and family, and meet with your chosen reader through a video call to find the answers you've been searching for.
Find a Fertility Fortune Teller on Psychic Source
2. Keen Psychics – Best for Long Term Pregnancy Predictions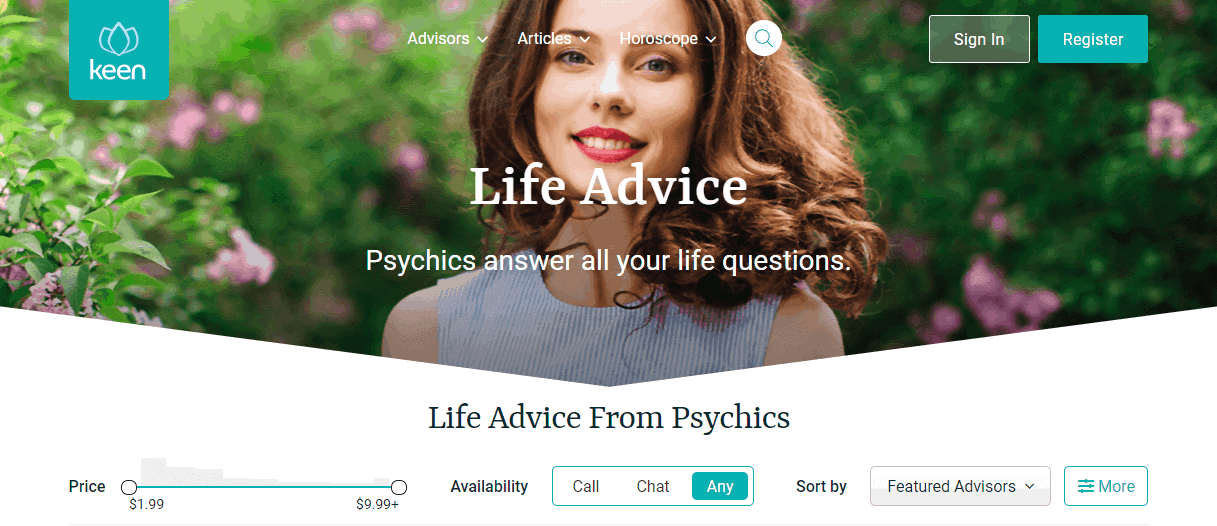 If you're looking for a reading that can help shed some light on when, or if, you will get pregnant in the distant future, Keen Psychics might be the site for you. There is a section dedicated to psychics who specialize in life questions such as this, with about 100 readers for you to choose from.
The fertility fortune tellers on Keen Psychics use a variety of tools, including tarot, to conduct their readings via call and chat. Prices on Keen Psychics range from $1.99 to $16 per minute, but new users get the first 3 minutes of their reading for free.
If for any reason your reading was unsatisfactory, the site has a 100% satisfaction guarantee in place, which speaks to its credibility.
Bottom Line
Keen Psychics has an easy-to-use interface, good filtering options, and is home to hundreds of experienced psychics. If you're not looking to get pregnant right away but are curious about what the future might hold based on your current life path, consider Keen Psychics.
Find a Pregnancy Psychic on Keen Psychics
3. PathForward – Best for Affordable Pricing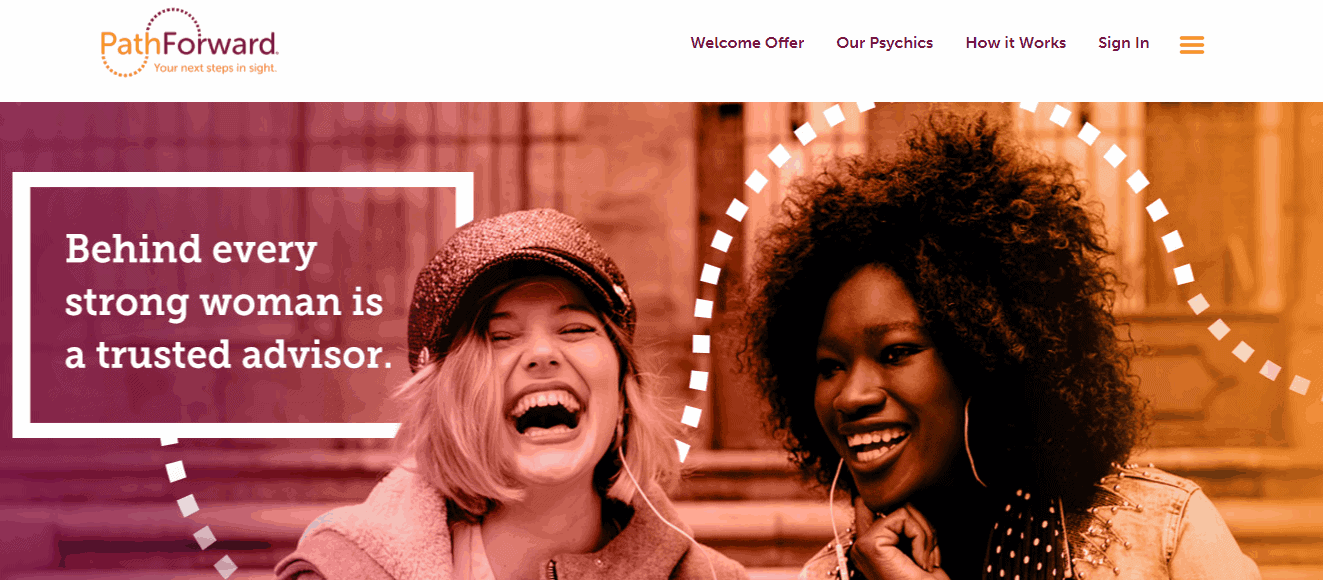 If price is important to you, PathForward offers some of the most competitive rates, especially for those who want to get repeat readings.
New users can meet with a pregnancy psychic for as low as $1 per minute when they take advantage of the site's introductory offer. After this, PathForward's prices remain very competitive, with every psychic charging a flat rate of $5 per minute.
You will find around 50 fertility fortune tellers in the site's love and romance or family and friends categories, each with their own pre-recorded audio message to help you find the best match.
You can even filter your search results based on the reader's gift and tools, including astrology, tarot, crystals, and more.
Bottom Line
PathForward is a great option for finding a fertility fortune teller on a budget. The site's flat pricing lets you try out as many readers as you'd like, without having to worry about different rates and costs.
Find a Fertility Fortune Teller on PathForward
4. Kasamba – Best for Specialist Fertility Fortune Tellers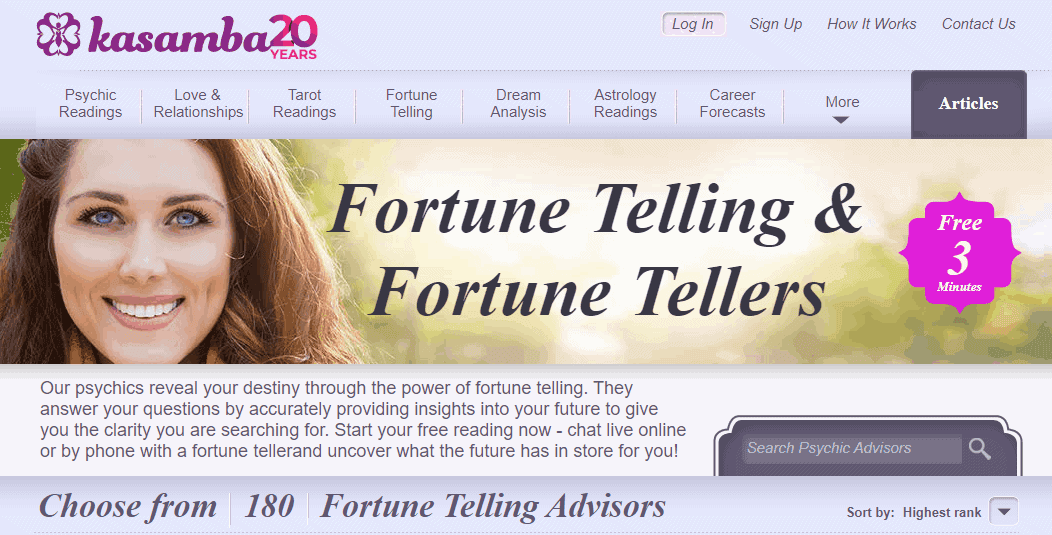 Kasamba is a well-established, trustworthy fortune telling site, and for good reason. The platform has been around for more than 20 years, and features countless 5-star psychics who have delivered thousands of readings globally.
Kasamba has a dedicated section for its fortune tellers, with over 180 readers for you to choose from. Beyond this, you can also search for psychics by typing in the word "fertility", which helps narrow down your search tremendously.
Users can choose to receive a reading from a fertility fortune teller on Kasamba via call or chat. However, you should be prepared to pay top dollar for a specialized reading from one of these top global psychics. You will find a few psychics that charge less than $3 per minute, but most charge between $5 and $30 per minute.
Bottom Line
While you can benefit from consulting with highly specialized pregnancy and fertility psychics on Kasamba, be prepared to pay a higher rate. If you don't have budget concerns, then look no further than Kasamba.
Find a Fertility Fortune Teller on Kasamba

California Psychics has over 300 readers for you to choose from in their love and life path categories. You can search for pregnancy and fertility readers that are gifted in tarot, astrology, crystals and more, and connect with them via call or chat.
The platform offers an introductory rate of $1, $2, or $4 per minute for a 20-minute package to new users. After that, rates range from $4 to $15 per minute.
California Psychics is a great place to find a fertility fortune teller, especially if you're a little hesitant about consulting with a psychic on such an intimate matter. The platform screens their psychics very thoroughly, accepting less than 2% of applicants. And if it's your very first reading and you're not satisfied, the site's money-back guarantee offers some peace of mind.
Bottom Line
If you're new to psychic readings, or are hesitant about meeting with a pregnancy psychic, rest assured California Psychics only features highly rated and vetted professionals, and backs it up with a money-back guarantee.
Find a Pregnancy Psychic on California Psychics
What to Expect During a Psychic Fertility Reading
When you meet with a fertility fortune teller or a pregnancy psychic, there are a few important things to keep in mind.
Firstly, you should always consult with your doctor or medical professional about any physical conditions you're experiencing. Fertility fortune tellers can advise you on a spiritual level, but they're no replacement for your doctor. Medical professionals are the people who are best equipped to help you deal with physical conditions at any point before, during, and after pregnancy.
It's also important to remember that like other specialized fortune tellers, your reader can provide you with some insights into the future, but you shouldn't expect exceedingly specific details. At most, your pregnancy psychic might be willing to predict the gender of your child, and a loose time frame of when you might become pregnant. But if your reader is giving you specific details about things like the date you'll get pregnant or give birth, or the health of your baby, this should be a red flag and could be an indication that the reader isn't as legit as they claim to be.
Bottom Line
Fertility and pregnancy are very personal matters that each person experiences uniquely. That's why it's incredibly important to research the fertility fortune teller or psychic you've found before entering into a paid session with them. While there are incredibly talented readers out there, you should always be on the lookout for frauds and fake readers.
The best way to find a truly gifted pregnancy psychic is to start by searching on a trustworthy site. California Psychics has one of the most thorough vetting processes for their psychics. Kasamba is a veteran site where you can find highly rated fertility psychics. Psychic Source lets you meet with your reader face to face. These tried and true sites are the best places to look for truly gifted pregnancy psychics.