Signing up for an expensive and low-quality psychic reading is a waste of your time and money. Because of these scammy options, it's easy to become skeptical of psychic reading sites and feel ripped off.
Thankfully, there are several psychic reading sites that provide a top-notch service for a dollar or less. Regardless of your intentions, you can find an affordable psychic service that provides genuine help and guidance. But finding a credible site isn't easy because of the number of available choices.
After extensive testing, I've shortlisted the most trustworthy and inexpensive psychic reading sites to help you save time and money. From my experience, Keen Psychics provides the best bang for buck for a quality service. Its introductory rate of $1.99 for 10 minutes is super affordable.
In a rush? Here are my top site picks
7 Best Psychic Reading Sites for a Dollar or Less
1. Keen Psychics — Best Selection of Reading Categories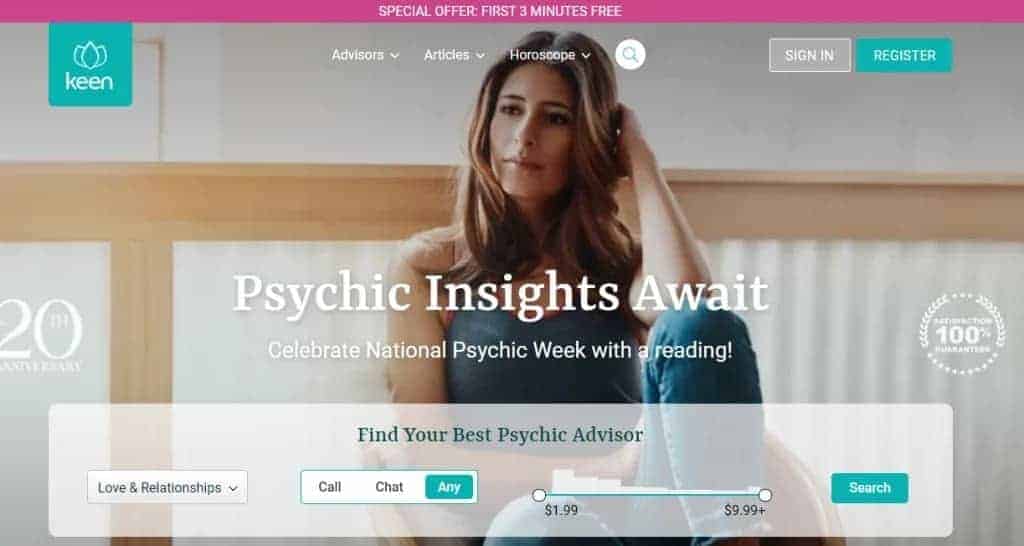 Your first 3 minutes are free
More than 75 highly experienced psychics
Phone and online chat readings available
In-depth psychic blog available to read
Wide variety of reading types
Keen Psychics does things a bit differently in that it offers two good introductory offers. You can gett your first 3 minutes for free, which is plenty of time to get a good feel of your chosen psychic. Then, you can opt to get 10 minutes for $1.99. While this isn't exactly under $1, Keen Psychics is still a lot cheaper than most psychic sites, as they often charge more than $40.
Once you've signed up for an account, you can choose from more than 8 different reading types. These include astrology, tarot, and spiritual readings, making Keen one of the most extensive I've encountered. The plethora of readings gives you the ability to tackle any types of challenges you might be facing in your life.
If you're not sure which psychic you'd like to explore further, Keen Psychics offers a powerful and robust "match tool". This is an advanced filtering system allowing you to pick and choose your perfect psychic. You can filter by features such as the type of reading, how much you'd like to spend, and your favorite communication method.
A unique aspect of Keen Psychics is its psychics' blogs. Before you decide on a psychic, you can check out their blog to get a feel for them first. This might help you make a more informed decision as you'll feel like you already somewhat know the person.
2. Purple Garden — Best Incentive for New Customers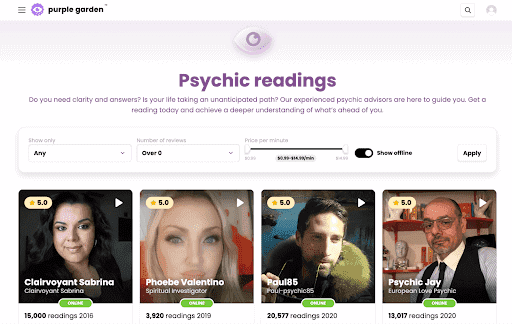 $10 credit for new customers
Great app for mobile users
Choose from over 8 types of readings
Instant notifications for psychic availability
Genuine customer reviews for every psychic
Purple Garden makes it easy for you to access a psychic from any location with its mobile app. The website only allows you to speak with a psychic via chat, however, the app offers chat, as well as phone and video. After downloading and installing the app on my phone, I started a psychic reading right away.
As a new customer, you can get $10 worth of credit which you can apply towards a psychic reading of your choice. Purple Garden has no shortage of highly-reviewed psychics, so you're bound to find one you click with. The credit will allow you to try out a few psychics if you need a bit of time finding the right one.
The mobile app has a section called Journeys. In Journeys, you can check out stories that other users have written which describe their experiences with Purple Garden. You can find out where previous customers were before joining Purple Garden, how its psychics have helped them, and where their lives have taken them since.
3. California Psychics – Best Vetting Process for Psychics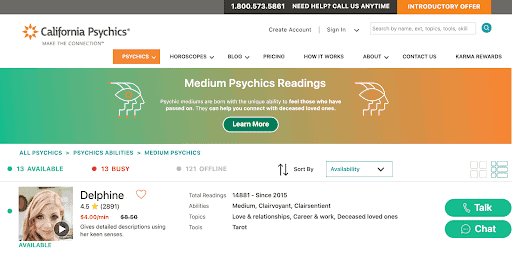 Introductory offer of $1 per minute
Stringent psychic vetting process
Phone and chat readings available to you
Easy-to-navigate website and mobile app
100% money-back guarantee within your first 24 hours of signing up
California Psychics offers all new customers an introductory offer of $1 per minute for psychic readings. Even though you'll need to purchase 20 minutes worth of reading time to get this rate, you can spread it out over a number of readings. Therefore, it's super affordable if you'd like to thoroughly test a site.
You can be assured of finding a high-quality psychic, thanks to California Psychic's stringent vetting process. Only about 2 out of every 100 psychics who apply get accepted, making it one of the toughest to pass. Additionally, you can check out the customer reviews for each psychic to get a better understanding of them before commencing a reading.
Both phone and chat sessions are on offer, but not all psychics offer both types of services. However, it's easy for you to choose your psychic based on which type of service you wish to receive. I thought it was pretty easy to choose the exact psychic you want who also happens to offer your preferred reading method.
If you're not happy with your reading, you can get your money back through its 100% satisfaction guarantee — regardless of your reason. You will be eligible for a full refund within a 24-hour period after signing up.
4. Psychic Source — Best Variety of Reading Methods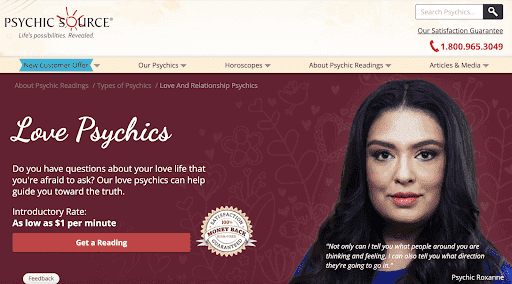 First 3 minutes are free
75% discount after your first 3 minutes
Advanced psychic filtering system
Listen to psychic messages before deciding
Chat, video, and phone readings available
Several types of communication methods also available for you to choose from including chat, phone, and video. This will help you connect in a way that's most convenient for you. I like and appreciate Psychic Source's addition of video calls as well.
Psychic Source offers readings at a great price thanks to 3 free minutes for new customers. Plus, you can get a 75% discount for the rest of your session. This eliminates the risk of wasting time and money on a psychic that doesn't live up to your expectations.
In addition to a great introductory offer, the site also has an advanced filtering system allowing you to pick and choose exactly who you want. This will further help you save time becuase you won't have to scroll endlessly to find someone suitable.
5. PathForward — Best Long-Term Rewards Program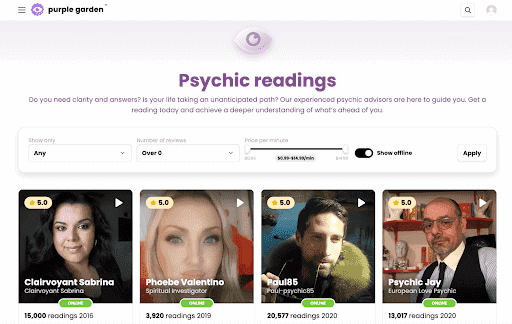 Introductory offer of $0.83 per minute
3 free minutes for new clients
Free refunds for consultations under 20 minutes
In Sight Rewards program
"Quick Connect" tool lets you connect with someone quickly
PathForward is a great option if you want to get a psychic reading without breaking the bank. Its introductory offer of 3 free minutes along with one of its set packages give you the best of quality and affordability. The packages include 10 minutes for $10, 20 minutes for $20, or 30 minutes for $30.
Other sites can catch you off guard with much higher rates, so this level of transparency is re-assuring.
Something else unique about PathForward is its cash-back rewards program. It lets you earn 3% back in rewards whenever you spend money on the site. Since I could continue to accumulate rewards over time, I found it much easier to save money down the road.
An aspect of PathForward that stands out is its user-freidnly interface, which makes it easy to use the site on any device you're using. Thanks to to its filtering and scheduling system, you can easily "favorite" your preferred psychic and schedule a reading whenever it's most convenient for you.
6. Kasamba — Best for 24/7 Psychic Availability
First 3 minutes are free
Get a 70% discount after your first 3 minutes (first session only)
24/7 psychic availability
Phone, email, and live chat are available
Money-back guarantee of up to $50 for your first session
Kasamba offers some pretty impressive incentives for new customers. Your first 3 minutes are free, and you get a 70% discount for the rest of your first call. If you're on a budget, then these offers are a steal.
In addition to great introductory offers, Kasamba offers 24/7 access to psychics in case you need some help around the clock. Wherever you are in the world, there is always someone available to talk to via phone, email, or even live chat.
Something else I like a lot about Kasamba is its plethora of different reading types. You can choose between psychic readings, tarot, dream analysis, love and relationships, career guidance, astrology, and more. I think having this many different options is a good thing since you can get help on a variety of matters.
If you're not satisfied with your first reading, it's no problem – you can simply request your money back. But keep in mind that you can only get up to $50 back for your first session.
7. Oranum — Best Site to Prescreen Psychics for Quality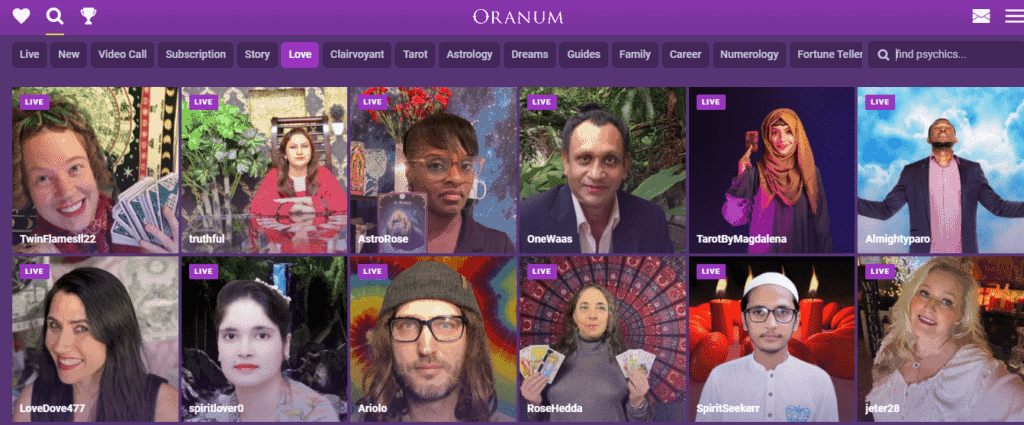 Roughly $30 worth of "coins" (10,000) for free after validating a credit card
Watch free weekly live sessions before making a purchase
Highly detailed psychic profiles
Lots of different reading categories
Have been in business for 8+ years
Oranum is unique in that you need to purchase a coin package which come in fixed blocks at fixed prices. Once you've registered your credit card, you'll automatically be awarded 10,000 coins which equates to roughly $30. But best of all, you don't even have to start spending them right away.
Thanks to Oranum's free weekly live chat sessions, you can get the feel for any given psychic before you decide to join a private channel and pay. You also don't have to sign up for an account first before checking out these live sessions. Therefore, it's possible to see what a reading is like without any up front commitment.
Readings are available via live chat and video, so you can decide which one works best for you. If you want to be able to take your time with your answers, chat might be a good option for you. However, if you'd rather be able to communicate instantaneously, then you might prefer video calls.
Comparison: Best Psychic Reading Sites for a Dollar or Less
| | | | | |
| --- | --- | --- | --- | --- |
| | Starting Price | Number of Readings | Introductory Offer | Trustworthy |
| Keen Psychics | $1.99 per minute | 20+ | Free Minutes & Discounted Per-Minute Rates | Yes |
| Purple Garden | $0.99 per minute | 5+ | Free Credits | Yes |
| California Psychics | $1 per minute | 5+ | Discounted Per-Minute Rates | Yes |
| Psychic Source | $0.66 per minute | 30+ | Discounted Per-Minute | Yes |
| PathForward | $0.83 per minute | 4+ | Free Minutes & Discounted Per-Minute Rates | Yes |
| Kasamba | $0.90 per minute | 18+ | Free Minutes & Discount on First Reading | Yes |
| Oranum | 2.99 credits per minute* | 10+ | 10,000 Coins After Validating Credit Card (Roughly $30) | Yes |
Tips on Choosing a Psychic Reading Site for a Dollar or Less
During my testing of the best psychic reading sites for under one dollar, I've taken the following factors into consideration. You're welcome to reference them as a checklist if you want to inform yourself before making a purchase.
1. Affordable pricing policies
It's of the utmost importance to know exactly how much your reading will cost before signing up. If a site didn't have a clear and transparent pricing model, I didn't include it on my shortlist. Of course, I prioritized sites that offer readings for $1 or less, or have an introductory offer that lets you do so.
I also recommend you choose a site with a refund policy, as you want to be able to get your money back if you're unhappy. And, you should also be able to do this easily, no-questions-asked.
2. Thorough vetting process
I highly recommend choosing a psychic reading site that fully vets its psychics before they're accepted. This is so that you can make sure you're getting not only affordable prices, but high-quality services. Another positive is if the site is transparent about this process, as well.
If you're unsure about the vetting process, then I recommend doing a quick and easy one yourself the psychic's profile.
3. Varied reading categories
Maybe at first, you're looking at a specific reading type like dream analysis if you've recently lost a loved one. After some time, however, you might decide that you want to try something else like love readings if you want to find out.
It's imperative to pre-screen your shortlist of sites for the exact type of reading you want now, and may want down the road, before signing up and paying.
4. Different communication methods
If a certain psychic reading site doesn't offer the communication method you're after, then you probably won't get the quality or experience you're after. Every site offers different methods, so make sure you know what's on offer and find a method that suits your personality. Common methods like video, phone, and live chat are available on most sites.
5. Positive customer reviews
Good reviews from existing customers is a fantastic way to quickly cull a large number of potential psychic reading sites down to a handful of quality options. If you're considering getting a psychic reading done, I strongly encourage you to first read customer reviews and testimonials, if possible, as you're more certain to get the quality you're expecting.
FAQs on the Best Psychic Reading Sites for a Dollar or Less
Are there any differences between a cheap psychic reading and an expensive one?
It depends, but one isn't necessarily better than the other. For example, by looking at customer reviews, you'll notice a number of expensive psychics with poor ratings and vice versa. Additionally, a cheaper site may offer more reading types and features like a free blog, while an expensive site won't.
To avoid being ripped off, I recommend using a trustworthy psychic site with an attractive introductory offer. That way, you can get a good feel for a psychic without spending too much money.
Why do online psychic websites offer cheap psychic readings?
A psychic reading site offers cheap readings in order to entice prospective clients to sign up for their services. In most cases, prices won't necessarily increase after you've signed up. With all of the high-quality psychic sites that offer cheap readings, you're welcome to continue with a psychic whose price you agree with. They even have special deals and introductory offers, so you can get an even better deal than before.
Are cheap psychic readings trustworthy?
Some are but some aren't, meaning there's no one answer. If you're checking out a cheap psychic site that's reputable, there are a few ways to tell if a reading is trustworthy or not. The easiest and fastest way is to check out customer reviews and testimonials, as you're unvcovering first-hand experience.
Another way is to find out how long a site has been around, and how strictly they vet their psychics — independent of price. Thirdly, a satisfaction guarantee is usually recognised as a sign of trustworthiness because it shows the website's confidence in the ability of its psychics.
Bottom Line
Finding a trustworthy psychic reading site (and psychic) can be an arduous process. If you're not careful, it can leave you feeling overwhelmed and uncertain. Fortunately, I've tested several of the most popular and trustworthy ones to help you make an informed decision. That way, you can save time and money.
While all of the options I've recommended are credible and trustworthy entities, my favorite site is Keen Psychics. In addition to offering readings for under $1 per minute, it provides excellent customer incentives to let you save further. Plus, its large selection of reading types won't leave you disappointed.