Whether you have questions about your love life, career, or what life has in store for you this year, a tarot card reading can provide you with the insights you need. Naturally, you want your reading to be as accurate as possible, especially if you're trying to make a major decision.
Unfortunately, not all tarot readers are created equal – some are better than others. In light of this, I've compiled a list of the best online tarot readers to help you narrow down your search for answers. My favorite tarot reader is Kelly Tarot from Keen, who is widely regarded for her friendly style. You can even get your first 3 minutes with Kelly for free by using Keen's introductory offer.
1. Kellys Tarot – Keen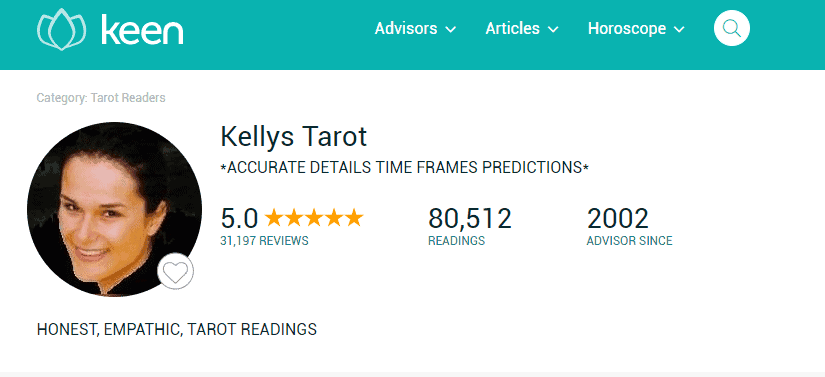 Kelly is clairvoyant, clairaudient, and clairsentient who has assisted with over 80,000 readings to date. She is a gifted tarot reader, as evidenced by her 31,000+ 5-star reviews. Kelly specializes in dream interpretation, spiritual, career, and relationship readings. Many of her clients have praised her ability to make detailed, accurate, and useful predictions about their situations. "Kelly is fantastic! She is frighteningly accurate. What she has previously stated has come to pass."
Kelly is an excellent choice if you prefer a non-judgmental and open-minded tarot reader. She also offers free minutes once a week to some of her clients and follows up for free via email or ping.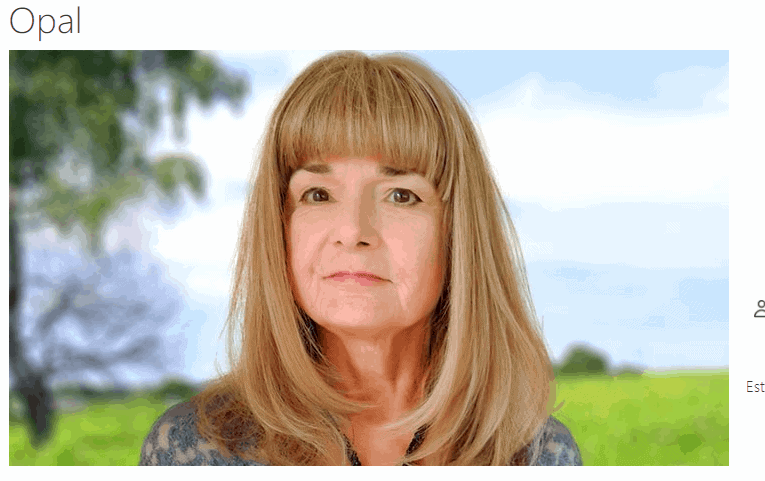 Opal is an empath with clairvoyant and clairaudient abilities who has been reading tarot and oracle cards on California Psychics since 2017. She has received over 5,000 positive reviews and completed over 19,000 readings to date. Her psychic abilities were inherited from both sides of her family tree. According to her profile, she has been a professional tarot reader since childhood, encouraged by relatives to strengthen her gifts.
Opal is well-known for her practical advice and down-to-earth demeanor.
"Opal is my go-to for quick, solid advice and guidance; she's straight to the point and tells it like it is."
She is an excellent choice if you need someone quick but easy to talk to. Finance, money, life path, relationships, and other topics are among her areas of expertise.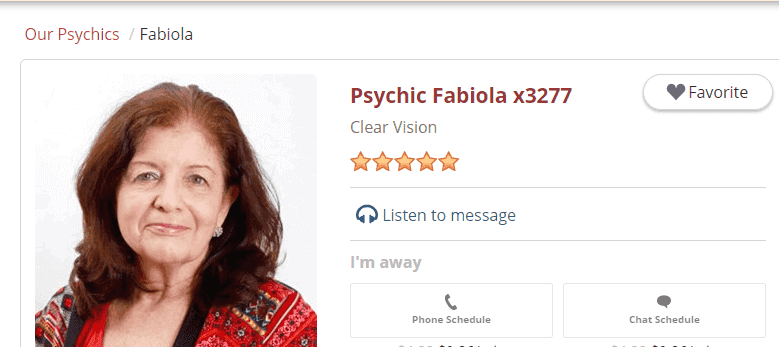 Fabiola is a professional tarot reader and love psychic who has been assisting clients for over 45 years. She specializes in relationships, careers, life, destiny, loss, family, and finances. Fabiola is well-known for her candor and direct but gentle demeanor.
"Excellent reader. She aided me in working through a situation with another person and seeing things more positively. Tunes in quickly and provides insight into what I'm missing."
Fabiola, according to her bio, frequently invokes the divine assistance of Archangel Raphael and other spirit guides, as well as her gift of clairvoyance and clairsentience, to provide answers to your most pressing questions. If you don't feel a connection with Fabiola, she actively encourages you to speak up and end the reading so you can connect with another psychic who might be a better fit.
4. Starbreezetarot – Keen

Starbreezetarot is one of Keen's top psychics, having performed over 42,000 readings. She has been an advisor on the site since 2003 and has amassed over 16,000 reviews in that time. Starbreezetarot is an accurate and multi-talented tarot reader who uses her clairvoyance, empathy, and clairsentient abilities during her readings. Starbreezdtarot's accuracy has earned her many repeat clients, who also praise her speed.
"This reading completely satisfied me. I got the impression that it was a traditional you ask, she tells type of reading, which I prefer. Very direct and concise, with timelines provided, which is essential for me because I am curious. Please do not hesitate to contact her ".
Her areas of expertise include money, prosperity, breakups, career, and love. She is also a great resource if you need assistance communicating with your pet.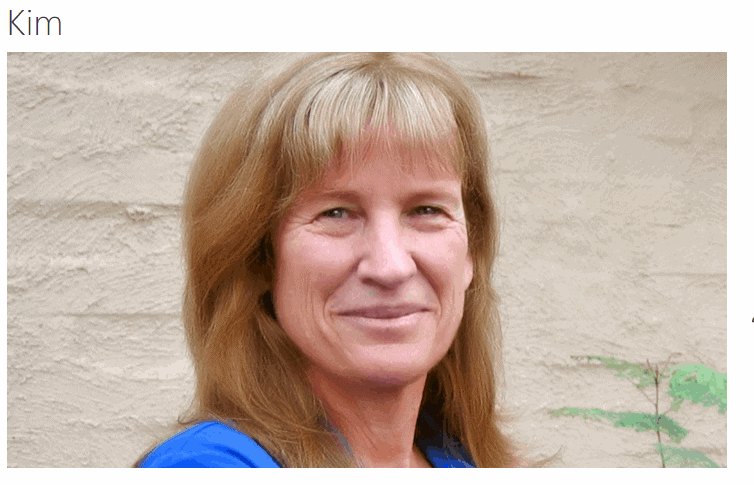 Kim is a clairvoyant and clairsentient psychic who uses tarot readings to answer your questions about destiny, new opportunities, romance, and past lives. She has been an advisor on California Psychics since 2011, has led over 72,000 readings and received over 8,000 glowing reviews in that time. According to her profile, she is excellent at identifying the root of problems and why or how you are stuck. She is also committed to making a difference in your life.
Kim's clients rave about her readings, using words like "amazing," "accurate," and "compassionate" frequently. "Kim was acutely aware of what was going on with me from the moment I dialed her number. She nailed it before I could even ask her the question I had. And I adore it. It caused me to fully open up about my situation, and she provided me with some excellent advice and tools to help me navigate it. She also gave me hope for the future of this relationship if I handled it correctly."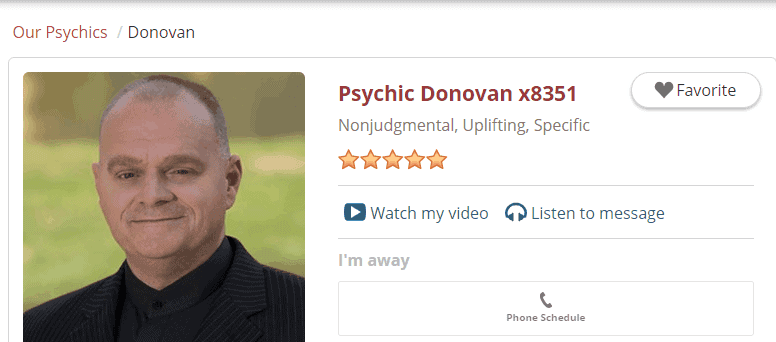 Donovan is a non-judgmental, straightforward, LGBTQ-friendly tarot reader who is dedicated to providing you with quick and accurate answers. His readings are influenced by his own experience with the psychic arts, having grown up in a Hermeticism (Qabalah, Tarot, Numerology, Astrology, and Theurgy) home, as well as his ongoing studies.
Donovan has provided over 1,000 readings on Psychic Source, with tarot being his most requested reading. He is a good choice if you would like direct answers to your questions about love, relationships, life, destiny, career, finances, and loss. One of his past clients had this to say about his readings:
"Donovan was spot on! I will most certainly call again. Thank you so much!!"
7. Dalya – Keen

Dalya has been a Keen tarot reader for over 19 years. She is one of the platform's most popular psychics, as evidenced by the over 65,000 readings she has led. She also has an excellent rating based on over 21,000 reviews. Her clients describe her approach to readings as compassionate and a true blessing.
"She is amazing! She picked up on the situation and state of mind of the person in question. She is so easy to talk to and genuinely caring. I can't wait to talk to her again and highly recommend calling her!"
Dalya's bio states that her specialty is life and your peace of mind, so she can answer questions about any area that you are concerned about.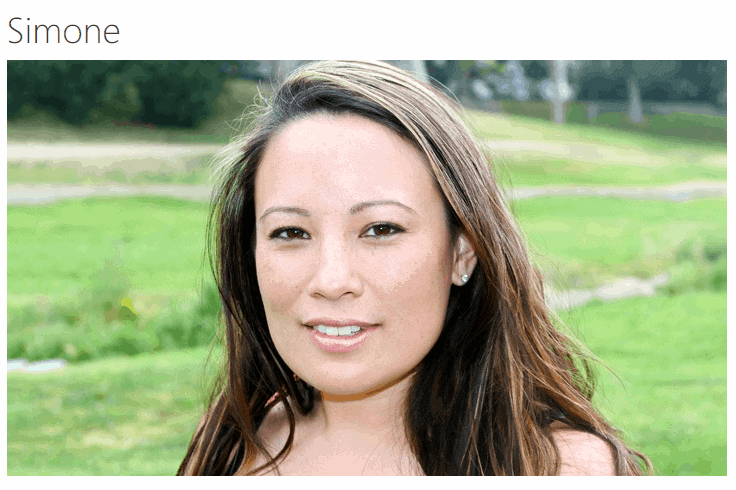 Simone is a clairaudient, clairvoyant, and claruisient psychic who has provided over 28,000 readings on California Psychics since 2010. She is an honest reader who only works with your questions, date of birth, and name to provide you with clear and concise answers as quickly as possible. Simone specializes in readings for relationships, love, career, finance, destiny, and life path, but she is particularly interested in relationship questions because she is fascinated by the interaction between two people. Her clients describe her as knowledgeable and reassuring. "Simone was a very accurate reader who is straight to the point while remaining compassionate."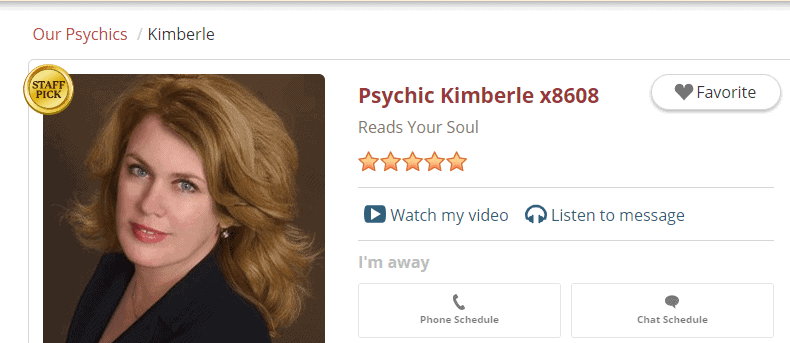 Kimberle is a Psychics Source Staff Pick, which speaks volumes about her abilities as a tarot reader. She is a clairvoyant psychic medium with energy healing abilities who has over 32 years of experience. As stated in her profile, her goal is to help you understand the bigger picture by delving into the complexities of situations and advising on the best course of action based on the answers she receives from the divine.
Kimberle's areas of expertise include career, finances, love, family, destiny, and more. Here's what one of her past clients had to say about her readings.
"Kimberle is the real deal; she is spiritually gifted, and what she says is true. She is completely honest in every way and provides you with the information you need to make decisions about people and situations. Kimberle is fortunate to have such loving and trustworthy Spirit Guides, and I am grateful to have her and her Spirit Guides in my life. Thank you for everything you do to help me and others deal with life's ups and downs."
10. Misca – Keen

Misca is a clairvoyant empath who has been offering tarot readings on Keen since 2015. She has over 2,000 5-star reviews and has performed over 8,000 readings to date. She is well-known for her calm demeanor and sound advice.
"Always on time with information, predictions, and timing. I've been a repeat customer for over a year and a half ".
Misca is an excellent choice if you require someone detailed but approachable. Her areas of expertise include relationships, destiny, and other topics.
How to Get the Most Out of Your Tarot Reading
Regardless of how skilled your online tarot reader is, you must still play a significant role in your reading for it to be successful. Although it may sound cliche, one of the most important steps to take before beginning any tarot card reading is to relax and empty your mind.
Being more aware and in the present moment, makes it easier for your reader to connect with your energy. I've discovered that certain sounds and aromas can help you achieve this state, so consider playing calming music or lighting an aromatic scented candle in the background before you connect.
During your reading, I recommend asking specific but open-ended questions so that you can leave the reading with the clarity you seek. Understand though that you might not get the answers you are hoping for. Your tarot reader will always be completely honest with you.
However, it's also important to remember that you are in control of your destiny. The insight you've gained from your reading can help you change your outcome for the better – use it. Finally, be truthful during your reading. Trying to deceive your reader or holding back will reduce the quality of your reading.
Bottom Line
Every tarot reader is unique, so it's important to not only find an expert but someone you connect with too.
This list is an excellent starting point for anyone who wants to connect with the most reliable and accurate tarot readers across top sites such as Keen, California Psychics, and Psychic Source.