California Psychics has been around for over 25 years and has a special $1 per minute offer, making it one of the most popular online psychic platforms. But there's always a chance you'll connect with a psychic who isn't compatible, which can leave you feeling unhappy. In these cases, you might want a refund and wonder if it's possible.
Fortunately, California Psychics' satisfaction guarantee has you covered. With it, you can get a refund in site credits if you're unhappy with the quality of your reading. While all requests are reviewed on a case-to-case basis, this policy provides at least some protection if you feel dissatisfied. So, you don't have to worry about going out of pocket.
To save you from a potential misunderstanding, I've closely examined how California Psychics' refund policy works. When you understand its refund policy and where you stand, you can confidently book a psychic reading with full peace of mind..
What is California Psychics' Satisfaction Guarantee?
California Psychics' satisfaction guarantee states that you can request a refund in California Psychics Dollars if you're dissatisfied with your reading experience. All you have to do is call or email the site's customer service team to request it. After extensively going through the site's terms of service, I discovered the main points of its satisfaction guarantee policy:
All refunds issued will be in the form of California Psychics Dollars, not actual cash. All services, including psychic readings, are paid using California Psychics Dollars. These credits never expire and can be redeemed for services on the site as long as you have an active account.
The satisfaction guarantee only applies to your most recent paid reading. You must send in a request within 24 hours of your latest reading, and if you fail to do so, the site may refuse your refund request.
Your California Psychics account must be active and in good standing to request or receive a refund. All accounts on the site are active for 1 year after your latest purchase or reading session. After that, you must reactivate the account by calling the site's customer service team. Only then can you receive your refunded credits.
You cannot complain about the same psychic twice. Since California Psychics will only issue one refund per psychic, your refunded credits are only applicable for sessions with a different advisor.
You can only request a refund once a month. So, if you've already submitted a request, this month you cannot do it again until next month comes around.
California Psychics issues refunds based on the length of the psychic reading with a maximum of 15 minutes worth of credits. This applies to both phone and live chat psychic readings.
Besides its assurance of satisfaction, California Psychics also offers other capabilities that minimize the need for asking for reimbursement. One such feature is the website's "Ask a Question" function, which allows you to forward queries to your selected psychic. This function assists you in familiarizing yourself with your chosen psychic prior to your session, so you are aware of what to anticipate.
How to Ask for a Refund on California Psychics
If you'd like to make use of California Psychics' satisfaction guarantee, I'd suggest reaching out to its customer service team through a phone call or by submitting a ticket. Both methods are pretty swift and straightforward.
People can use different toll-free numbers to call in, especially for those outside the United States. However, for those outside the supported countries, there's a specific worldwide number that isn't toll-free.
When you reach out to California Psychics, please keep in mind that your call could be under monitoring. However, it's important to note that the platform assures complete confidentiality to safeguard your privacy.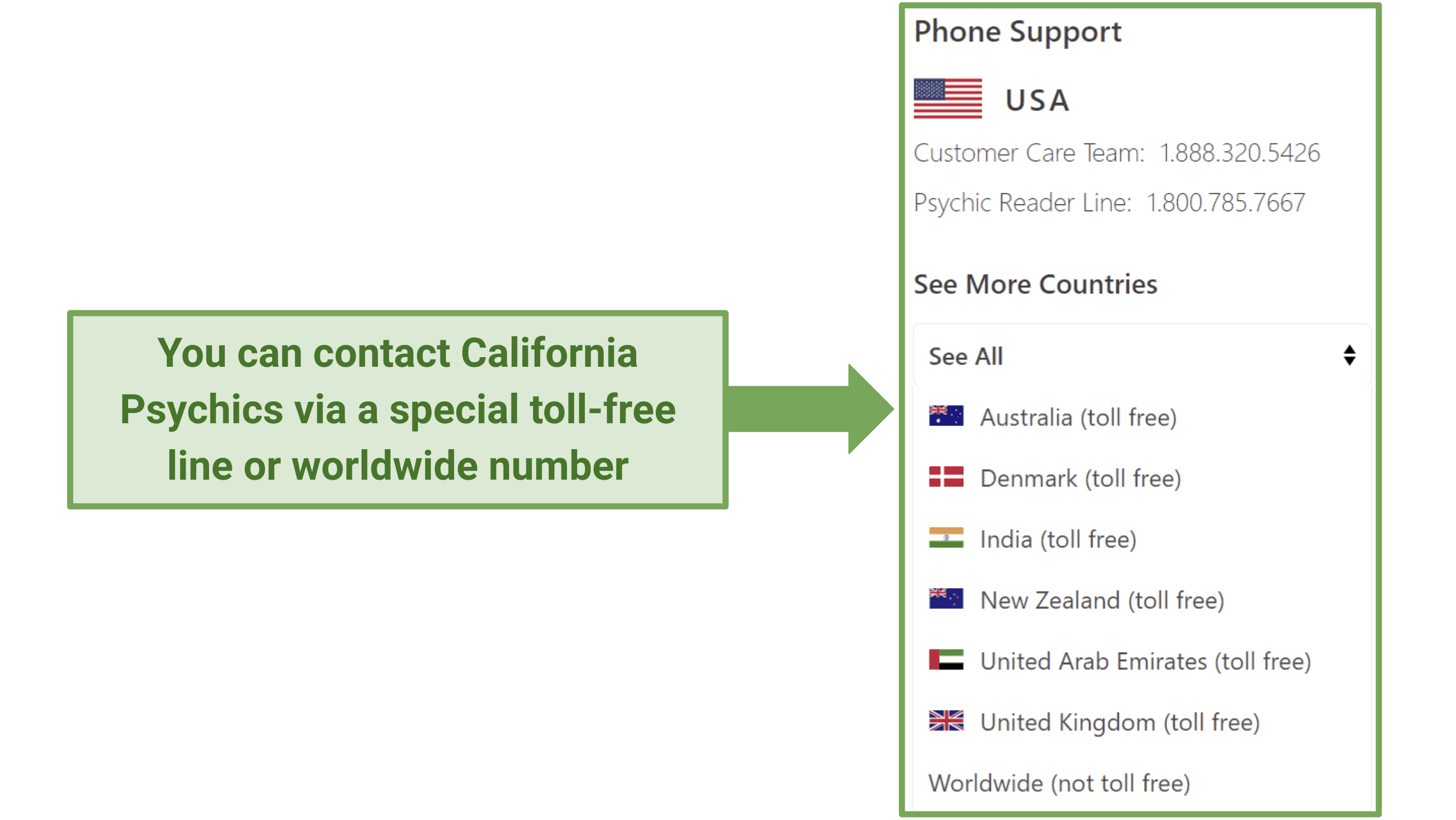 You also have the option to get in touch with the website's customer support team by submitting a ticket on the platform. When you opt for this method, you will need to provide the subsequent information within your ticket:
Your name
Email
Phone number
Country
Issue that you're having
A short message
Once you've submitted your refund request, the site will thoroughly review your claim and respond to you directly within a few hours. If your case is approved, California Psychics will credit your account with the relevant amount in 3 to 5 business days.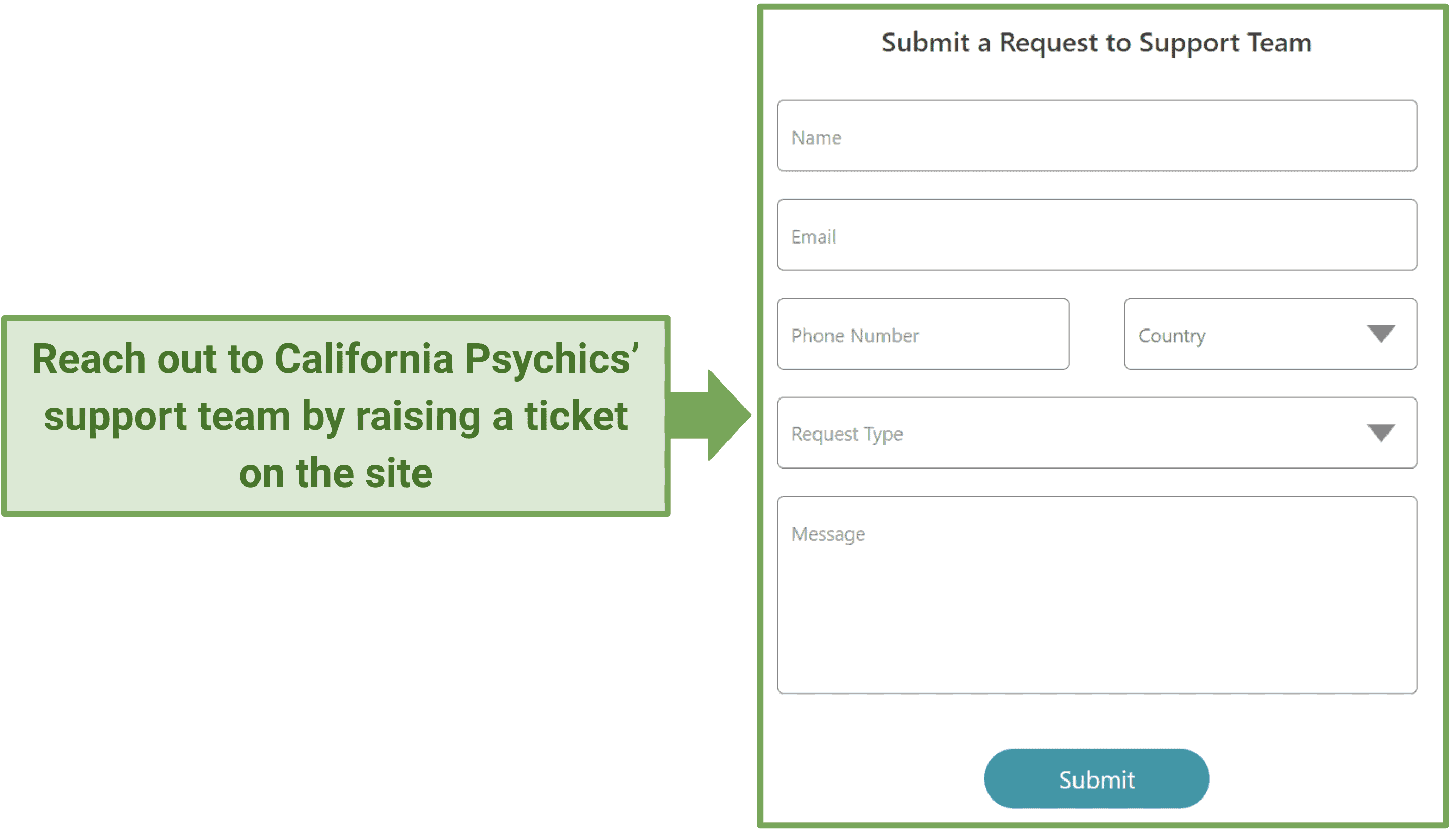 Best California Psychics Alternatives
If you requested a refund from California Psychics and didn't enjoy using the site, I recommend trying a different psychic platform. Choosing an alternative to California Psychics can be hard, so I've shortlisted the best California Psychics alternatives for you. They all protect you in the case of a bad experience, too.
1. Purple Garden — Introductory Videos for Advisors
Get to know psychics with their introductory videos
Offers live chat, phone, and video readings
Intuitive mobile app
Refund policy
Various reading themes
Purple Garden stands out for its psychic introductory videos which detail an advisor's style, expertise, and characteristics. These are available on every psychic's profile to help you get a feel for your chosen psychic before committing. With this level of transparency, I feel assured that the platform wants to connect me with an ideal psychic.
I also like how Purple Garden allows you to connect with psychics via video call. This lets you replicate the feel of a face-to-face consultation and makes for more impactful and satisfying readings. And if you're self-conscious, you can always contact the site's psychics via live chat or phone call.
The platform has a large roster of experienced and talented psychics, further boosting my confidence in Purple Garden. In fact, many of its psychics have a rating of 4.8 stars or higher, based on thousands of readings. This is an excellent indicator of the quality of the site's advisors and shows me that I can easily connect with an authentic psychic.
While Purple Garden doesn't have a satisfaction guarantee, the site's policy states that refund requests can be made on a case-to-case basis. It also gives you a grace period of 72 hours which is quite generous. This gives you plenty of time to get all the required info together before sending in your request.
2. Keen — Satisfaction Guarantee Keeps You Covered for 72 hours
100% money-back guarantee
Long track record of excellence
Experienced psychics
Great customer service support
Excellent "Find a Psychic" tool
Thanks to Keen's 100% money-back guarantee, it's possible to get a refund of up to $25 worth of site credits for any bad experiences. You just need to be mindful of a 72-hour grace period after your most recent reading. Plus, you can only use the guarantee once every 30 days.
Another strong point is Keen's proven history of providing top-quality readings. When I looked into Keen's track record, I didn't find any major incidents or concerning complaints from previous clients. This means you don't have to worry about getting a sub-par reading or being ripped off.
Keen also features a large collection of highly-experienced psychics, and many of its advisors have been on the platform for over 10 years. This gives me a major confidence boost as these advisors have the skills, knowledge, and experience to give me a fulfilling psychic reading.
If you're attempting to contact Keen's customer service, you should expect them to take 2 – 3 days to get back to you. This can be quite frustrating if you're waiting for a refund from them. Fortunately, there is a detailed FAQ section with solutions for the most common issues users face. So the good news is that help is never too far away.
3. Psychic Source — Refunds up to 20 minutes if You're Dissatisfied
Keeps you covered with its satisfaction guarantee
Trustworthy — site has been around for more than 3 decades
Strict advisor recruitment process
Detailed psychic bios
Easy to request for a refund
Psychic Source's satisfaction will refund up to 20 minutes of your time if you're unhappy with the quality of your reading. With this in place, you don't have to worry about getting out of pocket. I like how it shows the site's confidence in its advisors' abilities, so you don't have to worry about connecting with a fraud.
Additionally, Psychic Source has provided quality psychic services for over 30 years without any major issues. In fact, most of its psychics are also highly experienced, with many repeat customers. This boosts my confidence as it's further proof that you can get consistent, quality readings from the site.
Potential psychic advisors must pass several tests before they can be accepted on the site. These assessments include video interviews and background checks, with a priority being placed on integrity. This ensures that you'll connect with genuinely talented individuals who have your best interests at heart.
While Psychic Source requires you to deposit at least $10 to create an account, the site makes up for it with a generous introductory offer. Newbies get 3 free minutes and the option to choose from 1 of 3 packages, which lets you buy 10, 20, or even 30 minutes at a rate of $1 per minute. This lets you get a feel of the site's psychics without overspending.
FAQs on California Psychics' Refund Policy
What can I do to avoid an unsatisfactory reading on California Psychics?
To get the most out of your psychic reading, you should first prepare yourself mentally and get into the right headspace. You can prepare a list of questions for the psychic beforehand. This ensures you're ready for the session and won't worry about awkward pauses.
During the actual reading, try to relax and enjoy the session. Remember: there's no need to feel anxious or worried because its psychics are trained professionals. And if you end up feeling unhappy with the quality of your reading, you can send a refund request to California Psychics. And if your request is accepted, you can receive site credits and use them on another psychic.
I also find that meditation and breathing exercises help best before a reading. These help me clear my mind and eliminate anxiety or stress. You can also use the site's "Ask a Question" feature to get a feel for a potential psychic. This helps you connect with an emotionally compatible psychic, which helps to avoid unsatisfactory readings.
How does California Psychics' satisfaction guarantee compare to other psychic sites?
California Psychics' satisfaction guarantee stands up well compared to other psychic sites. For example, it refunds a maximum of 15-minutes worth of site credits when you ask for your money back.
On the other hand, Keen's guarantee states that you'll get a maximum of $25 Keen dollars back which is about 5 or 6 minutes worth of time on the site. Meanwhile, Psychic Source's policy will cover up to a maximum of 20 minutes, whereas Purple Garden reviews requests on a case-to-case basis.
Additionally, California Psychics gives you a 24-hour grace period to submit a refund request if you're dissatisfied with the quality of your reading. So, this gives you time to determine whether your reading and psychic advisor were up to standard and then act accordingly.
Are California Psychics' advisors trustworthy?
You can trust the advisors on California Psychics because of the site's stringent recruitment policy and transparent review system. Potential psychics who want to offer their services on California Psychics must first pass a series of tests, including phone evaluations and a background check.
In fact, the site mentions that they have a 2% acceptance rate which shows me that the site is serious about connecting you with qualified advisors. If you're unhappy with the quality of your reading, you'll still be protected by California Psychics' satisfaction guarantee. It lets you request a refund on your most recent paid reading, so you don't have to worry about wasting money.
Besides that, the site features detailed advisor profiles where you can learn more about your chosen psychic. You can read about their experiences, the number of readings they've performed, reading styles, and abilities. The site also displays customer testimonials so you can get a good idea of their performance and how they perform readings.
Bottom Line
While California Psychics follows strict procedures to ensure it only hires reputable psychics, life can sometimes have other plans. Unfulfilling sessions result in wasted time and money, making you want a refund. Knowing where you stand and what you're entitled to in these situations will best prepare you.
That's why I've carefully evaluated the details of California Psychics satisfaction guarantee and compared it with other top sites. If you'd like to get a reading from another site, then I recommend Purple Garden as a solid alternative. Its video readings make it a fine choice if you're after a more intimate experience.
To summarize, the best alternatives to California Psychics are…