Whether you want to make sense of your past, explore the meaning behind your current experiences, or find out what the future holds, astrology is the ideal tool.
However, where do you even begin when you start searching for an accurate astrology reading you can trust?
As someone who regularly consults with astrologists, I decided to put together a list of tried and trusted sites that can be used for astrological predictions and personalized charts.
But first…
In a rush? Here are my top astrology sites
1. Kasamba – Best for Astrology Specialties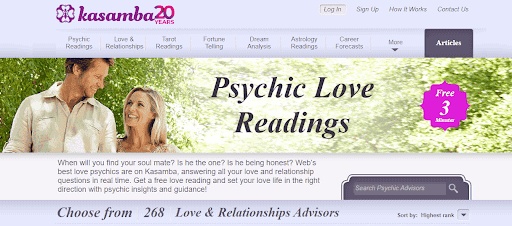 Specializes in all types of astrology — Western, Chinese, and Vedic
More than 90 astrologers to choose from
Experienced astrologers with high ratings
Get the first 3 minutes free for readings with new psychics
Backed by a 100% satisfaction guarantee
If you're looking for a specific type of astrology, Kasamba is the site to use. Choose from over 90 astrologers who specialize in Western, Chinese, and Vedic astrology.
While this site does offer more astrology reading types than most, they are also one of the pricier options. While some psychics charge as low as $1.99 per minute for an astrology reading, I found some charging as high as $29.99 per minute.
On the plus side, I found a lot of experienced astrologists with high ratings in the lower price range, so you don't have to spend a lot to get a quality reading.
What's more, the first 3 minutes of each astrology reading from a new Kasamba psychic are free. This way, you can test out the psychics you're interested in before committing to a paid reading.
I also found Kasamba to be very trustworthy. Their psychic profiles are very transparent, displaying detailed reviews from previous clients, as well as an intro message from the psychic. And with 20 years of experience, Kasamba's trustworthiness was even more evident. Add to that their 100% satisfaction guarantee – if you're not satisfied with your astrology reading, Kasamba will refund up to $50.
Bottom Line
If you want more than just a Western astrology reading, Kasamba gives you access to a wide range of experienced astrologers and psychics.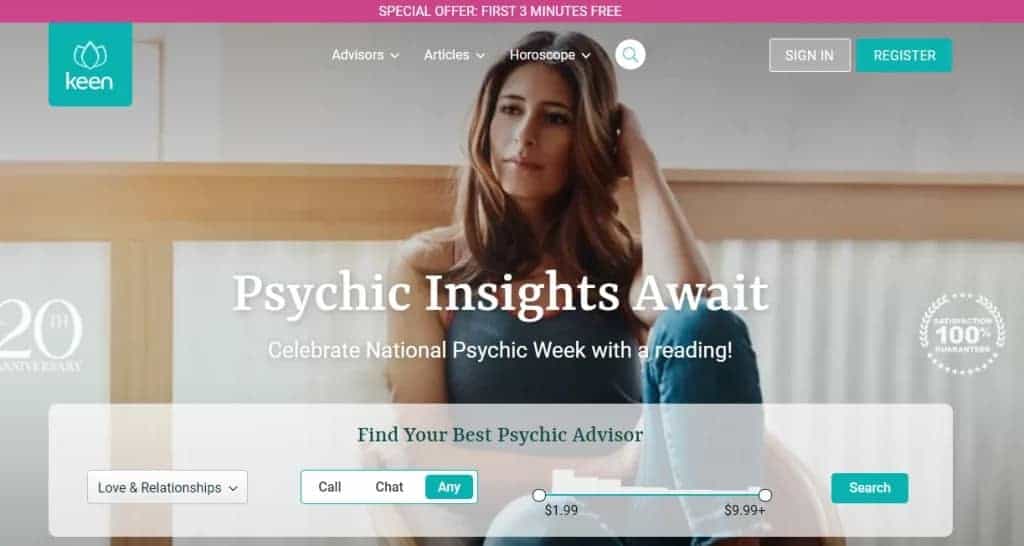 Straightforward, well-designed web interface
Option to filter astrologers by client reviews and ratings
Good selection of educational materials
Attractive offers for newcomers
100% satisfaction guarantee refunds up to $25 worth of credits
If you've never received a reading from an astrologer before, Keen Psychics is a great place to start. I only found 15 psychics offering astrology readings, which means the options aren't overwhelming.
I was impressed with how simple it was to use Keen's website. You can find an astrologer in just a few clicks and they all have detailed profiles showcasing client reviews and ratings. Users can also enjoy astrology articles and daily horoscopes for additional guidance.
In terms of Keen's pricing, per minute rates range from $1.99 to $49.99 – so they are also one of the more expensive options.
However, Keen Psychics has a generous introductory offer. New users get the first 3 minutes of their first reading for free, as well as 10 minutes for just $1.99. So, you can easily find an astrologer that's right for you without spending much.
Keen has been offering readings for 20 years and offers a 100% satisfaction guarantee that will refund up to $25 worth of credits.
Bottom Line
Keen's easy-to-use website and small selection of astrologers make it a good option for beginners.
Claim Your Free Minutes on Keen Psychics
3. Psychic Source – Best for Face-to-Face Astrology Readings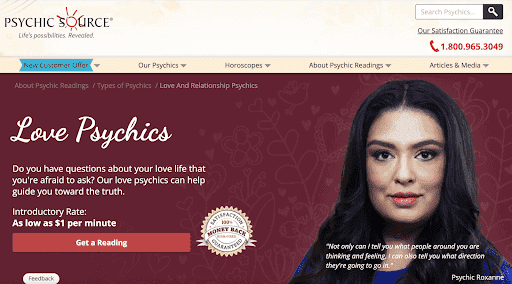 Supports phone, live chat, and video astrology readings
User-friendly website
Detailed filters makes it easy to book a session
Advisors display their availability and schedule for easy referencing
Special $1 rate for first-time users
Psychic Source has over 50 psychics who offer astrology readings. You'll find the typical phone and chat readings, but I was excited to see some astrologers offer face-to-face video readings too.
The Psychic Source website is very helpful and easy to use. You can easily narrow your astrologist options using detailed filters. Astrologists also post their availability and schedule so you know who's online and who you need to schedule a reading with.
New users only pay $1 per minute when they purchase a reading package of 10, 20, or 30 minutes, and are given the first 3 minutes of their first reading for free. Thereafter, you can expect to pay anything from $1 to $12 per minute for an astrology reading.
Bottom Line
If you prefer to speak to an astrologist face-to-face, consider signing up for a Psychic Source package.
Choose a Psychic Source Package
4. PathForward – Best for Affordable Readings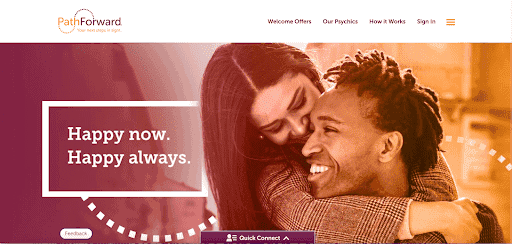 Easy to find the right advisor
The first 3 minutes are free for new users
Introductory package offers 10, 20, and 30 minutes for just $1 per minute
Flat rate pricing — $5 per minute
Refund policy returns your money if you're dissatisfied
I could only find 15 psychics offering astrology readings on PathForward. But like Keen Psychics, this isn't a bad thing. It means you can choose the best astrologist without spending time searching through hundreds of advisors.
PathForward has an attractive introductory offer, making astrology readings far more affordable. New users get the first 3 minutes of their astrology reading for free, and then only pay $1 per minute when choosing from 3 different packages ranging from 10 to 30 minutes.
But where PathForward really stands out is their flat-rate pricing. After your introductory package runs out, all astrology readings will cost $5 per minute.
And if you're unhappy with your reading, PathForward will either refund your money or offer you a new reading with a different astrologist. However, you do need to request your refund within 24 hours of that reading for this to apply. Sometimes, it takes a lot more than 24 hours to realize whether an astrology reading was good or bad, so it feels like their guarantee is a bit limiting.
Bottom Line
PathForward is affordable, but that's not all. The straightforward flat rate gives you the freedom to choose any astrologist you want without worrying about how much they cost.
Find an Astrologer on PathForward
5. Oranum – Best for Wide Selection of Astrologers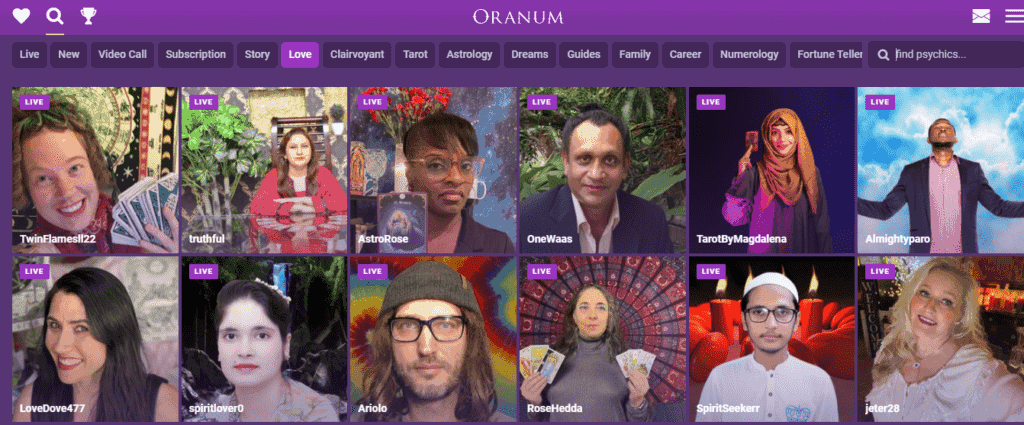 Large roster of astrologers
Subcategories makes searching easier
Provides live astrology readings for free (no sign-up required)
Generous sign-up bonus worth $9.99
Extensive selection of extra materials i.e. blog posts and articles
If you believe that variety is the spice of life, you're going to love Oranum – there are hundreds of astrologers to choose from.
If you're not too familiar with psychic sites, Oranum's website might seem a bit cluttered. On the plus side, I was able to find 6 astrology subcategories that helped narrow down my search significantly.
What's also great about Oranum is their live video shows. All of their astrologists offer live video shows for free every week. You can even view them without signing up.
And, when I signed up to try out Oranum's paid readings, I was greeted with $9.99 worth of free credits just for validating my credit card. Those free credits are worth up to 10 minutes on Oranum, depending on the astrologist you choose. Thereafter, you'll find psychics charging between $0.39 and $9.99 per minute.
Bottom Line
Oranum offers the widest selection of astrologists on this list, so you'll easily find your best fit. And with their free live shows and credits, you'll be able to try out a few astrologists.
Does Astrology Really Tell Your Future?
Astrology can tell you a lot about your life path, which can give you deep insights into your future. Using your birthdate, time, and place, an astrologer can create a chart that's unique to you. This chart outlines details about you as a person, how you make decisions, and why you're currently experiencing what you are.
Based on this information, you can choose to change the course of your future.
Bottom Line
An astrology reading can reveal so much about your current path and where it's leading you. Luckily, you now also have a list of top astrology reading sites to choose from depending on your needs.
FAQs
Are Astrological Readings Accurate?
Yes, astrology readings are accurate. This is because they are based on calculations of constellations as well as planetary movements. In essence, astrology is based on planetary patterns – patterns that have occurred over hundreds of years. Experienced astrologers use the stars and planets as markers to understand more about people, based on when they were born.
For centuries, civilizations have been using the sun, moon, and stars to predict events – highly complex systems that have been improved upon and are still used today.
What is the difference between zodiac signs and astrology?
Zodiac signs are a subset of astrology that refers to the sun's position in the solar system during the time of your birth. It determines a person's qualities, habits, and behaviors. Chinese and Vedic astrologies all have their own version of the zodiac sign.
Astrology studies how planetary and star positions affect a person's future and nature. So if you're looking to delve further into astrology, you can speak to an experienced astrologer at Psychic Source, which provides face-to face readings.
Which astrology discipline is the most accurate?
All fields of astrology, Western, Chinese, and Vedic, are equally accurate. The only difference between these disciplines is the elements utilized by them and their origins. For example, Vedic astrologers factor in planets, nakshatras, and constellations in their predictions, whereas Western astrologers ignore these elements.
Hence, this is why I recommend that you get multiple readings from astrologers in different disciplines to expand your horizons. Sites like Kasamba feature gifted astrologers skilled in the fields of Western, Chinese, and Vedic astrology. And because of its introducotory offer, you can get a feel for these different fields without spending too much.