Seeking answers from the stars can offer guidance in this turbulent world. However, astrology is a nuanced practice, and it can take years to accurately interpret one's destiny. The challenge deepens when searching for the best astrology reading site. Given the plethora of options, discerning which platforms are genuine becomes a job in itself.
As an astrologer, I've dedicated myself to presenting you with reliable options for astrology readings. This not only spares you time but also shields you from platforms that might offer dubious astrology services.
All things considered, California Psychics stands out as my top choice for reputable astrology readings. The platform boasts premium psychics with impressive astrology skills, offering the best of both worlds. Plus, its introductory offer of $1, $2, or $4/min, coupled with a satisfaction guarantee, ensures both value and protection.
In a Rush? Here Are My Top Astrology Reading Sites
California Psychics — Best for its large selection of multi-talented readers.
Purple Garden — Best for its Journeys feature with first-hand recommendations.
Keen — Best for its experienced readers with 20+ years in the field.
Psychic Source — Best for its video reading option for intimate sessions.
California Psychics — Best for its audio messages on profiles for a well-rounded decision.
Best Sites for an Astrology Reading in 2023
The following sites have been thoroughly tested for quality, value, and trustworthiness. You can rest assured that regardless of your choice, you'll get worthwhile astrology guidance.
1. California Psychics — Best Overall for Astrology Readings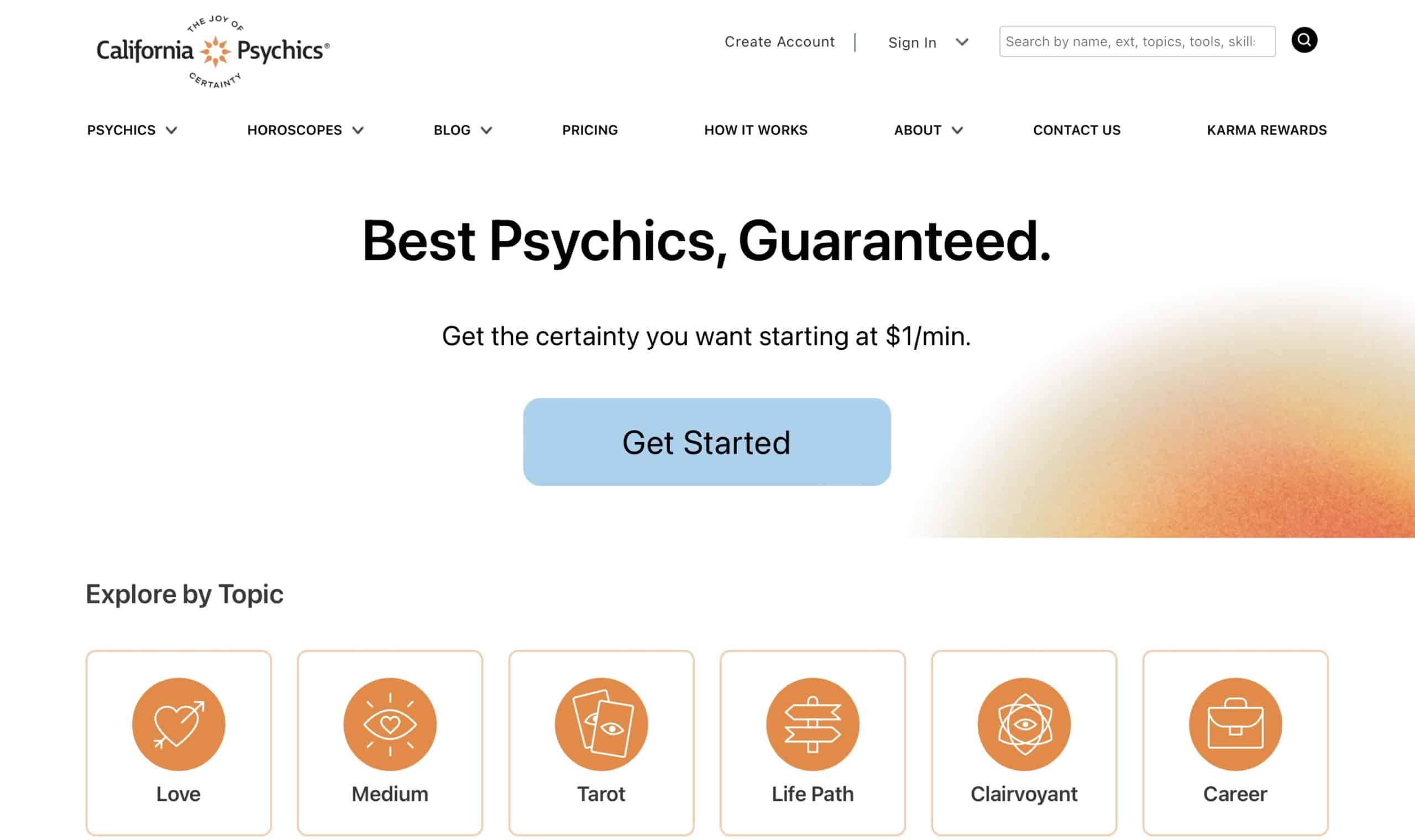 100+ astrologers
$1, $2, or $4/min
Chat and call sessions
Satisfaction guarantee
Karma rewards program
California Psychics has remained a top-tier site for the last 25+ years because of its high-quality astrology services. Not only are the readers skilled astrologers, but they bring even more to the table with their psychic abilities. During my session, my reader gave me accurate predictions based on the positions in my chart plus their clairvoyance.
I find it useful that California Psychics lets you sort your options based on reading style. It ultimately helped me find my reader, Geoffrey, who drew me in with his straightforward style. And while I appreciate his no-nonsense approach to astrology, his delivery was also quite inspiring which resonated with me deeply.
What I like the most about California Psychics is that the readers are multi-talented. It was impressive that Geoffrey had psychic abilities in addition to his astrology knowledge, but it didn't stop there since he also incorporated some tarot. I felt this added an extra layer of clarity to my reading but if you prefer a traditional astrologer, you can find that too.
Although I typically prefer readings over video, I opted for a voice call and really enjoyed it. And while video readings have their advantages, I appreciate the casual energy of a voice reading. I was able to sit back and relax while I got astrology insights, which allowed me to be more receptive to what Geoffrey was saying.
2. Purple Garden — Get Astrologer Recommendations With Journeys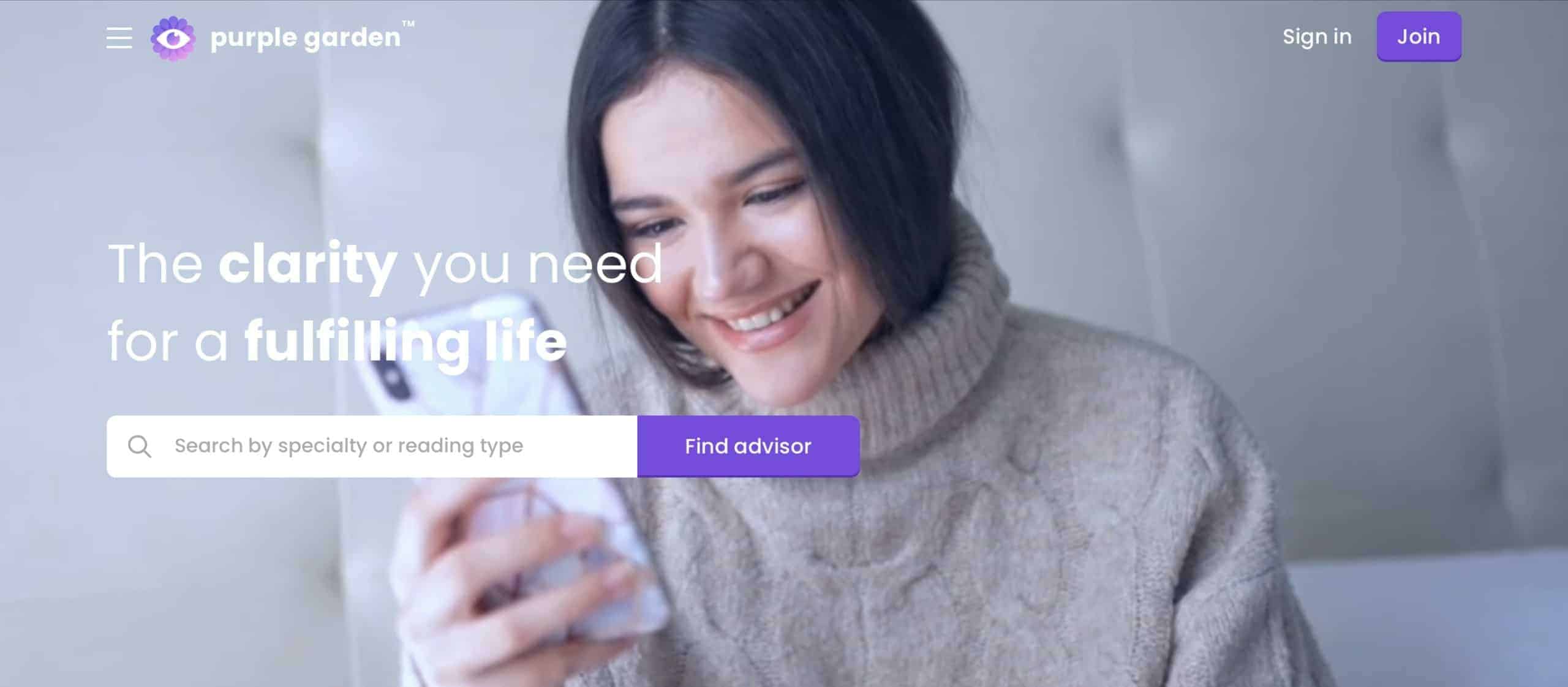 80+ astrology guides
Chat, call, and video readings
$10 credit towards first session
Refunds upon request
2% cashback
The contemporary features on Purple Garden really make the platform shine. For instance, its Journeys feature is a thread-board-style space where you can connect with other Purple Garden users. And while it's great for community building, it also offers a unique way to get recommendations for worthwhile astrologers.
Astro Karan came highly recommended to me on Journeys. And as a fellow astrologer, I was truly impressed by the depth of his knowledge in Vedic astrology. Having practiced for over 9 years, his technique is both genuine and honed. His top-accuracy badge is, in my opinion, rightfully earned.
Plus, I've noticed that Purple Garden has one of the most generous new-client offerings. I got $10 worth of free reading time with Astro Karan, which ultimately led to a longer session. This meant the insights didn't feel rushed and I got the chance to ask Karan follow up questions for that extra clarity.
When I discovered that Purple Garden doesn't offer a satisfaction guarantee, I immediately became skeptical. However, I noticed its review sections are amongst the most transparent of all sites offering astrology readings. Negative reviews can't get buried because they're separate from the positive, so with due diligence there is little to no risk.
3. Keen — Connect With Astrologers of 20+ Years Reading Experience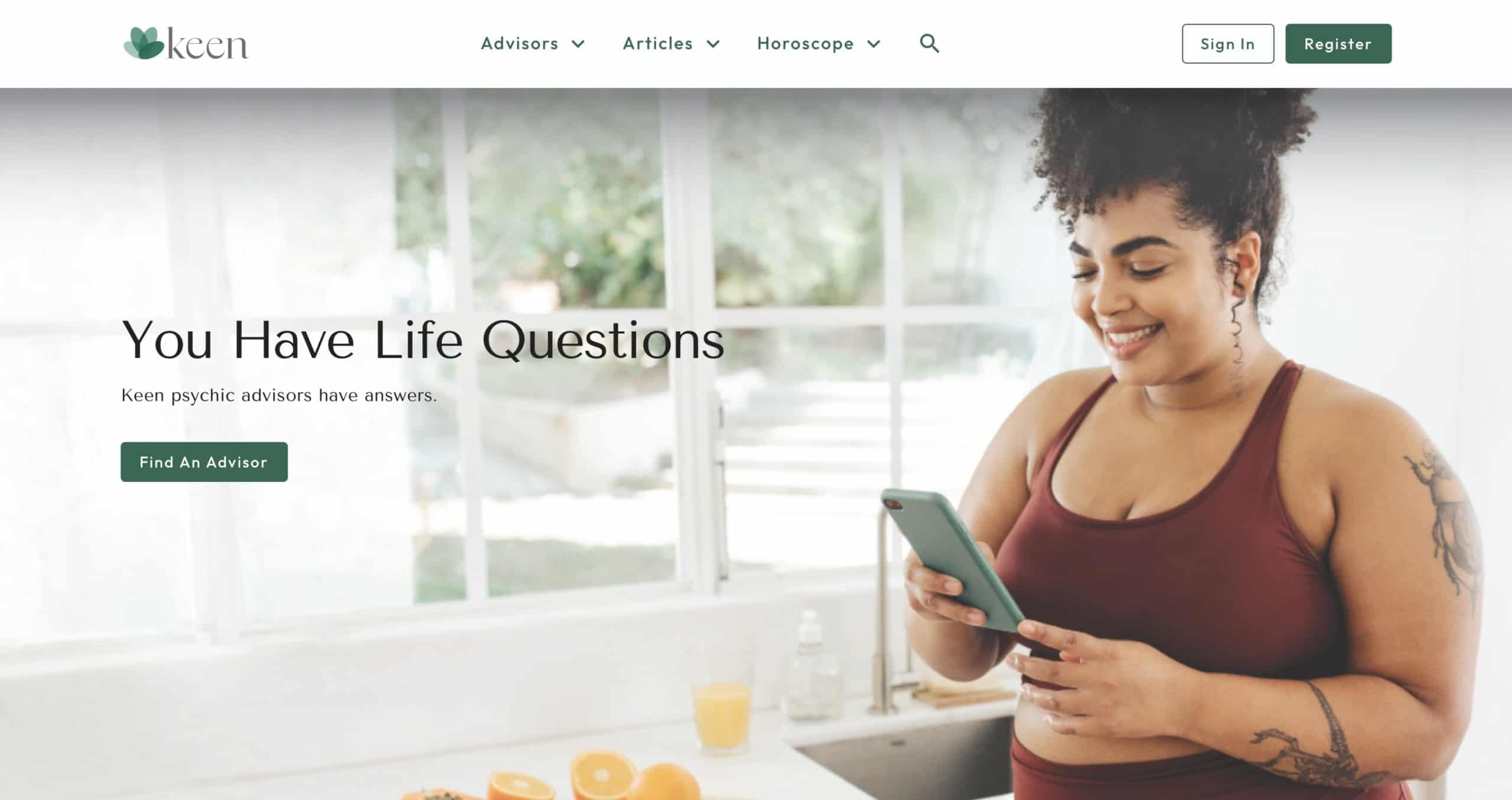 30+ astrologers on site
Chat and call readings
5 minutes for $1
$25 in credits for refunds
Keen rewards
Keen is a solid option for an astrology session because it has some of the most experienced readers I've seen. Many advisors have been on the site since 2001 and have lengthy track-records, so you're bound to make a good choice. And although my astrologer has been on Keen since 2009, she has over 20 years experience reading off the site.
I recommend Keen because you can mail astrologers for free before booking with them. Since my expertise isn't Mayan astrology, I wanted to ask my astrologer more about it. She was more than happy to answer my questions on the practice, which helped me feel confident about trying it out for the first time.
Overall, my astrology reading with Gaia Mystique was one of the best I've had. I'm not sure if it was because her reading style is so unique or because she has a strong presence. Regardless, she provided me with answers about various areas of my life and impressed me with her accuracy. Many of her predictions came true in the weeks after my session.
Gaia Mystique's regular rate is pretty affordable considering its only $3.99/min. That said, I've noticed other astrologers on Keen can charge up to $8.99/min, which can be a bit pricey. Thankfully if you end up with a high-ticket astrologer, you can use Keen's offer of 5 minutes for $1 and decide if it's worth it.
4. Psychic Source — Enjoy Intimate Astrology Sessions Over Video Chat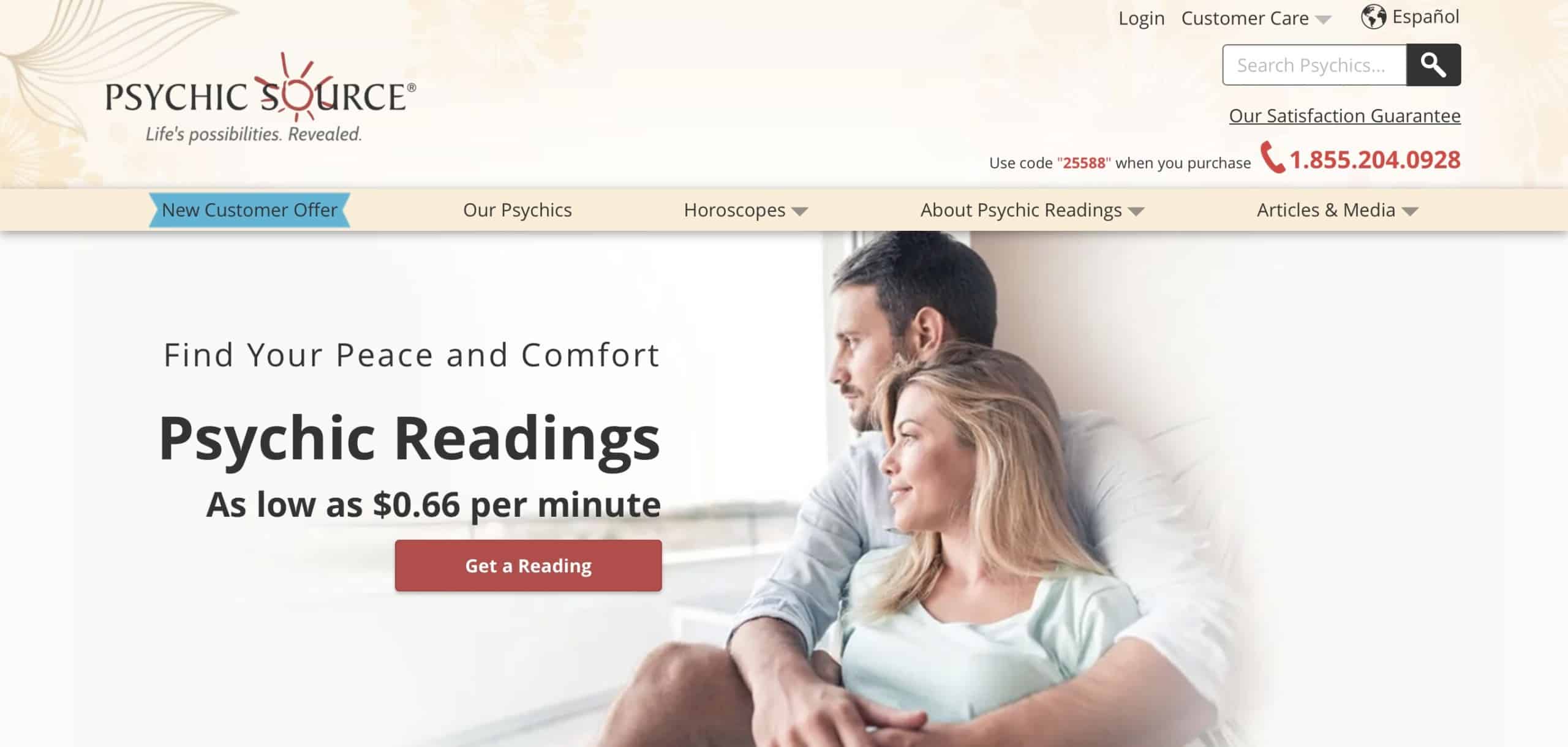 80+ astrologers
Chat, call, and video readings
$1/min plus 3 minutes free
100% money-back guarantee
Rewards program
Psychic Source had to make my list because it's one of the only sites with video readings at the same rate as its other call types. For instance, Purple Garden offers video sessions but the rates are pricier compared to chat or voice calls. So if you're set on getting astrology insights over video, Psychic Source is the best option.
Given my busy schedule, I appreciate that Psychic Source allows you to schedule astrology readings in advance. This not only saved me from waiting in a queue but also let me block out a specific time in my calendar. When it was time for my video reading, I was fully present, having dedicated that slot exclusively for the session.
During my astrology reading on Psychic Source, I had the privilege of connecting with Beatrice. It was clear that her 12 years of experience spoke volumes and her compassionate reading style will immediately put you at ease. I was particularly drawn to her deep knowledge of human design, a branch of astrology I've always been intrigued by.
At first glance, Psychic Source felt outdated, but I quickly saw past its aesthetics. The site, though not modern, is efficient and intuitive. Navigating my session with Beatrice was a breeze. Without any glitches to distract me, I could deeply connect with her, reminding me that sometimes, functionality truly trumps a flashy design.
5. PathForward — Pick the Right Astrologer With Profile Audio Messages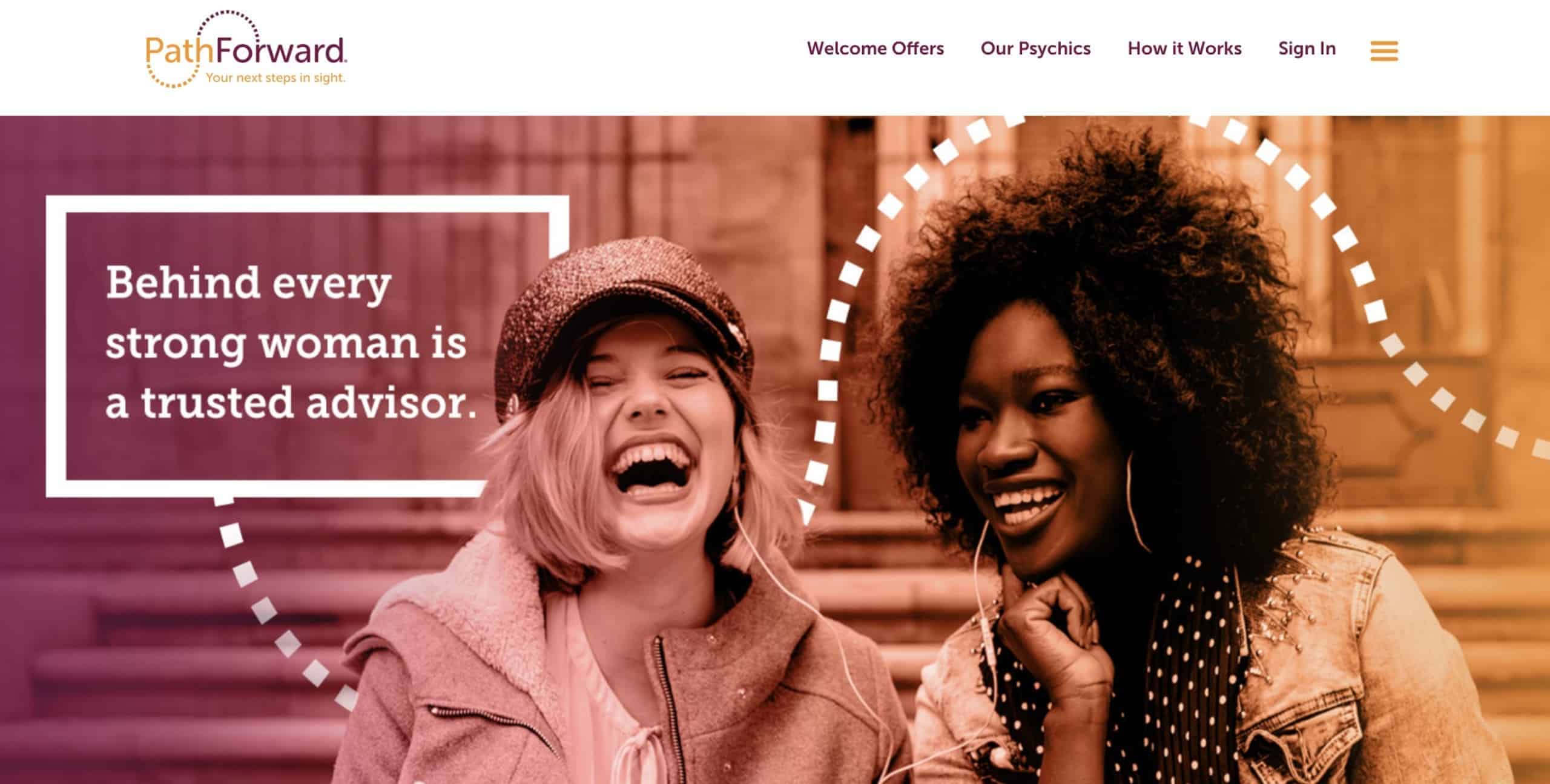 10+ advisors
Chat and call readings
$1/min and 3 minutes free
Satisfaction guarantee
In Sight rewards
While exploring PathForward, I was immediately drawn to the audio messages on astrologer profiles. Hearing their voices added an unexpected depth to the selection process. It wasn't just about reading their qualifications; it was about feeling their energy and resonance. This allowed me to choose an astrologer that truly resonated with my spirit.
My session with Serena was nothing short of transformative. It was clear that her clairvoyance combined with her deep astrological knowledge painted a vivid, holistic picture. And while she could tell me if someone was the right match for me, our session spanned beyond just that. Serena delivered her insights in a way that was both fun and empowering.
PathForward has an introductory rate of $1/min plus 3 minutes free, which to me, felt like a gentle nudge from the universe. Since I was a bit skeptical, it was like an invitation to explore deeper without the weight of commitment. I didn't have to stress over potentially wasting money and instead could focus wholly on the insights.
I was surprised by the limited number of astrologers on PathForward—just a bit over 10. However, the smaller selection of readers streamlined my decision-making process since each astrologer seemed carefully chosen for quality. And with the satisfaction guarantee, it felt like PathForward truly stands behind the expertise of its chosen few.
Comparison: Best Astrology Reading Sites
| | | | | |
| --- | --- | --- | --- | --- |
| | Introduction Offer | Number of Astrologers | Reading Types | Satisfaction Guarantee? |
| California Psychics | $1, $2, or $4/min | 100+ | Live Chat & Voice Call | Yes |
| Purple Garden | $10 credit | 80+ | Live Chat, Voice Call, & Video | No |
| Keen | 5 minutes for $1 | 30+ | Live Chat & Voice Call | Yes |
| Psychic Source | $1/min plus 3 minutes free | 80+ | Live Chat, Voice Call, & Video | Yes |
| PathForward | $1/min plus 3 minutes free | 10+ | Live Chat & Voice Call | Yes |
How I Selected My List of Astrology Sites
Astrology is a vast and intricate field, deeply rooted in history and cosmic knowledge. To guide you toward genuine, insightful, and trustworthy astrology platforms, I've used the following criteria to create my list of suggestions.
Expertise and Credibility of Astrologers: Each site features astrologers who are well-versed in their discipline, possessing relevant qualifications or decades of experience.
User Testimonials: I've researched user reviews on the platforms themselves, external forums, and social media channels to gauge overall satisfaction and reliability.
Accuracy and Depth of Readings: I got a reading on each site to ascertain the depth, clarity, and accuracy of the astrological reports provided.
Transparency and Pricing: My picks prioritize clear pricing structures without any undisclosed costs. This includes sites that offer initial discounted readings or have a satisfaction guarantee.
User-Friendly Experience: The sites I recommend have been assessed for ease of use, ensuring a seamless experience from browsing to booking a reading.
Data Security and Confidentiality: I confirmed that each of my top picks employs stringent data protection protocols, ensuring your birth data and personal details remain confidential.
What's an Astrology Reading & How Does It Work?
An astrology reading delves into carefully calculated charts that capture the positions of celestial bodies like the sun, moon, and planets at a specific moment in time. Think of it as a cosmic snapshot, unique to every person, that offers insights into personality traits, life paths, and future possibilities.
To create a chart, you provide key details: date, time, and place. Using this, the chart maps out the positions of these celestial players in the zodiac's twelve signs, such as Aries or Taurus, each sign offering specific attributes. But it's not just about position; the angles or relationships between planets, known as aspects, matter too.
For instance, harmony between Venus (love) and Mars (passion) might hint at a fiery romantic life. Astrologers then decode this celestial diagram and interpret how the planets' positions and their interactions might influence your life.
However, there are also other types of Astrology readings that can be helpful for more detailed insights.
The Different Types of Astrology Charts
Synastry charts
Explores your compatibility with a loved one or potential partner. You need both people's birth information for this reading type.
Electional charts
A chart is drawn at the moment you ask a question and let the chart answer your question.
Solar return charts
A chart that is focused on your solar return, aka your birthday, and the energies you can expect for that birthday year.
Saturn return charts
An analysis of your Saturn return and the impact it'll have on the rest of your chart, therefore your life.
Progressive charts
A type of chart that reflects the continuum of growing and aging. It's a chart that changes as you age and reflects current life stages and lessons.
Transit predictions
Mostly used for predictive purposes, all major transits are cast for a certain period of time and predictions are made on what you can expect.
Locational charts
Explores your compatibility with different cities and states if you're considering moving to a new place.
Evolutionary charts
Provides insight into past lives and why your soul has chosen your current chart to guide you on your present spiritual evolution.
3 Advantages to Online Astrology Readings
Online astrology readings have seen a surge in popularity over recent years. While traditional, in-person sessions have their own charm, many are finding value in the digital approach. Here are three notable advantages to consider.
1. Convenience and Flexibility
One of the most apparent benefits is the ease of access. Whether you're on a lunch break, traveling, or just cozying up at home, online readings provide the flexibility to consult with astrologers at times that suit your schedule. This eliminates the need for commuting, arranging appointments during business hours, or waiting in queues.
2. Wide Range of Choices
Online platforms often host a diverse group of astrologers, each bringing their unique style, expertise, and cultural perspective. This diversity allows you to find an astrologer whose approach resonates with you, or even explore different astrological traditions—something that might be limiting in a local, physical setting.
3. Privacy and Anonymity
For those who prefer a level of discretion when delving into personal matters, online readings offer a layer of privacy. You can seek guidance and ask questions without the potential unease of a face-to-face interaction. While it's essential to choose a site that safeguards your data, the digital format can provide a space where you feel free to express yourself.
Things to Do Before Getting an Astrology Reading
An astrology reading can be a transformative journey, offering insights into yourself and your life path. To ensure a meaningful and productive session, there are some key steps to consider before diving in.
Get Your Birth Information
To get the most accurate astrology reading, it's essential to provide precise birth information. This isn't just about the day you were born, but extends to the exact time and location. An hour's difference can change the positioning of the houses and key planetary aspects in your chart, leading to vastly different interpretations.
Exact Birth Time: This can usually be found on your birth certificate. If you don't have this, consider asking family members or checking baby books or other records.
Location: The city or town of birth is essential, as astrologers use this to determine the local time relative to GMT and the positioning of planets accordingly.
Prepare Your Questions
Before your reading, think about what you're seeking guidance on. By having clear, focused questions, you can make the most of your session.
Life Areas: Consider the main areas of life you want insights on—career, love, health, or spiritual growth.
Specific Issues: Delve into specifics. Instead of just asking about career prospects, consider asking about a particular job opportunity or how to handle work-place challenges.
Open-Ended Queries: Questions like "What should I be aware of in the upcoming year?" can provide general guidance and insights.
Explore the Basics
While you don't need to be an expert, understanding some astrology basics can enhance your reading experience. It enables you to engage more deeply and ask more informed questions.
Zodiac Signs: Familiarize yourself with the 12 zodiac signs and their general characteristics.
Planets: Explore the major planets in astrology, as each represents different aspects of our lives. For example, Venus often relates to love and relationships.
Houses: In an astrological chart, the sky is divided into 12 segments or "houses," each representing a different life area. Knowing the basics can help you understand where certain planetary energies play out in your life.
Tips for Selecting the Best Astrology Site
When looking at astrology site reviews, focus on those that discuss career guidance or readings. These can offer valuable information about the site's accuracy and insight in career-related matters. Remember to consider feedback highlighting correct predictions, valuable insights, and practical advice about career decisions and progress. This will help you determine the site's expertise in career-related astrology.
Evaluate the Quality of Astrologers
The foundation of a great astrology site lies in its roster of experts. When assessing a site, dive deep into the profiles of its astrologers. Beyond years of experience, it's valuable to consider their specialties, client reviews, and any other credentials or training they might have. Remember, a truly skilled astrologer will be transparent about their expertise.
Furthermore, consider the communication style of the astrologer. Some astrologers might offer free introductory messages or audio recordings, giving you a feel for their approach and energy. This can be pivotal in ensuring a harmonious connection during your session.
Set a Budget
Astrology readings can range in price, so you should determine how much you're willing to invest. Setting a clear budget will help you navigate and compare the various pricing models. Some might have flat rates, while others operate on a pay-per-minute basis. Always ensure you're comfortable with the cost and getting value for your money.
Additionally, be on the lookout for special deals or promotions. Many sites offer introductory rates or periodic discounts. While price shouldn't be the only determining factor, a good deal can make your decision easier if you're on the fence.
Identify Your Needs
Astrology has various branches and techniques, so get some clarity on what type you'd prefer. Are you seeking insights into a specific life area like love, career, or health? Or, perhaps you're curious about a particular astrology type, like Vedic? By understanding your desires, you can hone in on astrologers who align with your interests.
Also, consider the format you'd prefer your reading in—whether that's through chat, call, or video. Some people may feel more connected via a face-to-face video session, while others might prefer the anonymity of chat. This preference can narrow down your platform choices.
Check Client Protection Policies
Your comfort and trust are paramount. Therefore, it's advisable to check if the site has any client protection or satisfaction guarantees in place. Such policies show the platform's commitment to delivering quality services and can offer peace of mind. If you're not satisfied with a reading, knowing there's a recourse can make all the difference.
Moreover, ensure that the site prioritizes your privacy. A good platform will have clear terms of service and privacy policies in place, guaranteeing the confidentiality of your session and personal details.
Scope Out Extra Features
The core offering might be astrology readings, but many sites nowadays come equipped with additional features that enhance the user experience. This could range from daily horoscopes to educational resources. While these extras shouldn't be the sole deciding factor, they can add value and contribute to a more holistic and enriching experience.
Remember to also assess the user-friendliness of the platform. An easy-to-navigate site with responsive customer service can significantly improve your overall experience. Even features like mobile apps or email notifications can make staying connected with your astrologer more convenient.
FAQs on Astrology Reading Sites
What's the difference between in-person and online Astrology readings?
In-person and online astrology readings primarily differ in their mode of delivery. In-person readings require you to be physically present with the astrologer, often facilitating a more tactile and immersive experience. The energy exchange in a face-to-face setting might be perceived as more palpable, offering a distinct intimate dynamic.
On the other hand, online readings are conducted remotely, typically via chat, call, or video session. These digital sessions offer greater flexibility, enabling you to connect with astrologers from across the globe without leaving the comfort of your home. Online readings provide convenience, a wider selection of experts, and can be less intimidating for first-timers.
Can Astrology help with relationship compatibility?
Absolutely, astrology is a renowned tool for assessing relationship compatibility. An astrologer can analyze both partners' birth charts to identify harmonious and challenging aspects between them. This process, often referred to as "synastry", examines planetary alignments and how they interact between charts.
Another method is "composite chart" readings, which create a single chart based on both individuals' natal charts, representing the relationship itself. By understanding these astrological insights, couples can gain clarity, improve their communication, and harness their combined strengths.
Are Astrology sites reliable and accurate?
The reliability and accuracy of astrology sites depend on several factors, primarily the expertise and authenticity of the astrologers they feature. A reputable site often vets its astrologers, ensuring they possess the necessary experience and qualifications. Client reviews and testimonials are also indicative of an astrologer's accuracy.
What kinds of additional services do the best Astrology sites offer?
The best astrology sites often extend beyond basic natal chart readings to offer a variety of specialized services. Some platforms also delve into specific astrology branches like Vedic, Hellenistic, or Mayan astrology. Beyond astrology, these sites might offer related services such as tarot card readings, numerology analysis, or even spiritual coaching.
How are Chinese, Vedic, and Western astrology different from each other?
Chinese, Western, and Vedic astrology have differing interpretations of the stars and their influence on human life. Each field has their own unique strengths, which is why it's important to seek out advice from a multi-talented astrologer who is familiar with these disciplines.
Chinese astrology is based on a twelve-year lunar cycle and assigns an animal sign to each year, i.e., Rat, Ox, Tiger, etc. It also analyzes the Five Elements (wood, fire, earth, metal, and water) to provide more profound interpretations. Vedic astrology focuses on the sidereal zodiac and assigns a specific placement to each planet at the time of a person's birth.
Western astrology studies the sun's position at the time of a person's birth and assigns them a zodiac sign. Each sign has specific personality traits and is associated with one of the four elements (fire, earth, air, and water) and a ruling planet.
Bottom Line
Navigating the vast realm of online astrology sites can be as intricate as the constellations themselves. It's essential to approach this journey equipped with knowledge, ensuring you connect with authentic astrologers who truly resonate with your spiritual journey. This guide should help you navigate your options with greater ease and confidence.
That said, my top suggestion for a valuable astrology reading still remains California Psychics. I had the best experience on the site and was impressed by the high-quality astrology session I got. Additionally, its new client offer of $1, $2, or $4/min is hard to say no to, especially when you can rest assured of its satisfaction guarantee.
In summary, the best sites for Astrology readings are…