Last year, I felt like I reached a standstill in my hunt for spirituality. I wanted to learn more about the world around me, and to connect with it on a deeper level. The problem was, I just didn't know where to start.
After lots of research and soul-searching, I discovered spiritual advisors. The advisors I've spoken to helped me set out on my spiritual journey and guided me while I learned more about spirituality. This is what I discovered.
What Is a Spiritual Advisor?
Spirituality can take many forms. Some people believe in God or gods and explore their spirituality through a religion. Others feel a powerful connection to the universe, a guiding spirit, or the energetic forces which surround them.
Spiritual advisors are people who have a deep connection to their spirituality. They use their insights and experiences to guide other people towards a more spiritual life.
Advisors are more like mentors than coaches. They don't teach spirituality, and their role isn't to give you steps to reach a set goal. Instead, their job is to help you identify the path you want to follow and the person you want to become, guiding you on how to get there
Spiritual advisors use their own spirituality to help other people understand their lives and achieve their goals. You can apply their wisdom to all aspects of your life, from your life path and destiny to your career and relationships.
What's the Difference Between a Spiritual Advisor and a Psychic?
Spiritual advisors use their connection to spiritual entities as guidance. Spiritual advisors are people whose experiences have brought them to a place of enlightenment. They are driven by a desire to help people reach their full potential and find direction in life.
Psychics have special gifts that allow them to access more information than those of us with just five senses. These gifts may include clairsentience, mediumship, and healing. They use their gifts to make predictions about the future and to answer specific questions about people's lives, relationships, money issues, and more.
Some psychics are spiritual advisors, and some spiritual advisors are psychics. It's definitely possible to have psychic gifts and be deeply spiritual. However, there's absolutely no guarantee that these traits will overlap, so choose your advisor carefully.
Find a Spiritual Advisor on Keen Psychics
How Do I Become a Spiritual Advisor?
In order to become a spiritual advisor, you have to have undergone significant spiritual growth. You must be far enough along your own path to be able to help people find their own.
Some people study to become advisors. Their subjects may include philosophy, theology, or psychology. Other people become advisors simply by using their own experiences to inform them, others get Masters degrees or even PhDs in their subjects before starting out as advisors.
Remember, you don't have to be religious to become a spiritual advisor. Some advisors may be Christian or Buddhist, for example, and use their faith as guidance. If you're spiritual but not religious, you should look for non-denominational training that takes your beliefs into account.
Where Can I Find a Spiritual Advisor?
When you choose a therapist, there are generally three questions you have to answer. Do you feel safe with them? Are they competent? Do you have a good connection with them?
I apply the same three criteria when choosing a spiritual advisor. Remember that "competent" looks different for everyone. For example, a Catholic priest won't be the right advisor for you if you're an agnostic looking to connect with the divine energy in the universe. Make sure the person you choose as your advisor understands you. They should accept your past and help you reach your goals for the future.
As we said above, many spiritual advisors also have psychic abilities. Some of the best psychic sites have special categories for spiritual advisors. You'll be able to connect with gifted readers who can guide you on your spiritual path.
I looked at my favorite psychic sites to see which of them offer spiritual readings. Kasamba offers "Religion" readings, with different guides who specialize in Christianity and Wicca. PathForward has "Spirituality" as a filter option to help you find the right advisor. Keen Psychics offers "Spiritual Guidance," and Oranum and AskNow have "Spiritual Guides." Finally, Psychic Source offers "Spiritual Psychic Readings."
As well as seeking guidance in my community, I've contacted several spiritual advisors from the sites above. Here's a brief look at some of them.
My Favorite Spiritual Advisors
GuideDeenia at Kasamba specializes in Christianity. Her other specialties include Eastern Philosophy and Universal Laws, ensuring you receive balanced, holistic guidance.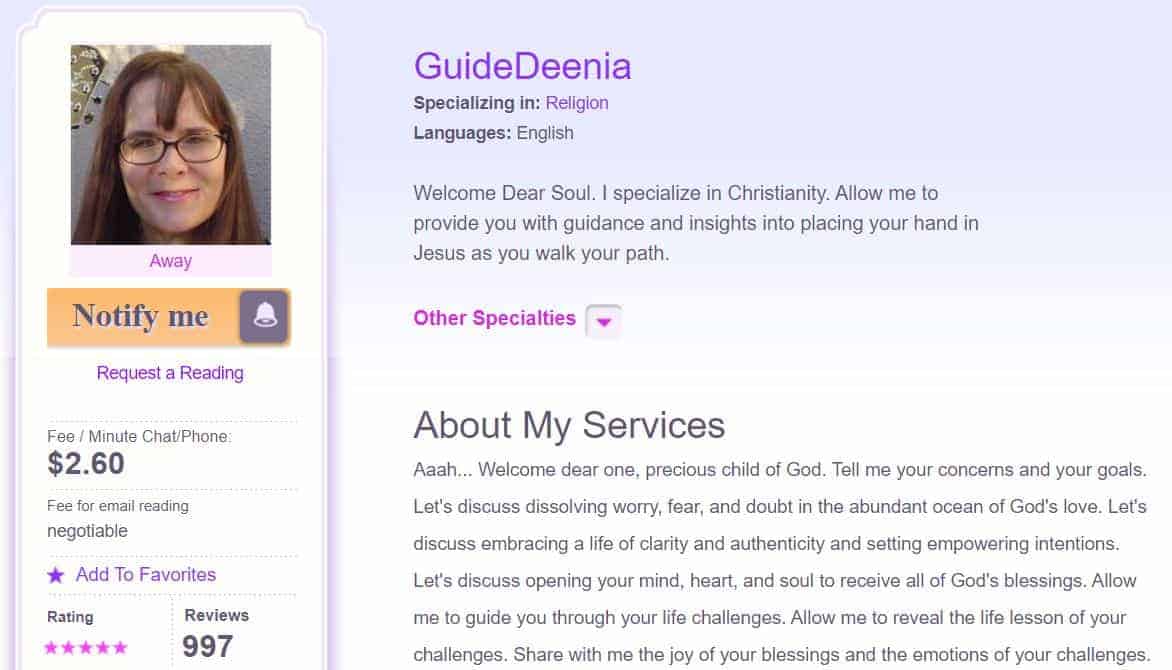 With a five-star rating, close to 1,000 positive reviews, and more than 20 years of experience offering guidance, GuideDeenia is a respected spiritual advisor. I felt like she really listened to what I had to say, and her advice was honest, direct, and empowering.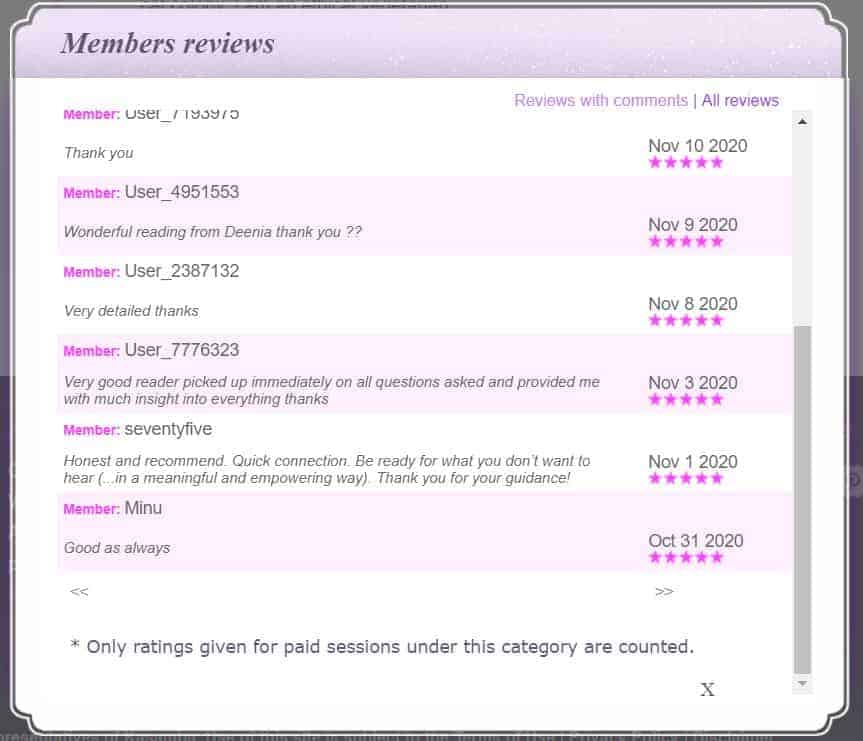 Apollo at PathForward specializes in Spirituality, Self-Love and Care, and Energy Healing. In his bio, he writes that he believes we are physical manifestations of all things spiritual and that everything we do in life revolves around our spirituality.

Apollo is fully clairsentient and uses channeling and cards to assist him during readings. I found Apollo's approach to be direct and empathetic at the same time. He offered sound spiritual guidance that really helped me see beyond my current issue and stay focused on my journey.
Finally, I spoke to angelreadings444 on Keen Psychics. As well as spiritual coaching and teaching, her specialties include Life Path and Destiny. She uses tarot and angel cards to help her connect with the divine. She's also clairaudient and advises on women's issues.

I was really impressed by how quickly she understood my situation and I appreciated her direct, kind, and insightful guidance. It's not just me: angelreadings444 has dozens of glowing reviews and five-star ratings.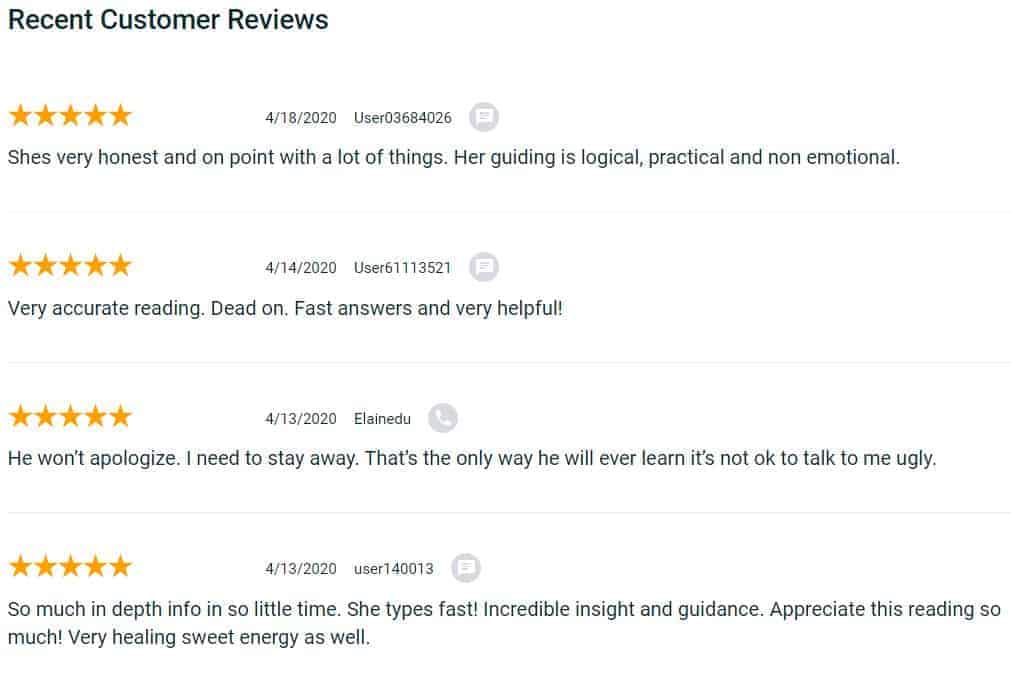 Conclusion
Spiritual advisors are people who have undergone significant spiritual growth. They use their knowledge, experiences, and insights to help people discover their own paths in life. They do so from a place of love and a genuine desire to help people.
Some spiritual advisors may also possess psychic gifts. You can find advisors like this on psychic reading sites like Kasamba, PathForward, and Keen Psychics. These advisors combine gifts like mediumship and clairsentience with their spirituality to answer your questions and guide you.