Before you hand over cash for a psychic reading, you need to know that the site you're using is legit and its readers are really gifted. I researched Oranum to find out if you can actually trust it. After scrutinizing Oranum's history, satisfaction guarantee, and screening process, I'm still not sure what to think.
History
For over ten years, Oranum has been dedicated to its mission of bridging "ancient knowledge to the digital age" through its unique live streaming platform. While offering a diverse array of readings, the platform refrains from disclosing the exact number of psychics use its site to provide valuable insights.
Generally, I prefer it when sites are upfront about their background and provide information about what they do. For example, Keen Psychics and Kasamba have full "About Us" pages. This really helps me feel like I can trust them.
Satisfaction Guarantee
Some platforms that provide psychic readings present complete satisfaction guarantees. If you're not happy, you can claim a refund. Regrettably, Oranum, does not have a satisfaction guarantee. Instead, their policy has a limited refund policy. A window of 24 hours is given to submit a complaint, and your claim will solely be in site credits if approved. Furthermore, getting details about refunds from Oranum proves to be quite a challenge. This information is concealed within the Terms and Conditions, and written in confusing legal terms.
I was disappointed to see this. Kasamba gives you a full 24 hours in which to file a complaint, and Psychic Center has a dedicated refund policy page in its "Help" section.
While its lack of satisfaction guarantee doesn't mean that Oranum isn't legit, I feel more confident using a site that really stands behind the service it offers.
Screening Process
I understand your concerns about the importance of transparency in the screening processes of online platforms offering psychic services. It's natural to seek reassurance about the credibility of advisors who provide insights and guidance. While it's disappointing that Oranum has not provided detailed information about their vetting procedures, it's worth considering reaching out to their customer support for clarification. In the meantime, you might want to explore other platforms that are more open about their verification processes to find one that aligns with your need for trust and authenticity.
Then again, Oranum doesn't claim that it vets its psychics. It's up to you to decide who to trust.
This is an area where Oranum excels compared to other psychic platforms. You can begin your research on advisors and identifying the ones that aligns with you, all without the need for registration. When you visit the Oranum website, you'll encounter various psychics conducting live sessions.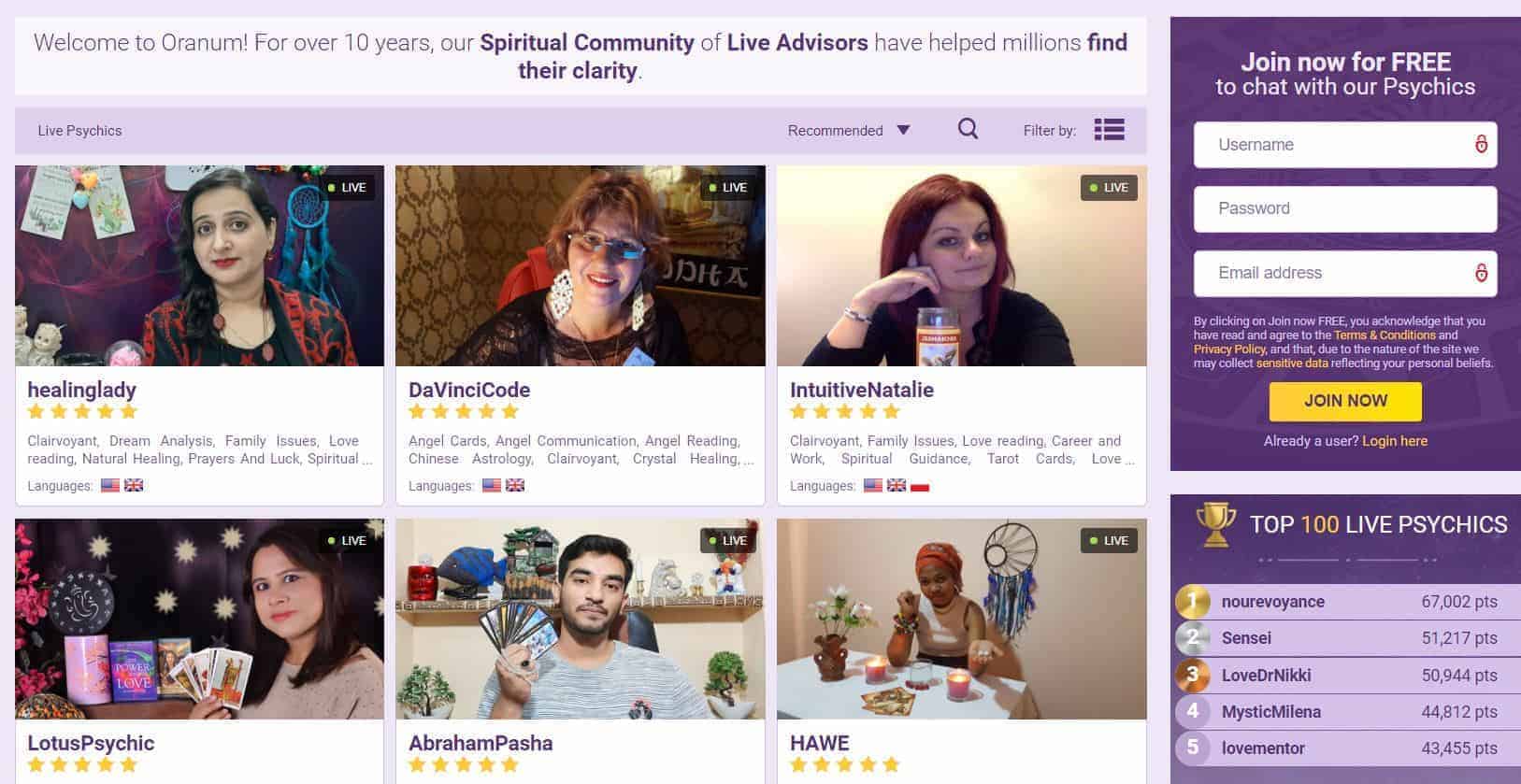 You can click to watch a live stream, and even join the chat as a guest.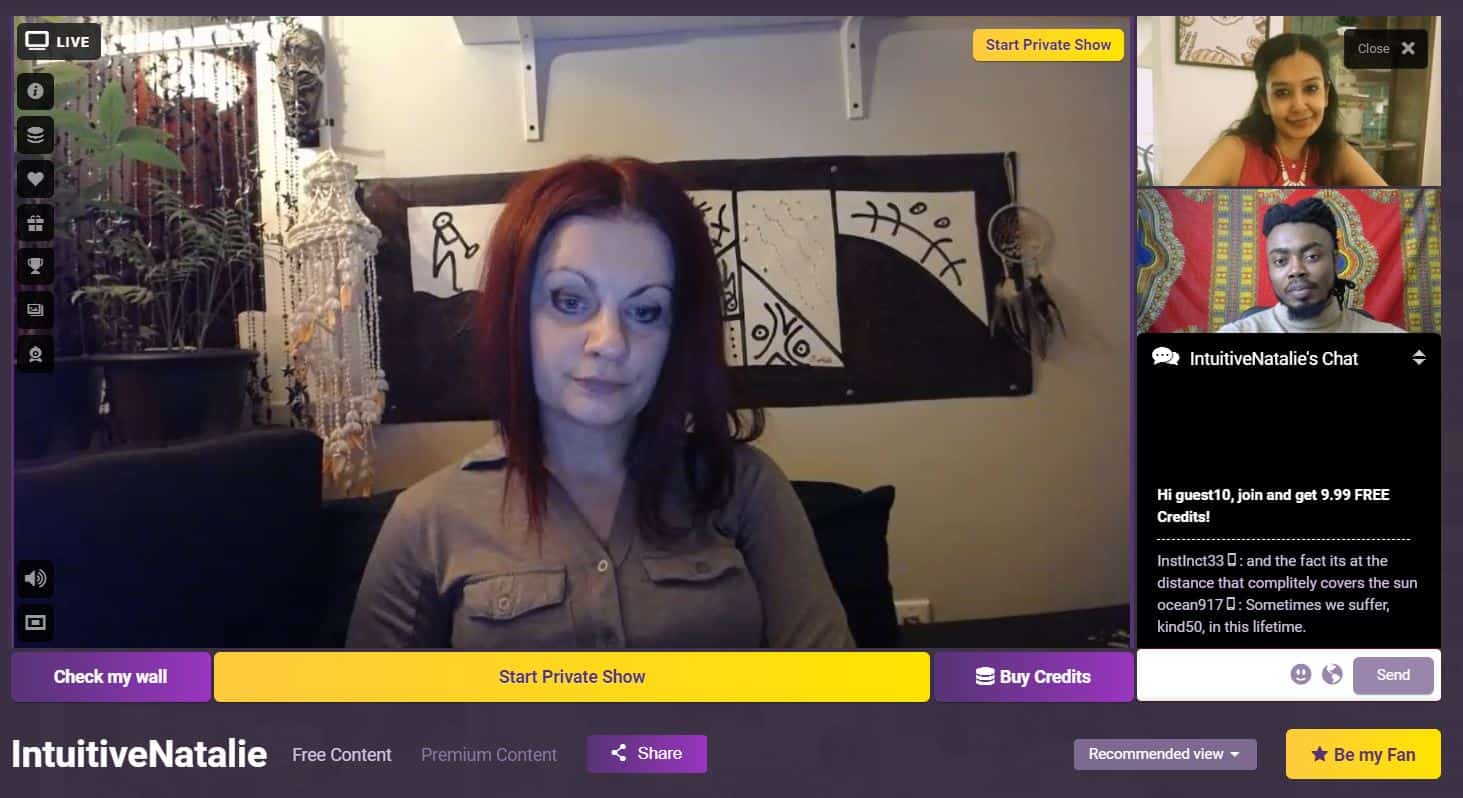 Oranum offers a unique approach where you can observe psychics during their public sessions before purchasing credits or registering. You can attend as many sessions as you want to confirm the authenticity of the advisors. Unlike other sites that offer the first session or a few minutes for free, Oranum allows you to watch psychics at work.
Conclusion – Is Oranum Legit?
Honestly, I'm still not sure. While many psychic reading sites offer 100% satisfaction guarantees, Oranum only offers a partial refund policy. There's not a lot of information available about the site's history, and Oranum doesn't reveal if and how it screens its psychics.
However, I really like that you can interact with an unlimited number of psychics without making any kind of commitment. I clicked into lots of live stream sessions and got a really good feel for how authentic and gifted each reader is. This made me feel far more confident about signing up and buying site credits.
In conclusion, I think that while Oranum could be more transparent, it probably is legit. You can get legit readings from Oranum's advisors if you're willing to spend time looking for one you trust.
You can read more about Oranum in our full review here.