Sometimes career choices are made out of necessity rather than desire, leading to feelings of stagnation and unfulfillment. If your current profession doesn't seem to be a good fit, it may be time for a change. But the wrong move might set you back more than you'd like, making it crucial to get trustworthy advice.
Fortunately, career psychics have unique abilities and talents that allow them to understand your aura and gifts and recognize your calling. With the right advisor backing you up, it becomes far easier to make the best choices for your career and, ultimately, your life path.
I've spoken to some of the top career psychics on several popular psychic sites to help narrow down the best options, allowing you to get the advice you need sooner rather than later. My top pick is Calfornia Psychics because of its stringent screening criteria and competitive introductory offer, which lets you get 20 minutes for only $1 per minute.
In a Rush? Here Are My Top Career Psychic Site Picks
Best Sites for Psychic Career Readings in 2022
1. California Psychics – Best Site Overall for Psychic Career Readings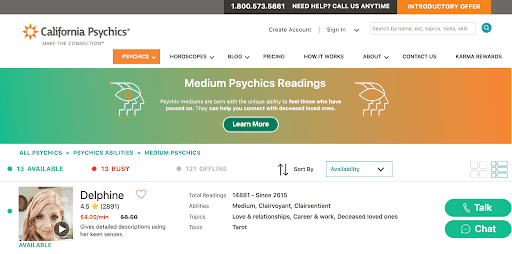 20-minute introductory package starting at $1 per minute
350+ career psychics to choose from
Stringent psychic screening process
100% money-back guarantee
Helpful blog available before you sign up
California Psychics makes it easy to access the most trustworthy advisors by rigorously screening every applicant. In fact, only 2% of all who apply are accepted to its panel of psychics. I took a look at some of the customer reviews of the site's top-rated psychics and was pleasantly surprised by the number of positive feedback given.
Since the site has over 350 gifted advisors to choose from, you won't have a hard time finding an experienced career psychic. By using California Psychics' pleasant user interface, I could view each advisor's experience, abilities, and tools before clicking on their profile, making it much easier to narrow my search for a good fit.
To further back up the promise of quality offered by California psychics, it lets you use a 100% satisfaction guarantee if you're unhappy with the outcome of your session. I tested this policy by reaching out to customer service within 24 hours and was pleasantly surprised to find that my account had been credited for the time spent.
My favorite aspect of the California Psychics website is the sheer amount of helpful information available to me before I created an account. You can learn about career-related topics on the site's blog for free, giving you helpful expectations on what to expect in a career reading. Plus, it can help you save time during a reading.
To benefit from California Psychic's introductory offer, you'll need to select between three 20-minute packages for $1, $2, or $4 per minute, depending on your chosen tier. I found that the basic package offered access to most psychics while maintaining an affordable default rate once the introductory minutes had been depleted.
2. Keen – Wide Selection of Career Psychics at Your Disposal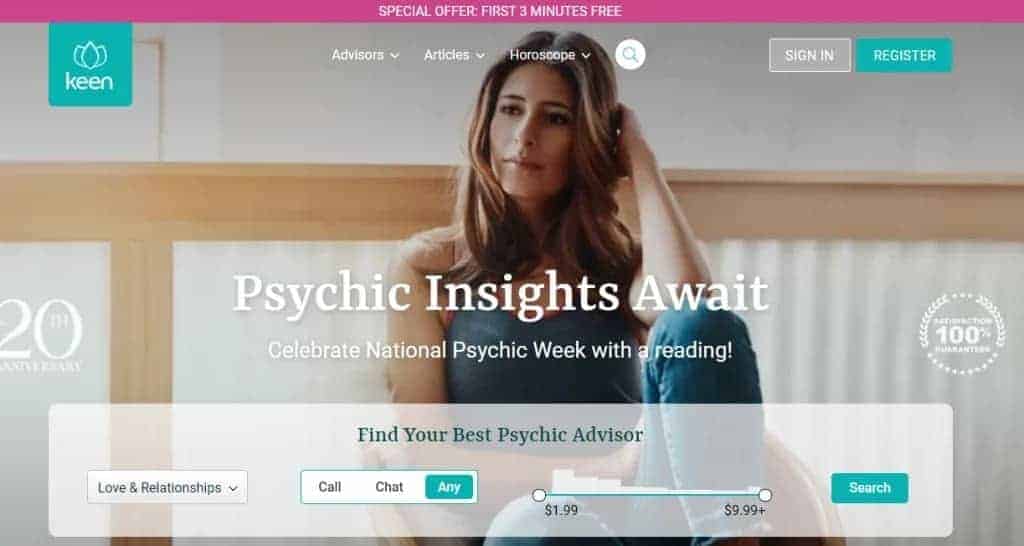 First 3 minutes free and 10 minutes for $1.99
879+ career psychics to choose from
Tips on how to get the most from your readings
Psychic matching tool
Free instant tarot readings
Keen is home to thousands of gifted psychics, so it's no wonder that you'll have the pleasure of browsing through the profiles of hundreds of career specialists. You can easily add in price, star rating, and skill filters if this doesn't appeal to you. I used this function to find the most affordable career advisors to make the most of my introductory offer.
The site helps you prepare for your career readings by offering helpful tutorials on how psychics offer life path guidance. This ensures that the session doesn't become overwhelming and makes it easy to prepare the right questions beforehand. It gave me clarity on the types of gifts and tools I would prefer my chosen psychic to make use of.
If trustworthiness is your main concern, you won't go wrong with Keen. A large portion of its career psychics are highly-rated, but if you do have a bad experience, you have the option of claiming from the site's satisfaction guarantee. However, you can try to avoid this by chatting to the advisor about their experience and gifts before committing to a session.
The site is an excellent choice if you have a flexible budget. Career psychics set their own rates, so while you'll find some starting as low as $1.99 per minute, rates range as high as $50 a minute too. My credits earned through the site's rewards program made it easier to test some of the most expensive psychics without sacrificing my own funds.
3. Psychic Source – Enjoy a Personal Career Reading Session via Video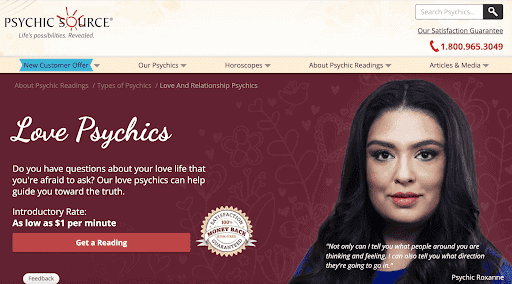 Introductory rate of $1 per minute plus 3 minutes free
198+ career psychics to choose from
Readings available via chat, phone, and video call
Appointment scheduling in your time zone
Psychic matching tool
Psychic Source's video chat functionality makes it easier to form a strong bond with your psychic through face-to-face readings. This allows your advisor to read your energy better, ultimately improving the quality of your session. The visual connection helped me feel more comfortable with my psychic and confident enough to schedule a follow-up reading.
Advisor profiles on Psychic Source are incredibly detailed and user-friendly. This means you can get to know your chosen psychic quite well long before you connect for a reading. Listening to the featured voice recordings helped me best discern which advisors would make my session most comfortable.
Since there are over 190 career psychics to choose from, you can use Psychic Source's matching tool to find the right psychic more quickly. When I used the matching tool to test the waters with a few highly-rated psychics, I found someone who matched my energy without depleting too many of my 30 introductory minutes.
Psychic Source's rewards program is arguably one of the best out there. On top of getting a percentage of cashback with every purchase, you also get bonus dollars for every minute you spend on a reading. I was delighted to squeeze in a few extra sessions from the credits made available from my membership.
4. PathForward – User-Friendly Interface That's Well-Suited for Beginners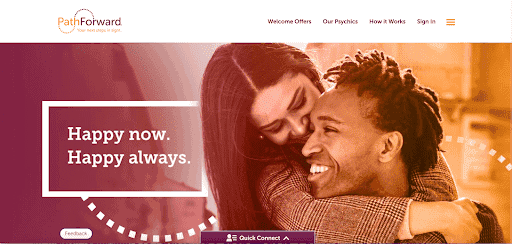 Introductory rate of $1 per minute plus 3 minutes free
39+ career psychics to choose from
Standardized rate of $5 per minute
Readings done via phone or chat
24/7 customer support
Thanks to PathForward's hefty introductory package, you can choose between 10, 20, or 30-minute deals for $1 per minute. This is needed when you're looking for career advice, as your advisor will need time to discern your life path and lead you appropriately. I found that the 30-minute package was most helpful in achieving this.
The site's InSight Rewards program also provides long-term value if you hope to continue working with an advisor later. It offers 3% back in rewards dollars with every purchase and allows you to accumulate up to $45 a month. By using its InSight Rewards program, I managed to benefit from a completely free 9-minute reading.
What impressed me most about PathFoward is its standardized pricing. This lets you access the site's most experienced and talented psychics at a fraction of the price you would pay elsewhere. It also works well for your budget if you're hoping to get continual career advice since you won't need to spend a small fortune on your readings.
5. Kasamba – Three Chat Minutes for Free With Every New Career Advisor
Introductory offer gives you your first three minutes free
205+ career psychics to choose from
Psychics can be contacted to negotiate rates
Readings available via chat, call, and email
First 3 minutes free with every chat session
If you'd like to try out a few different career psychics without breaking the bank, Kasamba is the ideal site. The first three chat minutes with every new advisor on the site are entirely free, so I could speak to psychics with various gifts, communication styles, and spiritual tools to better understand my preferences.
Kasamba makes it easy to get your thoughts out in writing by facilitating email readings. I connected with a top-rated psychic to discuss a potential promotion, and I was pleasantly surprised when, after her initial response, she sent me a second reply containing further insight at no additional cost.
Although the website design is quite old-fashioned, there's still loads of value available on Kasamba. Aside from the hundreds of career psychics at your disposal, you'll also have complimentary access to plenty of helpful articles. This arms you with knowledge when entering your first paid session.
Comparison: Best Sites for Psychic Career Readings
| | | | | |
| --- | --- | --- | --- | --- |
| | Starting Price | Number of Career Psychics | Introductory Offer | Satisfaction Guarantee |
| California Psychics | $1 per minute | 350+ | Discounted Per-Minute Rates | Yes |
| Keen | $1.99 per minute | 879+ | Free Minutes & Discounted Per-Minute Rates | Yes |
| Psychic Source | $1 per minute | 198+ | Free Minutes & Discounted Per-Minute Rates | Yes |
| PathForward | $1 per minute | 39+ | Free Minutes & Discounted Per-Minute Rates | Yes |
| Kasamba | $0.90 per minute | 205+ | Free Minutes | Yes |
Tips on Choosing the Best Career Psychics
Consider each psychic's experience and reviews
When browsing through advisors on any psychic site, I recommend adding a few profiles you're interested into your favorites list. This will allow you to scrutinize these more carefully before beginning a paid session.
Look at the most pertinent details on each psychic's bio, including their experience, previous customer reviews, gifts and abilities, and the spiritual tools they use. If there is an introductory video or audio available, be sure to look at it, as this will give you a clear idea of what your psychic's energy will be like during your session.
Look for satisfaction guarantees
Satisfaction guarantees are a sign that a site is confident in the abilities of its advisors, which means you're likely to experience a more high-quality reading. But, if you're unhappy with the advice you received, reach out to customer support right away, as most sites impose a time limit on how long after your session you may claim.
It's also advisable to take a closer look at the terms and conditions surrounding the guarantee before starting your reading. Most sites restrict the maximum number of minutes that can be claimed, so if a dissatisfactory session is running long, leave the call as soon as possible.
Find the best introductory offer
When considering career psychic sites you're interested in, you'll notice that some present more value to new customers than others. Since solid career advice may require more than just one session, I advise you to select a site that provides as many discounted minutes in its introductory offer as possible.
It's important to bear in mind that you will only qualify for this rate once. Some sites require you to choose between 10, 20, and 30-minute packages, so choose a package best suited to the time you want to spend. Once you've used up these minutes, you'll default to your psychic's standard rates for your career readings, which can be significantly higher.
Choose your preferred communication method
Some career issues are more complex than others, so depending on how much advice you seek, reading lengths will vary. For this reason, you might prefer a live chat or email reading because they allow you to keep a record of your advice for future reference.
Alternatively, hearing the voice of your advisor or seeing their face on a video chat may provide a much-needed personal touch, so it would be wise to choose psychic sites that offer this functionality.
The good news is that most sites have a mobile app so that you can squeeze readings in at whatever time of day best suits you.
Take a look at the site's screening process
Since damage to your career can seriously affect your livelihood, it's vital to ensure you receive advice from a rigorously screened psychic. Many psychic sites claim that the services offered are for entertainment only and don't have strict quality control measures.
It would be wise to take a closer look at the requisites for applicants to any particular site. You can usually find insight into this by reading reviews of the site, viewing its terms and conditions, or looking at the application process itself. If you're having difficulty with this, you may be able to get answers from the site's customer support.
Frequently Asked Questions
What kind of guidance is offered by career psychics?
Career psychics use their spiritual gifts and tools to discover what opportunities may be heading your way. Through discernment, intuition, and reading into the supernatural, a career psychic can offer guidance on your true life path and lead you towards the best career decisions.
It's essential to remember that a career psychic will never provide specific details on employers, salaries, or colleagues. But they can help you weigh up various options you are contemplating by acting as a medium for the spiritual.
Additionally, career psychics can also help you become more self-aware by reading your energy and aura. This will make you more in-tune with your strengths and weaknesses and help you better understand which career paths you are best suited for.
How much do career psychic readings cost?
You can get a reading for under $20 with the right introductory offer since the average career psychic reading lasts between 10-20 minutes. Once you've depleted these minutes, however, the cost of your reading will depend on the individual rate of your chosen psychic.
You can also stretch your dollar by using the rewards program offered by the site. These provide cashback benefits when you make purchases and often include free minutes through email offers. But remember to look at the limits and the terms and conditions, as you'll only be able to cash these credits once you reach a specific threshold.
Are career psychics trustworthy?
Most career psychics are gifted and trustworthy because most sites do their due diligence when onboarding advisors. However, that doesn't mean it's impossible to experience a dissatisfactory session, as sometimes the connection between you and your psychic may not be quite right.
To avoid wasted credits and funds, choosing a site with a comprehensive satisfaction guarantee is vital. This will ensure that if you're unhappy with how your reading went, you'll be reimbursed for the money spent, or a replacement reading will be arranged for you.
How do I prepare for a career psychic reading?
It's best to have an idea of what questions you'd like to ask and have a thorough understanding of your chosen psychic's style and abilities before heading into your reading. Some psychics use tools like tarot or crystals to facilitate their connection to the spiritual realm, so you may not receive answers from the very first minute of your session.
You should also make sure you are in a peaceful state of mind before beginning your reading. This is because the negative energy caused by distress may affect the advice your psychic offers, ultimately leading you down the wrong path.
Bottom Line
Taking a new step in your career can be daunting, especially if it means leaving your comfort zone. However, speaking to a career psychic can go a long way in removing any uncertainties around your career.
The right advisor has the potential to help you discover your divine strengths and weaknesses and reveal the path that the universe has destined you for. If you begin building a relationship with a career psychic, you'll develop a competitive advantage that will help you soar to new heights in your chosen field.
For the widest range of reliable psychics, I recommend turning to California Psychics for guidance. The site offers an impressive 20-minute introductory package and a 100% satisfaction guarantee so that you can speak to a top-notch career psychic without any risk.
To summarize, here are the best psychic sites for career readings