Our jobs and careers make up a huge portion of our lives. Not just because they support us and our families, but because most people spend at least one-third of their whole day at work. When something takes up so much time in your life, you shouldn't leave it to chance, or stay in an unfulfilling situation.
Consulting with a career psychic is a great way to help you determine how to handle your difficult manager, if you should take that job offer in a new city, or reveal if you're going to get that promotion. No matter your needs or budget, you're sure to find the perfect career advisor on one of these psychic reading sites. I've even included some advice on how to work with a career psychic here.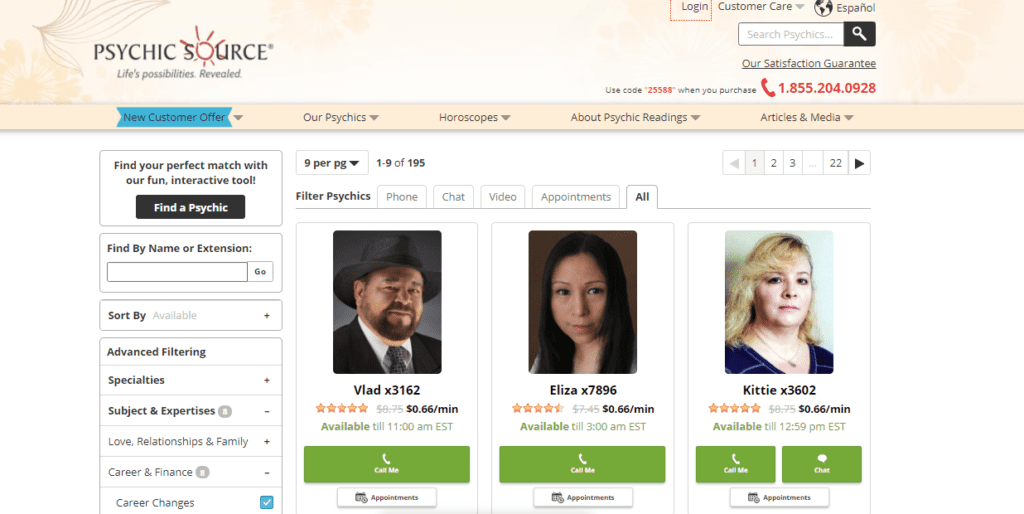 Psychic Source is the full package when it comes to psychic career readings. Not only does the platform have a dedicated Career and Finance section, but it also has even more specific filters under this category to help you find a specialized psychic. You can find readers that specialize in career changes, coworker disputes, office romance, starting a new job, and more. Psychic Source has nearly 200 psychics across the whole category.
One of the best features of Psychic Source is that you can connect with readers via chat and phone as well as video. When reviewing psychics make sure you check out their unique, pre-recorded video messages to learn more about their gifts and skills. New users on Psychic Source can take advantage of their introductory offer. Whether you choose a 10, 20, or 30-minute package, you'll only pay $1 to $3 per minute, depending on your reader's level of expertise. After you've used up your intro offer, regular rates range from $5 to $18 per minute.
Bottom Line
Psychic Source should be your first stop during your search for a career psychic. The site features advisors who specialize in every work-related situation you can think of, and even offers you the option to connect with your reader via, chat, phone, or video.
Find a Psychic on Psychic Source
2. PathForward – Best for Flat Pricing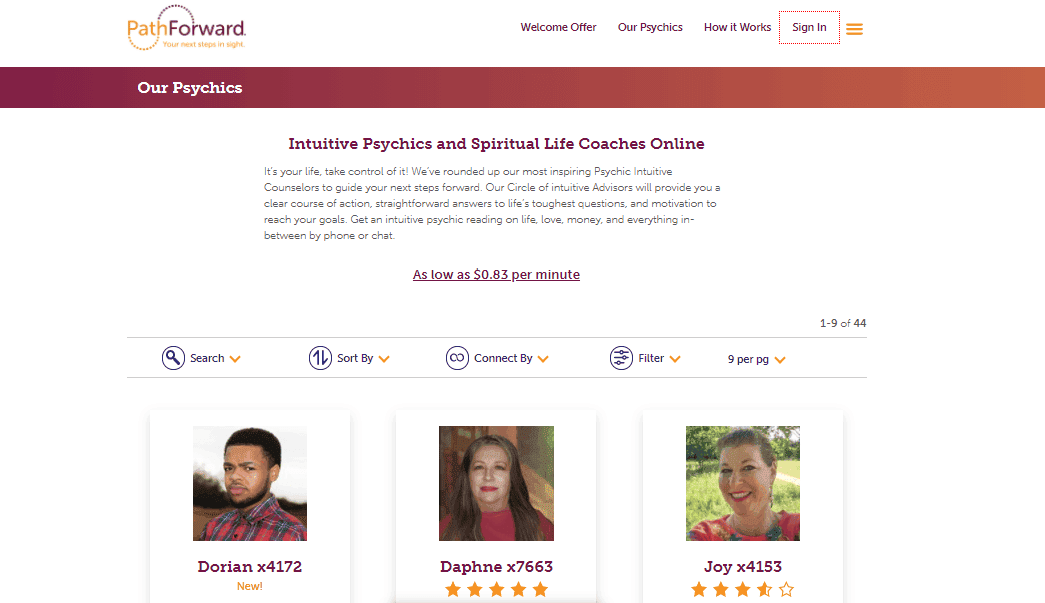 PathForward also comes highly recommended for career psychics, especially if you're searching for uncomplicated pricing. The platform has a dedicated Career and Finance category with over 44 highly rated psychics for you to choose from. Similar to Psychic Source, each reader's profile page has a unique audio message you can listen to, to learn more about their specialties and reading style. Once you've found a reader you like, you can connect with them via call or chat.
What I really love about PathForward is their simple, straightforward pricing model. New members can take advantage of the site's introductory rate and connect with readers for just $1 per minute. After using this offer, every psychic's rate goes up to $5 per minute and remains at this level. That means that on PathForward, no matter which reader you choose, you won't have to pay a premium based on reviews and experience.
Bottom Line
PathForward's flat pricing model gives you access to any reader of your choosing. Forget paying a premium for top-rated readers. You can choose any career psychic that appeals to you, and all you'll pay is $5 per minute— a much more competitive rate than many other psychic reading sites out there.
3. Kasamba – Best for Top Global Psychics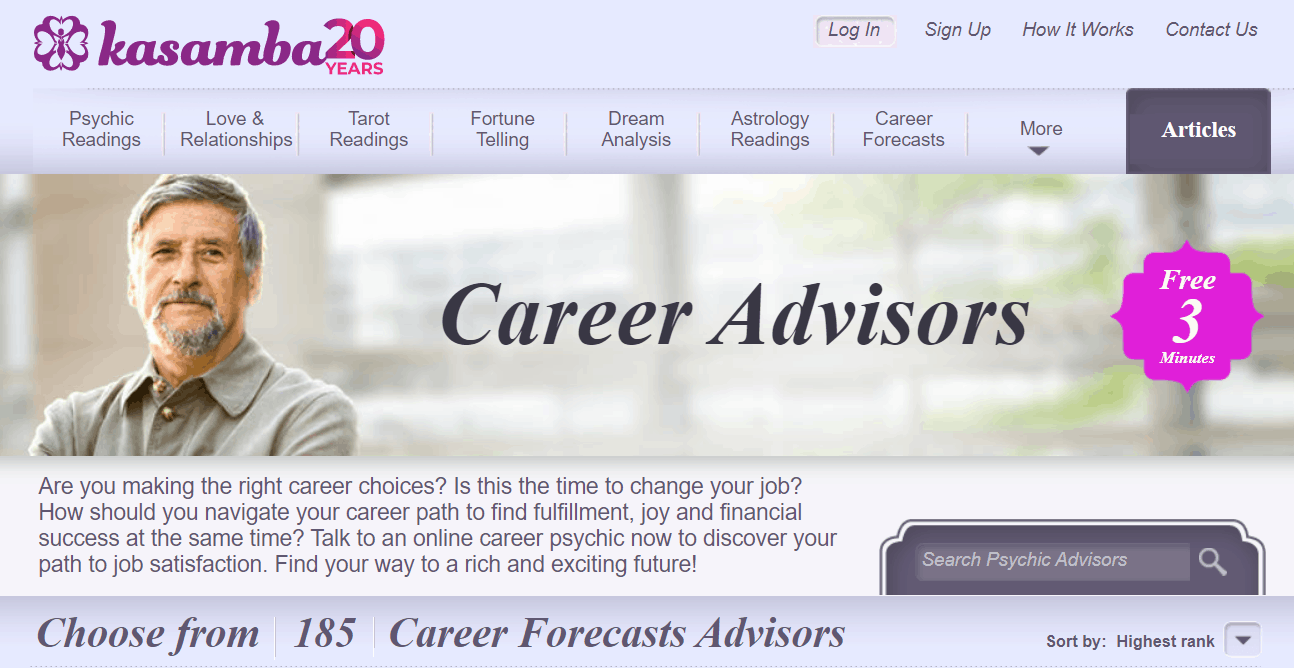 Kasamba is a veteran psychic reading site with a sound reputation. There is a dedicated section for career advice with over 185 psychics to choose from. These readers are all highly rated and very experienced, with hundreds of reviews for you to read through.
The only thing is, these top-quality career psychics come at a premium price. The lowest rate I could find for a career psychic was $2.95 per minute, and the highest was $30 per minute. So I recommend you thoroughly check out your reader's profile, specialties, and reviews before jumping into a session. You can have a reading done on Kasamba via phone or chat, and new users get their first 3 minutes free.
Bottom Line
If you're looking for the absolute best career psychics in the industry, then you have to check out Kasamba. However, be prepared to potentially pay a higher rate for the more experienced advisors.
4. California Psychics – Best for In-Depth Psychic Screening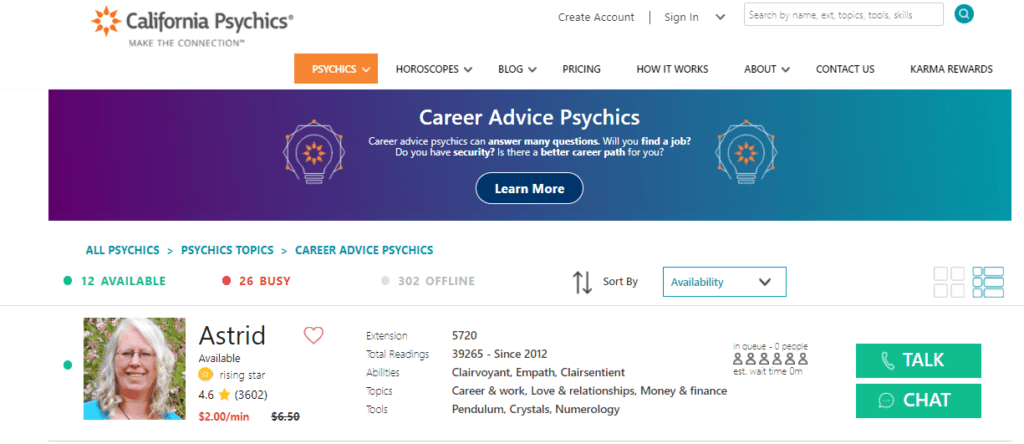 Similar to Kasamba, California Psychics is another established, trustworthy site. Here you'll find over 300 career psychics who offer readings via call and chat. If you're a bit hesitant or skeptical about online psychic readings, then I'd recommend going with California Psychics.
The site is known for its rigorous screening and psychic selection process, with only 2% of applicants receiving approval. The platform is committed to providing its customers with a positive experience, which is why they offer a money-back guarantee.
California Psychic's pricing is a bit more complicated than some other sites. The platform offers an introductory rate of either $1, $2, or $4 per minute, for a package of 20 minutes. Psychics are classified as popular, preferred, and premium, and correspond to the mentioned prices. After you've used up your introductory 20 minutes, psychics' rates range from $4 to $15 per minute.
Bottom Line
If you're hesitant about connecting with a career psychic, then I recommend you try California Psychics. The platform's thorough screening process and money-back guarantee will help put your mind at ease. Plus, there are plenty of experienced, highly rated advisors to choose from.
Find a Psychic on California Psychics
5. Mysticsense – Best Value for Money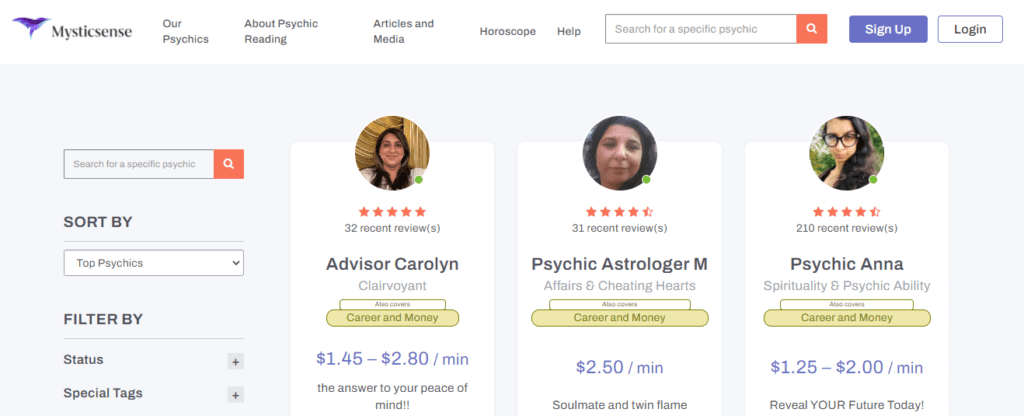 Mysticsense may not have the long-standing reputation that Kasamaba and California Psychics do, but the platform is certainly exceptional in its own right. This site has over 290 psychics specializing in career and money, and unlike the aforementioned competitors, Mysticsense offers readings via phone and chat as well as video.
Users can search for career psychics based on reading style, tool, and price. You'll notice that psychics have plenty of user reviews for you to read through and you can easily check their availability too. If you're a new user on Mysticsense you can get 5 free minutes just by depositing $10 into your account. Mysticsense's prices are significantly more competitive compared to other sites, starting at just $0.99 per minute and capped at $10 per minute. Most psychics' rates fall between just $1 and $3 per minute, making this site great value for money.
Bottom Line
Mysticsense holds its weight next to veteran psychic reading sites because it offers a great user experience, a big selection of career readers, the option to connect with readers via video, and best of all, some of the most competitive prices you'll find.
Find a Psychic on Mystic Sense
6. Oranum – Best for Free Live Sessions
Oranum is well-known for its huge selection of readers, but even more so for its free live video sessions. Every week psychics are required to dedicate time to free live sessions where users can talk with them via the platform's open chat.
These live sessions present you with a unique opportunity to ask a psychic if they'd be able to answer your questions in a private reading. You shouldn't expect them to perform a reading for you right then and there, but you can take advantage of this opportunity to gauge whether they're the right match for you. Psychics on Oranum charge between $0.99 and $9.99 per minute, and new users get $9.99 worth of free credits just for verifying their credit card.
Bottom Line
Oranum offers you the unique experience to connect with a career psychic at no cost during their free live sessions. You'll get the chance to watch and chat with your reader before entering into a paid session, ensuring you choose the right reader for you.
7. Keen Psychics – Best for Life Coaching

While Keen Psychics doesn't have a dedicated career section on their site, they do have a Life Questions category that features nearly 100 readers. Among these, you'll find many highly-rated psychics who you can connect with via call or chat to discuss your life path and career.
Similar to Kasamba, Keen Psychics is home to some of the top psychics in the world. You'll notice that readers on the site have literally thousands of reviews and maintain a 4-star and up rating. Keen's prices range from $1.99 to $16 per minute, and new users get their first 3 minutes free.
Bottom Line
If you're willing to do a little more digging, I recommend checking out Keen's Life Questions psychics. Many of them specialize in giving career guidance and are very highly rated based on thousands of reviews.
How to Work with a Career Psychic
Even though a career psychic can provide you with valuable insights and guidance regarding your new or existing job, you still have the final say.
It's important to approach a psychic career reading with an open mind. Your psychic can only tell you what they pick up based on your energy and the potential options that lay before you. Very often, they can't provide you with specific information such as the name of a company or potential business partner. They can, however, tell you what signs to look out for and what opportunities might be headed your way.
Remember, you are in charge of your destiny and you ultimately get to decide what to do with the information your psychic provides you with.
Bottom Line
Your career is too important to leave to chance. Consulting with a career psychic can help you discover the path you're meant to be on, and reach a whole new level of fulfillment in your job.
For the top online career psychics in the world, head over to Kasamba. For affordable video readings with highly rated psychics, try out Mysticsense. Or for a more general reading to answer life questions, you can explore readers on Keen Psychics. No matter which site you choose, the first step is the same— meet with an advisor today to learn how you can unlock your fullest potential in your career, and beyond.