House numerology is an intriguing subject that can help unlock the meaning of your home's vibration. But even once you've calculated your home's numerology, it can be challenging to understand its meaning and know what to do with it.
For your peace of mind, I've compiled a comprehensive guide on the fundamentals of house numerology. You can use it to calculate your home's numerology and assess its energy alignment with your path or consider a more suitable number.
To better understand your home numerology, I suggest consulting with a numerologist on California Psychics. They'll provide tailored insights, prevent confusion, and reveal the ideal number for your goals to pursue your dream life.
How to Calculate Your House Numerology
To calculate address numerology, add your home's number until you get a single-digit number. For example, if you live at 42 Main St, your address numerology would be 6. The only exception to this rule is if your address number is 11 or 22 or if you get these numbers while adding. This is because these "Master Numbers" should be kept intact.
Additionally, if you happen to live on a street that's name is a number, you wouldn't count it in your calculations. Let's say your address is 24 5th Avenue, so in this case, you'd ignore the "5th Avenue" and solely add up the "2" and "4" of the house number. If it's an apartment, you would add up your unit number instead since it's the most unique to you.
Sometimes it's possible to have letters that are part of your address; if you do, you should include them when adding. So if you live in "Unit 2A" or something similar, add the number and the letter. You can do so by using the numeric equivalent of that letter, so I recommend consulting the following chart if needed.
| | |
| --- | --- |
| Letters | Corresponding Number |
| A, J, S | #1 |
| B, K, T | #2 |
| C, L, U | #3 |
| D, M, V | #4 |
| E, N, W | #5 |
| F, O, X | #6 |
| G, P, V | #7 |
| H, Q, Z | #8 |
| I, R | #9 |
What is the Meaning of Your House Numerology
Once you've calculated your home's numerology, you must understand that number's vibration. This helps you understand why you may have been guided to that home and allows you to determine if you need to switch house numbers. It's believed to improve your life and aid in the manifestation process.
House Numerology 1-5
Number
Significance
– Best for those who value independence and prefer to lead in a unique way. It can also boost self-reliance and self-expression.
– Promotes ambition, determination, and success. You'll be motivated to achieve your goals and make a mark in your chosen endeavors.
-It's all about fresh starts and new beginnings. A place where one can initiate new projects and positive transformations.
– Brings harmony and balance to the environment and fosters cooperation amongst friends and family.
– Is the vibration of relationships and partnerships. Believed to support healthy and loving relationships within the household while encouraging communication and understanding.
– Associated with sensitivity and intuition. Particularly suitable for those who value intuitive abilities or seek a space that supports emotional well-being.
– Suited for creativity and to boost self-expression. Best for artistic pursuits, communication, and imaginative endeavors.
– Promotes social interactions and gatherings. Creates a space for joyful celebrations, and harmonious social dynamics.
– It can aid your communication so you find it easier to express yourself. Additionally, it can help you thrive more if you already pride yourself on good communication.
– Believed to provide a stable and grounded environment. It supports routines, structure, and a sense of security.
– Best for practicality, efficiency, and a focus on the essentials. It helps with a no-nonsense approach and can inspire you to get disciplined and organized.
– Associated with a strong work ethic and the willingness to put in the effort. It can set you up for achieving long-term goals.
– Brings an air of adventure and change. It will be a dynamic and ever-evolving environment where variety, exploration, and new experiences are valued.
– It can help with adaptability and flexibility. You'll become open to new ideas to change your circumstances better.
– Be aware it can bring a degree of restlessness and impatience. This can lead to seeking constant stimulation and excitement.
House Numerology 6-9
Number
Significance
– Connected to family and community. A place where relationships, family bonds, and social connections are highly valued.
– Emphasis on responsibility and care for others. It can promote a sense of duty, compassion, and nurturing.
– Great for artistic and aesthetic pursuits within the home. Best for those that appreciate beauty, creativity, and artistic expression.
– An energy of introspection, contemplation, and inner wisdom. Ideal space for solitude, reflection, and spiritual growth since the space will become your sanctuary.
– Well-aligned with intellectual pursuits and a thirst for knowledge. Helpful with education, research, and deep intellectual discussions.
– Associated with spirituality, mysticism, and the higher realms. Best for those who engage in spiritual practices and metaphysical exploration.
– Themes of abundance, wealth, and financial success. A space where prosperity and opportunities for financial growth occur.
– Linked to power, authority, and leadership. Helps you take charge and achieve recognition in your endeavors.
– However, it's a karmic number that can suggest personal empowerment, integrity, and ethical decision-making lessons.
– Fosters compassion, empathy, and a sense of social responsibility. Will support acts of kindness, service to others, and a desire to make a positive impact in the world.
– It can provide an environment that encourages spiritual exploration, contemplation, and personal enlightenment.
– Symbolizes endings and completion. Letting go of the old to embrace new beginnings can be helpful.
Master Numbers 11 and 22
Number
Significance
– Considered a highly significant vibration that carries powerful energetic qualities. Referred to as a "master teacher" number as it welcomes spiritual enlightenment, intuition, and inspiration.
– Will encourage you to explore your spiritual path, trust your intuition, and tap into your inner wisdom.
– Note that the energy can also be intense and challenging to navigate. It may bring forth spiritual tests and major personal lessons.
– Referred to as the "Master Builder" number. It represents the potential for manifesting grand visions and bringing them into tangible reality.
– Brings the potential of significant accomplishment and success. Best for materializing ambitious goals and for manifesting your dreams.
– However, this number requires dedication, focus, and the willingness to embrace responsibility. It will force you to work for the things you want but with a guaranteed reward in the end.
Best Sites for a Numerology Reading
Since House numerology is a nuanced practice, it may be best to seek guidance from a skilled numerologist. They can provide more clarity on the strengths and weaknesses of your home and any future predictions associated. You should consider the following sites as they're reliable, affordable, and offer numerous numerologists.
1. California Psychics — Best Overall for Numerology Readings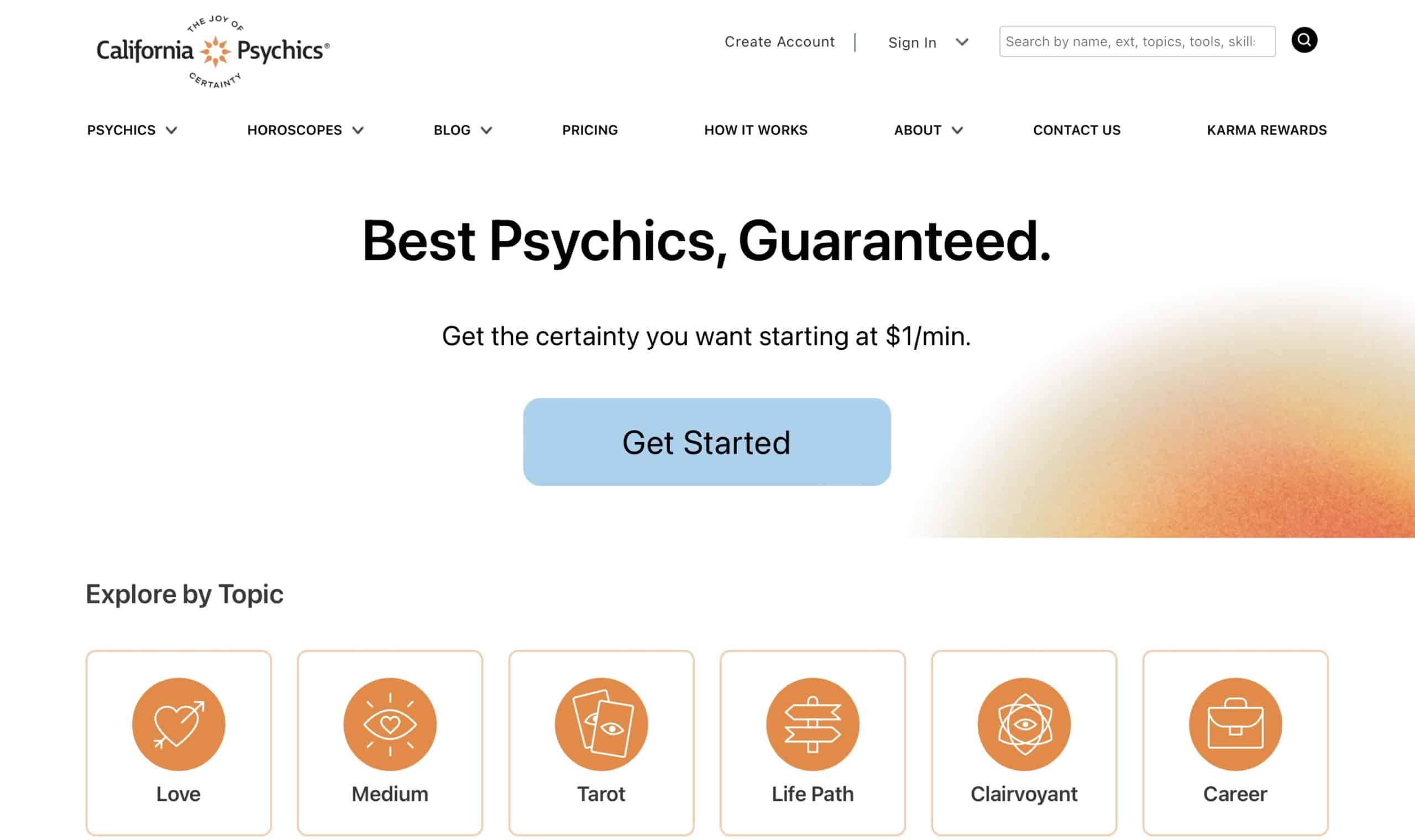 2% of applicants accepted
60+ Numerologists available
$1, $2, or $4 per minute
Satisfaction guarantee
Worthwhile rewards program
California Psychics has a great reputation due to its strict vetting and quality services. Only 2% of all applicants are accepted on the site, and its employees test its numerologists' legitimacy by getting personal readings. When you're hoping to make decisions based on the advice you get, it's helpful to know your numerologist has been vetted.
I was glad to see that California Psychics offers a variety of introduction packages to suit different budgets. You can choose if you'd like a numerology session with a $1, $2, or $4 per minute advisor, so you don't have to worry about spending beyond your means. Plus, you can test different numerologists with the offer to find one that suits you.
Since California Psychics is a popular platform, many of its numerologists are frequently busy. But with over 60 advisors, you won't have to worry about waiting in a lengthy queue.
2. Keen — Get Unmatched Insights from Highly Rated Advisors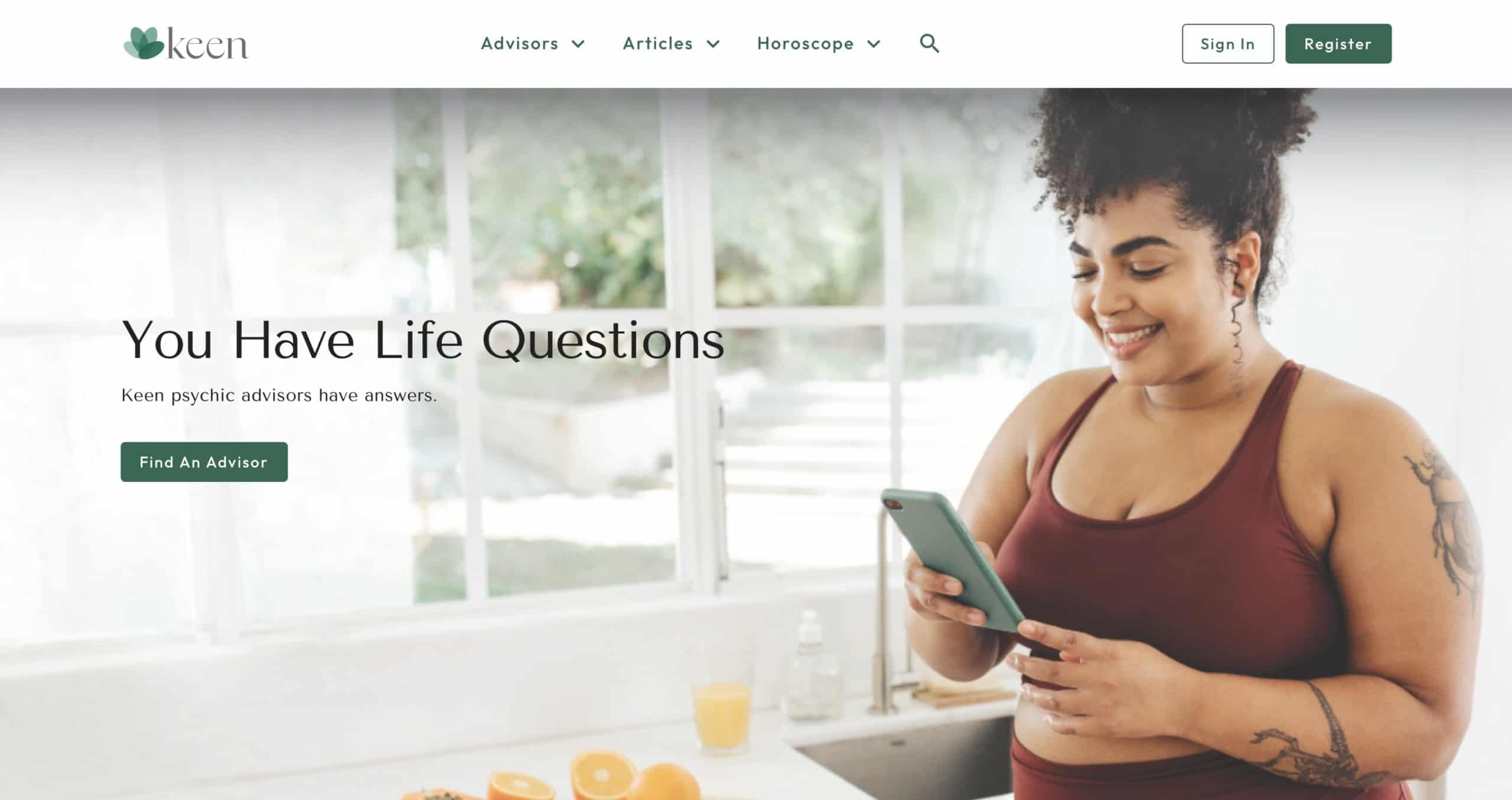 Readers with 4.5+ stars
Email numerologist before booking
5 minutes for $1
In-depth FAQ page
Helpful search filters
Receiving numerology advice on Keen is worthwhile because it has some of the best-rated readers around. While I was browsing, most of the advisors had over a 4.5-star rating and many positive reviews. Since other clients seem to be happy with the readers, there's a good chance you'll be too.
I appreciate that Keen allows you to email any numerologist before you pay for your session. Not only is this rare, but it's also reassuring because you can speak with any reader you're considering to ensure they're experienced with home numerology. In short, it helps alleviate any uncertainty you may be feeling.
You may find it inconvenient to use Keen because it only offers customer support via email. But, whenever I've reached out to support, I found the response time to be quick, and there's even a thorough FAQ you can consult for immediate answers to basic queries.
3. Psychic Source — Enjoy Numerology Advice via Chat, Call, or Video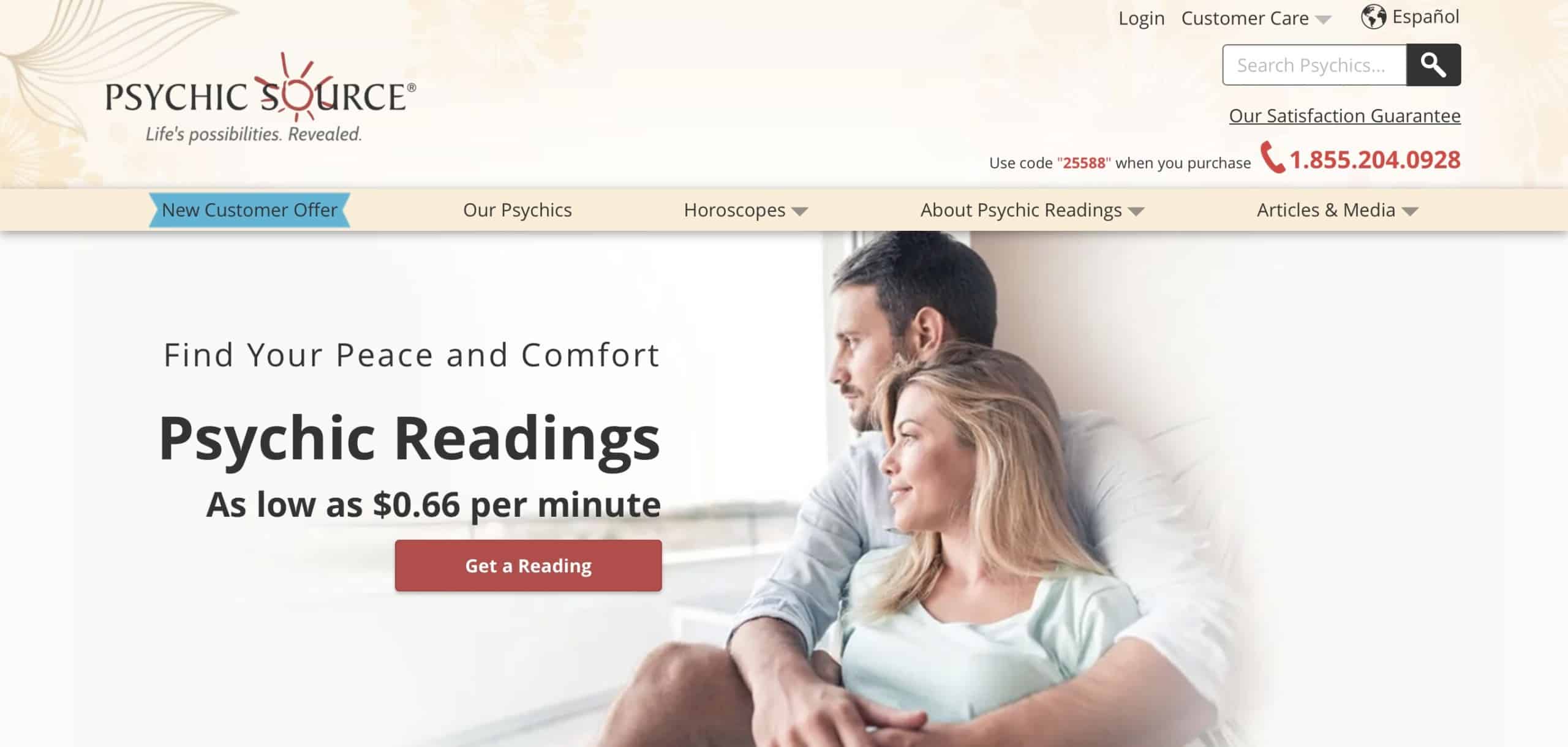 Scheduling available
Chat, call, and video sessions
Numerologists of 20+ years
Live chat support
Psychic match tool
Psychic Source is a solid option for a numerology reading, especially if you're after flexibility. This is because the platform has chat, call, and video readings available so you can connect with your numerologist in a style that matches your personality. For example, you can do a chat reading if you're camera shy, or a video call if you prefer face-to-face interactions.
I enjoy getting readings done on Psychic Source because you can schedule your reading in advance. If you have a hectic schedule or need to have your calendar organized in advance, you can schedule your call and save yourself the worry. I find that scheduling your reading prevents any rushing and helps you get into the right energy before the session.
While Psychic Source is not as aesthetically pleasing when compared to other sites, it makes up for it with its special features. For example, its psychic match tool provides worthwhile suggestions and helps you quickly narrow down your compatible options for a reading.
FAQs on House Numerology
What is house numerology?
House numerology is a branch of Numerology that involves adding the digits of your home number and interpreting that number's energy. The practice is based on the belief that numbers carry specific vibrations and energetic influences that can impact the experiences and energies within a home.
For example, a house number with the numerology of 1 may symbolize independence, leadership, and individuality, while a house number with a single digit of 5 may represent freedom, versatility, and adaptability. By understanding house numerology, you can make informed decisions about your living arrangements to align with your intentions and goals.
Can changing my address improve my life?
Changing your address to a new location with a different house number can potentially impact your life. Different address numbers carry distinct vibrations and influences, which may align more favorably with your personal goals, desires, or challenges. A new house number always brings a change of energy to your life.
But, you should always talk to a numerologist before jumping the gun and making a move. Moving takes a lot of energy and resources, and you want to get a professional's insight on the best number. Otherwise, you may miss important factors and end up regretting the move.
All in all, changing your address can bring a shift in energy and perception, which may positively impact your life. However, it is important to remember that the address is only one factor that contributes to your overall well-being and success.
Is house numerology the same as feng shui numbers?
House numerology and feng shui numbers are related concepts, but they aren't the same. House numerology involves calculating the numerology value of the number of your home to gain insights into the energetic influences. Instead, feng shui numbers are specific numbers that are believed to carry auspicious or inauspicious qualities.
In feng shui, certain numbers are considered lucky or unlucky based on their energetic associations and cultural symbolism. These numbers are often used in various aspects of feng shui, such as choosing a house, arranging furniture, or calculating personal Kua numbers.
Numerology is a big part of feng shui, and both practices can be valuable tools in optimizing the energetic qualities of a space. But it's important to remember that they're distinct practices with specific approaches and applications. If you want to use feng shui, you'll need to consult with a feng shui expert rather than a numerologist.
Bottom Line
Discovering your home's energy can be fascinating and practical as it can help amplify your desires and support your endeavors. But, if you're unfamiliar with numerology, it can be tricky to truly understand your house numerology meaning. That said, the proper knowledge can help you understand the distinct energy of your home.
And while a thorough guide is always a great starting point, it doesn't beat the tailored insights you can receive from a numerologist. Connecting with a numerologist can broaden your home numerology understanding and yield powerful results. Additionally, they can provide an action plan so you won't second guess yourself.
To summarize, the best sites for a numerology reading are…