It's not always easy to take that first step and seek help from a mental health professional, but it's one of the best decisions you will ever make for yourself. Where do you begin your search for a therapist though?
Choosing a professional to help you with therapy services is a personal decision, one that's driven by your needs, personality, and general preferences.
The good news is that there are countless options to choose from and you don't need to leave home to speak to a therapist either.
To help you narrow down your choices and find a mental health specialist that's right for you, I've created a list of the best online therapy services to consider. I've also included a few expert tips on how to get the most out of your online therapy sessions.
In a rush? Here are My Top Online Therapy Picks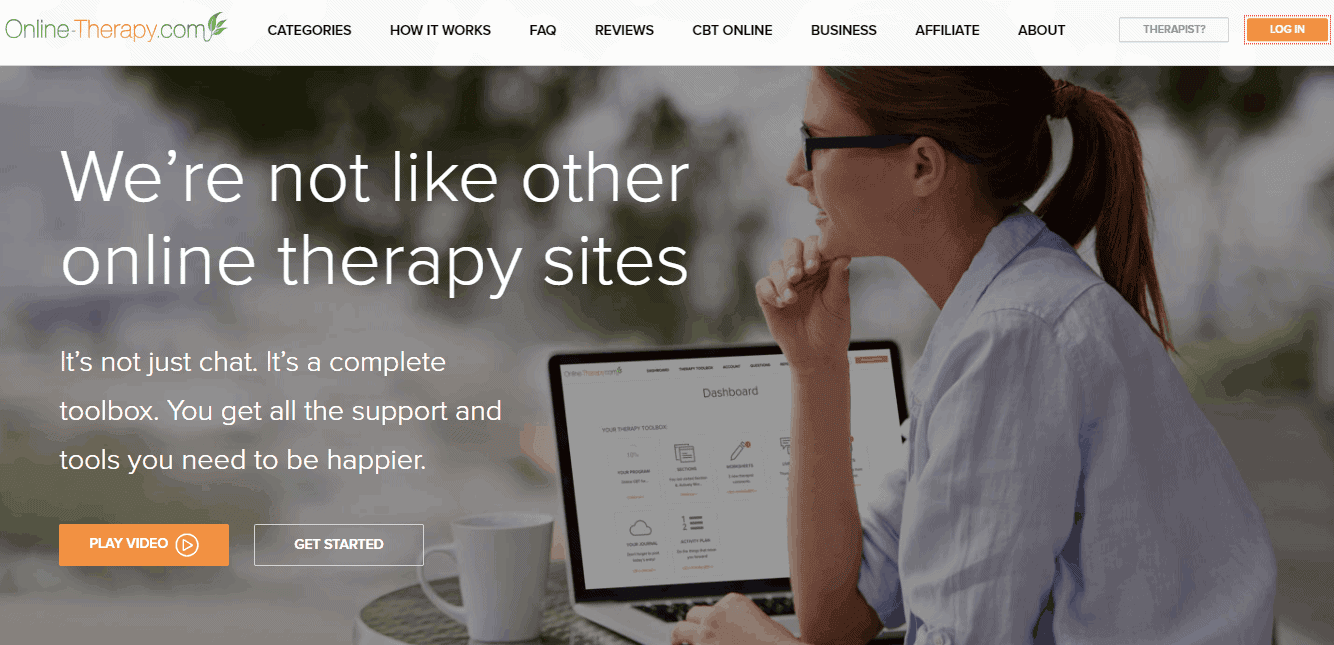 Right off the bat, Online-Therapy.com makes a really good impression – it takes a holistic approach to helping people overcome difficulties. Online-Therapy doesn't just offer chat or video sessions with a licensed therapist, but a complete "online therapy toolbox" too.
This toolbox includes video courses on therapy techniques, worksheets, a journal, yoga and meditation videos, and more.
When you click on the Get Started button, you are asked a series of questions about your current challenges and difficulties. Your answers will help match you with the best therapists on the site. Before you're matched with a therapist though, you will need to create an account using your name and email address. As an added bonus for signing up, new users are given a 20% discount on their first month.
Without the discount, Online-Therapy's normal prices range from $40 to $80 per week, depending on the plan you choose. The difference between the $40 package and the others is that it offers live video sessions, as well as therapist messaging at any time. Included in all plans are the worksheets, video courses, activity plan, journal, and meditation and yoga videos.
Bottom Line
Online-Therapy.com is an impressive platform that offers a comprehensive approach to helping people experience better mental health. You get more than just a therapist to talk to— you also get access to a whole tool kit designed to educate and guide you throughout your journey. Compared to its competitors, Online-Therapy has the same or better prices, but users get more value.
Browse Therapists On Online-Therapy.com
2. Talkspace – Best for Accurate Therapist Matching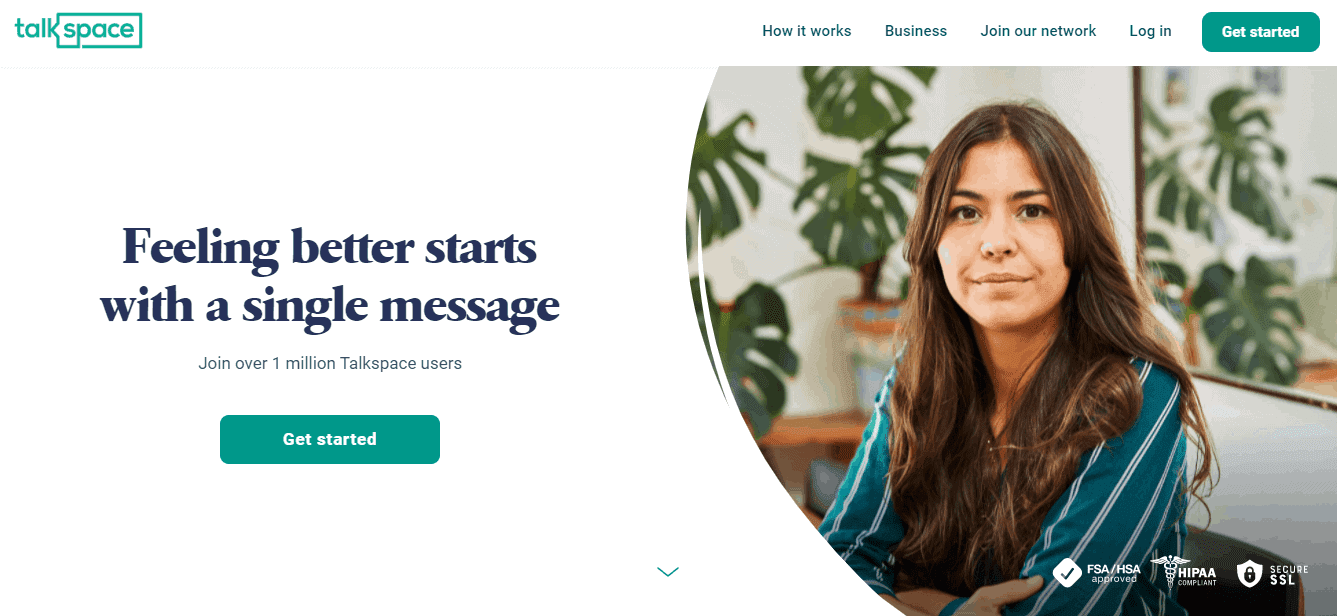 Talkspace is one of the best-known online therapy sites out there, and for good reason. The site is very easy to navigate and creating an account takes less than a minute. You don't need a credit card to get started either, just an email, password, and nickname.
Once you've created your account you're immediately connected with a matching agent. Your matching agent can answer any questions you have about how Talkspace works, and direct you to the questionnaire that helps match you to a licensed mental health provider. The questionnaire asks you for information such as your age, location, your reason for pursuing therapy, and even your therapist gender preferences. Based on your responses you'll be matched with three therapists.
Talkspace has three main payment plans to choose from for individual therapy sessions. You can choose a plan that either offers a combination of video sessions and messaging with a therapist, or just messaging. The cheapest plan (which only includes messaging) costs $65 per week, while the most expensive plan (which includes four live sessions per month, plus messaging) costs $99 per week.
It's important to note that "unlimited messaging" doesn't mean you'll be having long conversations with a therapist through text. Talkspace guarantees your therapist will answer you once daily, five days a week.
If you choose to pay for a quarterly or biannual plan outright, you'll save between 10-20% on the total cost. It's also possible that your insurer will cover the costs, depending on your plan and provider.
If you feel the plans are too expensive, there is also the option to pay for a single video session with your mental health provider. The cost of a 30-minute session is $65, giving you the opportunity to connect with a therapist before signing up for a long-term plan.
As an added extra, the site also offers depression and anxiety tests you can take, free of charge.
Bottom Line
Talkspace is easy to use and does a really great job of connecting you with the best therapist for you, right from the moment you sign up. That being said, many people find its services quite costly. So while the licensed professionals on the platform may be really great, you may want to consider your budget first.
Search for Therapists On Talkspace
3. BetterHelp – Best for Transparency & Professionalism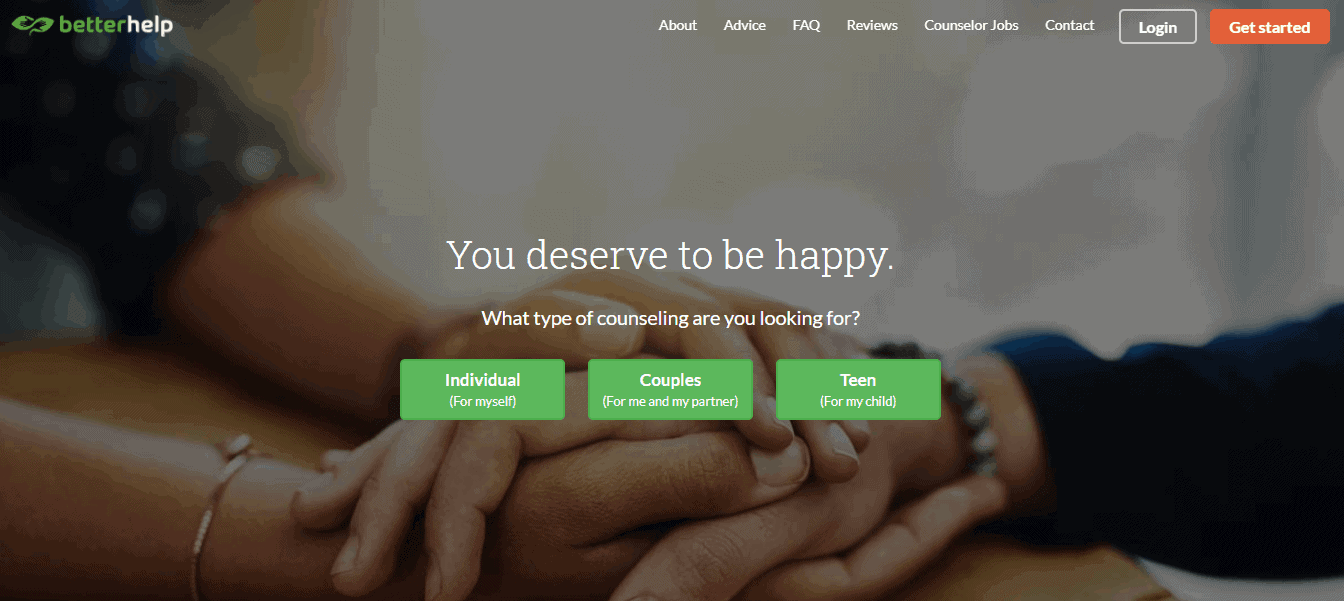 BetterHelp is another highly recommended option for connecting with licensed mental health professionals online. According to the site, they're the largest online counseling platform in the world, connecting users with licensed professionals via messages, chat, phone, and video.
Overall, I found BetterHelp to be a transparent, professional, and easy-to-understand platform.
After creating your BetterHelp account, you are asked to answer several questions that will match you up with the best therapist, including your age, relationship status, and religious beliefs.
Getting matched with a provider can take anywhere from a few hours to a few days. The fact that it takes this long makes me think that each user's answers are thoroughly reviewed, which I appreciate.
BetterHelp also does a great job of screening their mental health professionals. Along with details on their experience, new therapists need to submit proof of their credentials when applying, which even users are allowed to access. Furthermore, there's even an independent study conducted by universities that attest to BetterHelp's overall effectiveness.
When it comes to pricing, BetterHelp can be costly. You can expect to pay anything between $60-$90 per week.
Another area where the platform was completely transparent was insurance. BetterHelp specifies that it's unlikely that insurance providers will cover the cost of their therapy service since their therapists are not able to diagnose you or prescribe medication.
Bottom Line
BetterHelp has clearly invested time and energy in making their platform transparent and trustworthy. They also ask users a lot of questions to get a thorough understanding of their needs to match them with the most relevant provider available.
Browse Therapists On BetterHelp
4. Amwell – Best for Video Therapy Sessions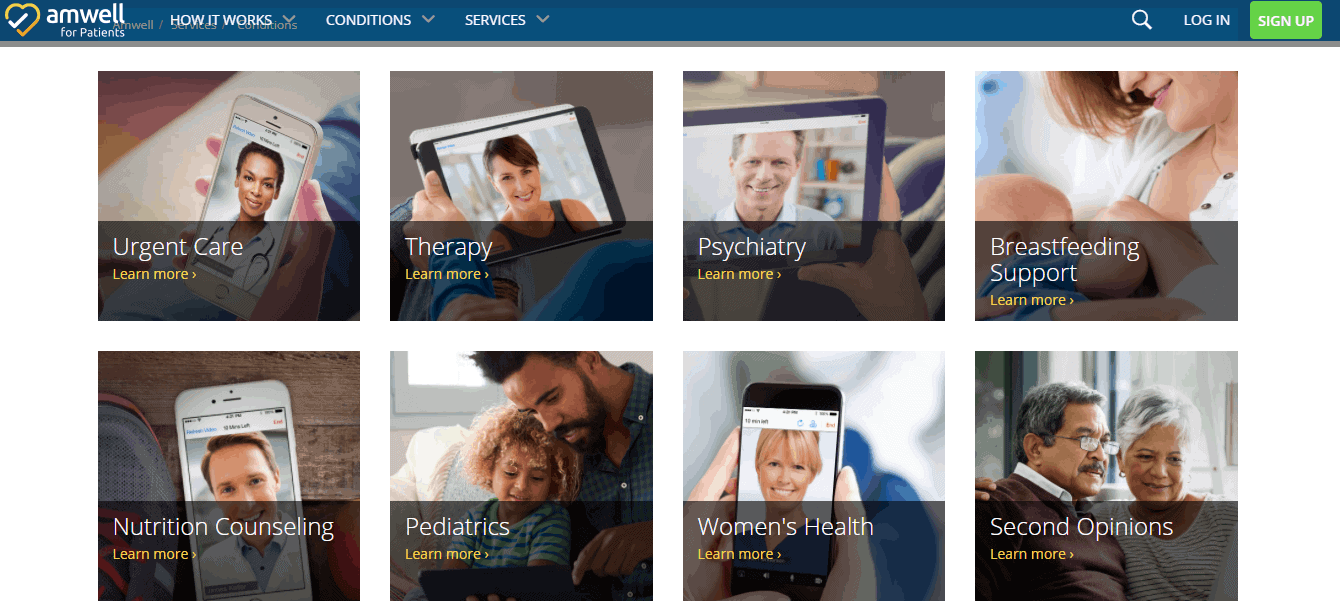 Unlike the other platforms on this list, Amwell's services not only include online therapy but a range of other healthcare services too – urgent care, pediatrics, and women's health being some of them.
Amwell is essentially a telehealth platform, where you can browse available doctors and schedule appointments with them. These doctors are also able to prescribe medication or recommend over-the-counter remedies to help patients. As such, these sessions are more likely to be covered by insurance than the platforms that only offer therapy services.
Amwell's therapy services will cost you anywhere between $109 – $129 per session, with a typical session lasting about 45 minutes.
The first step is to create an account, which requires your first and last name, email address, and password. You'll also be prompted to select your insurance provider. If you are uninsured, however, you can still proceed with the sign-up process.
Once you've created your account, scheduling an appointment with a licensed therapist is easy. You simply select your preferred date and the platform will provide you with available therapists. You can view the therapists' profiles right from this page and learn more about their experience, education, cost, and more. Once you've found a therapist you like, you simply choose a date and time that works best for you, enter your phone number, and pay for the appointment with your credit card.
Bottom Line
Amwell comes off as a very reliable and trustworthy platform for meeting with doctors and therapists online. While appointments are a bit costly, you're paying for a live session with a licensed mental health professional. A plus is that you don't have to pay for multiple appointments upfront, which a few other platforms demand. Overall, finding a credible therapist and making an appointment is a very easy and smooth process that takes less than five minutes.
Search for Therapists On Amwell
5. 7 Cups of Tea – Best for Free Ongoing Support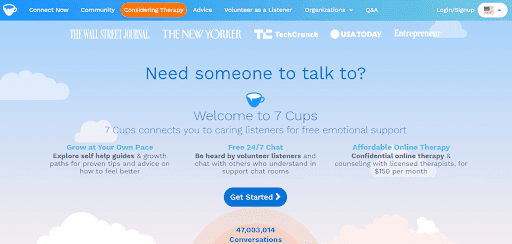 7 Cups of Tea is quite different from the other online therapy services on this list, as its primary focus is building a supportive community. The idea behind 7 Cups is to give people the chance to connect with others, over and above their therapist, when they really need someone to listen.
Once you create your free account, you can either speak to a licensed therapist, chat with a free volunteer listener, or join a group discussion.
"Listeners" on 7 Cups are people who have been trained to listen to people who need someone to talk to, offering support and understanding. What's really important to remember here is that while Listeners have received training from 7 Cups, they are not licensed professionals. This means they do not necessarily have the knowledge or expertise to help you work through complex issues.
This is why it helps to know that you also have the option to speak to a licensed therapist using the 7 Cups platform. This comes at a cost of $150 per month and offers you unlimited messaging with your therapist – definitely one of the more affordable options on this list. Just keep in mind that as with other therapy sites, these licensed professionals won't be responding to your messages in real time.
Bottom Line
If you're looking to join a supportive community that doesn't cost you anything, 7 Cups of Tea is a great option for you. You'll be able to connect with people who are ready and able to listen to you, any time of day. However, it's important to keep in mind that this communication is not a substitute for getting professional help from a licensed therapist.
Browse Therapists On 7 Cups of Tea
6. ReGain – Best for Couples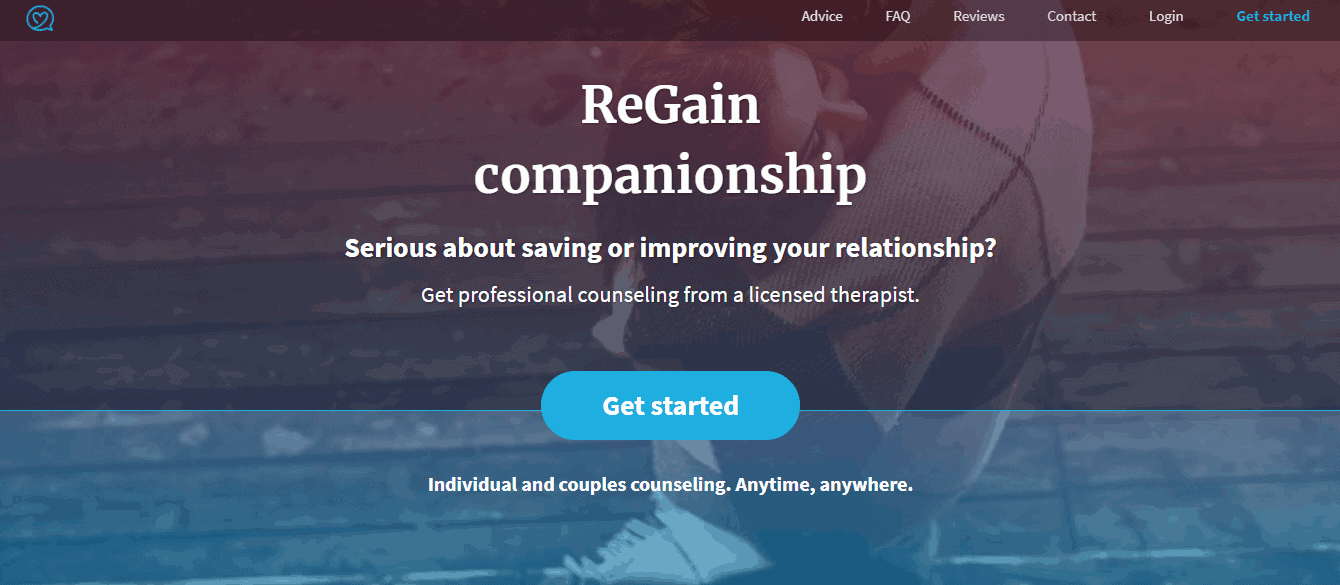 ReGain specializes in couples counseling and cannot assist with general mental health concerns. ReGain is actually owned and operated by BetterHelp, but for some reason, it falls a little flat in comparison. Once you open the site, you're immediately prompted to begin completing the site's questionnaire. You're first asked whether you're interested in individual counseling to improve your relationships or if you plan on having your partner join too.
ReGain's questionnaire is much briefer than BetterHelp and focuses on what you want to achieve with couples counseling, including better communication, overcoming adultery, improving intimacy, and more. It then asks a few questions about the nature of your relationship and the type of counselor you'd prefer.
Once you've completed the questionnaire, the platform prompts you to create your account by entering your name, email, and password. Immediately after entering these details, you are given a weekly cost and will need to enter your credit card information to proceed.
Personally, I found this very off-putting. Before you're even presented with any information or counselor options, the site already wants to charge your credit card. ReGain's services cost between $60 and $90 per week, billed monthly (same as BetterHelp).
Their services include unlimited text, video, or audio messages, and one live session per week with a qualified and licensed mental health professional. Keep in mind that while it says "unlimited messaging", that doesn't necessarily mean your counselor will reply to each message you send.
Bottom Line
If you're looking for online couples counseling for yourself or both you and your partner, ReGain might be the right fit for you. Keep in mind that you'll have to pay for a month's worth of counseling upfront, without knowing whether there's a therapist you want to work with.
Search for Therapists On ReGain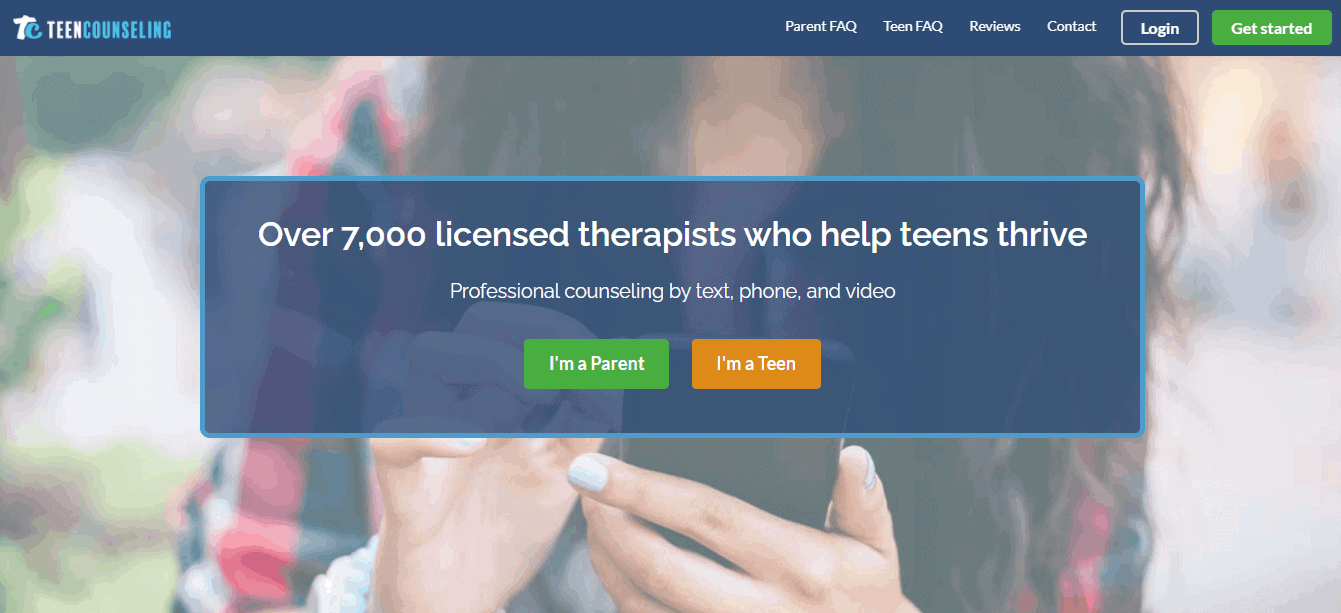 As the name suggests, Teen Counseling is an online therapy platform created for parents and teens seeking counseling. Teen Counseling is another subset of BetterHelp, making the layout of the platforms very similar. To get started, you're asked whether you're looking for counseling for yourself (as a teen) or if you're the parent of a teen seeking help.
If you're the parent, then the process of registering is almost identical to that of BetterHelp. The only difference is that you're answering questions about your child, instead of yourself. After you've completed the questionnaire, you're prompted to enter your payment information. The prices on Teen Counseling are the same as BetterHelp, ranging from $60 to $90 per week, billed monthly.
If, however, a teen is using this site, the questionnaire asks them about themselves and their challenges. In the end, when it's time for payment, the platform informs them that a parent must consent to them attending counseling sessions and that payment details are required. The teen must enter their parent's name and email address so that a cost breakdown can be sent.
While it's logical that the platform needs someone to pay for the sessions and is legally required to acquire parental consent, the execution here is quite flawed. If the teen seeking help doesn't feel comfortable going to their parent or they know their family can't afford these sessions, then they're unlikely to proceed with this step and share their email address. This means the teen likely walks away without having received any help at all.
Bottom Line
Teen Counseling is a good option for parents looking to attend online counseling sessions either alone or with their teen to work on their issues. However, the process of encouraging teens to seek help could be improved.
Browse for Therapists On Teen Counseling

Pride Counseling specializes in working with people who identify as LGBTQ+. As such, its initial questionnaire is tailored to this topic, including how much you feel your identity is tied to your mental health concerns and if you prefer to be matched with a counselor in the LGBTQ+ community.
All counselors are licensed professionals with either a Master's Degree or Ph.D., with a specialization in LGBTQ+ issues.
Since Pride Counseling also falls under the BetterHelp umbrella, you can expect to pay anything between $60 to $90 per week, billed monthly.
One feature that stands out about Pride Counselling is their mobile app, which is available on both the Google Play and App Store. The fact that you can easily connect with your therapist on-the-go ensures you don't need to wait to discuss a pressing issue. This is unless you're using the messaging feature, which doesn't always offer real-time responses.
Users have the option to connect with a LGBTQ+ therapist via phone, chat, and video, with each session being completely confidential.
Bottom Line
If you're looking for a counselor that specializes in LGBTQ+ issues, then Pride Counseling is definitely worth checking out. You'll be able to confidentially connect with licensed professionals and even specify if you'd like your counselor to be a member of the LGBTQ+ community.
Search for Therapists On Pride Counseling
9. Doctor on Demand – Best for Free Mental Health Assessments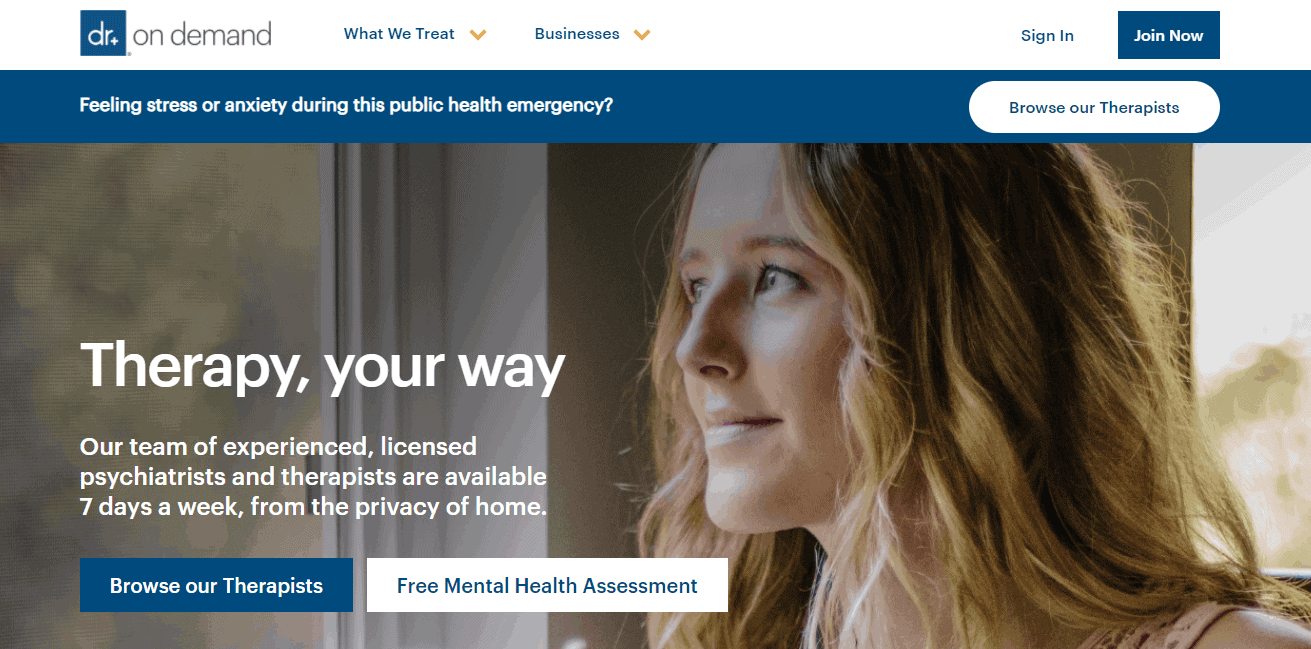 Doctor on Demand is very similar to Amwell, in that it connects you with board-certified doctors, as well as licensed therapists. Signing up is an easy process with or without insurance and you can quickly schedule an appointment to meet with your preferred mental health professional. However, if you would like to undergo a free mental health assessment before you get started, Doctor on Demand offers this.
The therapists on the site mainly deal with anxiety and depression, postpartum depression, relationships, trauma and loss, and general mental health screenings.
If you decide to go ahead, the cost of meeting with a therapist for a 25-minute consultation is $129 and a 50-minute consultation is $179. As with Amwell, while these costs may seem pricey, you are meeting with a live licensed therapist and you don't have to pay for more than one session at a time. If you'd like to speak with a psychiatrist then that cost goes up to $299 for a 45-minute consultation. Depending on who your insurer is, these costs may be covered.
Bottom Line
Doctor on Demand is the ideal choice for you if you appreciate having the option to undergo a self-evaluation before going ahead with paid services. While the cost can be a bit steep, you don't have to pay for multiple sessions upfront, giving you the chance to find the right therapist for you.
Search for Therapists on Doctor on Demand
10. MDLive – Best for Meeting with a Psychiatrist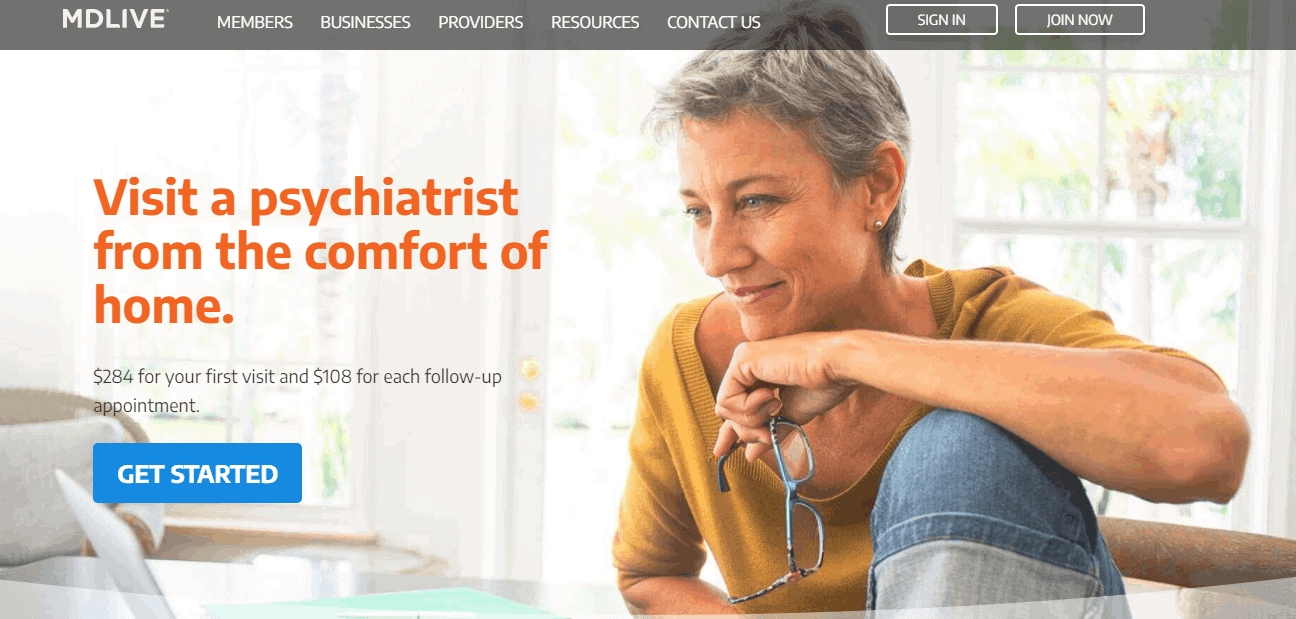 If you are specifically looking to consult with a psychiatrist, MDLive is one of the few platforms that offer this option. Creating an account only takes a few minutes, allowing you to browse their range of services which also includes general medical care and dermatology.
MDLive's prices are a bit more competitive than the other sites, with a therapy session costing up to $108 and a session with a psychiatrist costing up to $284.
All of the providers featured on MDLive are board-certified professionals. And before a psychiatrist or therapist is approved, their backgrounds are checked through the National Physician Data Base (NPDB) and the American Medical Association (AMA).
If you need to find a therapist or psychiatrist on-the-go, there is also the option to download the MDLive app via Google Play or the App Store. I found both the website and the app very easy to use, which is always a plus.
Bottom Line
MDLive is a great option for those who feel a psychiatrist would be better suited to their mental health needs. Similar to competitors, appointments on MDLive are a bit pricey, but the cost is justified when you consider you're meeting with real licensed doctors and that your insurance may be able to cover some or all of this cost, depending on your plan.
Search for Therapists On MDLive
Tips for Working with an Online Therapist
Now that you've made the decision to transition to teletherapy, here are a few tips that will help you make the most of your sessions:
Carve out space and time. As you would with face-to-face therapy sessions, it's important to carve out time and space for virtual therapy sessions. Stick to your appointments by working them into your schedule and find a quiet and comfortable space for your sessions.
Be open to new formats. Depending on the site and therapist you choose, you may need to be open to different session formats. While some therapists prefer video sessions, others only offer chat and text-based sessions.
Get better at describing your emotions. Since your therapist might not be able to read your body language or facial expressions during a session, you will need to get better at explaining your emotions.
Test your tech. Make sure your preferred device has enough battery power and all the necessary apps set up before each session. A quick test will prevent you from losing out on valuable therapy minutes.
Turn off your video if you need to. Many teletherapy patients find video sessions distracting because they need to look at themselves. If this is the case for you during video calls, consider turning off your video during your session. This way, you can focus on what's being said.
Give yourself post-therapy processing time. As much as you schedule in time for your therapy sessions, set some time aside to process your sessions afterwards. This is particularly necessary if your therapist has given you exercises to do in between sessions. Staying accountable and sticking to your goals will make your sessions more worthwhile.
Bottom Line
When it comes to working on your mental health, there's no one size fits all solution, but you never have to go it alone.
Your specific needs will help you decide which online therapy service is best for you. If you're looking for a well-rounded experience that combines learning with therapy sessions, I'd recommend Online-Therapy.com. For a more community-based and affordable option, I'd suggest 7 Cups of Tea. And for a virtual visit with a therapist or psychiatrist, Amwell, Doctor on Demand, and MDLive are all great options. No matter which platform you choose, deciding to take that first step is a great place to start.