If you're wondering about the decisions you've made in your life, the personality traits that might be holding you back, or what your future might hold, a palm reading might be right for you. However, finding the best palm reading app can be complicated and time-consuming, leaving you frustrated and overwhelmed.
Fortunately, I've researched and tested a list of the best palm reading apps currently available for Android and iOS, so you can get a quality reading from anywhere. These apps provide some form of savings, usually free minutes, discounted packages, or both.
But my favorite palm reading app from the lot is Purple Garden. Since it has a good selection of psychics, you're bound to find an experienced palm reader who can provide sound guidance. And you can even get a palm reading from as low as $1 per minute, thanks to its attractive introductory offer.
In a rush? Here are my top site picks
Best Palm Reading Apps in 2022
1. Purple Garden – Best for Experienced Palm Readers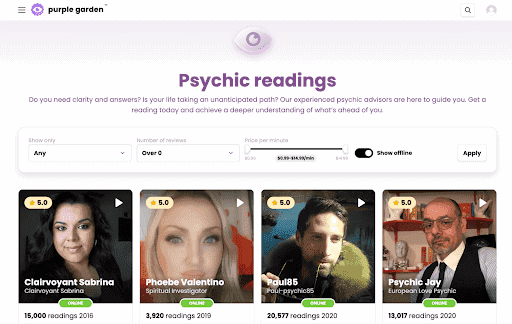 Live video readings
Free $10 credit with first purchase
5% cash back on purchases
Search for Psychics by accuracy
Prices starting at $0.99 per minute
Purple Garden provides a great app if you're looking to get a palm reading with a professional psychic via a live video call. I liked seeing the inclusion of video calls as some, if not most other competitors, don't offer this. If you want a more personal and intimate palm reading, I highly recommend trying out a live video palm reading.
I also like that most palm readers have thousands of reviews, yet still maintain very high ratings, which speaks volumes about their accuracy and Purple Garden's trustworthiness. The vetting process that each psychic undergoes isn't as transparent as I would like to see – so that's one aspect the site could improve upon.
Finding a psychic who offers palm readings is pretty straightforward. The app will show you all available psychics, so you'll need to click on the tab in the top left corner, select Categories, and click on palm readings to filter your search.
Though you won't find introductory rates as a new client with Purple Garden, its rates are some of the lowest in the industry. And, you'll get a $10 credit with your first purchase, which I found pretty generous.
2. Keen— Best Introductory Offer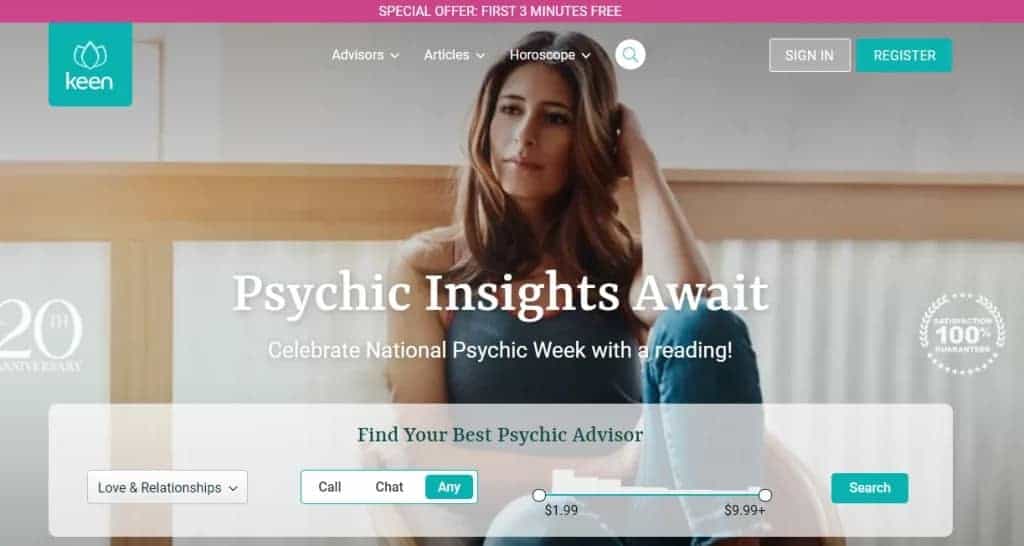 Get your first 10 minutes for $1.99, or 3 free minutes
Beautiful app with an easy-to-navigate user interface
Answer a few questions to match with your ideal psychic
Choose from hundreds of skilled readers
Book a reading with your favorite palm reader
When you first open the app, you'll be briefly asked two to three questions about what type of psychic readings and tools you prefer. This way, you can match with a list of highly qualified readers that offer precisely what you're looking for – palm readings. I found the psychic matching wizard in the app to help me choose the exact psychic I was looking for.
Keen Psychics is great if you want to get your palm read. It has an excellent array of articles, so you can uncover more information about what each line on your hand represents and the four elements used in Palmistry — all in the same place. This is great if you feel like diving in a bit deeper than your palm reader may have been able to.
It's been one of my favorite overall psychic reading apps, especially in terms of booking a palm reading appointment. When you filter by your favorite tools and reading type, it'll present you with a list of psychics. Some psychics are available immediately, and some will allow you to book an appointment for a later, more convenient time that works better for you.
You'll find that the pricing on Keen is pretty competitive, as it can frequently be the cheapest of all psychic reading apps. The introductory offers are also something you might enjoy. You can choose between two different intro offers – get your first 10 minutes for $1.99 or your first three minutes for free. I usually recommend the first one to most people.
You won't find video readings on Keen, however, it's easy to schedule a call for a time that works for you. By making an appointment, you don't have to commit to a reading right away, and you'll be able to think about any potential questions you might want to ask.
3. Kasamba — Great Introductory Offer and Accurate Readings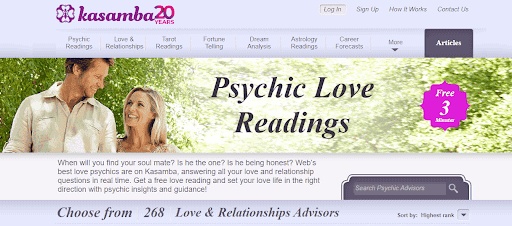 50+ highly qualified and experienced palm readers
Three-minute free trial
Easily find a suitable psychic in the app
User-friendly app interface
Chat and calls available
In my experience, Kasamba is one of the best palm reading apps out there today. It offers accurate palm readings since each psychic's professional experience is carefully examined and scrutinized before they're invited on board. I also found an abundance of 50+ skilled and experienced palm readers for you to choose from.
It's not far behind Purple Garden and Keen. It's been around for 20+ years, cementing it as a titan in the industry. Most of its palm readers have high ratings along with hundreds, if not thousands of readings under their belts.
Something else I like a lot about Kasamba is that you get a three-minute free trial when you sign up along with 50% off your first reading up to $50. No palm reading app that's reliable and trustworthy would offer as good of a deal as that. You can also get a free daily astrology report.
You might notice that there's not much info on each profile – but you'll be able to chat with a potential psychic beforehand to ask questions about their abilities. This will help you understand whether they might be a good fit, regardless of what information might be missing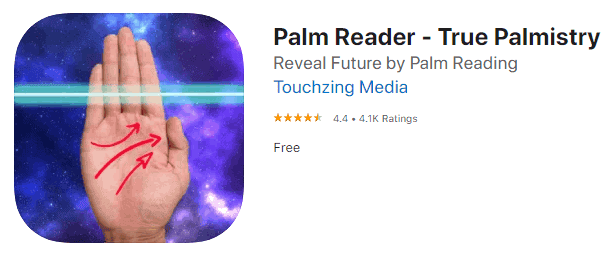 Fun and informative palm readings
Unlimited palm readings for $11.99
Free 3-day trial period
Easily scan your palm to get a reading
Detailed and accurate answers
There are a lot of palm reading apps to choose from, but this one is one of the most impressive free options.
Unlike most palm reading apps, Palm Reading & Fortune Teller asks for a photo of your palm to provide you with a detailed reading. Once I scanned my palm in the app, I could access personal insights about things like my health, personality, and relationships. You'll also be able to find out what the future might have in store for you.
Your first three days are entirely free. You can decide to pay the subscription fee of $11.99 a month after that. However, I recommend using the first free days as it's more than enough time to get your palm read. Once you've read your palm a few times, you may find that your insights aren't as transformational or powerful as the first few.
In my experience, the readings don't seem to be random. I found the readings to be relatively accurate. Since this is the app's only function, you may get bored with it after a few tries. Overall, it's a straight-to-the-point, palm-scanning app that provides detailed readings.

Palm readings and palm insights
3-day free trial
Scan your palm to get an AI-based reading
Looks at your Heart, Life, Head, and Fate Lines
9 languages available including English, Chinese, and Spanish
With Palm Reader: Palmistry Fortune, you can get the scoop on your life story. Once you download the app, you can use the three-day trial to take a photo of your palm and have it read by artificial intelligence. It'll be able to analyze your Heart, Life, Head, and Fate Lines and all of your palm mounts which can give you a better sense of who you are and where you're headed. You can use the three-day free trial to take advantage of as many palm readings as possible. After that, you're welcome to sign up for a monthly subscription. However, I don't recommend paying because once you've had your palm read once or twice, I don't feel that there's any further point in having it read several more times by AI.
You might be happy to know that the readings, even though completed by artificial intelligence, were still quite telling when I tried them out. I was pleasantly surprised to see that it could pretty accurately tell me about certain things I already knew in my life. That's pretty impressive for an AI-only app.
Comparison: Best Palm Reading Apps
| | | | | |
| --- | --- | --- | --- | --- |
| | Starting Price | Video Readings | Introductory offer | Satisfaction Guarantee |
| Purple Garden | $0.99 per minute | Yes | Free Credits | No |
| Keen | $1.99 per minute | No | Free Minutes & Discounted Per-Minute Rates | Yes |
| Kasamba | $0.90 per minute | No | Free Minutes & Discount on First Reading | Yes |
| Palm Reader & Fortune Teller | $11.99 per month after free trial | No | 3-Day Free Trial | No |
| Palm Reader – Palmistry Fortune | $8.49 per month | No | 3-Day Free Trial | No |
Tips on Choosing the Best Palm Reading App
Selecting the best palm reading app is a bit of a struggle, so I've outlined five of the most important things to consider when deciding which one to download and start using.
1. Choose an established app with qualified psychics
I recommend sticking to apps that have been around for at least a few years. This will help to ensure that you'll get helpful, informative, and accurate palm readings.
Looking at previous customer reviews for each psychic and the app in the app stores will also give you a good indication of how trustworthy it is. Again, I recommend sticking to the apps on this list as they've established themselves as trustworthy and reliable entities.
It would also be wise to select an app with high ratings in the Google and Apple app stores. This will help ensure you get an app with good features and a user-friendly design. All of the apps on this list fit the bill.
2. Familiarize yourself with how an app screens its psychics
Finding a psychic company with a stringent vetting process should indicate that you can expect high-quality, accurate readings. I recommend choosing an app from this list as each one employs a fairly strict screening process. And, I recommend choosing apps with highly qualified psychics to give palm readings.
3. Decide which communication method works best for you
Not all apps are created equally, so some might offer video, chat, email, or calls (or a combination thereof). I recommend finding out which app has your preferred communication method before jumping into any paid service.
The only exception is Palm Reader & Fortune Teller, which doesn't offer live readings. However, the app designers and engineers continuously update the app and improve it so that you can continue expecting and receiving accurate, fun, and informative readings.
4. Find affordable prices and introductory offers that work for you
The best apps that offer palm readings have prices in line with what you're comfortable spending. First, decide on a reasonable price for you, then select an app that offers palm readings within this budget. Some apps also offer free minutes, discounted rates, and free credits for new customers or rewards points for spending money.
Each app on this list has a good range of prices from as low as under one dollar per minute and higher. You're bound to find a palm reading that fits perfectly into what you expect to be paying for one.
5. Check to see if there's a refund policy or satisfaction guarantee
On top of reasonable prices, the best apps today offer some form of satisfaction guarantee. This can include getting your money refunded directly back to your payment method or receiving award credits to be used later. I recommend getting an app with some form of satisfaction guarantee to reduce any potential for disappointment.
FAQs on the Best Palm Reading Apps
What is the best free palmistry app?
In my experience, the best free palmistry app is Palm Reader & Fortune Teller. Simply scan your palm, and let the app give you information about your health, personality, and relationships. It can also provide information about your future and what might be in store.
It offers an excellent 3-day free trial during which you'll be able to get an unlimited number of palm readings. After your trial, it switches to a monthly subscription model. This is an excellent option if you're looking to have your palm read regularly. I also recommend checking out Purple Garden, as it offers live readings and is pay-per-use if you don't want a subscription.
Is it safe to use a palm reading app?
Yes, as long as you choose one that is trustworthy.

Some apps don't divulge enough information before you sign up, don't offer money-back or satisfaction guarantees, and don't vet their psychics before inviting them onto the platform. If you come across one of these apps, then it's very likely to be unsafe.
In order to know that you're using a safe app, there are many tips you can follow. Today's best apps offer several communication methods, a satisfaction guarantee, and an affordable introductory offer. Plus, they are all well-established.
Are palm reading apps accurate?
It depends. The most accurate apps out there vet their psychics stringently, feature psychics who have been around for several years, performed thousands of readings, and have high customer ratings. But even then, you're not always guaranteed an accurate reading, so choosing a site with a satisfaction guarantee is best.
Can I read my own palm?
Yes, it's possible to read your palm by learning different ways to read your own palm through books and websites. But doing so yourself may not always be as accurate as you would like. Speaking with an experienced palm reader with lots of experience could provide you with much better guidance in half the time or less.
If you want to get your palm read by a highly experienced and qualified palm reader without spending as much as a penny, several excellent apps can help. For example, Kasamba offers a three-minute free trial that you can use for a palm reading. You'll get one done by someone who can save you time and confusion.
Bottom Line
Choosing a palm reading app that offers fun, exciting, accurate, and informative palm readings can be frustrating. Since there are several super-scammy apps, it can be hard to differentiate genuine palm reading apps from fakes. The last thing you want is to waste your hard-earned money on a useless app.
After a number of palm readings, I found the best palm readings app for accurate readings and shortlisted the top 5. Out of all options, I like Purple Garden the most. Thanks to its introductory offer, you can get a $10 free credit when you become a new customer, which you can use towards a palm reading. Its app also lets you get your palm read via video, too.
To summarize, here are the best palm reading apps: