Finding an accurate palm reading app among the thousands out there is a monumental task. Not only will using the wrong one waste your time, but it can provide false information that leads to nowhere.
Therefore, I've created a list of accurate and inexpensive palm reading apps, so you can get a quality reading from anywhere. Best of all, you won't need to take any risks when choosing an app.
I recommend getting started with Keen Psychics since you can get your first 10 minutes for $1.99. Plus, it has a tool that can match you with a psychic based on your needs.
In a rush? Here are my top palm reading app picks:
5 Best Palm Reading Apps in 2022
1. Purple Garden – Best for Experienced Palm Readers

$10 in credits with your first purchase
Prices starting at $0.99 per minute
Live video readings
5-star average rating
Search for Psychics by accuracy
Purple Garden is the ideal site if you're looking to get a palm reading with a professional psychic via video call. What's great is that most of the palm readers and psychics on this app have thousands of reviews, yet still manage to maintain 5-star ratings, which speaks volumes to their accuracy and trustworthiness.
The Purple Garden app will show you all available psychics, so you'll need to click on the tab in the top left corner, select Categories, and click on palm readings to filter your search.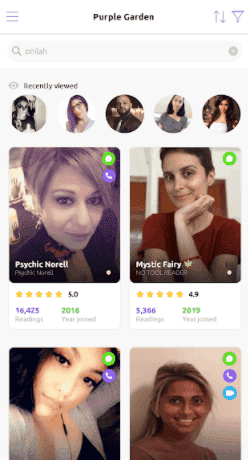 You can get a palm reading on Purple Garden for between $0.99- $14.99 a minute, but prices differ depending on whether you select a chat, phone call, or live video reading. New users can take advantage of the app's introductory offer of $10 worth of free credits with any first purchase.
Purple Garden will also reward you with 5% cash back for every purchase made, which you can start using for readings once you've accumulated $10 in credit.
Signing up on Purple Garden is super simple. You can use Facebook, Google, or your email address to create an account, after which you'll have access to almost 40 palm reading experts.
2. Keen Psychics— Best Introductory Offer

Get Your First 10 minutes for $1.99
Get Your First 3 minutes Free
Informative articles about palm reading
Quiz to match you with your ideal psychic
Simple Sign up with Google or Apple accounts
Keen Psychics is great if you want to get your palm read and see what each line represents. It has an excellent array of articles, so you can uncover more information about the history of palm readings, the different lines and the 4 elements used in Palmistry — all in the same place.
The app helps you find a psychic through a short quiz about your mood, needs, and the desired personality of your psychic. Then, it'll give you a list of psychics that might be a good fit for you based on your answers. I was pleasantly surprised by how simple and easy to use it was.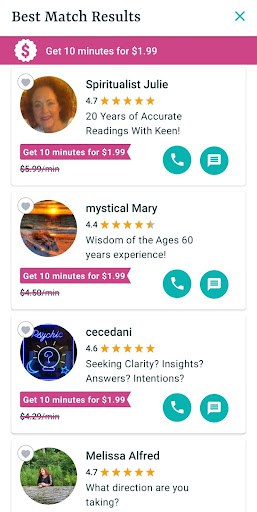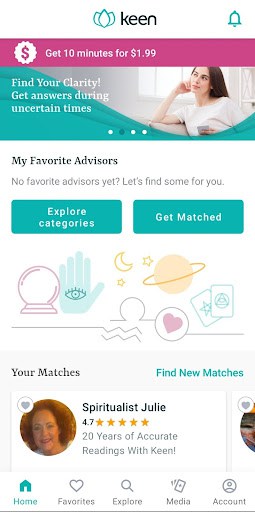 Keen Psychic's introductory offer is tough to beat. First-timers can speak with a psychic for 10 minutes for just $1.99 or get their first 3 minutes free. After its initial offer, Keen's rates start at $1.99 a minute which is still pretty reasonable.
Signing up is fairly simple since you can create an account using your Google or Apple account. This is the company to go to if you're looking for a company with killer deals and a wealth of knowledge.
3. Psychic Source — Best for Live Reading Options

Great Live Reading option
Generous. Donates 1% of purchases to charity
Readings start at $0.66 per minute for new customers
3% rewards dollars for every purchase for members
Up to 20-minute money-back guarantee if unsatisfied with a reading
Psychic Source's sleek app makes it easy to browse psychics and set up readings on the go. If you're waiting for a specific psychic, it can give you notifications to let you know where you are in line. The app is also great for tracking appointment reminders and membership rewards.
The site has over 25 years of experience delivering readings. But what sets it apart is its dedication to both quality and kindness. It helps others by donating 1% of customer purchases to helping different charities. Additionally, they have an excellent money-back guarantee.
Getting palm readings through Psychic Source is inexpensive, as readings start as low as $0.66 per minute for new customers. It's easy to try out a few palm readers too since they give you the first 3 minutes of paid readings for free. Therefore, you don't have to spend all your money trying to find the right fit for you.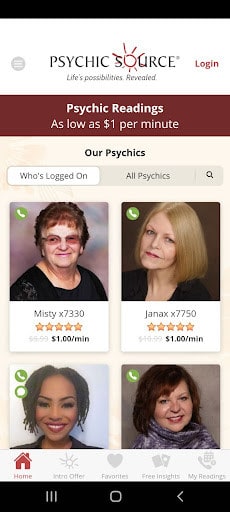 4. True Palmistry – Best for Fun & Informative Readings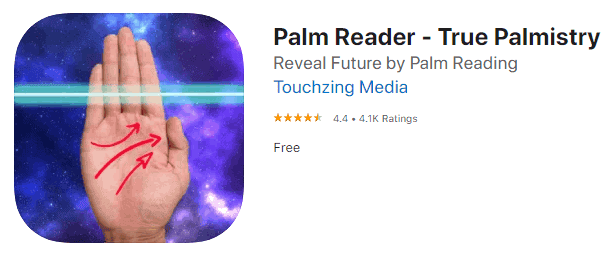 Free to download and use
Great Palm reading guides
Unlimited Detailed Readings
Excellent Information on the different types of lines
Horoscope readings
There are a lot of palm reading apps to choose from, but this one is one of the most impressive free options.
While most palm reading apps are free to download, they either push in-app purchases, or you need to pay a subscription fee following your free trial. This is not the case with True Palmistry.
Once you have downloaded the app it will ask you for your name, date and time of birth, and your gender. Users can choose from five different categories, including palm reading, today's planetary horoscope, today's birthday horoscope, daily horoscope, and zodiac analysis.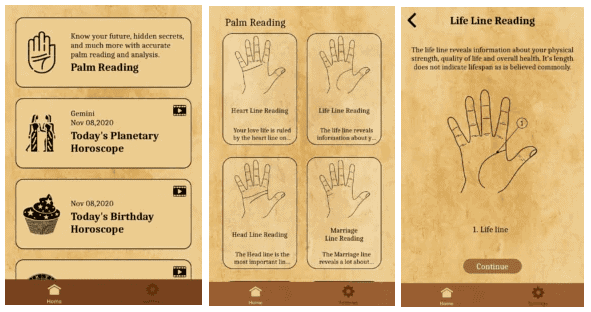 The palm reading category guides users on how to read the different lines on their hands, including the heart, life, head, marriage, fate, success, and travel lines.
Choose the line you'd like to analyze and answer the different questions about the size, shape, length, and depth of your line. Based on the answers you provide, the app then generates your reading.
One thing I like about this app is how detailed and specific the questions are. They forced me to look at the lines on my palm in a way I hadn't before.
I also felt that the app was more credible than most because it didn't ask the same questions for every line. Instead, each line had its own details to pay attention to. It's also worth mentioning that the readings are not necessarily the feel-good, generic readings you might expect. This at least gave me the sense that the app creators were invested in producing truthful readings and not just appealing ones.
While there are no app restrictions, there are a lot of ads that pop up in between readings. However, this is to be expected with a free app. Palm readings are just one section of the app, which means there's plenty more for you to explore. With full access to all features at zero cost, you can't go wrong with True Palmistry.
5. Palmistry Fortune – Best for Detailed Palm Insights

Unlimited palm readings for $11.99
Free 3 day trial period
Uses photos of your palm to give readings
Great, detailed readings
Apple only app
Unlike most palm reading apps, Palmistry Fortune does not ask you to enter your name or date of birth. Instead, the app asks for a photo of your palm to provide you with a detailed reading.
Palmistry Fortune does charge a subscription fee, but users get the first 3 days for free. After your 3-day trial ends, the app will automatically charge you $11.99 per month, unless you cancel ahead of time. This app is impressive because of its scanning capabilities and how quickly it delivers a reading based on the lines it picks up on your palm. I tried it out with some friends to see how accurate the scanner really is.
Sure enough, the readings are not random. Each person received a different reading and they were all relatively accurate. Since this is the only function the app has, you may get bored with it after a few tries.
Overall, Palmistry Fortune is a straight-to-the-point, palm-scanning app that provides detailed readings.
The Different Types of Palm Readings
Palm readings are practiced all over the world. There are as many types of reading as there are lines on your palm. Reading types are broken down by your heart line, sun line, fate line, and most popularly, your lifeline.
The Heart Line
When you get a reading, this is often where your reader will start. If you want to know about your emotions, friendships, romantic love, and more the heart line is a great place to start. A longer heart line can show you're ruled more by your heart or if the line is deeper, it could indicate how deep your affections run.
The Sun Line
The sun's light burns bright, so it's no wonder that the sun line represents how bright your light will shine. It can serve as a complement to your fate line, telling you about your potential fame, your working life, and even how much you hardship you're able to endure. A longer line can indicate you can endure more.
If drama draws you in or you're wondering about your future fortune, the sun line might also hold the answers. Sun line readings can reveal your future fortune and if you'll end up wrapped up in a scandal or five.
The Fate line
This line can reveal your fate, but that's not the only trick up its sleeve. How dark your fate line is can reveal how much of your destiny is within your control or if life is going to take you on a ride instead. Breaks in these lines could indicate potential changes in your level of control in your life.
These types of readings are also great if you want to find out what your future career path might look like. It can let you know about potential turbulence in your career or reveal more about how dedicated you are to your career.
The Headline
If you rarely question your decisions or maybe you've got an incredibly sharp mind, you might have a darker, deeper headline. Headlines indicate decisiveness and intellect. In a headline reading, you can find out how powerful your mind is. This type of reading can also reveal life opportunities on the horizon.
The Lifeline
Before going into this section, it's important to remember that the apps listed here are for entertainment and not something you want to base major life decisions off of. Lifelines are most commonly known for being able to tell you how many days you have on the Earth.
Another important thing the lifeline does is give you a peek into your physical health, the longer the better. While you could find an amazing palm reader that could change your life's direction, most of these mobile palm reading apps are mostly for fun.
Bottom Line
Palm readings are a great way to have a bit of fun and learn a bit more about your future. But if you're overwhelmed with choices, then finding a suitable app can be a mission. Therefore, I've shortlisted the best palm reading apps to help you make an informed decision.
From my list, my favorite palm reading app is Purple Garden. It has a wide range of accurate and experienced readers with great starting rates. Plus, its rewards system lets you save more money with each reading.
FAQs on Palm Reading Apps
How can I get my palm read for free?
Palmistry Fortune has a 3-day free trial period, so you can get your palm read for free through them. They scan your palm and give you a detailed reading based on the image. And if you'd like to continue getting additional readings after the 3 days, it has a plan for $11.99 a month that provides unlimited palm readings. However, it's only for Apple users.
Rates for new customers start at $0.99 per minute, while first-time android users get a $10 credit for future services. Regardless of your budget, you'll find an affordable plan with Palmistry Fortune.
How do I read my lifeline on my palm?
To read your lifeline, you'll want to look at its length, the shape of the arc, and the number of lines, and breaks. You can usually find the start of your lifeline in between your thumb and pointer finger. It will typically arc from the area near your thumb down to the bottom of your palm.
Longer lines can indicate a longer, stronger life while breaks in the line can indicate illnesses. For more in-depth information on reading your lifeline, it's best to check out a reputable psychic website with experienced psychics.
Are Palm Reading Apps Safe?
It depends, but not all of them are. You should always to check for the app's encryptions and how and if they store sensitive information like your credit card number, and what permissions they ask for. Plus, looking at customer reviews provides useful insight.
My recommendation for one of the safest apps would be Psychic Source. It's very open about its privacy policy and makes a point to note its encryption and some tips for keeping your information safe. Additionally, it has a great selection of well-rated psychics available for you.