With the advancement of technology, nowadays you don't have to go to a psychic in person to get your palm read. However, finding the best palm reading app can be complicated and time-consuming, leaving you frustrated and overwhelmed.
To save you the trouble of researching and testing different apps, I've compiled a list of the best palm reading apps. These apps have been thoroughly tested and are sure to provide accurate information about your future.
And for those of you who are ready to take the plunge, my favorite palm reading app is Purple Garden. Its user-friendly palm reading app is available on both Android and iOS devices, making it easy for you to get a reading from anywhere.
In a Rush? Here Are My Top Palm Reading Apps Picks
Purple Garden — Best app for palm readings with a various selection of readers and $10 worth of credit with your first purchase.
Kasamba — Great for a large selection of palm readers and it tells you the psychics' reading style, but it doesn't have video readings.
Keen — Captivating interface and free articles, but doesn't have a filter to easily find palm readers.
AstroGuru — In-built palm scanner for easy readings and it offers an analysis of your lines, but it doesn't have an attractive UI.
Palm Reader: Palmistry Fortune — Lets you save your palm readings and share them with your friends, but users sometimes claim technical problems.
Palm Reader & Astroline Teller — Easy to read palm reading guides and chat function, but it has a lot of pop-up ads.
Best Palm Reading Apps in 2023 — Full List
1. Purple Garden — Best Overall Palm Reading App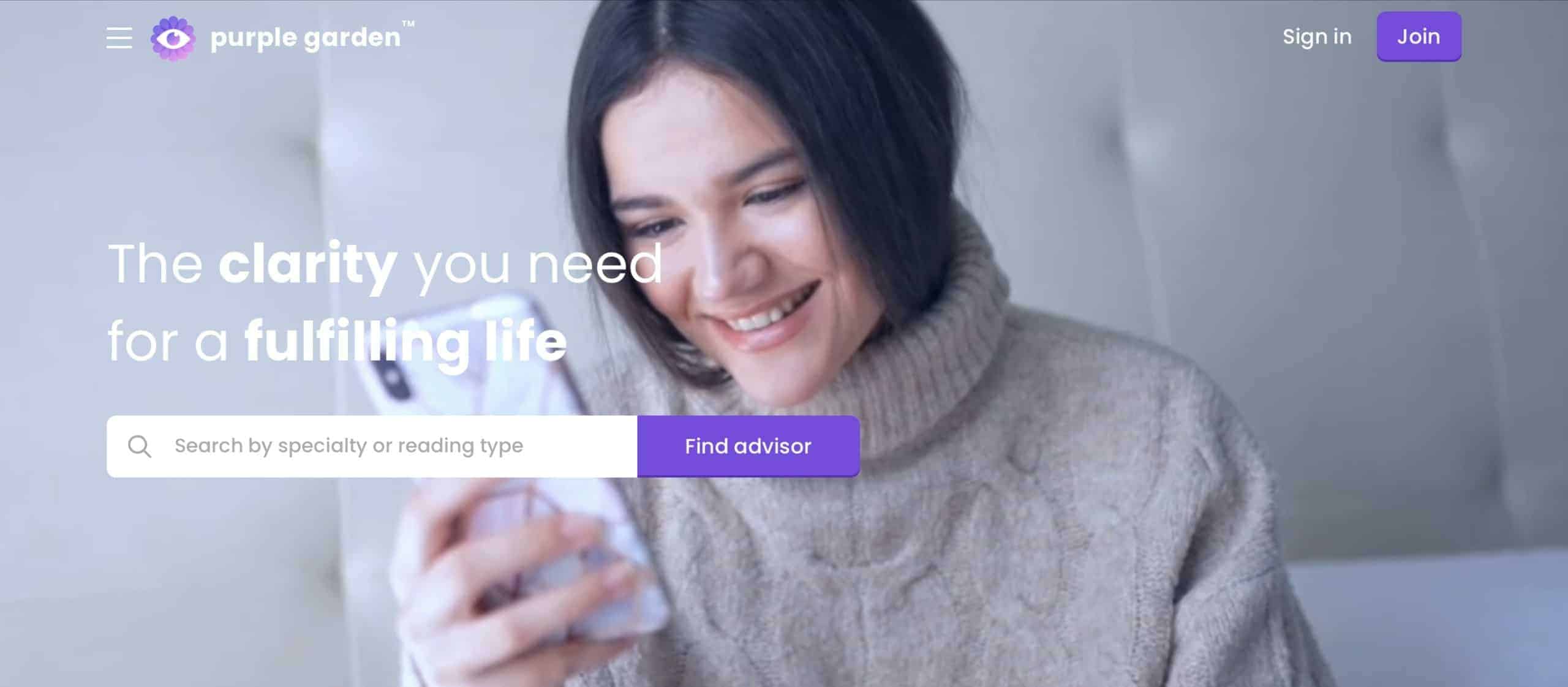 Easy to use Android (6.0+) and iOS (13.0+) apps
26 palm reading experts available
Live chat, phone call, and video readings
Free $10 credit for first reading
2% cashback on every reading
Purple Garden's app is the best choice for those looking for a personalized palm reading with a professional psychic. It's available on both Android and iOS, and it also has a website for desktop.
I found both apps easy to use as you can filter the psychics to palm readers, read reviews from other users, and choose your preferred contact method. You can also search for psychics based on their accuracy, which is a great way to ensure that you are getting the best reading possible.
While Purple Garden offers the usual chat and phone call contact methods, it also has a video call option. I found Purple Garden's video call feature to be a unique feature that paired well with getting a palm reading. It also adds a personal touch, which makes the experience even more intimate and fulfilling. I felt more empowered to take action based on the guidance I received in my face-to-face reading.
I also liked the site's secure payment system, which ensures that your personal and financial information is always safe. Purple Garden provides a detailed breakdown of pricing, taxes, & fees, which makes it easier to budget & incorporate spiritual guidance into a self-care routine.
However, I would appreciate more transparency in Purple Garden's psychic vetting process. While the majority of palm readers have thousands of reviews with high ratings, it's better to have a clear idea of how experienced new psychics are. Still, it's not a deal breaker, as the reviews do speak to the psychics' accuracy.
Overall, Purple Garden is a great choice for a reliable palm reading, especially with its live video calls. Additionally, you receive a free $10 credit towards your first reading as well as 2% cashback on every reading you get, making it an affordable option for anyone who wants to try it out.
2. Kasamba — Offers a Wide Selection of Palm Reading Psychics

Apps on both Android (5.0+) and iOS (11.0+)
100+ palm reading advisors available
Live chat, phone call, and email readings
3 trial minutes with 3 new psychics
Detailed psychic profiles
Kasamba has a large number of palm reading psychics that you can seek guidance from. Since it has over 100 palm readers available, you'll have several options to choose from. Kasamba lets you further filter the psychics by contact method, which makes it easier to find an advisor you'll be comfortable speaking with.
It offers apps on both Android and iOS, and I found both to have an attractive and easy-to-use interface. Once you've filtered the available psychics to palm readers, each of Kasamba's psychics' profiles offer details on reading style. This makes it even easier to find a palm reader that will suit your query and offer you the best guidance.
If you have a time-sensitive query, you can get started with a reading straight away with the app's built-in live chat feature. Alternatively, you can wait and schedule either a call or an email reading.
Unfortunately, Kasamba doesn't offer any video readings, which make palm readings go a lot smoother. While it's still possible to get a palm reading through the live chat, bear in mind it won't be as intimate as a reading from Purple Garden.
When you go through the app, Kasamba offers you 3 minutes free with up to 3 new psychics. This gives you the freedom to try the app and makes the choice between all 100 palm readers easier to make.
3. Keen — Easy to Use Mobile Interface for Getting a Palm Reading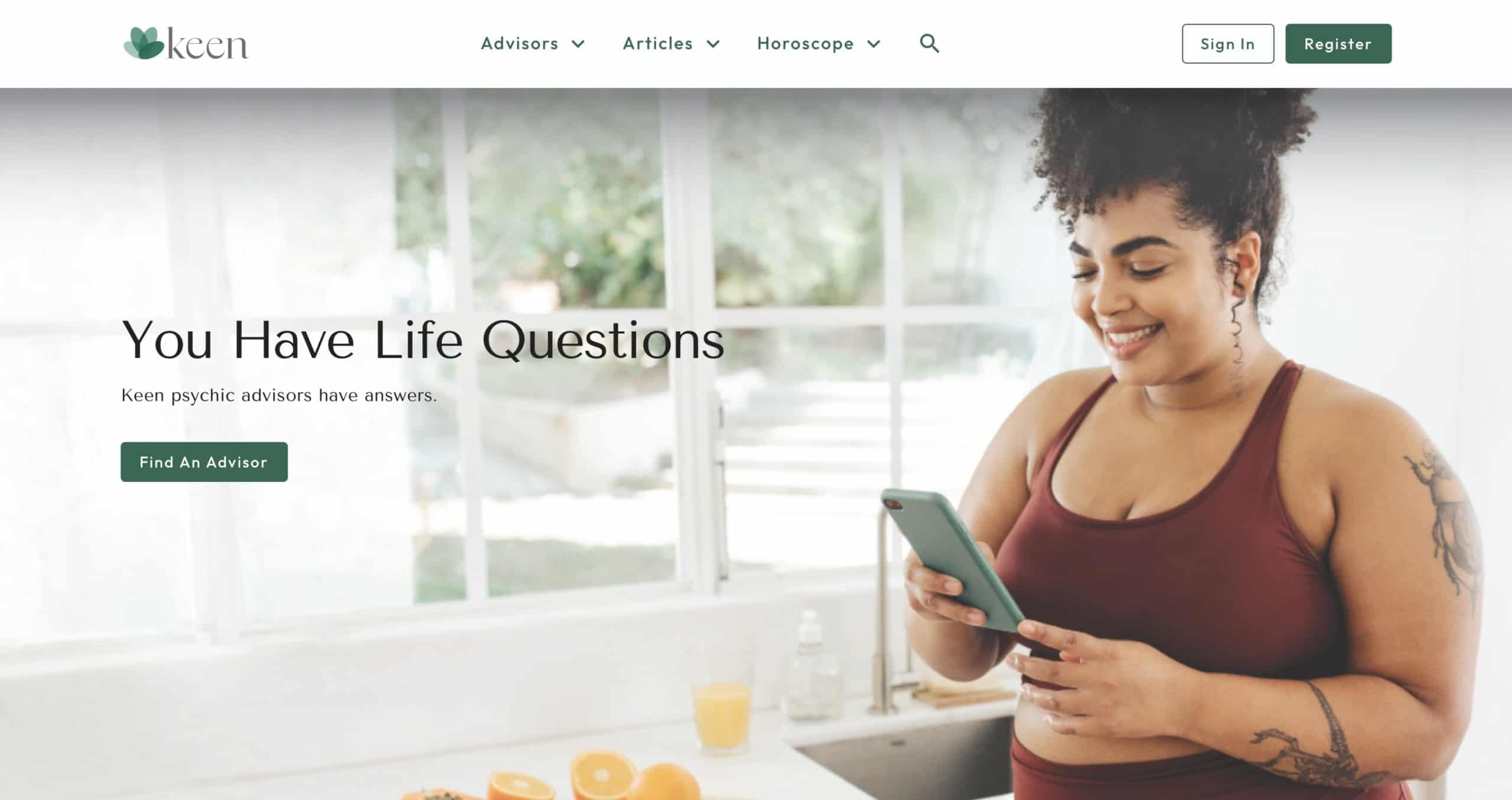 Easy to use iOS (13.0+) and Android (6.0+) apps
100+ palm reading advisors available
Live chat, phone call, and email readings
Customer support via email and phone
Introductory offer of $1 for 5 minutes
Keen truly stands out for getting a palm reading due to its captivating interface. Both its Android and iOS apps offer intuitive and visually pleasing designs. I liked its psychic match tool, which let me filter readers in a range of categories such as availability, reading methods, and tools used.
I also liked that Keen offers free articles and blog posts that offer valuable insight into palm reading. From astrology to tarot, psychic abilities to self-help practices, I found the variety of topics helpful before preparing for my palm reading or any other reading for that matter.
A minor drawback of Keen's app is the lack of a specific filter for palm readers, so you have to reach out to the reader of your choice to inquire about their expertise in palm reading. But with an open mind and a willingness to explore, you can connect with skilled palm readers quickly.
As a new user, you'll have the opportunity to get a palm reading in Keen at a discounted rate of 5 minutes for $1. These introductory offers provide an affordable and accessible way to experience the mystical arts and gain valuable insights into your life's path.
4. AstroGuru — Has an In-App Palm Reading Tool For DIY Readings

Offers an Android app (4.4+)
AI-based palm reading feature
7-day free trial of their premium features
Customer support via email
Extra features like tarot and astrology readings
AstroGuru's Android app features an AI-powered palm reading tool that makes it easy to do a palm reading for yourself. The app analyzed the lines and markings on my hand to provide insights into various aspects of my life, including my love life, career, and health.
In terms of pricing, AstroGuru offers both free and paid options. The app's free version includes daily horoscopes and a basic palmistry analysis. The premium version, which has a 7-day trial then costs $9.99 per week or $39.99 per year, includes personalized horoscopes, tarot card readings, and access to live chat support.
I found that sometimes AstroGuru's interface wasn't pleasant to look at, especially when compared to other palmistry apps available. While other apps offer a bright background and attractive buttons, AstroGuru has a very dark purple/blue interface that I found hard to look at. Still, if you can get past this the app does offer quality information.

Offers an iOS app (11.0+)
Allows users to save multipe palm readings and compare them over time
Uses a camera function for more exact readings
Intuitive and simple interface
Grants insight into your Heart, Life, Head, and Fate lines
Palm Reader: Palmistry Fortune for iOS lets you save your palm readings and refer back to them later, giving you a chance to see how your fortunes are evolving. You can also share these readings with your friends to compare your destinies and see how in tune you are.
This app offers a camera function to make sure you're getting your lines accurate. However, unlike AstroGuru, this isn't AI-based. That means you have to take a picture and trace the palm lines on the image yourself. However, I found that the resulting reading was just as comprehensive as other palmistry apps.
After the 3-day trial, the Palm Reader app is $12.99 a month. With this, you get the palm reading tool, insights into your lines, and the readings history that you can refer back to at any point.
While I had a positive experience with the app, some customers have reported technical issues such as screen freezes or difficulty connecting with their chosen psychic. However, the app's customer support team is available 24/7 to help resolve any issues that may arise.
6. Palm Reader & Astroline Teller — Detailed Guides for Each Line Revealed in Your Palm Reading
Available for both Android (5.0+) and iOS (11.0+)
Simplified interface with minimal clutter
Get readings for individual palm lines
Comes with a 3-day trial period
$12.99/month for unlimited readings
The Palm Reader & Astroline Teller app gives you personalized guides for each of your palm lines. If you're trying to teach yourself palmistry, this app has solid foundations to get you started.
I was impressed that Palm Reader and Astroline Teller offers more advanced reading information. For example, beyond the standard details about the palm lines this app also goes into detail about the palm mounts. I didn't see this information from the other apps, so it's something to consider if you're teaching yourself the art of palmistry.
As well as the palm reading function, both the Android and iOS versions of this app offer daily horoscope readings for both today and tomorrow. I found the results to be accurate whenever I checked it.
Despite the annoyance of frequent pop-up ads, the app continues to be a popular choice for people wanting to explore their destiny at their fingertips.
Comparison: Best Palm Reading Apps
App Availability
Introductory Offers
Starting Price
Camera Function
Purple Garden
Android (6.0+)
$10 off first reading
$0.99 per minute (minimum $10)
✔ (Video call)
iOS (13.0+)
Kasamba
Android (5.0+)
3 free minutes with up to 3 new advisors
$0.90 per minute
✘
iOS (11.0+)
Keen
Android (6.0+)
Discounted per minute rates
$1.99 per minute
✘
iOS (13.0+)
AstroGuru
Android (4.4+)
7-day free trial
Free with in-app purchases
✔
Palm Reader: Palmistry Fortune
iOS (11.0+)
3-day free trial
$12.99/month
✔
Palm Reader – Palmistry Fortune
Android (5.0+)
Free
Free with in-app purchases
✘
iOS (11.0+)
How to Choose the Best Palm Reading App
Choosing the perfect palm reading app can be quite challenging. So, here are some essential factors to keep in mind when selecting the right one for you.
Choose an Established App
Choosing a reliable palm reading app can enhance your experience and provide accurate results. Look for an app that has been around for a while, indicating experience in the industry. Checking customer reviews on the Google and Apple app stores can also give you a sense of the app's trustworthiness. The apps listed here have demonstrated their reliability and have positive ratings on both platforms.
Pick the Best Communication Method
Various apps offer a range of communication options, including video, chat, email, or calls. Selecting an application that aligns with your preferred mode of communication is essential when considering a paid service. For instance, it's worth noting that Kasamba, while not offering video readings, has consistently enhanced its services to provide accurate, informative, and fun readings.
Look for Affordable Prices
Opt for an app that provides palm readings while staying within your budget. Choose apps that offer fair costs, free minutes, and discounted rates. The apps mentioned here present a diverse pricing options, simplifying the process of finding option that suits your budget.
Check for a Satisfaction Guarantee
To reduce the chance of disappointment, seek out an app that offers a satisfaction guarantee or refund policy. Some apps provide direct refunds to your chosen payment method, while others grant credits that can be used in the future. It is advisable to select an app that offers some form of satisfaction guarantee, ensuring your peace of mind.
FAQs on the Best Palm Reading Apps
What are palm reading apps and how do they work?
Palm reading apps use the art of palmistry to interpret lines, shapes, and patterns on your palm. There are multiple types of apps available, but most require you to take a picture of your palm and then give you a guide based on the lines it can detect. Others offer consultations with professional palm readers. The best palm reading apps offer personalized readings and quality information about palm lines.
Are palm reading apps accurate?
Yes, so long as you follow these guidelines for choosing the best palm reading app. The accuracy of palm reading apps can vary depending on the app and the technology it uses. However, many palm reading apps use advanced technology to analyze palm lines and markings, which can result in accurate readings.
Can palm reading apps be used by anyone?
The best palm reading apps can be used by anyone who has an interest in palmistry and astrology. However, it's important to note that palmistry is an ancient art that requires training and experience to master. While the best palm reading apps can provide valuable insights, you should also make sure you're contacting a professional palm reader as well.
Is it safe to use a palm-reading app?
Yes, as long as you choose one that is trustworthy. Some apps don't divulge enough information before you sign up, don't offer money-back or satisfaction guarantees, and don't vet their psychics before inviting them onto the platform. If you come across one of these apps, then it's very likely to be unsafe.
See these tips on how to choose the best palm reading app to make sure you're picking one that is safe to use. The apps on this list are also more likely to give you an accurate reading.
Bottom Line
Choosing a palm reading app that offers fun, exciting, accurate, and informative palm readings can be frustrating. It can be hard to differentiate genuine palm-reading apps from fakes. The last thing you want is to waste your hard-earned money on a useless app.
After a number of palm readings, I found the best palm readings app for accurate readings. Out of all options, I like Purple Garden to be the best palm-reading app. With Purple Garden, you can contact a professional palm reader by chat, call, or video. The app also offers 2% back on every reading.
To summarize, here are the best psychic apps for palm reading