Perhaps you've recently met someone who feels very familiar. They could make you feel unusually comfortable, and it might even seem like you've known this person for a long time. Or, they might even make you feel uneasy or repulsed. Experiencing feelings on both ends of the spectrum could indicate an encounter with someone from your past life.
However, recognizing and interpreting these signs is no easy task, especially if you're inexperienced. Just because someone feels unusually familiar, it's no guarantee that they're from your past life. The good news is that it's possible to learn how to recognize these signs and understand what is happening.
But if you want immediate answers and expert guidance, you can speak to a skilled psychic from a trusted site like California Psychics. They can also help you understand why this person is suddenly reaching out to you in your current life.
Here Are 7 Signs You've Met Someone From a Past Life
1. You meet someone for the first time, yet they're instantly familiar
Whenever you feel a positive or negative connection with an individual, chances are that they're from your past life. Maybe they make you feel instantly "at home" when you bump into them, or they awaken feelings of repulsiveness.
You might even feel like you are reconnecting with a long-lost, old friend, where your connection becomes so strong that you can almost read each other's minds. Whatever the case, it could indicate that this person had a lot to do in a past life, so they're trying to reconnect with you.
You could also recognize a part of yourself in this person or have an unusual longing to be together when you're apart. A strong gut feeling will let you know if these things are presenting themselves.
2. They understand your emotions without you having to explain yourself
Every once in a while, you could stumble across someone who understands you, your emotions, and your feelings without you having to tell them. In other words, they "just get you". Additionally, this person may experience similar emotions to you, and you could even share the same breadth of emotions to the same degree.
For example, the two of you could be going through similar circumstances, trouble, or good times, which is somewhat of a rarity. Or, it's possible that the two of you also share similar reactionary patterns to certain triggers.
One of the most tell-tale signs is if you two just seem to "gel" together without having to explain yourselves. This is especially true if no aspect of your relationship feels awkward, strained, or forced. Though not a guarantee, it's possible that you're experiencing these things because a past life experience is trying to tell you something.
3. They trigger both good and bad emotions that you aren't familiar with
If you've recently bumped into someone who seems to trigger some feelings you've never felt before, they could be from a past life. Some examples could be an overt enthusiasm or joy, an exceptionally negative state, or one you just can't quite pinpoint or didn't even know you could feel.
Maybe you've suppressed certain emotions out of fear of never having the chance to experience them again. Emotions like these are common if you've experienced a rough divorce or breakup that you haven't recovered from. These are all good indications that this person is from your past life, as they might be using these emotions to tell you something.
Though this sign is mainly related to someone you loved deeply, it could absolutely be a sign from a former adversary. However, it's most commonly a sign from someone in your past life who is telling you it's OK to love someone new deeply again.
4. A brief encounter leads to drastic life changes
After meeting a stranger, you could find yourself doing things you've never done before or making drastic life changes. These things could include taking better care of yourself, saving more money, exercising, sleeping and eating better, or any number of self-improvement-related activities.
If someone has inspired you to be better, you're more than likely engaged with a past life person. Maybe the two of you didn't have a chance to spend enough time together in your previous lives for their wisdom and inspiration to take full effect. Therefore, this person may be trying to help in your current life.
Finding yourself making massive life changes (especially in a positive direction) is a powerful indication you're connected to someone from a past life. However, picking up on exactly why or how this might be happening requires experience. An experienced past-life psychic from a site like California Psychics can help you understand what you're supposed to learn.
5. It feels like no time has passed, no matter when you last saw one another
This sign is closely related to someone feeling instantly familiar. Only this time, a whole lot of time can pass, yet you still feel this same familiarity. If this happens, it means you've likely encountered someone from a past life.
You could go several years without communicating with one another, yet when you do reconnect, it feels like it was only yesterday. Perhaps there's also a lot of distance between the two of you — physical or cultural distance, as the person might be from another country or continent altogether.
One of the biggest hints this is happening to you is if life seems to always bring the two of you back together, regardless of physical or cultural distance. Not only does life seem to bring you back together, but your relationship could also grow stronger. And, if you feel like you can fully be yourself after all that time, you could very well be around a past life person.
6. They appeared in a dream before you met
Perhaps you've dreamt about somebody and then ran into an embodiment of this person in real life. Of course, you probably didn't meet the exact person from your dreams, but someone who is different only in appearance. This is a very good indication that this person is from your past life, otherwise, you may not be dreaming about them in the first place.
But you don't always know why you've met this person you've dreamt about. You could be wondering for days, or even weeks, why this has happened. On your own, you might even forget it even happened. Seeking advice from a trusted dream interpreter could provide answers about why you've met someone from your dreams.
7. Other signs to look out for
Several other signs indicate you've met someone from a past life. Maybe you've randomly met someone who seems to teach you about yourself and your life. Or, you could also have met someone who shares the same astrological sign as you or shares similar astrological past life compatibility with you.
Another sign is if you meet someone and can't understand why you feel the way you do — no matter how you feel. This person could have a specific aura about them, or they could even remind you of another time and place.
3 Best Sites to Find Out You've Met Someone From a Past Life
A session with an experienced psychic can uncover a past life encounter by tapping into your energy. This is a great alternative if you're trying to interpret meaning on your own and struggling. The following sites have several past-life psychics who can provide you with proper spiritual guidance.
1. California Psychics — Best Overall for Past Life Readings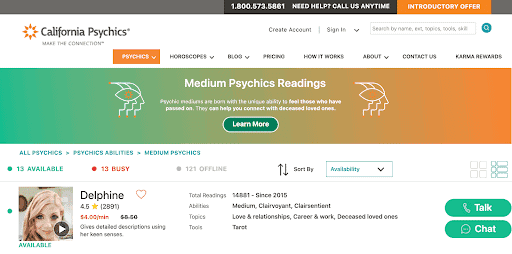 Past life psychics available
Has been in business for 25 years
6+ other reading types available
$1 per minute for your first 20 minutes
100% money-back guarantee
California Psychics has several past life psychics available who can assist you in recognizing if someone is contacting you from a past life. Since it has a strict vetting process, you can be assured of finding a high-quality past life psychic. The site assesses each psychic's ability and experience carefully and only selects the best.
Thanks to its apps and communication methods, it's possible to get a past life reading that suits your tastes. Its mobile app is good for readings on the go while having both chat and phone readings lets you choose if you want to speak to someone or not. During my chat reading, I received detailed answers on possible past life interactions and got a transcript of my chat.
Lastly, new customers get an introductory rate of $1 per minute, which I find a pretty good offer. It's a great way to save a lot of money on a more extended reading since you have to purchase at least 10 minutes to start. I was a bit disappointed with the site's lack of free minutes. But if you're not satisfied, you can use its satisfaction guarantee to get a refund within reason.
2. Purple Garden — Affordable Introductory Offers for New Customers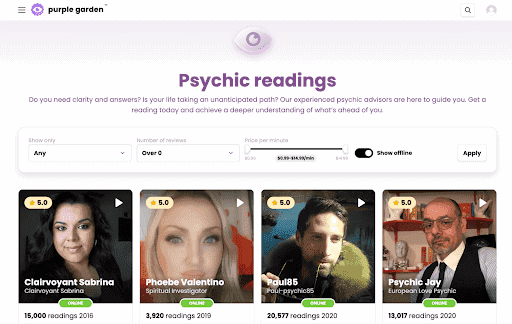 6+ reading types, including past life readings
Chat available via the website
Phone and video available with the app
Get notified when your favorite psychic is online
$10 credit for new customers
Purple Garden has an abundance of highly-rated psychics who can help you recognize you've met someone from a past life. It also employs a strict vetting process, where only about 2 psychics of every 100 who apply get approved and join the team. All of the past life psychics I looked at were highly qualified and had plenty of positive reviews.
You can also make use of different reading types and methods to uncover further meaning. For example, dream analysis can help you analyze why someone from your dreams might be showing up in your real life. Additionally, there are different methods of communication like chat and video, so you can communicate in a way that works best for you and your needs.
As a new customer, you'll get a $10 credit as soon as you sign up, which can be used for any type of reading. After you've used the introductory offer, average prices are in the $0.99 to $14.99 per minute range. I've found this very reasonable since most psychics charge between $5-10 per minute.
3. Keen — Wide Selection of Past Life Psychics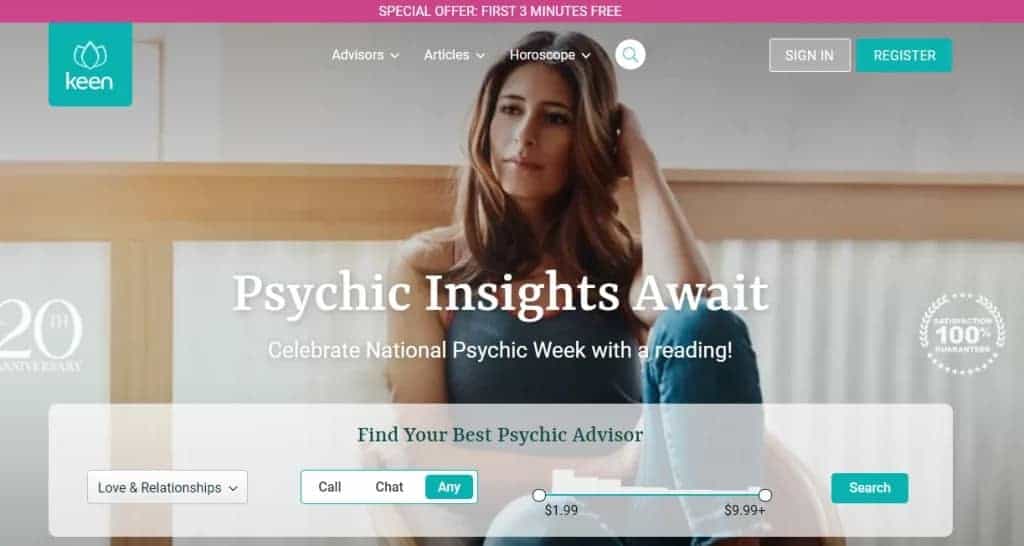 Past Life readings available
250+ psychics available in total
8+ different reading types
First 3 minutes are free
250+ skilled psychics to choose from
A psychic from Keen can help you recognize and interpret the signs you've met someone from a past life. Out of all the psychics on the site, I found its Past Life readers to be the most helpful in interpreting the 7 signs. They are also gifted in tools like tarot cards and crystal balls, which can provide insights that you can't find elsewhere.
A dream analysis reader will be your best bet if you've been dreaming about someone and then meeting someone very similar in real life. Dream analysis can tell you more about your unconscious mind and why you are meeting someone from your dreams. With these insights, it's possible to build a proper relationship with that person in real life.
Keen offers an attractive introductory offer. As a new customer, you get your first 3 minutes for free. This is more than enough time to feel out whether your psychic can help you recognize these signs. If you're unhappy, you can be refunded (in credits only) for one conversation every 30 days, up to 72 hours after your discussion, up to $25 in value.
FAQ on Signs You've Met Someone From a Past Life
How do I know if I met someone from my past life?
Though there's no guarantee, meeting someone you instantly click with, loathe, feel strong emotions for, or have dreamt about can all be signs you've met someone from a past life. You could feel a strong connection to this person even if you're apart for a long time or if there's a lot of distance between you.
Another indicator is if you meet someone for the first time only to make a bunch of extreme and positive life changes suddenly. But recognizing these signs is a lot easier said than done. Fortunately, there are many skilled psychics, like one from California Psychics, who would be able to help you recognize these signs and know what to do with them.
What does it mean when you feel like you know someone you just met?
If you feel like you've known someone you just met for a very long time, it might mean that they're someone from your past life. Generally speaking, this sort of thing happens very infrequently throughout life, and you shouldn't overlook it when it does.
When it happens, it's best to speak to an experienced past life reader who can use their expertise to help you figure out if this person you just met is, in fact, someone from your past life. The person may have a message for you, or they may be trying to reconnect with you for some reason.
Can you feel an instant connection with someone?
It's absolutely possible to feel an instant connection with someone you've just met. If you do feel this way, you might have met somebody from a past life. This person could have meant something important to you in the past, such as a lover, a family member, or a best friend.
It's also possible that the two of you parted ways prematurely, for one reason or another, due to an unexpected death, divorce, or breakup. Perhaps this is their way of reconnecting with you to reestablish the strong bond the two of you shared and keep it going.
Bottom Line
Recognizing someone from your past life requires you to tap into your energy, which can leave you feeling confused and misguided. You could have met someone important, but because you didn't recognize the signs, you might forget about it or not fully appreciate the significance. This person might also hold a critical piece of information that could improve your life.
But even if you recognize these signs, you might not know what to do with them. In this instance, a skilled and experienced past life reader can help you properly recognize, analyze, and interpret these signs, so you can use them to build more meaningful relationships and make sense of your future.
To summarize, the best sites for past life readings are…