AskNow vs Psychic Source is a tough one to call, because these sites are just so different from one another.
Or are they? On the face of it, both have decades of online psychic reading experience, a good range of psychics to choose from and both have starting prices at the lower end of the market.
I've reviewed over 10 psychic reading websites, and here's what I thought about AskNow vs Psychic Source.
Quick Overview: AskNow vs Psychic Source
| | | |
| --- | --- | --- |
| | Psychic Source | AskNow |
| Calls starting from | $1 and up | From $3.99 and up |
| Consulting type | Phone, chat, video | Phone and chat |
| Consulting type | Career psychics, Clairaudients, Clairsentients, Clairvoyants, Intuitive Psychics, Love Psychics, Pet Psychics, Psychic Mediums | Love, money, careers, tarot, spiritual guidance and more |
Both Psychic Source and AskNow have a lot to like about how they approach the art of online psychic reading – but having said that, you might be surprised at how different these two actually are.
I've delved into everything you need to know to make an informed decision about AskNow vs Psychic Source, and here's what I discovered.
AskNow vs Psychic Source: Pricing
These two sites do things very differently when it comes to pricing: AskNow lets psychics set their own per-minute rates, with both chat and calls starting from $3.99 per minute. That and, AskNow separate their psychics into three different tiers: you'll see Top Rated Advisors –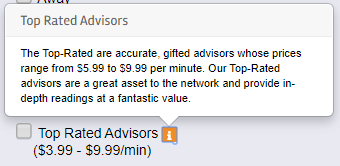 Elite Advisors –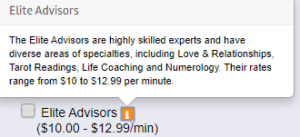 And Master Advisors –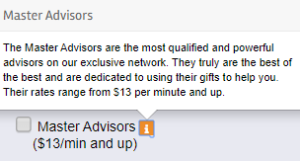 That's pretty cool, and it allows you to stick to a budget (if you have one). But, new customers also get the chance to try out those more expensive (and more experienced) Master and Elite psychics at AskNow, with a generous introductory offer: a 30-minute reading for $30, plus 5 free Elite or Master psychic minutes.
That's a dollar a minute for a 30-minute call, and I really liked that I could sample those more expensive psychics for a 5-minute free call, as it allowed me to see whether or not I went above my budget to speak with one, or if it was really worth it.
Psychic Source has a similar approach to pricing, with the lowest psychics I found charging $1 a minute (although this was due to the introductory offer for new signups), which is probably the lowest rate of any psychic reading site I've seen online. The highest I found was charging $12 a minute, with most psychics sticking to the $3-4 per minute mark.
There's so little in this, with both AskNow and Psychic Source charging a similar range of prices. I'm calling this round a tie.
Tie: AskNow and Psychic Source
AskNow vs Psychic Source: Psychic Specialisms and Services
Here's where the two sites couldn't be more different: AskNow's has a concise, modest range of psychics specialisms, which I thought was no more or less than what's needed by customers looking for an online psychic reading service: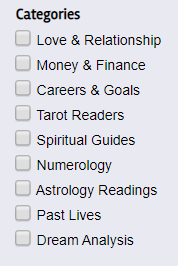 In fact, I really like that AskNow is more specialized in certain areas without trying to hit all bases. I feel like his service would attract a more specific clientele.
Over at Psychic Source, there's a bit of a mishmash of specialisms on offer:
Career psychics,
Clairaudients,
Clairsentients,
Clairvoyants,
Intuitive Psychics,
Love Psychics,
Pet Psychics,
Psychic Mediums
Love, Relationships and Family
Career and Finance
Life, Destiny and Meaning
Loss and Grieving
While I love the range of psychics types on offer (clairsentients and clairaudients? That's pretty cool), I felt like some of the categories – Love, Relationships and Family – were a little too broad for my taste. Maybe this appeals to other people.
In this case, I think the two sites are just so different, appealing to different sorts of people, that I can't choose between them.
Winner: Psychic Source for its range of diverse specialisms on offer
AskNow for the more modest and specialized range on offer
AskNow vs Psychic Source: Are They Trustworthy?
Obviously, it pays to know just how trustworthy any online site or service is, and that's even more so with psychic reading websites. Unbeknownst to you, you might find yourself coming across someone who doesn't really have the psychics gifts you'd think they do, and then you've lost your hard-earned cash.
I've delved into both AskNow and Psychic Source's trustworthiness credentials on your behalf, across several different criteria.
Firstly, AskNow directly addresses the questions of whether or not it's trustworthy right in its FAQS (which is an approach I really liked):


Although Psychic Source doesn't include that kind of FAQ, I still have solid reason to find it a trustworthy site. Here's why.
Psychic screening process
Most psychic reading services online don't really require much of their psychics, when it comes to applying to join. I've seen one or two psychic reading sites where psychics are required to do a live reading as a part of an application, or undergo a criminal check, but these sites are really in the minority.
That's why I was overjoyed that Psychic Source seems to really take their psychic applicants very seriously indeed. Wannabe Psychic Source psychics are asked a very long list of questions about everything from their CV to their life experience, including their psychic gifts. Once they complete the form, it's evaluated, and they are invited to a video call interview.
That's pretty intense, and it's one of the handful of psychics reading sites that provide such a rigorous application process. I was very impressed by this!
AskNow, on the other hand, also has a form for psychic applicants, which is also in-depth, asking for applicants' credentials, background and more. Although there doesn't seem to be an interview process, each psychic has to sign a user agreement.
Customer ratings and reviews
Both AskNow and Psychic Source have a solid range of customer feedback that all seems regular and very honest – just from reading it, I could tell a little more about the type of person the psychics I was interested in were, as well as how often their predictions came to fruition.
Psychic Source had a ton of regular user feedback, including some less than flattering feedback about certain psychics, which makes me think it's a trustworthy site. At AskNow, there was also regular feedback, although I found it tough to find any negative feedback. Maybe customers of AskNow just love their psychics that much, or maybe I didn't dig deep enough.
Money-back guarantee
Other sites have satisfaction guarantees in place for potentially disgruntled customers, which is always good, in my books.
AskNow has a solid satisfaction guarantee, although you'll have to go digging around in the site's Terms and Conditions to find it, for some reason.
Once you do, you'll see that it offers a one-time credit of up to a ten-minute call, which you'll need to report within 72 hours. That's very fair.
Psychic Source, on the other hand, screams from every page of the site about its satisfaction guarantee – a pretty trustworthy move – which is very easy to invoke. You just need to request credit from customer support (more on that below) within 1 day of your unsatisfactory experience, which will then be applied to your next reading (for an up to 20-minute reading).
I'd say that, while AskNow's length of request time is three times longer, at 72 hours, Psychic Source's time-limit is actually longer.
Sorry to disappoint folks, but this one is also a tie. In general though I'd say both sites are highly trustworthy, thanks to their satisfaction guarantees and recruitment processes.
Tie: Psychic Source and AskNow
AskNow vs Psychic Source: Customer Support
These two sites really seem to care about their customers, which again, is not really a feeling I get from just any psychic reading website!
Four one thing, Psychic Source proudly lets anyone visiting the Customer Care page know that it's support staff are in-house – presumably because customer satisfaction isn't something that can be easily outsourced (and the site is completely correct to that).
Here are also several options to get in touch with Psychic Source – a contact form and a postal mail address (for some reason).
But, my favorite platform for getting into couch had to be the Live Chat, where I spoke to a real human, and received an answer in about 45 seconds: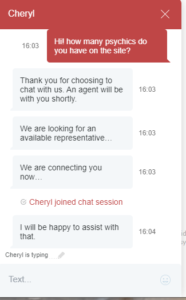 Over at AskNow, I found it a bit weird that there's no Contact section (and the link I found in the footer was broken), but then I found the customer support details in the FAQ section:
That's email, a toll-free number and even a mailing address!
I like that both sites have a direct contact option, which is staffed by a human. I think I slightly prefer the live chat function, however, and so am giving this round to Psychic Source.
Winner: Psychic Source
AskNow vs Psychic Source: The Verdict
I really enjoyed both AskNow and Psychic Source, but for different reasons.
AskNow is much more niche and smaller, and I think it would be a great introductory psychic reading site for either newcomers to psychic reading, or those looking for a really in-depth reading about one of the site's specialisms.
Psychic Source is a much larger site, with more specialisms and therefore a bigger range of options – I think it would be an ideal place for customers who have experienced psychic reading services online previously, and are looking to branch out a little.
Winner: Psychic Source for those more experienced with psychic reading services online
AskNow for the more niche psychic reading experience, or newcomers to psychic reading sites