When your path feels a bit foggy and you need the help of a trustworthy guide, a clairvoyant psychic can bring you the clarity you're after. Whether it's doubts about love, life, or career, a skilled clairvoyant can tap into the spirit realm to help you take that brave next step. However, it can be hard to know where to start and you may have doubts about find one that'll match your vibe and needs.
This is why I've tested several sites and rounded up the ones with the best clairvoyant psychics. I've also made sure they're affordable and above all legitimate so you can focus on getting answers to your questions.
My top pick would be Jacqueline from California Psychics. She made me feel at ease and had a very gentle, reassuring vibe. But even if she isn't suitable for you, there are plenty of other experts available (and you can definitely find the one whose reading style suits you). Right now, California Psychics is offering discounts for $1, $2, and $4 per minute sessions so you can test it out and you can even get your money back if you're not satisfied.
In a rush? Here Are My Top Clairvoyant Psychic Picks
California Psychics — Best overall for its wide variety of gifted and accurate readers with over 300 clairvoyants to choose from.
Purple Garden — Ideal for niche situations because of clairvoyants with a range of specialized skills like "twin flame" specialist.
Keen — Great for its reliable pool of clairvoyant psychics that have been on the site for 15+ years.
Psychic Source — Best for connecting with clairvoyants that incorporate a range of psychic tools like tarot and oracle cards.
Path Forward — Great for it's selection of clairvoyants with a range of styles like compassionate, direct, or inspirational.
Best Sites for Clairvoyant Psychics in 2023 — Full List
To ensure that you're sticking to reliable and trustworthy options, I've put together a comprehensive list of the top sites for clairvoyant psychics. I suggest consulting the following options so you can ensure you have a positive experience and can go into your reading at peace.
1. California Psychics — Best Overall for Clairvoyant Psychics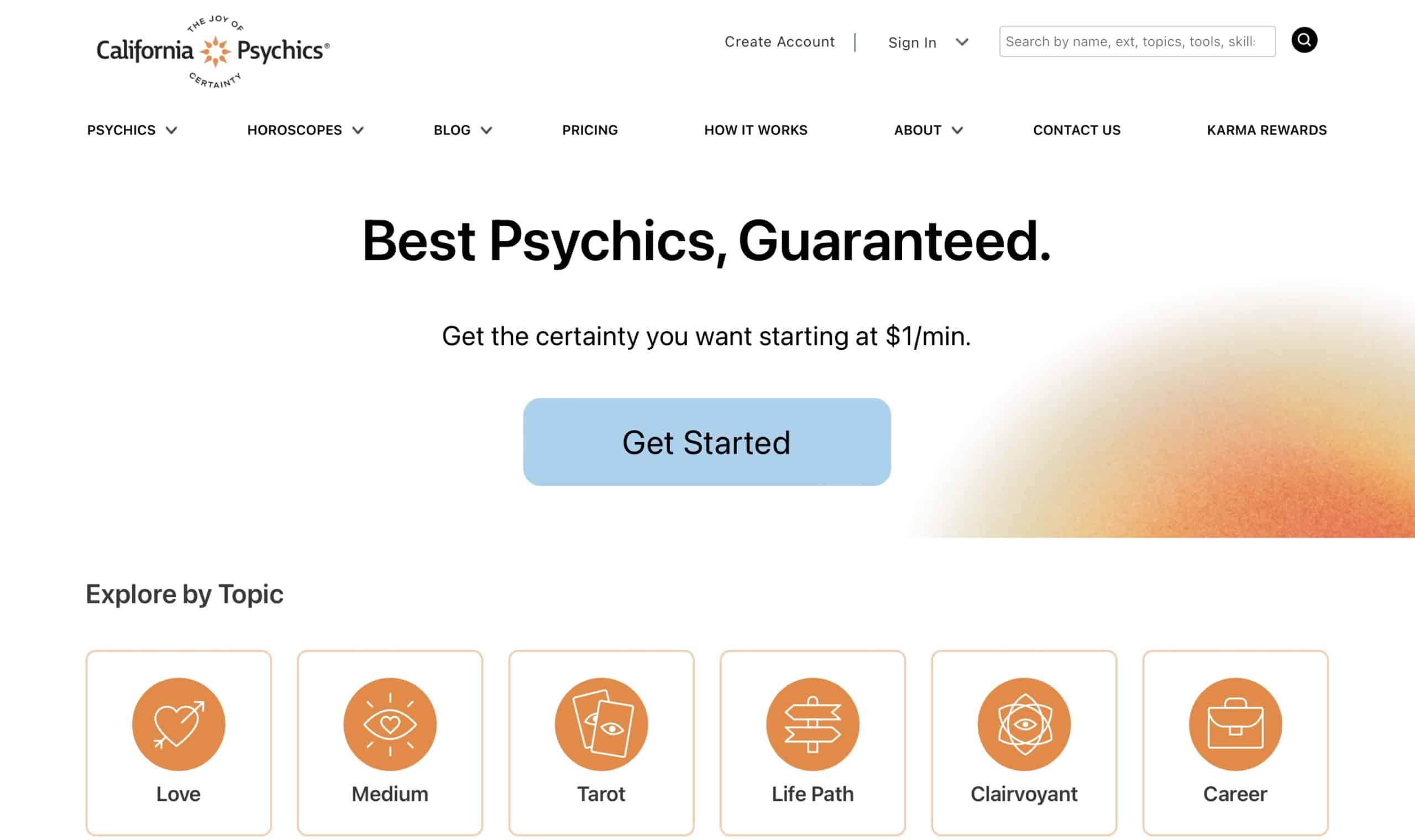 300+ clairvoyant psychics
Accepts 2% of applicants
$1, $2, or $4 per minute
Worthwhile rewards program
Psychic match tool
California Psychics tops my list because of the variety of its clairvoyant psychics. With 300+ quality clairvoyants available, you can find a reader that meets all your needs. For example, if you're after a clairvoyant that uses Tarot and has 30+ years of experience, you won't have an issue finding plenty of options.
I also recommend California Psychics because of its commitment to a rigorous screening of psychics. The site requires a thorough evaluation of each clairvoyant's skills and only accepts 2% of all its applicants. So, you can get a clairvoyant reading done on California Psychics and feel at ease knowing each reader meets its high standards.
Additionally, California Psychics has one of the most worthwhile rewards programs I've seen. When you join its Karma Rewards program, you'll receive a $20 credit, an astrology birth chart report, and earn points on each reading. Its rewards program will be worth it for the long run if you're hoping to receive continuous clairvoyant insights.
While it can be time-consuming to browse for a clairvoyant on California Psychics, you can use its psychic match tool to save time. With the tool, you'll answer a quick quiz on your topic of interest, preferred style of reading, and the primary psychic gift. From there, you'll narrow down options and get to connect with a psychic in a timely manner.
2. Purple Garden — Connect with Clairvoyants via Chat, Call, or Video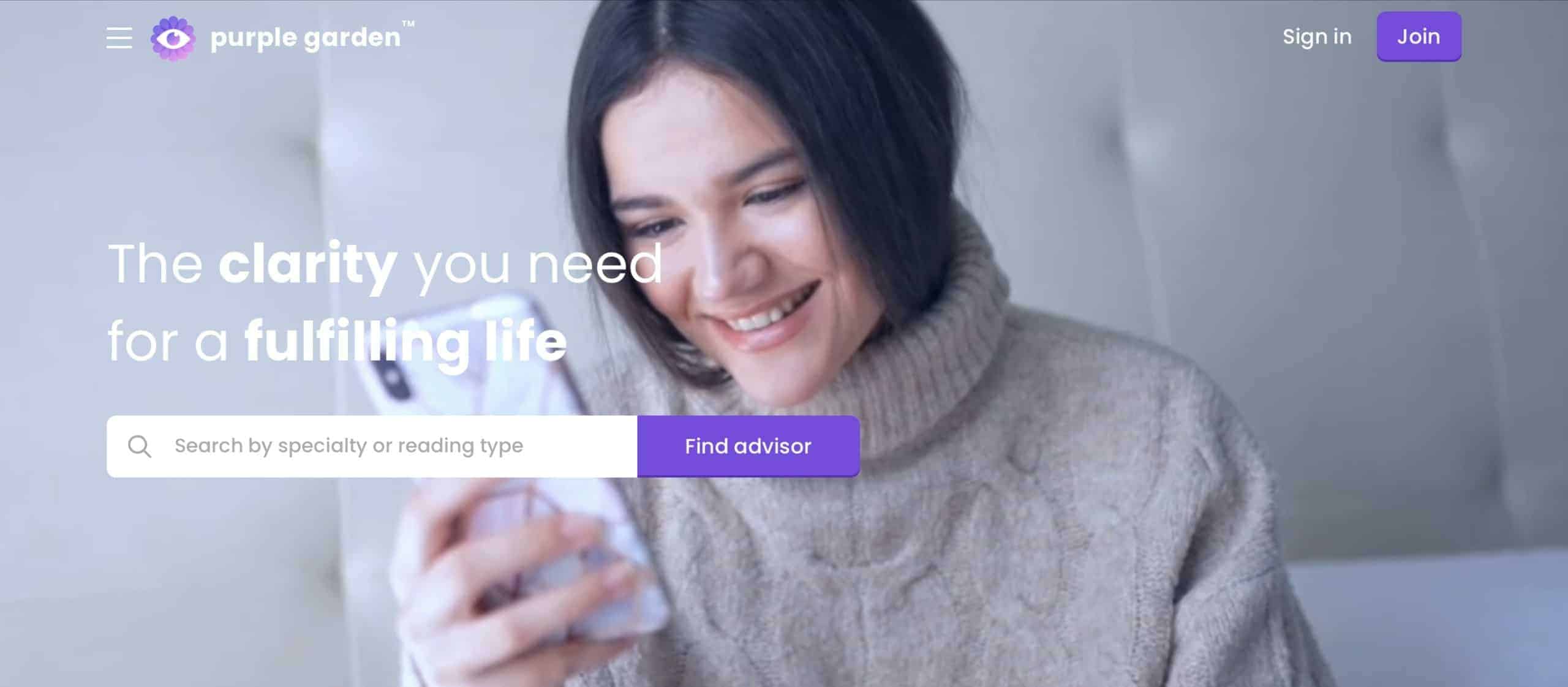 $10 towards your first reading
Top Accuracy badges
Videos on clairvoyants' profiles
Journeys community feature
Flexible contact methods
Receiving a clairvoyant reading on Purple Garden is flexible due to the variety of reading methods offered. You can select between a live chat, phone call, or video session and get clairvoyant guidance in the way you feel most comfortable. Having the freedom to select the contact method will boost the odds of you feeling content with your session.
I feel at ease connecting with a clairvoyant on Purple Garden because of its Journeys feature. Journeys is a thread-board style feature that allows users on Purple Garden to post about their situation and their first-hand experiences with certain psychics. Not only does it offer a sense of community, but it has the benefit of personalized recommendations you can trust.
A benefit to getting a reading on Purple Garden is that each clairvoyant has an introduction video on their profile. Since reading through several bios can get exhausting, the videos offer a quicker alternative that still allows you to learn about the reader. Ultimately, this allows you to verify that the clairvoyant has the experience you want without wasting your energy.
Something to consider about Purple Garden is that it doesn't offer discounted or free minutes like other sites. But you'll get $10 for joining and qualify for 2% cashback on every reading you get. I personally find this to be a great option for long-term savings since you'll be earning money back every time you connect with a clairvoyant.
3. Keen — Narrow Down Clairvoyant Psychics With Its Search Filters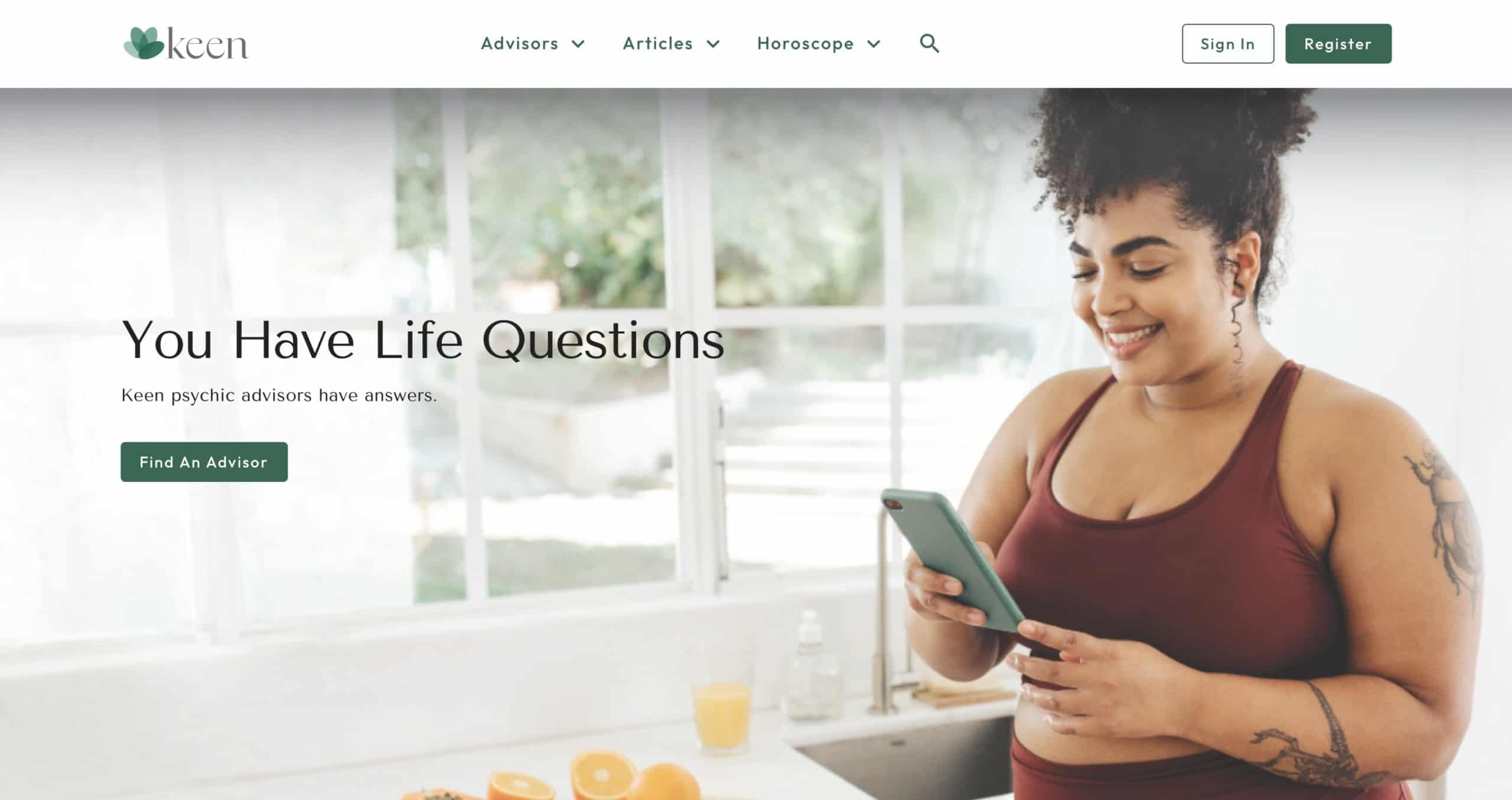 Email clairvoyants before booking
Helpful search filters
5 minutes for $1
Top rated psychics
Convenient mobile app
The best thing about Keen is its detailed search filters that help you find your ideal clairvoyant psychic. You can filter your search based on price, skills, specialties, tools, availability, and conversation type. Having this option is ideal because it ensures that you don't get excited about a clairvoyant that may not match your availability.
I value that Keen gives you the option to email the clairvoyants you're considering without having to book a session. And while you should only use this feature for general inquiries, it serves as a great tool to get answers to any doubts you may have. In case you have a very specific situation, you can ask the psychic if they feel they can assist you properly.
Something that should reassure you about Keen is that the majority of the clairvoyants have a 4.7+ star rating. You'll also notice that even with these psychics having thousands of readings under their belts, they've still maintained such high ratings. To me, this is a positive indicator that the platform is offering quality services.
Although Keen doesn't offer video call sessions, it offers the convenience of chat and call readings via its mobile app. The benefit of this is that you can access a clairvoyant's advice, whether it's last minute or when you're on the go.
4. Psychic Source — Chat with Experienced Clairvoyants of 20+ years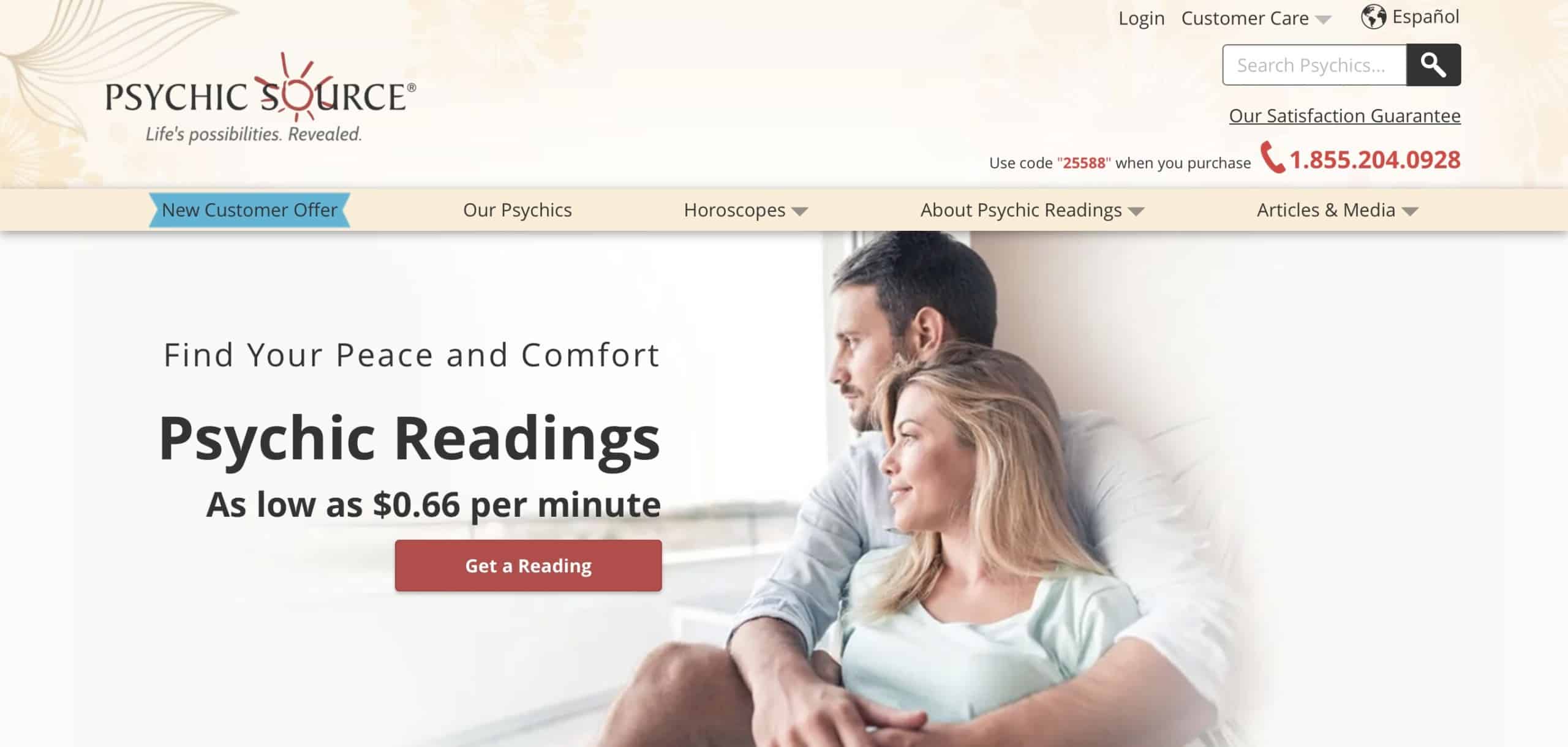 $0.66 per minute + 5 minutes free
Impressive customer support
30+ years in business
Experienced clairvoyants
% of proceeds go to charity
Psychic Source is a solid option if you're set on connecting with an experienced clairvoyant psychic. This is because Psychic Source has been around for over 30 years, and with that comes devoted psychics that have been on the site for just as long. All in all, connecting with one of its experienced clairvoyants feels reassuring.
I find the variety of options to contact Psychic Source's customer support to be impressive. Psychic Source is one of the only sites that offer live chat, call hotline, email, and a FAQ page for customer inquiries. To me, this is a clear sign that you won't be left high and dry if you need help sorting out an issue with your clairvoyant reading.
Additionally, Psychic Source has the lowest rates for its new customers from the options on this list. As a newbie, you'll qualify for its rate of $0.66 per minute plus 5 free minutes. This deal is best if you're on a budget but want to be able to get a substantial session in with a clairvoyant.
It's quite apparent that the site's interface has an outdated feel and isn't as aesthetically pleasing as its competitors. However, I've never had any technical issues with Psychic Source and can easily connect with a clairvoyant without glitching or lagging.
5. Path Forward — Clairvoyant Readings With Satisfaction Guarantee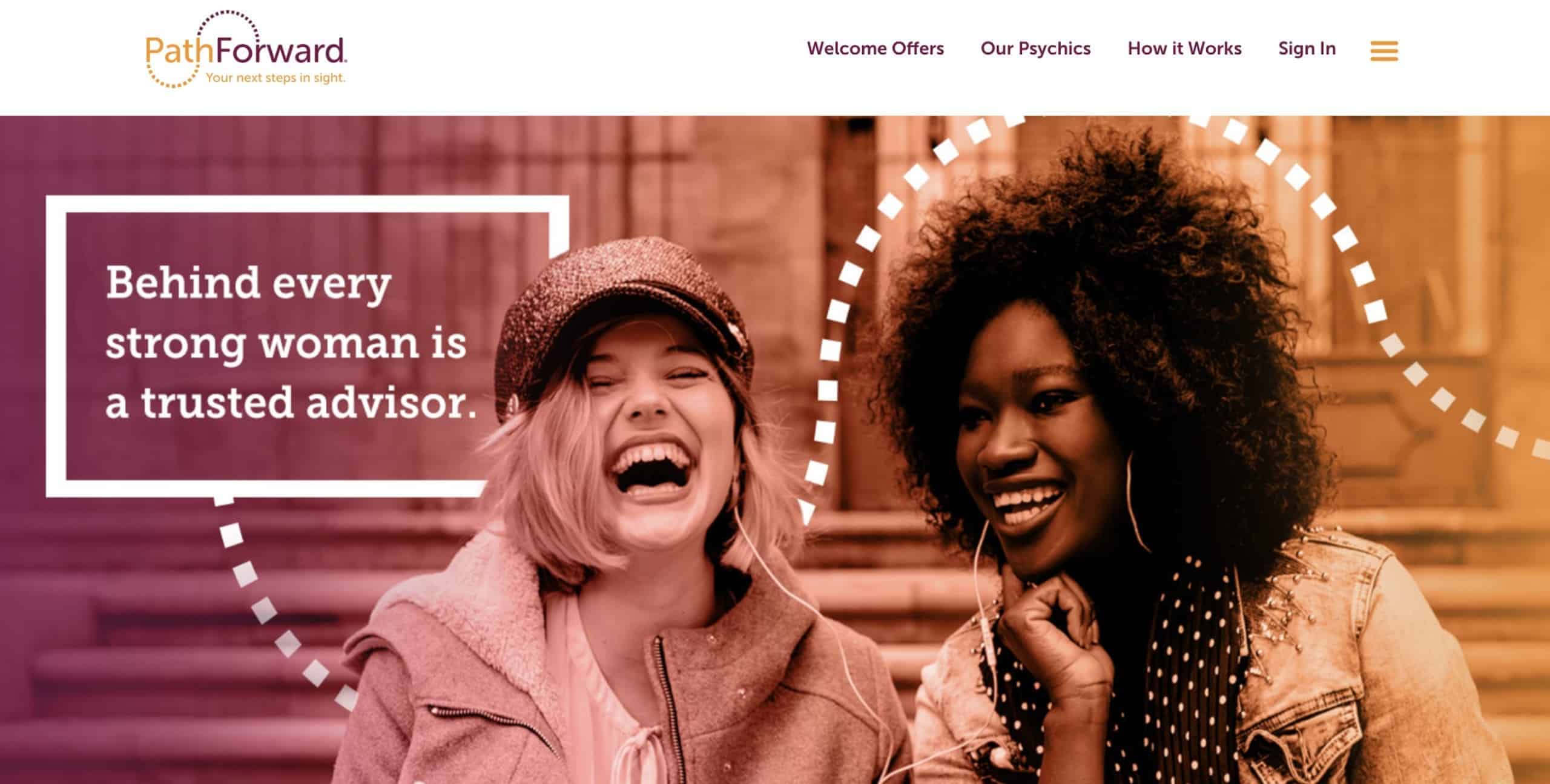 Rigorous screening of clairvoyants
Satisfaction guarantee
Scheduling available
Large selection of reading tools
Audio messages on profiles
For total peace of mind, I'd recommend Path Forward for a clairvoyant reading since it offers a satisfaction guarantee. In the rare event that you're unhappy with your session, it'll waive the cost of your reading. This policy ensures that even if you feel let down, you can reconnect with another clairvoyant without paying extra.
I like to use Path Forward when my calendar gets busy because it allows you to schedule your reading in advance. This feature is useful when you don't have the time to wait around for your clairvoyant to become available. And having your reading time and date in order can help you avoid rushing so you're in the right mindset before your session.
An additional perk to Path Forward is that it has a wide selection of psychic tools to choose from. You can filter for Clairvoyants that work with ancestors, angels, astrology, cards, crystals, numerology, and much more. Having additional specialties to pick from makes your reading unique and adds more depth to the insights you get.
You'll notice that Path Forward has a limited amount of clairvoyant psychics to select from. But this is largely because the site is very selective of its psychics, which assures you of an experienced pick regardless.
Comparison: Best Clairvoyant Psychic Sites
| | | | | |
| --- | --- | --- | --- | --- |
| Site | Introduction Offer | Number of Clairvoyants | Reading Methods | Satisfaction Guarantee |
| California Psychics | $1 per minute | 300+ | Live Chat & Phone | Yes |
| Purple Garden | $10 for joining | 200+ | Live Chat, Phone, & Video Call | No |
| Keen | 5 minutes for $1 | 200+ | Live Chat & Phone | Yes |
| Psychic Source | $0.66 per minute + 5 minutes free | 100+ | Live Chat, Phone, & Video Call | Yes |
| Path Forward | $0.83 per minute + 5 minutes free | 30+ | Live Chat & Phone | Yes |
Tips on Choosing the Best Clairvoyant Psychic Sites
With many worthwhile options for a clairvoyant reading, it's important to evaluate what each site offers you. That way, you can better determine which one meets your needs and make a confident decision.
1. Ensure Transparency
The level of transparency in a clairvoyant reading site is essential for verifying its authenticity and credibility. A transparent site can make you feel more comfortable, as it reduces the risk factor. This comfort can boost your chances of obtaining accurate, reliable and insightful readings.
The most important thing to check is the site's level of transparency about its costs. Look for information on refund policies, cancellation policies, and any guarantees they offer. From my experience, credible sites are usually upfront about their pricing and provide clear guidelines for refunds or dispute resolution.
Additionally, a transparent site should provide accessible ways for you to contact its support team. This allows you to reach out to the site in case you have any issues. Beyond that, it's crucial to look for indications that the site is responsive and provides reliable customer support.
2. Look at New Client Promotions
As a new client, you need to be keen on what the psychic site is offering you and for how much. I suggest that you compare new client promotions so you can make the best financial choice based on your budget. Doing so enables you to explore cost-saving opportunities, evaluate service quality, and ultimately select a site within your means.
The best offers will typically include a free trial period or discounted per-minute rates, and I suggest these because you can test out a clairvoyant without the high cost. This gives you the opportunity to connect with a clairvoyant psychic, evaluate their abilities, and determine if the platform offers good quality before committing to their regular rates.
Further, take preference to sites that offer bonus minutes in addition to discounted rates. This additional time allows for more in-depth reading and gives you the opportunity to address multiple questions or delve deeper into specific topics. The extra time will ultimately enhance the overall value and depth of your time with the clairvoyant.
3. Browse the Quality of Clairvoyants
Looking into the quality of clairvoyants on a site can help you decide if a particular site is offering you worthwhile services. Additionally, checking the caliber of a site's psychics boosts your odds of receiving accurate messages and a satisfactory experience.
Firstly, I suggest reading through the bios of each of your options and paying attention to the clairvoyant's credentials, experience, and delivery style. A reputable clairvoyant will be transparent about their qualifications and will showcase their expertise and years of experience.
Secondly, take some time to ensure that the site is displaying authentic feedback from previous clients. Browsing through a platform's reviews and testimonials provides valuable insights into the skill level of their clairvoyants. Consider both positive and negative reviews to gain a comprehensive look into what you can expect.
4. Evaluate Convenience
Now, it's always wise to evaluate the convenience that one psychic platform offers compared to another. Your definition of convenience may not be the same as mine, but you should get clear on this to make your decision easier.
Since virtually everyone uses a phone nowadays, you should check if the clairvoyant site is mobile-friendly and compatible with different devices. An additional perk is the option to download a free mobile app since this offers you a speedy way to get in contact with a clairvoyant psychic. This may be of great importance if you tend to travel a lot.
On a separate note, a site that has a worthwhile rewards program adds a lot of convenience for long-term use. These programs may provide discounted rates, bonus minutes, or exclusive perks for being a loyal customer. They also allow you to build a relationship with a trusted clairvoyant over time while enjoying ongoing benefits and savings.
5. Narrow Down Your Needs
By narrowing down your needs and preferences, you can prioritize sites that align with the experiences you seek. Take time to reflect on your personal objectives and what you hope to gain from a clairvoyant reading. This could include a variety of contact methods, special features, or even a unique selection of psychic tools.
For example, if you're interested in Runes and would like to find a clairvoyant psychic that uses them, make sure the site you choose offers it as a psychic tool. It can be helpful to decide if you have a preference for a specific reading style or if you are open to different approaches.
Also, you should decide whether you'd like your clairvoyant reading to be more intimate or whether you appreciate your privacy. In case you strongly prefer the former, you'll need to choose a site that offers video readings. The ability to choose the communication method that suits your preferences allows for a more personalized experience.
FAQs on Clairvoyant Psychics
What's the difference between a psychic and a clairvoyant psychic?
The terms psychic and clairvoyant psychic are often used interchangeably, but there is a subtle distinction between the two. The term psychic refers to an individual who has the ability to tap into and access information beyond the physical senses. A clairvoyant psychic is a subset of psychics that possess the ability of clairvoyance, which means "clear seeing."
Before you book a session on a psychic site, make sure that the platform is transparent about the types of readings it offers. It can be of concern if the site you're looking into doesn't differentiate between psychic readings and clairvoyant readings, as this is important information to have.
How accurate are online clairvoyant psychics?
The accuracy of online clairvoyant psychics can vary from individual to individual and depends on several factors. The level of accuracy can be influenced by the natural psychic ability and skill of the clairvoyant, as some have a stronger connection to their intuitive abilities than others.
Additionally, to ensure accuracy, make sure to connect with a clairvoyant psychic from a credible site. Unfortunately, there are many websites that claim to deliver a certain type of service but are illegitimate. So, to ensure that you're connecting to a trustworthy clairvoyant, you should get recommendations from a trustworthy source.
What topics can you discuss with a clairvoyant psychic?
You can discuss a wide range of topics with a clairvoyant psychic, as they're typically adept at providing intuitive perspectives on various aspects of life. Some common topics you can consider are love and relationships, career, life path, and spiritual development. However, you aren't limited to inquiring about only these topics.
But, make sure to evaluate your clairvoyant's area of expertise before you pay for a session to avoid disappointment. Since every clairvoyant psychic is different, you may not get the quality of insights you're after if they aren't well-versed in a specific topic.
Bottom Line
Deciding on the best psychic site for a clairvoyant reading can be nerve-wracking, considering the number of online scams that are around. But even if you're sure the site is legitimate, you may still have a hard time choosing the best one for your needs. So, consulting a credible source for tested options can save you a lot of time and anxiety with your search.
After testing numerous psychic sites, I recommend California Psychics as the best option for a clairvoyant reading. It lets you choose from a wide pool of screened clairvoyants and provides a satisfaction guarantee, which protects you from bad experiences.
To summarize, the best clairvoyant psychic sites are…