While free tarot services exist and are likely more attractive, they don't always offer reliable or accurate advice. But, there are some high-quality sites that offer free incentives if you'd like to test the waters first. To save you time, I've tested several options where you can get a trustworthy free tarot reading.
Whether you're on a budget or just hesitant to spend money on an online tarot reading, I've only selected platforms that offer free readings. That said, the best site for online tarot readings is Keen. The site offers you the first 5 minutes for $1 with a tarot reader of your choice and the majority of its advisors have exceptional experience.
In a Rush? Here Are My Top Sites for a Free Tarot Reading
Keen — Receive the first 5 minutes of your tarot reading for only $1.
Kasamba — Get 3 minutes free and test up to 3 tarot readers.
PathForward — Explore its competitive rate of $0.83/min + get 3 minutes for free.
Psychic Source — Save with its low rate of $1/min + get 3 free minutes.
Purple Garden — Enjoy a $10 credit towards your first tarot session.
Best Sites for a Free Tarot Reading in 2023
I've vetted and reviewed only the best sites for an affordable tarot reading. You can count on receiving heavily discounted minutes, additional free minutes, and a satisfaction guarantee so you stay protected.
1. Keen — Get A Heavily Discounted Tarot Reading of 5 Minutes for $1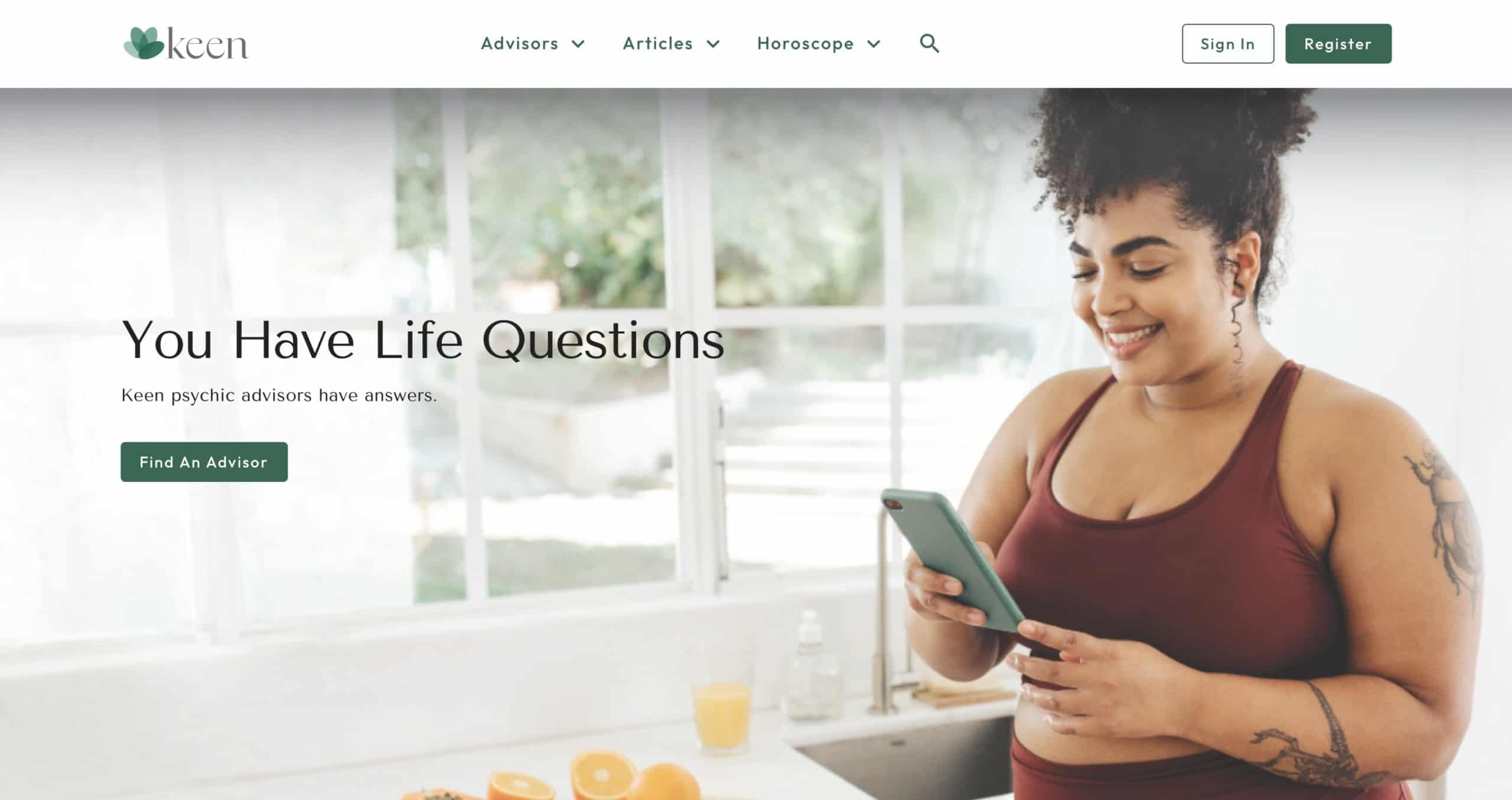 250+ tarot readers
5 minutes for $1
$25 in Keen credits for refunds
Contact readers before booking
Live chat & phone readings
While Keen's introduction offer doesn't include free minutes, it's so close to being free I couldn't skip it. As a newbie you'll receive your first 5 minutes for only $1 and get to connect with some of the best rated readers available. If you'd like to go over the 5 minutes, you can find plenty of tarot advisors that offer readings at $1.99/min.
As I was evaluating its roster, I felt reassured that many tarot readers have been on the site since the early 2000s. Take MysticalcraftArriana for an example, a tarot reader that's been on Keen since 2001 with over 45,000 reviews. I was blown away when I noticed despite all these reviews that she's maintained a 5.0 star rating.
I wanted to chat with Keen's customer support to test the response rate. Although it was late at night, I received a prompt response within an hour thanks to its 24/7 support. This is a plus because you can get in contact with a psychic at all hours of the day and night, so if something were to go wrong, you don't have to worry about being left hanging.
Although a minor downside is that Keen's offer isn't technically free but from the quality of my experience, it's worth it. I went into my session with specific criteria, like wanting a tarot reader that was also a medium with a specialty in family and friends. Because Keen has so many filter selections, I was able to find the reader I wanted and felt fulfilled by my reading.
2. Kasamba — Receive 3 Minutes Free With Up to 3 Tarot Readers

200+ tarot advisors
3 minutes free with first 3 readers
Refunds available
Niche reading options
Live Chat, phone, and email readings
When I was reviewing Kasamba's tarot services, it was beneficial to have the freedom to shop around for free before committing to a reader. Being new to Kasamba will land you 3 free minutes with up to 3 new tarot readers. That way, you don't have to stress out about making an immediate decision and get to try all of your top picks.
A major reason why Kasamba made the runner up on my list is because of its affordable regular rates. I was impressed to see rates at $1.99/min with readers that have over 8,000 positive reviews. So after you're done with your free minutes, you can continue getting tarot guidance without breaking the bank.
When looking further into Kasamba's track record, I couldn't believe it celebrated 20 years in 2020. When getting free readings, a site's background can be a deal breaker so it's comforting that Kasamba has been in business so long. From my experience as a tarot reader, I know that any low-quality platforms don't stay around for long.
Although the layout on Kasamba is a little outdated, it doesn't lack a variety of tarot readers. You can select from over 200 tarot readers and they're not inexperienced either. If you browse through several profiles, you'll notice that many tarot advisors have over 25 years of experience reading which means your free reading will be worthwhile.
3. PathForward — Connect with a Reader for $0.83/Min + Get 3 Mins Free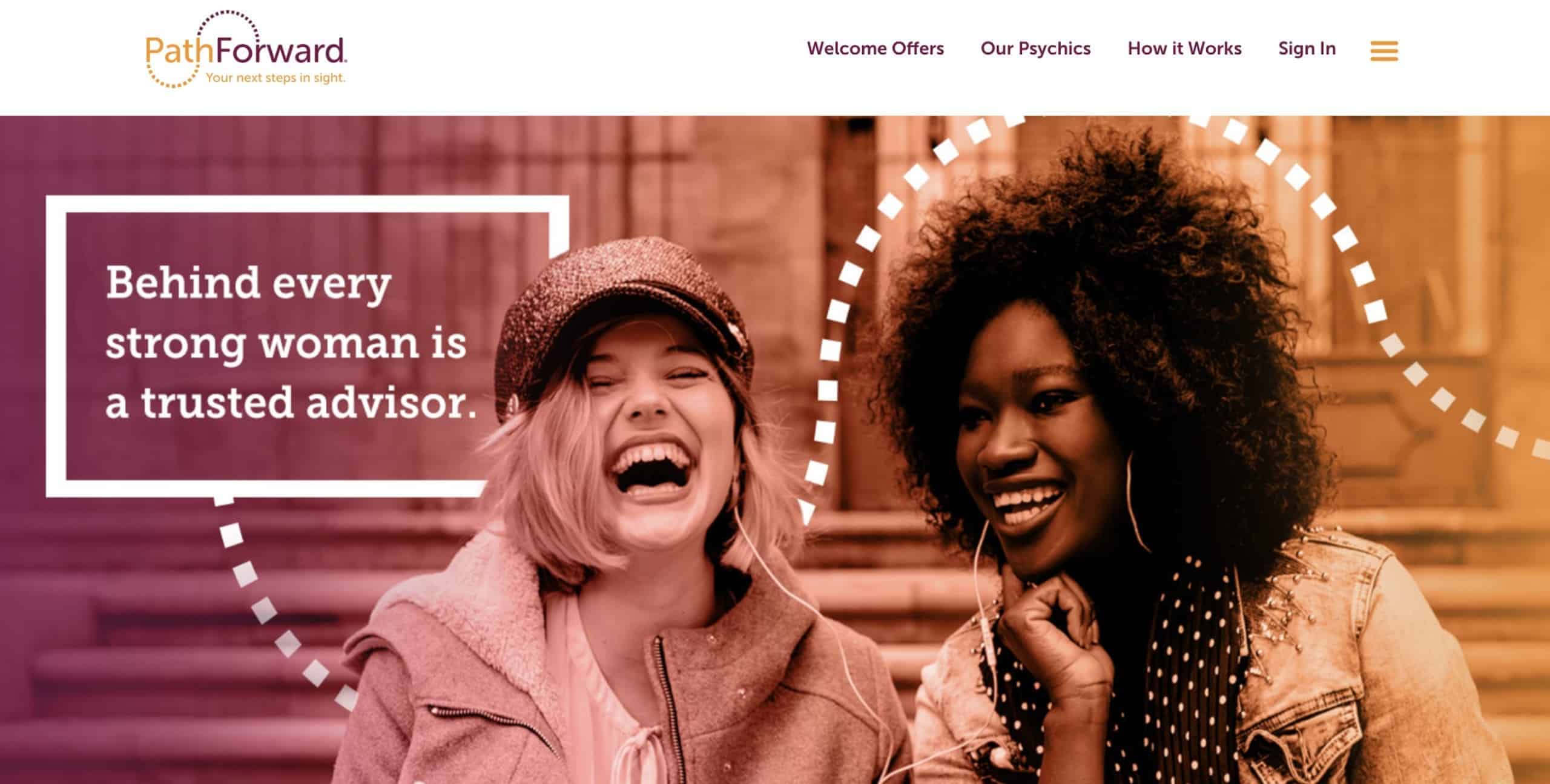 30+ tarot readers
$0.83/min + 3 minutes free
Satisfaction guarantee
Live support available
Chat & phone readings
Psychic Source and PathForward are sister companies which means they share many similarities. However, if you're on a strict budget PathForward is better because of its offer of $0.83/min + 3 minutes free. The only downfall is that PathForward has fewer tarot readers but I personally tend to prefer its more intimate roster of options.
The regular rates on PathForward also start at $4.99/min but from what I've noticed, the majority of tarot readers are at this rate. So, regardless of a reader's experience you won't have to worry about paying outrageous rates. You can connect with an advisor with over 40 years experience and won't come close to paying what you would on other platforms.
While testing the site, I liked that I could use the new client promotion to get a discounted reading with a top rated advisor. I had my tarot reading with Mayhayley and it solidified my hunch that the readers on PathForward are the real deal. I didn't have to give her any details about my situation because it was like she already knew what was going on.
4. Psychic Source — Benefit from 3 Free Minutes & Discounted Rates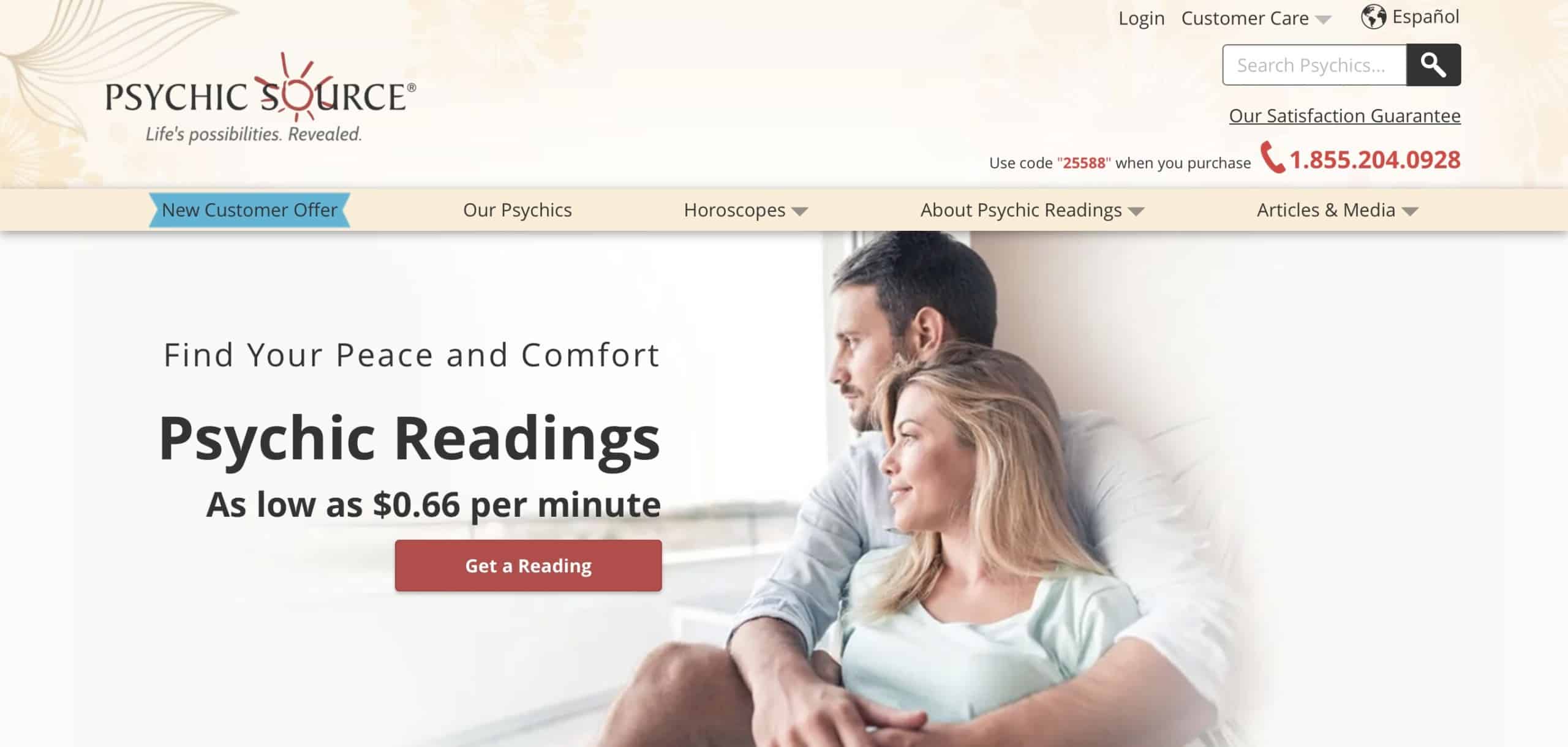 220+ tarot experts
$1/min + 3 minutes free
100% money-back guarantee
Live chat, phone, & email support
Chat, call, & video calls
Psychic Source offers 3 free minutes for newcomers but the catch is that you have to pay for a discounted per minute package to get them. However, it doesn't feel like a rip off because you get up to 33 minutes for only $30. I find the rate worth it because you get a substantial tarot session that won't feel rushed without blowing your budget.
The lowest rates on Psychic Source start at $4.99/min which is a little higher compared to other options. But, similar to Keen I noticed tarot readers that have been around for 20+ years. I actually connected with one of these advisors and was overwhelmed by the amount of details they knew about my situation.
While browsing through a reader's reviews, I couldn't believe how many reviewers were long-term clients. One reviewer mentioned that they had been going to this one tarot reader for over 3 years which told me Psychic Source is delivering exceptional services. Although the website isn't the most aesthetic, I was satisfied with my personal experience.
5. Purple Garden — Enjoy a $10 Credit For Your First Tarot Reading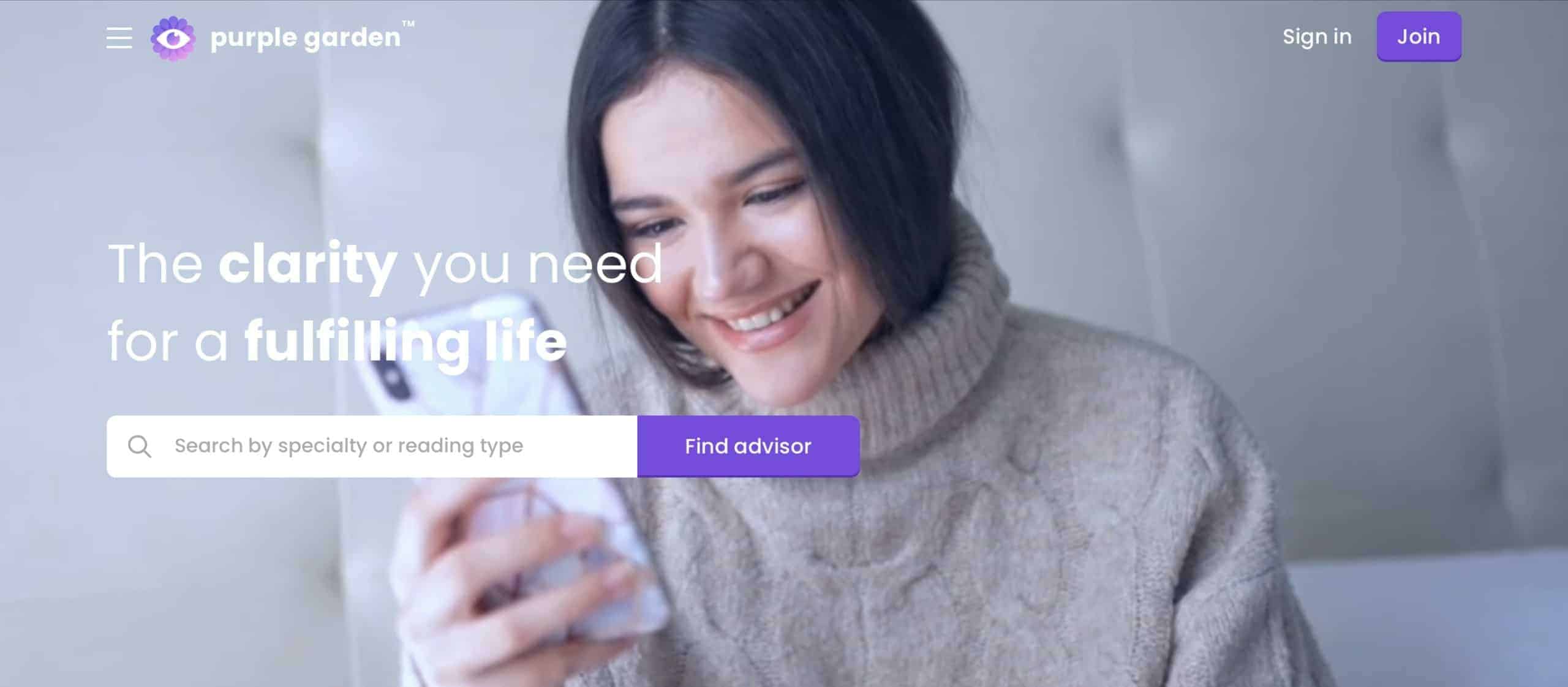 250+ available tarot readers
$10 for your 1st session
Can request refunds
Journeys community feature
Chat, phone, & video calls
Purple Garden has a generous introduction credit of $10 that you can put towards your first reading. The regular rates are attractive as well since they start at $0.99/min. And, you can even get 2% cashback on all purchases which is beneficial if you'd like to develop a long-term relationship with a tarot reader even if you're on a budget.
Much like Keen, there are over 200 tarot readers to select from and the majority seem to be very helpful. For instance, Mel's Divination who reads for Purple Garden had clients raving about her tarot insights. One person said they felt well connected during the reading and that she was really in tune with their questions.
It also has an app that grants you access to unique features like Purple Garden's Journeys. The Journeys feature is in thread-board style and is designed to help you find support from others in similar situations. When difficult times hit it's normal to feel alone with your problems, but having community support can bring a sense of renewed faith.
I noticed that many tarot readers on Purple Garden have long bios that can take a while to read. While it's great they're detailed about their experience, it can get a little frustrating. But, I feel the introduction videos on profiles help you get a better feel for a reader's energy and this helped me find a tarot reader I really vibed with.
Comparison: Best Sites for Free Tarot Readings Online
| | | | | |
| --- | --- | --- | --- | --- |
| | Introductory Offer | Number of Tarot Readers | Reading Methods | Satisfaction Guarantee? |
| Keen | 5 minutes for $1 | 250+ | Chat & Call | Yes |
| Kasamba | 3 minutes free with 3 new advisors | 200+ | Chat, Call, & Email | Yes |
| PathForward | $0.83/min + 3 free minutes | 30+ | Chat & Call | Yes |
| Psychic Source | $1/min + 3 free minutes | 220+ | Chat, Call, & Video | Yes |
| Purple Garden | $10 credit | 250+ | Chat, Call, & Video | Yes |
How We Ranked the Best Sites for Free Online Tarot Readings
​​Navigating the realm of free tarot services can be a mixed bag, especially when discerning genuine offers from those riddled with hidden fees or questionable intentions. To provide you with reliable and trustworthy recommendations, we've chosen the sites on our list based on the following criteria.
Genuine Free Offerings
At the heart of our evaluation is the genuine free experience. Each site we've picked promises readings without the constraints of hidden costs or obligatory upsells. We feel that free offerings should never come with hidden strings attached. So, our suggestions allow you to immerse yourself without later feeling cornered into making payments.
Authenticity and Quality
Free should not equate to inferior quality. We've tested these platforms to guarantee that they provide authentic and insightful readings. Beyond the gloss and graphics, we assessed the depth and clarity of the tarot interpretations provided, ensuring they bring meaningful revelations to the forefront.
User Feedback and Testimonials
The real experiences of other clients matter greatly. We've delved into user reviews and testimonials to confirm that many users, like yourself, have derived significant value from the free readings on these sites. Their collective voices, both praises and concerns, played a crucial role in shaping our recommendations.
Data Privacy
In today's digital landscape, the importance of data privacy cannot be overstated. Because of that, we knew sites with stringent data protection standards were a must. After all, you shouldn't have to trade your privacy in for a free reading. We sought platforms with clear privacy policies in place to ensure your personal information remains confidential.
Intuitive User Experience
Navigating a tarot site should be a smooth journey. An intuitive platform not only enhances the experience but allows for deeper engagement with readers. We evaluated the design, layout, and ease of use of these platforms, considering how they facilitate an uninterrupted focus on the tarot reading process.
The Advantages of Getting an Online Tarot Card Reading
Convenience and Accessibility — One undeniable advantage to online tarot readings is the convenience factor. You don't need to travel, schedule appointments, or fit into a reader's physical hours. Plus, you can get advice from wherever you may be.
Variety of Choices — Online platforms often host a multitude of readers with various specialties, backgrounds, and styles. This diversity allows you to find someone whose approach resonates deeply with you, rather than being limited to the few options in your locality.
Privacy and Discretion — For those who prefer to keep their spiritual journeys private, online readings provide a discreet environment. No need to worry about bumping into someone you know or explaining where you've been.
Consistent Comfort — Engaging in a reading from the comfort of your familiar space can enhance your ability to open up and connect with your reader. Familiar surroundings often foster a deeper sense of relaxation and receptivity.
Ease of Record Keeping — Online readings often come with the option of transcripts, recordings, or written summaries. This means you can revisit the insights and advice as often as needed, ensuring that you truly absorb and integrate the guidance.
Tips To Select the Best Site for a Free Tarot Reading
To get the most out of your tarot reading experience, it's essential to come prepared and well-informed. This guide will help you choose the most suitable platform for your needs, saving you both time and energy.
1. Check the Legitimacy & Benefit of Its Offer
A reputable website will always clearly communicate its offers for new users, and any site that doesn't should be considered suspicious. Promotions for new clients should be prominently displayed on the site, with no need for you to search extensively, as trustworthy websites will automatically apply promotions to your initial reading.
Always select an offer that's compatible with your budget and needs. For example, heavily discounted minutes are worthwhile if you can spare a few bucks and would like a substantial reading right off the bat. Whereas free minutes may offer shorter readings but you can test a site's tarot services without risk.
2. Investigate the Quality of Advisors
You can tell the quality of a website's advisor by examining their vetting procedures and feedback in the review sections. To illustrate, an excellent tarot website will implement rigorous evaluation methods. The most dependable platforms will demand candidates to demonstrate their skills through a live interview and provide evidence of their relevant experience.
Additionally, high star ratings and a plethora of positive feedback from clients is a good sign. Avoid sites that hide reviews or that offer a limited peek into the satisfaction rate of users. Platforms with legitimate tarot readers will be more than happy to display the high quality choices available.
3. Evaluate Its Client Protection
Check that platform has a satisfaction guarantee policy or at the very least, investigate the refund process. A loud and clear 100% satisfaction guarantee policy is always best and you should avoid any platforms that make it difficult to figure out their return policy. Transparency is key when choosing the best site for a free tarot reading.
Beyond its policy, ensure the site's customer support is readily available. It should be easy to find the site's contact page in case something goes wrong. Opt for platforms with live chat support or a hotline, as it's easier to get help and feels more secure.
4. Explore Its Convenience Level
Convenience can mean different things for everyone but for instance, the availability of a mobile app may be something you need. The flexibility of an app will come in handy during busy travel months or if you're someone that does everything on your phone. Look into what each platform offers and base your decision on the one that makes your life easiest.
Scheduling features can also be beneficial when you're concerned about waiting around for readers. That way, you can schedule the reading into your own calendar and avoid added frustration when you need advice the most.
5. Look For Preferred Features
Before selecting a platform, get clear on what you're looking to get out of your reading. For example, if you know you want a video reading make sure that the site you're considering has that feature. I find that going in with a checklist of preferences can help narrow down the options that will lead to a fulfilling tarot reading.
3 Things to Avoid When Getting a Tarot Reading Online
1. Being Closed Off
While it's wise to approach any online service with discernment, approaching a tarot reading with a closed mind can cloud your reader's interpretation. It's essential to find a balance between open-mindedness and critical thinking. Let the reading unfold, and try to internalize messages without dismissive preconceptions.
2. Repeating the Same Question
It can be tempting to keep asking the cards about the same concern in hopes of a desired
answer, especially when it's accessible and free. However, repeating the same question can be disrespectful to the practice. It's best to take a step back, reflect on the reading, and perhaps revisit the question after some time has passed.
3. Sharing Too Much Information
While most genuine tarot sites won't ask for too much personal information, always be wary of sharing unnecessary details. Tarot readings typically focus on energy and intuition, not on specific personal facts. Not only do you want to avoid bias from your reader, but you never want to share things like credit card information during a reading.
FAQs on Free Tarot Readings
What is a tarot card reading?
Tarot is a form of divination that uses a 78 card deck where each card has unique symbolism and meaning. Readers draw cards and interpret them based on their positions and relationships to one another. The practice is rooted in centuries-old traditions, aiming to provide guidance, clarity, and insights into various life aspects.
Thanks to our digital era, you can get a genuine tarot reading from the comfort of your home. There are plenty of credible sites that offer tarot readings for affordable rates, especially if it's your first reading. That way, if you've never had a tarot reading you can decide if it's for you without the risk of spending money and regretting it.
What kinds of topics can you discuss during a tarot card reading?
Tarot card readings offer insights across a wide range of life's aspects. Common topics include love and relationships, career progression, and personal growth. Many also turn to tarot for guidance on decision-making or understanding emotional challenges. It's a tool for reflection and insight, adaptable to nearly any question you might have.
But, be sure you don't make any rookie mistakes during your first tarot reading. Aside from that, always double check with your reader if there are certain topics they aren't willing to discuss. Some tarot readers don't feel comfortable giving advice on medical issues or legal matters since there are dedicated professionals you should be consulting instead.
How accurate are free tarot readings?
Free tarot readings can be very accurate and helpful if you consult with a reputable reader. I always recommend that you evaluate any potential psychics by reading through client reviews to see how accurate their readings are. Seeing the outcomes of other clients can help save you from inaccurate tarot readings.
To avoid wasting time on unhelpful insights, choosing a tarot reading platform that offers a satisfaction guarantee is best. This lets you go into every reading with peace of mind and added security.
What's the difference between a psychic reading and a tarot reading?
The main difference is that psychic readings don't always incorporate tools like tarot. Additionally, not every tarot reader has psychic abilities that they can use while reading cards. Neither determines how accurate the advice you receive is, as you can gather accurate information from tarot cards without any psychic gifts.
It's a good idea to stick to sites with added flexibility in case you want a tarot reader that's also psychic. For example, platforms like Keen have detailed search filters that let you find tarot readers with a multitude of gifts.
Why do some tarot readers have different interpretations of the same card?
Tarot readers can have different interpretations because reading tarot is an art and is not set in stone. While it's important to have a fundamental understanding of the symbolism and general meaning of each card, the same card can be interpreted in many different ways.
But most importantly, you should browse through reputable tarot sites with accurate readers, so you can feel confident in their interpretations. Otherwise, you may get inaccurate advice from a reader that does not have a solid fundamental understanding of the tarot.
Should I keep a journal to record my tarot card readings?
It's always beneficial to record the contents of your tarot reading in a journal, whether you take notes during your reading or write about it after. This is because sometimes information that comes up during a reading hasn't played out yet, so it's helpful to keep a note of any possible predictions.
Determine whether a particular site it's the best option prior to booking your tarot reading. For instance, in case you'd like a record of your reading for future reference check if the site has a chat transcript feature.
Bottom Line
Placing trust into a free tarot reading can be nerve-wracking but with so many trustworthy sites, there is no need to stress. When you consider your needs ahead of time and know what you want from a tarot reading site, you can feel sure of your choice. And having a vetted list of options you can trust can make the selection of a free tarot site much quicker.
That said, Keen is my top recommendation for a tarot reading site you can trust. You can enjoy the security of a refund in case you don't enjoy your reading and connect with some of the best readers for only $1.