Introduction
Tarot card readings are a great way to get quick and accurate answers to any pressing life topic. However, it can be challenging to read your own cards without being overly subjective and missing the message. Plus, finding a reliable and affordable tarot card reader to deliver trusted insight can be tricky.
I have done a thorough dig through the best sites for free and reliable tarot card readings, so you don't have to. You will find solutions to the common roadblocks that come with finding affordable and accurate tarot advice. There's no need to save up for a tarot card reading when several free and legitimate alternatives are available.
If you are having a difficult time choosing from the number of options, check out Keen for a trustworthy and affordable tarot card reading. You can take advantage of its new client offer to get your first 3 minutes completely free and feel the added confidence of its 100% customer satisfaction guarantee.
In a Rush? Here Are My Top Picks For Free Tarot Card Readings
Best Sites For Free Tarot Card Readings in 2022
You don't have to break the bank on a pricey tarot reading when you can choose from a number of free and reliable platforms. I recommended the following options for their high level of trustworthiness, free minutes, and easy access.
1. Keen — Feel Safe With Its Customer Satisfaction Guarantee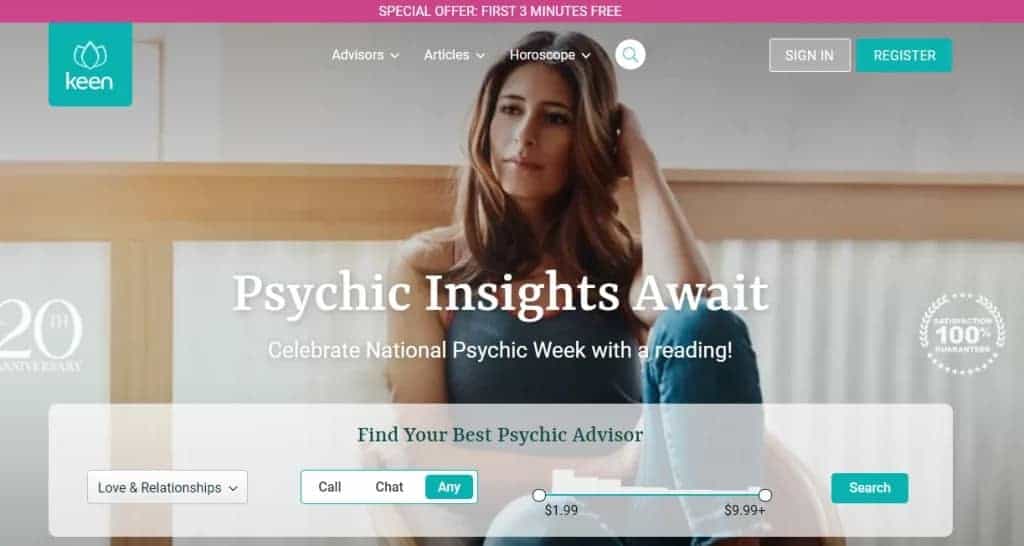 Selection of over 100 reliable tarot readers
Customer satisfaction guarantee
High-quality filter options
3 first minutes free
Over 20 years in business
You won't be concerned about getting your money's worth with Keen. It's 100% satisfaction guarantee policy reimburses you with $25 worth of Keen credits for any issues you encounter on its platform. I didn't have to worry about wasting money on low-quality Tarot card readers because I got my first 3 minutes for free.
If you feel that 3 minutes is too short, you can buy 10 minutes for just $1.99. Besides being affordable, I was also impressed by the fact that you can use these minutes for any psychic. In short, you can try as many Tarot card readers as you want on Keen's platform.
Quality isn't an issue either, as Keen has a transparent rating system that provides detailed information on each psychic. This makes it easy to find a Tarot card reader who understands you. When I searched for a Tarot reader, I found the client reviews especially useful because they indicated the reader's top-notch abilities.
Another thing I like about Keen is how you can communicate with your tarot reader via live chat or telephone, giving you added flexibility. So, if you're uncomfortable talking to a psychic, you can instead choose to chat with them online. It's even possible to view your chat transcripts after each session, too.
I was a little frustrated to find that Keen's psychic vetting process was unclear. While there is mention of a background check and skill assessment, little information is available. However, it has an extensive roster of multi-skilled advisors to make up for it. This, along with its transparent rating system, makes it easy to find the right psychic for your needs.
2. Kasamba— Check Out Reader Profiles Without Clicking Away
Tarot readings with options for Angel cards and Cartomancy
First 3 minutes free and 70% off first reading
Browse through selected top psychics
Detailed reader profiles
Select between phone and live chat readings
Kasamba's offer of 3 free minutes is a great way to explore the world of tarot card readings. You can use the minutes for a video or chat reading with each new reader you connect with, allowing you to get a good feel of each one. This also lets you figure out your tarot reader preferences without paying extra fees.
Since Kasamba only hires experienced tarot readers, you shouldn't worry about being ripped off. Its card readers are handpicked and chosen based on levels of expertise, intuition, and insight, guaranteeing you accurate card interpretations every session. In particular, you'll find tarot specialists in Angel Card Readings and Cartomancy.
With the site's flexible scheduling system, you can reach out to tarot readers 24/7 from anywhere. When I contacted the site's advisors at different times of the day via email, they got back to me immediately without any delay. That way, you can organize your schedule by booking sessions with a tarot reader in advance.
Kasamba also has an extensive FAQ section and forum to connect with other users and practitioners. This gives you a better understanding of tarot readings as you seek answers from others. The community was active and welcoming, and the content was highly educational.
Unfortunately, Kasama doesn't have options for video chat. However, it makes up for this by offering readings via live chat, call, and email, so you'll find a delivery style that suits your personality.
3. Oranum — Enjoy Free Weekly Content and Engage With Readers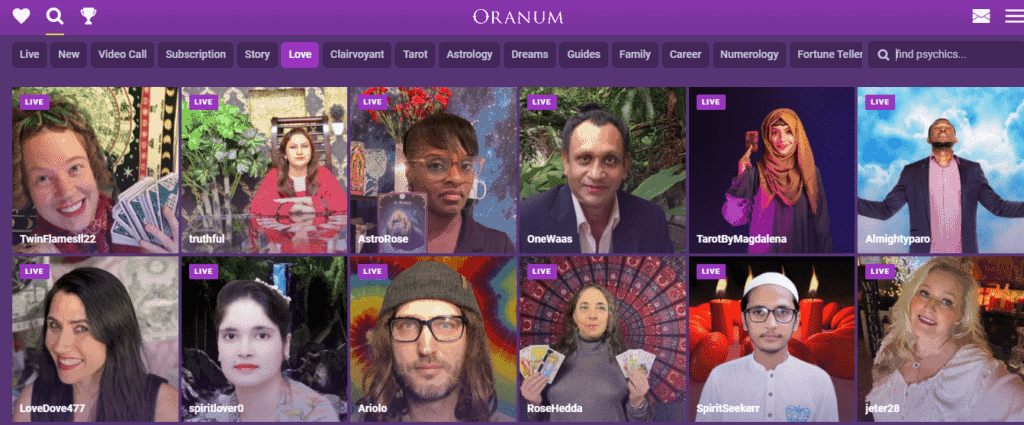 Free weekly content and live psychic sessions
Can subscribe to your favorite readers
Live video and phone call readings
Browse through trending tarot content
Online blog with free tarot articles
Oranum is an online psychic platform with an innovative concept. It gives you the ability to follow your favorite tarot readers like you would on social media apps. This feature is great because you can get a feel of potential psychics and engage with their energy before you decide if you want a tarot reading from them.
Another aspect I like about Oranum is that it rewards you with a special sign-on bonus when you join the site and validate your credit card. This bonus is in the form of 10,000 Oranum coins, which you can use to purchase minutes with any tarot reader you like. It is the equivalent of a free 30-minute reading, so you'll easily get your money's worth.
If you're considering using Oranum, I recommend you check out its free blog. I found many articles on various topics, including the tarot section, which offers high-quality content to help you better understand the practice of tarot. This means you won't waste precious time with your tarot reader and can get straight into receiving answers.
The site's psychics are known to be knowledgeable and friendly. I found most of its tarot readers to be very patient since they take the time to understand your needs, resulting in detailed answers. Added to this are the reader's compassionate and straightforward delivery styles, which make tarot card readings more enjoyable and informative.
I was slightly skeptical when I found that Oranum lacks a satisfaction guarantee. Fortunately, its customer service team is available on live chat 24/7, making it easy to get help if you run into any issues.
4. 7Tarot — Enjoy Unlimited Tarot Readings For Free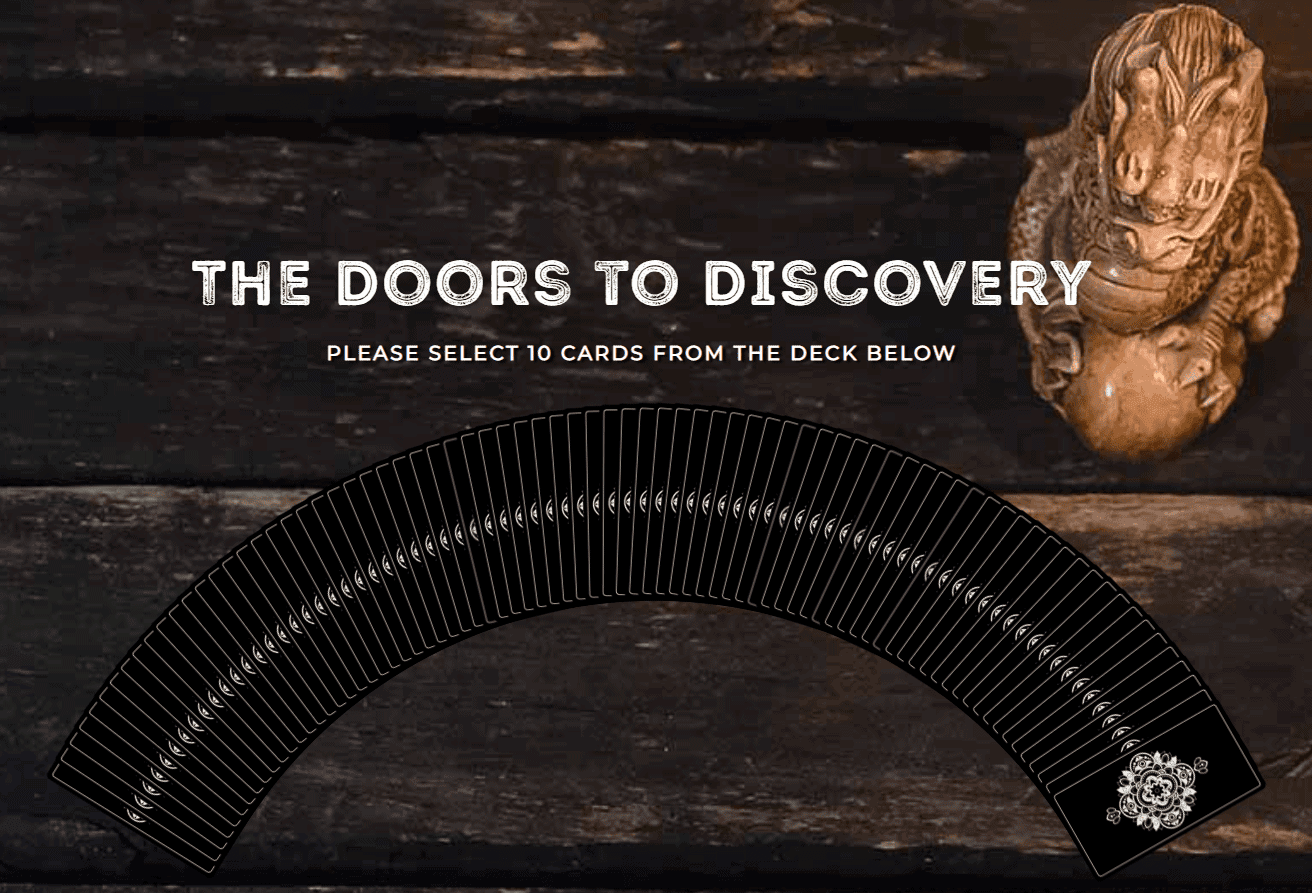 Free to use for unlimited advice
Doesn't ask for personal information
Select from a variety of reading types
Learn about tarot for free
Detailed divinations
7Tarot offers a simple and quick way to get tarot insights without consulting with a person. The benefit of a 7Tarot reading is that you can keep your identity private and receive instantaneous advice without commitment. After selecting up to 7 cards, you get a fully written divination for your current situation.
The platform even offers an option to get free divinations from its tarot specialist via email. All you have to do is include some basic information like your first name, reading theme, country, and email. I received the follow-up email quickly and found that it offered a lot of detailed insight.
When I was exploring 7Tarot, I was surprised to find that it offers up to 8 different kinds of tarot categories to choose from. You can choose between a yes/no reading, crystal ball tarot, love tarot, moon tarot, and many more. This feature is handy because it allows you to explore different reading types for free while narrowing down your exact topic.
If you want to understand tarot readings better and add an extra layer of insight, 7Tarot offers free in-depth information on all 78 tarot cards. This is valuable if you want to learn tarot and interpret the cards you get. It's rewarding to read the interpretation you receive while also being able to add in the details of your personal situation.
I wasn't sure how accurate the divinations would be since a live tarot reader doesn't do them, but some of the cards I picked accurately described the energy of my current situation, which surprised me.
5. Lotus Tarot — Get Straightforward Advice Right Away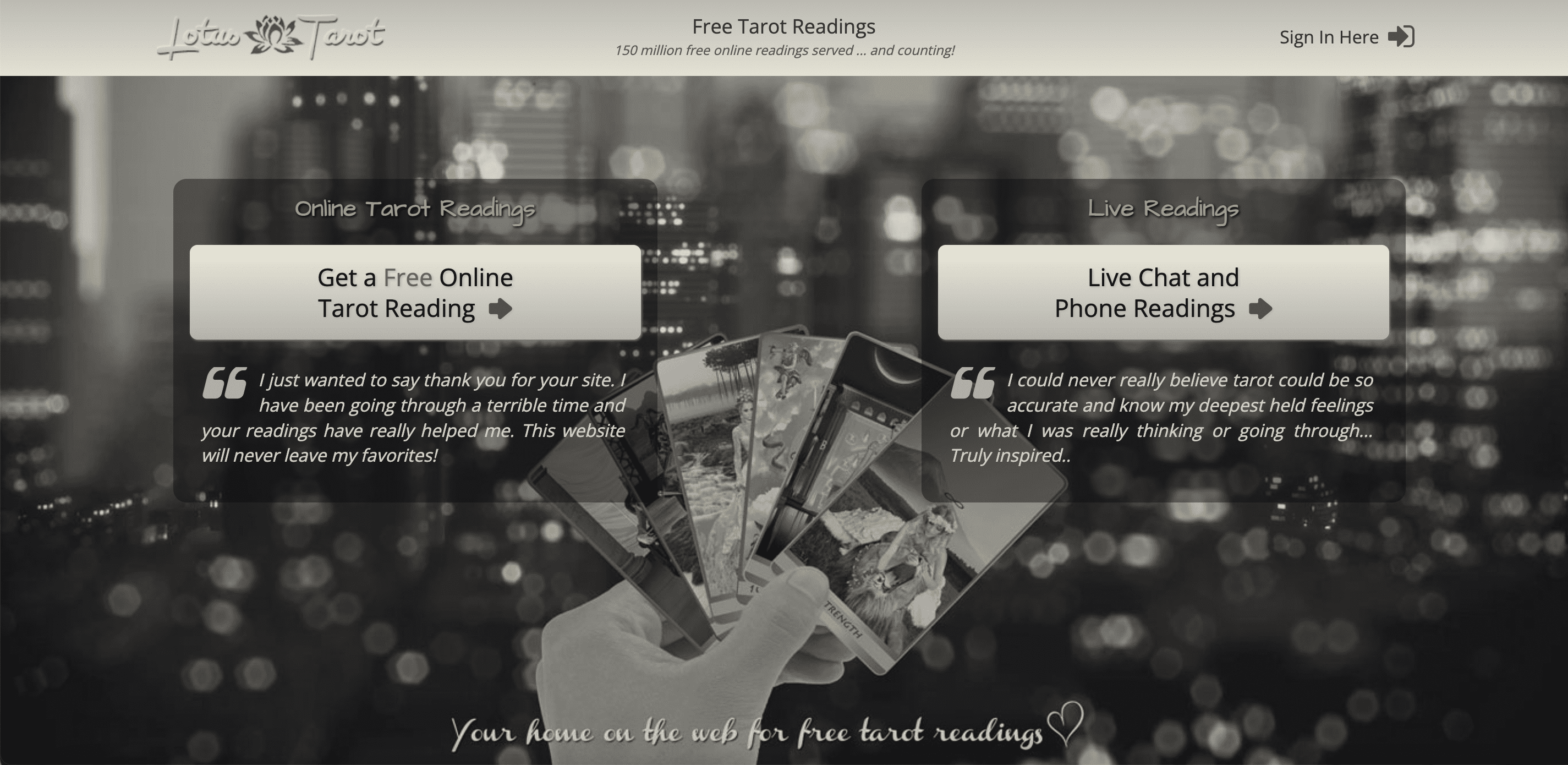 Free online tarot readings
Option for live phone and chat readings
3 first minutes free and 70% off your first reading
Interactive tarot lessons
Includes tips to get more out of your readings
If you need straightforward and hassle-free tarot advice, I recommend you check out Lotus Tarot. It does not ask for any personal information and gives you your detailed tarot spread with divinations in one click. Lotus Tarot is great if you don't want to go through the process of signing up on a website and then have to browse through potential readers.
If you're entirely new to tarot readings and want to get the most out of your free online readings, Lotus Tarot includes a tips table to assist you. The tips are meant to improve your readings and help you quickly learn how tarot works. You can also browse through Lotus Tarot's free interactive lessons to deepen your knowledge of tarot cards.
The advantage of Lotus Tarot is that it's a Kasamba affiliate, which lets you enjoy live phone and chat readings. While Lotus Tarot only has a limited selection of readers, you can browse for more advisors on Kasamba and enjoy the same introductory rate. The affiliation with Kasamba is great because it gives you an additional sense of legitimacy.
The one thing I didn't like about getting a live reading on Lotus Tarot is that the platform doesn't offer direct refunds to clients. Instead, you must go through Kasamba to get a refund if anything goes wrong. However, Kasamba's 100% customer guarantee and easily accessible customer service should bring you peace of mind.
Comparison: Best Sites for Free and Reliable Tarot Card Readings
| | | | | |
| --- | --- | --- | --- | --- |
| | Starting Rate | Reading Types | Introductory Offer? | Satisfaction Guarantee |
| Keen | $1.99 per minute | 20+ | Free Minutes & Discounted Per Minute Rates | Yes |
| Kasamba | $0.99 per minute | 18+ | Free Minutes & Discounted Per Minutes Rates | Yes |
| Oranum | $2.99 Oranum credits per minute | 10+ | 10,000 Free Coins After Validating Credit Card | No |
| 7Tarot | Free | 8+ | None | No |
| Lotus Tarot | Free | 1 | Free Minutes & 70% Discount | Yes |
Tips on Choosing the Best Free and Reliable Tarot Card Readings
If you feel that you need more direction to choose the best free and reliable tarot reading site, then I recommend you take a look at the following tips to make the best decision.
1. Evaluate New Customer Offers
When selecting a site for a tarot card reading, it's important to compare new customer offers between platforms. Some platforms offer higher discounts than others for similar services, so make sure you know which platforms offer the best deal. Evaluating the various offers gives you a higher chance of getting a longer reading completely free of cost.
I also recommend you choose tarot reading sites that offer free minutes so you can test multiple readers. While you may not get as long of a session on every platform, you will still get an idea of what to look for in a reader. I would also advise you to prioritize platforms that offer a rewards program, so you can save on future readings.
2. Assess Its Customer Support
If you decide to get a tarot reading, it's vital to assess each platform's customer support. This is a crucial step to safeguard you as a client because being unfamiliar with how support works can leave you feeling frustrated. I recommend you use platforms that offer many contact support methods, such as a 24/7 customer hotline.
Knowing how to access customer support is also handy in case you ever need to refund your reading. Technical issues can sometimes interfere with your reading, or it might fall far below your expectations. In these situations, it's important to be able to contact support because you may be left to figure out a solution on your own.
3. Vet Your Tarot Reader
I always recommend that you do some digging on your reader before you ever commit to a paid reading. Even if you are getting the reading for free, you want to ensure that you aren't wasting the opportunity on a bad tarot reader. After all, free readings should be a risk-free option for testing out a reader you may stick to for future divinations.
To ensure you're getting the most out of your reading, I suggest you look through each reader's star rating, customer testimonials, and completed readings. You want to stick to readers with plenty of completed readings, high ratings, and overwhelmingly positive reviews, which guarantees you'll connect with an accurate tarot reader.
4. Reflect on Reading Type Preference
It's important to narrow down your preferences before committing to a platform or a reader because you want to ensure it offers what you need. I recommend you write a list of your needs and search for a tarot reader that meets your criteria before you connect. This helps you save a lot of time because you avoid connecting with readers that aren't suitable.
You should consider certain criteria, such as the reading subject, your preferred delivery method, the characteristics you like in a reader, and how long of a reading you estimate you'll need. Going onto the platform with all of this sorted out will save you from wasting free minutes and disappointing experiences.
5. Get Clear On Which Questions to Ask
When you are testing out different readers and only have a certain amount of free minutes, you want to go into the tarot reading with clarity on which questions you need answering. If you don't, you risk wasting minutes and feeling confused. So, I recommend you establish a focus for your reading and come up with specific questions around the topic.
For best results, you should prepare clear and open-ended questions about the most pressing situations in your life. Avoid yes/no questions or questions you already have the answers to. Any questions not directly relevant to your situation are best left for the platform's blog section, where you can find professional insight for free.
FAQs on Tarot Cards
How do Tarot cards work?
The tarot has 78 cards in total, each with its unique symbolism and interpretative meaning. Readers shuffle the deck and use various reading methods to interpret the overall message the tarot is trying to send about your situation. The cards are read by the symbolism presented, position, and the overall energy emitting from each card.
While all tarot readers work with the cards differently, the meanings of the cards stay relatively the same. While some readers use the cards to confirm their intuitive hits, others prefer to uncover messages through the traditional symbolism on the cards. It's also common for reputable psychics to use tarot cards as a form of divination.
Where do tarot cards come from?
While the original origin of tarot cards is widely speculated and a bit of a mystery, it's known that its use dates back to the 1200s. However, it is unknown who invented tarot cards and how they were even discovered. Many describe them as magically emerging into widespread use across the globe. The original purpose of tarot cards is also unknown, but people adapted them as a divination tool in the 1700s.
It's still possible to use tarot as a divination tool nowadays, as it can bring insights into your past, present, or future. Plus, it can help you communicate with your subconscious and the spirit realm. And thanks to modern technology, you can enjoy these benefits without leaving your home.
What's the difference between upright and reversed Tarot cards?
There isn't a set difference between interpreting upright and reversed tarot cards, and many readers don't even read reversed cards during sessions. The readers that do include them feel that cards in the reverse can indicate the shadow side to the card meaning in the upright position. Alternatively, a card in the reverse can also speak to the energy of moving away from the general meaning of a card in the upright position.
Some tarot card readers even feel that when cards come out in the reverse, the theme of that card requires special attention. It can show where an individual faces blocks or where the energy needs to be adjusted so that things can advance. Reading reverse cards is an art within itself and requires a lot of experience to be interpreted properly.
Are Tarot card readings accurate?
Tarot readings can be accurate if you consult a trusted reader who has experience with the cards. That being said, it's important to be weary because many people read tarot but don't have the experience to give accurate readings. This is why I recommend you choose your tarot reader wisely and always consult with reputable advisors.
Should I read my own Tarot cards?
There is no harm in reading your own tarot cards if you have the experience and feel comfortable doing so. However, having a professional read them for you is best because you can block the message by being emotionally invested in receiving a particular answer. Consulting with a trusted tarot reader is best for critical decision-making and situations requiring a high degree of accuracy.
Bottom Line
While reading tarot yourself can be a valuable tool to understand yourself better, you should connect with a professional tarot reader if you need objective insight. Learning tarot can be a complicated and lengthy process that is sometimes better left up to the experts. That being said, finding an accurate reader doesn't have to be expensive, either.
With proper guidance, you will feel a sense of ease the next time you're ready to get a free tarot reading. Not only will you have a list of reputable platforms, but you now have the tools to make the best decision when choosing a tarot reader. There is no need to take a blind leap of faith and end up disappointed when you can approach your reading with confidence.
Whenever you're ready for accurate insight, prioritize Keen as a top choice for a free and trusted tarot reading. You can speak to a high-quality tarot reader and get your first 3 minutes free.
To summarize, the best sites for a free tarot reading are…