We've all been there. It's 3 am, and you can't sleep because a thorny dilemma weighs so heavily on your mind. You just can't shake it, and you don't know where to turn for answers. A phone psychic is a perfect person to speak to in this situation. They can use their skills and gifts to help you find the clarity you need.
And you don't need to spend hours searching for the right one either. With the help of this list, you'll be able to find the right phone psychic for you right away and feel safe knowing you have someone to call when you need them.
But if you're rushing to connect with someone right away, I would recommend a phone psychic from California Psychics. It has loads of top-rated physics and a satisfaction guarantee for extra peace of mind. And with its introductory deals, you could get a 20-minute phone reading for as little as $20.
In a Rush? Here Are My Top 3 Phone Psychics
Devyn (California Psychics) — Best overall phone psychic, with a focus on love, money, and destiny readings.
Jashodha Starlyte (Purple Garden) — Great for non-judgemental phone readings and specializes in love queries, but Purple Garden doesn't have a satisfaction guarantee.
MsLondon (Keen) — Offers different reading skills over a phone call and has a direct style, but Keen doesn't have a good customer support system.
Plus, 3 more phone psychics you can trust.
Best Phone Psychics in 2023 — Full List
1. Devyn (California Psychics) — Best Overall for Phone Psychic Readings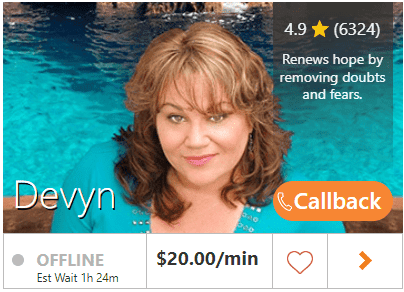 Devyn is a Premier phone psychic on California Psychics who has delivered almost 40K readings since 2010. Devyn has a top rating of 4.9 stars and has received over 6k testimonials. She is an ideal choice if you're feeling stuck, as her reviews show she cuts right to the heart of the matter, providing specific details and even pinpointing the dates.
She's a compassionate reader, with a focus on love, finance, and destiny. Devyn is a no-tools reader, which means so utilizes her natural abilities of clairvoyance, empathy, and clairsentience. However, she can read Oracle cards on request.
2. Jashodha Starlyte (Purple Garden) — Get Tarot Guidance Over Phone Call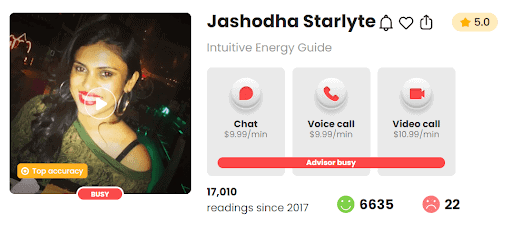 Jashodha Starlyte is a top-rated phone psychic on Purple Garden, and her reviews praise her gifts highly, with one saying she's a pleasure to talk to and quite a few others saying she is detailed and accurate. I was amazed when I checked out her statistics, as out of a total of 6635 reviews left for her only 22 show as negative.
Like many other psychics on Purple Garden, Jashodha has an introductory video for you to get used to her style and communication method before you contact her. She specializes in tarot readings for love, career, and spiritual guidance.
3. MsLondon (Keen) — Answer Your Love Questions Through One Phone Psychic Call

MsLondon is the best phone psychic on Keen for her romantic advice over phone readings. She has a 5-star rating with over 700 reviews and 4k readings since 2007. Client readings for MsLondon all state that she is very accurate and gives you a clear insight into your situation.
While MsLondon focuses on relationship readings, she can also offer guidance for your life path, animals, and spirit guides. Her main tools are tarot and non-tool skills such as aura cleansing, clairaudience, and clairvoyance. She can also help with dream exploration.
4. Misty (Psychic Source) — Gain Financial Wisdom Through a Phone Psychic Reading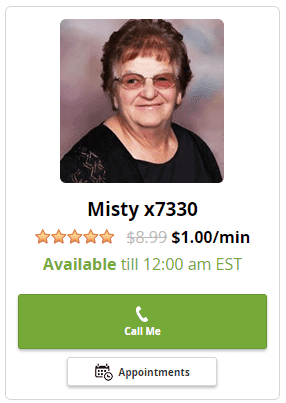 Misty is one of the best phone psychics at Psychic Source, who has over 37 years experience of doing readings and almost 2K positive reviews, most with 5 stars. The majority of her customer endorsements come from her career and finance readings, which is one of the things she specializes in. However, she can also do life, grief, and love readings.
While Misty can do no tool readings, she also does tarot and astrology readings. Psychic Source includes a short audio snippet from Misty on her profile, so you can check out her wise reading style before committing to a full reading.
5. Texie (PathForward) — Seek Astrology Guidance Over a Phone Psychic Reading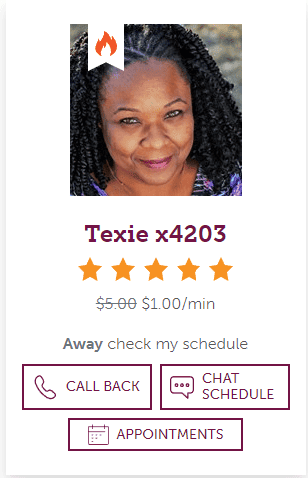 Texie is one of the top phone psychics on PathForward. With a compassionate reading style, she will give you guidance in your spirituality, relationships, and self-care. Her main gifts are empathy, though she is also gifted in clairsentience.
With Texie you can expect her to use astrology to give you insight into your issues. She can also do tarot or even no-tool readings. Her 5-star rating shows that she's accurate no matter what reading style or method.
6. Master Enigma (Kasamba) — Get Spiritual Help in a Phone Psychic Reading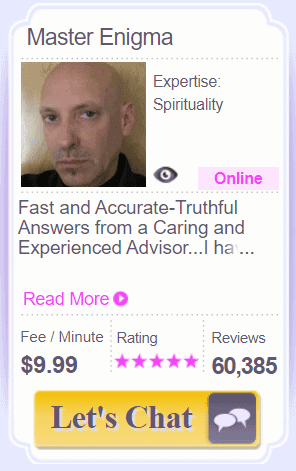 Master Enigma specializes in doing spiritual phone readings on Kasamba. He has a 5-star rating with 60k reviews, showing that he has high accuracy. Most of his reviews say that he gives straightforward advice and stays patient throughout the entire reading.
His focus is spirituality, however Master Enigma can also help with dream analysis, relationships, and careers. Master Enigma has been ranked editor's choice several times on Kasamba, so you can be sure you're getting a quality and well-recommended reading.
Comparison: Best Sites to Get a Phone Psychic Reading
Tips on Choosing the Best Phone Psychic
Check Ratings and Reviews
As you browse the phone psychics' profiles, take some extra time to check their reviews and ratings. The reviews can give you information about the psychic's accuracy, special abilities, and style of delivery. You will be able to see the type of advice they have given others and whether it was helpful.
Most sites tend to use a 5-star rating system, and also allow you to filter to just the highest-rated psychics. However, I recommend you still check the reviews with a 5-star psychic, to make sure their reading style matches what you need.
Use the Site Filters
Many sites have categories you can select from when choosing your psychic such as 'staff picks, 'top-rated' or even those with 10 years or more experience. These filters can help you jump straight to the psychics who are most popular with other users, and those who are currently performing well.
Listen to Introductory Videos
Many sites include short introductory videos on the psychics' profiles. It should only take a minute or two to watch or listen to these, and they can tell you a lot about the psychic's style, approach, and personality. You may find you are more drawn to certain readers which will help you narrow down your search.
Choose a phone psychic at California Psychics
How to Get the Most From Your Phone Reading
Prepare a Question
As with any type of psychic or spiritual reading, it is best to prepare your question in advance. This helps you and your psychic focus on what you want to know.
Keep your question open-ended and stay away from questions that start with 'will I ever..' such as 'Will I ever get married?' It is better to ask, 'Do you see me getting married in the next 12 months?' as lots can change in the future, depending on your free will.
Here are some examples of the types of questions you should be asking during your phone psychic reading:
What do I need to know about my current life path?
What advice do you have for me as I move forward with my relationship?
What needs to happen before I meet my ideal partner?
What steps should I take to achieve greater financial freedom?
What energies currently surround me and why?
Clear Your Mind
If you have been feeling worried, tense, or anxious, clear your mind before your phone psychic reading begins. Take a few minutes to breathe deeply in and out, relax and center your energy, so you feel calm and composed.
If you are asking about your relationship with another person, spend some time thinking of them to bring them into your energy. Think about the issue you want to resolve between you and run through a few outcomes you desire, so your psychic can tap in.
Record the Session
It is a good idea to record your session with your phone psychic, so you can refer back to it later. A lot of information will be given to you, and you will be surprised how much you forget, so think about how you can capture it while your reading is underway.
Some sites will provide a free transcript or recording of your reading, so you can listen back to it as many times as you like. This is saved in your order area, just click within the order to find it.
If your chosen site does not offer transcripts, see if you can record the phone call on your mobile (you might want to let the psychic know you are doing this, but they probably won't mind). If not, then you should at least have a notebook and pen handy and jot down the main points your psychic tells you.
Now you have something to refer back to in a few weeks or months' time to see if your reading was accurate. You might even be surprised how much of what you were told has come to pass.
Get a phone reading from California Psychics
FAQs on Phone Psychic Readings
What is a phone psychic?
A phone psychic is a regular psychic who is available to give readings by telephone. Usually, how it works is you purchase credits on your chosen platform and select the psychic you want to speak to. Your chosen psychic will use intuitive insight to answer your question and provide guidance. Use this comparison table to help decide which platform to go for.
The benefit of a phone psychic reading over an online chat reading is that you and your psychic get to have a real-time conversation and hear each other's voices. This can help your psychic get more information, and it will feel much more intimate and personal.
What tools do phone psychics use?
Phone psychics use the same tools as online psychics or real-life psychics, such as tarot cards, clairvoyant gifts, channeling, energy healing, and astrology.
Some might be no tools psychics who can tune into your energy and receive messages from their spirit guides, and others might read cards or use crystals. If you want a particular type of reading by phone make sure you read these tips on how to choose the best phone psychic.
How long do phone psychic readings last?
A phone psychic reading might last for a couple of minutes or half an hour. It is really up to you how long you want it to last, and when you are ready, you simply end the call.
You might have bought a specific package or bundle of minutes or credits, and when your funds run out, your call will end automatically. However, most platforms will alert you near the end of your credit and give you the option to top up and continue the conversation. Use this comparison table to compare rates of the best phone psychic sites.
As a rough guide, an average reading takes at least ten minutes, so try and purchase enough credit so that your reading is not interrupted. Usually, if you have unused credit at the end of your phone psychic reading it will stay in your account until your next reading.
Bottom Line
Getting a psychic phone reading is a great help when you face an important dilemma, especially one that is causing you worry or sleepless nights.
This list can help you out when you want to speak to someone right away and can't spend hours searching on many different platforms. I have found the best psychic each site offers, so you can easily choose the right one for you.
However, if you want to get advice really quickly, you should speak with a phone psychic on California Psychics. They can provide the clarity and peace of mind you need, and you're protected by a 100% satisfaction guarantee.
To summarize, my top picks for psychic phone readings are…