If you want the option to speak to a psychic via chat, phone, or video, Purple Garden is the site for you. Very few sites give you the option of a video call, which I love.
However, with so many psychics to choose from, how do you know who's the right fit for you?
To help you narrow down your search for the best psychics on Purple Garden, I've compiled a list based on my personal experiences. Not only are these top-rated psychics but I found them easy to speak to and highly accurate.
The Best Psychics to Connect with on Purple Garden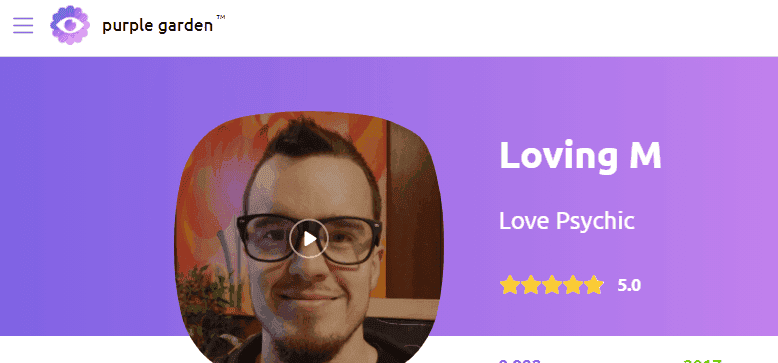 Michael is a 5-star rated psychic on Purple Garden based on over 4,000 reviews. He has been an online medium for over 5 years and specializes in tarot, angel, and gypsy card readings. He provides readings on love life, family, business, and other important life questions. Micheal is well-known for his nonjudgmental and positive attitude.
Many of his clients write glowing reviews, with one saying, "This was my second reading with him, and it went very well. Was brief and provided succinct responses. Hands down, the best advisor on this app."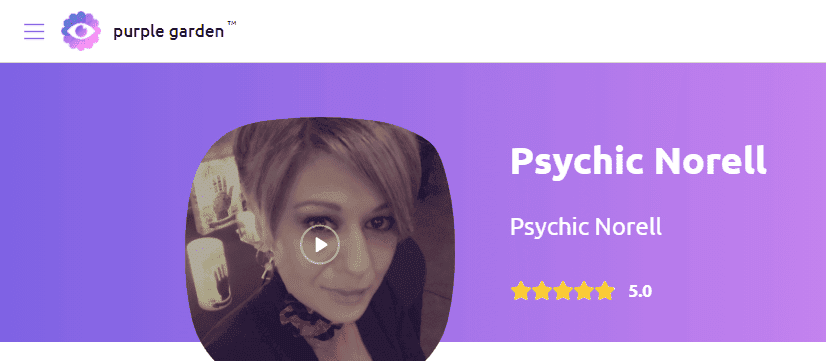 Norell is one of Purple Garden's top advisors. To date, she has racked up over 9,000 reviews and has completed over 17,000 psychic readings. She can answer your questions about love, career, life path, family, and other topics. She is also a skilled tarot reader.
Norwell takes pride in providing straightforward readings using her psychic abilities, which her clients frequently describe as "amazing."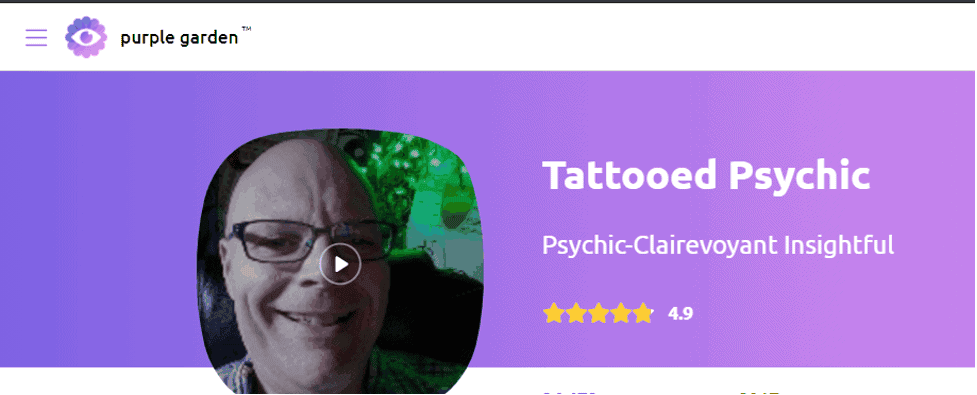 Tattooed Psychic has been a psychic for over 30 years and a member of Purple Garden since 2017. He is a psychic-clairvoyant who enjoys expanding his psychic knowledge regularly. Tattooed Psychic has studied astrology, druidic traditions, and Wicca, and he is even a certified Reiki healer as well as an initiate of the Ancient Order of Melchizedek (Red Feather of Courage).
On Purple Garden, Tattooed Psychic uses his abilities to chair astrology, psychic, and tarot readings on topics such as career, money, family, relationships, and more. His clients describe him as direct, insightful, and precise.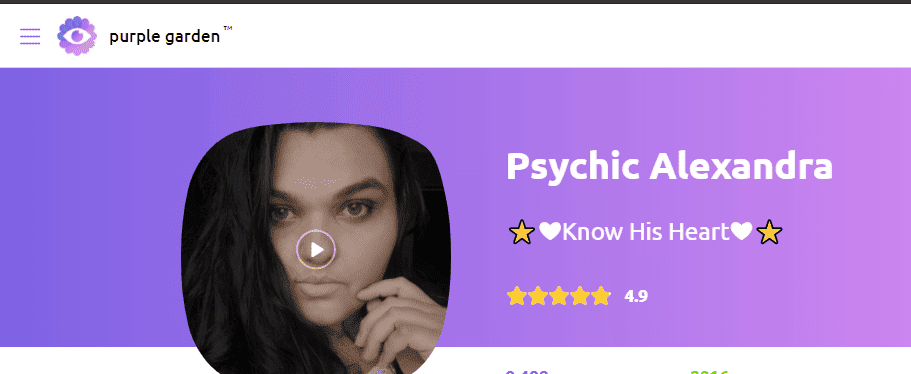 Alexandra has a 5-star rating based on over 3,000 reviews since 2016. She has over 15 years of experience and specializes in palm, empathic, aura, tarot, and chakra balancing readings. Alexandra states that she is here to help guide you down the right path and through any difficult situation you may be in. Her reading style has been described as upbeat and encouraging. According to one client, she is "warm, kind, and it's like talking to a friend."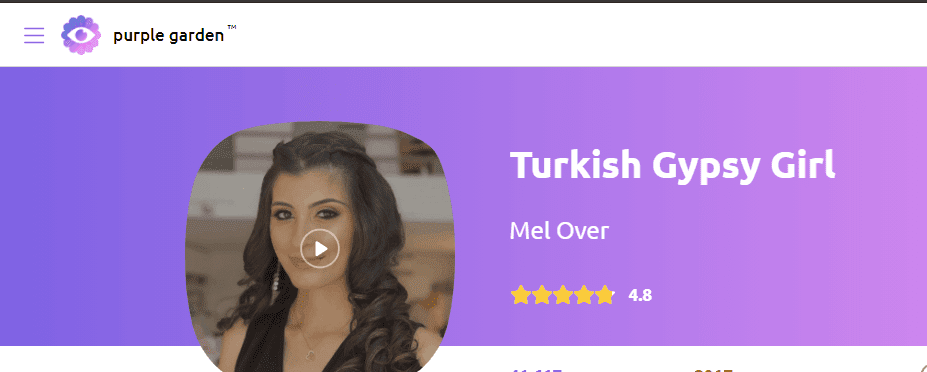 Mel is a third-generation empathic psychic medium who has completed over 41,000 readings on Purple Garden. She specializes in dream analysis, relationship coaching, and pet, planet, and psychic readings. Many of her clients have praised her ability to help them understand their situations. "Turkish Gypsy Girl's readings always make me happy. She gets right to the point and doesn't leave any questions unanswered."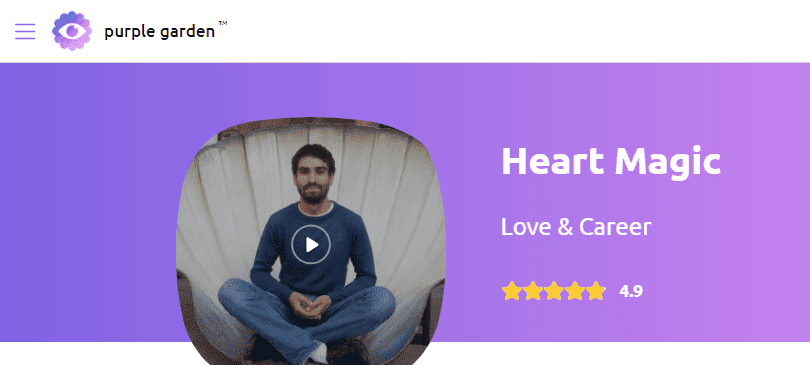 Heart Magic employs tarot, empathy, and other psychic abilities to provide answers to your questions about love, money, career, spiritual life direction, and other topics. His reading style has been described as non-dogmatic and LGBTQ-inclusive. Heart Magic is well-known for his prompt and insightful answers, "I have been getting readings with heart magic for years. He is always able to give me that little extra insight I need to see what path I'm on." Heart Magic has led over 12,000 Purple Garden readings and has over 5,000 5-star ratings.

Teresa is a fourth-generation psychic who specializes in tarot and angel interpretations. She has been a licensed psychic for more than 16 years and has provided over 11,000 readings on Purple Garden since 2016. Many of her clients have complimented her on her quick and accurate readings. "Accurate, detailed, caring, and spot on with my situation. Truly blessed with a gift."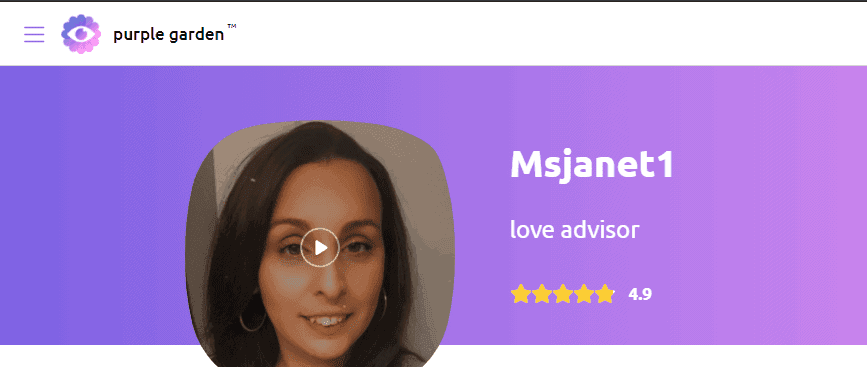 Janet is a top love, relationship, and career advisor on Purple Garden. She is a clairvoyant psychic who has conducted over 12,000 readings on the site since 2027. She answers questions about how your person of interest is thinking or feeling towards you, as well as why they feel or think that way. Janet has been a practicing psychic for a total of 15+ years and is dedicated to guiding you in the best possible direction. One of her clients described her as "incredible and detailed. She gets right to the point." She is available for video readings.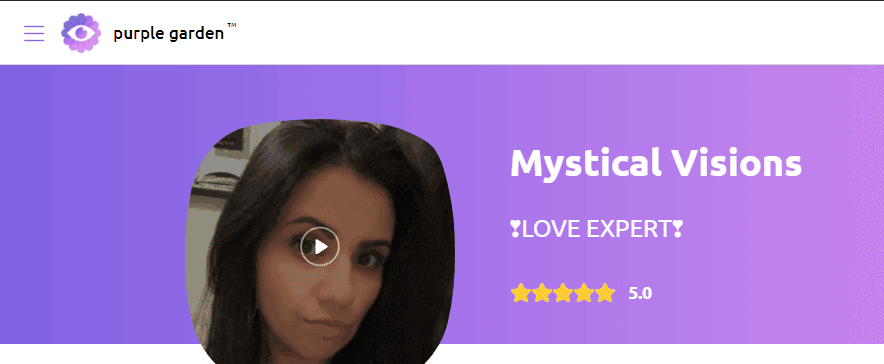 Hallie has been a top psychic on Purple Garden for over 5 years, completing over 10,000 readings. She is a third-generation natural-born clairvoyant psychic and empath. Hallie specializes in love, pet, family, and career readings. Her reading style has been described as direct and non-judgmental. According to one user, "Very good reading. She gave me a lot to think about while also being very understanding and kind."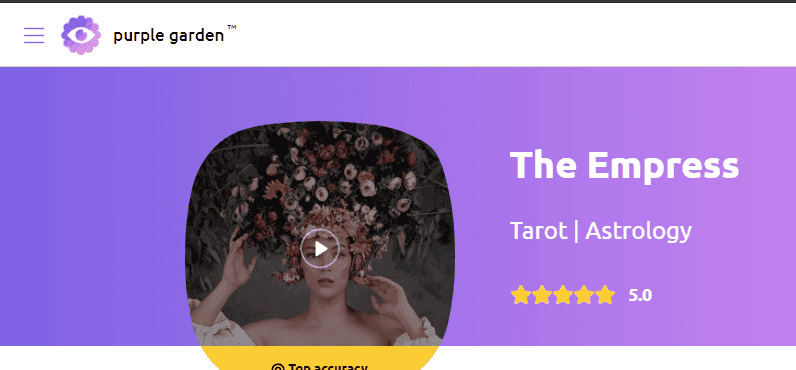 Laiza is a 5-star rated psychic based on over 3,000 reviews. She is also one of Purple Garden's top readers, earning the site's 'Top Accuracy' badge. Laiza is an honest reader, with her bio stating: "You may or may not like what you hear, but I have to say what I see."
Laiza specializes in astrology-natal, transit, horary, tarot, career, twin flames, and karmic partner readings. Her reviews indicate that she is well worth the higher rates that she charges: "Laiza is incredible and always gets it right. I appreciate her perspective on my situation, and she is always kind and gentle. Laiza, thank you so much!!!"
Is Purple Garden a Trustworthy Website?
Purple Garden's authenticity is bolstered by several factors. From detailed psychic profiles, including the year they joined the site, how many readings they've completed, and their average star ratings, to their extremely responsive customer service. Furthermore, negative reviews are not filtered out, so you can get a complete picture of each psychic on the platform.
Unfortunately, Purple Garden does not provide a satisfaction/money-back guarantee. So, while Purple Garden has a large database of genuine, talented psychic readers, you should exercise caution by thoroughly reviewing a psychic before committing to a reading.
If a satisfaction guarantee is a must for you, I highly recommend Keen.
Bottom Line
Purple Garden is a great place to find high-quality psychics in almost any niche. I like that you can communicate using your preferred method, whether it's voice, live chat, or video. Furthermore, you are not required to provide your full name to create a user ID, allowing you to remain anonymous if you prefer.