Overview
We all have questions and concerns about our love lives at one point or another, which is why you're here.
When you simply can't get to the bottom of a love situation or you're experiencing sleepless nights because of a connection, speaking to a love psychic is the quickest way to get real answers and guidance.
There are a number of psychic love reading sites out there, but only a few will give you the chance to speak to a reader for free!
Here is where you should create an account.
In a rush? Here are my top picks for free psychic love readings
1. Keen Psychics – Attractive introductory rates for your first 10 minutes.
2. Purple Garden – Newcomers enjoy competitive sign-up bonuses.
3. Psychic Source – First-time users can get psychic love readings for free.
4. PathForward – Simple user interface and over 13 mediums to choose from.
5. Kasamba — 3 free minutes when you connect with a new psychic.
Where to Get a Free Psychic Love Reading
Here are my top psychic love reading sites with generous introductory offers, giving you the opportunity to get answers while spending little to no money at all.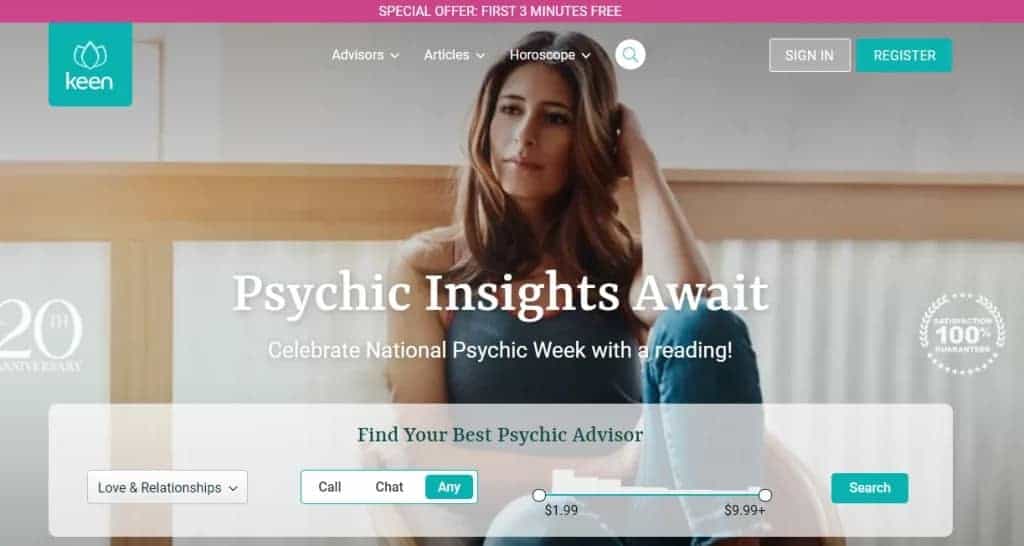 New customers get 1 free question & 3 free minutes
Pay only $1.99 for the first 10 minutes
Features love psychics with a proven track record
Love psychic matching tool pairs you with the right advisor
Backed by a customer satisfaction guarantee
Keen is a top psychic love reading site that gives new customers the chance to ask a psychic a question for free. And if you choose to continue with your reading, you're only paying $1.99 for 10 extra minutes with a love psychic.
Keen Psychics has over 140 love and relationship readers to choose from, most of which have thousands of positive reviews.
Each psychic profile will show you how many years someone has been active on the platform, as well as how many readings they have conducted. You can connect with readers via chat, phone, or email.
And if you're unsure which psychic to choose, there's always the handy love psychic matching tool!
As an added bonus, Keen Psychics offers a customer satisfaction guarantee. If you're not satisfied with your reading you can always contact their live customer support team to request a refund.
Claim Free Minutes on Keen Psychics
2. Purple Garden – $10 Worth of Free Credits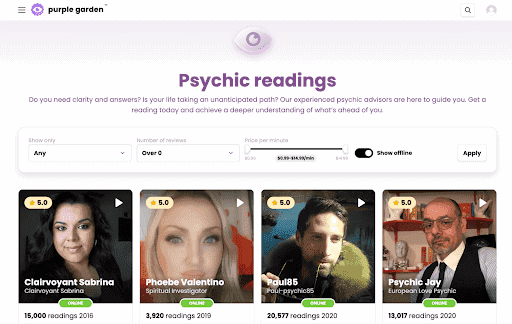 Offers $10 credit when you deposit $10
5% cashback promos on all purchases
Multi-talented love psychics with different specialties
Comes with a mobile app
Up-to-date love psychic review system
While Purple Garden doesn't offer free minutes, it does have a competitive bonus that is available to new customers. When you purchase your first $10 worth of credit on the site, you'll get an additional $10 free. It's also worth mentioning that Purple Garden gives you 5% cash back on every purchase you make on the site.
Purple Garden is home to over 100 love psychics specializing in a wide range of tools, including tarot, pendulum, angel and oracle cards, crystals, runes, and more. You'll have no problem finding a love reader that is rated 4.9 stars and up.
Something else that makes Purple Garden unique is its mobile app. In fact, you will have a far better experience on the app than the desktop site, so start there.
Unfortunately, the site doesn't have a satisfaction guarantee of any sort, but there are plenty of psychic reviews to read through.
Claim Your Free Credits on Purple Garden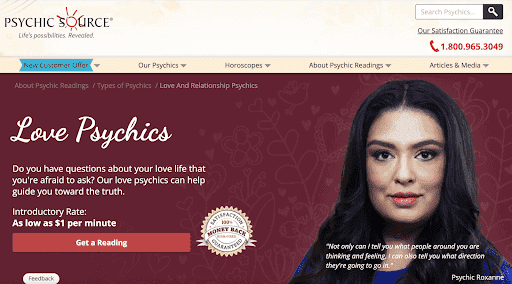 Offers an additional 3 minutes free with every purchase
Special introductory rates for new customers
Love psychics offer readings via phone, chat, and video call
Psychic advisors cover a large variety of relationship topics
100% money-back guarantee
If you want a free psychic love reading, Psychic Source is another site that offers free minutes to new customers. What's more, you can purchase minutes for a discounted rate too should you choose to continue your reading.
Psychic Source features over 250 love readers, many of which have multiple decades worth of experience. When you head to a reader's profile you can listen to their pre-recorded audio message to decide if they're a good match for you.
Love psychics are available via phone, chat, and video, and you can even choose to narrow down your search based on 6 subcategories: breakups/ divorce, cheating/ wander hearts, finding love/ soulmates, LGBT relationships, sex/ intimacy, and toxic relationships. This makes finding the right love psychic for your specific questions much quicker and easier.
As an added bonus, the platform has a 100% money-back guarantee.
Claim Your Free Minutes on Psychic Source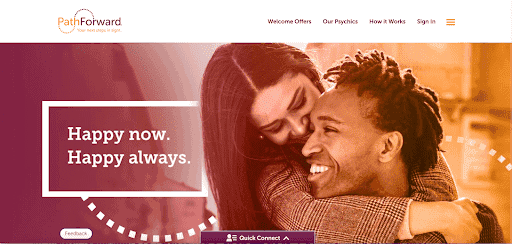 Free trial — first 3 minutes are free
Newcomers can buy new minutes at a discounted rate
Detailed love psychic profiles
Option to schedule love readings at a future date
"Peace of Mind Promise" guarantees satisfaction
Similar to Keen, PathForward gives new customers 3 free minutes, giving them the chance to try the site before they purchase more minutes. And once you're ready, you can purchase additional minutes with a love psychic at a discounted rate.
PathForward has over 50 readers in their love, sex, and romance category for you to choose from. Many of them are rated 4.5 stars and up, and you can listen to their pre-recorded audio messages on their bios. The platform also gives you the option to schedule a love reading with the advisor of your choice at a later date if need be.
Overall, PathForward is a trustworthy site for finding a free love psychic, as they offer a Peace of Mind Promise. This promise states that if you are unhappy with your last paid reading, you will be refunded your money or given the opportunity to meet with a new psychic. That means you've got nothing to lose from giving this site a chance.
Claim Your Free Minutes on PathForward
5. Kasamba – 3 Free Minutes & 70% Discount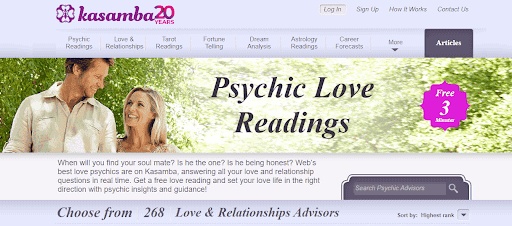 Get the first 3 minutes free
70% of your first purchase
Can try out new psychics free for 3 minutes
Love psychics are LGBT friendly and cover a wide variety of topics
Satisfaction guarantee refunds up to $50 if you're unhappy
Kasamba is one of the most generous sites when it comes to its introductory offer. First off, they give all new customers a massive 70% discount on their free reading.
You also get 3 free minutes when signing up, as well as 3 minutes free each time you connect with a reader you haven't spoken with before. This means that you always have the chance to see if you connect with the love psychic before you start using your paid minutes.
Kasamba has a reputation of being home to some of the top love psychics in the whole world. You'll find you have more than enough readers to choose from, many of which are rated 4.9 stars and up based on thousands of customer reviews.
You can also find advisors who specialize in more specific topics, including break up and divorce, cheating and affairs, gay and lesbian relationships, martial life, parents and children, single and dating, and soulmate connections.
Overall, Kasamba is a highly trusted psychic reading platform, and for good reason. Their satisfaction guarantee states that they will refund you up to $50 if you are unhappy with your first psychic love reading.
Claim Your Free Minutes on Kasamba
Questions to Ask a Love Psychic
While there are some obvious questions you might like to ask your love psychic, such as, is my partner the one, or, when will I meet someone new, there are other less obvious questions that you should consider asking too.
1. Is it the right time to commit?
There's a reason why we say, love always finds a way. Just because you believe you have found your soulmate, doesn't mean that it's also the right time for you to be together. So before you go rushing into a relationship, it's worth asking a psychic if the timing is right.
2. Does the love psychic sense an imbalance in your relationship?
The truth is that most relationships out there don't strike an even 50/50 balance between both partners. More often than not, one partner is giving more than the other, and the relationship eventually becomes unsustainable. Ask your love psychic if either you or your partner are giving more than the other, and what steps you can take to restore balance between you.
3. Will a ghost from your past (or your partner's) pop up unexpectedly?
There's nothing worse than unexpected sabotage in your relationship (either by one of your exes, or your partner's). A clairvoyant love psychic will be able to tell you if there's anything you should be watching out for, and if there are certain places and events you should steer clear of.
4. Are you or your partner concealing feelings?
A love empath or energy reader will be able to answer this one for you. If you have any inkling that there may be some feelings inside you that you have suppressed from previous relationships, it's a good idea to work through those with your reader before they become a problem in your relationship.
Bottom Line
While you likely won't find any psychic reading sites out there that offer 100% free and accurate love readings, that doesn't mean you need to spend huge amounts of money on one.
All of the sites on this list offer highly reputable love psychics who you can meet with at a highly discounted rate. The bottom line is that when you're looking for answers on something as important and personal as your love life, spending a few dollars is a worthy investment.
FAQs on Free Psychic Love Readings
Can I get a love psychic reading done for free?
Yes, you can. Many sites offer free love psychic readings for free, however, the quality of the readings is not very consistent. That's why I recommend you get a reading from a paid site with a satisfaction guarantee, so you can be assured of quality. Additionally, these sites have attractive introductory offers, which can sometimes include free minutes.
Difference between love psychic and love tarot readings?
A love psychic uses your inner energy to get in tune with your romantic desires. And after getting a reading, they use this information to advise you on how you can improve your love life. These include partner compatibility, your strengths and weaknesses, and even behavior.
Meanwhile, love tarot readings are performed by psychic advisors using tarot cards. Every card has its own meaning relative to its location on the spread, which helps the psychic interpret your romantic energies.
Both methods have been uncannily accurate at times. And while most psychics can perform love and tarot card readings, you can only get a proper reading from truly gifted psychics.
Can a love psychic help me find a soulmate?
It's possible but not guarenteed. Love psychics offer insight into your past, present, and future. You can then use this information to reflect on your love life. But like all psychic readings, nothing is a guarantee, so don't go in with overly high expectations.
While a love psychic can't exactly help you find a partner, they can change your outlook on love and dating. Since this could make it easier to find a soulmate, it's crucial to work with a reliable psychic who can guide you properly.