There are loads of psychic websites around and even more love readings to choose from. And while a lot of these sites claim to offer free psychic readings of quality, I've found from my personal experiences that most free readings are often disappointing.
So I went on a hunt for the best psychic love reading sites and created a comprehensive list for your convenience. While many of the options listed offer free minutes, I got the best insights from the paid options. The good thing is that although they aren't technically free, they offer heavily discounted rates that allow you to get impactful advice without spending a ton.
Cutting to the chase, the best option I found for a psychic love reading is Keen. It doesn't offer free minutes but it's promotion of 5 minutes for $1 is hard to pass up on. I felt like the love guidance I got was accurate, heartfelt, and some of the predictions I got even came true. It has over 200 love specialists you can browse through and you'll notice the majority have 4.8 stars and up.
In a Rush? Here Are My Top Free Psychic Love Reading Picks
Keen – Best overall for accurate love readings with 5 minutes for $1 and over 200 love specialists
Psychic Source – Great for 3 minutes free and free articles on love, but no email option
PathForward – Free love horoscopes and easy to use website, but it doesn't have as many love psychics
Kasamba – 3 minutes free with up to 3 love psychics and almost 300 choices, but no video option
Oranum – Free love live streams and 9.99 free Oranum credits upon validating a credit card, but no satisfaction guarantee
Best Free Psychic Love Reading Sites in 2023
1. Keen – Best Overall for Accurate Love Readings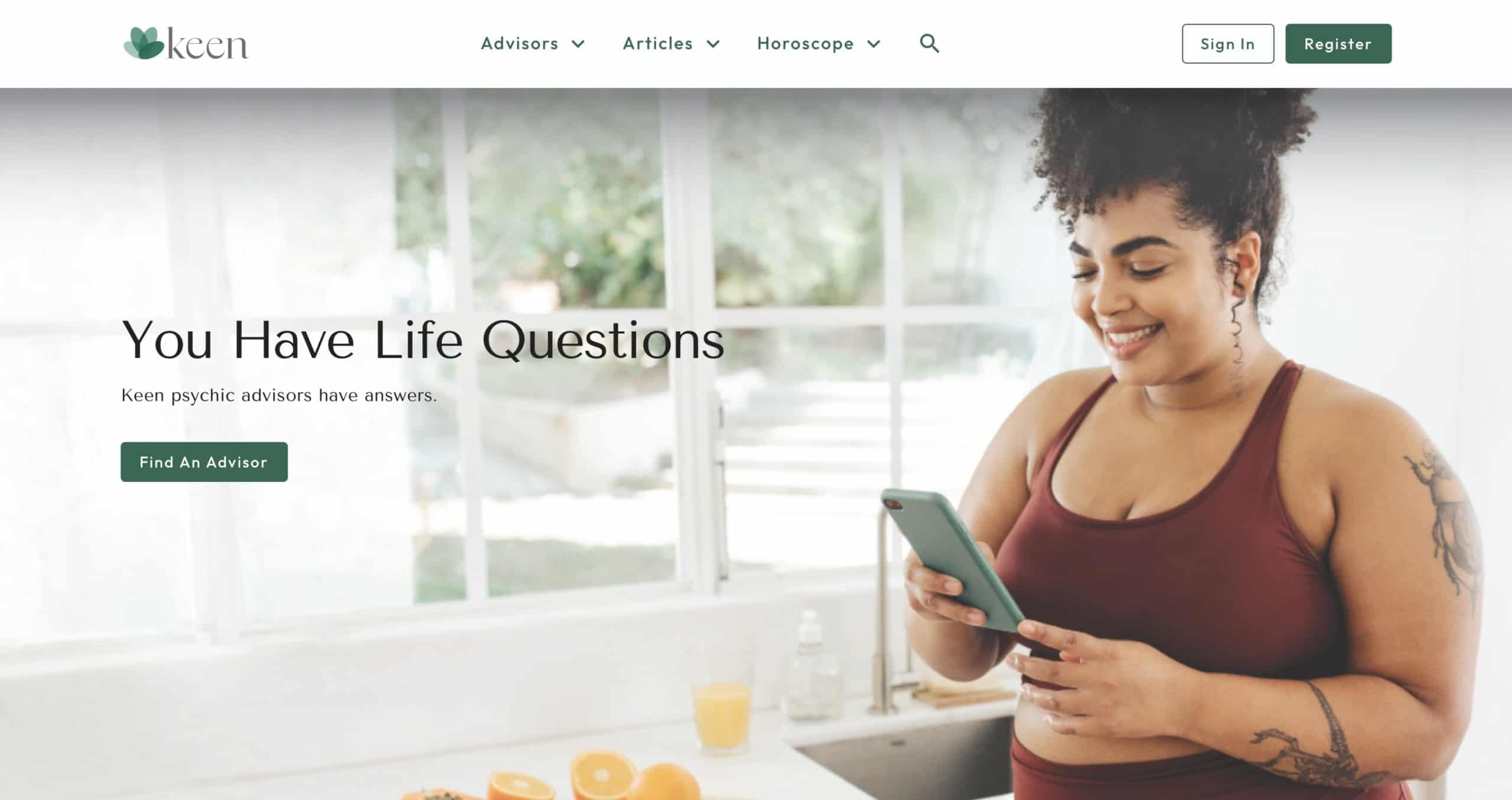 Over 200 love psychics available
Contact psychics by call or chat
Easy to use "Find a Psychic" tool
Free interactive tarot card reader
First 5 minutes for $1
Keen is my top choice for a love reading because it offers a 5 minute reading for only $1. I found this really helped me make sure I was happy with the love psychic I chose.
While there are over 200 love specialists to choose from, I didn't find it overwhelming picking the best psychic for me. This is because Keen has a very easy to use "Find a Psychic" tool that lets you filter the search with a ton of options. I had no trouble when I filtered Keen's love specialists by reading type, but you can also choose to filter by positive review, price, skills, and more.
On top of this, Keen also offers plenty of free advice, blog posts, horoscopes, and tips on the best way to get a love reading — all of which apply to their free readings as well. I was especially impressed with Keen's interactive online tarot reader. This completely free tool lets you pick 3 cards and it explains the meaning behind them. With this tool I was able to get a free love reading every day.
You can call or chat online with the 5 minutes for $1 you get as a new customer, and you can get started as soon as you find a love psychic. Unfortunately, Keen doesn't offer refunds for bad readings, but you can get a credit applied to your account that you can use towards a new love reading.
2. Psychic Source – Make Use of Free Love Resources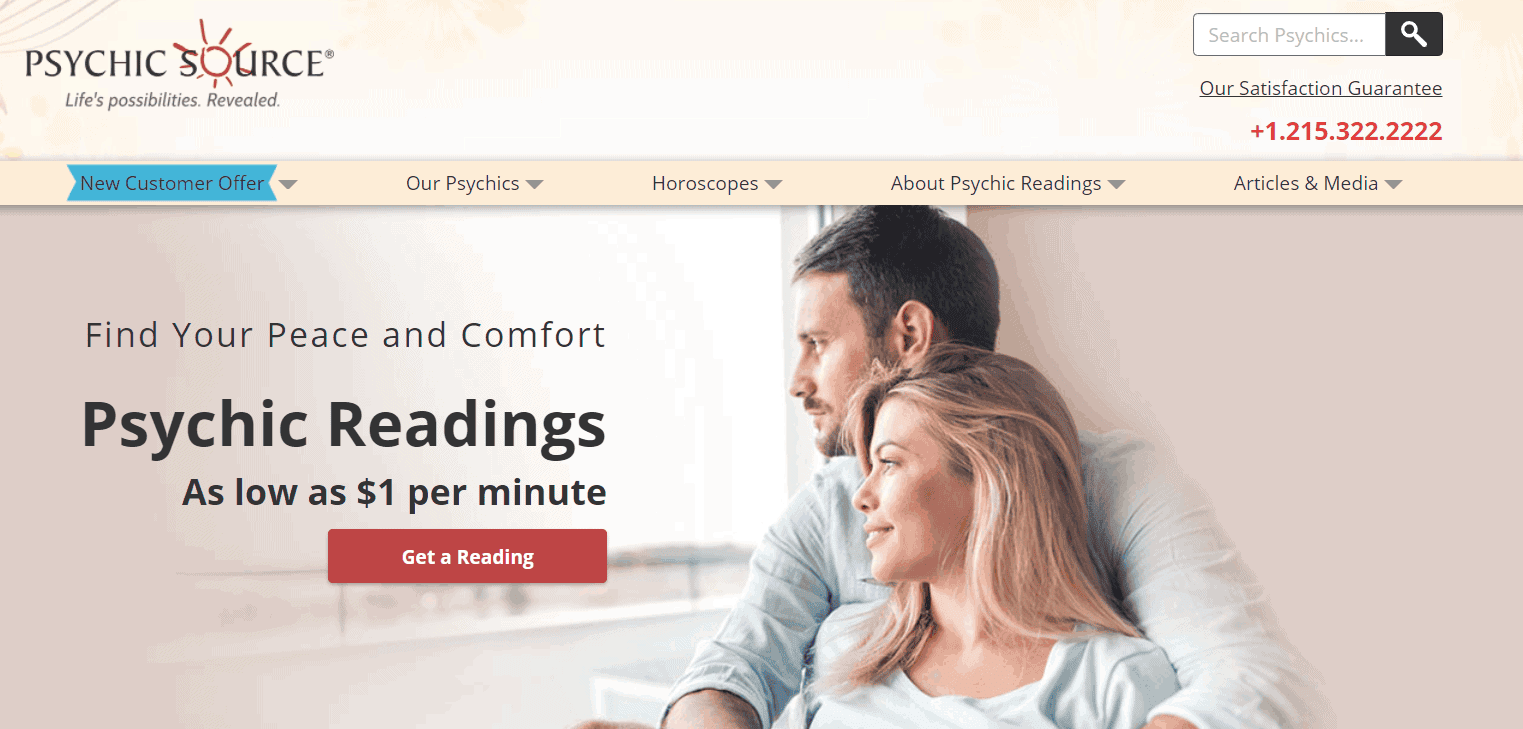 Almost 200 love psychics available
Connect by phone, online chat, app or by video
Convenient appointment scheduling
Free love resources including a tarot reader
Get an extra 3 minutes free
Psychic Source is the best choice if you're looking for additional love resources. I was impressed to see the amount of content that Psychic Source has available for free. Most impressively, it has a helpful quiz on when to walk away from a relationship.
You can also discover your horoscopes, read love related articles, and download a free guided meditation podcast on how to manifest a spiritual connection with someone. Other practical guidance includes how to forgive, how to fall in love again, and how to deal with rejection. I found Psychic Source's love resources helped me think about where life is headed and start healing.
If you're looking for a tarot reading, Psychic Source's free tarot reading spread lets you pull cards for yourself to answer your own query. While I recommend seeking the guidance of one of its love advisors, this free tarot reading can answer small, less-critical concerns.
Unfortunately, it doesn't have any email contact method. This wasn't too much of an issue, as once you have selected a psychic for your free reading you can connect with them by phone, chat, direct message, or video. You'll also qualify for a rate of $1 per minute and get a bonus 3 minutes free.
3. PathForward – Discover the Best Love Psychic for You With an Easy to Use Site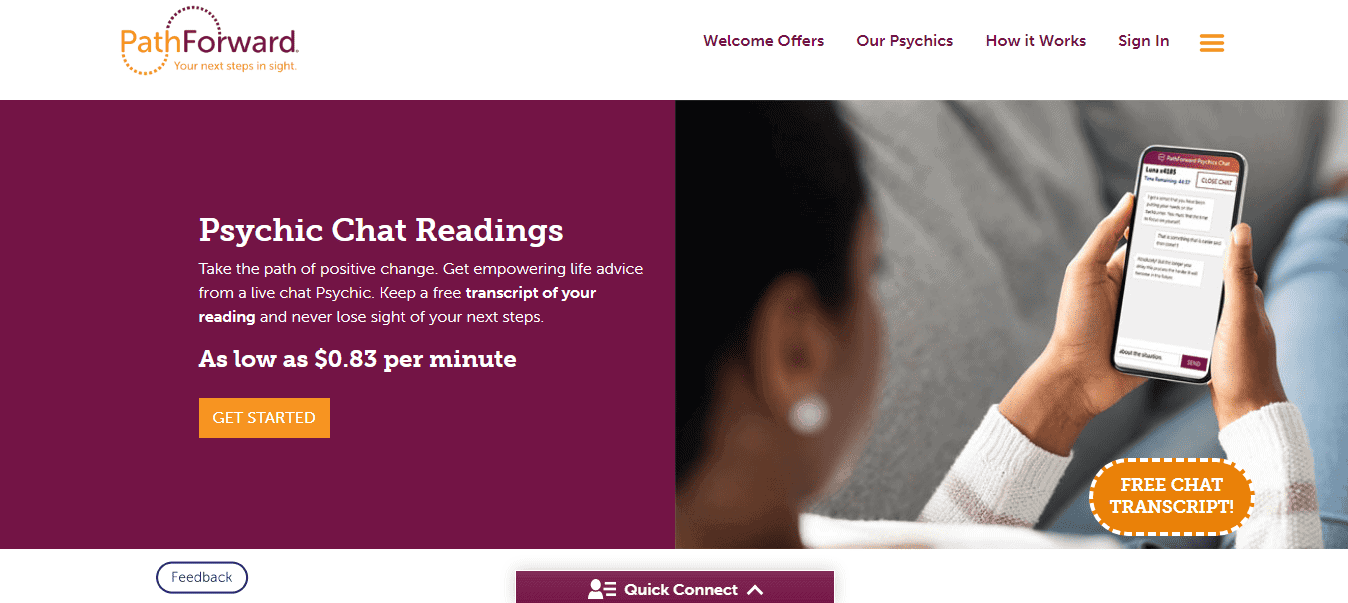 50+ love experts to choose from
Connect by call, chat or direct message
Easy to navigate site makes it simpler to find a psychic
Free love resources including articles and horoscopes
3% rewards on every reading
Path Forward is great for love readings if you want an easy-to-use site. It clearly shows the pricing, reviews, and specialties of each of the psychics. This made it incredibly easy for me to pick the best advisor for me based on my exact concern.
You can view the readers by video or recorded message, and they have really detailed profiles. There are a variety of love and romance specialists here too, including twin flame, loss and divorce, past lives and dating, each with detailed reader bios. Path Forward has a big selection of reading types too, such as tarot, astrology, clairvoyance, or mediumship.
It has free horoscopes, podcasts, videos, and an excellent selection of love articles like how to spot and handle manipulators and is dating a coworker a good idea. I was able to answer a lot of my queries just by reading Path Forward's free love articles.
There aren't as many love advisors on Path Forward compared to other sites. However, this does make it easier to choose between them. With flat rates for all readers, you have the option to shop around and find the one you best connect with. Plus, you get 3% rewards on every purchase, low introductory rates, and even a satisfaction guarantee.
4. Kasamba – Choose From a Huge Selection of Love Psychics

Almost 300 love psychics available
Connect online, by phone, chat or email
Great selection of love readings and topics to choose from
Money-back guarantee
3 minutes free with 3 different readers
Kasamba has a large number of love psychics that offer free readings, so you will have no issue finding the best one for you. You can filter psychics based on your preferred reading method and also exact category, such as divorce, soulmates, LGBTQIA+ issues, and more.
You can opt for a free 3 minute love reading with your first 3 readers, and find out if you will reunite with someone, find love, or mend a relationship in trouble. I was interested in getting a compatibility reading, and it was easy to find a reader offering what I was after on Kasamba's website.
Besides love readings, Kasamba also offers free love articles. I found its free love resources to be thorough, but I still recommend you contact one of its experienced advisors.
Kasamba offers you the option to connect by either chat, phone or email. I was disappointed there isn't a video reading option, but I still found the reading to be detailed and intimate. There is a satisfaction guarantee if you disagree, so you can try Kasamba risk free.
5. Oranum – Watch Love Live Streams and Connect With a Community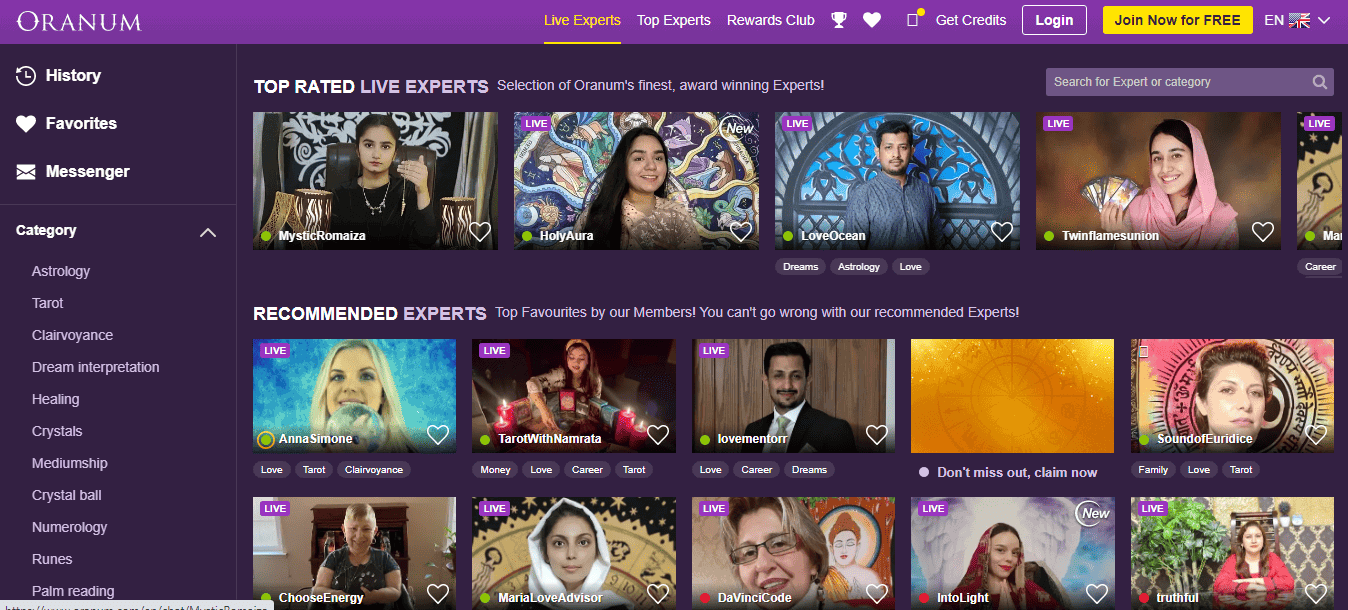 Over 200 love advisors available
Contact by video or chat
Free live streams so you can get to know the psychic better
Easy to navigate site with clear psychic profiles
9.99 Oranum credits for validating credit card
Oranum boasts a unique and free live stream feature that you can use to watch love readings with a community of like-minded people. If you are looking for a more personal love reading, you can hop on and claim 3 free minutes. The live streams made it easy for me to find the psychic I connected with the most, and I was happier contacting them for a 1-on-1 appointment.
It has the full range of love psychics, clairvoyants, tarot readers, astrologers, and spiritual practitioners, so you query will be answered using your preferred method. Finding the right one is also easy, as you can sort them by ability, tools or ranking.
Profiles on Oranum clearly outline their reading topics, style and experience levels, as well as their reviews and approach. I wanted to check in about my love life, and my Oranum advisor blew me away with her accuracy and insight.
I found that Oranum is more focused on video readings, so it might not be ideal if you're more nervous or shy. While you can get a reading over chat, I felt it wasn't as good as the video readings. However, you can test this for free, since you'll get 9.99 Oranum coins for validating a credit card.
Comparison: Best Online Psychic Readings
| | | | | |
| --- | --- | --- | --- | --- |
| | Free offers | Types of love readings | Face to Face? | Satisfaction Guarantee? |
| Keen | 5 minutes for $1 | Tarot, astrology, mediums, energy healing, oracle cards | ✘ | ✔ |
| Psychic Source | 3 bonus minutes | Tarot, astrology, energy healing, mediums, dream analysis | ✔ | ✔ |
| PathForward | 3 bonus minutes | Tarot, astrology, past lives, dream analysis, energy healing | ✘ | ✔ |
| Kasamba | 3 minutes free with 3 advisors | Tarot, fortune telling, dream analysis, astrology, crystals, runes, past life | ✘ | ✔ |
| Oranum | 9.99 credits for validating credit card | Tarot, astrology, numerology, natural abilities | ✔ | ✘ |
Tips for Choosing the Best Free Psychic Love Readings
When it comes to choosing a free love psychic reading, use these tips to ensure you find the best service and reader for you.
1. Site Reputation
The longevity and reputation of a psychic website can be a good indicator of the quality and authenticity of the psychics it hosts. Reviewing customer ratings and reviews can provide insights into the positive impact the psychics have had on their clients' lives.
Many of the featured sites provide free readings for new customers, along with special offers such as reduced rates per minute or package deals. These opportunities let you explore different readers and services to find what suits your preferences.
Consider reader profiles, ratings, reviews, and the number of readings they've conducted. It's a helpful way to identify a reader with the right mix of skills and experience tailored to your needs. Many platforms also provide a satisfaction guarantee, offering you an extra layer of confidence.
2. Type of Love Reading
In the introduction, you'll find your reader explaining the range of services they provide. Here are a few examples of the types of love reading services offered by psychics:
Tarot/Oracle/Angel Cards – Tarot and oracle cards are excellent for love readings as they can highlight the energy you are dealing with, uncover what is coming towards you and bring up any issues you need to be aware of. You can also ask specific questions which the cards will answer.
Astrology – Astrology readings can pinpoint opportune moments for finding love and romance. Or, you can work out kinks in existing relationships by comparing your birth chart with your partner's to see how your energies blend together.
Mediumship/clairvoyance – The psychic will connect to your passed on loved ones and relay messages to you. They can also connect to yours or your partners' energy for guidance on your journey together.
Other types of love reading might include past lives, palm reading, crystal ball, chakra clearing, reiki, runes, pendulum and many more. Some are 'no tools' readers who connect only to their intuition.
3. Type of Reader
Use the reader profiles to check out the various readers and see which you feel most drawn to. Some readers have introductory videos or recorded messages that help you get a feel for their style and methods. You can also check their reviews and ratings to see how they have been able to help others. Some highlight their approach too, which might be important to you.
Use the site search filters and 'staff picks' features to narrow it down, and then check which tools they use or services they offer. Use the free offers, so if you don't like the reader, you can end the call or chat immediately.
4. Communication Method
Always consider how you would like to connect with your reader: phone, chat, video, or email. Most sites offer phone and online chat, but video and email take a bit more searching. The method you prefer will largely depend on your personality and what feels most comfortable. Email is more flexible, but remember you might not get an answer right away.
Video is the most similar to a face to face reading, as you can both see and hear each other to interact. However, not everyone feels comfortable with it. If you don't feel at ease on camera, or if you're worried about privacy, see if you can turn off your webcam during a video reading.
5. Budget
Deciding on your budget is one of the most important steps to take before considering a love reading. The determining factor here is if you're looking for a one time reading, or if you're looking to have readings done on a regular basis.
For one time love readings, I recommend a site with an attractive introductory offer. But for regular readings, a site with affordable and fixed rates will be better. Another factor to consider is if a site has a rewards program, which you can use to save money over time.
Since most sites require you to buy credits before your reading, having a budget will help you figure out how much to buy so that your love reading isn't interrupted. As a rule of thumb, most readings will last around 20 minutes or longer, so work out the costs before you start.
You can save further by being flexible and savvy about when you have your reading. During quieter periods, many top readers drop their prices on some sites, often significantly. If you can tune into these quiet periods and hop in, you might get your chosen psychic for less.
6. Prepare for your reading
Always prepare for your reading to get the most out of the experience. Take a few minutes to breathe deeply, calm your mind and clear some space for your energy to flow through.
If you are asking about your relationship with another person, think about them while you are forming your question. This will help your psychic pick up their energy as well as yours. The psychic may need your first names and dates of birth, too. Some might ask for photos.
Take some time to think about your question before your reading starts. It is best to ask a direct and simple question that is specific to your situation.
Stay away from questions such as 'will I ever find love?' or 'will I ever get married?' and instead ask questions like 'what is coming towards me in terms of love?' or 'what are the steps I need to take to find love?'
FAQs on Getting a Psychic Love Reading
How can a psychic love reading help me?
Psychics can tap into the dynamics of your relationships and help them make sense. By understanding your partner more, you can manage your relationship better.
Relationships are easier when we step back from our emotions, and that is what a good psychic will be able to help you achieve. Psychic love readings can help in the following ways;
Help finding love and being the kind of partner you are seeking
Help with break-ups and divorce
Help with relationship dynamics
Sites such as Keen offer love readings as well as free love resources that can help you discover your way.
Can I get a free psychic love reading online?
Lots of sites offer free general love readings, but they won't be as accurate as a reading that is meant just for you and you alone. I recommend you make use of the introductory offers and free minutes offered on the best free love reading sites.
How are psychic love readings different from other readings?
Psychic love readings are different because they are more emotionally charged and deeply personal. You might have very intense feelings or highly sensitive issues, so naturally you can easily feel vulnerable or exposed.
A psychic who has experience of love relationships will have understanding of what you are going through, and you can even opt for one with specialist knowledge of your particular query. I recommend you try a free love reading from one of the best love reading sites.
Bottom Line
It's worth it to take the time to find exactly the right free psychic love reading for you, as it is such a deeply sensitive area and can bring up strong emotions.
To help you out, I have researched many psychic sites that offer quality free love readings. All of them feature reliable and gifted love psychics with reputable, genuine skills and each site has great offers like free minutes or free resources that help you get started.
My favorite free psychic love reading site is Keen. With its handy mobile app, reasonable rates, and offer of 5 minutes for $1 offers everything you need to start your journey to everlasting love.
To summarize, the best free psychic love reading sites are…