If you need advice to help you navigate your most personal and intimate issues while remaining anonymous, a live psychic chat is ideal.
But not all psychics can give you an accurate reading without being face-to-face or hearing your voice over the phone, so where should you start your search for the right chat psychic?
To help you along, I've done my own research and found the best sites for live psychic chats on an array of topics.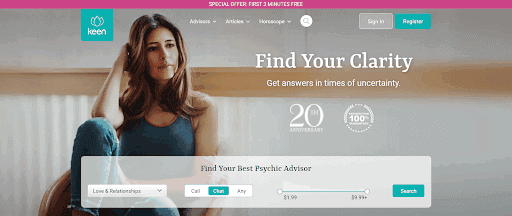 Getting advice from one of the 77 psychics who offer live chat readings on Keen was very straightforward. The search filters made it that much easier to find a psychic who matched my exact requirements. In just a few clicks and a sign-up process that only required an email and password, I was chatting with a psychic within minutes.
Keen Psychics has 24 psychic reading categories, so whatever's on your mind, you will find someone to assist you. Categories include love and relationships, life questions, financial outlook, otherworld connections, and more.
Bottom Line
If you're looking for a trustworthy, easy-to-use psychic website to get a live chat reading, then Keen Psychics is a great option. They've been around for over 20 years and they have a generous refund policy, just in case you're not satisfied with your chat reading.
Browse Psychics on Keen psychics
2. Psychic Source – Best for Affordable Live Chat Readings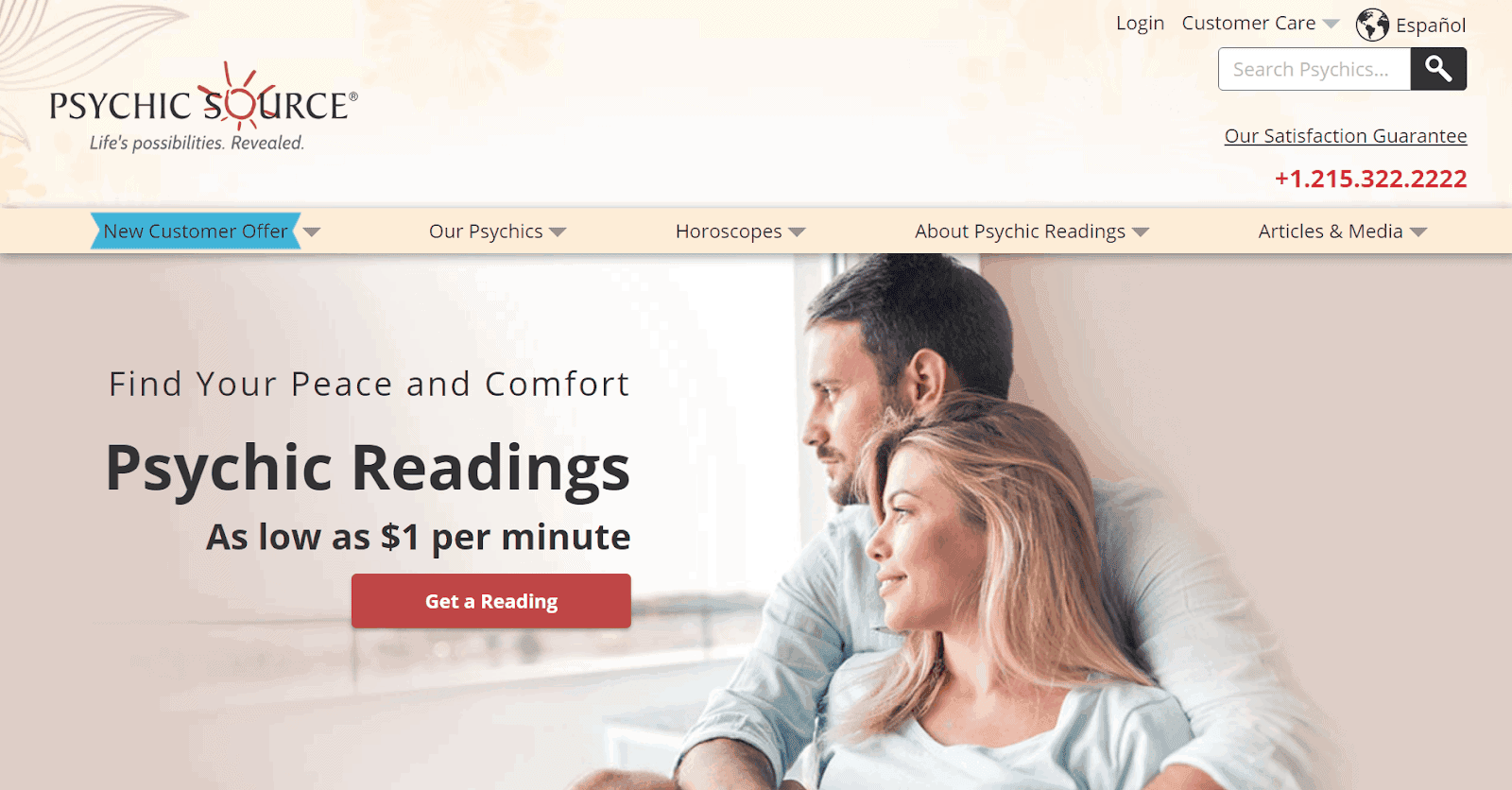 There were so many things I liked about Psychic Source. For starters, they offer one of the most affordable rates (as low as $1 per minute) for live chat readings. They have also been around for over 30 years and offer a 100% satisfaction guarantee.
To find a psychic I could chat to, I used the site's Find a Psychic feature, which matched me up with the ideal advisor. However, you can also browse psychics manually using their search filter options. You can expect to find over 150 psychics who offer live chat readings.
Customers can choose from all the usual psychic reading topics, along with some unique options, including pets and loss and grieving.
Bottom Line
Psychic Source won me over with their affordability. However, I wasn't a big fan of having to purchase a package of predetermined minutes to get started – I felt as if this forced me into a box instead of giving me the freedom to purchase as many credits as I wanted to.
3. PathForward – Best for Bonus Rewards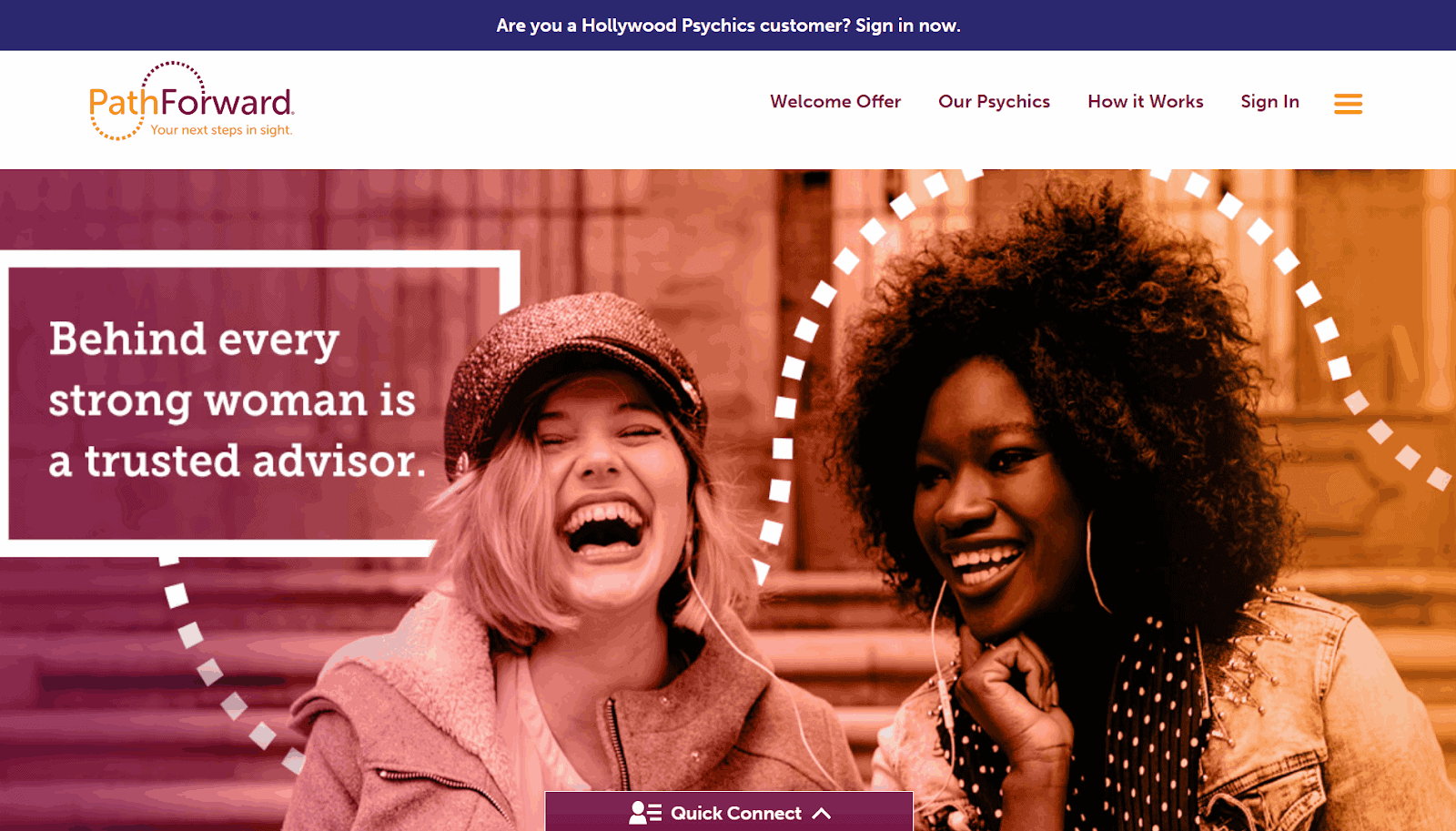 PathForward is a great choice for anyone who is new to the world of live psychic chats. You'll find some suggested psychics on the homepage – just click on the Chat Now button underneath a psychic's photograph to get started. If you want to search further, you'll find several helpful filters including reading subjects, psychic tools, whether you want a phone or chat reading, and more.
PathForward has attractive pricing, with new users paying as little as $1 for a live chat reading. What really stood out for me though was bonus rewards. By confirming my email address, I was gifted with $5 worth of credits. I also received 3 free minutes on my first reading.
PathForward psychics specialize in a range of topics, including romance, career, family and friends, and spirituality.
Bottom Line
I liked PathForward for its simple website, affordability, and welcome rewards. Even though I wasn't too comfortable with the lack of information regarding how long PathForward has been around, their refund policy gave me the peace of mind I needed.
Claim Your Free Minutes on PathForward
4. Kasamba – Best for Free Psychic Messaging
Kasamba is a veteran of the psychic world and a go-to for many people seeking live chat readings.
But what really impressed me was Kasamba's message feature, which allows you to ask a psychic a question before initiating a live chat. When I clicked on a psychic's image to view their profile, I found a Request a Reading button underneath the Let's Chat button.
After clicking on it, I was able to send a free message to the psychic, allowing me to get a better idea of whether they were a good match. I was also able to tell them what I was willing to pay for a live chat psychic reading.
In terms of reading topics, customers can choose between several categories, including fortune telling, tarot, occult, love, graphology and more. This site definitely had some of the more unique reading categories I've seen to date.
Bottom Line
Kasamba has also been around for over 2 decades, so I find them to be trustworthy. I was concerned about how high some of their per-minute rates were but there are also affordable psychics to choose from. What's more, the free messaging feature gave me the opportunity to communicate with potential psychics before committing to any paid readings.
5. Oranum – Best for Free Live Chats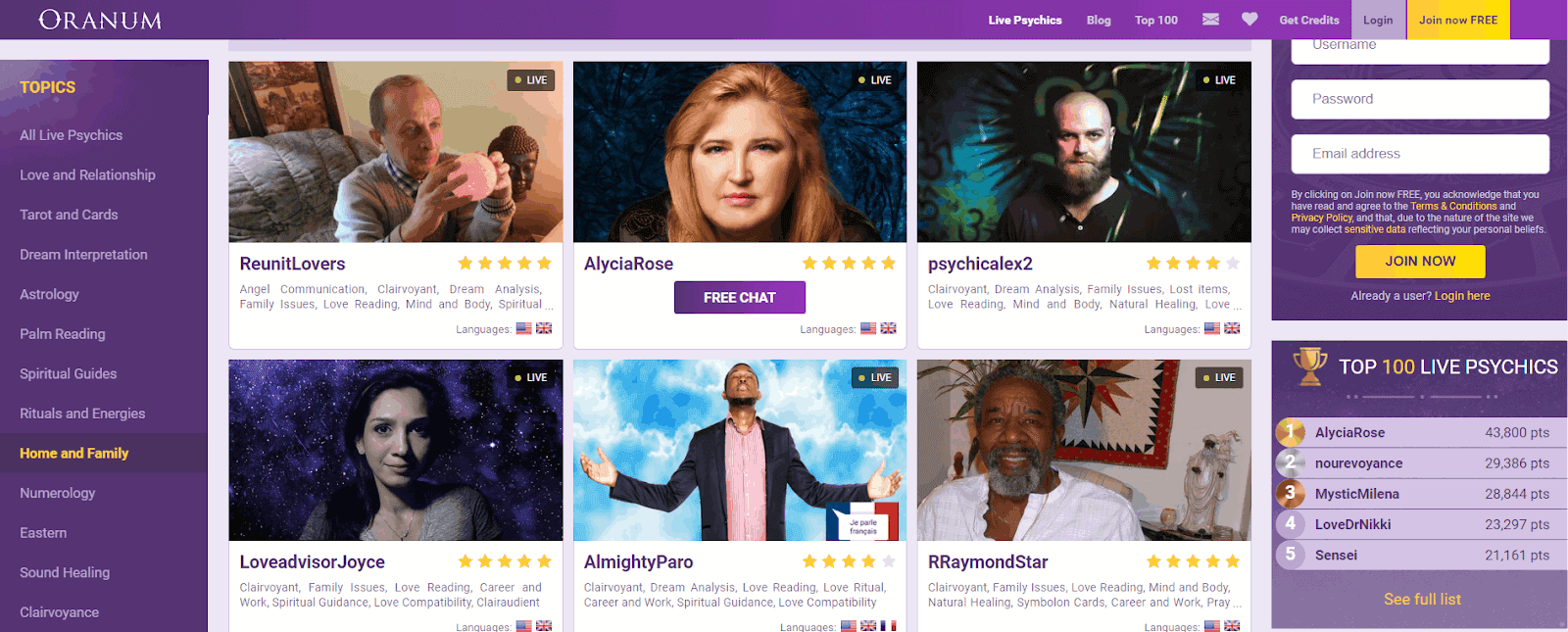 When it comes to variety and quantity, Oranum is in a world of its own. With thousands of psychics offering live chat readings across 60+ topics, it's impossible you won't find a match.
However, that's not even the most impressive part about Oranum. They also offer free weekly live video sessions with psychics, giving you the opportunity to chat with them too. You don't even need to sign up to chat to a psychic for free.
I found this to be the best way to discover the right advisor for me before paying for a full live chat reading. And because the video feature is one-way (only the psychic appears on screen), I could remain anonymous and confident.
Bottom Line
I loved Oranum's free live video shows and chat. It's a great way to zero in on the best psychic for you before signing up for a paid live chat reading. However, the huge selection of psychics and reading topics can be overwhelming, especially if you are new to the site.
What to Expect During a Live Psychic Chat
An experienced psychic can pick up on your energy from anywhere, so expect your live chat reading to be just as accurate as a phone or face-to-face reading.
Here are some tips to get the most out of your live psychic chat:
Your energy is important in any type of reading, so it's best to keep an open mind and remain positive. To do this during a live psychic chat, take advantage of its core benefit – being anonymous. You can be as free as you'd like over chat, sharing your most intimate issues without apprehension or the fear of being judged.
Chat readings make it easier to ask the right questions by giving you the ability to word your questions correctly. Sometimes, verbal communication can be less specific than written communication. So, being able to communicate in writing should help you recall the depths of the issues that are weighing on you. Stick to open-ended questions with just enough information to get your intention and energy across.
Keep the clock in mind – chat readings are typically timed the same way as phone and face-to-face readings, even when the psychic is slow to respond. So while you can be as detailed as possible with your most personal questions, be sure to keep things brief and to the point.
Bottom Line
The vast majority of psychic websites offer live chat readings, but only a few of them will provide the accuracy you're looking for. While some psychics can easily tap into the vibrations of your energy during a phone or face-to-face reading, only the most experienced can do the same over chat. If you want a platform that's easy to use, give Keen Psychics a try. If affordability is important to you, you can't go wrong with Psychic Source.