Overview
Tarot cards first came about in the 15th century, and have had an enduring presence in the world of psychic readings ever since. And for good reason too— one session with a skilled tarot reader can reveal invaluable insights into your past, present, and future. But not every person on the street with a tarot deck is a skillful reader. That's why your search for the right one should start on a trustworthy site.
The 5 tarot reading sites on this list all feature highly rated and vetted tarot readers. Read on to discover which one is the best fit for you.
In a rush? Here are my top site picks
Keen Psychics – Best for Payments in GBP
Psychic Source – Best for Local Customer Care
PathForward – Best for Consistent Pricing
Kooma – Best for Readers on UK Time
Oranum – Best for Free Live Tarot Readings
1. Keen Psychics – Best for Payments in GBP

With over 300 tarot readers on the site and a well-established reputation as a trustworthy platform, you can't go wrong with Keen Psychics. You can have a tarot reading done via chat or phone, and you have a huge selection or psychics to choose from. Of the over 300 tarot readers, 90 of them have 5-star ratings, with some based on thousands of reviews. The remaining tarot readers are rated 4.5 stars and above.
When you first join Keen Psychics you'll get the first 3 minutes of your reading for free. Readers charge between £1.45 – £14.59 per minute ($1.99 to $19.99 per minute). Don't let the upper end of that price range turn you off though. If you're on a budget, you can filter your results by price. You will find that there are plenty of highly-rated tarot readers with prices around £3.64 ($4.99) per minute and less.
Bottom Line
If you're not interested in browsing a lot of different tarot sites and want to meet with a reader as fast as possible, then I recommend going straight to Keen. Keen is a reputable psychic reading site with hundreds of highly-rated tarot readers to choose from, and you won't have a problem finding one that fits in with your price range.
Find a Reader on Keen psychics
2. Psychic Source – Best for Local Customer Support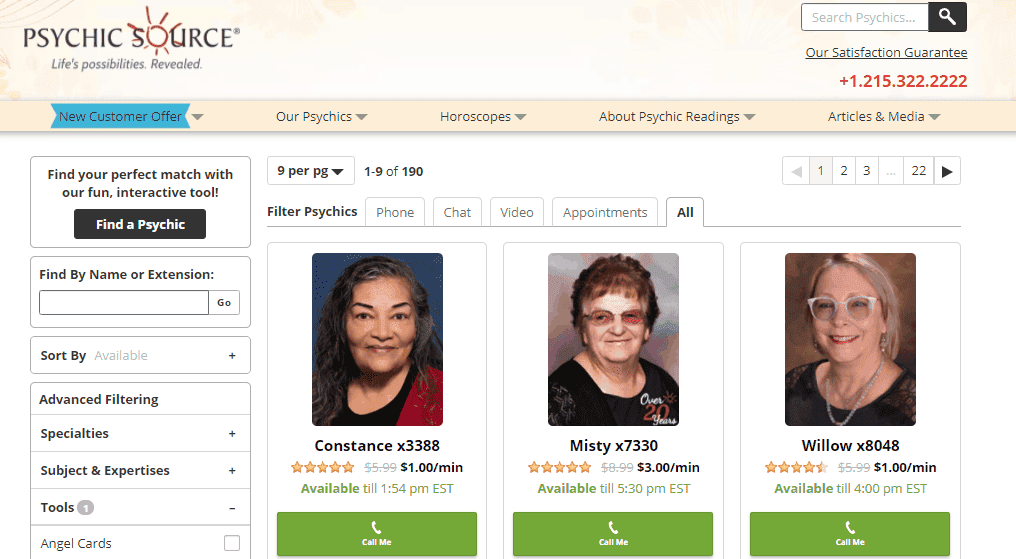 Psychic Source has just under 200 tarot readers on their site, 60 of which have a 5-star rating. In fact, all the readers you'll find on Psychic Source have at least 4.5 stars, with the exception of any new readers who are just starting out. Psychic Source sets itself apart from its competitors by offering readings via video, not just chat and phone. For a lot of people, the appeal of tarot readings comes from the experience of watching the psychic pull cards for you in real-time. If this is the case for you, then I highly recommend giving Psychic Source a shot.
Psychic Source also offers a really great introductory rate for new users— you'll get your first 3 minutes free, and you can also purchase up to 30 minutes for less than £22 ($30). After this, psychic rates range from £3.64 – £14.58 per minute ($4.99 – $19.99 per minute). Similar to Keen Psychics, you can find highly rated tarot readers whose per-minute rates fall on the lower end of this price range.
Bottom Line
If you want to watch your tarot reader pull cards for you live, then Psychic Source is a great option for you. With the site's introductory offer you'll have the opportunity to connect with your psychic via video and have them perform a tarot reading for you for as little as $1 per minute.
Find a Reader on Psychic Source
3. PathForward – Best for Consist Pricing
PathForward has about 40 tarot readers on their site, with half of them rated 5 stars by their clients. The best thing about PathForward is that, unlike other sites, you don't pay a premium for a reading with a top-rated psychic. The site has a completely flat pricing model. If you're a new user you can purchase up to 30 minutes of reading time for less than £1 per minute. Once you've used up these introductory minutes, every tarot reader on the site has a flat rate of £3.65 per minute.
You'll never have to pay more for a top-rated reader— you can try out any and as many tarot readers you'd like on the platform. When browsing for the perfect reader, be sure to listen to the unique, pre-recorded audio message on their profile page and read through the many reviews.
Bottom Line
If you're someone who likes to "shop around" and try multiple readers, then PathForward is the platform for you. With its flat pricing model, every tarot reader on the site has the same per-minute rate, making them all equally accessible to you.
4. Kooma – Best for Readers on UK Time

Kooma is a psychic reading platform that caters specifically to UK residents and features well over 100 tarot readers on its site. Over 50 of these readers have a 5-star rating based on client reviews, and you can connect with them via phone and chat. The platform states that they handpick each of their featured readers and that they are regularly evaluated through quality assessments.
Kooma is great for people residing in the UK, as their reader availability largely corresponds with the UK's timezone. This is a huge help for UK residents, as many other competing sites feature readers in the US, making it tricky to schedule a reading at a convenient time. New users on Kooma can take advantage of the site's introductory offer of 20 minutes for just £4.99.
Bottom Line
The most talented tarot reader is no use to you if their availability never matches up with yours. That's why people who live in the UK should check out Kooma, a platform that features over 100 tarot readers who are in the same time zone, and are available when you need them.
5. Oranum – Best for Free Live Tarot Readings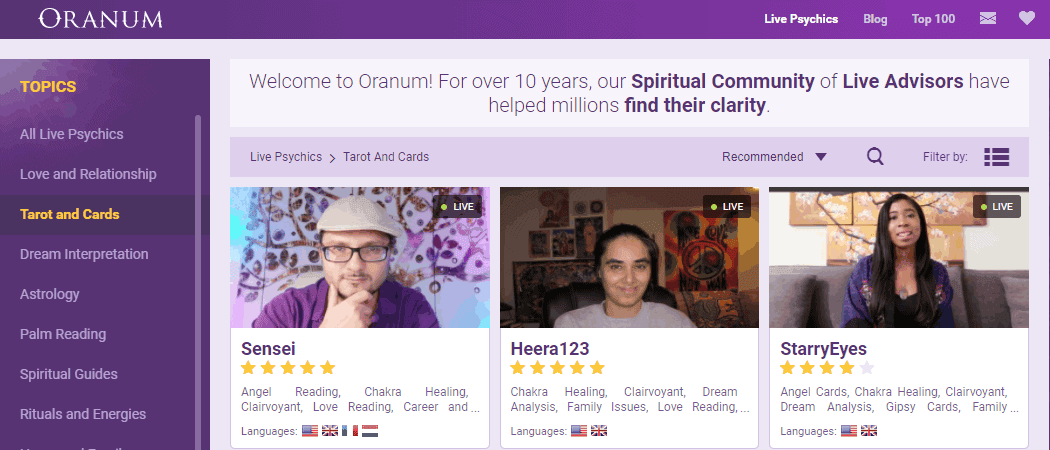 If you're just starting out in the world of online tarot reading, I recommend checking out Oranum. Oranum has been around for over 8 years and is quite unique from other psychic reading sites. The platform requires its readers to host free, live weekly sessions on the site. This means that at any given time you can head over to the site and watch live tarot readers in action. Once you click on a reader's profile, you can interact with them via the free public chat. It's very common for tarot readers to pull cards for their visitors and explain their meaning at no charge. Of course, you shouldn't always expect an in-depth reading with one of these psychics for free in this public space. But it's a great way to get your feet wet in the world of tarot readings.
If you do find a reader that you'd like to enter into a private session with, you should keep in mind that psychics on Oranum set their own rates, and they usually range from £0.72 to £7.29 per minute ($0.99 – $9.99 per minute). You do get £7.29 ($9.99) worth of free credits in your account just for validating your credit card.
Bottom Line
Oranum is a fun, interactive platform to check out for live tarot readings. You'll have the chance to interact with countless tarot readers and ask them general questions in the public chat box, at no cost to you. This is a great way to explore tarot readers and see them live before entering into a paid session.
How to Choose a Tarot Reader in the UK
Before getting into any type of reading with a psychic I always give people the same advice— do your own research first. This applies even more so to tarot since there are plenty of online resources you can check out, completely free.
While you certainly don't need to be an expert in all of the cards' meanings, it definitely helps to have a grasp on the fundamentals before meeting with a professional. If you have an understanding of the basics, then you're able to ask your reader more detailed questions and get more specific answers.
It's helpful to know what kind of spread you'd like your reader to pull for you. Do you want a simple 3 card spread representing your past, present, and future? Or do you prefer a more detailed reading with a celtic cross, or 10 card reading? Having an idea of what you're looking for ahead of time will help your reader tailor their services to you (or even more importantly, help you spot a fraudulent reader).
Once you've done your background research, decide what type of reading you'd prefer: call, chat, or video. This will help narrow down your choice of sites even further.
Lastly and most importantly, read plenty of reviews that other clients have left for your chosen tarot reader, before entering into a paid session with them. Reviews are the fastest and easiest way to figure out if your reader is the real deal or a fraud.
Bottom Line
The reality is that there are a lot of qualified online tarot readers out there— if you know where to look. If you're a newcomer to the world of online psychic readings, I suggest you start at Oranum. The platform lets you explore hundreds of readers at no cost to you. If you're more experienced and are looking for a top-quality tarot reader, then you should check out Keen Psychics, which features hundreds of highly-rated psychics based on thousands of client reviews. And if you're trying to find a reader who's also located in the UK and whose availability lines up with yours, then try searching on Kooma.