California Psychics (Now offering an impressive discount) and PathForward both have excellent reviews, so how are you meant to choose between them?
The two sites are very similar in terms of psychic selection size and experience. However, when it comes to pricing and trustworthiness, there are some significant differences to take note of. This review will reveal which of these two psychic reading sites are the best fit for you.
Quick Summary of Winner in Each Category
California Psychics vs. PathForward: Types of Readings
California Psychics
California Psychics only offers nine types of readings, most of which are pretty standard, with the exception of pet psychics and missing persons psychics. I do appreciate how specific you can get when searching for a psychic within a particular category though. Users can filter their results according to topic, psychic ability, tools, reading style, customer favorites, and more.
My favorite filter was Staff Picks, which is not something I commonly see on other sites. I feel this would be incredibly helpful for anyone trying out a new site, as well as people who are new to the whole world of psychic readings. It made me feel like I had a trusted friend giving me recommendations. In total the site has over 500 psychics to choose from.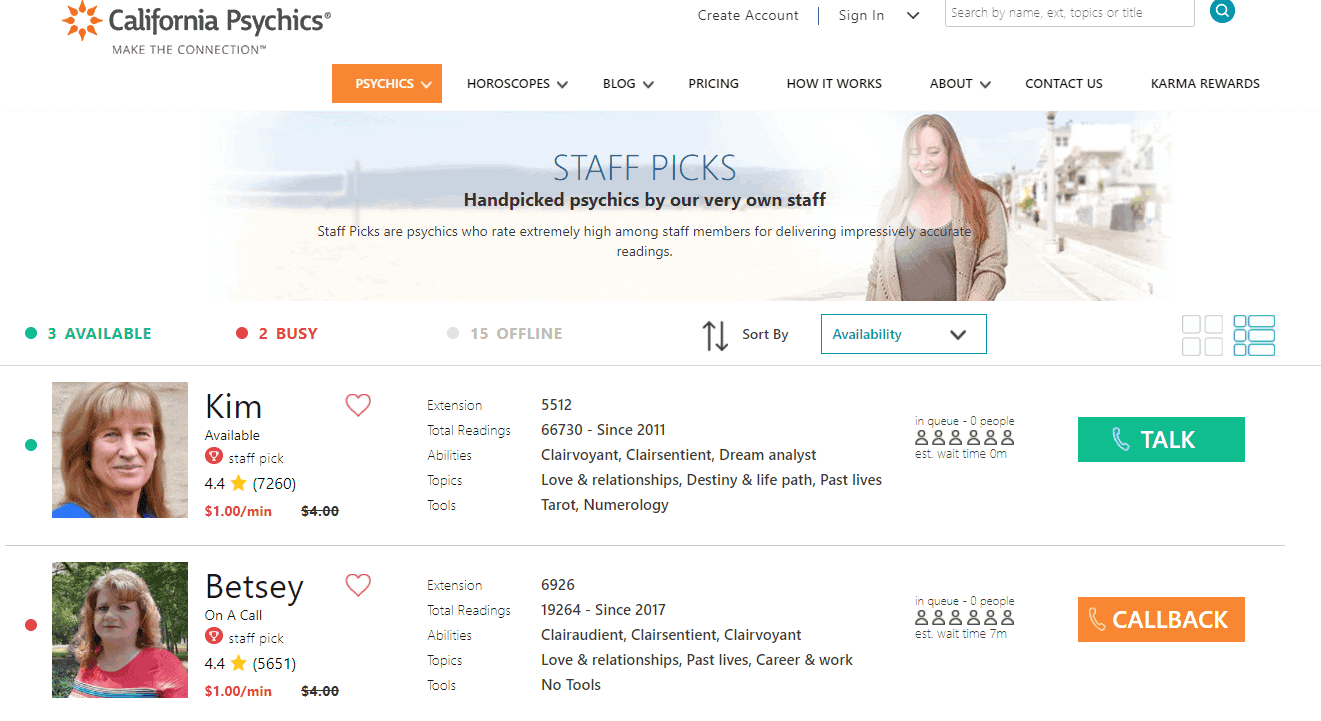 PathForward
Unlike California Psychics, PathFroward only offers 5 types of readings, which works if you aren't looking for something too specific. PathForward also has some great filtering options, allowing you to filter your results based on topic, psychic ability, tools, reading style, and more.
It's worth noting that this site also has pet psychics to choose from. However, it doesn't appear as a standalone category, so you would need to search through psychic profiles yourself.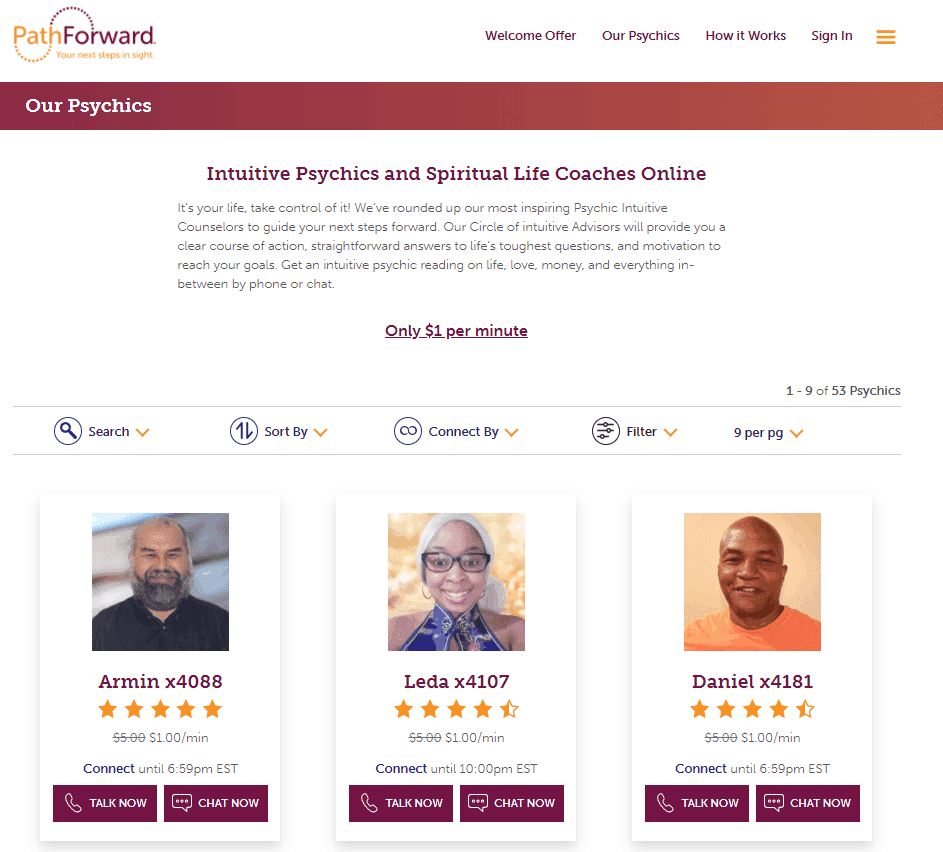 The thing I liked about PathForward is that they give you many more psychic reading styles to choose from, including compassionate, conversational, expressive, and others. In total, this site has over 450 psychics, which is on par with California Psychics.
Winner: California Psychics for wider selection of reading types.
Book a Reading with California Psychics
California Psychics vs. PathForward: Pricing
California Psychics
California Psychics does not offer any free introductory minutes or credits for new users, which is disappointing. On the plus side, they do offer a general discount when you sign up for one of their three packages.
As a new user, you have to purchase 20 minutes worth of reading time. The three packages are based on the type of psychic you are interested in. Scheduling a reading with Popular psychics will cost you $1 per minute, while a Premium psychic will cost $4 per minute.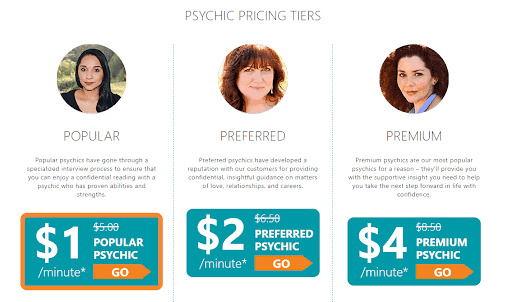 After you've used up your first 20 minutes, psychic rates range from $4 to $15 per minute.
PathForward
Unlike California Psychics, PathForward does offer first-time users free minutes. This is in addition to their very competitive introductory rate.
When you first sign up with PathForward, you can purchase 10, 20, or 30 minutes at a rate of $1 per minute. No matter which package you choose, you'll receive an additional 3 minutes for free. As an added bonus, if you confirm your email within the first 24 hours of signing up you'll also receive a $5 reward bonus.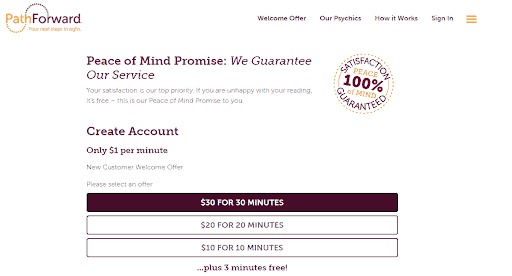 After you've used your introductory minutes, PathForward's rates remain much lower than most of its competitors, including California Psychics. No matter which psychic you choose, you'll pay a flat rate of $5 per minute.
Winner: PathForward for their competitive per-minute rate and sign-up bonuses.
Claim Your Free 3 Minutes on PathForward
California Psychics vs. PathForward: Website Usability
California Psychics
Despite having over 500 psychics, the California Psychics site is user-friendly. Everything you need is well-organized, and the site's How To section is short and to the point.
Psychic profiles are also pleasant to read and offer plenty of useful information, such as their total number of readings, number of active years, their abilities and tools, as well as their reading style. You can also read through testimonials from past clients.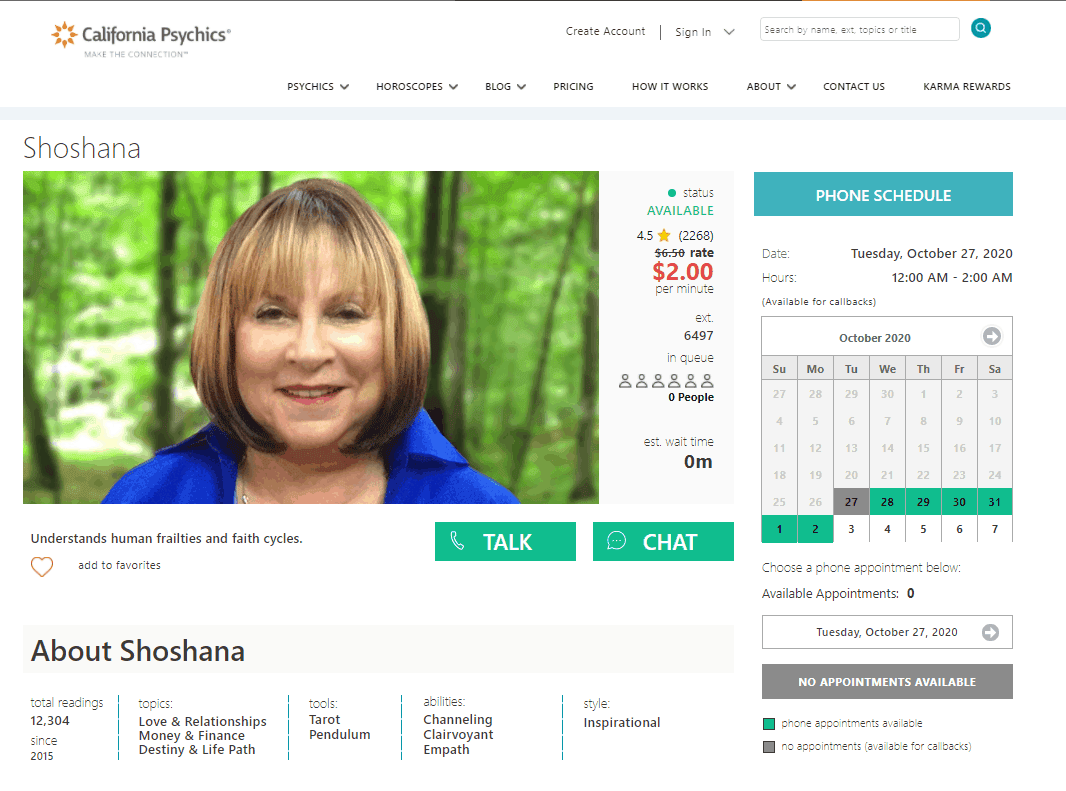 The site's sign-up process could be better though. While it doesn't take long, it's not as clear as I'd prefer it to be. If you don't choose a plan from their introductory offer page and simply create an account, you're automatically signed up for their preferred package.
Personally, I believe sites should be completely transparent during the sign-up and payment processes, ensuring users know exactly what they are getting.
PathForward
PathForward's psychic profiles are structured differently but are still very detailed. Every profile features the psychic's answers to a set list of questions. I particularly enjoyed this feature because it gave me the chance to get to know each psychic.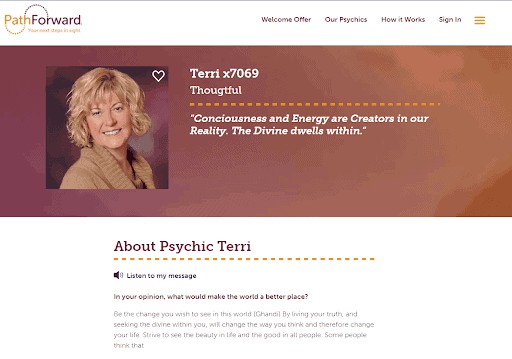 Each psychic's profile also features an audio message, which is a nice personal touch. And, of course, there are ratings and testimonials for users to read through.
PathForward's sign up process is easy and more straightforward than California Psychics. When creating your account you can clearly choose between the 10, 20, or 30-minute package. This transparency automatically boosts my trust in the site.
Winner: PathForward for site usability and clarity during the sign-up process.
California Psychics vs. PathForward: Trustworthiness
California Psychics
California Psychics offers a money-back guarantee to all customers. The user must make their claim within 24 hours of the reading which is reasonable. Unfortunately, customers are only able to do this once. I found this to be a little unfair as these claims should be evaluated on a case by case basis. After all, if you are a regular user, it's not unlikely that you will come across an unsatisfactory reader every now and again.
The site was established in 1995 and they claim to have a rigorous psychic screening process. What I found unique and compelling is that California Psychics claims to re-evaluate their psychics on a regular basis in order to maintain their user experience.
PathForward
PathForward has a Peace of Mind Promise, which allows unhappy customers to request a refund. Just like California Psychics, the claim must be filed within 24 hours of the reading and is only valid for readings that lasted 20 minutes or less. The site does not mention anything about limiting refunds to 1 per customer.
The site advertises 24-hour customer service and a rigorous psychic screening process. They claim that less than 5% of applicants make it onto the site.
Winner: PathForward for not limiting refund requests.
Speak with a Psychic on PathForward
California Psychics vs. PathForward: Added Extras
California Psychics
California Psychics has a really great Match Me feature that I've rarely seen on other sites. The Match Me button takes you to a page where you can choose your interest, reading style, and preferred tool. Once you answer a few questions, the site will generate a list of psychics for you to choose from based on your selections.
The only drawback of this feature is that the site doesn't have a dedicated tab for it. Instead, it looks more like an advertisement that you stumble across while browsing.

California Psychics also has a rewards program called Karma Rewards. It allows you to earn points for every purchase, which can be used for future readings. The reward program also gives you birthday and anniversary gifts.
PathForward
PathForward also has a rewards program, called In Sight Rewards. Similar to California Psychics, you earn reward dollars that you can use for future readings. It's free to join and users receive 3% worth of rewards for each purchase, up to $45 per month.
Winner: California Psychics for making it easy for first-time users to find the right psychic match.
Start Earning Rewards on California Psychics
The Bottom Line on California Psychics vs. PathForward
It's clear that California Psychics and PathForward are two of the best psychic reading sites out there, which is why it's challenging to name a winner between the two.
That being said, my personal choice would be PathForward, for two main reasons. Firstly, PathForward has the better introductory offer and rates once you've used up your initial credits. If you are more price-sensitive when it comes to finding an online reader, I'd recommend you choose PathForward. Secondly, the PathForward sign-up process is more straightforward.
But that doesn't mean that there aren't areas where California Psychics excelled. When it comes to reading topics, California Psychics has more to choose from. For some people, the fact that the site has separated its psychics into different levels is very helpful. Having a section dedicated to staff picks is also a nice touch.
For this review, my top pick is PathForward.
Explore Readings on PathForward