Due to a language barrier with Chinese numerology, it can be frustrating to truly understand it. Not only that, but Chinese numerology is intricate and the number interpretations are largely embedded in cultural contexts.
To make your life easier, I've created a guide so you can calculate and interpret your Chinese numerology without the stress. Although you'll find that this guide provides you with meaningful knowledge, you may still require additional insights.
This is where a numerology expert can assist you with interpreting and applying your numbers. Consider chatting with a numerologist on California Psychics since the site has some of the most experienced and top rated numerology advisors.
How to Calculate Your Chinese Numerology Chart?
There are two predominant ways of working with your personal Chinese numbers. The first method is by using the Lo Shu grid and the second is by calculating your Chinese lucky number. I'll go over both methods and you can use one or both to get a better grasp on your Chinese numerology.
Working With the Lo Shu Grid
The Lo Shu Grid, also known as the Magic Square, is a popular method used in Chinese numerology. In contrast to your lucky number, the Lo Shu method uses your full date of birth but only includes numbers 1-9 and omits all 0s. Each number has a distinct meaning and is classified by yin or yang, direction, season, element, and color.

Order of a traditional Lo Shu grid and corresponding numbers</center

To calculate your Lo Shu grid, distribute your full birth date into the correct squares based on the original order of the Lo Shu grid. Therefore, all 9s would be placed in the top middle square and all 1s in the bottom middle square and so forth. For example, if we take the birth date 08/30/1997, the grid should look something like the following.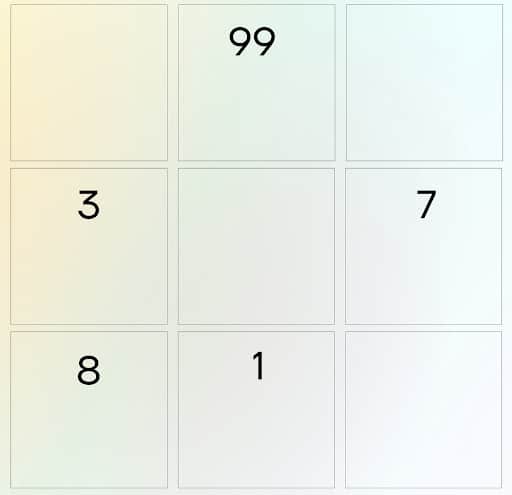 Sample of how to calculate your Lo Shu grid
Interpreting Your Lo Shu Grid
Begin by identifying the patterns found in the grid based on row, column, and diagonals. Think of it a bit like tic tac toe, where you're trying to find a connection between the numbers in the grid. But, with this method you would also take into account the pattern of empty squares.
Three Squares Filled (Row, column, or diagonal): This is seen as a positive energy in the chart and any squares with double digits in them will play a significant role in the person's life.
Three Squares Empty (Row, column, or diagonal): Tends to be less favorable in the chart as it represents a particular energy that is lacking in the individual's life.
Additionally, Lo Shu grids are interpreted with vertical, horizontal, and diagonal planes. Depending on how empty or full each plane is will give you additional insights as to what may be abundant versus lacking in your life.
The Vertical Plane — Thought, Will, and Action
Thought (First column): Your capacity to come up with ideas, how unique they are, and the value they bring to your life.
Determination & Will (Second column): Associated with how determined you are to get things done in life and succeed.
Action (Third column): Representative of your ability to take an idea or plan and execute it with consistent action.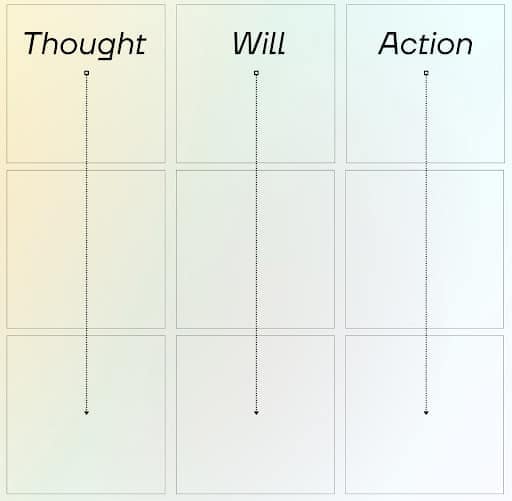 The three vertical planes of a Lo Shu Grid.
The Horizontal Plane — Mind, Soul, Practical
Mind (First row): Your intelligence and capacity to think and analyze, how in control you are of your mind, and how sharp you are.
Soul (Second row): How emotional you are in your approach to life and a representation of your feelings and intuition.
Practical (Third row): A representation of the material realm and the level of your success, abundance, and prosperity in life.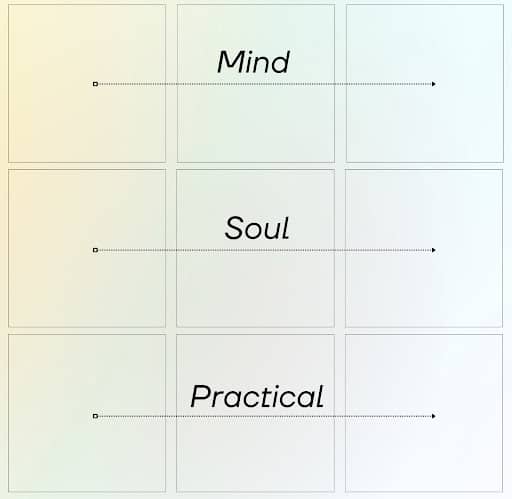 The three horizontal planes of a Lo Shu Grid.
The Diagonal Planes — Golden and Silver Yog
Golden (Left diagonal row): Blesses the individual with a legacy, fame, and fortune.
Silver Yog (Right diagonal row): Provides the person with many properties but will also face a lot of turbulence.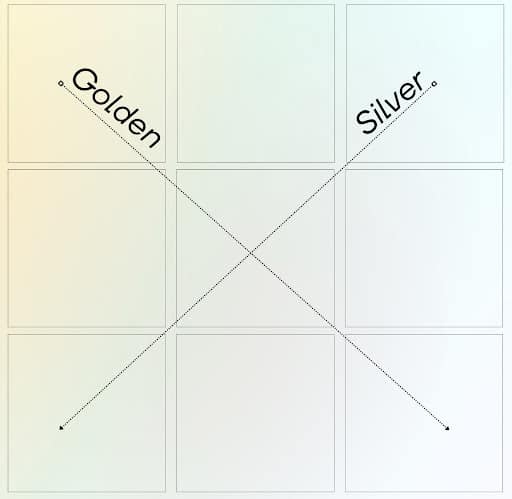 The diagonal or success planes in a Lo Shu Grid.

When a number shows up multiple times in a square, its energy will be most present in the plane of life that it sits in. Therefore, multiple 8s in your vertical plane of action will indicate motivation to act. That said, it's best to leave nuanced interpretations of the Lo Shu Grid to a numerologist on California Psychics for tailored insight of the energy in your grid.
Missing Numbers
Alternatively, missing numbers show a lack of energy but you can remedy missing numbers by using the element, direction, or color associated with it. So if you're missing the number 5, you can wear more red to increase balance and fortune. But, to understand the significance of each number consult the original Lo Shu grid above.
Calculating Your Chinese Lucky Number
The method for calculating your lucky Chinese number is quite different from Western numerology. In Chinese numerology the focus is mostly placed on the birth year. However, it's also custom to add or subtract numbers depending on your gender.
Add Up Your Birth Year
To begin, you'll need to take your birth year and add the last two digits together. Let's say your birth year is 1997, so you would take 9+7 and end up with 16.
From there, reduce the double digit number 16 to a single digit. To do this, you need to add the individual numbers 1+6 to end up with the reduced number of 7.
The next step is to add or subtract from the number you got based on whether you're male or female. If you're male, you'd subtract the digit from 10, in this case 10-7= 3. Using this example, your Chinese lucky number is 3.
If you're female, add 5 to the number, which would be 5+7= 12. If you end up with a double digit number like in this case, reduce it until you get a single digit to get your lucky number.
The Meaning of Your Chinese Lucky Number
Everyone has a Chinese lucky number and each number is said to hold a unique energy and influence. While some numbers are considered lucky and unlucky in Chinese culture, the meaning can somewhat vary in Chinese numerology. However, both are quite interconnected so there will be some overlap.
Number 1


– Associated with initiative, leadership, and ambition.
– Considered a neutral number in Chinese culture.
– Has the most complex meaning and represents "the beginning, the origin, and the whole".
– People with 1 as their Chinese lucky number are often blessed with professional and financial success.

Number 2


– ​​A number of partnerships, harmony, and cooperation.
– Seen as an auspicious number in Chinese culture.
– People with this number are easy going and tolerant.
– Individuals with this lucky number prioritize their relationships and often have successful ones.

Number 3


– Emits the energy of growth, abundance, and prosperity.
– The number 3 is a lucky number in Chinese traditions.
– In Mandarin, it sounds like the word birth and is associated with new beginnings.
– People with the lucky number 3 are social, creative, and talented.
– There is a chance for becoming famous or well-known.

Number 4


– A number of organization, patience, and reliability.
– Seen as an unlucky number in Chinese culture because it sounds like "death". But in Chinese numerology, this is symbolic of transformation.
– Those with lucky number 4 are disciplined, powerful, and confident.
– People with this number can achieve a lot since they're determined and ambitious.

Number 5


– A number of freedom but also one of balance since it represents the five of wood, fire, water, air, and metal.
– Generally considered a lucky number because of its association with "high five".
– People with this lucky number are exciting and quick witted.
– Those that have this luck number tend to have an adventurous life and a well-rounded personality.

Number 6


– Symbolic of devotion, responsibility, and consideration of others.
– One of the luckiest numbers in Chinese culture since it means "smooth" and "well-off".
– Having this lucky number denotes intelligence and perception.
– People with this number are noble in their endeavors and because of this usually reap positive rewards.

Number 7


– The number of the philosopher.
– In Chinese culture, it's symbolic of Yin, Yang, and the 5 elements which represent complete harmony.
– Can be disliked in some Chinese traditions because of the association with the 'ghost month' in the Chinese calendar.
– In Chinese numerology, it's an auspicious Yang number.
– People with this number are fated for opportunity and good fortune.

Number 8


– The number of the "natural born businessman" with a good reputation.
– Has a similar pronunciation to "Fa" which means wealth and fortune in Mandarin.
– Those with the lucky Chinese number 8 have a mild demeanor and are generous.
– Having this lucky number represents good fortune, courage, and prosperity.

Number 9


– In Chinese numerology, 9 is the number of longevity and eternity.
– Those with this number are dreamers and have a gift for serving others.
– This number is very auspicious because it has the same pronunciation as "everlasting".
– Those with this lucky number are said to receive good luck, fame, and fortune.
Best Sites for a Numerology Reading
Chinese numerology is a nuanced practice and you may find the knowledge of an expert necessary. By connecting with a credible numerologist, you can get more detailed insight into your personal numerology chart and learn to use it to your advantage.
1. California Psychics — Best Overall for a Numerology Reading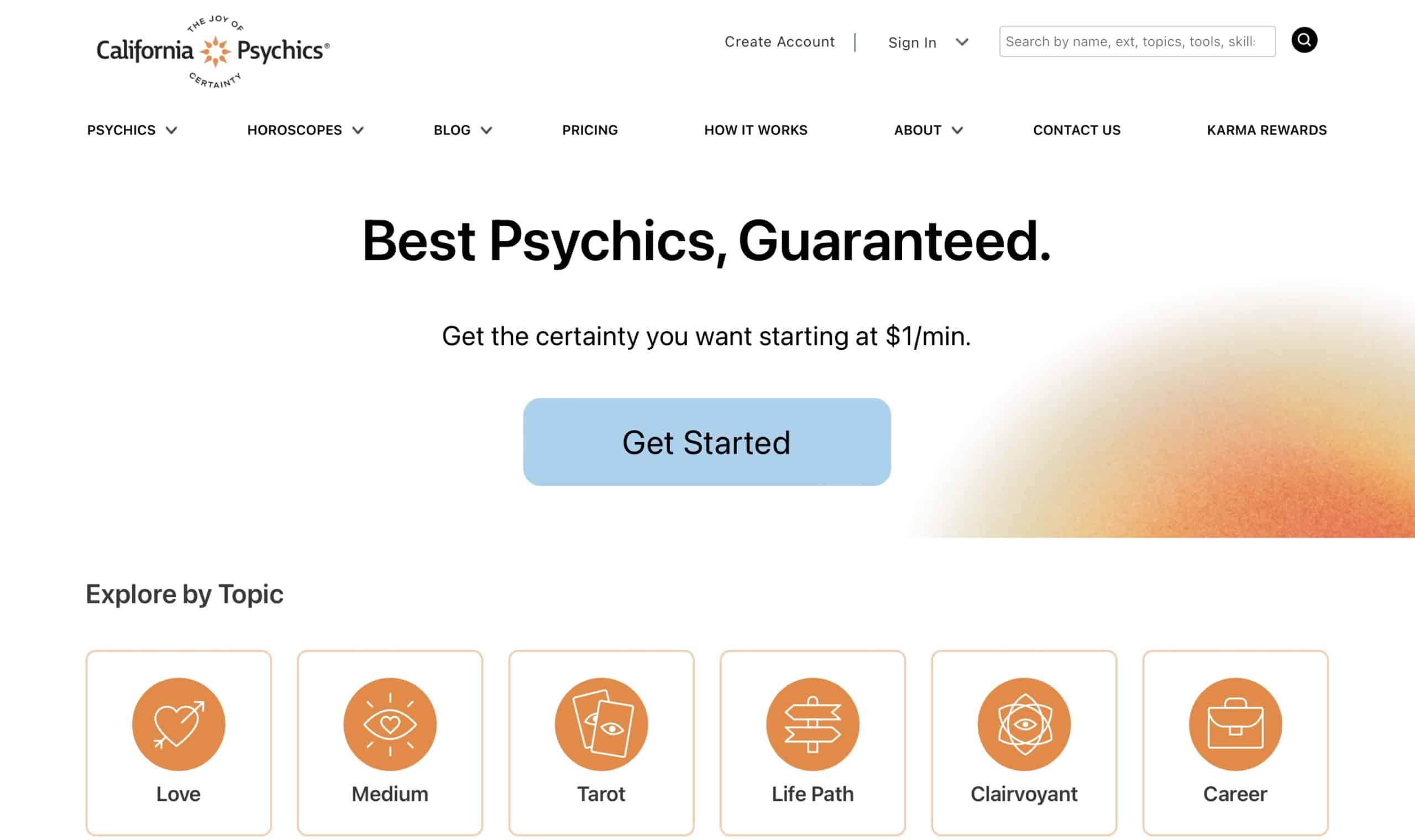 Strict vetting practices
$1, $2, or $4 per minute
100+ Numerology advisors
Worthwhile rewards program
Satisfaction guarantee
California Psychics is a solid option for a numerology reading because of its strict vetting practices and commitment to high standards. The platform only accepts 2% of its applicants and even monitors their quality of service for 90 days after joining. Such rigorous practices ensure that you receive a meaningful numerology reading with credible advisors.
I was glad to see that California Psychics offers inspirational, compassionate, and straightforward reading styles. This is great flexibility to have when selecting a numerologist because you can ensure your personalities are compatible. You'd be surprised at how choosing the right reading style can impact your level of satisfaction with a numerologist.
Something to keep in mind is that many of the numerologists on California Psychics are sought after and often busy. I don't always have a flexible schedule, and it's frustrating to have to wait on psychics to become available. Thankfully, there's an option to schedule your numerology session in advance which is convenient.
2. Keen — Get Numerology Insights On the Go With It's Mobile App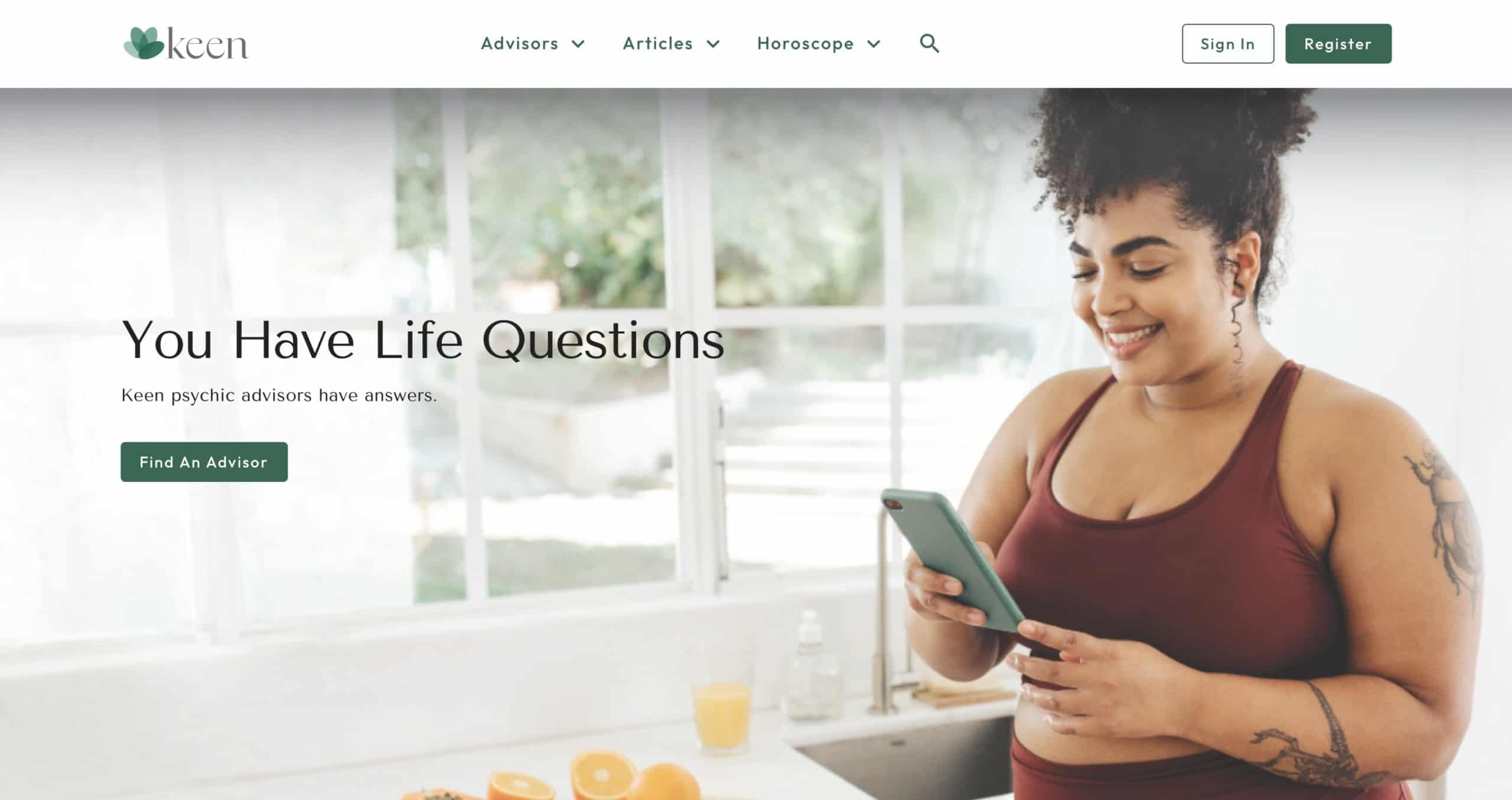 Numerologists screened for skill level
5 minutes for $1
10+ Numerologists
Convenient mobile app
Keen credits for unsatisfactory readings
One of the greatest benefits to getting a numerology reading on Keen is the convenience of its mobile app. With the app, you'll have easy access to its numerologists and can enjoy last minute insights if needed. It's app is a great alternative for me in the months I'm busy with traveling and need the additional freedom when booking a session.
I feel at ease booking my numerology sessions on Keen because of how transparent its review sections are. At the beginning of each review section, you can see the numerologists' "endorsed strengths" and even read all their client testimonials. Having all this information at your fingertips is a major plus because it ensures you make a considerate choice.
Although Keen has some great numerologists, some of them don't have the most in-depth bios. But on a good note, Keen has an email feature that allows you to contact any numerologist prior to booking. I often use this feature to ask any additional questions so I can feel more at ease about a reader's expertise.
3. Psychic Source — Enjoy Flexible Readings via Chat, Call, or Video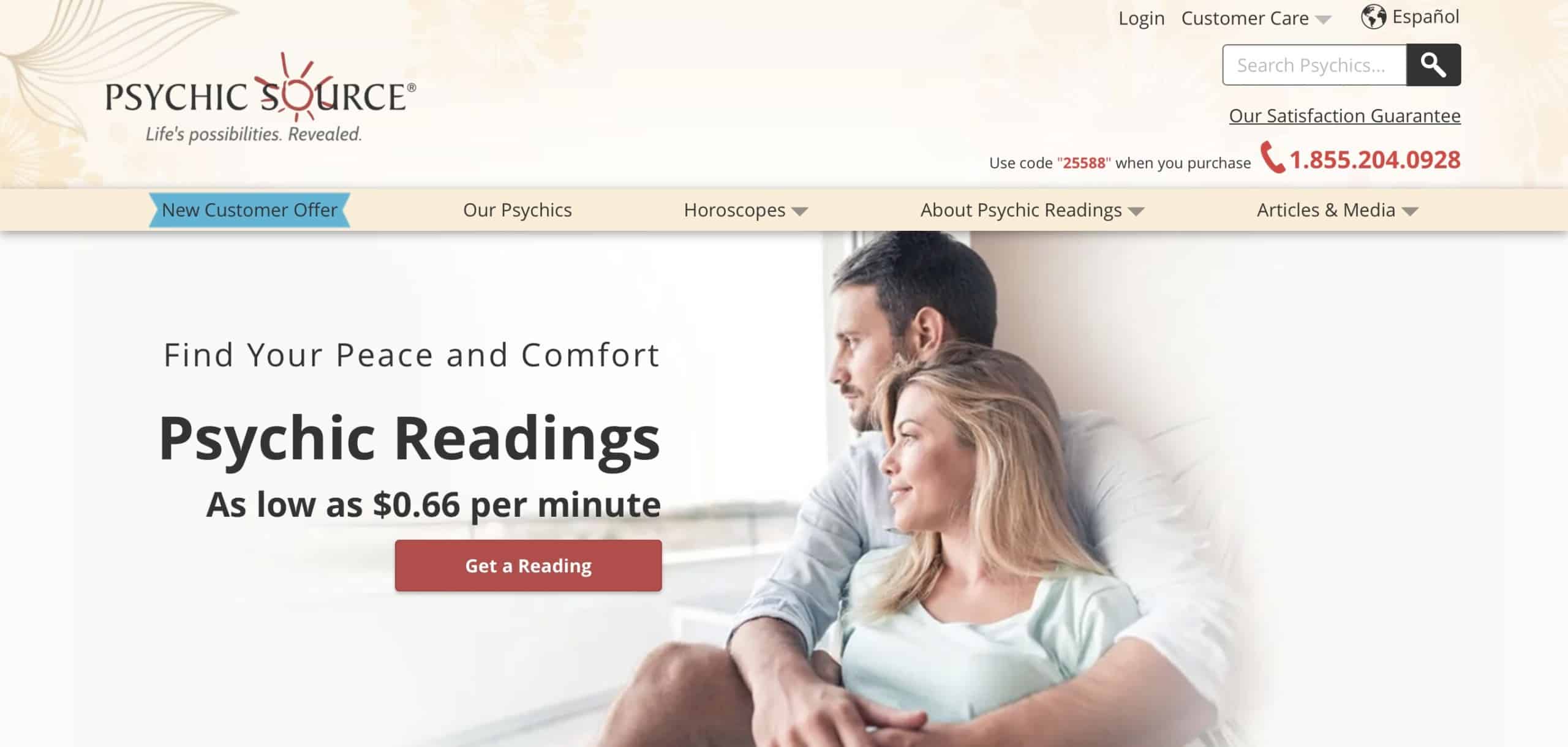 All advisors tested by live reading
$0.66 per minute + 5 minutes free
50+ Numerologists available
Live chat, call, and video readings
100% money back guarantee
Psychic Source is my top choice for numerology readings over video call. After all, it's one of the only platforms where numerology guidance is offered via chat, call, or video. In my opinion, having additional flexibility never hurts especially if you're new to online numerology readings and prefer interactions with visual cues.
I appreciate the abundant options on Psychic Source for contacting its customer care. Psychic Source offers live chat, phone, and email support in case you have any issues and need to get in touch with its team. Seeing such accessible customer support is reassuring since it means you won't be left on your own to resolve any potential problems.
While you have to spend a minimum of $10 to join Psychic Source, the upside is that it offers one of the best introductory offers I've seen. As a newbie, you can get a numerology reading for $0.66 per minute plus 5 additional free minutes. Ultimately, the initial cost for joining will go towards your reading anyway and be worth it in the end.
FAQs on Chinese Numerology
Which number is considered the luckiest in Chinese numerology?
Number 8 is the luckiest number in Chinese numerology. Additionally, in Chinese culture, the number 8 is an auspicious and lucky number due to its pronunciation, which sounds similar to the Mandarin word for "wealth" or "prosper." Because of this, it's often associated with good fortune, wealth, and success in Chinese numerology.
You can calculate your Chinese lucky number to see if you have the number 8 present. It's believed that double 8s are even more auspicious, so if you have this combination in your numerology it's a very positive sign. The number 8 in a numerology chart is especially favorable for financial prosperity or embarking on entrepreneurial ventures.
What is the story of origin behind Chinese numerology?
The story goes that 4,000 years ago, the Lo River in China flooded and swamped its people causing them to plead to the river god for help. It's said that a turtle surfaced on the river and people saw a grid of nine squares on its shell. According to the story, each square had dots adding up to numbers, all equaling 15.
The diagram was called "Lo Shu", which now refers to the Lo Shu grid used in Chinese numerology. It's said that the turtle gave the Chinese people the Lo Shu grid which is said to represent the natural flow of chi and the elements. Therefore, it's used as a way to interpret the energies present in your life through the lens of Numerology.
How does Chinese numerology differ from Western numerology?
Because of varying cultural traditions, Chinese and Western numerology assign different meanings and associations to numbers. For example, in Western numerology, the number 4 is about stability and solid foundations. Whereas in Chinese numerology, it's dreaded because the pronunciation sounds like the Mandarin word for death.
But, it's helpful to consult an experienced numerologist that has experienced with both types of Numerology. The biggest difference is that Western numerology predicts potential life paths, personality traits, and life challenges. Whereas Chinese numerology tends to focus more on understanding one's destiny and how one can align with the energy of numbers.
Bottom Line
Chinese numerology is a fascinating practice with a rich cultural context and ancient history. But, it can also be a somewhat inaccessible practice to delve deeply into. However, you shouldn't let this intimidate you can understand the basics of your Chinese numerology chart with this comprehensive, yet beginner friendly guide.
If you'd like more tailored knowledge you can get in touch with a credible numerologist. A numerologist on California Psychics can use their expertise to deliver you insightful advice. That way, you can feel more confident in your application of numerology in your day to day life.
In summary, the best sites for a numerology reading are…