Crystals are powerful sources of energy that react to your body's chakras and bring healing to your mind and soul. There are a variety of crystals that can uplift, energize, and calm your spirit when they are used in their many forms.
Whether you're an expert on the healing energy of crystals or you're just getting started on your spiritual journey, proper crystal care is the most important part of ensuring that you receive the full benefits.
If you'd like to find out which crystals you should be using, you can chat to a crystal specialist on Psychic Source – the first 3 minutes are free.
Cleaning Your Crystals
1. Water
Water is a life force, so it's one of the most effective ways to clean your crystals – sea or rainwater are the best options. However, if these are not accessible, you can simply soak your crystals in a bowl of saltwater or run them under a tap. Only use running water on harder, stronger crystals.
2. Natural Light
The sun and the moon are powerful forces capable of bringing new healing energy to your crystals. Be careful when using sunlight to cleanse certain crystal types, as the heat could react with the crystal and start a fire if left unattended. It could also result in discoloration, so it's best to only leave your crystals in the sun for a few minutes. Moonlight is far more subtle and really effective when the moon is full. Your crystals can be left overnight on a window sill to recharge just in time for your morning meditation.
3. Earth
You can use the pure energy from the earth to clear your crystals of harmful energy by burying them directly in the ground for a day. The earth will draw out anything negative and unwanted. Just be certain to bury them somewhere safe and memorable so you don't lose them!
4. Smoke
Sage cleansing, also known as smudging, is a popular and effective way to remove destructive energies from your crystals. You'll need to ignite the sage and move your crystals through the smoke. If you don't have sage handy, the flame of a candle is a great substitute.
5. Other Crystals
Some purifying crystals, like clear quartz or selenite, give off a cleansing aura. All you'll need to do is make sure your crystals make physical contact with the cleansing crystals. Just a few minutes will do, but the longer they are connected, the better the final result.
6. Willpower
Through methods of meditation and focus, you can clear your crystals of negative energies by envisioning a cleansing ray over them. You'll need to practice this technique before it becomes fully effective, but it's a really great way to end your meditation sessions and prepare your crystals for their next use.
Learn from a Crystal Specialist on Psychic Source
Storing Your Crystals
Now for storing your crystals – here are some basic tips:
Stay Organized: You'll need to know where to find the crystals you're looking for at a moment's notice, so categorize your crystals in a way that will make this easy for you.
Protection: Some crystals are really fragile or could get damaged when exposed to the elements. Keep your crystals safe by wrapping them in a silk cloth or velvet bag.
Storage: You can keep some crystals on display as a way to invite in the energies you are trying to attract. For those crystals that don't make the cut, a chest of drawers or jewelry organizers will be helpful in keeping them safe.
Claim Your Discount on Psychic Source for Professional Guidance
Programming Your Crystals
Lastly, let's look at how you can program your crystals for maximum benefit.
1. Choose the right crystal
When you're programming a crystal, you're aiming to achieve a specific purpose, so it's important to make sure you receive the right vibes from the crystal before you start programming it. Use your intuition to select one that gives off the energy you're looking for.
2. Clear your mind
The state of your mind is the most important part of programming your crystal as it will reflect the energy you bring into its space. Clear any negative or unwanted thoughts from your aura so you feel light and refreshed.
3. Dedicate the crystal to the highest good
You can either say this out loud or strongly will it in your mind, but it's vital to be purposeful in this step. You are aiming to attract positive energy and shut out any malevolent forces.
4. Visualize your intention for the crystal
Whether you're using the crystal to attract a specific event or even if you're just programming it to keep you calm, make sure you visualize your intentions as vividly as possible. Write your intention down in detail if this will make it easier to focus.
5. Place your crystals with purpose
Depending on what you've programmed your crystal for, store it somewhere that will allow its energy to permeate your space. For example, if you've programmed your crystal to keep you calm in stressful situations, it's probably best to wear it on you at all times.
Top 5 Crystal Psychics on Psychic Source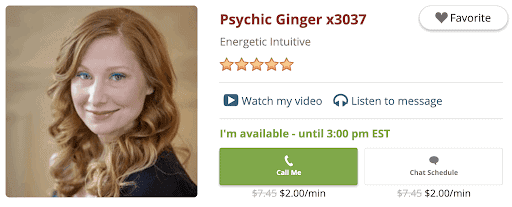 Ginger is the top crystal specialist on Psychic Source. Together with tarot and numerology, she uses crystals to revitalize her clients' outlook on relationships and careers. Ginger is a gifted empath and draws from her 13 years of experience using crystals to provide you with some helpful techniques of your own.

Mabel combines her wealth of wisdom together with crystals, tarot, and reiki to perform powerful psychic readings for her clients. She is a crystal healing specialist and has been using them to guide people for over 10 years. You can chat, call, or video call with Mabel for $3 a minute to tap into her extensive knowledge of crystals and their uses.

Millicent is a compassionate, intuitive psychic who uses crystals to guide her readings. She has a quarter of a decade of experience in using crystals as tools to manifest change in her client's lives. Because of Millicent's extensive proficiency with crystals, she charges a rate of $12.99 for a minute's reading, but with Psychic Source's introductory offer you can receive guidance for only $3 a minute.

Bella Skye is a medium who communicates with angels through her readings and use of crystals. She specializes in using supernatural energy to heal and protect her clients. Bella is a compassionate psychic who aims to make you feel as comfortable as possible. You can ask her all your crystal-related questions for only $3 an hour using the Psychic Source introductory offer.
Remi comes from a lineage of psychic crystal specialists and has over 50 years of experience. She is also clairvoyant and will easily be able to pick up on any unwanted energies surrounding your crystals. Remi's rate of $1 a minute is a steal considering the expertise she brings to the table. This will give you plenty of time to find out more about how she maintains and programs her own crystals.
Bottom Line
Crystals can literally change your life when you use them the right way. If you take special care to cleanse, store, and program your crystals to effectively match the things you're trying to manifest, you will very soon be living your dreams.
With that being said, all crystals are special and have unique powers. Talking to a professional who has experience using crystals will give you the best insight on how to care for your specific crystals and get the most out of their abilities. Take advantage of the Psychic Source introductory offer and claim your free minutes.