Let's face it: there are a few sketchy psychic reading sites out there. The best and fastest way to determine if one of these sites is worth your time is to see if they have a refund policy. If they don't have a policy, it's difficult to find, or it's confusing to understand, that's a potential red flag.
So how does Psychic Source stack up?
Psychic Source Refund Policy Explained
I always judge a psychic reading site by their refund policy, and Psychic Source does not disappoint.
Psychic Source has a satisfaction guarantee that they display right on their homepage, which means they want their customers to know about it (unlike other less trustworthy sites). The guarantee states, "If you're not happy with your last paid reading, it's free." Let's break that down:
If you have a bad reading, whether by chat, phone, or video, you can request a credit refund. But you need to keep these things in mind:
You must submit your request within one day of the reading.
You can only request credits worth 20 minutes or less.
You can only request credits for your last reading.
Psychic Source does reserve the right to deny a request. This contingency exists to prevent people from claiming multiple free readings.
Is Psychic Source Trustworthy?
For more than three decades, Psychic Source has established itself as a reputable platform, offering a range of top-rated psychics with over 10+ years on the site. Reading through customer reviews, it becomes evident that Psychic Source holds a special place in the hearts of its clients due to its trustworthiness.
"I've been a customer for a few years. I've called numerous times to a few psychics and discussed my situation. I am now at peace with myself and feel I have a better understanding of my situation. This comment is not a complaint; it is a thank you for all of their kindness and understanding."
Psychic Source also takes steps to protect its customers from scams. This site is one of the few that has created a guide to help customers spot psychic scams and fake readers. The guide points out the red flags to look out for, such as readers who tell you to buy more readings or expensive products to cure you of curses and evil, or readers with no reputation or verified reviews.
Overall, Psychic Source's website shows customers that trustworthiness and reliability are important priorities.
Browse Readers on Psychic Source
Psychic Source Screening Process
Psychic Source doesn't have a lot of information available about how they vet their psychics, beyond stating that there is a rigorous screening process in place. That's why I decided to contact customer support directly. (Bonus points to the platform for their very fast reply).
When a psychic applies to become a reader on Psychic Source they must first fill out the site's online application. The form is very much like a standard job application and asks important questions like, what training and certificates the applicant possesses, how and when they discovered their gift, and how many years of experience they have.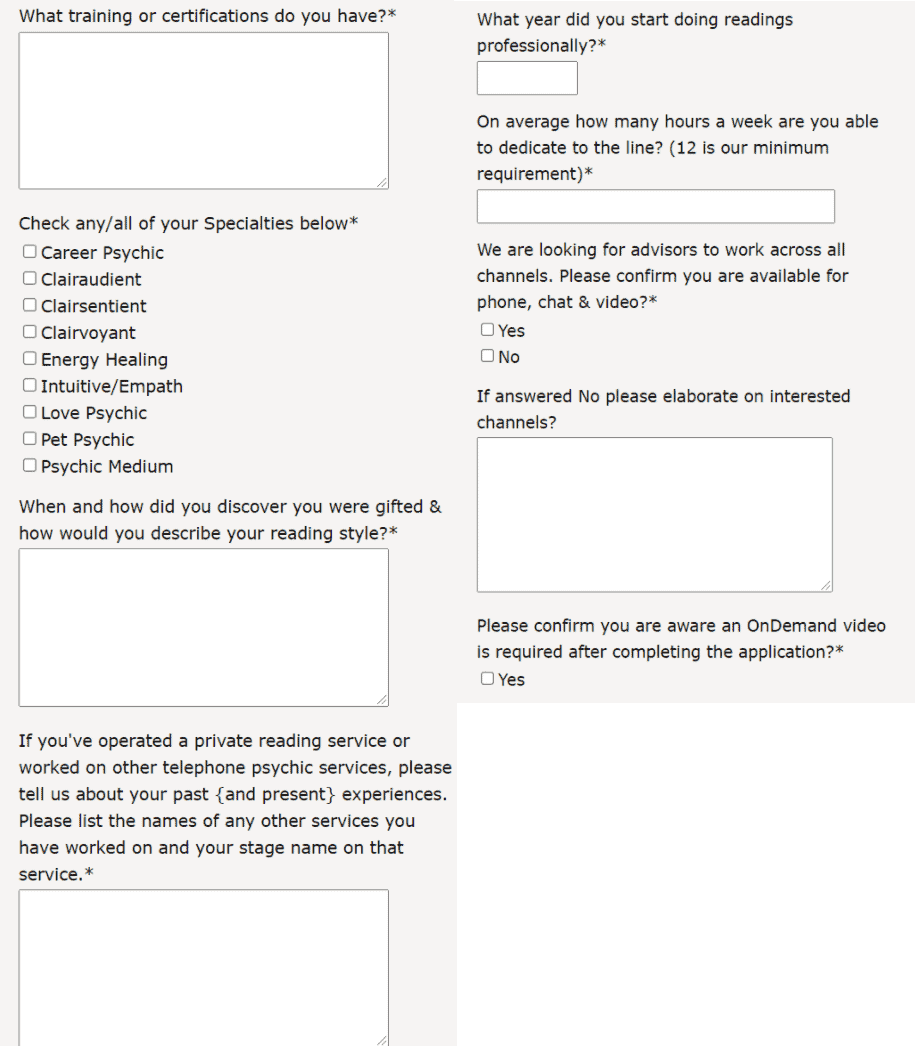 After applicants complete the form they must undergo an on-demand interview where they record themselves answering pre-determined interview questions. Based on this video submission and the psychic's application, Psychic Source makes a decision on whether to move the applicant on to the final round, which is a live interview and demo reading.
After this live interview, the team makes a final decision about whether a psychic is qualified and a good fit for Psychic Source.
Top 3 Psychic Source Alternatives
If you feel that Psychic Source is not the right site for you, here are a few alternatives to consider.
Keen Psychics is renowned for its excellent user experience as well as its 100% satisfaction guarantee. This means you can try a reading with a top psychic without the risk.
Choose from over 1.700 psychics who provide readings via chat or phone across topics such as love, finances, spirituality, and life. The cost of these readings range from $1.99 to $9.99 per minute. However, as a new user, you can enjoy the first 5 minutes of your reading for $1.
PathForward is the ideal option for anyone who is new to psychic readings or anyone who prefers a simplified reading experience. Unlike some other sites, PathForward doesn't have an overwhelming number of reading categories and psychics to choose from, making it much easier to schedule a reading that's right for you.
First-time users can also take advantage of their introductory offer of $0.83 per minute, giving you the option to try the site before paying the full per-minute rate for a reading. For added peace of mind, the site also offers a money-back guarantee.
California Psychics has been around for over 25 years and for good reason. The site has detailed filtering options that make finding the right psychic that much easier. Choose from hundreds of gifted psychics who specialize in a wide range of topics and tools. They are also known for their rigorous screening process, which helps them maintain their high standards.
New users can enjoy a per-minute rate of just $1 and have the option to choose from one of three packages, each of which is linked to different levels of psychics.
Bottom Line
Psychic Source is a trustworthy platform that takes great care in selecting their readers, as well as ensuring all of their customers have a positive experience. The site's satisfaction guarantee and thorough screening and hiring processes have led to the thousands of positive customer reviews you'll find on their site. No matter which reader you choose on Psychic Source, chances are you'll be very satisfied with your experience.