Domestic violence exploded during the first two months of the COVID-19 outbreak. In the U.S., there was a 30% increase in spousal/partner abuse towards women, and the U.K. saw a similar increase as well – 25%. Similarly, there has been an uptick in violence against men and the elderly, with financial strain caused by the pandemic being noted as the main stressor in domestic situations. Still, there is no updated, comprehensive resource that tells you where to go if you are suffering such horrible violence, or know someone who is a victim.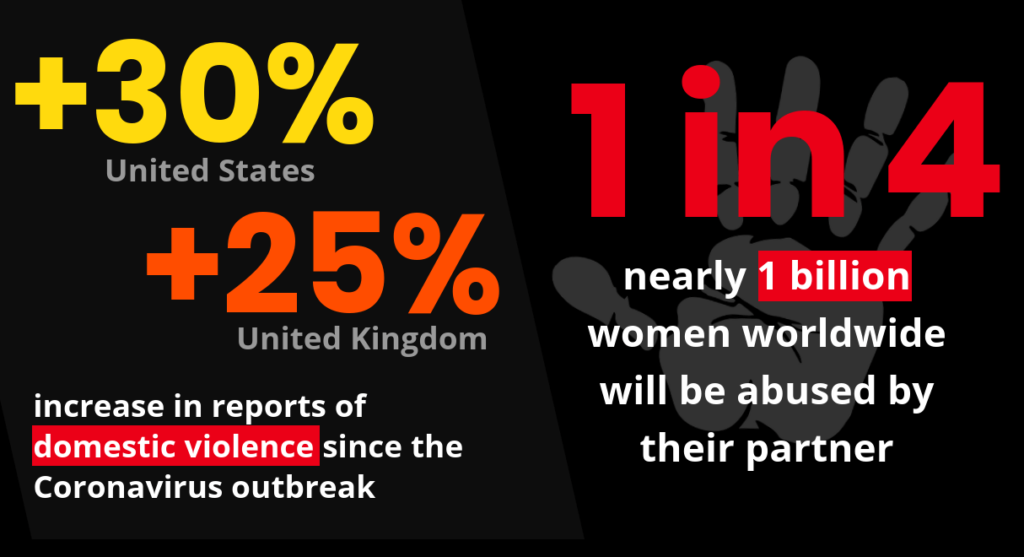 Such a resource is critical, as there are abusive partners that have made use of the pandemic itself as a tool of terror. In many cases, they withhold medication, insurance cards, and even the ability to go purchase hand sanitizer from their victims – all while public health procedures, such as mass quarantines, prevent any chance of escape; this is on top of the pre-existing threat of violence that constantly looms over their heads.
Sadly, you can't trust the government either. Social Services aren't getting the necessary funds in these times, and non-profit rescue organizations can't do it alone. It is our duty to help the victims of this viciousness and not forget that there are victims of abuse across all age groups and genders.
In this guide, you will find every possible contact and useful tips that will help you to stop being a bystander, take action, and save lives (without putting your own at risk).
United States: 24 People Per Minute Are Abused by Intimate Partners
Domestic Abuse has been outrageously common in the USA, long before the COVID-19 plague. In fact, 50% of women visiting emergency rooms nationwide have a history of abuse, and 40% of those murdered by their abuser tried to get help in the last 2 years before their death. In too frequent of circumstances, they didn't get enough help from their surroundings – and in these times of lockdowns and mobility limitations, it's even harder for them to reach out. According to recent research, domestic violence across all genders and age groups has increased by 30% in the U.S. during March and April alone.
It seems the next murder is right around the corner. The U.S. has seen an increase in violent risk factors: Gun sales reached a 7-year peak, with 1.9 million firearms sold in March 2020 alone; and liquor sales also rocketed by 31.7% in the same period, in comparison to 2019.
These contacts can help stop the next death and save a person's life.
Domestic Violence Hotlines in North America
United Kingdom: Domestic Abuse Accounts for 16% of All Violent Crime
The 25% jump in U.K. abuse reports isn't surprising. A recent study shows that the pandemic exposed severe flaws in the government's approach to domestic abuse.
Funds promised to services that support victims of domestic abuse back in October 2019 have not yet been supplied. This is surprising, considering the Government signed the Istanbul Convention in 2012 to reaffirm the U.K.'s strong commitment to tackle violence against women and girls. In reality, most of the U.K.'s 48 support services had to shut down at least one of their support channels. Abuse victim shelters are nearing full capacity, and the COVID-19 outbreak made everything worse – particularly for minorities.
We need to take the initiative and help people ourselves. This list will show you contacts that are still available and can help save lives today.
Domestic Violence Hotlines Across the U.K.
European Union: Most Victims Don't Know Where to Turn
As COVID-19 grew in Europe, cases of domestic violence simply skyrocketed.
Designated hotlines in Spain reported a 47% increase in women calling for help and a shocking 700% increase in online approaches from victims. Calls for help increased by 40% in Austria, and in France there's been a 36% increase in police interventions for cases of abused women and children since the outbreak.
Being locked in with their abuser made calling for help harder than ever. Women in France and Spain had no choice, and began asking for help from pharmacists when they managed to go out to get medications. You can help make a difference by utilizing these contacts – whether you're a victim of Domestic Abuse in the E.U. yourself or know somebody there who is being abused.
Domestic Violence Resources in Europe
Africa: a Third of All Women Have Experienced Violence
Asia: Rampant Domestic Violence Is Linked to Cultural Trends
South America: the Highest Rates of Gender-based Violence in the World
Oceania: the Highest Prevalence of Lifetime Intimate Partner Violence
How can I tell if someone is being abused?
It's not always clear. In many cases, you can hear the fights, pangs of violence, cries, or see a victim with bruises – while in many other cases, you won't be close enough for that.
There are critical indications you can be aware of, however, and know when you're talking to a person in need of help.
For example: A person who said their abuser – a spouse, family member, or other type of partner – doesn't let them communicate with their children, family, or friends, using Coronavirus as an excuse.
Another indication is a person who has no financial control over their own lives and can't spend any money without approval from their partner – not even for an office gift or a lunch. One more possible indication is a person who just won't speak about their relationship or partner at all, mostly out of fear of repercussions.
What can I do to help?
Remember that many cases of Domestic Abuse end in murder. They also more frequently include rape, severe injuries, and unimaginable emotional scars – including (and often especially) for the children in the household. Therefore, it is your duty to help the authorities get to the victims and end their nightmare. This is how you'll do it without risking your own life.
Don't push the victim.
Sometimes it seems odd that a person being abused won't file a complaint against their spouse or abuser to end her suffering – and people will just pressure her to do so. Remember that you don't know what the victim has gone through, and reporting the abuse might be horrifying for them. Sometimes they try to protect their abuser out of fear, or a feeling that they deserve such abuse. Therefore, they will need your help – and not a lecture about how they need to stop suffering and help themselves.
Don't be afraid to make an anonymous report.
Call the police if you hear an active, ongoing incident – you might very well be saving that victim's life.
Call a support service.
Every one of the services listed here is well-trained in cooperating with the police, social services, and other relevant bodies. They can give you advice regarding the specific case at hand, and contact the victim themselves without mentioning you at all.
Avoid the abuser.
You're trying to help a victim by getting the right professionals on the case, not by taking the law into your own hands or getting into trouble. Don't talk to the abuser, even if you're well acquainted, and don't threaten them. Leave them for the cops and legal system.
Keep things confidential.
While helping a person in need is grounds for praise on social media, it might also expose that case and cause new or additional hardships for the victim. Also, a person who's fishing for praise on Facebook or Twitter might play into the hands of the abuser's lawyers, saying your report was dishonest as you were in it only to gain likes and popularity.
sources:
https://www.unwomen.org/en/digital-library/publications/2020/04/policy-brief-the-impact-of-covid-19-on-women
https://www.cnn.com/2020/04/02/europe/domestic-violence-coronavirus-lockdown-intl/index.html
https://www.theguardian.com/global-development/2020/apr/28/three-women-killed-in-spain-as-coronavirus-lockdown-sees-rise-in-domestic-violence
https://www.wcpo.com/news/coronavirus/number-of-domestic-violence-hotline-calls-on-the-rise-since-self-isolation-period-started