The number of psychic readings app continues to grow, which means it can be overwhelming to choose a psychic reading app you like. What's more frustrating is when you can't tell if an app is free or not, as most apps present vague details on the matter. Not all psychic reading apps are free, as they claim, nor are all psychic readings.
Fortunately, a few excellent, 100% free apps allow you to get a psychic reading for free – with no strings attached. In fact, it's easy to use these apps to get your first reading (and sometimes more) without as much as spending a penny.
After downloading and testing several of the best psychics apps, the one I recommend is Keen. Thanks to its psychic match function, you can easily find your ideal psychic based by refining your search filters. And it offers an app for any phone or tablet running iOS, iPadOS, or Android.
In a Rush? Here Are My Top Free Psychic Apps:
1. Keen — Best free mobile app that lets you quickly find psychics and message them directly.
2. Psychic Source — Great for accurate mobile readings and lets you connect with psychics via video, but the screening process isn't transparent.
3. Kasamba— Access a large variety of readings and 24/7 live chat support, but no option for video readings.
4. Oranum — Take advantage of live video readings and get your first 3 minutes free, but you can only pay for readings using the site's coins.
5. Pocket Fortune Teller 5D — Get your first 3 readings for free and one free reading per day after that, but no live psychic readings
The Best Free Psychic Apps in 2022
1. Keen — Best All-Around Mobile App
Easy-to-use mobile app
Your first 3 minutes are free
250+ psychics offering many reading types
Calls, chat, and sometimes email readings available
100% satisfaction guarantee
Keen's mobile app is one of the best out there. I found the app easy to use, and it was quick for me to download and install it on my phone. Once you've downloaded the app, you can find a list of suitable readers by answering a few easy questions.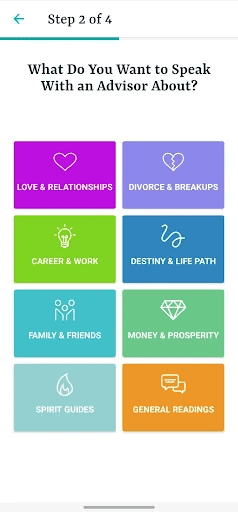 Many of Keen's psychics have been with the platform for over a decade. Most of its psychics boast a rating of over 4.5 stars out of 5, based on thousands of customer reviews. I found the psychic profiles to be very detailed, as I could see how long they've been around and how many readings they've performed.
In terms of communication methods, the Keen app lets you contact psychics via calls or chat, depending on which works best for your situation and needs. I didn't like that the app doesn't offer video chat, but you can schedule a reading with your chosen psychic for a time that works for you.
Additionally, you get an excellent introductory offer of your first 3 minutes for free. This can help you understand whether the service works for you before spending additional money. Also, you can try out the "more expensive" psychics without spending a lot on them.
On top of that, Keen provides a 100% money-back guarantee. You can request a refund in the form of credit once every 30 days, up to 72 hours after your latest reading, and up to $25 in value. This helps ensure that any risk is eliminated if, after your 3 free minutes, you want to pay for a longer (or another) reading.
2. Psychic Source — Connect Face-to-Face With Video Readings
Feature-rich mobile app
Video, chat, and phone readings available
Listen to psychic messages
Favorite tool to keep track of your preferred psychics
First 3 minutes free upon purchase of your first reading
Though Psychic Source technically doesn't offer free readings, you get three additional free minutes when you purchase your first 10, 20, or 30-minute package. It also offers several always-free features. For example, you can get Free Insights, including tarot card readings and horoscopes which let you get important information about your life without spending any money.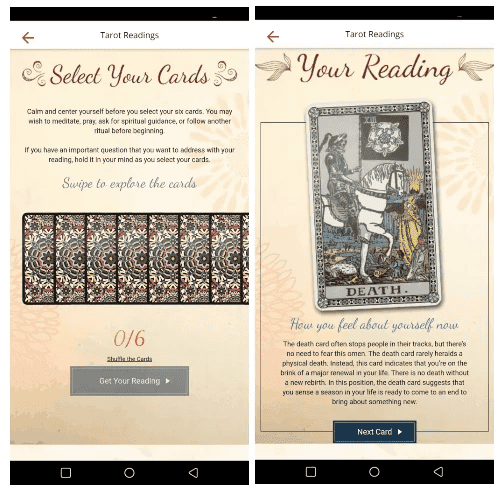 It also allows you to choose hundreds of qualified psychic readers and many different reading categories. When I used its advanced filtering system, I could narrow down my choices to find the exact psychic I was after. The app also lets you favorite the psychics you like most, so you can easily access them later.
Something I like about Psychic Source is that you can use the app to get video readings on the go. This isn't something that all other psychic reading apps offer, so it was good to see the inclusion here. It's also possible to communicate with your chosen psychics via phone and chat, giving you plenty of communication options.
You can even use a 100% satisfaction guarantee if you're not entirely satisfied with your reading. This means you can get up to 20 minutes of your latest reading refunded if your reading falls below expectations. Just remember that you need to request it within 1 day of your reading, and it only applies to your most recent session.
3. Kasamba — Large Selection of Readers With 24/7 Availability
User-friendly app design
First 3 minutes are free
24/7 psychic availability
Phone, video, and chat available
15% discount for your first reading
In my experience, Kasamba's app is very user-friendly and easy to download. Many reading types are available, such as Love & Relationships, tarot, and fortune-telling. And, you'll be able to connect with somebody skilled and get a high-quality reading via chat, video, or phone.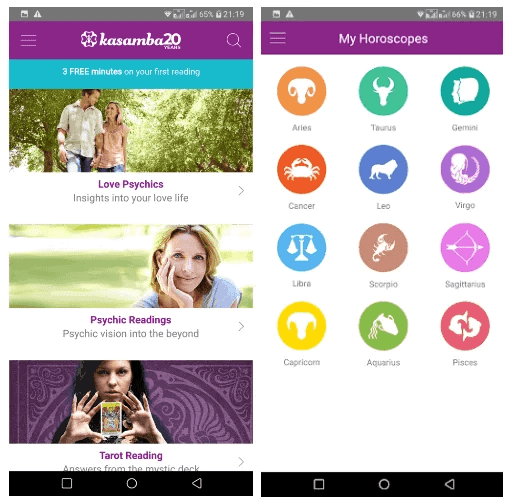 The site also has some of the most experienced psychics of any site I've tested. I found that most people who get a reading from Kasamba are more than happy with the service and continue to remain customers. There's a good chance you'll also find Kasamba valuable as its vetting process is one of the most stringent.
As a new customer, you'll also get access to a good introductory offer. Your first 3 minutes are free, with any psychic you choose and with any reading type. This will give you a good feel for the service without spending a penny. You can also get a discount of up to 70% – but keep in mind that this varies, so check out the site often.
Kasamba's satisfaction guarantee is also one of the best I've personally come across. If you're not 100% satisfied with the services you receive, you can get up to $50 back for your session. However, you must submit the refund request within 72 hours of the end of your last reading.
4. Oranum — Get Access to Free Live Video Spiritual Readings
Mobile app for iOS, iPadOS, and Android
Chat, video, and calls available
Live private readings on mobile devices
Free 24/7 live stream and chat
Free credit with every credit package
Oranum is another great option for you if you want readings on the go. It offers an intuitive mobile app that can provide live private readings. I found the app to be easy to use, and I could find the exact type of reading I wanted quickly. Another good thing is that you can get readings in other languages such as Spanish, French, and Arabic.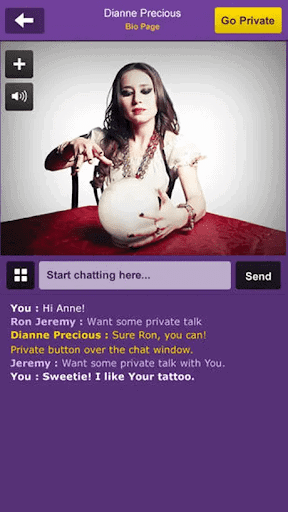 Depending on your preferred communication method, readings are available via chat, video, or calls. If you don't have the time to sit with your psychic immediately for a phone or video reading, you can message them via chat instead. This will also allow you more time to formulate your answers.
Something I like about Oranum is its free, 24/7 live streams. You can check out a list of all the psychics currently offering this feature, and you're able to interact with them via chat as well. This is all entirely free, and it's a great way to figure out whether you like any particular psychic before jumping into a paid call with them.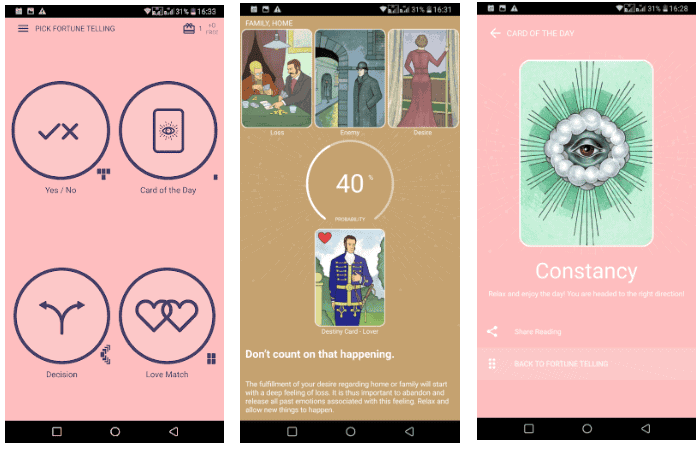 Accurate, fun, and free app
New users can receive 3 free readings
3 types of readings available
After first free readings, 1 free reading per day
5 readings for $1.29 after your first free readings
Pocket Fortune Teller 5D does things entirely different than all of the other options on this list. Not only does it offer an app only and no website, it does so entirely free – for life. You never have to pay for readings if you don't want to, but if you want more than one free reading per day, you can get five for $1.29.
You can access three reading categories: Yes/No questions, love match, and decision. Love match is a personalized four-card reading, while decision helps you decide between two options. These readings are always free, but you're welcome to purchase more readings at a reasonable price.
There's also the option of receiving a free card of the day, which gives you personalized tips on what you should be focusing on for that specific day. However, since the app doesn't have any psychics and offers no live readings, it may not be as powerful an option as the others I've suggested. Connecting with a real person may be more beneficial for you, personally.
Comparison: Best Free Psychic Apps
| | | | | |
| --- | --- | --- | --- | --- |
| | Starting Price | Number of Tarot Reader | Introductory Offer | Trustworthy |
| Keen | $1.99 per minute | 120+ | Free Minutes & Discounted Per-Minute Rates | Yes |
| Psychic Source | $0.66 per minute | 200+ | Discounted Per-Minute Rates | Yes |
| Kasamba | $0.90 per minute | 190+ | Free Minutes & Discounted on First Reading | Yes |
| Oranum | $2.99 credits per minute | 90+ | 10,000 Coins After Validating Credit Card (Roughly $30) | Yes |
| Pocket Fortune Teller 5D | Always free | N/A | Free Readings | Yes |
Tips on Choosing the Best Free Psychic Apps
1. Find a method of communication that works for you
All of the apps on my list provide different communication methods, such as video, chat, or phone. So, make sure you choose a method that fits your personality. For example, phone and video are great if you want immediate answers and real-time feedback, while chat can be great for you if you want more time to think about the questions and your answers.
2. Choose a psychic reading type and tool
You should always understand which apps offer what types of readings before you plunge yourself in, especially if you decide to pay for additional readings on top of the free introductory offers.
Whether it be tarot cards, cartomancy, angel readings, dream analysis, past life readings, or anything else, I recommend making sure the type of reading or specific tools that you prefer are available on your chosen app.
3. See your app's history and track record
Some psychics have more experience than others, and some sites have been around for longer. So, you should always pick an app with a solid history and track record. Apart from the years of service, the factors to consider are excellent customer testimonials, high psychic ratings, and a stringent psychic vetting and background screening process.
Fortunately, all the apps on my list have a consistent track record of reliability and customer satisfaction. This ensures that whatever option you choose will provide you with the highest quality psychic services.
4. Take note of customer reviews
Select a free psychic reading app with good customer service. Not only should the app have a high rating, but your psychic should have a large number of positive reviews to their name. This provides further assurance that the services you receive are of top quality.
The last thing I'd want for you is to choose an app of low quality by picking one with poor ratings and reviews. Positive reviews are a good sign, but looking at all of an app's reviews – including its negative ones – will help you formulate a more holistic perspective and opinion.
5. Look out for a satisfaction guarantee or refund policy
It's always best to use an app with a satisfaction guarantee and refund policy. These policies provide compensation for your latest reading if you aren't satisfied. This is either in the form of credits or your original payment method. Also, make sure you take note of the fine print, as each app has different conditions to fulfill.
FAQs on Free Psychic Apps
How to get the most out of a free psychic app?
Getting the most out of an app means making sure the app has all the features you want. That means finding out if it has your preferred reading types, good-quality psychics, and a long track record of success and happy customers. Keen, for example, offers tons of reading types and has been around for more than 20 years.
Additionally, I recommend choosing an app that offers affordable pricing and a satisfaction guarantee in case you aren't happy for whatever reason. You can use this guarantee after your first free minutes are used up. Lastly, getting the most out of a psychic app means getting your preferred communication method, including calls, video calls, or chat.
Can you get genuine advice from psychic apps?
You can get genuine advice from a psychic app, but not all apps are created equally. Only the apps that offer real-life, live readings from an experienced psychic can give you genuine advice. This is because app-generated advice can only go so far and is AI-generated. A real person can pick up on subtle nuances about your life that a piece of software can't.
Oranum has a plethora of reading types, along with lots of highly-skilled and talented psychics who are more than capable of offering you advice. It doesn't rely on machine-generated, generic advice, so you're more likely to learn something valuable about your life.
Is an online psychic better than an in-person psychic?
It depends, but an online psychic is usually better than an in-person psychic for several reasons. Firstly, being online lets you select a bigger pool of experienced psychics than real life. Also, you can select a reading method and time that suits you. Additionally, there are several more reading categories available online than there might be at your local psychic's business.
On the other hand, an in-person psychic would be better if you wanted someone who could tune in to your emotions and feel your energies more clearly, effectively, and efficiently.
Bottom Line
Finding the right psychic reader for your needs isn't always straightforward. It's always best to try and determine if any given psychic service can provide you with what you need and if it has any psychics you truly connect with.
The good news is that several great free apps can help you achieve your goals without spending a dime. If you aren't sure about paying for a reading, downloading and using a free, easy-to-use app with high-rated psychics can be a great starting point.
If you want to move ahead in life and continuously improve yourself, then I recommend using Keen's app. It offers many psychic readings like love and relationships, aura healing, and even rune casting. Plus, you can use your first three free minutes to get a free app reading of your choice.
To summarize, here are the best free psychic apps