Scorpio men have a tough exterior and a mysterious aura that can be difficult to penetrate. After all, these men aren't for the faint of heart, as they require a partner who can handle their intense and introspective nature. But don't let this discourage you from pursuing a Scorpio man since underneath it all they're pretty sensitive and trustworthy partners.
To make your romantic dreams a reality, I've put together a guide to help you attract your Scorpio of interest. Just remember that compatibility in Astrology can be nuanced and that the Sun sign is a piece of the greater puzzle in love.
To ensure you're not wasting your time on a Scorpio man, I recommend seeking the insights of a credible love psychic on California Psychics. The site has over 300 experienced psychics that can provide tailored advice so you can win your Scorpio over.
Quick Overview: How to Attract a Scorpio Man
What Are Scorpio Men Like?
Scorpio men are fascinating and complex individuals but are also among the most misunderstood Astrology signs. Since they have the ability to keep their true thoughts and feelings concealed, they can come off as quite mysterious. However, this also draws others to dig deeper and uncover who they are.
Beneath the tough exterior, they're deep thinkers and intuitive lovers who seek a meaningful bond. While they're experts at controlling things, they feel quite deeply and possess a remarkable ability to see through people. So, there's always more than what meets the eye.
And while Scorpio men are the kind you either love or hate, nobody can deny they're one of the most passionate signs. They have an intense vibe because they experience life on such a deep perceptive level. In turn, they feel a deep passion and devotion for all they love and can have difficulty letting go of the things they cherish.
Above all else, Scorpio men are very determined and ambitious individuals who have mastered deep focus. Once they have their eye set on the prize, they're quite relentless until they get what they want. Since Scorpios are co-ruled by planets Pluto and Mars, they possess the combined gift of calculated strategy and decisive action.
Just make sure their independent and private nature does not deceive you, as these men are some of the most protective and loyal. Integrity is of utmost importance to Scorpio men, but they know this isn't always easy to find in people. However, once you've proven yourself to them, they'll take the shirt off their back to help you when needed.
How to Attract a Scorpio Man and Keep His Interest
Remember that Astrology is a complex topic that goes beyond just someone's Sun sign. While the Sun sign can showcase a lot about a person, it's not the end all be all when it comes to attraction, compatibility, and love. However, these are the best ways to attract a Scorpio man and keep his interest for the long term.
Show Emotional Depth
Your typical Scorpio man will cringe at anything superficial or fake. They're the detectives of the Zodiac and will immediately lose interest in anything or anyone that's phony. The more you convey your emotional substance, a Scorpio man will be interested in what you have to say and appreciate your deep and meaningful view of the world.
Additionally, Scorpio men secretly yearn for a deep soul connection with another person. Once you show your Scorpio that you're a deep person, they'll see that you can form a meaningful connection. Not only that, but Scorpios crave an emotionally mature partner that can weather any storm and stick by their side through the worst.
Own Your Energy
Scorpio men are drawn to those who exude confidence and a strong sense of self. Confidence signals that you're comfortable in your own skin and understand your worth. And because Scorpio men are highly intuitive, they can sniff out fake confidence and genuinely appreciate those that own who they are.
The sign's co-ruling planet is Pluto, which rules over themes of power, confidence, and authority. If you can showcase these traits without being loud, obnoxious, or overpowering, then a Scorpio man will find you irresistible.
Be Honest
Don't forget that these men are often at battle with their own minds and can let the fear of the worst-case scenario get to them. If they're really invested in you, they can mentally spiral if they feel you're being sneaky or deceptive. Always ensure you reciprocate the same level of dedication and are honest with them even when it's complicated.
Remember that these men value trust and authenticity above all else in relationships. So a Scorpio man will appreciate signs that you're genuine, sincere, and willing to share your vulnerabilities. Just make sure you don't do this too soon or are too over the top since they need a little bit of mystery at the beginning to keep things interesting.
Engage In Deep Conversations
This Astrology sign needs to be around people that can engage in intellectually stimulating conversations. Scorpio men crave interactions that bring depth and substance into their life, so they want someone open to exploring controversial or taboo topics. They hate small talk and would rather talk about your unique experiences.
Traditionally, Scorpio is associated with the hidden aspects of life and human nature. Scorpio men tend to be interested in psychology, the afterlife, the supernatural, and anything misunderstood. By showing an interest in deeper topics, you demonstrate that you accept their complex nature and want them to express themselves fully.
Have a Mysterious Air
And while they won't always admit it, Scorpio men are drawn to individuals who aren't as easy to read. Keeping some things hidden up your sleeve and slowly opening up more about your inner world will pique their curiosity and keep them wondering about you. So if you aren't easy to read, they'll need to employ their strategic nature to pursue you, making it much more exhilarating for them.
Keep in mind that Scorpio men typically pursue the things they want, but they can also get in their own heads. If you want to get a better read of what's going on with him, you may want to get the second opinion of a credible psychic.
Have Strong Boundaries
This type of man can't be with someone he doesn't respect, so make sure your energy commands it. Now, don't be obnoxious or rude towards your Scorpio, but always set your standards high and know what you want. Scorpio men love to test people's boundaries, so the more you can stand firm in yours, the more he'll be captivated by the challenge.
Have Your Own Interests
Now, Scorpio men don't like feeling unwanted or unnecessary, but they also hate being smothered. These men truly desire a partner that can contribute to the relationship without being too much of a burden to them. Having your own life and interests prevents the relationship from becoming overly dependent, ensuring both parties have space.
Be Ambitious
Scorpio men are naturally drawn to people with a strong sense of self and need someone that goes after the things they want. Since Scorpio men are very passionate, they require a partner who possesses a deep intensity for the things they love. Having goals and ambitions you're working towards will show him that you're independent and have a well-rounded life.
Avoid Seeing Other People
Because Scorpios are naturally guarded individuals, they're very cautious about who they let into their inner circle. Many struggle with a fear of betrayal because they love with their whole being. You should avoid dating other people or "playing the field" while trying to win over your Scorpio. This will alleviate their worries and demonstrate that you're worthy of their trust and devotion.
Prove You're Trustworthy
Arguably, the most important thing for Scorpio men is to have a sense of emotional security in their connections. They're looking for a partner to create a safe space for them to open up. Scorpio men often feel isolated and misunderstood by the world, so they'll value you intensely if you make an effort to show you're trustworthy.
Best Sites for a Love Reading
Unless you have your Scorpio's full date of birth, time of birth, and place of birth, consulting with an Astrologer won't be helpful. In these situations, a credible love psychic can come in handy and tell you how it is. If you want to know if this connection has a chance, you can get a worthwhile, safe, and cost-effective reading on one of the following sites.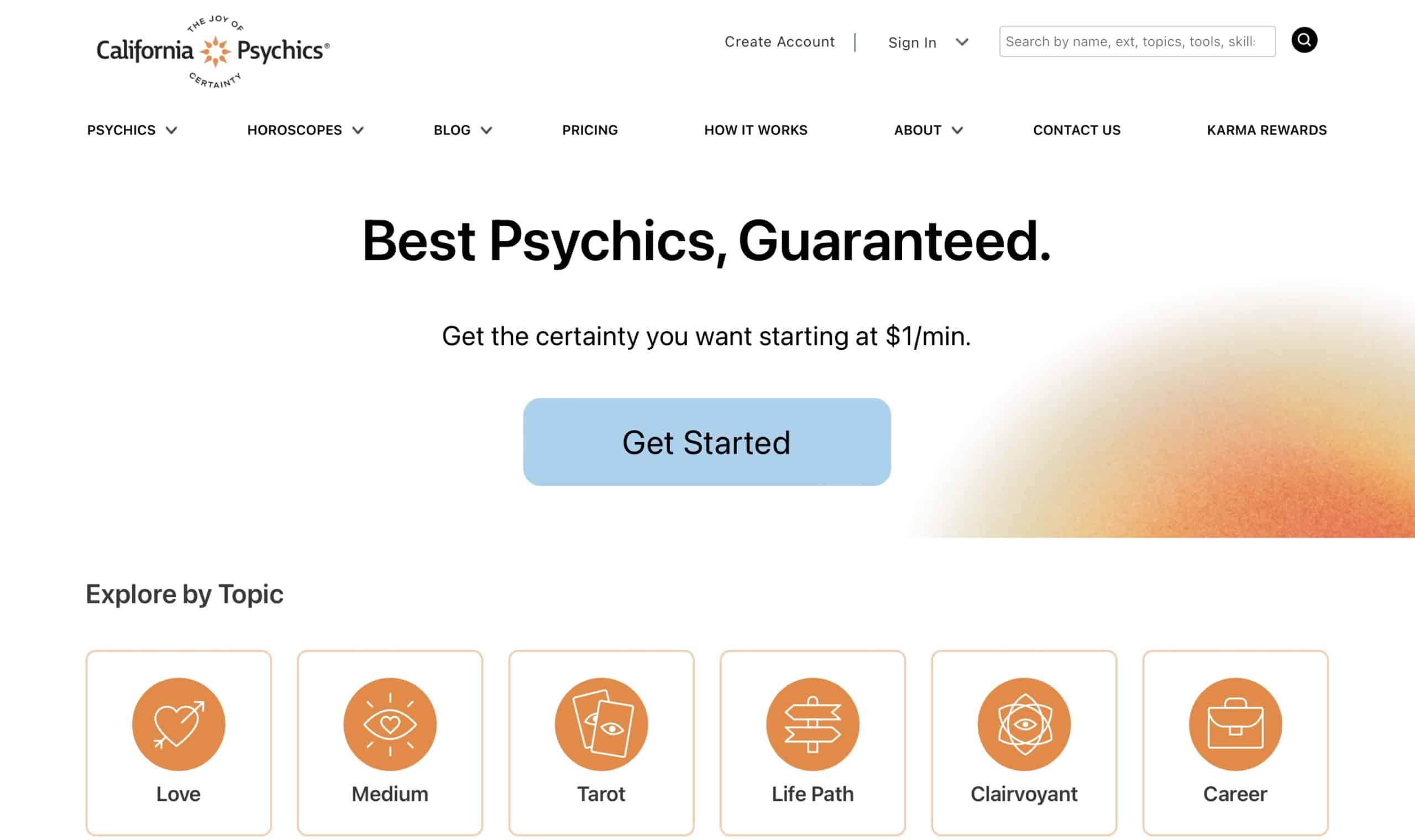 300+ love psychics available
Strict vetting process
$1, $2, or $4 per minute
Free Astrology Report
100% Satisfaction guarantee
California Psychics is my go-to option when I need some love advice because its advisors are high quality. I attribute this to its strict vetting process, which only accepts 2% of all applicants. All incoming psychics must pass rigorous testing and are evaluated for up to 90 days, which brings me peace of mind whenever I use the site.
I was pleased to see that you can get a free astrology report by joining its Karma Rewads program. This can be helpful when you're trying to learn more about your Astrology chart and want to determine which partner is best suited for you. In turn, you may discover that you'd work best with a Scorpio and can trust that you're on track.
Something about California Psychics is that its rates can get a little pricey depending on the love psychic. But, thankfully as a newbie you'll qualify for lower costs and can get advice for $1, $2, or $4 per minute. That way, you can test out the popular and highly-sought after psychics to determine if you'd be willing to pay their regular rates in the future.
2. Purple Garden – Enjoy Added Flexibility with Its User-Friendly App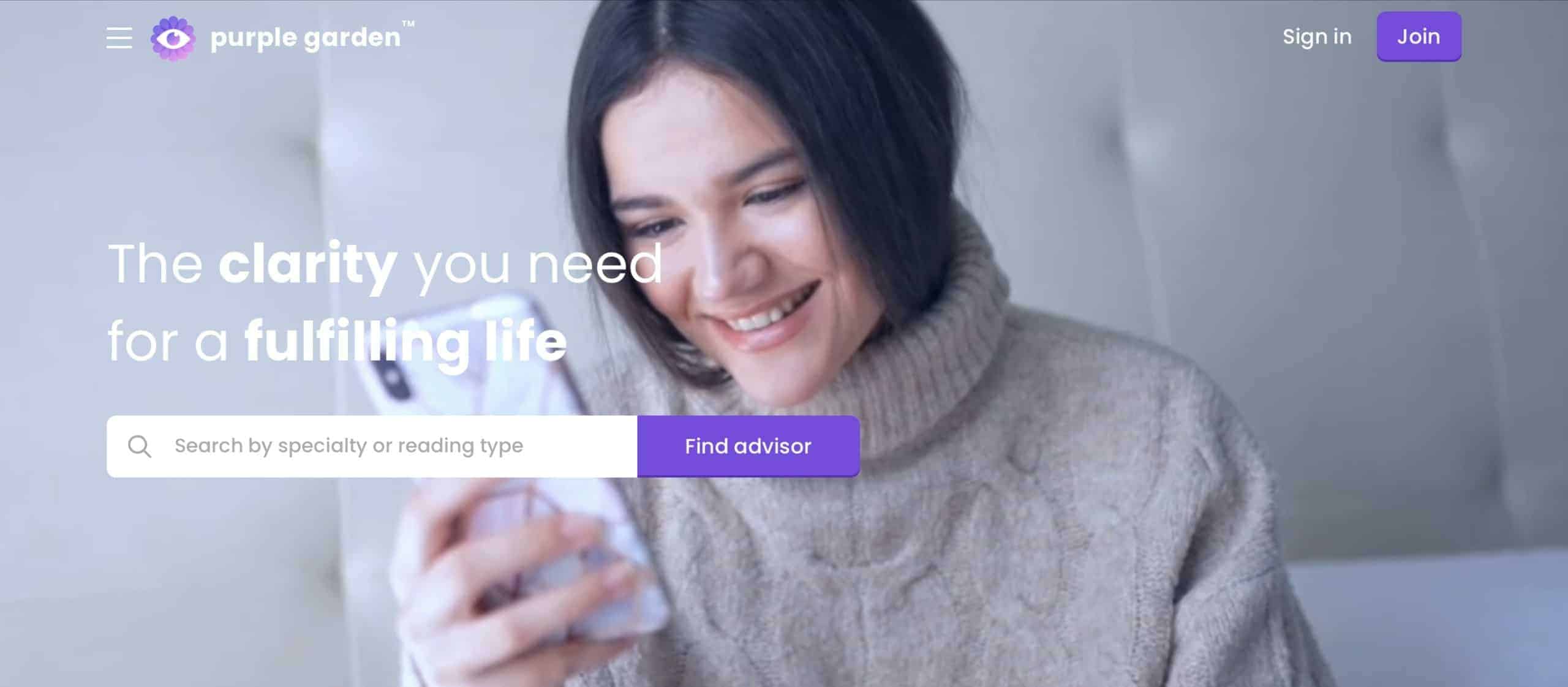 Chat, call, and video readings
Journeys community feature
Introduction videos on profiles
2% cashback on all purchases
Top accuracy badges for psychics
Whenever I'm on the go or don't want to use my computer, I appreciate the convenience of Purple Garden's mobile app. Its app brings flexibility to how you receive your love insights and is great for last-minute inquiries. Ultimately, it's like having a trusted confidant in your back pocket to confide in whenever you need answers.
I like using Purple Garden because it's one of the few platforms that offer chat, call, and video sessions. When I'm looking for heartfelt advice, being able to see my psychic is non-negotiable since it helps me establish a deeper connection. But, depending on your personal needs, you can enjoy the additional freedom of multiple contact methods.
One thing to consider is that Purple Garden isn't very detailed about its psychic screening process. But, it has a "Top Accuracy" badge for psychics with a proven track record of providing accurate readings. That way, you can feel reassured that others have had positive experiences.
3. Keen – Feel Confident With Its Variety of Experienced Love Readers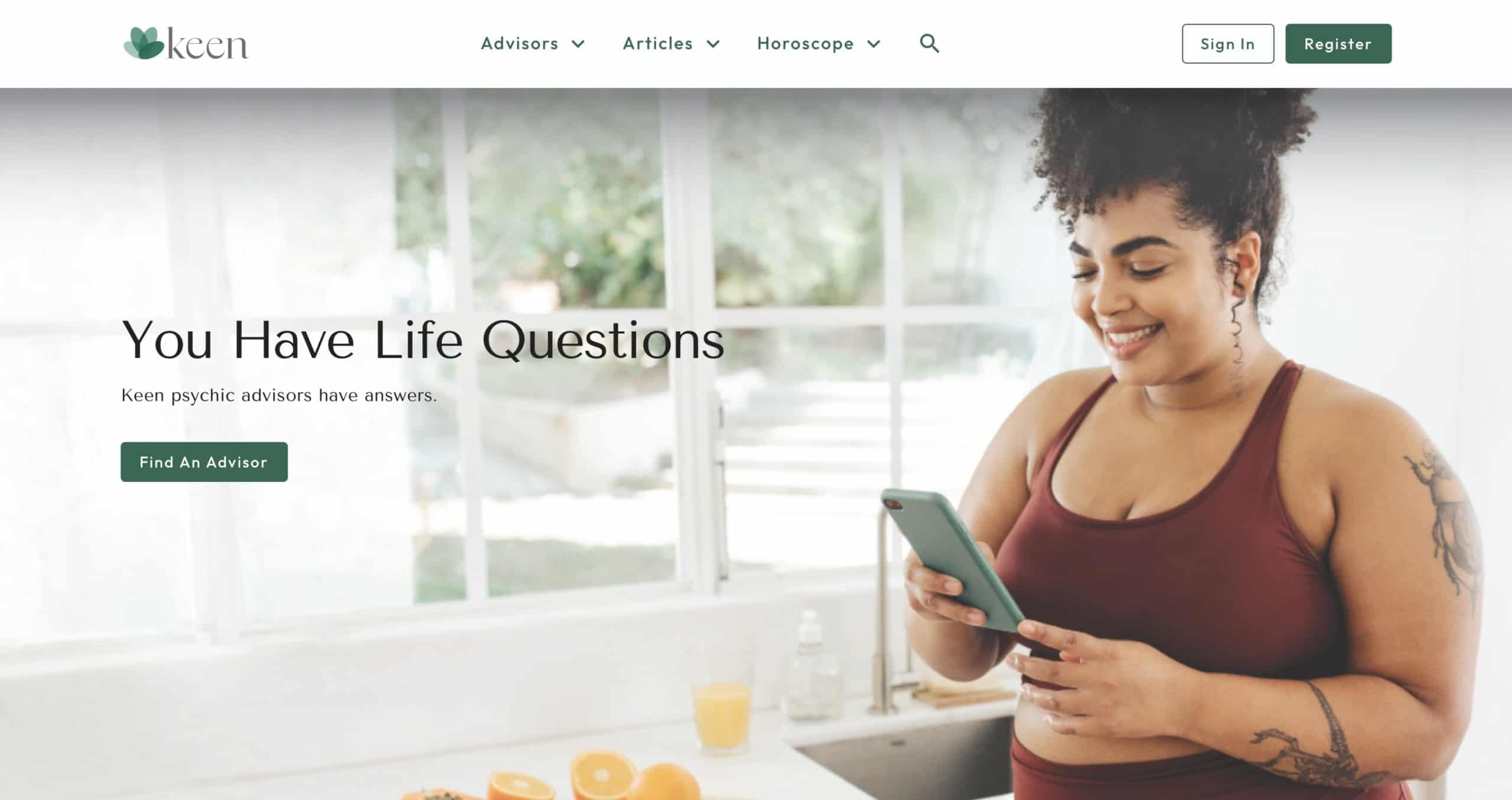 Love readers with 4.7+ stars
Email psychics before paying
5 minutes for $1
Accessible customer support
Helpful and in-depth search filters
Keen is another valuable contender for love readings because it has some of the most experienced psychics. As you browse your options, you'll notice that many of its love readers have been on the site since before 2010. This is a green flag because you can trust that its psychics are well-rounded and credible.
I appreciate that Keen allows you to email any of the love psychics you're considering without paying. Sometimes when you just want to clarify something, it can be annoying to have to pay to contact the psychic. Therefore, Keen is one of my top picks because you can ask any psychic general questions about their experience for free.
Since Keen has 200+ love readers to choose from, it can be time-consuming to sort through all your options. However, you'll have the convenience of its thorough search filters to narrow down your choices by availability, price, expertise, tools, and much more. That way, you can save the frustration of looking at psychics that don't match your needs.
FAQs on Scorpio Men
What are Scorpio men like when they're in love?
When a Scorpio man falls in love, his intense and passionate nature will reach new heights. This is because Scorpio men form deep emotional connections when they fall in love and invest their heart and soul into their relationships. Ultimately, love for a Scorpio man is an all-encompassing experience; he'll either be fully in or out.
These men are known for their unwavering loyalty and devotion to their loved ones, so when a Scorpio man loves, he remains fiercely dedicated. He will stand by his partner through thick and thin, valuing loyalty above all else. But remember that they can also become highly protective of their partners, and this instinct can sometimes manifest as possessiveness.
Do Scorpio men love drama?
​​While this is a common misconception, it's important to note that not all Scorpio men seek or enjoy drama in their relationships. Since Astrology is complex, the other signs in one's chart can greatly influence whether they like drama. So, I always recommend approaching people with a balanced perspective.
However, Scorpio men tend to be drawn to intense and passionate experiences, which can sometimes be mistaken for a love of drama. Since Scorpio is the sign of transformation, these men may be drawn to emotionally challenging situations that facilitate their growth, which can create dramatic moments.
Why do Scorpio men ignore you?
There's no straightforward answer because various reasons are usually at play. But, one reason is that Scorpio men value their independence and personal space, so they may need to withdraw to recharge. Also, Scorpio men are known for testing boundaries in relationships, as this helps them gauge loyalty, commitment, and emotional depth.
Bottom Line
Getting involved with a Scorpio man can be a thrilling and beneficial experience. That said, nestling into their heart isn't easy, so you should ask yourself if you have the required commitment. You can attract the Scorpio man you desire with the right commitment and knowledge.
But understanding where a Scorpio man's heart is can be challenging and confusing. To clear the air and get a grounded take on his feelings, it can be beneficial to connect with an experienced love psychic. Doing so will save you time and energy if the Scorpio man you're interested in doesn't feel the same towards you.
To summarize, the best sites for a love reading are…