If you're concerned about privacy and don't enjoy lengthy back-and-forth conversations, then an email psychic reading could be perfect for you. Phone and video readings can also get expensive, so an email reading's flat rates can help keep you from racking up astronomical per-minute fees.
But good-quality email readings are hard to come by as many online psychics don't offer them. That's why I've done some digging to find the best psychic sites that offer safe and accurate email readings. These sites go keep your questions anonymous and give you plenty of time to come up with questions and answers (without breaking the bank). Plus, they offer several top-notch psychics and different reading types.
While email readings are beneficial, another non-verbal option is to chat with a psychic. The site I recommend for email and chat readings is Keen, where you can take advantage of its introductory offer of 3 free minutes. This helps you get started without spending much money.
In a Rush? Here Are My Top Picks for Psychic Email Readings:
1. Keen – Best site for email readings with a comprehensive psychic matching tool and the ability to message psychics directly.
2. Kasamba – Great for sampling psychic services with 3 free minutes each time you try a new advisor, but website is difficult to navigate.
3. Psychic Oz – Has a number of niche psychic reading types and an expansive psychic network, but little information on vetting process.
4. Purple Garden – Affordable starting rate of $0.99 a minute and plenty of experienced psychics, but need a minimum purchase of $10 to sign up.
5. California Psychics – Thoroughly screens all of its psychics and has a rewards program, but requires making a purchase to sign up.
Best Sites for Psychic Email Readings in 2022
Whether you don't like talking to someone to find out about your future or you're a bit more of an introvert like me, these are some great sites to get an email or live chat readings.
1. Keen – Best Overall for Psychic Email Readings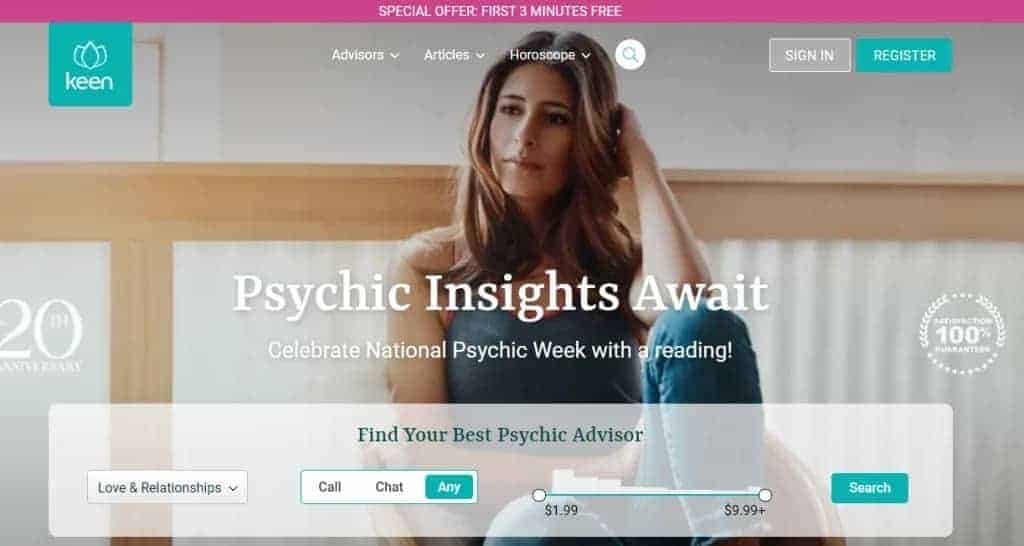 Matching tool connects you to a psychic based on your needs
$25 money-back guarantee
First 10 minutes for $1.99 or first 3 minutes free
Informative articles about various topics
Free daily horoscopes
If you're trying out email readings for the first time, then Keen is a safe bet. It makes the process easy since all you have to do is write a message to the advisor you're interested in. Keep in mind that each advisor has different costs, but the prices are affordable and their system is easy to use.
With thousands of top-rated psychics to choose from, you can be sure of finding a psychic that matches your needs. I was impressed with the many reading categories on the site, such as love, career, and astrology. And with the site's 100% money-back guarantee, you can get a reading risk-free.
Keen's customer service team was responsive, and its Saturday and Sunday hours make it easy to get in touch with them. Since its customer service team is available until 6 pm Pacific time on weekdays and 4:30 pm on weekends, I could call after work hours instead of during lunch.
2. Kasamba – Make the Most of Your Psychic Email Reading With 3 Free Minutes
Widest variety of reading types
Different payment methods available, including credit card and PayPal
LGBTQIA+ friendly readers
24/7 availability
3 free minutes for every psychic you try
Thanks to Kasamba's straightforward one-time payment system for email readings, you don't have to worry about spending a ton of money. I liked having the option to pay by PayPal instead of credit card, which meant I didn't have to enter my card details every time to make a payment.
If you're new to online psychic readings, you'll like Kasamba's offer of 3 free minutes each time you try a new advisor. The free minutes let you have a quick chat with a reader, so you can easily gauge if they are a good fit for you. It gave me more than enough time to try several readers before I found one I liked.
By using the "Our Top Psychics" category, you can pick one of its top psychics and send them a message through the "Request a Reading" function to request an email reading. If you're not sure which psychic to try first, then I highly recommend this option because it lists all the top psychics in one place.
3. Psychic Oz – Large Network of Psychics Provide More Choice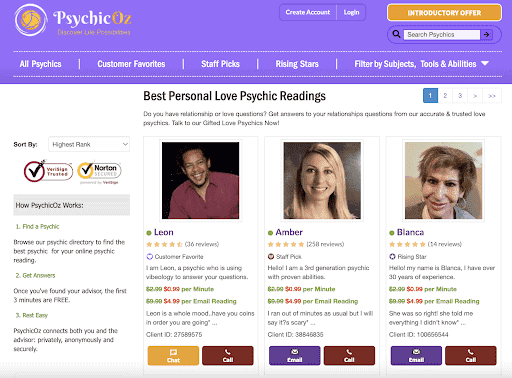 Discounts on email readings for first-time users
Rates start at $0.99 for chat and $5 per email
Highly vetted psychics
Huge network of psychics
Great satisfaction guarantee
Psychic Oz has an array of psychics with tools ranging from crystals to runes and oracle cards, which help provide clear guidance. Its email readings are a steal at $5 with their introductory offer. The one downside is you're stuck to one question per email, so it's not ideal if you have several questions lined up.
If you're nervous about talking to someone over the phone or video chat, then Psychic Oz's chat readings are worth considering. Chat rates start from $0.99 per minute, which are highly affordable. I could freely engage with my psychic and get instant answers from them without saying anything verbally.
What I like most about Psychic Oz is its customer favorites and rising stars categories. This means you can easily find the best psychics based on popularity, price, and experience. I felt more confident selecting a psychic through the "Customer Favorites" category because it proves that the psychic is popular amongst other users.
4. Purple Garden – Affordable per Minute Rates That Keep Costs Down
Rates starting at $0.99 a minute
Has a most accurate category for its psychics
Filter for psychics by communication methods
Easy to use website
Transparent Security policy
Purple Garden is a great place to chat with a psychic cheaply. Its rates start at $0.99 a minute, and you can easily find a highly recommended psychic right on their homepage. And since its rates stay low, you won't get priced out after a short initial trial period.
Its search function lets you narrow down the list of advisors by chat types, review numbers, and online availability. When I searched for a reading, I didn't have to hunt for a good psychic to see if they were available. Plus, I could easily find an experienced psychic by filtering the number of reviews.
What I find most helpful with Keen is its free blog articles. You can find articles that discuss different psychic tools and provide questions to ask your psychic. With access to this wealth of information, you'll feel more confident when you get a chat reading.
5. California Psychics – Uses a Stringent Vetting Process to Hire Quality Psychics
Thorough vetting process for psychics
Discounted rates for new customers
Karma Rewards program
Array of informative articles about psychics
Free daily horoscopes
California Psychics is a reputable website. Only 2% of people pass its screening process, so you can focus on finding your best fit instead of filtering through fakes. The site's search function is wonderfully interactive, as you can get a general overview of each psychic without clicking their profile.
Making an account for California Psychic is easy, especially since you can set up an account through Facebook. Instead of going through a lengthy sign-up process, I could simply connect with my Facebook account and message any psychic I wanted in a couple of clicks.
Its introductory rates are highly competitive. Since new customers' rates start from $1 per minute, you can get a nice length reading without spending tons of money. Additionally, its Karma rewards system lets you claim discounts after you finish your initial offer, which keeps prices down.
Comparison: Best Psychic Email Readings
| | | | | | |
| --- | --- | --- | --- | --- | --- |
| | Email Readings | Starting Price | Types of Readings | Introductory Offer | Satisfaction Guarantee |
| Keen Psychics | Yes | $1.99 per minute | Call, chat, email | First 3 minutes free or 10 minutes for $1.99 | Yes |
| Kasamba | Yes | $1.99 per minute | Call, chat, email | Free 3 minutes | Yes |
| Psychic Oz | Yes | $2.99 per minute | Call, email | Reduced rates of $0.99 and $5 per email reading | Yes |
| Purple Garden | No | $0.99 per minute | Call, chat, video | No | No |
| California Psychics | No | $4 per minute | Chat, call | Reduced per-minute rates between $1 and $4 | Yes |
Tips on How to Choose Email Psychic Readings
Choosing the best email psychic for you can be difficult, so I've simplified the process by detailing the top 6 things to look for in a psychic site below.
1. Select a site with affordable prices
Don't forget to consider your budget when picking out a reading. $2 a minute might not sound like a lot, but after 30 minutes, that's $60. Additionally, looking for deals and promotional offers or taking advantage of free minutes can help you keep prices low.
2. Check out the available reading types, gifts, and tool
Great psychic websites have a wide variety of reading types, such as love and relationships, life path and destiny, and career. If you're after something niche like pets or astronomy, then it's best to do a thorough search of the website. It's frustrating when you pick a site for an oracle card reading and find they have very few oracle card readers.
Additionally, you should also go for a site that offers various reading tools and gifts. This can be the difference that helps you make better sense of your life and future.
3. Choose an experienced psychic
Picking a psychic with thousands of reviews and several years of experience can help you avoid unpleasant or vague readings. I'll often speak with more experienced readers since they'll have plenty of reviews to check, so I can easily see if our personalities match and if I'll like their reading style.
Another option is to consider a newer psychic who can still provide a wealth of knowledge and insight. They're more likely to be flexible with their prices, which can help you save.
4. Look at customer reviews and psychic profiles
If you see a slew of five stars, that can be a testament to a psychic's ability. But negative reviews can be just as critical. I recommend looking at the full scope of reviews to help you gauge if a reader's style and personality will be a match for you.
Another essential feature in making a wise choice is a psychic's bio. It usually provides invaluable information about their personality and experience, which can help you get to know them better.
5. Check if there is a satisfaction guarantee or refund policy
Always make sure you familiarize yourself with the site's money-back guarantee or refund policy (if they have one), which helps reduce any potential downside. Having one is a sign that they've taken the time to find quality psychics, and are confident in their abilities. It's also worth checking the different contact methods a site offers, such as live chat support, email support, and phone support. Help should be readily available when you need it.
FAQs on Email Psychic Readings
What types of questions should I send to a psychic via email?
You should ask questions that request a specific insight into a current situation you're facing. Some great examples of this would be asking why a partner is being distant lately or what lessons you can learn from a current challenge you're experiencing at work or home.
If you're worried about wasting time and money asking the wrong questions, then I recommend using a site like Keen. It offers 3 free minutes for each new advisor so that you can ask questions without any risk.
How do I choose the right psychic?
I recommend checking out the psychics' bio and reviews. You'll want to use this information to figure out a psychic's personality and see if their reading style is a good fit for you. For example, if you prefer a more straightforward approach, you'll probably want to look for a reader known for getting right to the point both in their bio and their reviews.
It also helps to use a reputable psychic site with a thorough vetting process, so you can increase your chances of finding a suitable reader.
How accurate is a psychic email reader?
The accuracy of your psychic email reader will vary wildly depending on the individual psychic. If you want to increase your chances of choosing a highly accurate psychic, it's best to use Kasamba because it has a "Top Psychic" category. This displays all of the site's top psychics in one place.
Customer reviews are another way to determine how accurate an email reader is. If a reader has a lot of complaints about vague or inaccurate readings, it's typically fair to say they won't give you the most accurate reading.
Bottom Line
An online psychic reading doesn't have to be a daunting encounter that involves verbal communication. You can choose to get an email reading, which also gives you more time to craft a reply. Another alternative is a chat reading, which lets you get a reading in real-time by sending text messages.
My personal favorite is Keen Psychics, which provides email and chat readings at competitive rates. Thanks to its psychic matching tool and the sheer number of psychics on its roster, you can easily match with a suitable psychic and receive a quality email reading.
To summarize, the best site for psychic email readings are…