Do you value privacy? Want to keep your questions anonymous? Don't enjoy lengthy, expensive back and forth conversations with psychics? An email reading is perfect for you.
The majority of psychic websites only offer phone and chat readings, so I had to do a little digging to find the sites that offer email readings (and accurate readings at that).
Here is what I found.
In a rush? Here are my top site picks for psychic email readings:
1. Kasamba – Best for Premium Email Psychics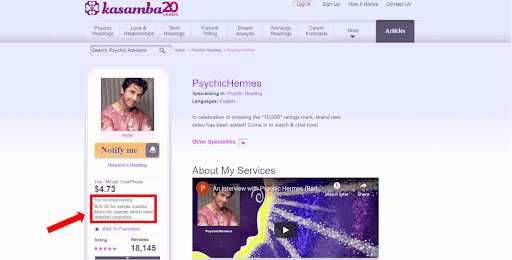 Kasamba's 20 years of experience makes it one of the most reputable psychic sites around today. It is also one of the handful of sites that offer email readings.
With glowing reviews and over 3 million users seeking advice on Kasamba, this online psychic service boasts a 93 percent satisfaction rate.
I found over 290 psychics on Kasamba but the vast majority only offer chat and phone readings. Only a small selection of the psychics offer email readings, with some of them offering free email readings.
You can expect to pay around $25 to $30 for simple questions when connecting with a premium, experienced psychic over email. However, if your question requires a more complex response, expect to pay up to $50.
Here is where things can get a bit frustrating. There is no way to filter psychics according to the types of readings they offer. If you want to find a psychic who offers email readings, you will need to search through individual profiles.
On the plus side, you can suggest your own price for an email reading, even if a psychic displays a specific fee.
Requesting an email reading at a particular rate is also a good way to gauge whether a psychic is a good match for you.
To add to that, Kasamba also has a satisfaction guarantee that promises you a refund of up to $50 if you are unsatisfied with your first reading with a psychic.
Connect with a Psychic on Kasamba
2. Keen – Best for Added Extras

Overall, I have always had a positive experience with Keen, so I'm always confident in the guidance I receive from their psychics.
Psychics on Keen specialize in chat and phone readings. However, there is also an option to send each psychic an email. Users can choose from over 100 psychics who charge anywhere from $1.99 per minute to over $30 per minute. Unfortunately, there is no indication whether email readings cost the same as chat and phone readings.
Beyond email readings, Keen also has a lot of other handy features.
I really liked the Find a Psychic tool, which matches you with the best psychics based on your answers to a few questions.
And if you opt for a phone or chat reading, Keen will give you the first 3 minutes of your first reading for free. This, in addition to the email option, is more than enough to help you find the best advisor for you, without spending much.
Keen also has a 100% satisfaction guarantee, so I trust them completely. If you're not satisfied, Keen will refund up to $25 worth of credits, which you can use for future readings. However, you can only claim once a month.
With the thousands of glowing reviews on Keen psychic profiles, there's a good chance you won't need a refund anyway.
3. PsychicCenter – Best for Trustworthy Psychics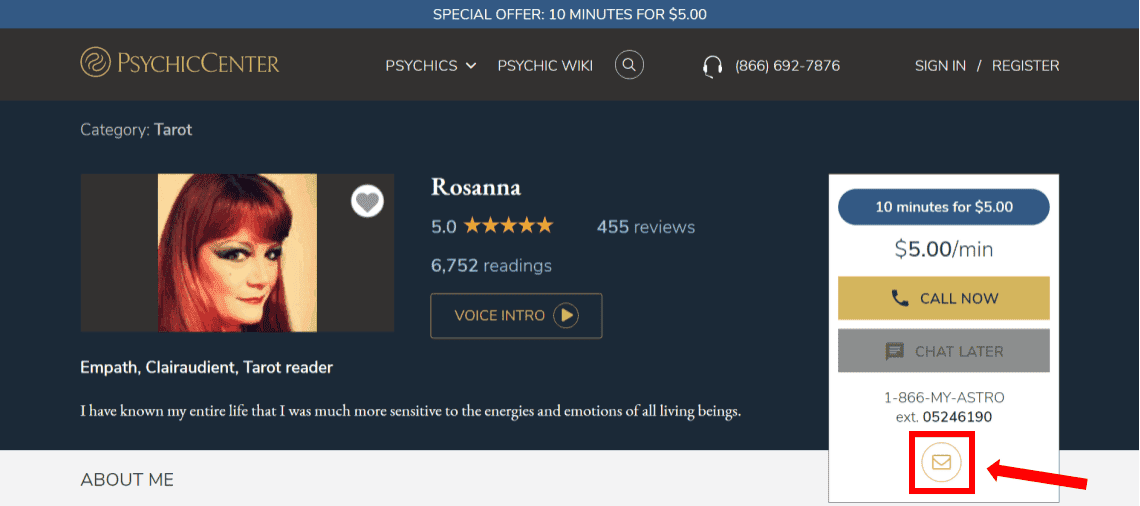 PsychicCenter has been offering psychic readings since 1999 – another time-tested psychic service.
They only work with 60 psychics – this is because they have such a strict screening process. Every psychic also offers the choice of a phone, chat, or email reading.
You can expect to pay anything from $2 to over $10 per minute. However, you can take advantage of PsychicCenter's special offer of 10 minutes for just $5.
When you click on a psychic's bio, there's a mail icon on the right-hand menu. Click that and send a message to get an email reading from the psychic.
If you find you do want to try a phone or chat reading, there is a call and chat back option that allows you to request a reading from an unavailable psychic. Some psychics even include a schedule on their profile so you know exactly when they are typically available.
I was also excited to find some PsychicCenter advisors with introductory audio messages on their profiles. Hearing a psychic's voice can really help you decide whether you're drawn to their energy.
Even better, a lot of psychics actually include interviews on their profiles, which should give you all the insight you need to decide if they are right for you.
And if you do get a psychic reading you're not happy with, PsychicCenter's 100% guarantee will credit your account for future readings.
However, I wasn't impressed with the terms of the satisfaction guarantee. You can only receive those credits if the reading lasted 5 minutes or less, and you only have 3 claims throughout the life of your membership with the Psychic Center. It is not clear what this means for email readings.
Overall though, getting an email reading on the PsychicCenter website was extremely easy. With only a handful of psychic reading categories, this online psychic service is perfect for beginners.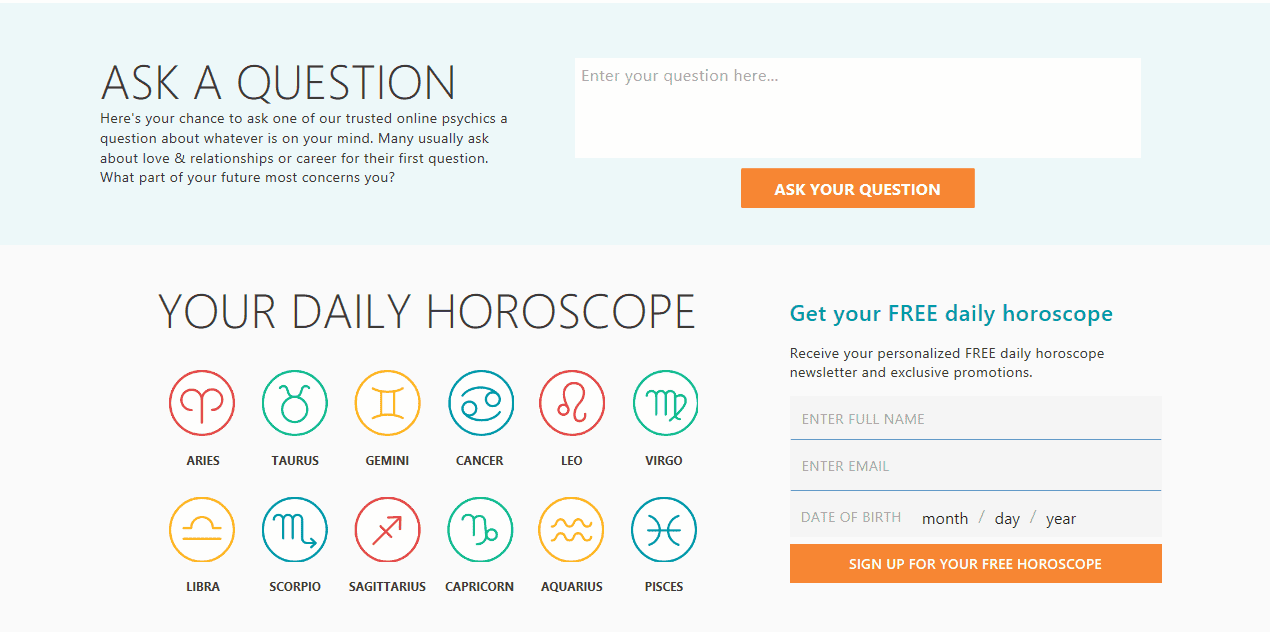 With over 25 years of psychic service, it's almost surprising how affordable it is to get a reading on California Psychics.
New users get chat or phone readings for $1 per minute when they choose any of the three introductory offers. And even after you become a regular user, prices range from only $4 to $15 per minute.
While none of the psychics offer email readings per se, there is the Ask a Question feature, which allows you to send a free message to a psychic with the questions you have. A live psychic will then email you back, and you can use that response to determine whether or not California Psychics is best for you.
Although I really liked this free feature, it doesn't go far enough (not always anyway). Because the email you send gets answered by a random psychic, you can't choose the exact advisor you want to email. Also, most psychics won't provide you with a detailed answer, so you may need to schedule a phone or chat reading too.
But considering how affordable California Psychics is compared to other established psychic websites, I can't complain too much about the limited email psychic reading option.
And to top it off, California Psychics even offers free daily horoscopes via email.
Send Your Question on California Psychics
5. AskNow – Best for Introductory Offers

AskNow has been online since 2005, and they have some of the most attractive introductory offers available.
The site offers two introductory packages that add up to $1 per minute for phone or chat readings. You'll also get 5 free minutes for a reading with a Master or Elite psychic.
As for email readings, new users receive one free email reading to when they sign up and purchase an introductory package.
However, you'll have to settle for getting an answer from any psychic who happens to be online at that moment, not one of your choosing.
Psychics on AskNow have great reviews from users, so there's a good chance you will get an accurate reading with your free email question.
And if you're not satisfied with any reading after that, AskNow will credit your account with up to 5 minutes for another session.
This is far from the best satisfaction guarantee I've seen, but with AskNow's affordable rates, free email reading, and solid psychic reviews, you probably won't be needing a refund.
Bottom Line
Getting a psychic reading via phone or live chat can take up a lot of your time. If you're busy or on the go, an email psychic reading is the best way to get all of your questions answered with just one message.
You should only need to send one email to get an answer to your questions, which is why it helps to know the best sites to try – this list will help get you started.