Connecting with a genuine psychic with your best interests at heart can be challenging. After all, reaching out to a fraud can leave you feeling frustrated, lost, and out of pocket. But don't let this discourage you, as spotting a fake psychic can become second nature if you know what to look for.
To make your life easier, I've compiled a comprehensive guide to help you identify a fake psychic or medium. That way, you don't have to worry about getting cheated or deceived by a scammer.
I've also shortlisted the best platforms with real psychics, with California Psychics being my top pick. The site tops my list because it carefully screens all of its psychics, safeguarding you from fraudulent activity. And if your session doesn't work out, you'll be protected by its satisfaction guarantee.
10 Ways to Spot Fake Psychics and Mediums
1. Negative Client Reviews
Identifying a fraudulent psychic becomes simpler when you assess their reviews. If clients consistently express dissatisfaction through negative feedback, it serves as a clear indication that something might be wrong. Particularly concerning are reviews that bring attention to unethical conduct, falsehoods, or deceptive assurances.
But remember that some negative reviews aren't a warning sign, as they may be from clients with unrealistic expectations. This can be someone who complains about a psychic who couldn't help them succeed with their love interest or about a prediction that didn't come true. Also, a few negative reviews usually indicate that the site is transparent.
2. Questionable Platforms
It's always best to be cautious of new or unknown psychic platforms. Some sites may not have strict policies for screening their psychics, which makes it easier for fake psychics to operate. This is why I always see what a psychic platform's screening processes are like. A stricter assessment usually results in a higher quality of psychics and mediums.
If you're thinking about using a platform, I recommend delving into its history and years of experience in the field. You can do this by reading reviews, carefully reviewing the terms and conditions, and evaluating the satisfaction guarantee. Gathering this information will help you assess the platform's trustworthiness.
For instance, negative reviews or complaints shared by past customers about payment or the competence of advisors on a platform should raise concerns. Furthermore, not having a satisfaction guarantee in place could potentially result in financial loss if you happen to receive a low-quality reading.
3. Vague Readings
A fake psychic often gives vague or generic readings that could apply to anyone. For example, they may say something like "I sense that you have had some difficulties in your past that have affected you". This is a common technique used by fake psychics to make it seem like they are providing accurate information when they aren't.
On the other hand, a real psychic on a site like California Psychics will provide clear information that's unique to you. By using their innate psychic abilities or tools like tarot cards, they can tap into your energy and provide personal insights.
A psychic may ask for certain information, such as your name, date of birth, or some background information. This provides them with more context for when they read your energy, which helps them provide a more accurate reading and advise you accordingly.
4. Poorly Written Profiles
A well-written and informative profile is a hallmark of a real psychic. If the psychic's profile has poor grammar, spelling mistakes or lacks information, it's a sign that they're not serious about their work. I've also encountered frauds who use flashy language or make exaggerated claims about their abilities to try and lure in unsuspecting clients.
Legitimate psychics prefer to focus on their abilities and experience rather than making grand claims. Since they genuinely want to help you, they use their profiles to provide helpful information that enables you to make an informed decision.
5. Personal Information Requests
A genuine psychic or medium will never ask for any personal information. This includes your social security number, account details, or passwords. If they ask for any of this information, it's a definite sign that they're trying to scam you. So, always block and report the psychic immediately in this instance.
Always remember that a real psychic will only ask for basic information, such as your name and date of birth, before conducting a reading. Other info they may ask for would be some background information about your situation or the questions you have. If you aren't sure if this information is legitimate, confirm it with the psychic platform.
6. Scare Tactics
Scammers and frauds commonly use fear tactics to create a sense of urgency or fear to trick you into making a wrong decision. For example, they falsely claim that someone has placed a curse on you or you have limited time to act. Another tactic is where they try to convince vulnerable people that only they can keep them safe, which is a setup for a long con.
In contrast, a psychic who's sincere about helping you won't try and scare or overwhelm you. They will instead take the time to reassure and guide you through your issues. While they all have different approaches, a legitimate advisor will never attempt to take advantage of your emotional state.
7. They Try to Extort Money
If your psychic demands extra money by offering to remove a curse or negative energy around you, it's a clear sign they're up to something. They'll usually claim that this negative energy comes from an ancestor who committed a bad deed. This is a scam because genuine psychics don't make other people's actions the subject of your reading.
Other psychics may try and extort money by asking that you pay them directly, which is a major warning sign. Reputable platforms like California Psychics will process payments for you automatically, ensuring that you and your psychic can focus on getting the most out of your session.
8. Definite Answers
Always remember that there are no certainties regarding psychic readings, only possibilities. Fraudulent psychics often claim they can guarantee an outcome or result. Don't fall for these claims as they're not genuine, meaning you'll only feel disappointed and angry.
Instead, look for a psychic who guides you through their intuition and experience. This allows them to shine a light on the path forward and advise you on how you can manifest a desired outcome.
9. External Connection Requests
Another warning sign to look out for is when your psychic wants to connect with you outside the platform. This is usually an attempt to trick you into purchasing their personal services or revealing your personal information, such as your phone number or account details.
In other cases, the psychic may try and use this as an opportunity to take advantage of your vulnerability, i.e., demanding money. Connecting with a psychic outside the platform also means you can't get a refund if you get cheated or receive a bad reading. This is because a satisfaction guarantee won't cover you.
10. Rude Behavior
A trustworthy psychic will always treat their clients with respect and compassion. If a psychic is rude or dismissive, then it demonstrates a lack of professionalism. Should the psychic use negative language or try to belittle your concerns, terminate the session immediately and report them to the platform.
A legitimate psychic reader works by getting a feel for you and adjusting their manner of delivery accordingly. Depending on the subject, a psychic may be reassuring, compassionate, firm, and direct. The psychic's profile often contains information on their style and mannerisms.
Then, you can use this information to connect with a psychic or medium who resonates well with you. Forming a strong connection with your advisor helps them get a better feel for you. And this allows them to provide you with advice relevant to your situation.
3 Best Sites for Real Psychics and Mediums
Connecting with a psychic reader who genuinely has your best interests at heart can make a difference. You don't have to worry about connecting with a fraud by contacting the advisors on the sites below. These platforms are trustworthy because they screen their psychics to weed out fakes.
1. California Psychics — Best Overall for Authentic Psychic Readings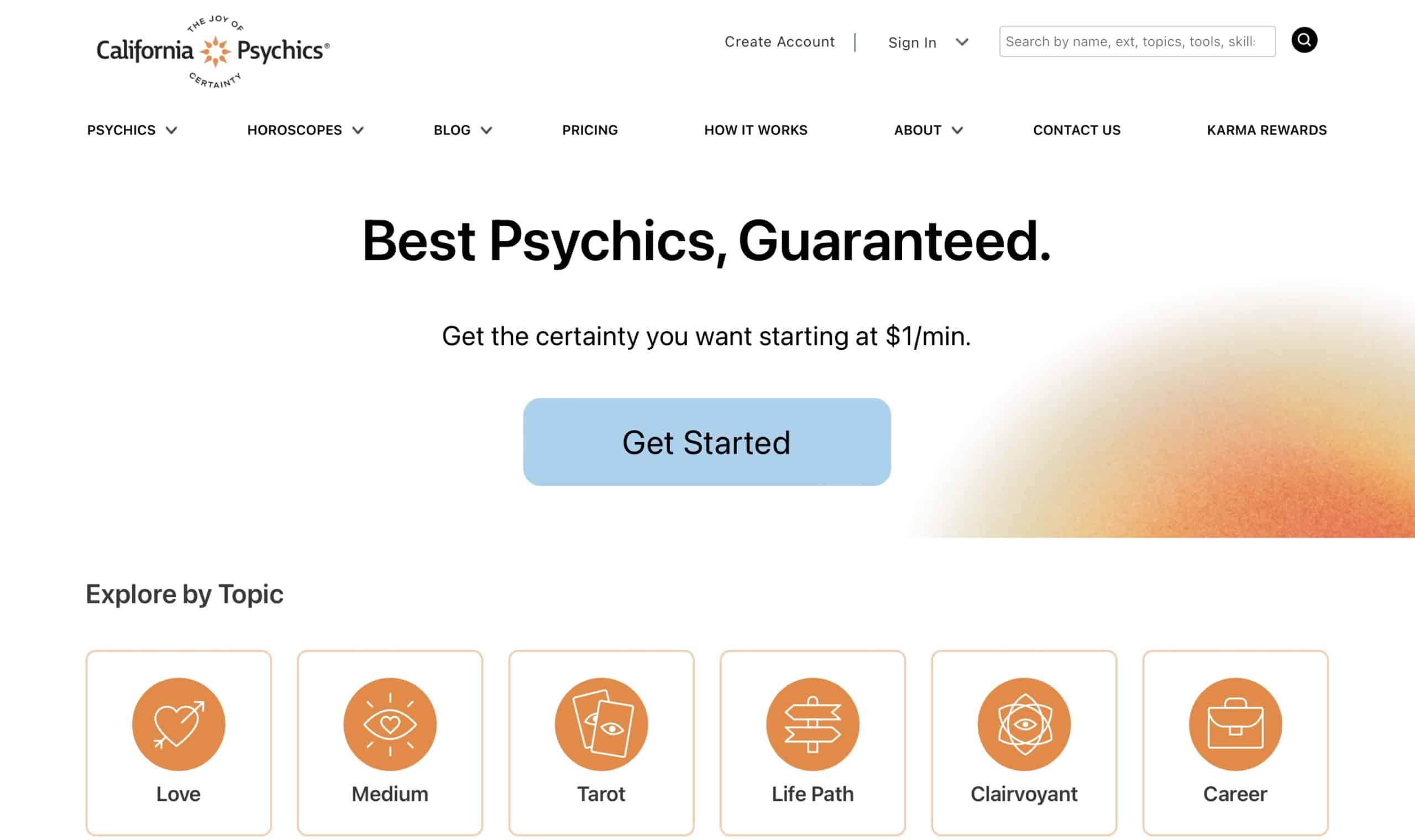 Strict psychic screening process
Continous evaluation of psychics
Detailed psychic profiles
100% satisfaction guarantee
25+ years of experience in the industry
California Psychics impressed me with its thorough psychic screening processes. The site mentions that all potential applicants must attend an interview and pass several assessments before they are accepted. In fact, less than 2% of applicants are accepted by the site, which shows me that you don't have to worry about fake psychics.
Another plus point of California Psychics is the site's 100% satisfaction guarantee. It boosts my confidence in the platform as I can ask for a refund if I'm not happy with the quality of my psychic reading. The fact that the site is willing to commit to such a policy shows that California Psychics wants to ensure that you get a worthwhile reading.
The site makes it easy for you to assess and determine the quality of individual psychics thanks to its detailed psychic bios. You can use this information from here to learn more about your chosen advisor's skills, past performance, and approach. Additionally, the customer reviews on their profiles give you a good idea of their capabilities.
Although California Psychics does not offer video readings, it allows you to schedule and book readings in advance. This enables you to get quality readings from trustworthy psychics anytime without worrying about their availability.
2. Purple Garden — Consult with Real Psychics via Video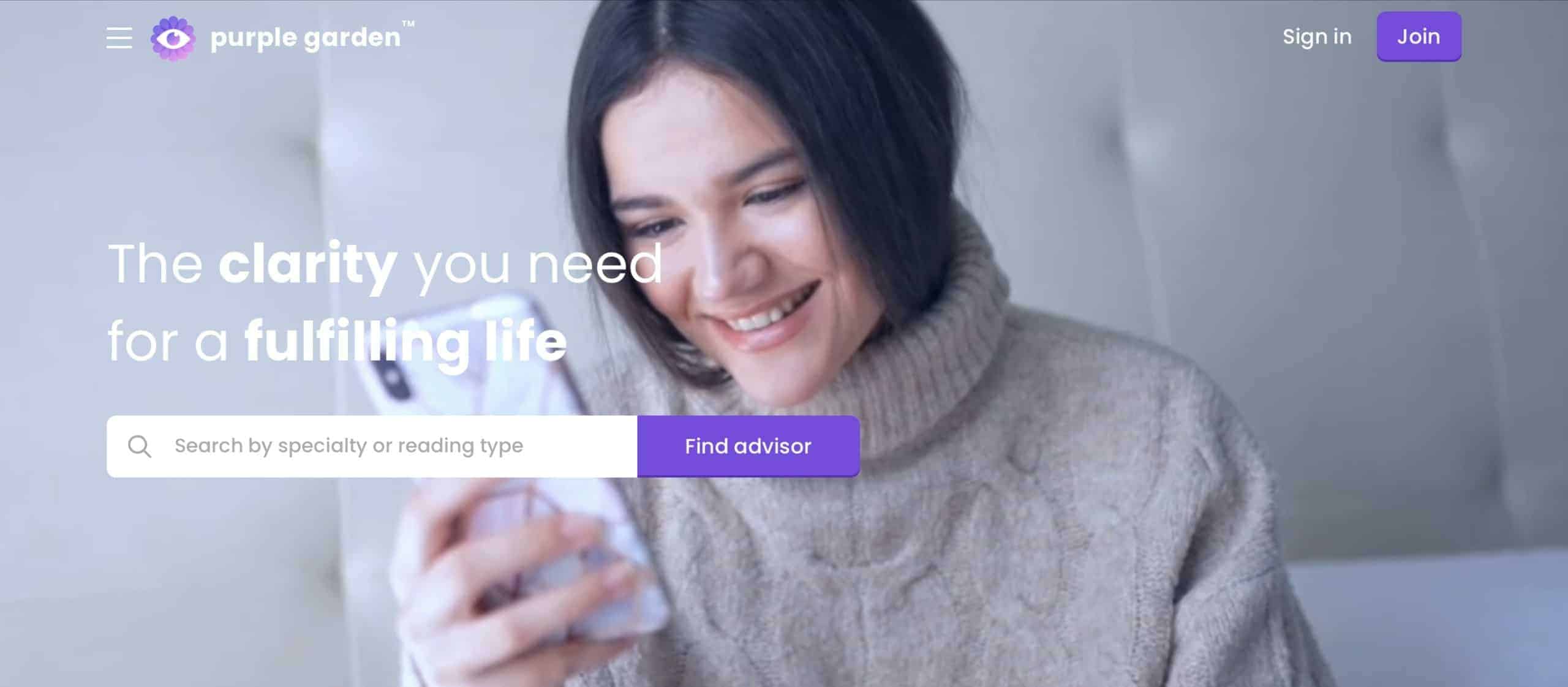 Proven track record — more than 20 years of experience
Top psychics are endorsed by the site
Thorough psychic screening process
Informative psychic profiles
Detailed FAQs
Purple Garden is one of the industry's oldest psychic reading websites, having been operating for 20 years. I also saw that there had been no significant incidents or complaints related to the legitimacy or quality of its psychics. This means you'll be able to reach out to a top-rated advisor without any issues.
It's also good to see that Purple Garden continually monitors the performance of its psychics. Top-rated advisors with a good track record are endorsed by the site and receive special badges that help them stand out. This system helps me identify accurate psychics who are great with clients and authentic.
The platform's psychic screening policy is another feature that makes Purple Garden trustworthy. I contacted the platform's customer service team, and they assured me that all advisors must submit their resumes and sit for a video test reading. These measures show me that it has put in the effort to filter out potential fake psychics.
Although Purple Garden has no satisfaction guarantee, the site ensures its psychic profiles are detailed and transparent. All advisor bios include detailed information about their skills and experience. You can also view previous clients' positive and negative reviews, which helps you gauge the quality of an expert.
3. Keen — Connect with Talented, Handpicked Psychics
Transparent review system
Stringent screening process
100% satisfaction guarantee
15+ years of experience providing psychic readings
Handy psychic matching tool
Keen has a transparent review and ratings system for its psychics. This means you can see all reviews left by previous clients — both positive and negative. I like this approach because it gives me a clear idea of a psychic's past performance and helps me decide whether a psychic would be a good fit.
Additionally, Keen maintains the quality of its psychics through its detailed psychic selection process. To be accepted by the site, potential applicants must pass a background check, identity verification, and content quality review. These measures are an excellent way to screen out any fake psychics looking to take advantage of you.
Another benefit of using Keen is its 100% satisfaction guarantee. With it, you don't have to worry about losing money on a bad reading. If you do end up having issues with your psychic, you have 72 hours to submit a refund request. But remember that you can only request one refund once every 30 days.
You should keep in mind, though, that there may be delays in getting a reply from Keen's customer service team. Fortunately, the site has a comprehensive FAQ section with plenty of helpful information you can refer to. This means that general help is never far away.
FAQs on Spotting Fake Psychics
What happens if I've consulted with a fraudulent psychic advisor?
Several undesired outcomes can occur after consulting a fraudulent psychic advisor. A potential issue is receiving inaccurate or vague information, as a deceitful psychic may provide generic statements that could apply to anyone rather than specific insights related to your situation.
Another concern is financial loss, as scam artists may charge exorbitant fees or pressure you into purchasing additional services or items. Lastly, dealing with a fraudulent psychic can leave you confused, disappointed, and emotionally harmed, particularly if they manipulate your emotions or exploit your vulnerability.
To avoid such situations, it's essential to do thorough research before consulting a psychic. Look for recommendations, read reviews, and choose a psychic from a reputable platform. Additionally, trust your intuition and be cautious of advisors who seem overly focused on money or pressure you into making decisions or purchases.
Can I trust online psychic readings?
It depends on the website that provides your psychic reading. This is why it's important that you only consult with an advisor from a trusted platform. The main sign of a trustworthy platform is a screening process, where the site conducts background checks, skill assessments, and video interviews to determine the skill level of its psychic applicants.
You should also see whether the site has a detailed review section. That way, you get to learn more about an advisor's past performance and their strengths and weaknesses. But most importantly, it ensures that you don't connect with an advisor who is a scammer or untrustworthy.
How do psychic readings work?
Psychic readings involve an intuitive or psychic advisor using their abilities to tap into your energy and provide personal guidance. They may use various tools and techniques, such as clairvoyance, clairaudience, tarot cards, or star charts to guide you.
Your advisor may ask for some basic information during your psychic reading, such as your name, birth date, and context into what's bothering you. This gives them the necessary information for more detailed readings and helps them give you relevant advice.
From experience, I've found that it's better to connect with advisors who are featured on proven psychic reading sites. These experts tend to be more genuine and have the skills and experience to guide you. This allows them to delve deeper into your issues and provide you with more relevant psychic insight.
Bottom Line
Finding a trustworthy psychic online can be a difficult task. With so many fraudulent psychics around, connecting with someone you can trust is becoming increasingly difficult. After all, reaching out to the wrong psychic can cost you time and money.
To make things easier for you, I've outlined the 10 ways to identify a fake psychic or medium and shortlisted the most trustworthy psychic platforms. California Psychics is the safest choice, thanks to its strict screening process and dedication to providing authentic psychic advisors.
To summarize, the best sites for real psychics are…