Anja Roberts from Crystal Rose Temple is a Reiki Master Teacher with experience in Advanced Crystal Healing, offering a holistic approach in treatment methods that address all four bodies – physical, mental, emotional and spiritual.
Could you tell us a bit about your journey into energy healing and what inspired you to pursue this professionally?
This is an interesting question. My first step into the healing arts was through a friend. At that time I was very depressed and if it had not been for my children I wouldn't be here now, it was that bad. I then met people who meditated and practiced Reiki, which helped and I started with western Reiki (Takata lineage). After a while I meet a lady who talked about her Reiki Guide, she was so excited about it that I thought what is a Guide is and how do I get one, as I want one too!
That led me to spiritual mediumship. That was great, I learned mediumship and trained in spiritual healing as well which led me to learn Angel Therapy and Crystal Healing. Plus, I also learned to read Tarot and Oracle cards. In 2015 I meet a wonderful mentor and I learned traditional Reiki, and that was a game-changer. Until that point everything was outside of me (Angels, cards, spirit) and here I learned it is all about the self, inside of you. Traditional Reiki is what I practice and teach. I then came across Magdalene Rose lineage, womb healing is a big part of it.
When I came across the teachings of Mary Magdalene my whole body reacted, deep inside of me I knew I had to do this. And I became a Mary Magdalene Rose Priestess. During the training I learned about Ancestral lineage healing, and I furthered my studies in this field. I also liked that I got to work with the Elementals, the elements and Gaia. At the same time, I learned about the Akashic Records and studied that as well.
You could say that in my free time I study and practice what I learn. It has changed my life. Especially the past six years have transformed me into a much better human.
For me it is all about healing on all levels, all bodies and all timelines. And to share this with others. It is my belief that to have peace, joy, love and happiness in your life you must embrace your shadow self, healing the inner child, healing and setting the Ancestors free. Only when you have healed yourself will you have found peace on Earth.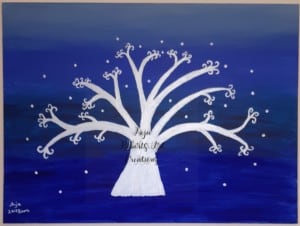 Artwork Creations by Anja, imbued with Reiki or Angelic energy and Gem water.
What healing modalities do you offer, and do you have a personal preference?
I offer Reiki treatments and teach all three traditional Reiki levels, Crystal healing, Angel Therapy and Ancestral lineage healing. I do offer Crystal workshops as well.
Being an Energy Healer and having to consistently heal and help others, are there any non-negotiable practices you use personally to maintain your self-care?
For my selfcare I do practice what I teach. Daily meditations and walks in nature are a must for me, I tend to speak to the trees and do Earth healing. I practice Yin Yoga once a week to meet with likeminded people. And I love my bath time, candles, essential oils and plenty of hot water.
What are some of the more common aspects people approach you with and how can energy healing be beneficial?
People come to me because they are suffering from anxiety, depression and feeling fatigue. After the session I offer practical solutions in how they can help themselves. This way the feel empowered and can start to take better care of themselves.
Lastly, any tips to share with our readers on finding balance and maintaining a positive energy?
It is about self-healing, transformation and transcending. Often people give up because they don't have time to care for themselves. Here I say keep it simple.
When you sit in a traffic jam, instead of getting more stressed about it, place your hand over your heart and breathe, connecting back into the heart. When under the shower thinking of all the things you need to do, breathe. Before a business meeting, again, bring it back to the heart. Do something you love doing, be present when interacting with others, pay attention in how you feel and acknowledge that. Its okay to feel angry, fearful and unhappy. See it, feel it, say thank you and what can I do to feel better? Turn a negative into a positive. Be kind to yourself, you are doing the best you can do with the knowledge you have at this moment in time.
For more information or to get in touch visit www.crystalrosetemple.com