Thai massage is an art of therapeutic activities to relax the whole body through gentle pressure and stretching techniques. In this interview, Pathumpon Jatikate, Managing Director of Asiatic Thai Massage shares insights into the practice and benefits of Thai massage.
At Asiatic Thai Massage, experienced and professional massage therapists strive to deliver the best combination of soothing, relaxing, and energizing experiences based on ancient techniques combined with modern healing providing a unique service.
Could you share the background and what inspired the Asiatic Thai Massage?
Asiatic Thai massage offers the ultimate pleasure of a traditional healing system over 2500 years old. It combines acupressure, Ayurvedic principles, and various yoga postures to loosen tight muscles, remove toxins from the body, and achieve deep relaxation. Thai massage usually involves using hands, fingers, elbows, knees, and feet to exert pressure onto different parts of the body to help relieve pain and tension.
The timeless ancient power of Thai Massage became the foundation of business. Aside from being an entrepreneur, it's even better to bring the comfort, health, and happiness that Asiatic Thai Massage offers to the community. That's why we tackle the pain, stress, and anxiety that may be holding you back from finding true freedom.
Could you tell us a bit about your journey and what attracted you to become a Thai Massage Therapist?
When I was a child, I remember my mother giving me a foot or head massage. I enjoyed these treatments very much, and when my father came home tired, I offered him a massage as a gesture to do something nice for him, which became part of my life.
After university in Bangkok, I got an office job at a financial institution and quickly found my work overly stressful and monotonous. While working in the office, my back and neck would frequently hurt, so I started seeing a massage therapist at least once a week and began my journey to become a professional therapist. Having experienced the benefits of Thai massage and feeling relieved, I pursued a course in Thai massage in Bangkok and later moved to London to work in an Aveda spa.
What makes Thai massage unique?
Thai massage is unique as it combines various stretching techniques with yoga principles, placing the recipient in many unique postures and positions to help release energy blocks within the body. This ancient practice is generally referred to as or sometimes called "Thai Yoga Massage."
Thai massage is a healing art often recommended as an effective remedy for pain and stress relief. Several health benefits set it apart from other western massages and have proven adequate to relieve aches and headaches, regain energy through proper breathing and relaxation, improve sleep, and enhance athletic performance.
Can you talk us through what a regular session entails?
At Asiatic massage, therapists begin each session by getting to know their clients to identify any problem areas or repetitive pain and discover what the client is hoping to achieve from the session. Our professional masseurs are trained to adjust their techniques accordingly. Thai massages are typically conducted on a mat. During an average session of 60 minutes, the practitioner uses their hands, fingers, elbows, and knees to work on different body parts to alleviate any knots or tightness causing discomfort.
A regular full body massage, in which you will find yourself luxuriously stretched and not needing to lift a finger even as techniques are used on your muscles, joints, and tendons with loosening pressure while peacefully lying down.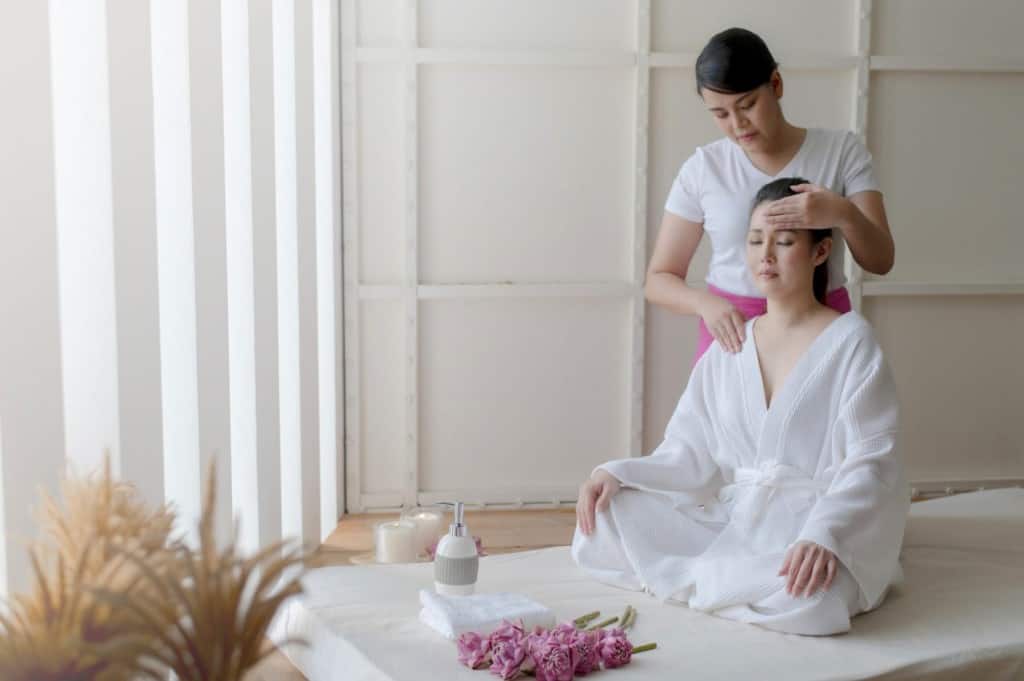 What are some things that Thai massage can help with that we wouldn't usually think of?
If you're looking for a treatment that can help you relax and de-stress, Thai Massage is a great option! Thai Therapeutic practices involve numerous benefits that you may not be aware of
● Thai Massage improves circulation and lymph flow, relieves tension, headaches, and migraines, and treats sports injuries.
● Often used to alleviate aches and pains from everyday activities, such as working, running, or carrying heavy items.
● Effective treatment for ailments such as chronic pains and improved flexibility and joint health
● Thai massages are excellent for relaxing sore muscles and improving range of motion!
Do you go through any routine or practice to become more present and in tune with your clients before sessions?
Communication is an essential key to connecting with clients. We pay special attention to communicating with clients to understand their concerns better and provide them with a genuinely therapeutic mediation. As a therapist, we strongly believe in providing custom-tailored services that meet the requirements of each client. And, of course, one makes sure that there are no distractions, so the environment is peaceful, calm, and private.
Lastly, in your opinion, what is one simple thing that we can do for our health and wellbeing?
I believe that we possess the power to achieve our goals. However, we must be mindful of how we approach each day because little things like selfdiscipline can make all the difference. It is imperative to keep up with our physical and spiritual health and get a routine checkup so that we remain in good shape for tomorrow. Because it isn't something that will fix itself if neglected for too long!